Motorhome Tips & Hints for Beginners
So, you've decided to buy a motorhome…great decision! You've joined a growing family of new motorhome owners who love the freedom of motorhoming. The ability to get away spontaneously and change your mind half way there to go somewhere else is priceless.
But you probably already know that! Being a first time motorhomer is daunting, so we're sharing our top motorhome tips for beginners so you can learn how to motorhome with confidence.
This is a huge subject and we've so much information to share about how to motorhome that you might want to pin this post and save for later. Or, head back to the general Motorhome Advice page for information about other aspects of motorhome life.
If you want all our beginner resources (and lots of extras you won't find on the blog) in one place, take a look at our ebook 'A Complete Guide for Motorhome Beginners'. This book is on of out top selling motorhome guides and brings all our learning into one easy to read, downloadable volume which you can take with your wherever you go.
---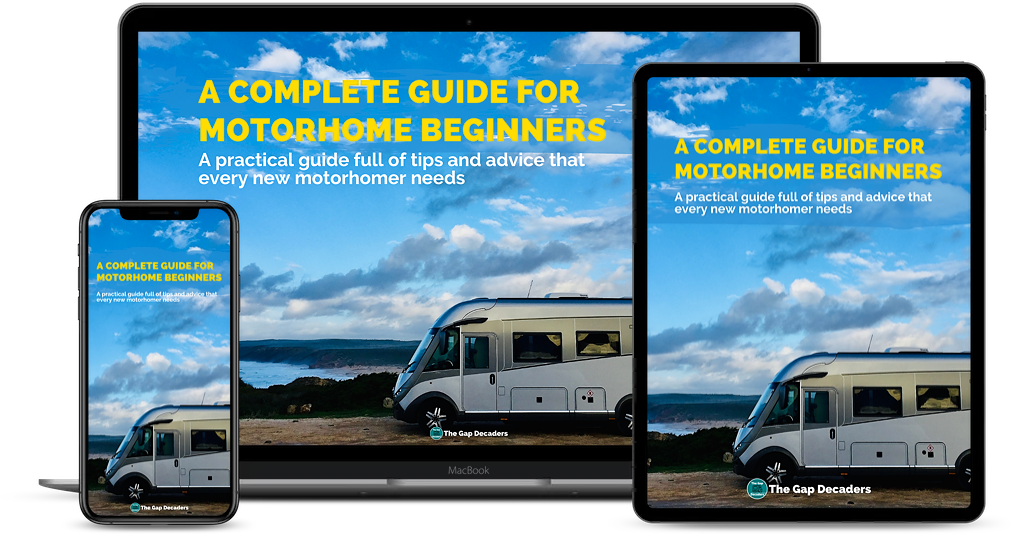 The Complete Guide for Motorhome Beginners
From picking up your new motorhome and finding out how it all works to taking your first trip and touring Europe, you'll get everything you need to know about being a motorhomer in this 65+ page comprehensive guide.
"The ebook all new motorhomers should read" John – Londonderry
---

Motorhome Buying Tips
There are hundreds of different models of motorhome available and thousands on the market at any given time and no single one is the best motorhome for beginners.
If you are buying new, or nearly new, head to the shows organised by Out & About Live, where you will be able to check out new models and the design and build quality of the various brands.
Consider renting a motorhome to test out how you like the lifestyle. A week or two is ideal to learn the motorhome basics and really get a feel for what its like living in a motorhome. You can find out all you need to know about hiring a motorhome in our step-by-step guide.
Look for information about particular models in motorhome magazines, on Facebook, where there are a number of motorhome groups, including ours where you will find motorhome advice and campervan tips for beginners.
Understand the pros and cons of owning a motorhome in the uk and read our posts about reasons for choosing a motorhome and buying a motorhome. This will help you understand how to get the right van for your needs.
If you're buying a motorhome for the first time and just don't know where to start, then why not check out our motorhome finding service?
Choosing a motorhome or campervan is one of the biggest buying decisions you'll ever make and high on lots of people's bucket list. Read our buyers guide to make sure that when you choose a motorhome or van, it's the perfect motorhome for you!
Tips for Buying a Motorhome Safely
If you're buying a second hand motorhome or camper van from eBay (a good place to look for used vans) or any other method, be sure that you understand how scams work before parting with any cash. We have safely bought two motorhomes via eBay and it's a great place to search, just be aware that not every advert on this type of platform will be legit.
Make sure you get a habitation and damp check done independently, this will assure you that everything in the habitation area of the motorhome works and that you won't have to pay what can be huge sums of money to have damp repaired. It's important you have this done independently, as checks can be falsified.
A motorhome damp and habitation check will cost somewhere in the region of £200 depending on where you are in the country; it will be the best money you spend in your search for the perfect second-hand motorhome.
If you're buying a used motorhome from a dealer, be aware that not all motorhome dealers are created equal! Some have dreadful reputations; again Facebook is a great source of information so check out your dealer on some of the forums.
Make sure you get a warranty included in the deal if at all possible. This will give you some comeback if anything goes wrong.
If you're buying a new or used motorhome from a dealer, use a credit card to pay for the deposit or part of the deposit. This will ensure you are covered under Section 75 of the Consumer Credit Act in case of the dealer going bankrupt or there being a problem with your motorhome. This does not apply to used motorhomes bought via Ebay because any credit card payment you make would have to be made through Paypal, which invalidates the Section 75 protection.
If you are buying your motorhome privately, make sure you are happy that the seller is genuine, particularly if you are using eBay or another auction type site. If it's too good to be true, it probably is!
Get an HPI check done on the motorhome to make sure it's finance free and hasn't been written off.
If possible, get someone with some motorhome knowledge to go with you to view; you may want to check all the systems, such as heating, solar charge, hot water etc etc do actually work (although a habitation check will also assess this).
You should also arrange for the engine part of the motorhome to be inspected or checked over by a mechanic if there is no or only limited service history.
Top tip – Never, ever pay for a motorhome or place a deposit until you have viewed and are 100% happy. It sounds obvious, but people get caught out all the time.
Use our buying a used motorhome checklist to help you on the day you view. It's got a comprehensive list of everything you should be looking at, and a handy reminder of the important points above
Start your beginners journey to life on the road with exclusive checklists, free downloads, tips & more
Think about where you will store your motorhome when you're not using it. What are its dimensions? Will it fit on your drive?
You may also want to consider secure motorhome storage, which is an added cost, but means your motorhome is extremely unlikely to be stolen.
Wherever you store it when not in use, you should consider security options including alarms, trackers, immobilisers and physical security – in fact, your motorhome insurance company may insist on some of these measures. This is a good article from the Camping & Caravanning Club about motorhome security.
Top tip – when you collect your new motorhome, make sure you get a thorough handover from the dealer or private seller. Understand how the systems work, what switch does what, where you fill fresh water and empty waste, how the control panel(s) work, where the spare wheel and locking wheel nut are and where to locate the fuses.
Check out the links below to find out more about how motorhomes work and the equipment and options available. It is worth considering sat nav's and TV's at this stage, as they can be expensive to retro-fit or replace.
The motorhome equipment & options available to you when you buy a new or second-hand motorhome can be bewildering. Just like choosing your motorhome, what equipment you need/choose will be determined by how you're going to use your motorhome.
Whether you holiday or full-time, tv in your motorhome is probably a necessity. You may not watch much, but when it's raining or you fancy a duvet day, being able to curl up with a great film is one of life's pleasures. Our guide has all the information you need on how to get tv in a motorhome.
After a recent shock at the weighbridge, we decided to do some research into motorhome weights, how they are calculated and what it all means. Motorhome weights guides can be a bit wordy and complicated; read our easy motorhome weight guide and hit the road safely.
We recently changed our motorhome and wanted to upgrade the ancient disc-driven sat nav for a more up to date motorhome GPS model. But what type to choose?  
Wifi and internet access in life has become essential. Living in a motorhome is no different – researching, blogging, social media, keeping in touch and even smart motorhome connectivity means wifi and internet is critical. If you're wondering how to get internet in a motorhome, this easy and definitive guide to getting internet and wifi in your motorhome is for you.
Are you confused about motorhome electrics? How do motorhomes work? What is the difference between mains electricity and batteries? What does a solar panel and inverter do and do I need a generator? And how do I get power without EHU? Don't be confused, this easy guide to your motorhome electrical systems explains it all.
What Motorhome Accessories Do You Need?
Motorhome purchased and sitting happily on your drive (or in secure storage!), now what? Well, you need to kit it out; some of that will be what you already use at home but you will need some specialist motorhome accessories too.
If you're wondering how to pack a motorhome, a lot of it is common sense. Heavy stuff should go in low cupboards or outside storage bins, lighter stuff in overhead cupboards but secured or compartmentalised in boxes to reduce movement. Try and spread your stuff around so you have equal storage side to side and front to back.
Felt boxes make for great storage as they won't damage the inside of your cupboards, reduce rattling and help keep stuff safe. This helpful post has loads more motorhome packing tips for storage and organisation in your van.
Read about motorhome weights to understand the importance of careful packing!
Top tip – once packed, and before your first trip, head off to the weighbridge with a half tank full of water and fuel, your gas bottles full and tyre pressures (or if you're in an RV, tire pressure) correct. Get weighed and make sure you're within your vans weight allowance. If not, head home and re-think your accessories and packing strategy!
Our essential motorhome kit list will give you an idea of what you need, and our best motorhome gadgets post, motorhome cooking post, motorhome kitchen accessories post and motorhome washing machine post will help make motorhome life a little easier.
These are our motorhome must haves in the UK and abroad ..all these gadgets and accessories have been tried and tested by us, or other motorhomers we know well.
Deciding what to take on your motorhome road trip is hard; it can make or break a holiday. This essential motorhome packing list has all of the top things you need for a motorhome along with a packing list for you to print. Go on, get packing!  
If you love motorhoming then you'll know that having the right kit makes all the difference. Check out our pick of the best and most useful motorhome gadgets tried and tested by us over 18 months of full-time motorhome life.
If you like a full roast or are partial to banana bread, whatever your motorhome cooking style you'll find all the information you need on motorhome and campervan cooking options here.
When you're preparing and cooking meals in a small motorhome or campervan kitchen, you need to make the most of the limited storage and work space – everything you use needs to be lightweight, multi-purpose, space saving and easy to store. Our top motorhome kitchen accessories deliver all that and more.
Living in a Motorhome
If you are driving a motorhome or campervan for the first time, both the Camping and Caravanning Club and the Caravan Club offer courses on manoeuvring with confidence. You should also consider comfort and your back when driving a motorhome, check out this post on tips to avoid back pain from driving by a road trip expert.
Have a bit of a 'shake out' before heading off on your first campervan trip. Whether this means a quick weekend on a site somewhere, a proper motorhome holiday or a few nights on your drive in the motorhome, you will be thankful you did.
Top tip – make sure you fit or take from home a carbon monoxide detector. It's best to be cautious where gas appliances are concerned, especially if your motorhome is used or a bit elderly.
Motorhomes are complex bits of kit, especially if you have newer technology. It can take a bit of time and trial and error to understand how everything in your vehicle works together.
What do you need battery power for (and which battery does what)? How do you keep the fridge cold? What about drinking water? When do you need EHU? If you're wondering why your solar is not charging at 11pm, then you've got some work to do! Our easy guide to motorhome electrics will help.
Take time to work through the motorhome manual. If you don't have one look online, or contact the motorhome manufacturer or the dealer. Failing that, see who else has your make and model on Facebook and make contact. That quirky little red switch under the fridge might suddenly make sense!
Top tip – make sure to take your manual with you on your first motor home road trip so that you have something to refer to if you have a problem when away; this really is one of the best tips for a first time motorhome trip.
This great You Tube video from Thetford shows you how to empty your toilet cassette – a necessary part of van life! Your's may look slightly different but all motorhome loo's fundamentally work in the same way.
Click the links below for information and advice about managing your water and waste, how to stop smells and condensation in your motorhome and how to stay safe, particularly important if you're heading to a foreign country.
Top tip – always fully uncoil your electrical hook up lead. Leaving them coiled can lead to overheating a potentially cause a fire.
Spend the time now and you will head off on your first motorhome trip knowing your van, and with everything you need to kick back, relax and have an amazing time.
In a motorhome, there's no plumbing to take everything away, or fill everything up again. Your motorhome toilet, waste and water has to be managed on an almost daily basis. This easy guide to motorhome toilets, waste and water systems will explain how it all works.
Do you have a bad smell in your motorhome? How do you prevent condensation and damp? We're here to help with this comprehensive guide to motorhome odours.
If you live or travel in a motorhome then you need to know how to stay safe and keep on the right side of the law.  You will find everything you need to know here about staying safe and legal in your motorhome.
If you're struggling with condensation in your campervan our motorhome, find out what you can do to prevent and resolve the problem.
How to Plan a Motorhome Road Trip
Your motorhome is bought and kitted out, you've spent a weekend working out how to boil the kettle, empty the toilet cassette, make your bed and keep your paintwork clean; you're ready for the off!
Where are you going? Well that depends really on how long you have, how many miles you want to drive and what you want to spend. You could be planning a six month tour of the warmer parts of Europe, a two week roadtrip in Scotland or Christmas in Norway…that is totally the beauty of motorhoming!
We've got loads of motorhome travel tips about destinations and how to tour Europe in a motorhome to inspire you.
We've also got a lot of information on how to plan a motorhome road trip and motorhome camping tips; wild camping is our personal favourite way to stay anywhere in our motorhome. Check out these road trip planning resources below to start organising your perfect trip.
That's it folks, that's all our top motorhome tips and tricks for the UK and abroad! Enjoy your motorhome or campervan; for us it is by far the best way to travel and see the incredible world we live in. We hope you feel the same way too!
We love answering questions! If you need more information or something is not clear, please drop us an email and we'll get back to you as soon as we can!
Do you want to wild camp in your motorhome? Already wild camping in your motorhome? Then read on for top tips and advice about how to wild camp in a motorhome and get off the beaten track like an expert!
Who's ready for a motorhome trip? Researching and planning motorhome trips can take a lot of research, or none at all depending on how you want to travel. Find out how to plan an epic motorhome road trip in our ultimate guide complete with step by step road trip planner.
Looking for free parking for a campsite on your motorhome trip? Or apps that make life on the road that bit easier?  Find the top 25 FREE motorhome apps in this ultimate guide.
Wondering where to find the best free overnight motorhome camping spots? We share all the resources and motorhome parking tips you need for a great night's free sleep when you're on the road.
Looking for more useful motorhome resources? Check out these top posts…
If you're heading off on a motorhome tour, you may want a secondary means of transport to get about once you're pitched up. For the lucky few, that means a car or motorbike in the boot or on a trailer, but for most of us it means a good old-fashioned bicycle on a bike rack, or scooter. We take a look at all the options for your motorhome and campervan.
We've learnt a few tricks in the past couple of years about motorhome life and how to make things just a little bit easier.  From money-saving storage ideas to sanity-saving hacks, there's something here for you!
When you live and travel in a motorhome, it gets dirty and there are areas which need special attention and care to keep them clean. We'll show you how to clean a motorhome using the best methods and products to keep your home on wheels spick and span, and we'll also share a few DIY motorhome cleaning tips too.
Motorhome life in the road means freedom to go where you choose, when you choose. But, the daily chores still need doing and if you spend more than a week or so in your motorhome, you'll need to manage the laundry.
Back in May 2020, we reached a milestone – we had been travelling Europe in a motorhome full time for two years! These are our thoughts, musings and lessons learned in our second year of full time motorhome life.
It's the thing about van life everyone wants to know! If you're wondering how motorhome toilets work, how to empty your campervan toilet, or even how to use it, then you're in the right place!
Love it? Pin it!