This post may contain affiliate links, from which we earn an income.
Motorhome Tips & Tricks for Beginners
So, you've decided to buy a motorhome… great decision! You've joined a growing family of new motorhome owners who love the freedom of motorhoming. The ability to get away spontaneously and change your mind half way there to go somewhere else is priceless, but you probably already know that!
Being a first time motorhomer can be daunting, so we're sharing our top motorhome tips and hints for beginners so you can learn how to motorhome with confidence.
This guide includes tips for new motorhome owners, practical motorhome advice and easy guides, top travel tips from years in a van and free downloadable checklists to get you motorhoming like a pro!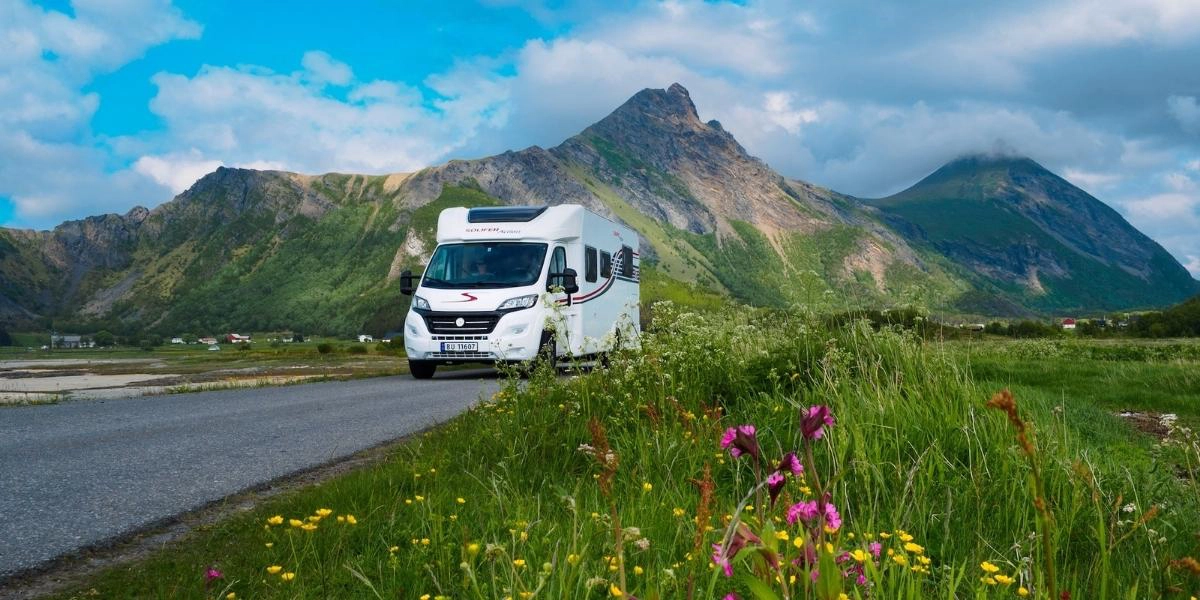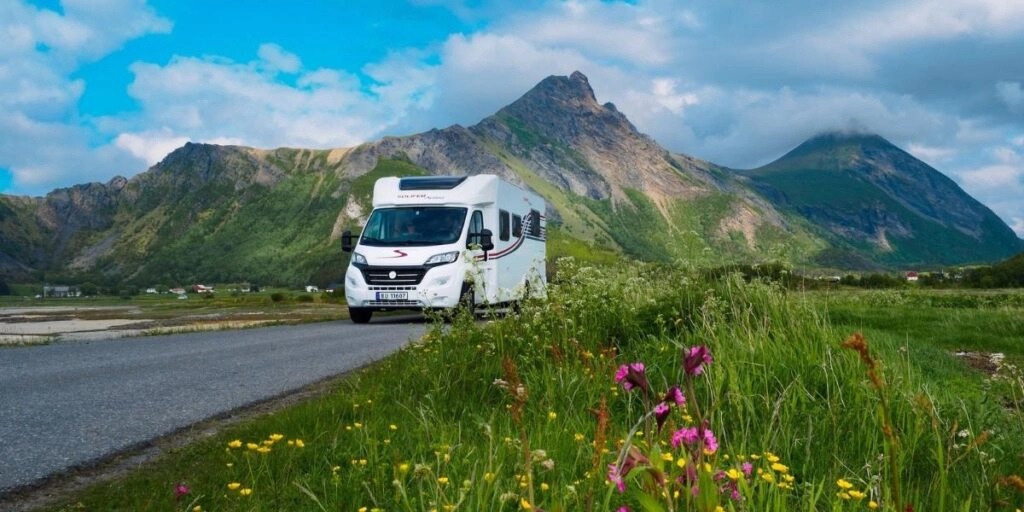 Essential Tips for Buying a Motorhome
Finding the Right Van
From huge A classes to nifty 7m vans, there are hundreds of different models of used and new motorhomes available and thousands on the market at any given time. From camper vans, small motorhomes and luxury motorhomes, no single one is the best motorhome for beginners – you have to work out what's right for you.
RELATED POST – Campervan or Motorhome? Which Is Right For You?
Think About Renting
Consider renting a motorhome to test out how you like the lifestyle. A week or two is ideal to learn the motorhome basics and really get a feel for what its like living in a motorhome.
RELATED POST – Everything You Need to Know About Hiring a Motorhome
Motorhome Makes & Models
If you are buying new, or nearly new, head to the shows organised by Out & About Live, where you will be able to check out manufactures, new models, the design and build quality of the various brands and maybe find special offers on the latest motorhomes.
Look for information about particular models in motorhome magazines, on Facebook, where there are a number of motorhome groups – ours is obviously the best! You'll find a warm welcome plus lots of practical motorhome advice, motorhome reviews and campervan tips for beginners.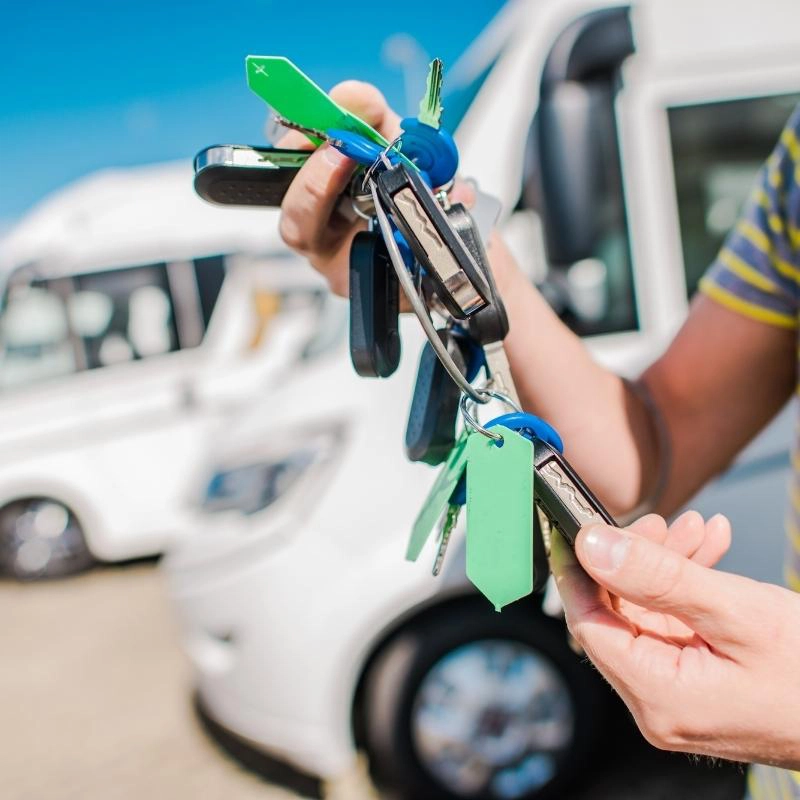 How to Buy a Motorhome Safely
If you're buying a second hand motorhome or camper van from eBay (a good place to look for used vans) or any other online marketplace, be sure that you understand how scams work before parting with any cash. We have safely bought (and sold) four motorhomes via eBay and it's a great place to search, just be aware that not every advert on this type of platform will be legitimate.
Top tip – Never, ever pay for a motorhome or place a deposit until you have viewed and are 100% happy, whether that's from a dealer or private seller. It sounds obvious, but people get caught out all the time.
RELATED POST: Motorhome Glossary – A-Z of Terms & What They Mean
Habitation & Damp Checks
Make sure you get a habitation and damp check done independently, this will assure you that everything in the habitation area of the motorhome works and that you won't have to pay what can be huge sums of money to have damp repaired. It's important you have this done independently, as checks can be falsified.
A motorhome damp and habitation check will cost somewhere in the region of £200 depending on where you are in the country. It will be the best money you spend in your search for the perfect second-hand motorhome.
RELATED POST – Motorhome Habitation Checks – All You Need to Know
Buying From a Dealer
If you're buying a used motorhome from a dealer, be aware that not all motorhome dealers are created equal! Some have dreadful reputations; again Facebook is a great source of information so check out your dealer on some of the forums.
Make sure you get a warranty included in the deal if at all possible. This will give you some comeback if anything goes wrong.
If you're buying a new or used motorhome from a dealer, use a credit card to pay for the deposit or part of the deposit. This will ensure you are covered under Section 75 of the Consumer Credit Act in case of the dealer going bankrupt, or there being a problem with your motorhome. This does not apply to used motorhomes using Paypal, which invalidates the Section 75 protection.
Buying Privately
If you are buying your motorhome privately, make sure you are happy that the seller is genuine, particularly if you are using eBay or another auction type site. If it's too good to be true, it probably is!
Get an HPI check done on the motorhome to make sure it's finance free and hasn't been written off.
What to Look For When You View
If possible, get someone with some motorhome knowledge to go with you to view; you may want to check all the systems, such as heating, solar charge, hot water etc etc do actually work, that windows open and close and blinds are operational. Although a good habitation check will also cover motorhome systems, they may miss smaller things.
You should also arrange for the engine part of the motorhome to be inspected or checked over by a mechanic if there is no, or only limited, motorhome service history.
Use our buying a used motorhome checklist to help you on the day you view. It's got a comprehensive list of everything you should be looking at, and a handy reminder of the important points above.
RELATED POST – Buying a Motorhome That's Right for You – All You Need to Know
Collecting Your New Motorhome
When you collect your new motorhome, make sure you get a thorough handover from the dealer or private seller. Understand how the systems work, what switch does what, where you fill your fresh water tank and how you empty waste, how the control panel(s) work, where the spare wheel and locking wheel nut are and where to locate the fuses.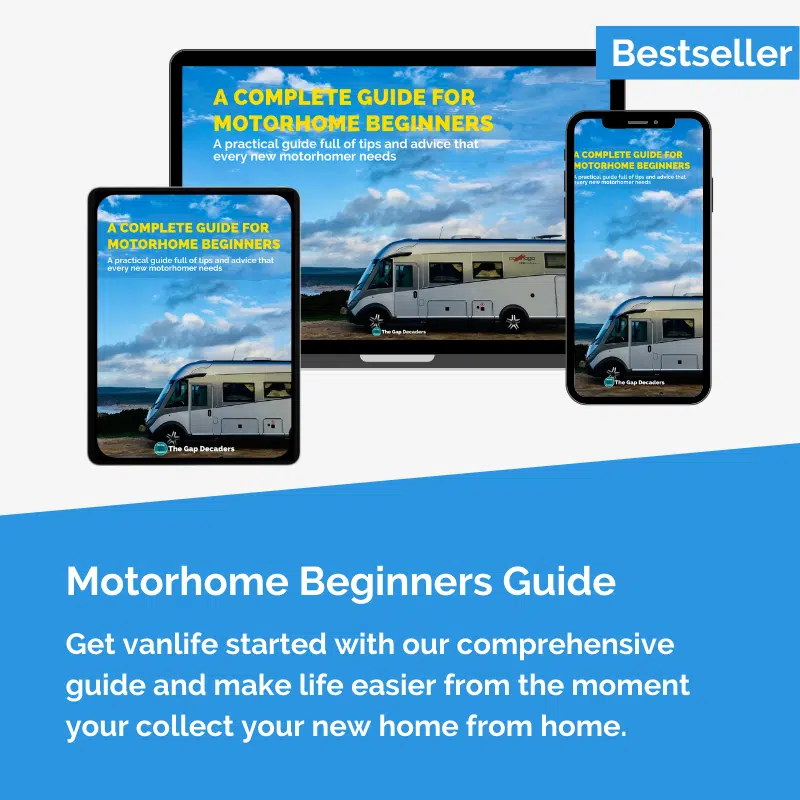 The Complete Guide for Motorhome Beginners Ebook
If you want all our beginner resources (and a few extras just for you) in one place, take a look at our ebook. With over 100 pages of tips, advice and practical information, this book brings all our learning into one easy to read, downloadable volume which you can take with your wherever you go.
"The ebook all new motorhomers should read" John – Londonderry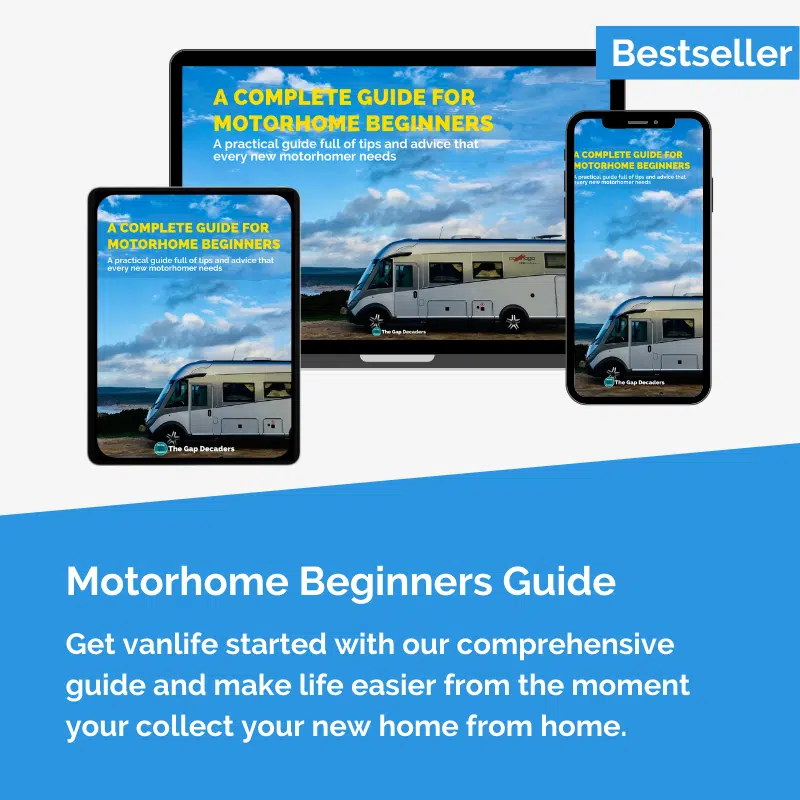 The Complete Guide for Motorhome Beginners Ebook
If you want all our beginner resources (and a few extras just for you) in one place, take a look at our ebook. With over 100 pages of tips, advice and practical information, this book brings all our learning into one easy to read, downloadable volume which you can take with your wherever you go.
"The ebook all new motorhomers should read" John – Londonderry
Other Things to Consider Before Purchase
What Kind of Driving Licence Do I Need?
Motorhome's are usually banded into three categories by manufacturers and it's mostly to do with how driving licence groups dictate what you can drive.
Uunder 3,500kg – anyone with a car licence can drive this category of motorhome.
Between 3,500kg up to 7,500kg – if you passed your driving test before 01/01/1997 you can drive this category of motorhome until you are 70, when you need to apply to the DVLA to retain your Cat C1 licence.
Over 7,500kg – you need a Cat C or LGV (HGV) licence for a motorhome in this category.
Calculate Your Payload
Work out how much payload you think you need. Payload is the difference between how much your motorhome weighs when it's empty and how much it weights when you fill it with people, clothes, fuel, water and all the other stuff you need to travel. This is important because you need to make sure you have enough capacity to carry everything you need.
RELATED POST – An Easy Motorhome Weight Guide
Storing Your Motorhome
Think about where you will store your motorhome when you're not using it. What are its dimensions? Will it fit on your drive?
You may also want to consider secure motorhome storage, which is an added cost, but means you are extremely unlikely to be a victim of motorhome theft. In fact, most motorhomes are stolen from driveways than anywhere else.
Wherever you store it when not in use, you should consider security options including alarms, trackers, immobilisers and physical security – in fact, your motorhome insurance company may insist on some of these measures. This is a good article from the Camping & Caravanning Club about motorhome security.
RELATED POST – Motorhome Storage – Your Complete Guide
Motorhome Insurance
You'll need specialist motorhome insurance. Depending on the value, your insurer may require you to fit an alarm and /or tracker. This can be expensive, so check likely insurance costs before you sign on the dotted line.
If you're planning to live full time in a motorhome and won't have a bricks and mortar property to return to, then you will need full timing insurance, a specialist product.
RELATED POST – The Essential Guide to Full-Timing Motorhome Insurance
Getting Around
Getting around with a motorhome is easy, but what about when you're on a campsite, want to stay stationary for a few days or spend one day in a city you just can't drive by? Some people tow a small car or carry a scooter, but most carry e bikes or bikes. This is an added cost and you'll need a bike rack too, so it's worth adding into the equation when buying a motorhome.
RELATED POST – The Best Motorhome Bike Racks & Bikes
What Motorhome Accessories Do You Need?
Motorhome purchased and sitting happily on your drive (or in secure storage!), now what? Well, you need to kit it out; some of that will be what you already use at home but you will need some specialist motorhome accessories too.
Motorhome Packing
If you're wondering how to pack a motorhome, a lot of it is common sense. Heavy stuff should go in low cupboards or outside storage bins, lighter stuff in overhead cupboards but secured or compartmentalised in boxes to reduce movement. Try and spread your stuff around so you have equal storage side to side and front to back.
Felt boxes make for great storage as they won't damage the inside of your cupboards, reduce rattling and help keep stuff safe.
RELATED POST – Storage Ideas for Campervans You Need to Know About!
Essential Motorhome Accessories Buying Guides
These are our motorhome must haves in the UK and abroad. All these gadgets and accessories have been tried and tested by us, or other motorhomers we know well.
Getting Weighed
Once packed, and before your first trip, head off to the weighbridge with a half tank full of water and fuel, your gas bottles full and tyre pressures correct.
Get weighed and make sure you're within your vans weight allowance. If not, head home and re-think your accessories and packing strategy!
Start your beginners journey to life on the road with exclusive checklists, free downloads, tips & more
Living in a Motorhome
Driving a Motorhome
If you are driving a motorhome or campervan for the first time, both the Camping and Caravanning Club and the Caravan Club offer courses on manoeuvring a motorhome with confidence. You should also consider comfort and your back when driving a motorhome, check out this post on tips to avoid back pain from driving by a road trip expert.
Your First Motorhome Trip
Have a bit of a 'shake out' before heading off on your first campervan trip. Whether this means a quick weekend on a campsite somewhere, a proper motorhome holiday or a few nights on your drive in the motorhome, you will be thankful you did.
Motorhomes are complex bits of kit, especially if you have newer technology. It can take a bit of time and trial and error to understand how your motorhome set up and how everything in your van works together.
Spend the time now and you will head off on your first motorhome trip knowing your van, and with everything you need to kick back, relax and have an amazing time.
Top tip – make sure you fit or take from home a carbon monoxide detector. It's best to be cautious where gas appliances are concerned, especially if your motorhome is used or a bit elderly and you have not used it before.
RELATED POST – How to Take Your First Motorhome Trip
Motorhome Safety
Security
Although security issues are rare, keeping yourself safe when you're travelling in a motorhome will help you enjoy a great trip, especially if you're planning on motorhome wild camping.
Lots of personal safety tips are common sense, but there are also lots of physical security measures you can take to ensure your van is stolen or broken into, such as alarms and steering wheel locks.
Travel Insurance
Make sure that you have good travel insurance should the worst happen. We always recommend True Traveller, which we use ourselves. As well as short-term cover, they also offer backpackers cover if you're planning a longer trip.
Motorhome Breakdown Cover
You may decide to take out breakdown insurance, especially if you have an older motorhome. Check that your cover is valid for the length, weight and age of your motorhome – some polices offered as part of a packaged bank account or included with insurance have limitations.
Vehicle Safety Equipment
There are also things you must carry with you in your motorhome every time you set off on a trip, to keep you and your vehicle safe (and legal!). Unlike the UK, most countries have a specific list of kit you must carry, which usually include a warning triangle, reflective jackets, spare tyre and a first aid kit. If you're heading for Europe, you can find all this information in our country specific touring guides.
Documenation
If you're motorhoming in the UK (and you're British) you don't need to carry any documentation with you. Overseas visitors should carry a passport and vehicle documenation
In Europe, you will need a passport with at least 3 months remaining, your driving licence, V5 vehicle registration document and motorhome insurance (a green card is no longer required).
RELATED POST – Staying Safe & Legal in Your Motorhome
Motorhome Manual
Take time to work through the motorhome instruction manual. If you don't have one look online, or contact the motorhome manufacturer or the dealer. Failing that, see who else has your make and model on Facebook and make contact. That quirky little red switch under the fridge might suddenly make sense!
Top tip – make sure to take your manual with you on your first motor home road trip so that you have something to refer to if you have a problem when away; this really is one of the best tips for a first time motorhome trip.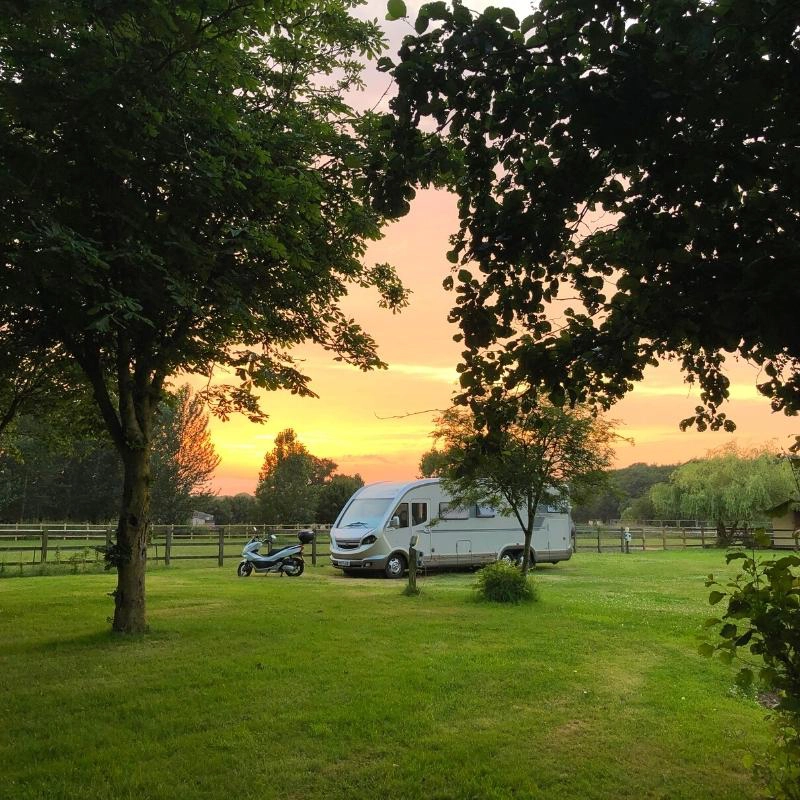 Understanding Motorhome Systems
Electrics & Solar
What do you need battery power for… and what's a leisure battery anyway? How do solar panels work? Do I need an inverter? When do you need EHU? What even is EHU?
Top tip – always fully uncoil your electrical hook up lead. Leaving them coiled can lead to overheating a potentially cause a fire.
RELATED POST – An Easy Guide to Motorhome Electrics
Motorhome Gas
An essential fuel for many – gas can heat your water, provide wet or blown air heating, cool your fridge and provide fuel for your cooker or oven.
There are a number of different ways of supplying gas to your van – from traditional bottles to refillable systems like Gaslow.
RELATED POST – An Easy Guide to Motorhome Gas & LPG
Cassette Toilets
This great You Tube video from Thetford shows you how to empty your toilet cassette – a necessary part of van life! Your's may look slightly different but all motorhome cassette loo's fundamentally work in the same way.
RELATED POST – An Easy Guide to Motorhome Toilets
Water & Waste
Make sure you understand how your motorhome water systems operate. Making sure your fresh water tanks and pipes are kept clean is important for the safety of your drinking water and wellbeing. Understanding where you can legally dispose of waste keeps you on the right side of the law!
RELATED POST – An Easy Guide to Motorhome Water Systems
Motorhome Internet & TV
Some people want to head off and leave all their devices behind, but we love to be able to research, post on social media and watch TV 🙂 Staying connected is pretty easy when you know how, you can find lots of tips in these articles.
Prevention Not Cure!
There is lots you can do to keep your motorhome ticking over and in good running order.
Preventing Condensation
The bane of motorhomers lives, condensation is almost impossible to fully eradicate, especially in winter.
Created when hot air inside meets cold air on external surfaces, like windows, condensation makes your motorhome feel damp and cold. A well-built motorhome, no leaks and ventilation are key to prevention. Click below to find out more!
RELATED POST – How to Stop Condensation in a Campervan
Diagnosing Smells
When you live in a small tin box, anything smelly becomes noticeable pretty quickly. Working out whether the smell is socks or something more sinister is easy when you know how!
RELATED POST – Help …My Camper Smells Bad
Frequently Asked Beginners Questions
If you frequent Facebook or online motorhome forums, you'll notice the same questions cropping up again and again. We wrote a post which you can refer to if you've got a problem that you're unsure about or can't solve. usually, it's straightforward, but none of us are born knowing how to motorhome!
RELATED POST – Motorhoming Made Easy – Your Top 20 Questions Answered
Planning a Motorhome Road Trip
Motorhome Destinations
Your motorhome is bought and kitted out, you've spent a weekend working out motorhome etiquette, how to boil the kettle, empty the toilet cassette, make your bed and keep your paintwork clean – you're ready for your first motorhome holiday!
Where are you going? Well that depends really on how long you have, how many miles you want to drive, what you want to spend and what sort of places you like to visit.
You could be planning a six month tour of the warmer parts of Europe, a two week road trip in Scotland, a month hiking the national parks of Europe, or Christmas in Spain… that is totally the beauty of motorhoming!
Our country specific motorhome touring guides have a wealth of current information about driving, motorhome camping, services, motorhome travel tips and destinations for many European countries and the United Kingdom.
Van Travel & Road Trip Resources
We've also got a lot of trip tips, motorhome camping hacks, inspirational motorhome book ideas and information on how to help you organise your perfect trip.
We love wild camping in our motorhome – who doesn't love a spot of free motorhome overnight parking? – but also enjoy chilling at great campsites when we need a bit of down time, or to do some washing!
Chat With Us!
We love answering questions! If you need motorhome help, more information or something is not clear, please drop us an email and we'll get back to you as soon as we can!
That's it folks, that's all our top motorhome tips and tricks for the UK and abroad! Enjoy your motorhome or campervan. We think traveling by motorhome is the best way to see the incredible world we live in. We hope you feel the same way too!
Looking for more useful motorhome resources? Check out these top posts…
If you want to motorhome in Europe, then the chances are you'll want to stay on a campsite at some point. The ACSI camping card provides low season discount on thousands of campsites across Europe. We share all our top tips to help you get the most from your ACSI card.
Love it? Pin it!