This post may contain affiliate links, from which we earn an income.
Are you worried about how much stuff you need to carry in your motorhome? Have you been to the weighbridge and realised that your motorhome weight exceeds its maximum authorised mass? We've got lots of tips to help you manage your motorhome payload and stay safe on the road.
Motorhome Payload Explained
What is motorhome payload? It is the difference between the Mass in Running Order or MRO (weight of your new motorhome when it rolls off the production like + the nominal weight of a driver), and the Maximum Authorised Mass (MAM) or Gross Vehicle Weight (GVW).
The MAM or GVW is the top figure shown on your motorhome weight plate, and the total weight your motorhome is allowed to be once loaded up.
So, a motorhome with a MAM of 3,500kg and a MRO or 3,000kg would have a payload of 500kg.
It's important that all motorhome owners understand the importance of motorhome weight limits and the implications it can have if you get it wrong. This includes increased fuel consumption through to the more major repercussions of causing an accident through poor handling, invalidating your motorhome insurance, fines and potential prosecution.
How Can I Reduce Motorhome Weight?
If you're overweight in your motorhome, there are lots of things you can do to reduce your weight. This is turn will minimise wear and tear on your van, improve handling and reduce your fuel consumption – what's not to love? Here are our top motorhome weight tips;
1. Travel light
There's no need to fill up with water or fuel before you head off – and make sure your grey waste tank and toilet cassette are empty before you travel too. Take enough fresh water and fuel for the journey and fill your tanks on arrival.
To put it in perspective, a 100 litres of fresh water weighs 100kg, or nearly 16 stone – that's a lot of other motorhome essentials!
2. Ditch the satellite dish
Weighing in at around 15-20kg, a satellite dish is an expensive and heavy bit of kit. Try streaming tv with your smart phone or use a stick like the Amazon Fire TV Stick instead.
3. Choose a lightweight awning and windbreak
Traditional steel framed awnings and wooden poled windbreaks weigh a LOT. Consider windbreaks and awnings with carbon fibre poles, or even better, an inflatable awning like this one.
4. Get rid of stuff you don't use
All motorhomes come with bits and pieces we don't use. I'm talking about fitted carpets, those weird wooden shower drainage thingies which really hurt my feet, excess sofa cushions to make a bed (unless you use the bed!) and even that enormous motorhome manual.
It all adds up and should be left at home – unless you're taking your first motorhome trip, then you should definitely take the manual!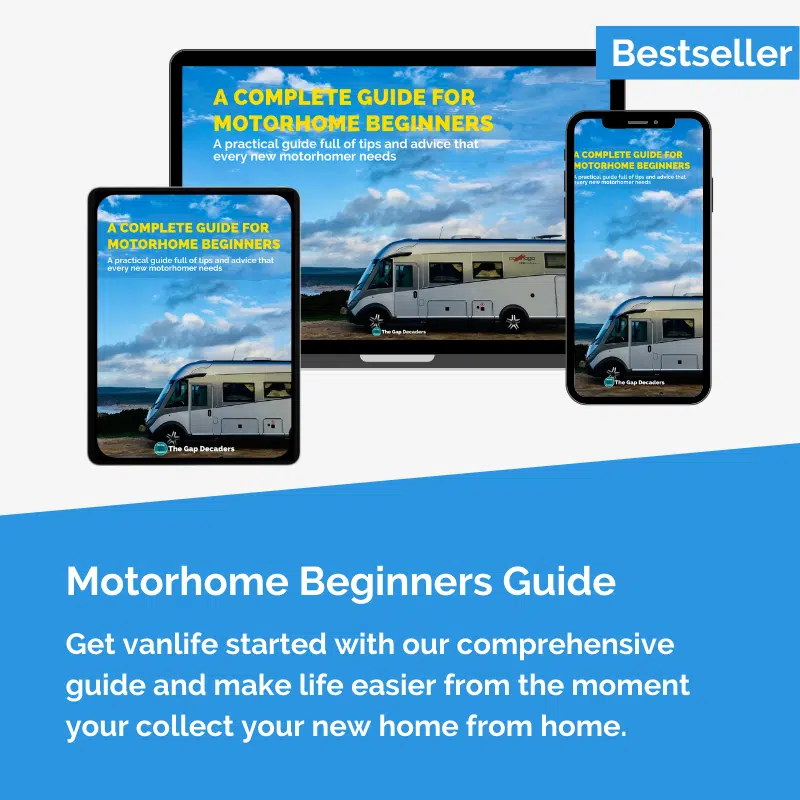 If you want to see all our motorhome beginners tips and advice in one place, plus lots of extra info and support you won't find on the website, check out our ultimate motorhome guide for beginners ebook.
With over 70+ pages packed with helpful knowledge, first hand advice and motorhome basics, this is the ebook every new motorhomer needs in their van.
5. Use lightweight tableware
Some people like to use real cutlery, proper glasses and Corelle plates. I get that, I hate a G&T from a plastic glass but if you're running low on payload this sort of thing makes a difference.
We compromise and use plastic glasses, lightweight tableware (bamboo plates right now) and metal cutlery.
6. Manage your gas
If you carry two gas bottles, consider travelling without the second one empty.
7. Swap your towels
Swap out any traditional cotton towels for lightweight microfibre ones. Not only are they lighter, they dry much more quickly, helping you to banish condensation in your motorhome.
Nowadays you can get microfibre towels in all sizes, including beach towels and bath towels, so there's no need to worry about your modesty when you're heading to the shower.
8. Shop local
Don't fill your kitchen cupboards before you leave, shop locally on arrival instead. I know it's tempting to stock up on stuff you can't get abroad, but all those tins of beans add up to a bit f weight (and you can actually get baked beans in most European supermarkets).
Shopping locally is also much better for the environment and helps the local economy wherever you're staying.
9. Buy lightweight camping gear
Camping gear is designed to be ultra-lightweight because for many, it gets carried to the campground. Traditional camping chairs and tables are bulky and tend to weigh a lot.
Look for makes like Helinox and Trekology who specialise in incredibly lightweight and cleverly designed camping chairs, tables and accessories.
10. Cook up a storm
Choose a multi-purpose cooking method. We use a Cadac Carri Chef, which, with a BBQ plate chefs pan and pizza stone weighs just 12.5kg. We don't have an additional frying pan or electric plate (unless we're motorhoming in Morocco where gas is scarce) and literally cook everything on the Cadac.
11. Choose clever gadgets
Every motorhome gadget and accessory you buy should be lightweight, functional and multi-purpose – if it folds up as well, that's even better! Choose things that do two or more jobs for you, making their volume and weight worthwhile.
12. Be ruthless
It's time for the 'c' word – note how I left mentioning it until halfway through? Do you really need 27 pairs of shoes and eight handbags? Thought not…
You're on holiday, pack light and in layers. Clothes made from technical fabrics tend to be lighter and make for easier washing and drying too.
13. Consider your options
Even before you buy your motorhome, consider the equipment and options you must have, and those you'd like.
Some motorhome manufacturers these days provide minimal payloads in an effort to keep the weight of the van below 3,500kg, and by the time you've added a bike rack, electric step and wind out awning, you've nothing left for clothes or the dog.
14. Have a clear out
Before each trip, or every six months or so if you travel full-time, have a clear out.
If you haven't used it in the last six months, or didn't use it on your last trip, chances are you're not going to use it in the future. Chuck it, store it or leave it at home.
15. Use felt not plastic
Felt storage boxes are way better than plastic. They fold flat meaning you can use them in awkward spaces with small doors (we have so many of those), they don't mark your cupboard interiors when they move around, don't rattle, they're better for the environment and yes, you've guessed it, they weigh less.
Maybe not much on a box per box basis, but if you use boxes everywhere like I do then it can add up to quite a bit.
16. And if all that doesn't work – uprate your motorhome
Consider re-plating or uprating your motorhome weight. Many 3.5 ton motorhomes are built on chassis which are able to carry more weight but are plated at 3500kg. This is so they can be driven by anyone with a licence.
SVTech provide this service and always receive great reviews.
To re-plate to over 3.5 ton you would need to take your Cat C Large Goods Vehicle (LGV) licence, or have passed your test before 1st January 1997.
This means you will have the Cat C1 entitlement already on your driving licence, which allows you to drive a a vehicle between 3500kg and 7500kg.
Are you looking for more motorhome tips & tricks? Check out these top posts…
Being a first time motorhomer can be daunting, so we're sharing our top motorhome tips and hints for beginners so you can learn how to motorhome with confidence. This guide includes tips for new motorhome owners, practical motorhome advice and easy guides, top travel tips from years in a van and free downloadable checklists to get you motorhoming like a pro!
Love it? Pin it!