This post may contain affiliate links, from which we earn an income.
The motorhome accessories and equipment options available to you when you buy a new or second-hand motorhome huge, and the market for retro-fitted accessories even larger.
Some motorhome accessories can be added as extras when you specify and new motorhome, and lucky buyers of used motorhomes can benefit from the accessories and gadgets already fitted. Otherwise, you can buy most motorhome accessories online and either fit them yourself, of have it done by an expert.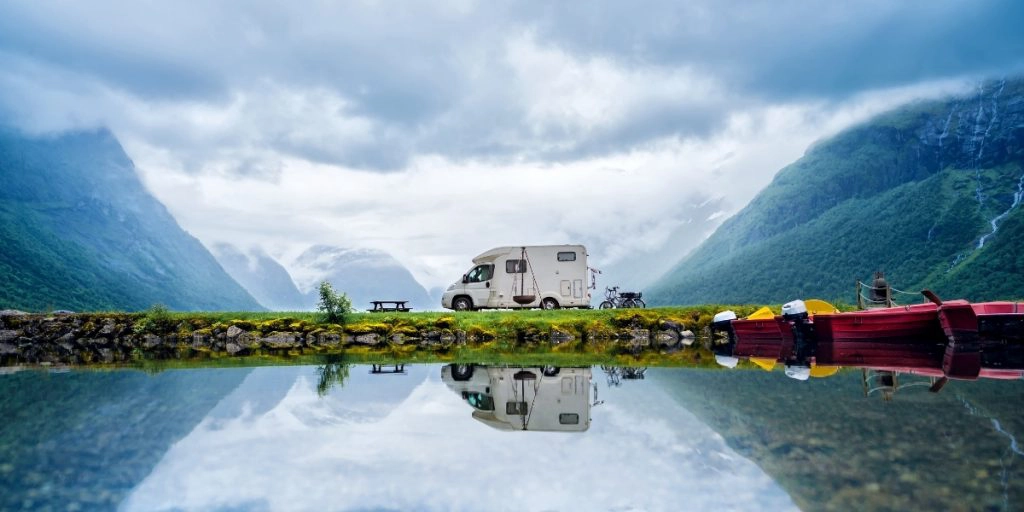 What Motorhome Equipment, Options & Accessories Do You Really Need?
When deciding on equipment and options at the specification point of buying a new motorhome or finding the right used motorhome, consider how much weight each will add to the MRO (maximum running order), which is the van's weight when it leaves the factory.
The higher the MRO the less payload you will have available for your essential packing list of everyday items. Ask the manufacturer for a list of options weights before deciding on what is essential and what's a nice to have. You can find out more in our easy weight guide.
---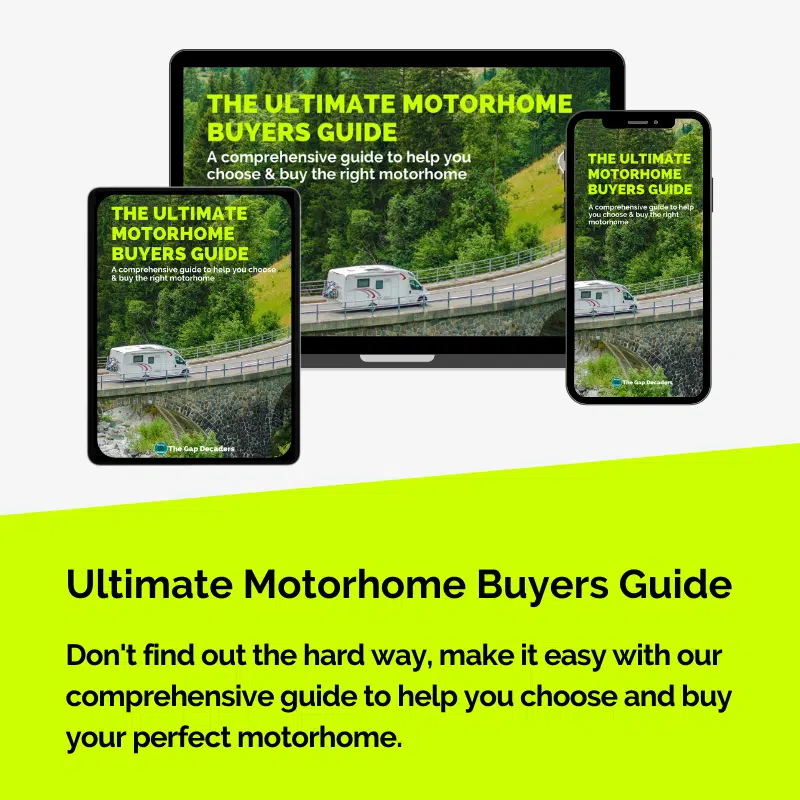 The Ultimate Motorhome Buyers Guide Ebook
If you want to see all our motorhome buying tips and advice in one place, plus lots of extra info and support you won't find here, check out our ebook. With over 50 pages packed with helpful knowledge and first hand advice, you'll save way more than you spend!
---
Motorhome Equipment List
Automatic Energy Selection Fridge
Most fridges will now come with an AES option. This means that you don't have to manually select the energy used to cool your fridge. The fridge will choose electric if you are hooked up, gas if you're not or 12v if you're driving. In reality this is a nice to have but does mean you don't have to remember every time to leave somewhere or arrive at a destination, to change your fridge settings. Or, you could just use our motorhome departure checklist and never have to forget again!
Air Conditioning
Consider how you will use your motorhome. This probably comes in the 'nice to have' bracket, especially if you're touring in the UK or using the camper van for a few weeks a year. However, if you're planning on going to France in your motorhome in August, then it may be an essential.
Air conditioning is an expensive extra and needs at least 10A of EHU to be effective, any less and it will cut-out. Do not even think about operating from your leisure batteries unless you have a specialist set-up! Depending on the unit, you can also choose blown hot air which may supplement your heating system, or be all you need.
Modern units can be directed and often have a 'silent' mode for night use. I don't think they are that silent and generally, once your van is down to a nice comfy temperature you probably won't want your air conditioning on at night unless you sleep above the cab which can get quite warm and stuffy in hot weather.
Awning
In our opinion, a must for weather and sun protection. An awning light, linked to an inner switch is also helpful if you're cooking or sitting outside after dark. You will need tie-down straps and may want to consider bolt-on options such as a central rafter, a sun screen, a wind diffuser and a safari room which closes your awning on all sides. Thule are the main manufacturer or motorhome awnings and accessories in the UK.
If you mostly wild camp, you may not use an awning that much as you won't be anywhere you'll want to put it out, or be bothered if you're moving on…that's our experience. We know people who carry a large parasol instead!
Make sure that you angle your awning to allow rain to flow off or it will fill up and collapse. Always ensure your awning-straps are in use if there is the slightest chance of wind, awnings are an expensive bit of kit to lose.
Bike Rack
There are hundreds of types of bike racks to suit all needs, motorhomes and campervans. Investigate and check recommendations before purchasing, generally you get what you pay for. We recommend Fiamma bike racks.
If you have a tow-bar you can get racks to fit which means no drilling into the rear of your van. However, if you have a long back end, this will weigh you down further and may cause you to bottom out on speed bumps and ferries.
You may want a bike cover and this will need to have a warning sign attached, (as do the bikes without a cover) according to the laws of the country you are travelling in. Fiamma have a good selection. Check out this post for more information on bikes and motorhomes.
Corner Steadies
Sometimes called legs, these rear corner steadies are manually lowered or raised by turning a threaded spindle. The legs make contact with the ground and provide stabilisation when people move around inside the motorhome. You may find it helpful to carry two small pieces of wood to place underneath the legs to help spread the load.
Recommended Reads
Choosing a motorhome or campervan is one of the biggest buying decisions you'll ever make and high on lots of people's bucket list. Read our buyers guide to make sure that when you choose a motorhome or van, it's the perfect motorhome for you!
Do you know how much your motorhome weighs? After a shock at the weighbridge as motorhome beginners, we decided to do some research into motorhome weights, how they are calculated and what it all means. In our easy guide to motorhome weights, we break down motorhome weights language, show you how to find the information you need and share how to calculate what you can carry in your motorhome so you can hit the road safely!
Electric Step
This simply means that you can extend or retract a fixed step up into the habitation door electrically (runs from 12v). The step is fixed to your chassis and slides beneath when retracted. This can sometimes be done from the drivers chair as well as by a switch by the door. An alarm will sound when you start the engine to remind you to retract the step before driving away.
External Gas Point
This is really useful to have if you intend to cook out a lot using a Cadac or other similar grill. The point is normally fitted somewhere in a storage area on the habitation door side of the van and is connected to your integral gas supply. They are very simple to use and mean you don't have to carry a separate gas bottle.
Heating
Consider how you will use your motorhome. If it's for short summer trips then you won't need heating. If you intend to spend the winter in southern Spain or Portugal on a campsite with EHU, you would manage with a plug in oil filled radiator or fan heater. If you want to venture into northern Europe or the mountains in the winter, you will definitely need heating.
You have a choice between wet or blown air. In our experience wet is by far the most effective and comfortable. Blown air tends to dry you out! A wet system will also supply you with hot water, it is worth considering a system with a boost feature if you like a longer shower or there are more than two of you. You will also need to consider how to get gas in Europe, refillable systems are best and described further down the page.
Any heating system will need regular servicing, approximately every two years, and will use some form of fuel. With an 11kg and a 6kg gas bottle; continuous heating run time is approximately 48 hours, depending on your system. In reality, once you get toasty, the van will hold the heat even for quite some time. We've never needed our heating on for more than a couple of hours a day, even in minus temperatures.
Inverter
An inverter converts your 12V power to 230V meaning you can use three pin plug-in devices and appliances. We don't use things like a toaster though, or other appliances which draw a lot of power as they significantly deplete your batteries.
Be aware that some inverters do not give you full 230V at every socket; you may have some 230V sockets and some 12V. Make sure you know what you are having fitted and ensure you get an inverrter large enough for your needs. Read more about motorhome power here.
Want top motorhome buyers resources, advice & tips to make your journey to motorhome ownership stress-free & easy?
Leisure Batteries
All motorhomes need a leisure battery. How many, the type and the size of leisure batteries will depend on how you are going to use your motorhome. If you are buying a used motorhome, you should consider how old the batteries are. Battery life is approximately 4-5 years depending on usage and type.
The batteries are usually charged automatically when you are plugged in to 230V, are running the engine and trickle charged by solar power, if you have a solar panel fitted. There is usually a regulator fitted which manages the different charges and maintains your batteries in their optimum state. Batteries are a complex subject, talk with a dealer who can give you more expert information.
Motorhome Levelling
There are lots of options here from simple levelling ramps to 'steadies', which are wind down adjustable legs at the rear corners, to full on all-round hydraulic systems which can be operated from the cab.
We're not experts but you can find a good article here which will help you understand what these systems do, cost and effectiveness.
Recommended Reads
Microwave ovens are essential bits of kitchen equipment for most of us and it's no different when we travel in our home from home. If you're looking to retro-fit or carry a microwave in your motorhome or campervan, we've got all the information you need to make the right choice.
Are you confused about motorhome electrics? How do motorhomes work? What is the difference between mains electricity and batteries? What does a solar panel and inverter do and do I need a generator? And how do I get power without EHU? Don't be confused, this easy guide to your motorhome electrical systems explains it all.
Oven & Grill
Some vans come with a (usually) Dometic stack of fridge freezer and oven or microwave. Think about what your campervan food essentials are before splashing out. Our van came with an oven and we carry a low wattage microwave in our wardrobe! We didn't think we would use the oven, and we didn't in the summer, but come winter we are glad we have it. If you decide on an oven, consider adding a grill element. It's great for toast if you don't want to carry a toaster or will be off-grid a lot.
Refillable Gas System
Re-fillable gas cylinder systems such as Gaslow and Gasit are housed in your gas locker and can be filled at any LPG station in UK or Europe. The system resolves the issue of needing a country specific gas regulator as it comes with a range of filling adaptors for all European countries. It costs approximately £500 but is well worth the investment and cheaper to fill than replacing conventional bottles. It's not really on our list of motorhome must haves in the UK, but a must if you're travelling in Europe for any length of time.
LPG is readily available with a little forethought and planning. We usually fill up once we have switched to the small bottle and use the myLPG.eu app to find garages selling LPG (often known as GPL in Europe).
If you are having a refillable system fitted, you should also consider having a filter fitted at the same time due to the high levels of butane found in Spanish and Portugese LPG. It won't filter out the butane but will remove any damaging particles.
You may also want to consider an accident recognition system such as Truma MonoControl which means you can travel with your gas switched on as the integral sensor stops any gas flow immediately it senses a collision.
Reversing Camera
If you have one fitted, a twin lens is the optimum type as this gives you a rear view mirror view as well as a reversing view. Consider where you will be driving and how often you will reverse your motorhome. If you are going to one site for six months it may not be worth investing in a factory fitted one. Check out our post about motorhome reversing cameras for options and ideas if you are fitting retrospectively. If you are wild camping on cliffs then it's probably one of those must have motorhome accessories!
Satellite Navigation
There are so many sat nav options nowadays. If you are buying a new motorhome, a fully integrated in-dash sat nav can also link to a reversing camera and provide a full media system for your motorhome. This will cost you upwards of £1.5k.
Read our post about the best retro-fit and dash-mounted motorhome sat nav's here.
Satellite Television
Satellite systems require a dish or dome and lots of wiring internally so best specified at the purchasing stage. There is more information about satellite tv and streaming tv here. It is also possible to get motorhome internet and wifi using a satellite dish, meaning you can use your mobile phone without using expensive data. Suffice to say though, it is not a cheap option to add and not always effective for tv in more southern parts of Europe, Morocco and Turkey.
SOG Toilet
A genius invention (unless you have a Thetford Porta Potti!) which prevents a smelly loo and eliminates the need for any chemicals. On opening the toilet blade (the flat plastic cover that separates bowl from cassette) a fan starts creating negative pressure, extracting the unwanted odours from the cassette through the roof or side of the van depending on where your loo is located. This means no need for expensive chemicals and no smells and best of all, it's environmentally friendly. We've had this fitted on all our vans, for us it really is an essential motorhome accessoryTo find out more about SOG toilets, read our Easy Guide to Motorhome Toilets, Waste & Water.
Recommended Reads
Do you want to wild camp in your motorhome? Are you feeling a bit nervous about wild camping for the first time? Then read on for all our top tips and practical advice about how to wild camp in a motorhome and get off the beaten track like an expert!
Deciding what to take on your motorhome or campervan road trip is hard; it can make or break a holiday. This essential motorhome accessories list has all of the campervan and motorhome must haves, along with a handy motorhome packing list for you to print and lots of travel tips for life on the road. Go on, get packing!
Solar Panels
A true campervan essential if you like wild camping. Our van came fitted with a single 120w solar panel which trickle charges the 3 x 110AH leisure batteries via a regulator. If we are careful about how much tv we watch, we can have light and charge devices overnight knowing the solar panels will recharge the batteries the following day (unless of course it's really cloudy, but we don't seem to get much of that!). We can manage without EHU for around 2-3 days on dull days and indefinitely when the sun shines.
Additional panels can be fitted, providing you have the space on the roof. Alternatively, you can carry a mobile solar panel which needs to be set-up and dismantled each time you move. This technology is improving and developing rapidly so check with a dealer or supplier who can give you more information. Read more about motorhome power here.
How Does Your Motorhome Work?
If you are buying a new or second-hand motorhome, we strongly advise you to ensure you get a full handover of the vehicle, equipment and control panels on collection.Things like knowing where your water tank and first aid kit are, and how to operate your heating are pretty important!
When we bought our first motorhome, we didn't do this and it took us some time to puzzle out how it all fitted together….every time we thought we had a problem with the van, it turned out to be a problem with us! You can find out more about how your motorhome works and setting up a motorhome in this post about taking your first motorhome trip, one of the best things to do in a motorhome before your first proper road trip.
If you're motorhome beginners like we were once, there's loads of tips and advice in our huge guide. Or head on over to our motorhome resources page for tips on living in a motorhome, tips for road trips, and practical motorhome advice.
Looking for more motorhome accessories? Check out these top guides…
Our van life gift guide is full of fun, creative and unique gifts for anyone who loves the van life. Whether you're looking for personlalised campervan gifts, funny campervan gifts or throughtful vanlife gifts for a loved one, you'll find the perfect something here.
Love it? Pin it!