This post may contain affiliate links, from which we earn an income.
Everything You Need to Know About Motorhome Electrics
Are you confused about motorhome electrics? How do motorhomes work? What is the difference between mains electricity and batteries? What does a solar panel and inverter do and do I need a generator? And how do I get power without EHU?
We've been on the road for over four years and have tried lots of different electrical set-ups in various vans, and now an overland truck. We've put together a simple guide to help you understand how different set-ups work and ultimately provide power to your motorhome.
Don't be confused, this easy guide to your motorhome electrical systems explains it all!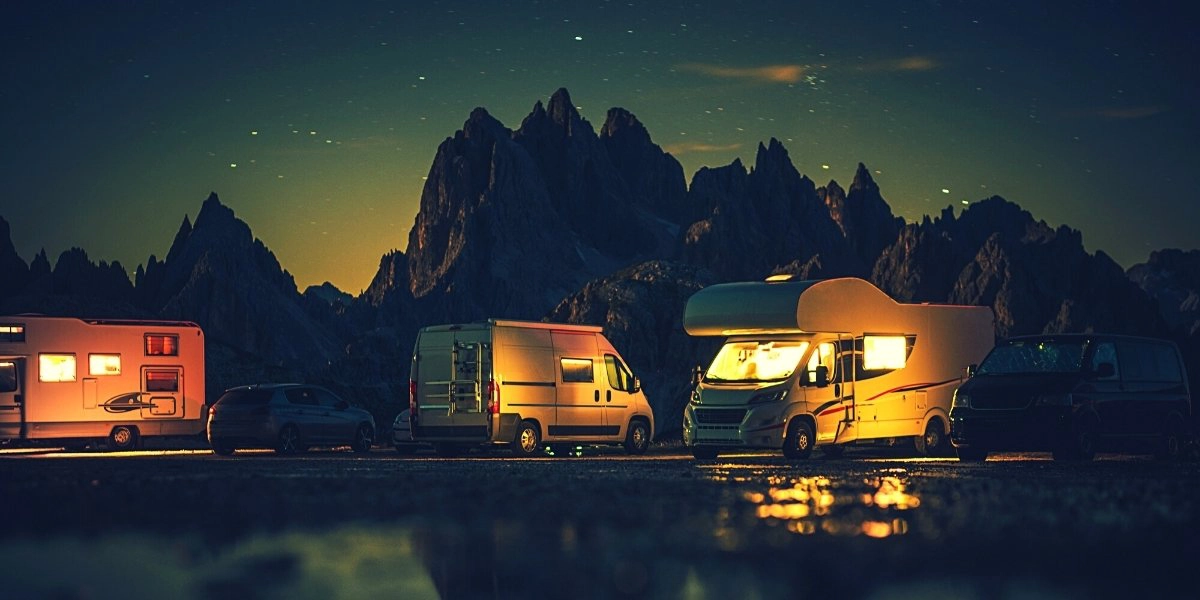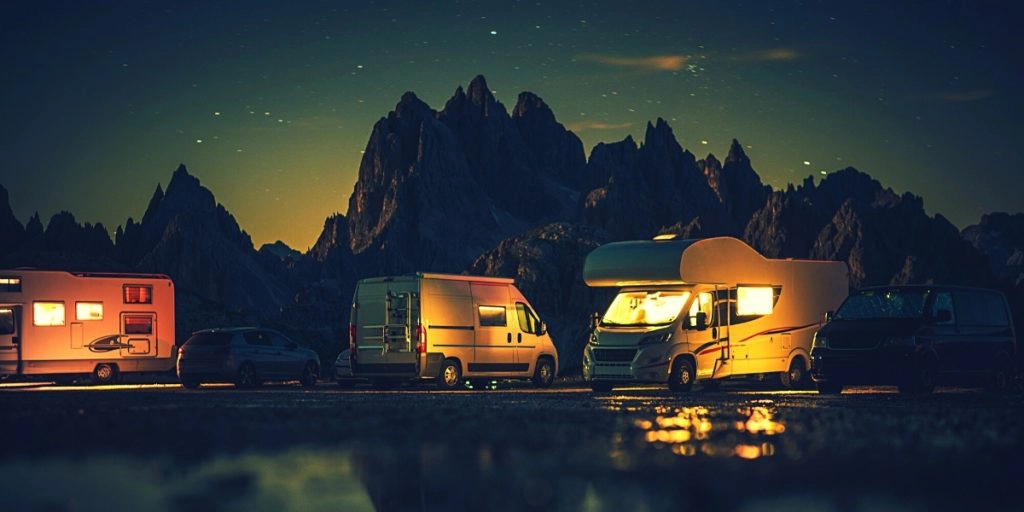 Motorhome Electrics Basic Set-Up
In the motorhome or campervan electrics basic set-up, which all new and most older vans will be fitted with, there will be a 12v leisure battery (or maybe more than one) which is charged by the 12v vehicle starter battery when the motorhome engine is running. The 12v leisure battery is also charged when the motorhome is plugged in.
The simultaneous charging of the vehicle starter battery and leisure batteries from a common charging source is called a split charge. Adding a relay to a split charge system means that your motorhome engine batteries cannot overcharge the leisure batteries as the relay prevents charging from taking place once your engine battery stops running.
The longevity of a caravan, motorhome or campervan leisure battery depends on frequency of discharge, depth of discharge and how soon it is recharged. A regulator or controller will ensure your battery runs through this charge and discharge cycle regularly.
You should not discharge your van battery any more than the recommended depth of discharge (DoD). To do so can have a damaging effect on the battery and will certainly shorten its life.
When the vehicle is unplugged and the engine is not running, the motorhome leisure battery, via a small motorhome or campervan consumer unit, will power your 12v tv, integral lights, any 12v sockets you may have, your water pump, boiler and fridge ignition, satellite dish and electric step.
If you have electric roof-lights, drop-down beds or other integral electric extras then these will also be powered by the motorhome leisure battery. Your leisure battery will not power any air conditioning units as the draw is too high, you will need EHU (electric hook up) for this.
When you are connected to motorhome or campervan mains hook up, all your appliances and sockets will work, including 240v appliances as long as the amps provided are enough.
Six amps is a typical offering and will power fridge, tv, satellite and possibly heating but probably not a hairdryer and certainly not air conditioning.
Ten amps will cover most things but may cut-out after a 20 minutes of air conditioning.
It's really a bit of trial and error until you understand your appliances requirements and how caravan and motorhome electrics work. When connected to EHU make sure to uncoil your extension lead fully. Leaving them coiled can cause overheating and lead to fires.
Unless you have a compression model, your fridge will not work from your 12v leisure battery. The option to switch to 12v means the vehicle battery powers the fridge when the engine is running. This is because of the need to switch gas off when driving, although there are now systems which mean you don't have to do that.
See our post on Equipment & Options for more information on this. When you are stationary and not on mains hook up your fridge will be powered really efficiently by gas.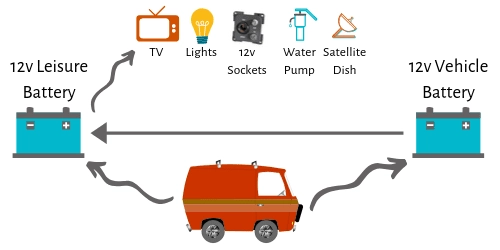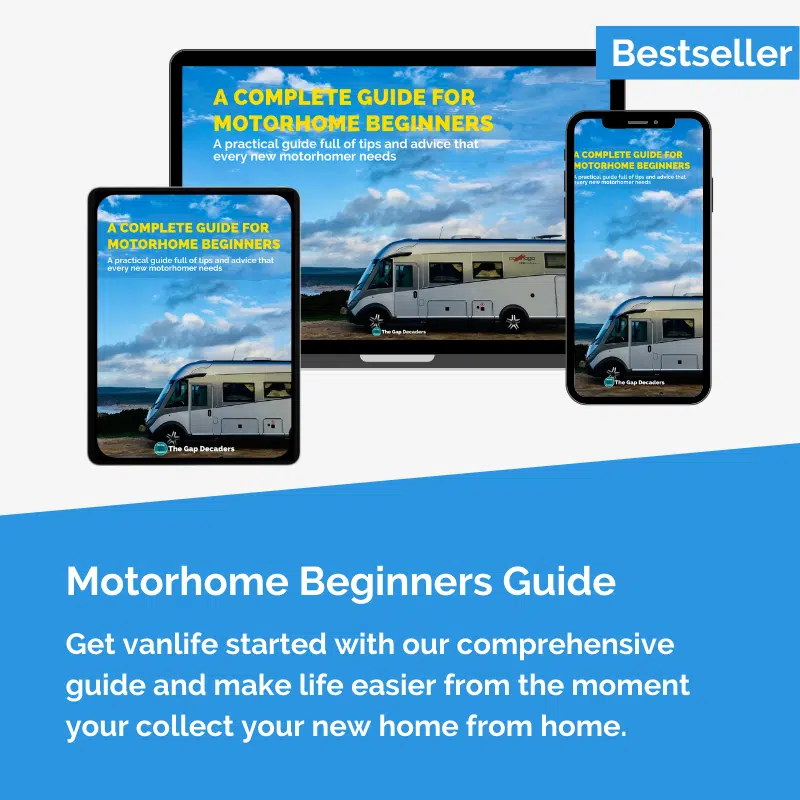 The Complete Guide for Motorhome Beginners Ebook
If you want all our beginner resources (and a few extras just for you) in one place, take a look at our ebook. With over 100 pages of tips, advice and practical information, this book brings all our learning into one easy to read, downloadable volume which you can take with your wherever you go.
"The ebook all new motorhomers should read" John – Londonderry
Motorhome Electrics Solar Set-Up
In the motorhome electrics solar set-up, we see the addition of a solar panel (maybe more than one). This could be fitted to the roof of the motorhome, but also could be a large portable panel.
The power generated by the sun is fed into the leisure battery, helping to keep it topped up.
If your van has a fitted solar panel, it's likely that you will have a fitted regulator in the motorhome which optimises the charge coming into the battery. The feed from the sun is really a trickle – if you have around 8 hours a day of sun and a 100w panel then you should be able to use 12v electricity normally in your van throughout the evening and night before topping up with solar power again the next day.
The downside of solar power is that you do need the sun for it to work although solar panels are being developed which only need light.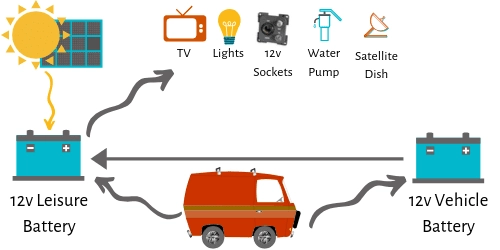 Motorhome Electrics Generator Set-Up
A generator is really just another type of battery charger. It plugs in via a mains cable to your normal EHU socket on the outside of your van.Generators run on fuel, most portable leisure generators use unleaded now.
Generators are usually branded in terms of watts, one watt of generator power to one watt of required power, so think about what you will use when your generator is plugged in to determine the size you need.
This needs to be off-set against the cost of fuel, noise (even the 'silent' types are noisy), weight, smell and impact on other motorhomers.
Generators are starting to fall out of favour due to the technologies, ease and eco friendliness of solar power, but may have a place if you're motorhoming in winter or wild camping where there are low sun and light levels.
If you're considering a generator, take some advice on compatibility with your 12v battery as motorhome distribution units are designed to run off normal voltage-stabilised mains supply and not all generators will provide this.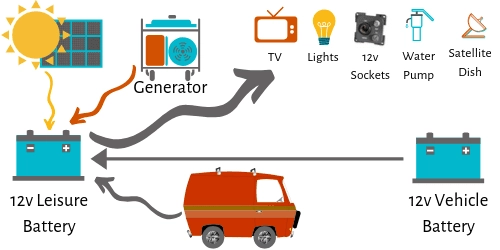 Motorhome Electrics Inverter Set-Up
The inverter takes power from the leisure battery, regardless of how its generated and converts it to 230v, meaning you can use anything with a normal plug. Inverters are like generators, for every watt of appliance power you need a watt of inverter power.
Don't get carried away, you don't have any more power than you had before and still can't run a/c or your fridge from your leisure battery. Items like hairdryers, kettles and toasters use a huge amount of initial power so use them sparingly and not all at the same time.
A pure sine wave inverter (rather than a modified sine wave) will give you clean power with voltage which rises and falls smoothly. This won't cause humming of electrical appliances or spluttering of lights and will keep your equipment safe from surges.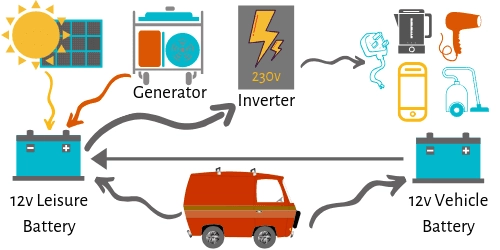 Conclusion
You can see from the graphics that it's possible to organise your motorhome electrics in different ways depending on your needs. You can have an inverter without a solar panel and vice verse; it really depends on what you want to plug in.
There are so many variables when it comes to motorhome electrics that we cannot advise on models and size of equipment. However, we wild camp without the need to ever hook up using one 120w solar panel and two 110ah batteries – with this we can use lights, charge phones, watch tv and have all the background stuff like the pump working.
On dull days we can manage for about 48 hours before we need to charge the leisure battery by driving. Add a laptop into the mix though, and we get around 6 hours of work and need to drive (or have full sun for the day) every 24 hours.
Its just one of the reasons we chase the sun and no per day EHU costs! We do also have a 2000w inverter; it makes life easier with fitted plugs but it's not a necessity.
It is possible to put together a diy camper electrical system yourself. However, if you are unsure, are planning a full van conversion or have no experience with electrics, then seek advise first and consider having the work done by an expert in motorhome and campervan electrics. They will also be able to advise of the best makes and models of equipment to suit your needs.
Looking for a Simpler Set-Up?
If you have an older van or don't want to spend money on expensive campervan electrics you can use mobile gadgets to provide you with motorhome power when wild camping.
Solar Generators
The most complete and powerful option is a solar generator, also known as a portable power station. An Ecoflow Solar Generator is a lithium battery pack with an integral inverter, meaning you can plug into it directly to power devices and appliances up to an impressive 1800w. The power bank can be charged from a wall socket, car charger or portable solar panels and comes with an additional battery for extra oomph. The whole lot weights just 7.6kg, considerably less than a regular leisure battery.
Mini Inverter
Try a simple inverter like this one which will give you 200w of power, two UK sockets and two USB sockets and plug into your motorhome's 12v socket (you may need an adaptor for non-UK motorhomes). This will give you enough power for a couple of devices, but not much more.
Portable Solar Panels
If it's solar power you're after, take a look at this foldable, lightweight 24w solar panel which has three integral USB ports, which might just be enough for your needs.
For a bit more oomph, try this 100w solar panel, complete with controller, which will feed directly into your leisure battery and folds up for when you're on the move.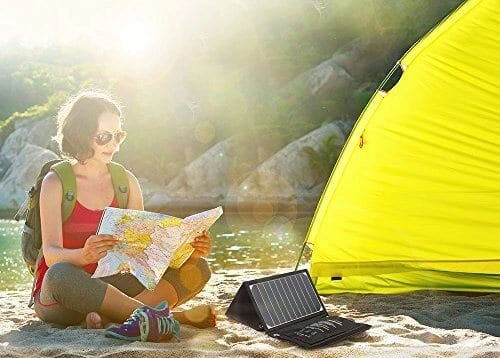 There are loads more clever and innovative gadgets on the market to help you conserve power when motorhome wild camping, so you can spend longer in the wilderness! Check them out here.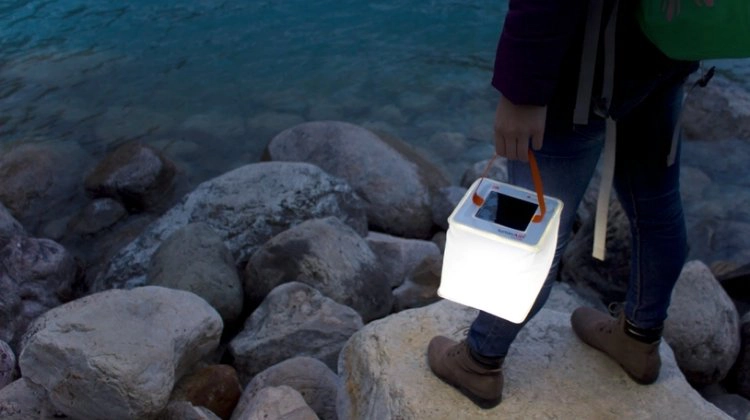 Are you looking for more useful motorhome resources? Check out these top posts…
Being a first time motorhomer can be daunting, so we're sharing our top motorhome tips and hints for beginners so you can learn how to motorhome with confidence. This guide includes tips for new motorhome owners, practical motorhome advice and easy guides, top travel tips from years in a van and free downloadable checklists to get you motorhoming like a pro!
Love it? Pin it!