When we started travelling in our motorhome, we found it difficult to find good itineraries that took us to where we wanted to go.
We wanted big skies, breathtaking landscapes and lots of interest – history, activities and a bit of adventure. We figure we're not that much different from most people!
We like to pack it in when we visit somewhere new, whether it's for a few days or a few weeks. So, we've created these itineraries to give you all that and much more.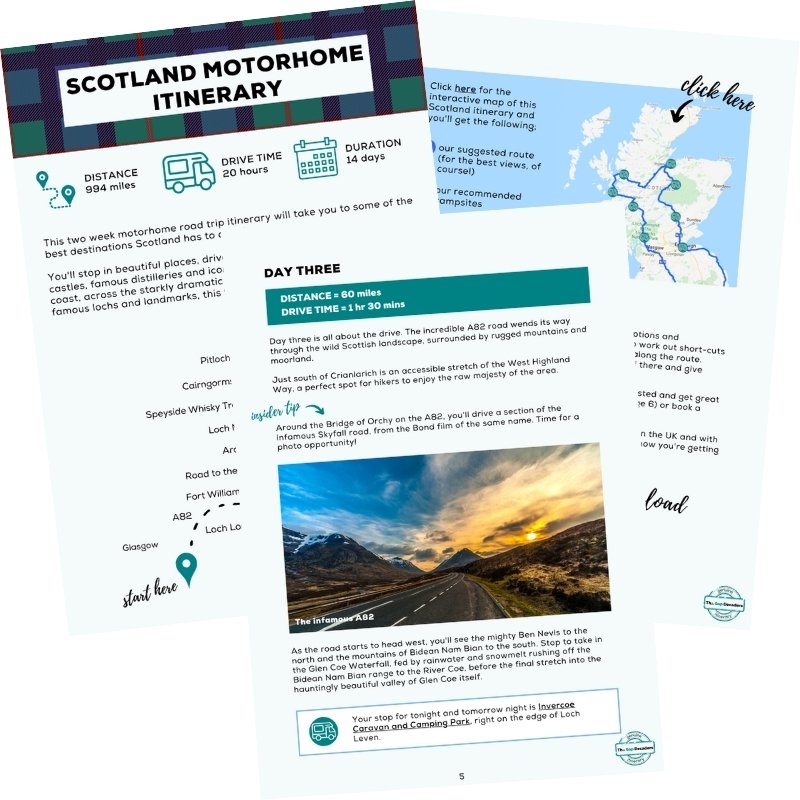 Scotland Two Week Motorhome Itinerary
This two week motorhome road trip will take you to some of the best destinations Scotland has to offer!
You'll stop in beautiful places, drive incredible roads and visit ancient castles, famous distilleries and iconic landscapes.
From the rugged west coast, across the starkly dramatic Scottish Highlands and passing by famous lochs and landmarks, this trip is truly breathtaking.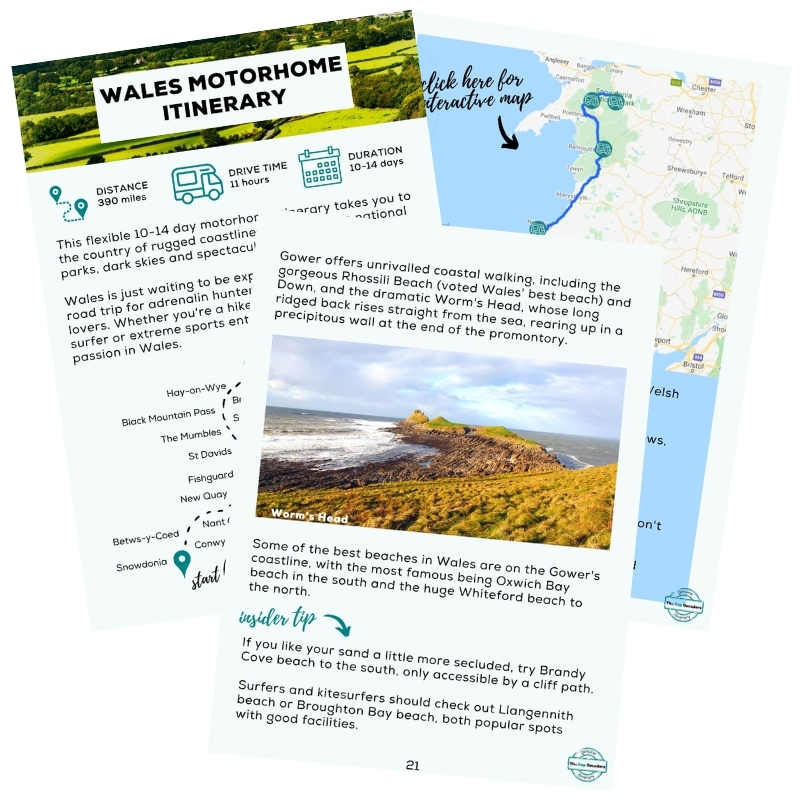 Wales 10-14 Day Motorhome Itinerary
This flexible 10-14 day motorhome itinerary takes you to the country of rugged coastlines, mountainous national parks, dark skies and spectacular beaches.
Wales is just waiting to be explored, and makes a perfect road trip for adrenalin hunters and outdoor activity lovers.
Whether you're a hiker, mountain biker, paddler, surfer or extreme sports enthusiast, you'll find your passion in Wales.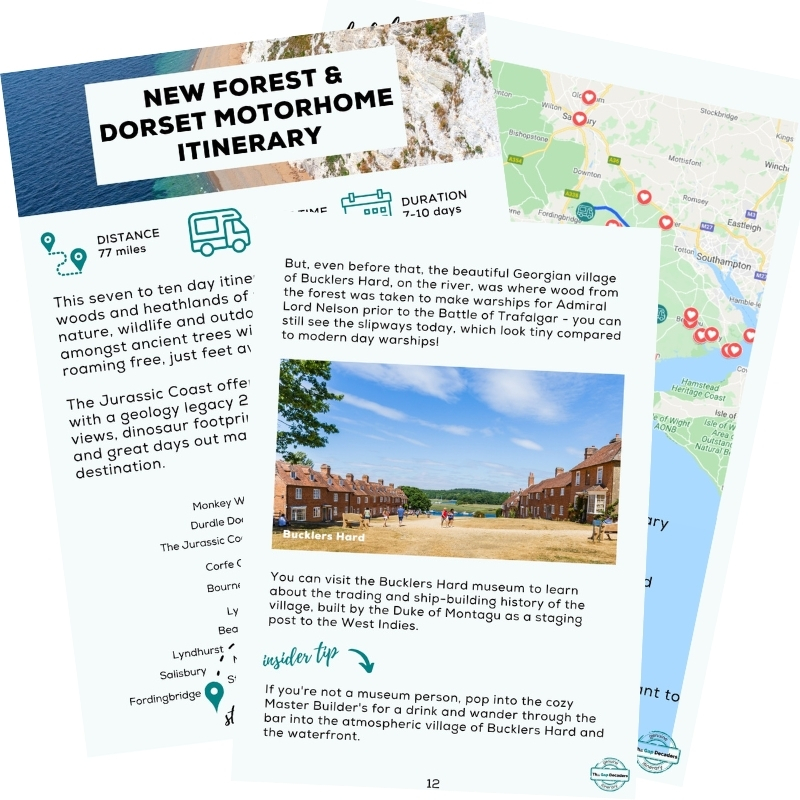 New Forest & Dorset 7-10 Day Motorhome Itinerary
This 7-10 day itinerary will see you exploring the woods and heathlands of the New Forest. Rich with nature, wildlife and outdoor adventures, you'll overnight amongst ancient trees with wild ponies and deer roaming free, just feet away from your van.
The Jurassic Coast offers even more ancient history, with a geology legacy 250 million years old! Spectacular views, dinosaur footprints, bucket and spade beaches and great days out make this a perfect holiday destination.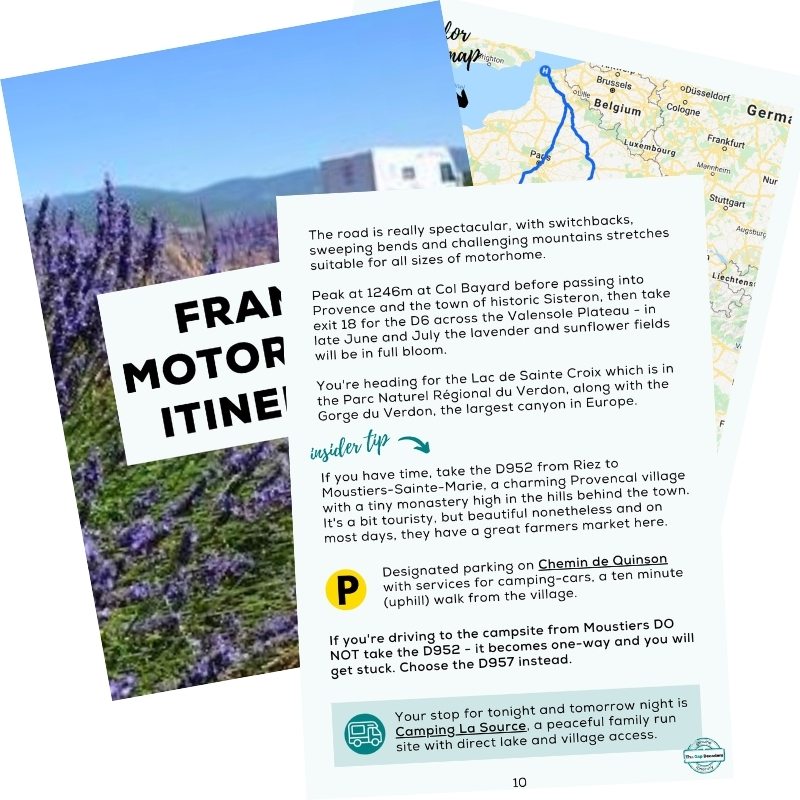 France 14-21 Day Motorhome Itinerary
This two to three week itinerary will see you exploring the rich and diverse landscape of France.
You'll stop in campsites and aires close to some of France's most iconic sights and try your hand at wild camping in a country that loves motorhomers!
From the Route Napoleon, through lavender scented Provence and the unspoilt Cevennes, to the gorges of the Herault and the castles of the Dordogne, this motorhome road trip takes you to the very best of France.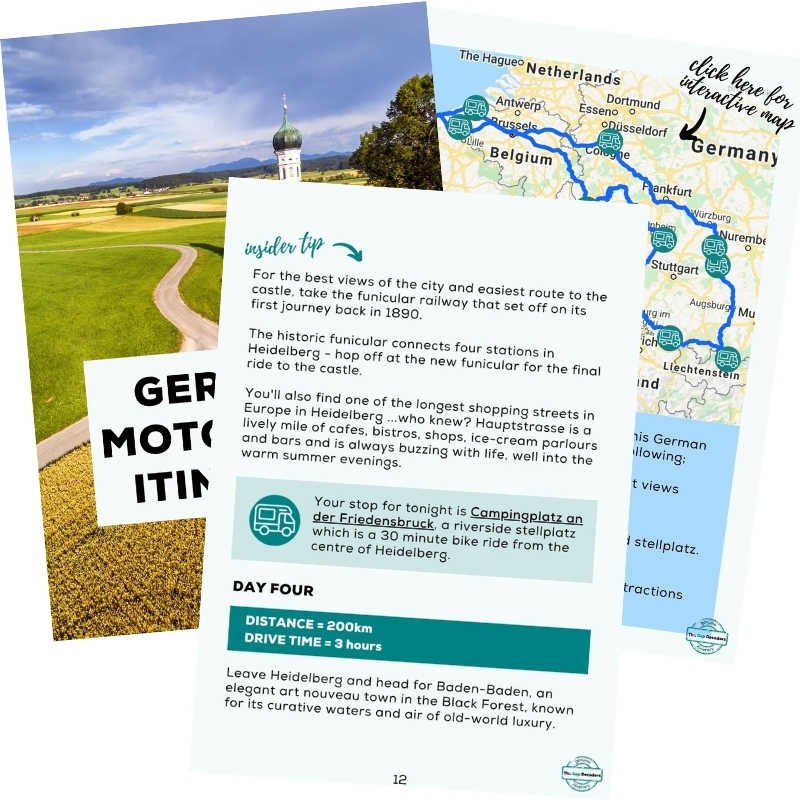 Germany 14 Day Motorhome Itinerary
This two week itinerary will see you exploring the gorgeous and atmospheric countryside of Bavaria.
You'll stop in campsites and stellplatz close to some of Germany's most beautiful landscapes, castles and lakes.
From the Romantic Road to Germany's highest mountain, beautiful Bodensee and more castles than you can count, this motorhome road trip will show you Germany in all its glory.
Why Buy Our Itineraries?
We have years of experience camping, caravanning and motorhoming in the UK and Europe. We've also lived in our motorhome full-time for three years…meaning we've visited LOTS of places and have gathered lots of information and insider knowledge.
As well as visiting all the places we write about, our itineraries are extensively researched to ensure they are accurate and provide up to date information.
Our itineraries come in PDF format that can be viewed on any device, just download and get reading.
All the links in our itineraries are clickable, meaning you can check up on a particular campsite or view the map directly from your phone or tablet.
We offer free lifetime updates. No catch, completely free, forever. Whenever we update an itinerary, you will be offered the chance to download the new version free of charge.
Our site and payment gateway is 100% secure. You can pay safely and risk free with a debit or credit card or use Paypal.
If you are not satisfied with your itinerary, we offer an uncomplicated, no questions asked refund within 7 days.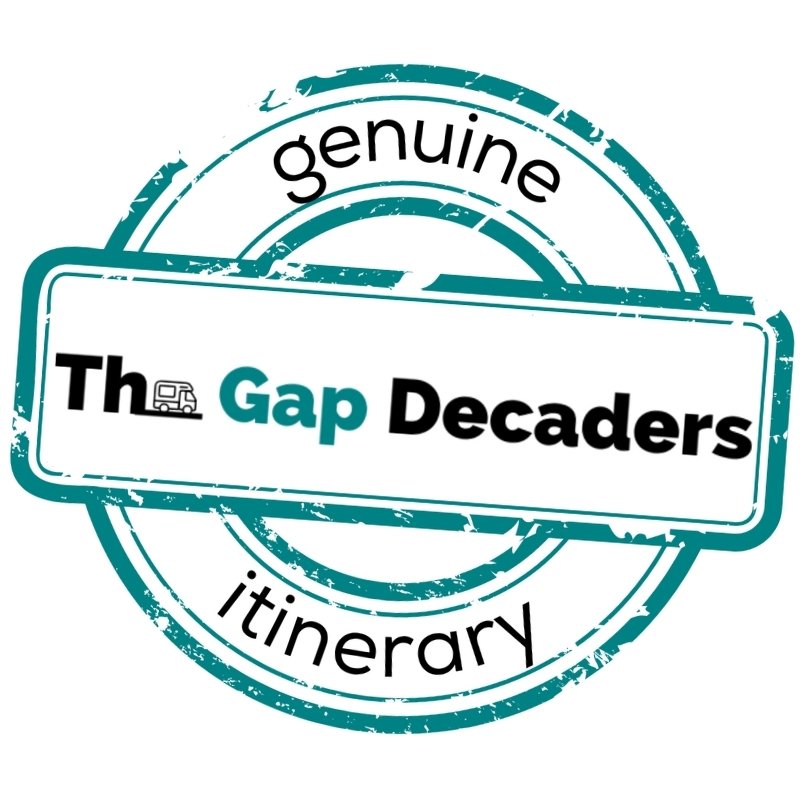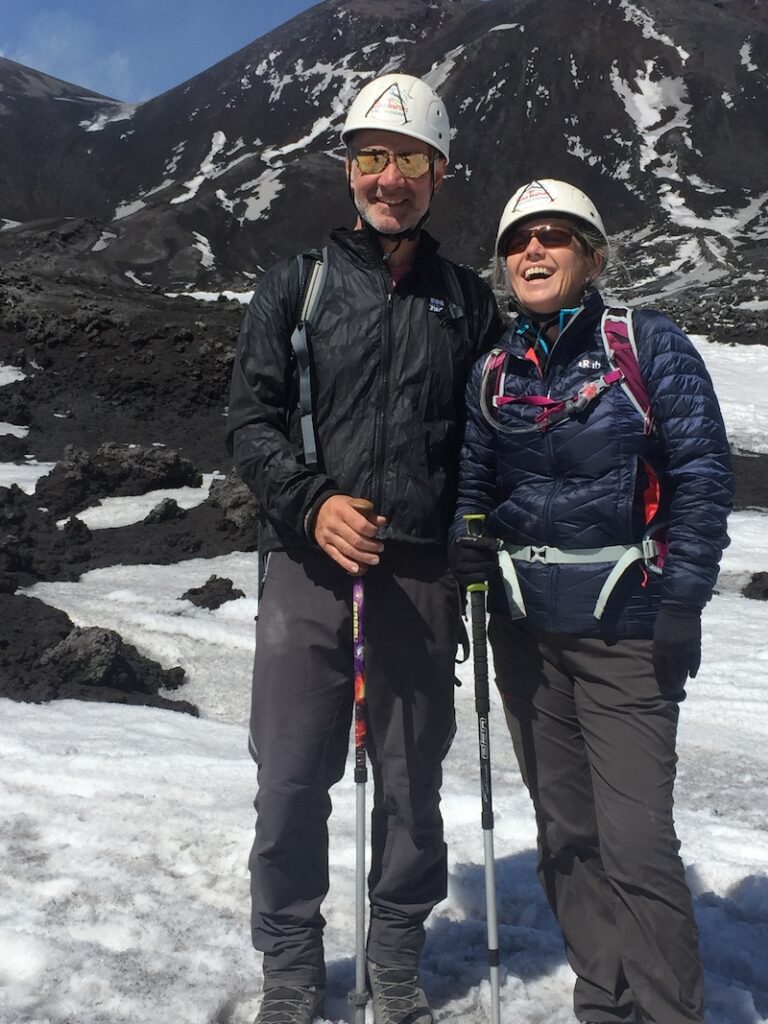 Hi there….
We're Izzy and Phil. We've been living in our motorhome full-time in UK and Europe for nearly three years now. We have years of experience camping, caravanning and motorhoming in the UK, Europe and Morocco, and have visited over 20 countries in our motorhome. You can find out more about us here…
Some of Our Reviews
Thank you so much for the detailed itinerary you provided for Scotland – it was exactly what we wanted. We said a few times on the trip that you must have been in our heads when you wrote it! Anna P
---
Detailed, lots of great tips and ideas for things we would not have known about or tried Jessica N
---
Thank you for the great itinerary you provided for our Spanish road trip. We loved getting up each morning knowing where we were going, without having to do any research! Steven R
Frequently Asked Questions
What happens when I check out?
You will be taken directly to our secure payment gateway, where you are asked to enter your email and payment details.
If you want to receive automatic updates, tick the box and you will receive an opt-in email.
Once this information is entered and your payment is accepted, a download button will appear on your screen.
Click this if you are using the same device on which you will view and use the itinerary. If that's not the case, don't worry, you'll also be receiving an email within a few moments of purchase with a download link.
You have three attempts to download your itinerary. If you need more attempts, please email us.
What happens when I download the itinerary?
When you download the itinerary, it will appear on your screen in a web browser, such as Chrome or Safari. Select the share button and save to your phone, tablet, laptop or computer.
Can I print the itinerary?
Yes, but it will use quite a lot of ink as our itineraries also include images.
What if I'm not happy with my purchase?
We want you to be 100% satisfied, but if you're not, drop us an email and we'll sort a refund for you.