Morocco can feel like a heady and mysterious country, full of hidden dangers and confusing culture. In reality, Morocco is an overwhelmingly friendly country that embraces travelers who are looking to enjoy and celebrate everything this beautiful and diverse country has to offer.
Find out everything you need to know before you visit Morocco, including trip highlights, travel tips, and road trip guides, with our Morocco visitor's guide.
Intro to Morocco
Morocco has a multicultural influence from France and Africa alongside its own Arab and Berber cultures. Morocco was a French protectorate from 1912 until 1956 and the effect of this can be seen widely across the country in the use of the spoken and written language and architecture.
Morocco is the most accessible of the North African countries. Sandwiched between the mighty Atlantic and the vast Sahara desert, Morocco is an exotic blend of crazy cities, rugged mountains, and diverse landscapes, perfect for people who want a more adventurous trip.
Much of rural Morocco is very poor and people live a hand-to-mouth existence without running water or electricity. You may pass through towns that have a main road with beautifully marbled pavements and hundreds of ornate street lights and tall irrigated palms, but venture back a street or two and you'll find a rubbish-strewn dustbowl, roamed by barefoot children and packs of wild dogs.
Temper your expectations and don't go to Morocco looking for the same standards of civic cleanliness, food hygiene or road maintenance for example, as you would back home. What you'll find instead is a fascinating country that will delight and mystify you in equal measure.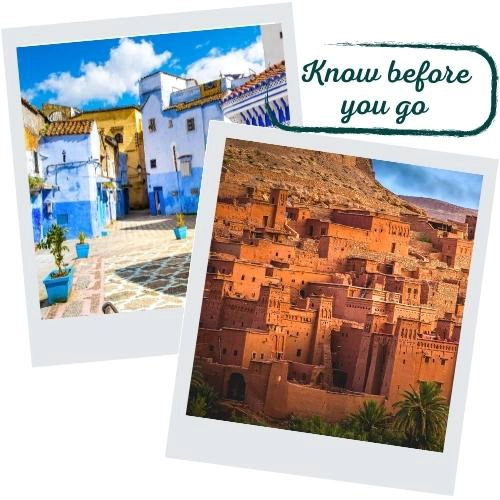 Best Time to Visit Morocco
The Moroccan weather is dictated by the long diagonal line of the Atlas Mountains, which run through the middle of the country.
In winter, it is not unusual to see snow-capped peaks and encounter the white stuff on the roads south. The area around Ifran, which looks like an Alpine village, is a big skiing area in winter.
If you can brave the mountains, then the area around the Sahara and Anti-Atlas mountains in the south will be very pleasant right through the winter months, until April.
From April, the weather starts to become hot across the country and you will definitely want air-conditioning in your vehicle and a pool at your hotel, and the desert camps and towns will be too hot to visit.
The ideal times are spring and late autumn as the weather becomes kinder and Morocco is at its most beautiful.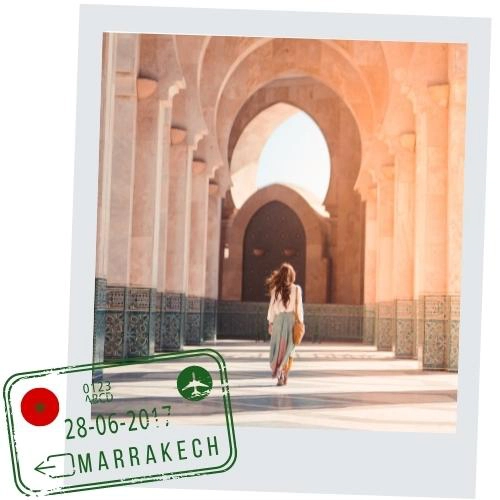 Morocco Packing Tips
How you dress in Morocco will help to define you in the eyes of your hosts. Dressing in this complex country is contextual. In modern Rabat and Casablanca or the resorts of the Atlantic coast, men might wear shorts, and women wear clothes to show off their bodies, leaving their hair uncovered.
In the Medinas of ancient cities such as Fez and Tiznit, most people wear the traditional djellaba (robe) and some women will wear face coverings.
Take long pants or a long dress to visit Medinas and more conservative cities.
Take a shawl or scarf to carry so you can cover up if you're uncertain.
Pack layers for shoulder season trips and loose cotton or linen for spring.
Sun protection, sunglasses, and a cap or hat are a must at all times.
Winter visitors should bring a waterproof or showerproof jacket and a few warm layers for colder days, especially if visiting mountainous or desert areas.
If you're visiting Morocco's historic towns and cities, make sure to pack trainers or comfy walking shoes – the souks can be large and take a lot of walking.
Technical gear that washes easily and dries quickly is a great option if you're road tripping or moving about a lot.
Don't forget an easy-to-manage day bag, such as a rucksack or day sack.
Morocco Highlights
Things to Know About Morocco
Morocco is an Islamic country with 99% 0f the population identifying as Muslim. It is unlikely that this will affect you much as a traveler. You may be awoken by the call to prayer from the local mosque but we find it quite a soothing sound. Take earplugs like these if you think this might bother you.
It is evident over the last ten years of our travels to Morocco that the infrastructure is improving year on year and significant investment is taking place in the country. That is not to say that you won't drive through the most dilapidated towns and villages and be appalled by the rubbish and squalor but be surprised by modern city life in Morocco just a few hours later. In the most rural parts of Morocco, life is tough and remains a hand-to-mouth existence.
You will encounter begging at some point. This might take the form of overt begging, which is usually confined to cities and bigger towns or from traders or faux guides (not registered) who descend to begging when you decline their wares or services.
Avoid public displays of affection, particularly outside the main tourist areas and near religious places. Sexual relations outside marriage are punishable by law. If you stay in a hotel, you may need to produce a marriage certificate, especially if your surnames differ.
Alcohol is served in licensed hotels, bars, and in tourist areas. However, drinking alcohol in the street and anywhere other than a licensed restaurant or bar isn't allowed and can lead to arrest.
Venture into any ancient Medina without a guide and you are fair game to any trader whose eye you catch or wares you peruse. Book a guide in larger cities and you will not be hassled, but your guide may steer you carpet or spice shopping, where you make a nice captive audience for the seller, who can talk for hours! Don't ask the price if you're not prepared to haggle with the intention to buy, and don't make an insultingly low first offer in the negotiation, both moves that will annoy the seller and lose any edge you may have had.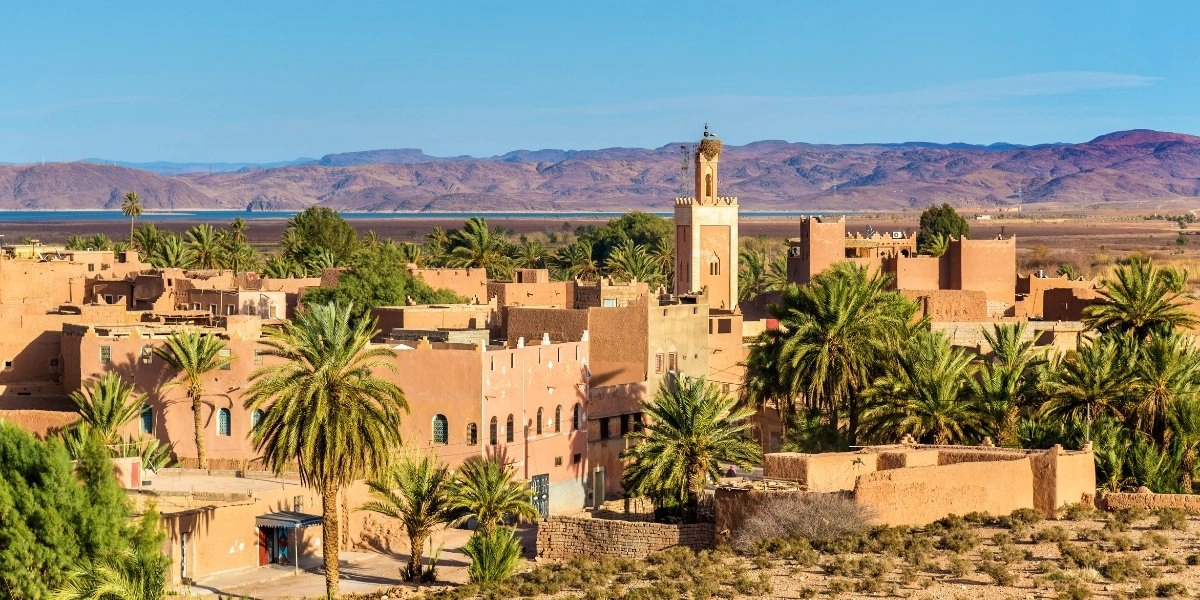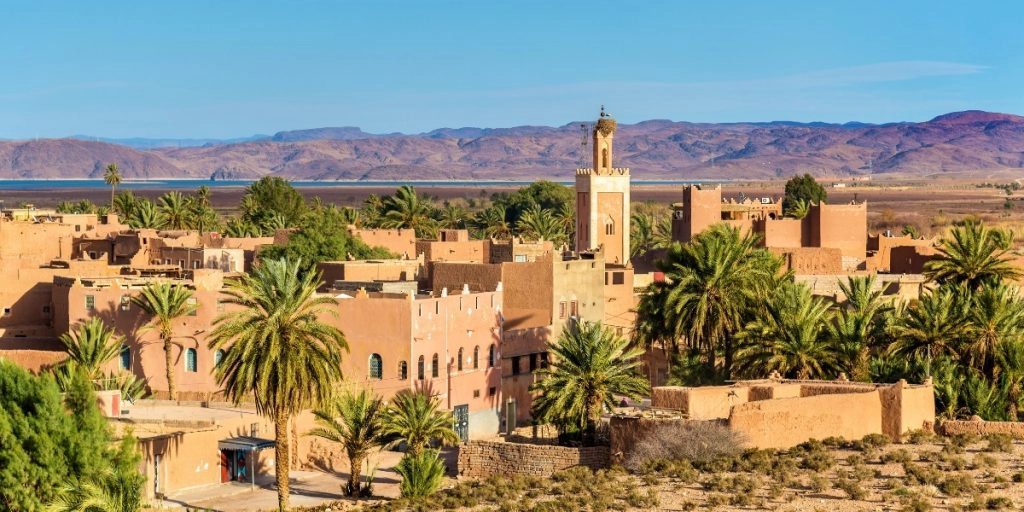 Morocco Travel Resources
Getting There
Fly into one of 6 international airports, with Marrakech and Casablanca serving the most routes.
Driving
Drive and take a ferry from France or Spain or hire a car in the country.
Need a Visa?
Some countries citizens need a visa to visit Morocco – find out if you need one here.
Travel Insurance
Cover medical expenses, delays and lost luggage.
Places to Stay
Find hotels, guesthouses, AirBnBs, hostels and homestays.
Tours & Activities
Find city guides, ancient site tours, day trips, sailing and extreme sports.
Essential Travel Products for Your Morocco Trip
New On the Blog…