This post may contain affiliate links, from which we earn an income.
Explore Morocco's Best Cities
Dreaming of visiting Morocco? Prepare yourself for a blend of old-world charm and modern allure. In this mystical land where the Sahara meets the sea, it's not just about the deserts and beaches. It's also about incredible cities overflowing with history, culture, and spirit.
The major cities in Morocco each have their own special flavor, but they all share one thing in common. A sense of the exotic, something magical that will make your vacation unforgettable.
Join us as we delve into the mesmerizing labyrinthine streets, the ornate architecture, and the warm hospitality that defines the best cities in Morocco, and prepare to be swept away!
Morocco Travel Resources
Here are the services we use and recommend for traveling in Morocco;
Whether you're an adventurer, a history enthusiast, or a dedicated foodie, Morocco has a city tailored just for you.
See if you can find yours:
1. Marrakech
One of Morocco's four imperial cities (the others being Fes, Meknes and Rabat) Marrakech is full of life, with busy markets called souks, fragrant gardens, and colorful palaces. Be sure to indulge in some street food after dusk at Jemaa El-Fnaa Square – a marketplace that is quintessentially Moroccan.
Marrakech is also home to the stunning Bahia Palace, a masterpiece of Moroccan architecture. It's covered with intricate mosaics, beautiful gardens, and detailed woodwork.
If you're looking for a little nature in the hustle and bustle visit Le Jardin Secret in the Medina which is a faithful recreation of a symmetrical Islamic garden, or head slightly out of town to Le Jardin Majorelle, the passion project of Yves St Laurent, who restored the garden in the 1980s.
And while in Marrakech, you should definitely experience a traditional Moroccan hammam. Also known as a Turkish bath, a hammam is a completely unique spa experience. You'll be steamed, scrubbed, and massaged until you're utterly relaxed.
It's a wonderful way to unwind after a day of exploring the souks and streets of one of the best cities to visit in Morocco. We highly recommend Les Bains de Marrakech, a luxurious hammam that offers an authentic Moroccan spa experience.
There are also a few festivals that are worthwhile additions to your trip. A favorite is the Marrakech Popular Arts Festival, held each summer. It draws artists, musicians, and performers from across Morocco and the world. It's a fantastic chance to experience traditional Berber music, folk dances, and even horse-riding displays.
RELATED POST: What Do I Need to Know Before Going to Morocco?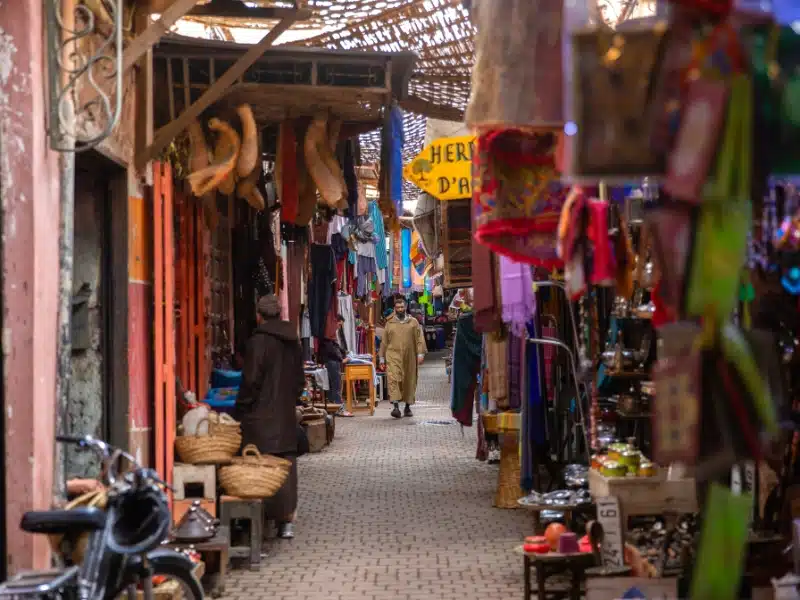 Is this your first time visiting Morocco? Get all the information you need in our Morocco Travel Guide, including what to pack, the best time of year to go, getting there, and practical tips to help you have the best trip!
2. Fez
Walking through Fez is like stepping back in time. The intricate maze of streets in the medina, or old town, the smell of leather from the tanneries, and the ancient University of Al Quaraouiyine combine to make this city a living museum.
The Medina of Fez is one of the world's largest walled cities and a UNESCO World Heritage Site. You can lose yourself in its winding alleyways, and discover hidden gems like the Nejjarine Fountain. Carved from intricate mosaic tiles and ornate wooden screens, locals still come to draw water at this masterpiece of Moroccan carpentry.
When in Fez, don't miss the opportunity to visit the Chouara Tannery, the largest and oldest leather tannery in the city. It's a fascinating spectacle of workers standing in honeycomb-shaped stone vessels filled with different colors. They use methods passed down through centuries to turn rawhide into soft, colorful leather.
It's an exclusive process that involves natural materials like pigeon poop and poppy flowers for the tanning and dyeing processes. The smell is a little pungent – we were given mint to put under our noses. But it's definitely worth it to witness this traditional craft in action.
And if you decide to buy some Moroccan leather goods to take home, remember to haggle. It's a part of the fun! As a good rule of thumb, offer a third and then meet somewhere in the middle!
Fez is also home to some spectacular festivals. The 10 day Festival of World Sacred Music is an annual event. Each June, spiritual music from around the globe is showcased, from Sufi Muslim chants to soul-stirring Christian gospel. It'll feel like you've found the heart of Morocco.
RELATED POST: Atlantic to Sahara – A Morocco Road Trip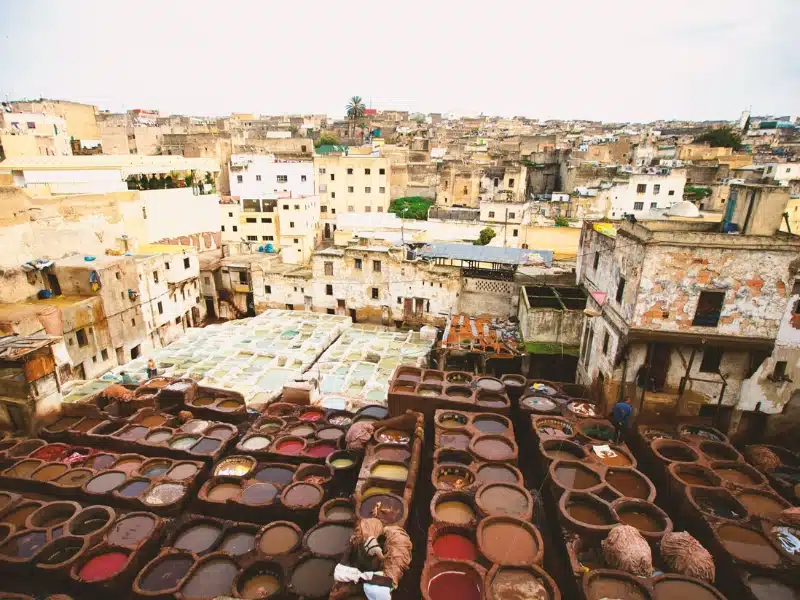 3. Casablanca
It's not all Humphrey Bogart and Ingrid Bergman. Casablanca is modern Morocco, with its sprawling boulevards and the grand Hassan II Mosque. This mosque is a star attraction in Casa, built on reclaimed land in 1993.
It's the largest mosque in Morocco, with the world's tallest minaret at 210 meters (690 feet) tall. It's home to a stunning prayer hall and is surrounded by a lush, tranquil garden.
You won't feel like you've been to Casablanca, though, unless you take a leisurely stroll along the Corniche and admire the waves crashing against the rocks. And don't forget to indulge in some fresh seafood from one of the many restaurants while you're there.
Casablanca has also become a hot spot for street artists, with colorful murals popping up in the city's most unexpected corners. Explore a few back streets of Casablanca to find what's hiding in them. From towering graffiti walls and intricate stenciled art to hypnotic abstract paintings, you'll find that the city is filled with art.
Quartier Habous, aka the New Medina, is another special part of Casablanca. This pretty neighborhood blends traditional Moroccan and French architecture. You can browse boutiques selling local handicrafts, textiles, and Moroccan sweets. And be sure to stop by Patisserie Bennis Habous for their decadent Gazelles' Horns pastries – trust me.
If you're lucky enough to be in town toward the end of June, you'll be able to catch Casablanca's crown jewel festival: 'Jazzablanca'. Artists from around the world come to dazzle audiences with their musical prowess and genre-blending performances.
Jazzablanca celebrates all forms of music, from soul and funk to rock and electro. With open-air concerts, club gigs, and a 'Jazz for Kids' program, there's something for everyone.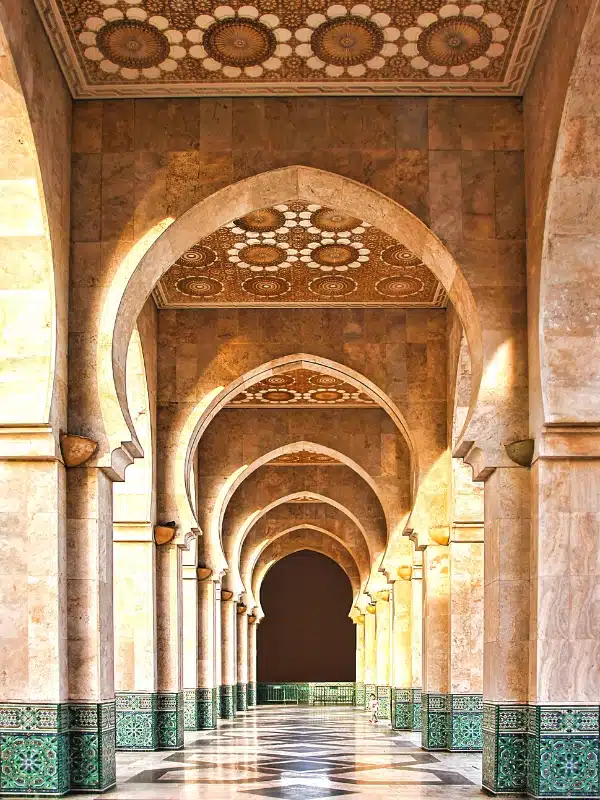 Make sure you have travel insurance you can trust when visiting Morocco. We recommend True Traveller for their 5-star TrustPilot reviews, variety of cover options, best activities cover as standard, great prices, and excellent service.
4. Chefchaouen
Also known as the 'Blue Pearl of Morocco', Chefchaouen (pronounced 'shef-SHAU-wun') is an irresistible mountain town washed in all shades of blue. Founded in 1471 as a fortress to fight off Portuguese invasions, the city's name translates to 'look at the horns'. This references the two mountains it sits between.
The city's cobblestone streets pass doors, stairways, alleyways, and archways in every shade of blue. This tradition of painting everything in blues dates back to the 15th century when Jewish refugees settled here. They brought with them their blue paint tradition to mirror the sky and remind them of God.
The blue city has a distinctive charm and relaxed atmosphere and a blend of Moroccan and Andalusian cultures that you won't find anywhere else. Indulge in the local cuisine, especially goat's cheese, which is considered a regional specialty. The honey from the surrounding mountains is also a must-try.
A top attraction here is the Medina, a UNESCO World Heritage Site. Its winding streets are lined with shops filled with local handicrafts, wool garments, and woven blankets. The Kasbah Museum in the heart of the medina lets you learn a bit about the city's rich history.
If you'd like to spend some time outdoors around Chefchaouen, a day trip to the Akchour Waterfalls and God's Bridge is perfect. Take a scenic hike through the green valley, and relish the sight of cascading waterfalls and the beauty of God's Bridge, a remarkable rock formation resembling a bridge, before settling down for a picnic amidst the serene ambiance.
And of course, if you're a festival lover, you're in luck. Chefchaouen is home to the Alegrìa Festival, a music fest featuring regional music mixed with Latin American and Spanish music. These mix to create an unbelievable sound you'll be glad you were there for. Dates are variable, though, so you'll have to do some Googling.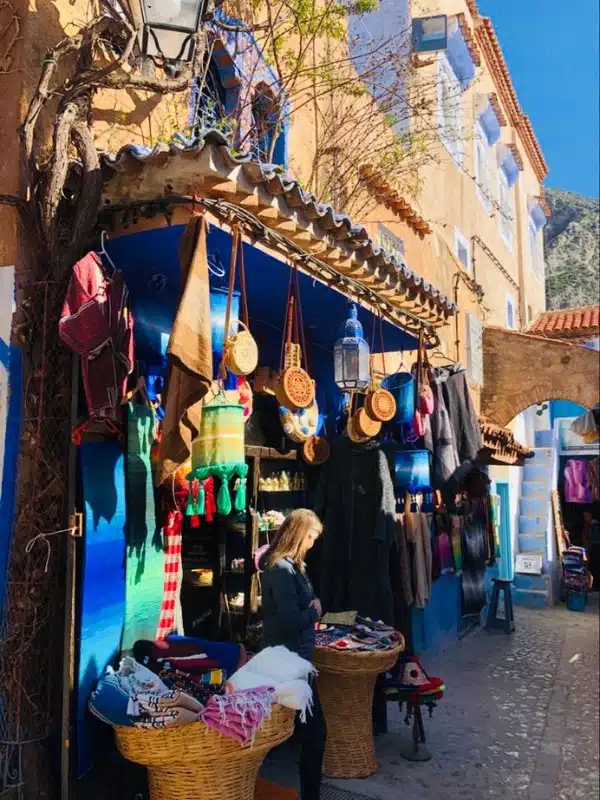 5. Essaouira
You'll remember Essaouira (pronounced es-WE-rah) for the Atlantic coast sea breeze and its bone-deep peaceful feel. Walk through the Portuguese-built ramparts, as medina walls are called, and explore the medina itself, filled with craft workspaces and art galleries.
Then escape to Essaouira's many beautiful beaches and take in endless views of the Atlantic. Known for its beautiful beaches and strong winds, this is the perfect stop for surfers.
Essaouira is a paradise for watersports enthusiasts. Along with surfing, the consistent winds and manageable waves result in fantastic windsurfing, kitesurfing, and stand-up paddleboarding. Kayaking is another great way to explore the coastline at your own pace and get to know the natural side of Essaouira.
And if you're feeling more adventurous, it's the spot for a quad biking tour. The journey will take you through landscapes like secluded beaches, Berber villages, and the Argan forests – all particular to Morocco. This is an exhilarating way to appreciate another side of Essaouira while adding a bit of adrenaline to your Moroccan holiday.
For an unrivaled cultural experience, Essaouira features the Gnaoua World Music Festival. This annual event takes place every June and celebrates the traditional music and culture of Morocco's ancient African tribe – the Gnawas.
The three-day celebration features a mix of local and international artists. Performances are held in the Essaouira's Jewish Quarter, where you can expect high-energy drumming, powerful vocal performances, and hypnotic traditional dances. You'll hear pop, jazz, and rock, as well as international contemporary music.
Side Note: The TV show Game of Thrones features Essaouira as the city of Astapor.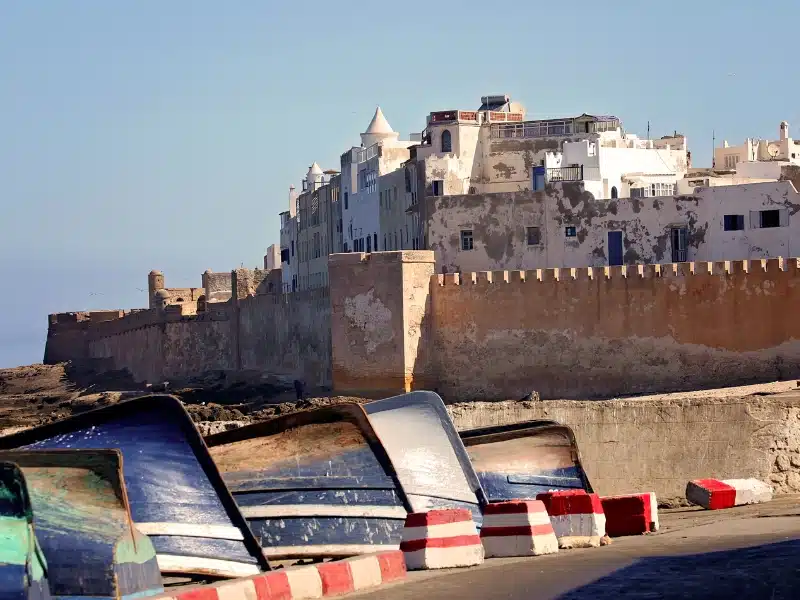 6. Meknes
On the northern cusp of the mighty Atlas Mountains, Meknes is a city that exudes old-world charm. It's a lesser-known Moroccan city, but entirely worth visiting. It's one of the best cities in Morocco, in part for just that reason.
Another of the Imperial Morocco cities, Meknes is known for its historic sites, like the Bab Al Mansour, one of the most beautiful ancient gates in Morocco. The 16 meter (52.5 foot) tall mosaic gate is a UNESCO Heritage Site and was originally the main ceremonial entrance to the royal citadel of Sultan Moulay Isma'il, built in the late 17th and early 18th centuries.
The Dar Jamai Museum holds a collection of Moroccan art and cultural artifacts in an incredible 19th century palace, and shouldn't be missed. And the Bou Inania Madrasa, a school and a mosque, is a prime example of Moroccan architecture. It's full of tilework and wood carvings that reflect the noble aesthetic of Islamic art and culture.
One of the best archaeological sites around Meknes is the ruins of Volubilis. Another UNESCO site, Volubilis is rich with remnants of Roman civilization. This is an archaeological gem and offers an intriguing glimpse into Meknes' history.
As well, there's no shortage of nightlife entertainment, with bars and clubs plentiful in Meknes. Whether you're looking for traditional Moroccan music or contemporary dance tunes, you're sure to find something to entertain you.
One activity you should definitely squeeze in is a calèche – a traditional horse and carriage ride. It's a novel and easy-paced way to explore the city, and not one that's available all over Morocco. Take advantage of your opportunity in Meknes.
Meknes is also known for its festivals – from the Islamic New Year celebrated in March, to the huge Moulay Idriss Festival nearby in August. Meknes will draw you back for these festivals alone.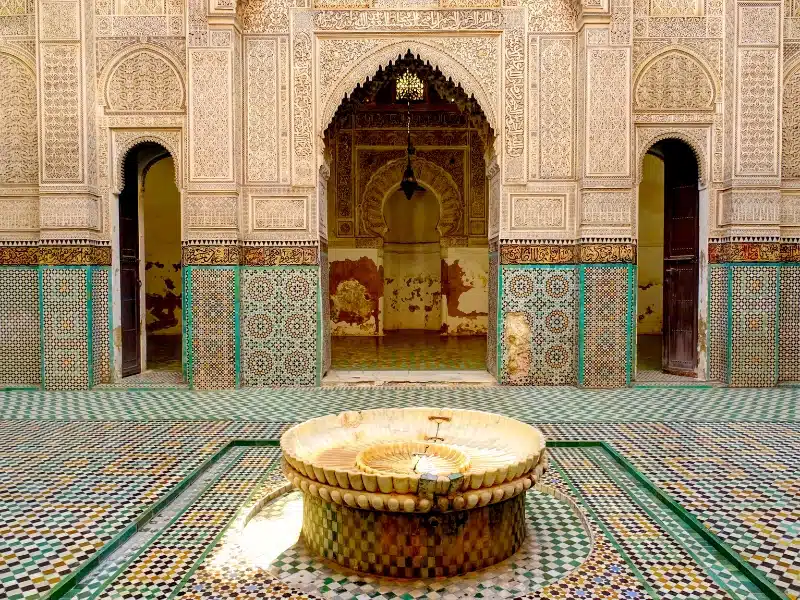 7. Rabat
In Rabat, the capital city of Morocco, you'll find a perfect blend of the traditional and the modern. The Mausoleum of Mohammed V is a marvel of modern Moroccan architecture, and the nearby Hassan Tower, an unfinished minaret, is historical Morocco at its finest.
Rabat is also the ideal city to explore the many souks, or markets, where you can find traditional handicrafts and delicious street food.
For culture enthusiasts, there is plenty to see in Rabat. The National Museum of Archaeology offers a look into Morocco's exceptional history. The Mohammed VI Museum of Modern and Contemporary Art, on the other hand, showcases a wide range of art from well-known local and international artists.
If you'll be spending Christmas in Morocco, you might be hoping to find a little holiday cheer. In this primarily Muslim country, Rabat is your best chance of finding it. With its large international community, you're sure to find pockets of merriment during the Christmas season.
An experience unique to Rabat is a stroll on the Kasbah of the Udayas. A kasbah is a fortress, and the views from this 12th century fortress are stunning. You'll find great photo ops of the Bouregreg River and the Atlantic Ocean.
You can wander through the maze of alleyways, visit the Andalusian Gardens, and discover the history at the Kasbah Museum. History, culture, and breathtaking vistas in one walk.
The capital has some festivals worth attending, too. The Mawazine Festival in Rabat is the largest international music festival in the world and exhibits a wide range of genres.
Usually held annually in May, it sometimes happens in June, or even February. The week-long extravaganza celebrates cultural diversity and international harmony, creating a rhythmic tide of global unity.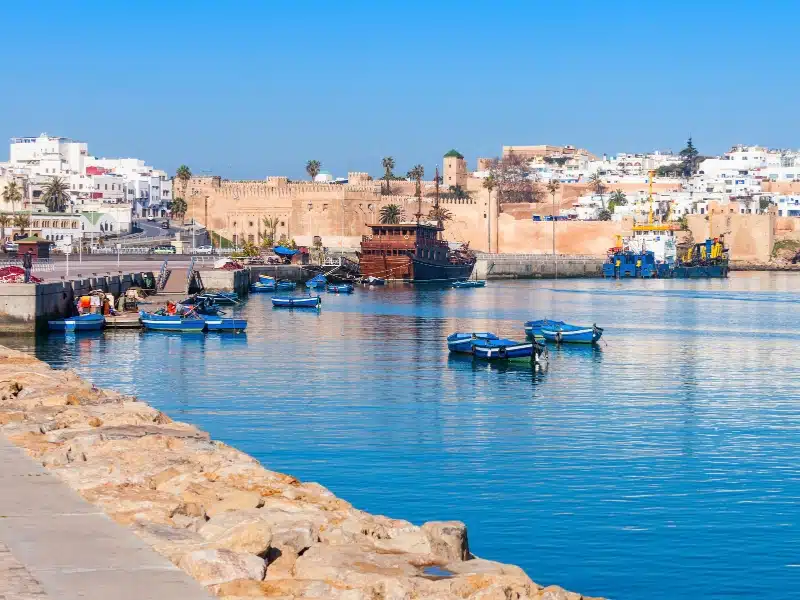 8. Merzouga
On the edge of the Sahara Desert, Merzouga is your dream desert destination. The town provides a rare cultural experience, with opportunities to mingle with the local Berber and Nomadic tribes. You'll get a real sense of their hospitable spirit and learn about their fascinating customs and traditions.
A terrific way to get a look inside the culture of Merzouga is to take a traditional Berber cooking class. Locals welcome you into their homes and guide you in preparing classic Moroccan dishes using traditional techniques and local ingredients. Where better for a cultural experience than in the kitchen?
This immersive culinary adventure not only offers a taste of Morocco's rich kitchen heritage but it's also a glimpse into Berber culture and everyday life.
The Erg Chebbi dunes will give you a one-of-a-kind desert experience from the back of a camel. You can spend a night under the stars in a desert camp and bask in the sunrise over the Sahara. It makes for an experience you'll absolutely never forget.
And every year Merzouga hosts the insane Transahara Festival, a 5 day psytrance cultural spectacle that celebrates the nomadic heritage of the region. Coinciding with the spring equinox, this festival has Berber, Saharawi, and Tuareg tribes coming together for musical performances like you've never experienced.
RELATED POST: Morocco Sahara Desert: Map, Tips & Ideas for Your Visit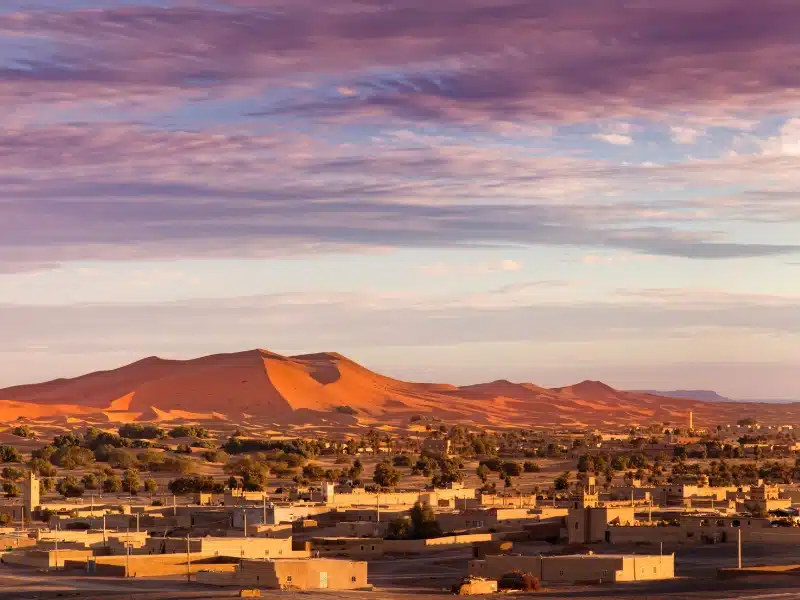 9. Agadir
Agadir is a city known for its clean beaches and modern infrastructure. Enjoy a leisurely walk along the seafront promenade, explore the classic souks, or visit the ruins of the old Kasbah for a panoramic view of the city and its bay.
Agadir is also an excellent place in Morocco for water sports enthusiasts. Try your hand at surfing, sailing, or kitesurfing and feel the energy of the sea splashing around you. Or if you're looking to relax, enjoy a stroll along the beach and take in Agadir's exquisite coastline views.
Agadir's nightlife offers something for everyone, too. From traditional music in the souks to nightclubs and bars at night, there's plenty of festivity around. And don't forget about Agadir's many restaurants, serving dishes from seafood specialties to international cuisine.
As well, this city is a dream for nature lovers. The nearby Souss-Massa National Park is a treasure trove of biodiversity. It's home to a stunning variety of bird species, including the rare Northern Bald Ibis.
Migrating tortoises can often be spotted here, too. Its landscapes range from sand dunes and wetlands to coastal cliffs and Argan forests. This is a favorite spot for many travelers, and for good reason.
In Agadir, the annual Timitar Festival is a highlight that music and culture fans shouldn't miss. This festival, usually held in the summer, brings together international artists and local Berber musicians, focusing on Amazigh culture along with world music.
Once a year you can experience the Timitar Festival, an extraordinary celebration of our differences and our similarities. It attracts thousands of visitors each year, offering a second-to-none opportunity to be immersed in the rich cultural tapestry of Morocco.
10. Ouarzazate
On the edge of the Anti Atlas Mountains, Ouarzazate (pronounced WAS-a-zart) is a quiet city, and home to many ancient fortresses. These are great places to take in some stunning views of the city and surrounding desert landscapes.
For example, Kasbah Taourirt, once the seat of the powerful Glaoui tribe, is a beautifully preserved fortress. This architectural wonder is full of intricate Berber designs, with a complex labyrinth of rooms, ornate reception halls, and traditional stables. Partially in ruins but partially restored, a visit to this Kasbah is a look into ancient Ouarzazate.
Another is Ait Ben Haddou, a UNESCO World Heritage Site, and the most famous Kasbah in Morocco. It showcases the architecture particular to southern Morocco.
With its sand-colored walls and incredible desert backdrop, this fortified village features six Kasbahs and nearly fifty palaces. A climb to the top reveals a mesmerizing view, especially at sunrise or sunset, when the Kasbah glows in the warm light.
But many come to Ouarzazate because it is known as the 'Hollywood of Africa'. For film buffs, this makes Ouarzazate one of the best cities in Morocco, as they can explore the Atlas Film Studios where movies like Gladiator and The Mummy were shot.
If you're not a movie buff, the nearby Valley of Roses might interest you. The pink-hued banks along the Assif M'goun River are special to the area, with their fields of fragrant Damask roses.
The roses provide a livelihood for the Ouarzazate community. If you can be there in April or May, you'll get to experience the heady fragrance and stunning sight of these blossoms for yourself.
Of course, a place like the Valley of Roses must have its own festival. The annual Rose Festival is a celebration of the blooming of roses in the famous valley that transforms the landscape into a sea of pink.
The event is typically held in May and features a parade, music performances, and locals selling rose-infused products. You'll never smell a rose again without thinking of Ouarzazate.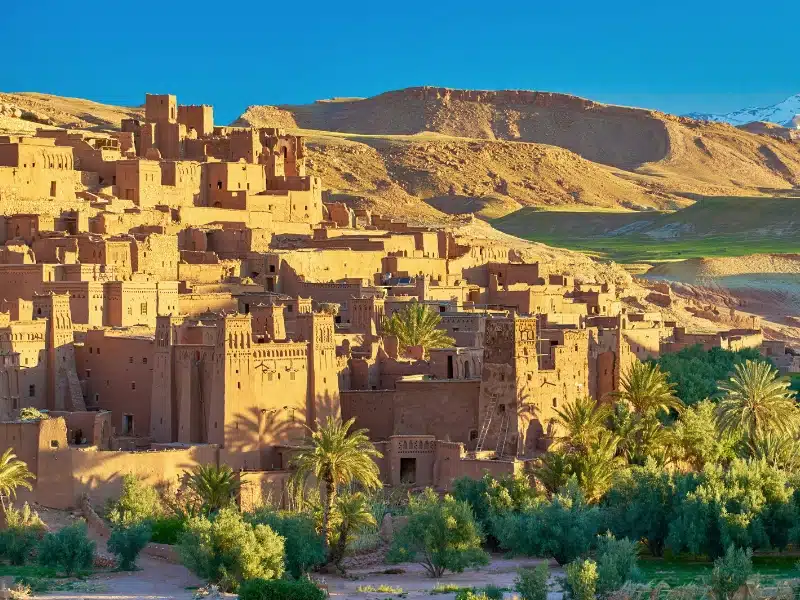 12. Tétouan
Tétouan's Andalusian influence and Spanish colonial architecture set it apart from other Moroccan cities. It's also where you'll find the Tetouan Museum of Modern Art, which showcases Morocco's contemporary art scene and international artists.
Tétouan's medina, known for its white and blue houses, is a stand-out feature as well. And if you're looking for traditional handicrafts, the souks here are a great place to find Moroccan souvenirs.
What Tétouan has in common with many of Morocco's other phenomenal cities is its ancient medinas. Tétouan's is a UNESCO World Heritage Site, with its network of winding alleyways, souks, and Andalusian architecture.
And of course, a Tétouan bonus is the nearby Tinmel Mosque, which dates back to the 8th century and is a rare piece of North African architecture.
A great way to experience the area around Tétouan is by hiking in the nearby Rif Mountains. The trails here offer panoramic views, and hidden spots for you to discover, and they cater to all experience levels. We'd recommend hiring a local guide to get the most out of the adventure. It will not disappoint.
Plus, if you're in the neighborhood in the springtime, the Tétouan Mediterranean Film Festival is a phenomenal experience. It's celebrated every March and attracts movie lovers from around across the planet.
It showcases a wide range of films from the Mediterranean region and honors the area's rich cinematic history. It even offers viewers the opportunity to engage in discussions with filmmakers and actors.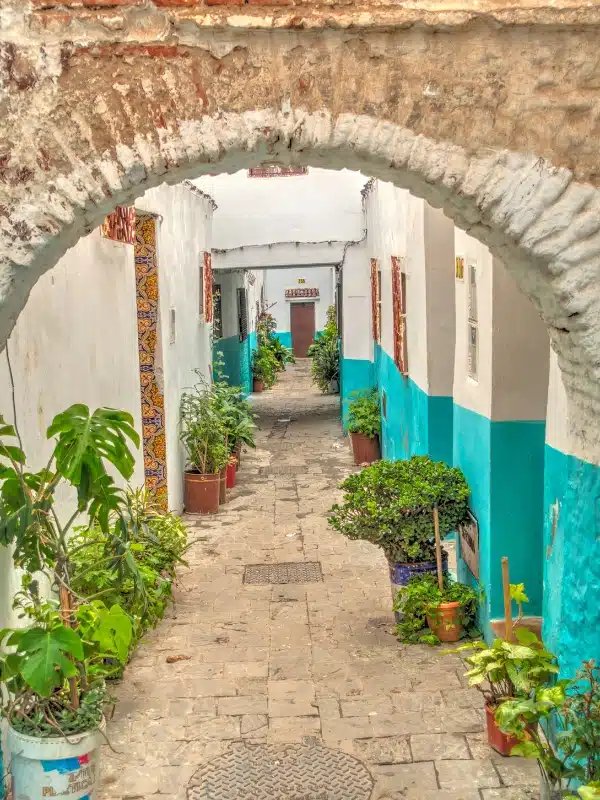 13. Tangier
The gritty port city of Tangier may be close to Europe, but with its strong Moroccan spirit, it's a world away from the European continent and may well provide a culture shock if it's your first experience of Morocco!
The Grand Socco, with its markets and street musicians, is a feast for the senses and the Kasbah Museum is a treasure trove of Moroccan artifacts and history. As well, Tangier's beaches and the nearby Caves of Hercules, are great stops when exploring the city.
There are many choices when it comes time to eat. For those with an adventurous palette, a visit to the Saveur de Poisson is essential. This famous eatery is an experience all its own. You can indulge in a set menu of local seafood delicacies, accompanied by traditional Moroccan music. Or follow Anthony Bourdain's example and try the shark kebabs.
Tangier even has iconic cafes, such as Café Hafa and Café de Paris. These are great places to have a mint tea or just relax and people watch while enjoying spectacular views of the city.
And of course, in true Moroccan style, Tangier plays host to the annual Tanjazz Festival. Held in the heart of the city, the Tanjazz Festival will thrill any music lover.
This jazz extravaganza, usually held in September, is an eclectic mix of local and international jazz artists. You're guaranteed an immersive experience with this blend of music, culture, and ambiance. Pack your dancing shoes and prepare to be swept off your feet!
RELATED POST: Tarifa to Tangier: Tips & Tricks for a Day Trip to Morocco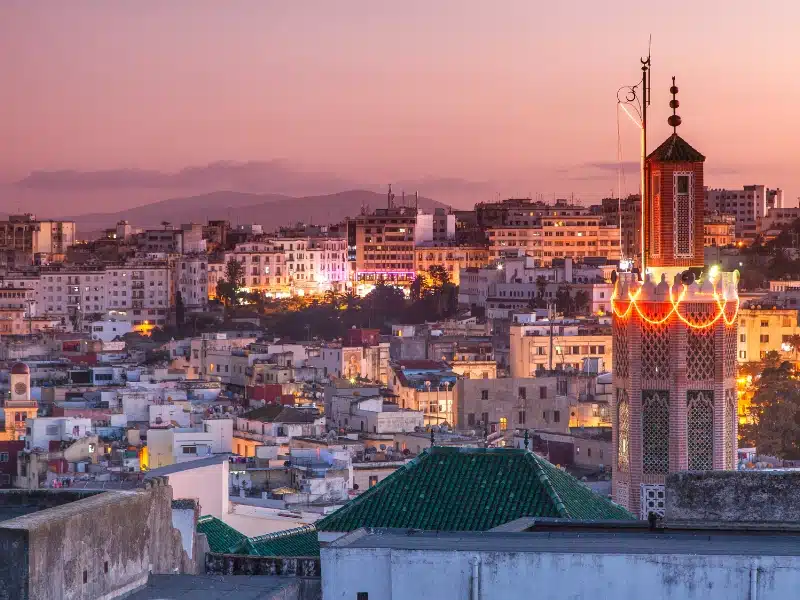 Wrapping It Up: Best Moroccan Cities
No matter which destination you choose to visit, Morocco will be a memorable experience. Morocco is a treasure trove of fascinating cities, each with its own distinctive culture, history, and charm.
From the energy of Agadir, the allure of Ouarzazate, the cultural richness of Tétouan, to the tranquility of Asilah, there really is a Moroccan city for every kind of traveler.
Whether you're an adventure seeker, a history buff, a foodie, a nature lover, or a road tripper, Morocco has a city that will cater to your interests, guaranteeing an unforgettable holiday.
Looking for more travel inspiration? Check out these top posts…
Croatia is home to a variety of beautiful landscapes, including rugged mountain peaks, stunning islands, enchanting waterfalls, incredible beaches, vibrant cities, and charming historic towns. There are so many beautiful places to visit, it can be difficult to decide where to go. We've pulled together all our favorite most beautiful places in Croatia to visit to inspire you and help plan your next trip.
Love it? Pin it!