This post may contain affiliate links, from which we earn an income.
An Incredible Moroccan Road Trip
A road trip in the stunning country of Morocco will take you from the sparkling turquoise waters of the coast, through the dramatic snow-capped Atlas mountains. You'll head into some of the craziest cities on earth and take the long road south to the rose-gold dunes of the Sahara.
A country of rich culture, incredible landscapes, and wonderfully welcoming people, Morocco has so much more to offer than just Marrakech. Get off the beaten path and follow the old caravan routes through hidden valleys and secret gorges to see the real Morocco, a country you'll find difficult to leave.
We spent three months road tripping Morocco and fell in love with the colorful heritage, warm hospitality, and diverse aesthetics. We've put together this Morocco travel guide and itinerary for the best road trip in Morocco, based on our own experiences and the places we loved best.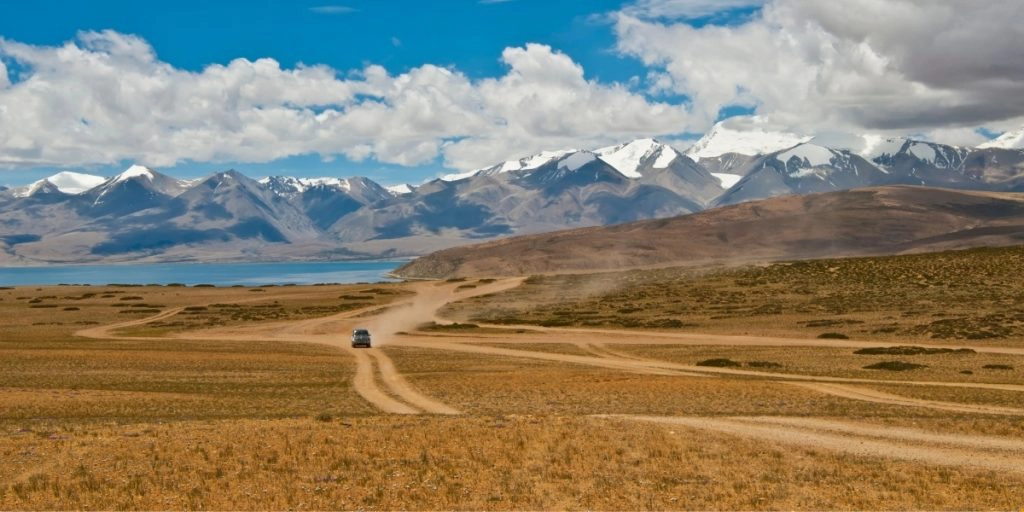 Is this your first time visiting Morocco? Get all the information you need in our Morocco Travel Guide, including what to pack, the best time of year to go, getting there, and practical tips to help you have the best Morocco trip!
Road Trip Morocco Itineraries
You may be tempted to pack more than suggested into your two or three weeks, but Morocco deserves a slightly slower pace of travel, to absorb and immerse yourself in the culture, landscape, and essence of the country, and we have designed our itineraries to allow for that.
The two week Morocco road trip itinerary takes you to all the key places and gives you a taste of the ocean, mountains, cities, and desert. If you've got a bit longer, stay for another day in places you fall in love with, or check our additional destinations to help plan a three week Morocco self-drive itinerary.
Make sure you have travel insurance you can trust when visiting Morocco. We recommend True Traveller for their 5-star TrustPilot reviews, variety of cover options, best activities cover as standard, great prices, and excellent service.
Getting to Morocco
Whether you're taking a road trip in Morocco by motorcycle, or campervan, self-driving is absolutely the best way to explore this spectacular North African country.
You can stop whenever you want, try new activities, visit places you see along the route and have the freedom to change plans at the last minute.
Fly into Casablanca's Mohammed V International Airport to start your Morocco road trip. With direct flights from America, Europe, and the UK, we recommend booking through Skyscanner for live deals and the best prices.
Are you planning to rent a car in Morocco? As one of the largest car hire aggregator companies in the world, we recommend Rentalcars.com because they have massive purchasing power which enables them to secure the best car rental prices, which benefits you when you're planning a road trip.
For a real adventure, hire a motorhome or campervan in Morocco. We recommend ZigZag Camper as the leading motorhome and campervan specialist in Morocco.
Driving in Morocco
Moroccan roads are made for driving, it's the perfect country for road trips and longer tours. Driving in Morocco is not like driving back home though, and at times being on the road in Morocco can be challenging.
But don't let that put you off! Driving in Morocco is safe, and as long as you are prepared and take it easy, you'll feel at home in no time. Check out our driving in Morocco guide for all you need to know to stay safe on the road.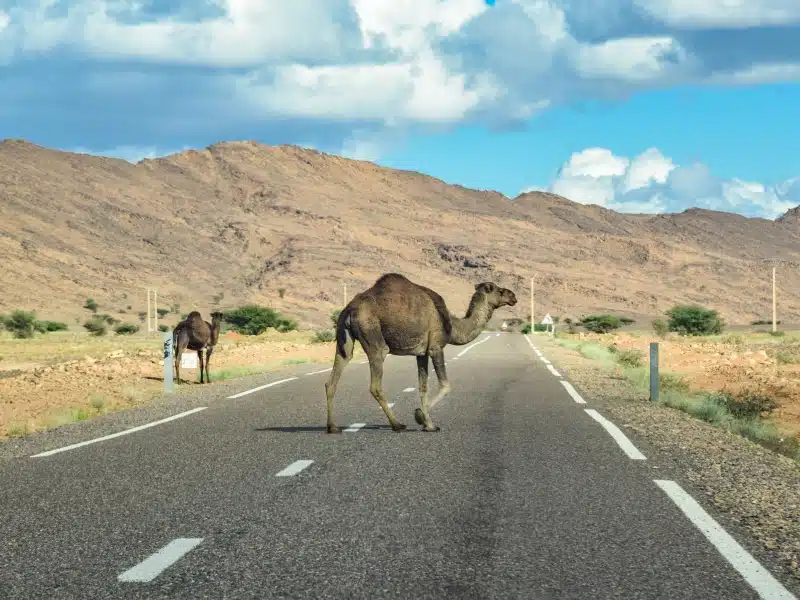 Morocco Road Trip Map & Itinerary
Casablanca – Chefchaouen – Meknes – Fez – Merzouga – Dades Gorge – Ait Ben Haddou – Tizi n' Tickha – Marrakech – Sidi Kaouki – Essaouira – Casablanca (destinations in orange are on the three week itinerary)
How to use this map – Use your fingers (or computer mouse) to zoom in and out. Click or touch the icons to get more info about a place, and click the arrow in the box top left to open the index. To add to your own Google Maps account, click the star next to the title of the map.
Morocco Road Trip Navigation
We suggest using maps.me to navigate in Morocco. We found the mapping to be more reliable than Google Maps which would regularly just stop working even with a full 4g signal. You can download country maps to use when offline, saving data when you're in Morocco.
We also use the most up-to-date paper map of Morocco from 2015, the Michelin Map Africa Morocco 742. There is a 2020 French edition of the same map available, the Michelin Morocco 11742 Carte National.
These paper maps are the only navigational tools available that show roads in Morocco by surface… important if you decide to head off the beaten track en route!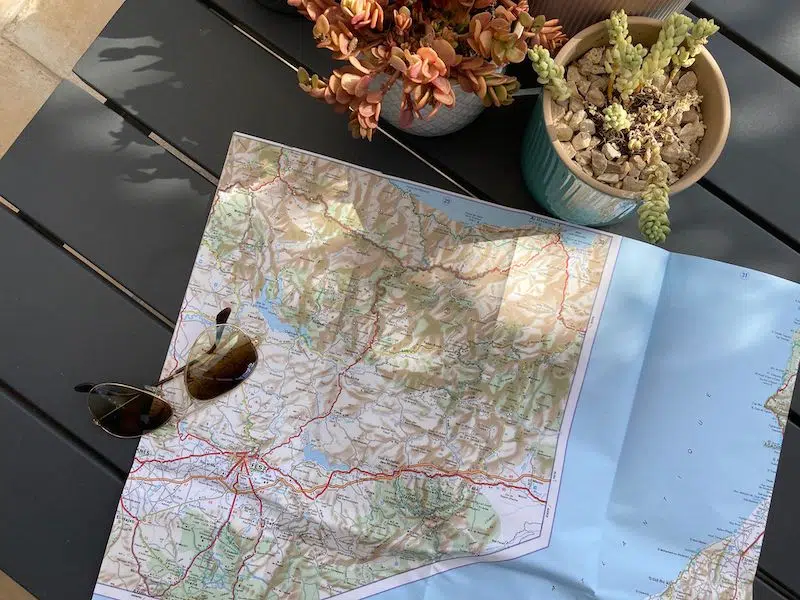 Morocco Two Week Road Trip Itinerary
Casablanca
Casablanca, on the Atlantic coast, is by far the best Moroccan city to fly into. It has great international air links and is right on the best roads, all the better to ease you in gently to your road trip in Morocco!
Casablanca is a modern city and lacks the atmosphere of other large Moroccan cities. Trade is king here with relatively few tourists spending time in the city and very few attractions to entice them to visit so we don't suggest staying for longer than you need to.
If you are arriving on a European flight that lands before noon, then getting to Fez before dark is very achievable. Otherwise (or if you are arriving from the States and need a night to get over your jet lag) head into the city for the evening and pick up your hire car the next morning.
Upmarket: Hôtel particulier Le Doge by Relais & Châteaux – Booking.com | Agoda
Mid-Range: Gray Boutique Hotel Casablanca – Booking.com | Agoda
Budget: Best Western Plus Casablanca City Center – Booking.com | Agoda
From Casablanca, jump on the A2 heading north and then inland. This road has tolls that can only be paid in cash. It will take you around three to four hours to get to Fez depending on how fast you drive and the traffic on the day.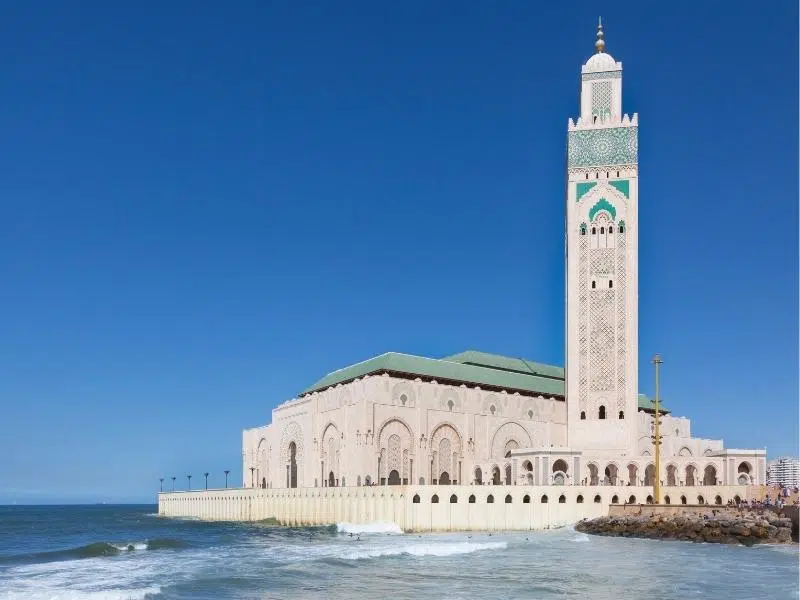 Fez
Fez is noisy, raw, dilapidated, and beautiful all at once. It is an astonishing city, full of culture, delicious Moroccan food, spectacle, and history. The footprint of the ancient medina, Fes el-Bali, has remained unchanged for the last one thousand years and is still home to over 70,000 people.
This dark, twisting, and unrelenting place, the world's largest car-free urban area, evokes strong feelings in most visitors. Whether you love or hate the chaos and disorder of the medina, you must experience it yourself when you visit Fez.
Visit the UNESCO World Heritage Site of Fes el-Bali without a guide and you will get lost. If getting lost is part of the charm, take the best map you can find (don't rely on your phone as it will struggle to get an accurate location) and follow the general flow of traffic until you find a landmark or ask for directions.
Shopkeepers are a good source of direction or let the local kids show you the way; they are happy to take you to wherever you want to go, seemingly with their eyes closed, but you'll be expected to pay for their services!
However, we strongly advise you to take a guided tour of Fez medina. This jumble of a city is easy to get seriously lost in and there are areas of the medina where you may feel uncomfortable as a tourist and certainly wouldn't want to be after dark.
This highly rated Fez medina tour covers all the must-see spots with a local guide, who also helps to ensure you are not hassled, although inevitably you will end up in a carpet shop at some point. Embrace it, it's all part of the experience!
You'll probably want at least two nights in Fez – this city deserves a full day of sightseeing and maybe an extra day for a Moroccan experience, such as a cookery class with a local master or learning about traditional Berber handicrafts.
What to See in Fes el-Bali
Medersa Bou Inania
A short walk from Bou Jeloud square, this is the finest of the theological colleges in Fez and dates from the 14th century.
Chouara Tanneries
Take a nose peg as the iconic sight of the Chouara Tannery is highly pungent due to the pigeon feces and lime used in the centuries-old tanning process. The only way to see the action is to head for one of the viewing platforms which surround the tannery, usually sited above leather shops. Head for 10 Derb Chaouwara and pay a few dirhams for a sprig of mint before climbing the stairs to an open viewing platform.
Here a salesman can answer your questions in exchange for a small fee, or for free if he makes a sale. The tannery operates on a cooperative basis with the leather shops, so if you do make a purchase it will directly benefit the workers you watch from the terrace.
The morning is a better time to view as the vats are filled with fresh dye, the colors are brightest and the sun is in the right place for photos.
Henna Souq
Off Talaa Kebira, this souq is one of the oldest in the city. Come here to see the fantastic array of traditional beauty products Moroccan women use, including henna and argan oil.
Karaouine Mosque and University
One of the largest mosques in Africa and often touted as the oldest university in the world, this place is at the heart of the medina. Non-Muslims cannot enter, but you can gaze in from the main door on Derb Boutouil.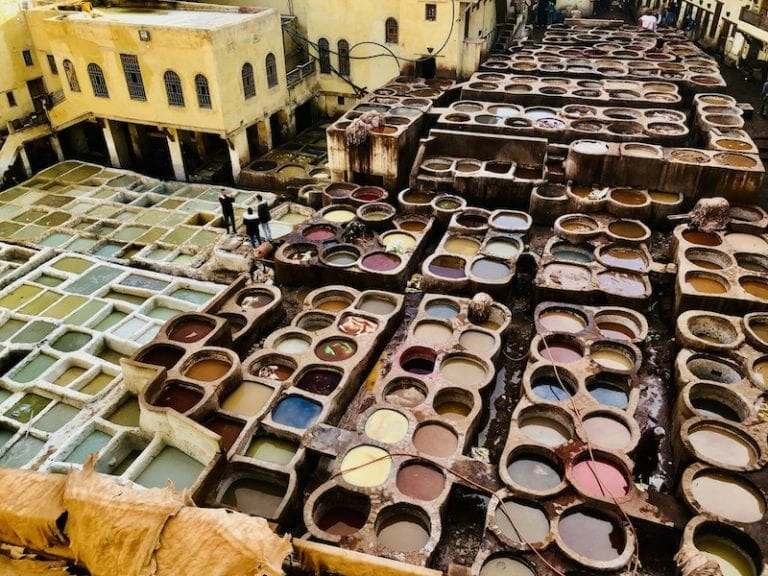 What to See in Fes el-Jdid
Head to the new city, Fes el-Jdid, for a slightly more laid-back experience, even though 'new' Fes is still over 700 years old!
Bou Jeloud Gardens
The gardens are a welcome respite from the pandemonium of the medina! Renovated and replanted these gardens are popular with locals and visitors alike.
Mellah
The old Jewish quarter which once housed over 250,000 Jews is now home to only a handful. The Rue des Merindes is lined with houses built with open balconies, very different from local the style, where Jewish ladies would have watched the world go by.
Royal Palace
The Palace is sadly not open to the public, but you can go and marvel at the brass doors surrounded by intricate centuries-old plasterwork and incredibly detailed mosaics.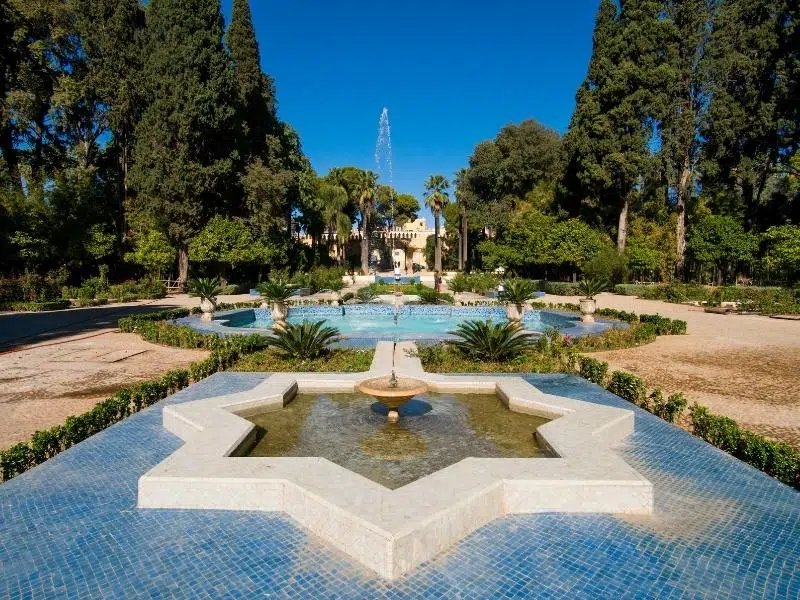 Upmarket: Dar Roumana – Booking.com | Agoda
Mid-Range: Riad Soultana – Booking.com | Agoda
Budget: Riad Maison Bleue and Spa – Booking.com | Agoda
From Fez, you're heading south on the main N8/N13 route through the Middle and High Atlas mountains. This is a truly spectacular drive, along mostly good roads with incredible views of snow-capped peaks.
Further on, you'll drive through the seemingly endless Ziz Valley, with its dramatic gorges and iconic oasis towns. There are literally thousands of date palms growing here; stop and buy some by the road (expect to pay around 20-30MAD for a box) whilst admiring the view.
With a very early start, you can attempt the seven-plus hours directly to Merzouga. If you prefer a more leisurely pace, then stop overnight at Midelt, around three to four hours south of Fez.
If you do decide to stop in Midelt, you'll find a main street and not a lot else! Stop at Riad Villa Midelt (Booking.com | Agoda) just outside town. This pretty ten-roomed hotel with a restaurant has large air-conditioned modern rooms and a pool, great for a dip after your long drive.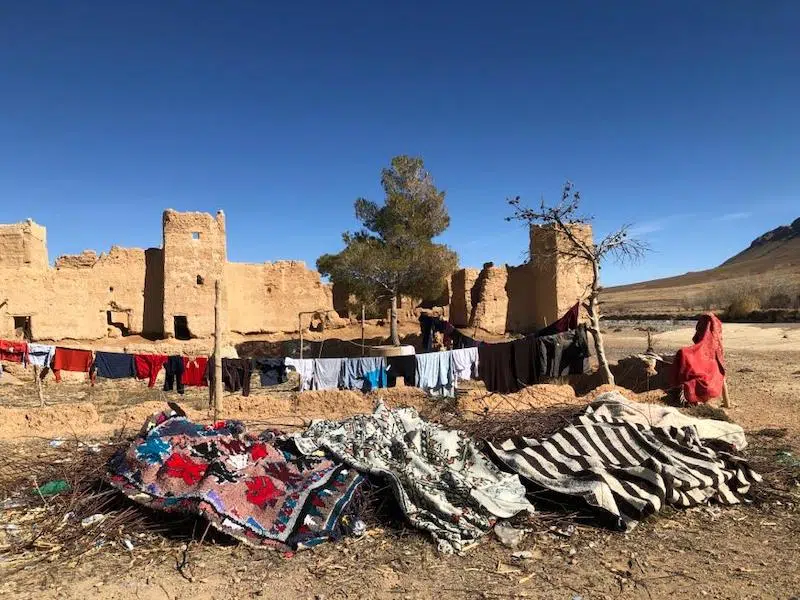 Merzouga
The gateway to Morocco's Sahara Desert, Merzouga is situated at the foot of Erg Chebbi, a great sea of golden sand dunes. As you approach from the north, the sight of the huge dunes rising majestically from the surrounding hammada (stony, flat desert) is breathtaking.
We would suggest three nights here, to soak up the peace and tranquility of the desert and to enjoy all the activities on offer in the area. From experiencing a traditional Berber camp in the desert, to sand boarding and fossil hunting, staying in Merzouga for a few days is like a mini-holiday within your Morocco holidays!
This highly recommended Berber desert experience sees you trekking through the Erg Chebbi dunes on a camel to a traditional Berber desert camp. You can try sandboarding and playing traditional Moroccan instruments around the campfire, before enjoying a Moroccan meal of tajine, and then spending the night in a Berber tent under the Saharan stars.
Upmarket: Dar Morocco Merzouga – Booking.com | Agoda
Mid-Range: Kasbah Mohayut – Booking.com | Agoda
Budget: Berber Palace Hotel – Booking.com | Agoda
From Merzouga, you're heading to the gorges of Todra and Dades. Take the N13 north and then pick up the N12 going west before meeting the R113 north to Tinghir (sometimes Tinerhir) three hours later. From the small village, pick up the R703 north.
Before you take the R113, make a stop at the fascinating Gara Medouar, between Rissani and Tagueroumt on the N12. Gara Madouar, nicknamed the "Portuguese Prison" is an erosion cirque used as a filming location in the James Bond Spectre movie, and makes a great spot to explore and hunt for local fossils. The cirque is 3.8km from the road along an easy track, but we wouldn't advise doing this if it's been raining, unless you have 4WD.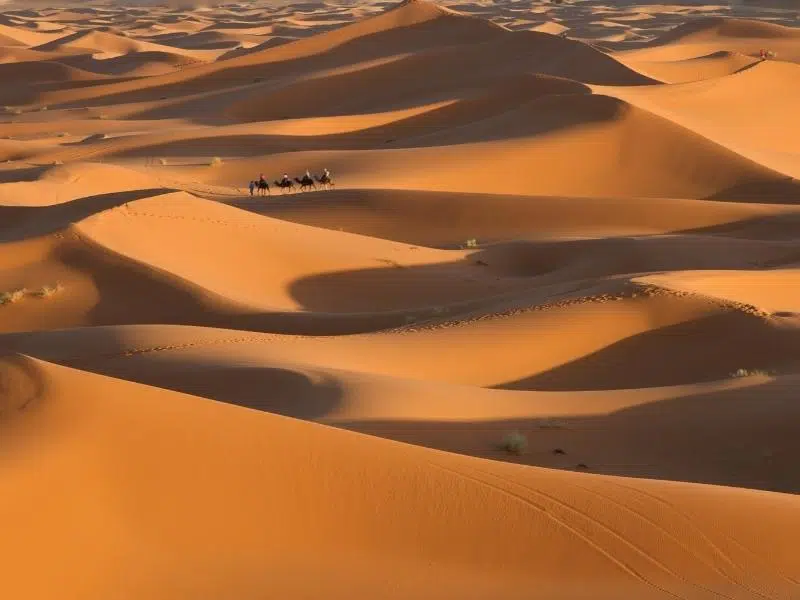 Morocco Travel Resources
Todra & Dades Gorges
This road runs alongside the Todra river and leads you into the seemingly impenetrable Todra Gorge, full of palms and banked by dramatic vertical walls of rock. Leave Merzouga early to get here before the crowds and for the brief moments when the gorge is lit up by the glorious morning sun.
There is hiking and climbing galore here and if you have longer than a few weeks, Tinghir makes a good base for these activities.
Head west from Tinghir on the N10 for around 50 minutes to Boumalne Dades, then pick up the R704 north into the Dades Valley.
This is a wild landscape, right at the heart of the High Atlas mountains. The gorge itself is carved out of red rock, with millennia of strata visible, from layers of different colored stone to knobbly rocks and everything in between, and the famous monkey fingers hike, so called after the shape of rock formations at the start of the valley, showcases just what is so special here.
The Dadegs Gorge is one of the most spectacular drives in Morocco. The gradient is steep in places and the barriers are non-existent, even around the endless hairpin bends.
This is not a drive for the faint-hearted but in return for your bravery, you'll get spectacular views and some Instagram-worthy photo opportunities to prove you've driven a road that is considered one of the most dangerous in the world!
Upmarket: Auberge Chez Pierre – Booking.com | Agoda
Mid-Range: La Perle Du Dades – Booking.com | Agoda
Budget: La Porte du Dades – Booking.com | Agoda
From the Dades Gorge, our road trip route takes us further west on the N10 to Ouarzazate, then the N9 to Ait Benhaddou.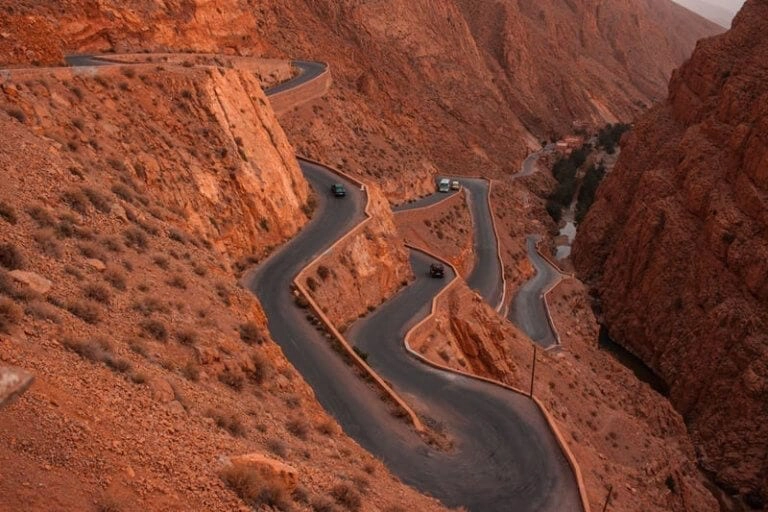 ---
Morocco Roadtrip Essentials
---
Ait Benhaddou
Ait Benhaddou (sometimes Ait Ben Haddou) is a stunning and ancient kasbah and traditional Berber village. Since extensive renovations, it is a protected UNESCO site and sits in the beautiful Ounilla Valley.
Once a stop for nomadic trading caravans en route to and from Marrakech to Timbuktu, this atmospheric village is the perfect place to spend a slow day ambling its narrow streets and stairs. Locals also act as guides, distinguishable by their blue djellaba (robes), and can give you insights and information about Berber life as well as the history of Ait Benhaddou. Expect to pay around 120MAD for a couple of hours.
It's also home to a thriving film scene in Morocco, with the nearest town of Ouarzazate being home to several studios. Ait Benhaddou was a filming location for Game of Thrones and Gladiator – locals will be delighted to show you their photos with the stars; many also work as extras when the need arises!
If you want a less perfect kasbah, drive a further 6km north from Ait Benhaddou to find the slowly disintegrating Tamdaght kasbah, untouched by mass tourism. You can walk freely around this kasbah but be aware that there may be debris and falling masonry to add to the authenticity!
We recommend Kasbah El Hajja (Booking.com | Agoda), the only place to stay in Ait Ben Haddou for an authentic Berber experience. A guest house in the ancient fort decorated in the Moroccan style, Kasbah El Hajja is the real deal in terms of Berber hospitality. You'll need to leave your car in the parking at Hotel La Kasbah where there is a guardien who will ensure its safety overnight for a few dirhams (agree on the price before heading to the guest house!)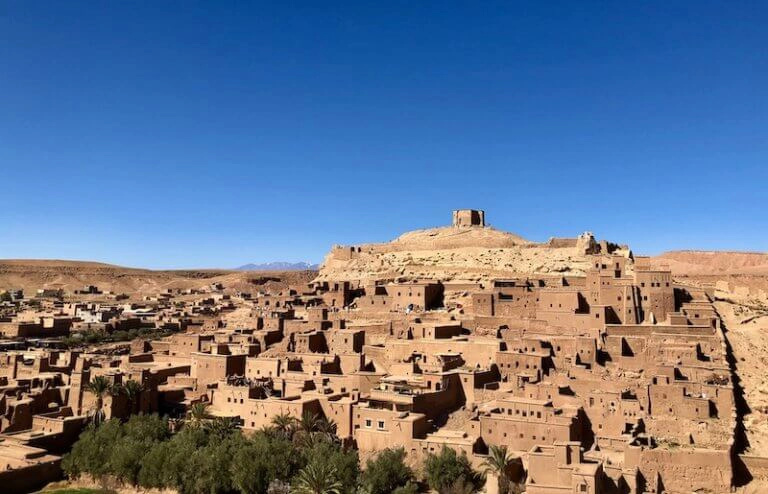 Tizi n' Tickha Pass
The N9 will take you from Ouarzazate back across the High Atlas, over the awe-inspiring Tizi n' Tichka pass at 2260m, into the center of Marrakech.
This is another amazing drive, but be aware that the name means 'difficult mountain pasture'. This is not an easy road to drive; much of it is one and a half lanes only, with very few crash barriers and roadworks reducing the already narrow road to a single file in some places.
There are over 100 turns on the pass itself and hundreds more on the ascent and descent. Around 30% of the road is unsealed and often busy with coaches and lorries.
This is a gloriously untamed drive with close-up views of the High Atlas and surrounding countryside, particularly from the summit. Driving over the Tizi n' Tichka pass is a unique experience, not to be missed.
Get on the road early and you'll cross the pass to Marrakech in a day. There are plenty of places to stop for a break but you may find that you are harassed by locals selling fossils and minerals by the side of the road… choose your stopping place wisely!
If you are taking a road trip in Morocco between November and March, the road may be affected by snow and avalanche. If the road is impassable the snow gates will be closed and the only way to Marrakech is along the N10 to Agadir, where you can pick up the A7.
Don't be tempted to take the R203 as a shortcut, this takes you over the even more dangerous Tizi n'Test pass!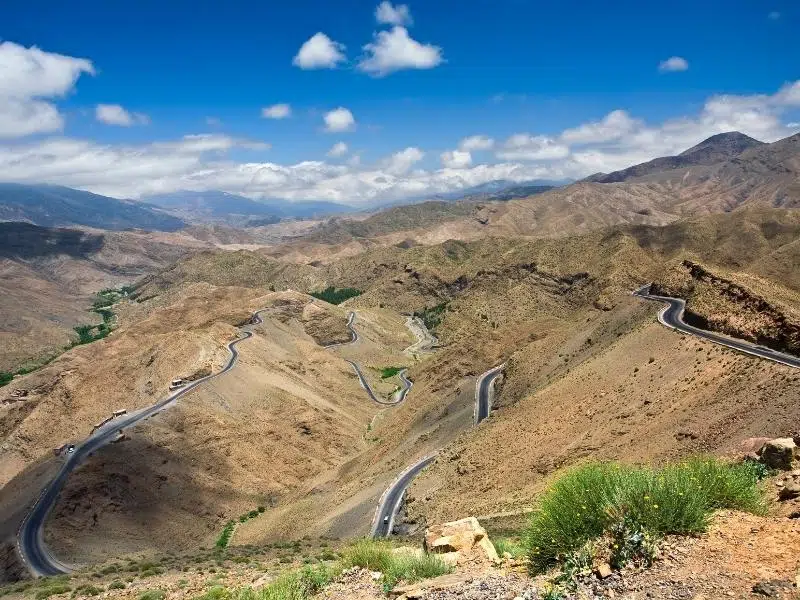 Marrakech
The jewel in Morocco's crown, Marrakech is a magical jumble of tradition and modernity. The medina is a feast for the senses and will leave you reeling as you struggle to comprehend the different smells, sounds, and tastes that are unique to Morocco's ancient walled quarters.
Known as the Red City, for its beaten clay buildings and ramparts, Marrakech is a city in which to spend a few days. Underlying what feels like pandemonium in the souks is a laid-back vibe and a growing contemporary scene with lots of unique Marrakech experiences on offer for every type of visitor.
Many of the major attractions are in the medina, simply wandering the streets and squares and exploring the souks of Marrakech could easily take a day. There is so much to see in Marrakech, taking a guided tour will help you make the most of your time here. It is possible to self-guide but you won't get the insight and experience that a local can bring. These are our top picks of guided tours in Marrakech;
Top Things to See in Marrakech
Djemaa el-Fna
Simply known as 'the square', Djemaa el-Fna is the beating heart of ancient Marrakech. Cleaned up in recent years and now a UNESCO site, you'll find all of Moroccan life here.
From henna tattooists to snake charmers, spice sellers, and everything in between, it's a window into a different world. At night the square fills with food stalls where you can eat Moroccan street food well and cheaply. Take plastic cutlery and a bottle of water with some hand wipes… there is no running water here.
Some aspects of the square are less than savory and involve animal tourism and forceful selling. Be on guard against this and pickpockets, especially after dark.
Souk des Teinturiers
This souq is a traditional and colorful sight in the medina with skeins of brightly dyed wool hanging from rafters, alongside tubs of deeply pigmented powder to delight the eye. This part of Marrakech is a photographer's dream, make sure to take a camera.
Le Jardin Secret
The Secret Garden is a beautiful spot of tranquility, this traditionally laid out Islamic garden is a great antidote to the hustle and bustle of the medina.
Bahia Palace
This gorgeous palace is stuffed with tile-work, intricate marquetry, and painted wooden ceilings. In the harem, you'll find woven silk, stained glass windows, and more painted ceilings; four wives and 24 concubines were housed in these lavish rooms!
Jardin Majorelle
Tucked away in the Ville Nouvelle, this colorful and inspiring garden was the brainchild of Yves St Laurent. Showcasing the famous electric blue so synonymous with Marrakech, while away an afternoon here or take a carriage ride and tour take a carriage ride and tour to beat the crowds.
Upmarket: Dar Housnia – Booking.com | Agoda
Mid-Range: Les Deux Tours – Booking.com | Agoda
Budget: Riad Mirage – Booking.com | Agoda
Or check out the best riads in Marrakech for your stay in Morocco's pink city.
From Marrakech, our final destination is an easy three hour drive west on the R207 to Essaouira (pronounced Essaweera).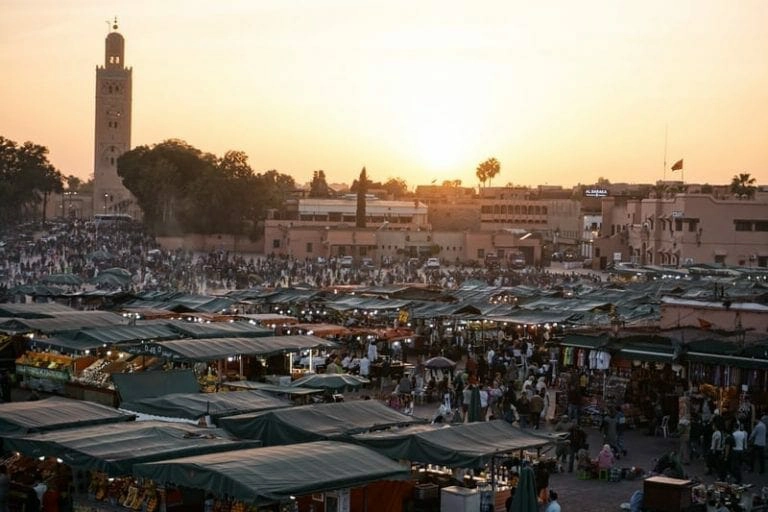 Essaouira
One of the most beautiful cities in Africa, Essaouira is a vibrant place and a wonderful come down at the end of a road trip around Morocco. With few typical visitor attractions, there is no pressure and lots of opportunities to relax, shop, and eat!
Fish is always top of the menu here and the traditional port has to be seen (and smelled) to be believed! Head in that direction and you will come across a collection of blue and white huts that grill and serve whatever fish has been caught that morning. It can get busy and as you arrive you will have a dozen menus thrust in your face, but take your time and pick the shack you like the look of best.
After lunch, wander the streets of the UNESCO-protected medina where you will find modern art galleries, traditional crafts, and local food shops along with a handful of good restaurants and cafes. This is a perfect spot to shop for Moroccan souvenirs!
The beach at Essaouira is a long stretch of sandy playground, with surfers, quad bikers, and camel riders all having a place. It can be very windy here unless you visit during the height of summer. If you're looking for a few more relaxing beach days to end your trip, take the A7 motorway from Marrakech to the somewhat soulless and sterile city of Agadir and flop!
Upmarket: Salut Maroc! – Booking.com | Agoda
Mid-Range: Hotel Le Médina Essaouira Thalassa Sea & Spa – Booking.com | Agoda
Budget: Riad Kafila – Booking.com | Agoda
From here you'll be heading back north to Casablanca, an easy four to five hour drive up the A1 and N1 roads. If you have time, stop en route at Oualidia, a seaside resort with a gorgeous lagoon and a rocky shoreline full of caves and blowholes just above the waves.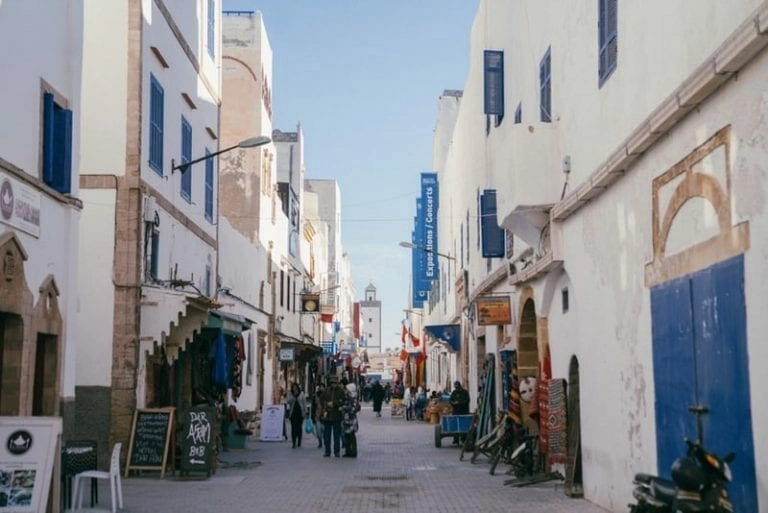 Morocco Three Week Road Trip Itinerary
By now, you will have covered over 1950km and spent nearly 30 hours driving. If you have a few more days, why not check out these extra destinations to extend your road trip to three weeks?
Chefchaouen
Head to Chefchaouen directly from Casablanca, a five hour drive on reasonably good roads. Take the A1 (don't forget cash for the toll) north from Casablanca and then pick up the N13 to Chefchaouen.
The Blue City, Chefchaouen is high in the Rif Mountains to the north of Morocco. This pretty and authentic city has embraced being blue with a vengeance! Buildings, walls, and even steps are blue-washed in every shade imaginable, bringing life and color to the old medina.
This is a haven for backpackers, probably to do with the plentiful supply of locally grown kif (cannabis) that you may be offered, but this is the only hassle you'll get here.
The main square Plaza Uma el-Hamman is home to a restored kasbah and some of the best restaurants in Chefchaouen. This laid-back city is a great place to ease yourself into Morocco and take a few days to find your feet.
Explore the famous blue medina of Chefchaouen, walk out to the waterfall at Ras el-Maa and then on to the Spanish Mosque, or if you're feeling particularly energetic head for the summit of Jebel el-Kelaa at 1616m. This two day Chefchaouen itinerary has a lot more great ideas for your time in this wonderful city.
Upmarket: Dar Jasmine – Booking.com | Agoda
Mid-Range: Hotel Alkhalifa – Booking.com | Agoda
Budget: Dar Chefchaouen – Booking.com | Agoda
From Chefchaouen head to Meknes south on the N13, the drive will take around three to four hours.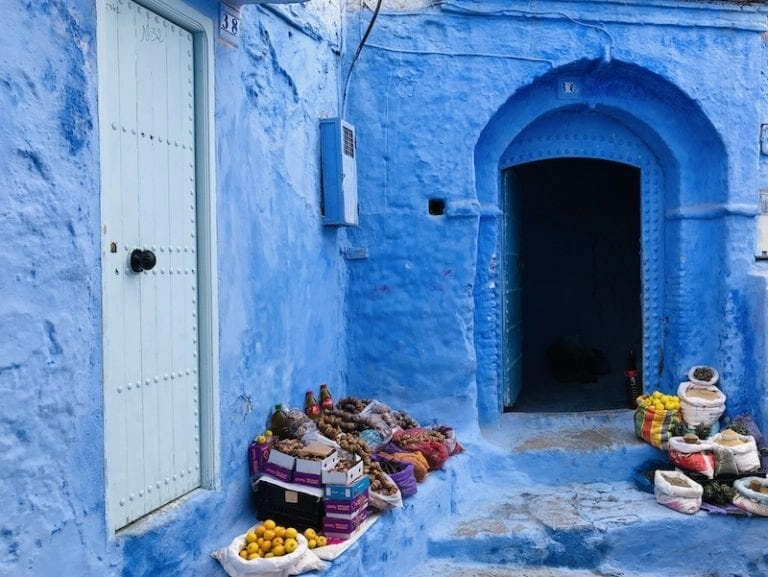 Meknes
The walled city of Meknes is one of Morocco's four Imperial cities and has a couple of fabulous historic sites as well as a relatively quiet Medina.
It's a great base for visiting Volubilis (around 30km), the UNESCO-protected site of the best-preserved Roman ruins in Morocco. If you're visiting in spring, the wildflowers here are abundant and the fields are lush and green, bringing magic to this ancient place.
Make the most of your day with a visit to Moulay Idriss, a whitewashed town just 5km away from Volubilis and one of Morocco's most important pilgrimage sites.
Upmarket: Z Hotel Meknes – Booking.com | Agoda
Mid-Range: Riad le Petit Ksar – Booking.com | Agoda
Budget: Dar Meknes Tresor – Booking.com | Agoda
Meknes to Fez is a short hop of just an hour along the A2 toll motorway, which you will need cash to pay for.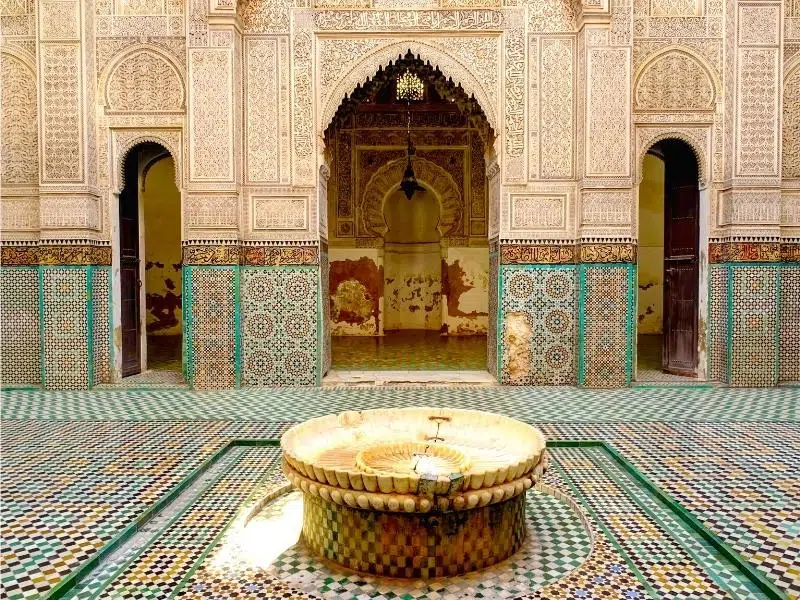 Sidi Kaouki
An hour south of Essaouira, and the perfect antidote to the previous stop of Marrakech, this surfer paradise has an enormous beach that goes on for miles, and a handful of cool cafes, hotels, and great seafood restaurants. Take the N1 west from Marrakech to get here, pass Essaouira then pick up the P2216 to the coast.
You can hire equipment here for surfing, kite-surfing, and wind-surfing and take lessons if you fancy braving the waves. You'll also find camels, ponies, and sand quads lined up if you prefer to stay on dry land!
Upmarket: Le Hameau des Cascades – Booking.com | Agoda
Mid-Range: L'Abri Côtier de Dar Nezza – Booking.com | Agoda
Budget: Auberge du Marabout – Booking.com | Agoda
From here backtrack to Essaouira, heading north on the N1.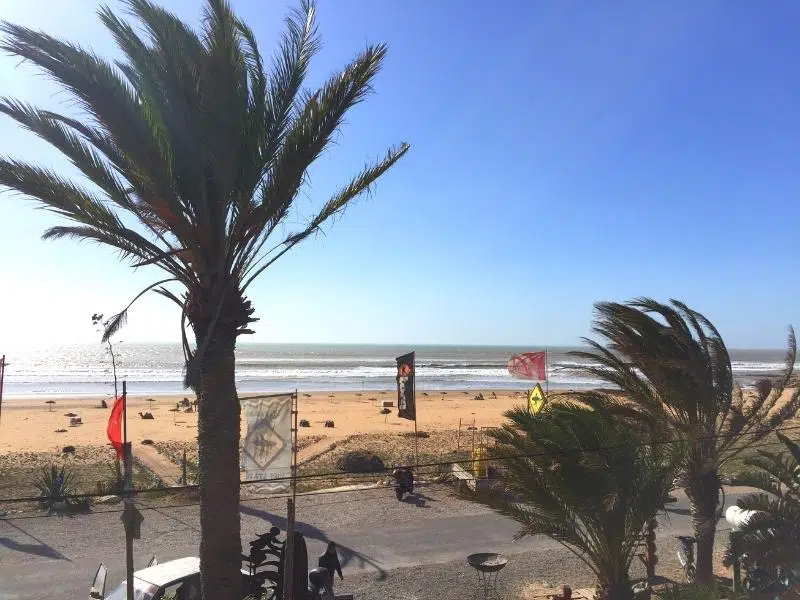 If you've visited the additional destinations, by now you'll have covered over 2,300km and been in the driving seat for over 35 hours. You'll have driven on two of the world's top ten most dangerous roads and seen the most incredible landscapes, architecture, and natural wonders.
Seeing the real Morocco on the road is easy because this country is so diverse and people so welcoming. With a little planning and knowledge, you can visit the most far-flung corners of this gorgeous country and experience authentic Morocco with every mile you travel.
Morocco Road Trip Frequently Asked Questions
Is it safe to drive in Morocco?
Morocco is a safe country in which to drive and travel, even for solo road trippers. Before you start planning your road trip or fly-drive trip to Morocco, check out our tips for hiring a car and driving in Morocco.
Do you need to be an experienced driver to drive in Morocco?
Driving in Morocco is not difficult but it can be challenging, especially on mountain roads and in cities. Some experience of driving in foreigh countries will be helpful, but it's not necessary.
It will always take longer to get to your destination than you think and some of the roads seem endless, making long-distance driving a feature of any Moroccan road trip. You need to know what to expect before you hit the road, especially if you're in a rental car.
How easy is it to rent a car in Morocco?
Even if you hire a car for your Morocco road trip from a reputable and highly recommended national or international chain like Rentalcars.com there may be language barriers and opaque practices when you get to the car rental depot. These are some common issues;
Not all marks and scratches (inside and out) have been noted.
You are not given the opportunity to inspect the vehicle or asked to do this in the dark.
Fuel marked as full on paperwork but gauge showing empty.
You are asked to purchase further insurance with vague suggestions that what you have already purchased is insufficient. Many online hire car companies are just brokers but can provide you with CDW (collision damage waiver) cover. This means that if you do have an accident, the deductible or excess (usually a hefty sum) will be covered by the insurer and not you. It is common practice for the hire car company to try and sell this product to you again on collection; often they will imply that the product you have bought is invalid or not very good.
The car is not what you ordered; manual not automatic, no air conditioning, not 4WD etc.
Sometimes you have to accept the local ways; only you can decide what you're comfortable with and how much you'll willing to concede at this point in your trip.
Can I take my own car to Morocco?
Absolutely. In fact, the process of temporarily importing your vehicle is simple, making driving to Morocco from UK and anywhere else in Europe a real possibility. You'll need the following;
The Moroccan Consulate General advises that your passport should be valid for at least three months on your date of entry to Morocco.
You must take the original vehicle registration document to temporarily import your vehicle into the country. You will also need this document if you're buying insurance at the border and when you buy your ferry ticket.
You will need and insurance green card with a minimum of third party insurance. Check with your insurance company about whether they will issue a green card for Morocco, you may need to pay extra for this, or you can buy insurance at the port on arrival.
You must carry your driving license, the details of which should match the name and address on your vehicle registration document, You do not need an International Driving Permit (IDP) for Morocco as long as your license is in English.
If you're planning on taking a motorhome to Morocco you can find lots of tips and information in this motorhoming in Morocco guide.
Do I need a 4×4 vehicle to drive in Morocco?
No, you don't need a 4WD car for Morocco. It may help if you want to go and play about in the desert or tackle some of the more challenging mountain passes, but as long as you have good ground clearance and off-road tires, you don't need a specialised vehicle to off road Morocco.
When is the best time to roadtrip Morocco?
The Moroccan weather is dictated by the long diagonal line of the Atlas Mountains, which run through the middle of the country.
In winter, it is not unusual to see snow-capped peaks and encounter the white stuff on the roads south. The area around Ifran, which looks like an Alpine village, is a big skiing area in winter.
If you can brave the mountains, then the area around the Sahara and Anti-Atlas mountains in the south will be very pleasant right through the winter months, until April.
From April, the weather starts to become hot across the country and you will definitely want air-conditioning in your vehicle and a pool at your hotel, and the desert camps and towns will probably be too hot to visit.
The ideal times are spring and late autumn as the weather becomes kinder and Morocco is at its most beautiful.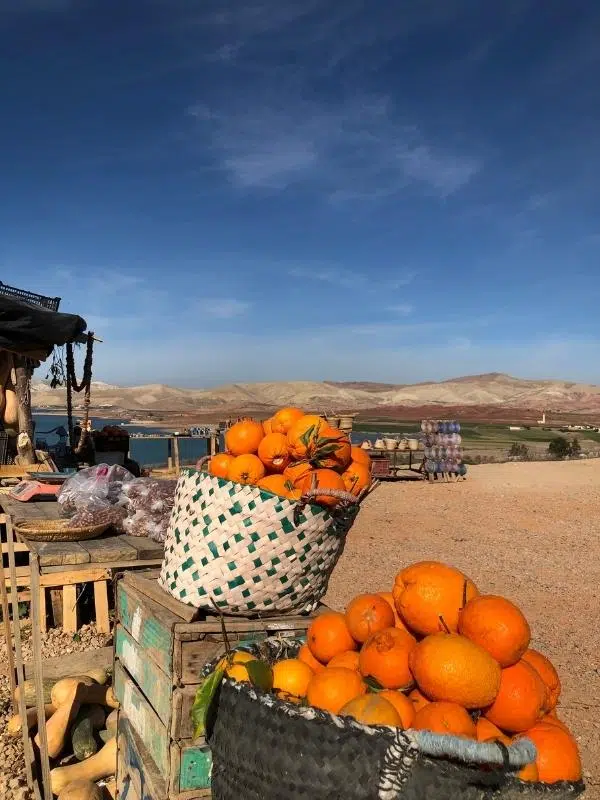 Morocco Road Trip Resources
Here are the websites and services we personally use and recommend for traveling in Morocco.
Are you looking for more road trip inspiration? Check out these top posts…
Amongst the beautiful landscapes of Spain, in the mountainous interior and along the gorgeous coasts, you'll find fascinating history, vibrant culture, and incredible cuisine. One of the best ways to experience Spain is by taking a road trip. We base ourselves in Spain when not traveling and have explored much of the country on four wheels and two! Whether you want historic cities, gorgeous landscapes, beaches and sun, or something a bit different, our detailed…
Love it? Pin it!