This post may contain affiliate links, from which we earn an income.
Road Trip Italy Planner & Itinerary
The gorgeous country of Italy is perfect for a road trip! Compact and with all the best bits in the middle, you'll be blown away by the landscapes, architecture, and local food in this sublime country. Take a bucket list road trip to Italy and see it for yourself!
A road trip in Italy opens up the sweeping landscapes, historic cities, and some of the most picture-perfect seaside towns in Europe, like no other way to travel does.
This visually arresting country will have you stopping regularly for Insta-worthy images, and along the way, you'll find fantastic adventures to try like wine tastings, volcano trekking, exploring historic UNESCO sites, and the real Italian dolce vita!
In this Italy travel guide, you'll find a list of all the top sights in Italy to visit on your road trip adventure, with Italy travel tips and information to help you plan and prepare. Come with us as we share our unmissable Italian road trip itinerary.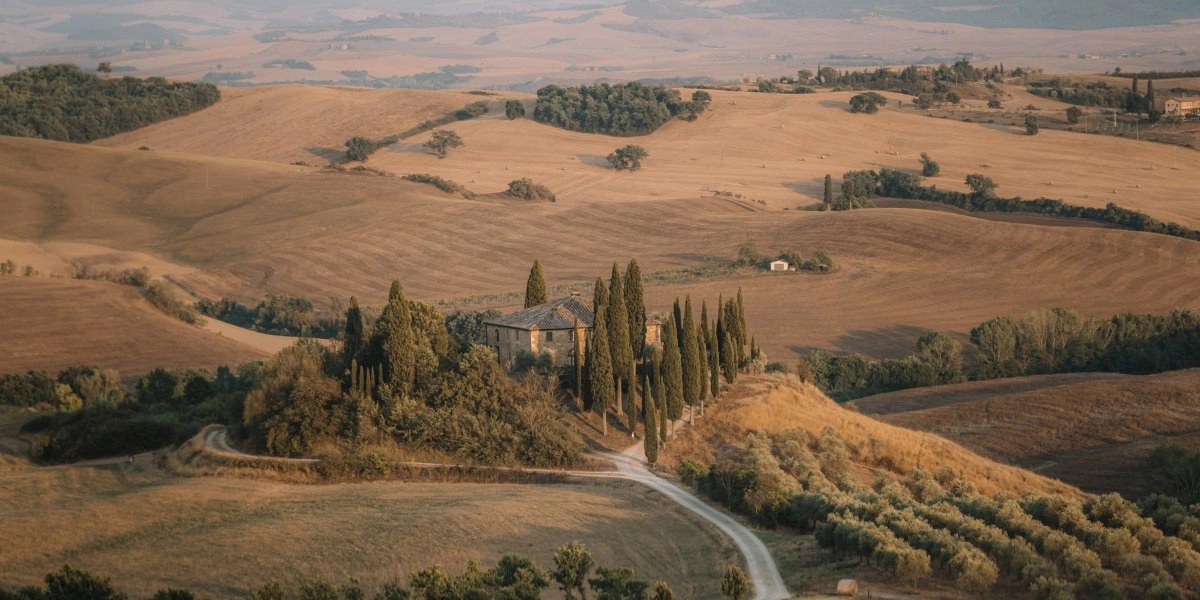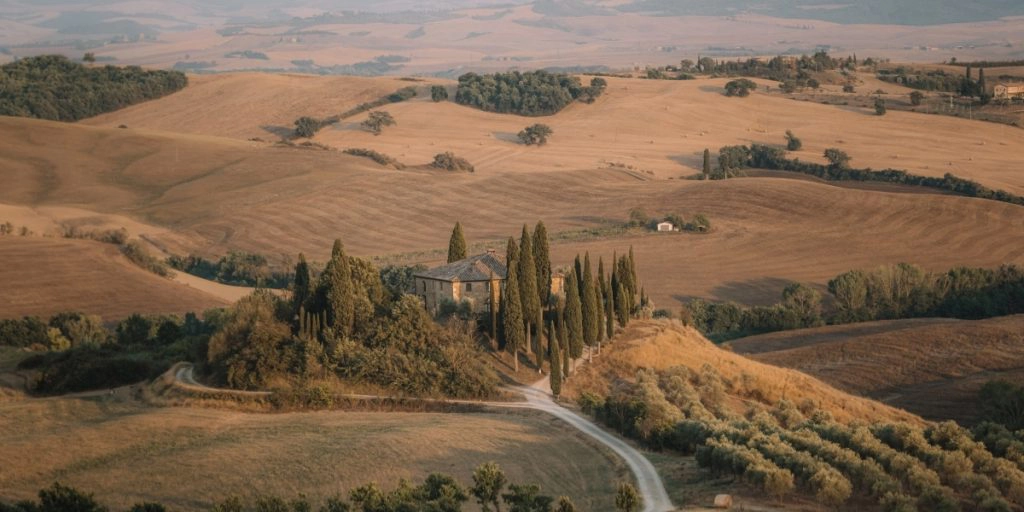 Is this your first time visiting Italy? Get all the information you need in our Italy Travel Guide, including what to pack, the best time of year to go, getting there, and practical tips to help you have the best trip!
Getting to Italy
Flying
Fly into Milan Malpensa Airport, a good starting point for your roadtrip in Italy. With direct international flights from North America, the Middle East, Europe, and UK, we recommend booking through Skyscanner for live deals and the best prices.
Alternatively, switch up the itinerary a little and start your Italy trip in beautiful Rome, the historic capital city. We've even got a fantastic one day in Rome itinerary for you, so you can see the city before heading off on your Italian road trip!
Driving to Italy from UK
If you're planning to drive to Italy from the UK, then you'll find everything you need to know, including the best, fastest, and cheapest routes, as well as driving tips, in our UK to Italy driving guide.
Are you planning to rent a car in Italy? As one of the largest rental car aggregator companies in the world, we recommend Rentalcars.com because they have massive purchasing power which enables them to secure the best rental prices, which benefits you when you're planning a road trip.
For a real adventure, hire a motorhome or campervan in Italy. We recommend Motorhome Republic, an aggregate booking site who pull together all the best deals from a number of rental agencies, to offer you a wide choice of options alongside an excellent English speaking expert motorhome Concierge Team.
Use the Park4Night app to find overnight spots and campsites as your travel around Italy, and sleep on a high mountain pass, next to a beautiful lake, or in a wildflower meadow.
Driving in Italy
Lots of people will tell you that renting a car in Italy is madness, that driving through Italy is dangerous and the roads are dreadful.
It is true that some routes can be challenging to drive in Italy, and in big cities, Italian drivers see it as a badge of honor not to give way. Isn't that the same in most big cities nowadays though?
Don't let your fears about traveling Italy by car put you off taking Italian road trips. Take your time and be prepared for the differences in driving styles and roads from back home when you follow our driving in Italy tips.
You'll also find helpful information regarding driving requirements in Italy, such as international driving permits, age limits, and tips about renting a car in Italy.
Make sure you have travel insurance you can trust when visiting Italy. We recommend True Traveller for their 5-star TrustPilot reviews, variety of cover options, best activities cover as standard, great prices, and excellent service.
Italy Itinerary & Map
Milan – Portofino – Cinque Terre – Pisa – San Gimignano – Siena – Montepulciano – Rome – Spoleto – Assisi – Florence – Bologna – Venice – Lake Garda
How to use this Italy road trip map – Use your fingers (or computer mouse) to zoom in and out. Click or touch the icons to get more info about a place, and click the arrow in the box top left to open the index. To add to your own Google Maps account, click the star next to the title of the map.
Make your road trip across Italy flexible…
Italy Road Trip 1 Week
Fly into Pisa instead, skip San Gimignano, Spoleto and Montepuciano. Head home from Pisa once you've seen Florence.
Italy Road Trip 2 Weeks
Skip Pisa, Spoleto, Venice and Lake Garda…these are tough choices, but you can always come back for a second trip.
Italy Road Trip 3 Weeks
You have enough time to complete our suggested itinerary, but you will be busy! You'll have one day in most places, and up to 36 hours in Rome and Florence.
Italy Road Trip 4 Weeks
Enjoy the time and spend longer in Rome and Florence. Maybe add Arezzo and Verona to your itinerary or check out the Amalfi coast.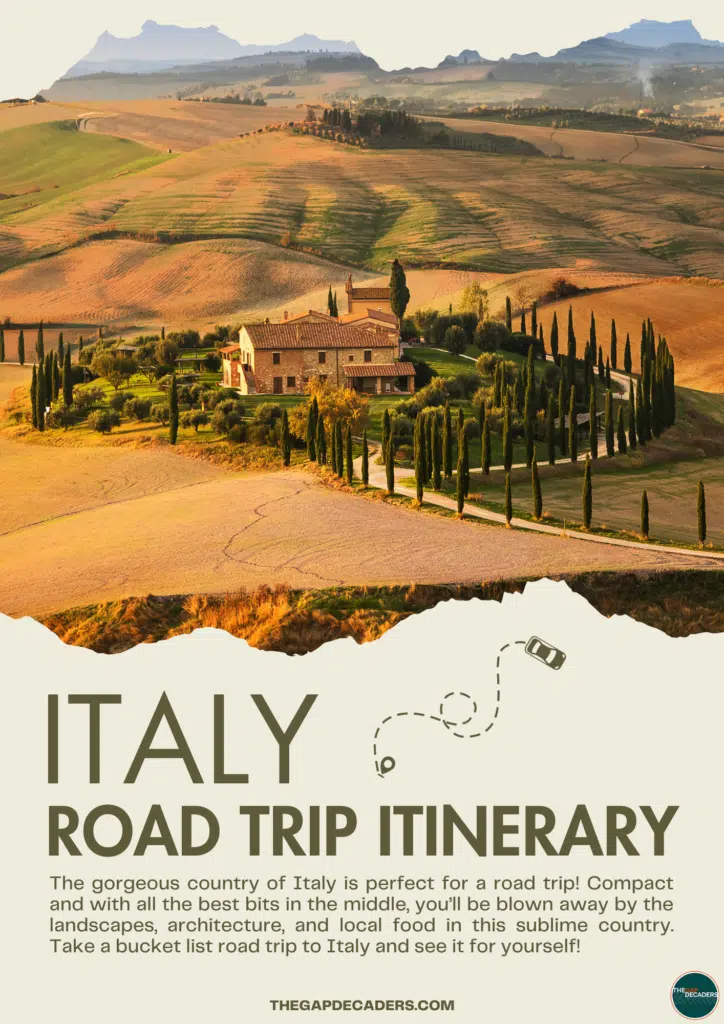 Want to print this itinerary? Download and print a text only version with no ads or images. Includes space for your trip planning notes and a packing list for Italy!
Italy Road Trip Route & Destinations
Milan
Milan is the best airport to fly in and out of for your perfect Italy road trip itinerary. As one of Italy's major cities, Milan enjoys direct international flights from all the world's continents, it's accessible, has great car hire options and it's a pretty kick-a** city to visit too!
If you didn't already know, Milan is a global capital of design, and the famous Italian fashion brands that call the city their home deliver sleek and simple Italian style at every turn. Milan's creativity and design flair are not a recent phenomenon though.
The city center has been at the forefront of the arts throughout history and this can be seen in the spectacular Gothic Duomo di Milano cathedral and the UNESCO World Heritage Site of Santa Maria delle Grazie, home to Leonardo da Vinci's 'The Last Supper'.
If you fancy a bit of shopping in this city of designer boutiques and couture labels, then visit the spectacular Galleria Vittorio Emanuele II, Italy's oldest shopping mall, and unlike any other shopping mall you've visited before!
Stay at the Moxy Milan Malpensa Airport, the best of Milan's airport hotels, and get the train or bus directly into the center of Milan. It will take around 30 minutes and cost €10-15. If you're splashing out, get a cab for around €100.
If you decide to spend a night in Milan, save money, and delay your car rental pick-up until the following day, then hit the road for the best road trip route in Italy!
RELATED POST: Northern Italy Road Trip: Itinerary, Map & Tips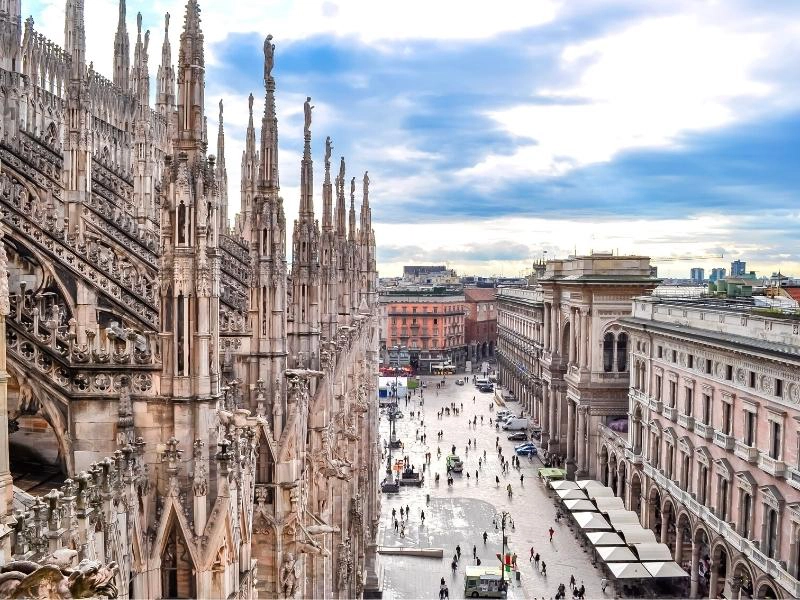 Portofino
Head south to Portofino, a gentrified fishing village on the Italian Riviera coastline of the Ligurian Sea. Pastel-painted houses line the picturesque harbor, mixing effortlessly with stylish bijou stores, seafood restaurants, and cool bars.
The charming Piazzetta, a small cobbled square, overlooks the harbor of the coastal town, which is lined with super-yachts in the summer and more traditional craft in spring and autumn.
Spend a day soaking up the atmosphere and people-watching. Grab a slice of delicious focaccia con il formaggio (focaccia with cheese) from nearby Recco and meander along the winding backstreets, whilst indulging in a bit of window shopping.
Head to San Fruttuoso, a stretch of the Mediterranean coast which you can only get to by boat or on foot. Enjoy lunch at a cantina on one of the beautiful terraces, where we ate one of the best tomato salads we have ever experienced.
Spend some time on the warm turquoise water in a kayak or on a paddle board; make sure to take a snorkel and mask with you too, as the water here is crystal clear.
Head back to dry land and enjoy dinner at one of the many seafood restaurants in the harbor, for a perfect end to your first full day in Italy.
Upmarket: Splendido, A Belmond Hotel – Booking.com | Agoda
Mid-Range: Hotel Piccolo Portofino – Booking.com | Agoda
Budget: Albergo Annabella, Santa Margherita Ligure – Booking.com | Agoda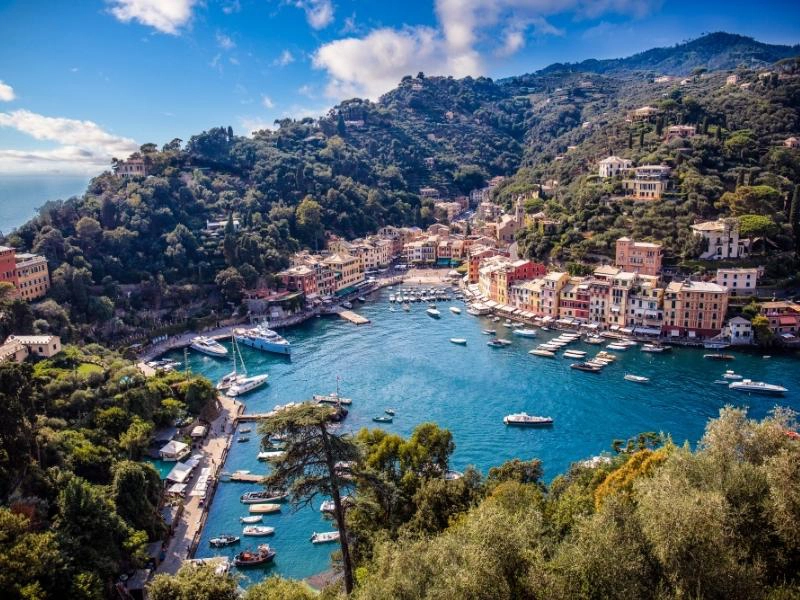 Cinque Terre
You could easily spend a week or more in this wonderful national park, especially if you enjoy hiking, water sports, and outdoor activities. Cinque Terre is a group of five historic seaside villages on the rugged Italian Riviera coastline and a real bucket list destination.
Pretty and brightly colored houses cling to dramatic terraced streets, harbors are filled with traditional fishing boats bobbing on clear azure waters and trattorias serve up everything with homemade pesto (basil, olive oil, parmesan cheese, and pine nuts), the traditional sauce of the region.
The Sentiero Azzurro cliffside hiking trail links the five little towns of Monterosso, Vernazza, Corniglia, Riomaggiore, and Manarola. The trail offers incredible sea views and easy walking.
If you're more of a water baby, see the Cinque Terre villages from a kayak, or take a boat trip and avoid the inevitable crowds in the towns.
Like driving the Amalfi Coast, going to Cinque Terre in a car can be challenging and you should read this Cinque Terre guide before you decide how to visit.
If you do decide to stay or park in Cinque Terre, head for delightful Monterosso al Mare, the largest of the Cinque Terre towns, and start your amble along the hiking route from there. Otherwise, stay in La Spezia and get the early train the next morning to make the most of your day.
Upmarket: Sesta Terra – Booking.com | Agoda
Mid-Range: Ca' D'Andrean – Booking.com | Agoda
Budget: La Taverna del Metallo Rooms – Booking.com | Agoda
Pisa
There's more than you think to do in Pisa, even though much of the town was sadly lost during the WW2 bombings. Head for the Campo dei Miracoli (Field of Miracles) where you'll find the iconic Leaning Tower of Pisa, one of Italy's most famous landmarks, the fine Romanesque duomo, Gothic baptistery, and camposanto (cemetery).
This beautiful quartet of creamy-colored historic buildings sits on an open and grassy area, enabling the infamous Instagram shots of people seemingly holding up the infamous tower.
This beautiful quartet of creamy-colored historic buildings sits on an open and grassy area, enabling the infamous Instagram shots of people seemingly holding up the infamous tower.
If you're on a deadline, the best way to enjoy Pisa is to take this excellent two hour guided tour of these important monuments, as you pass through on your way to the next stop.
Upmarket: Palazzo Cini – Booking.com | Agoda
Mid-Range: Hotel Di Stefano – Booking.com | Agoda
Budget: Hotel La Pace – Booking.com | Agoda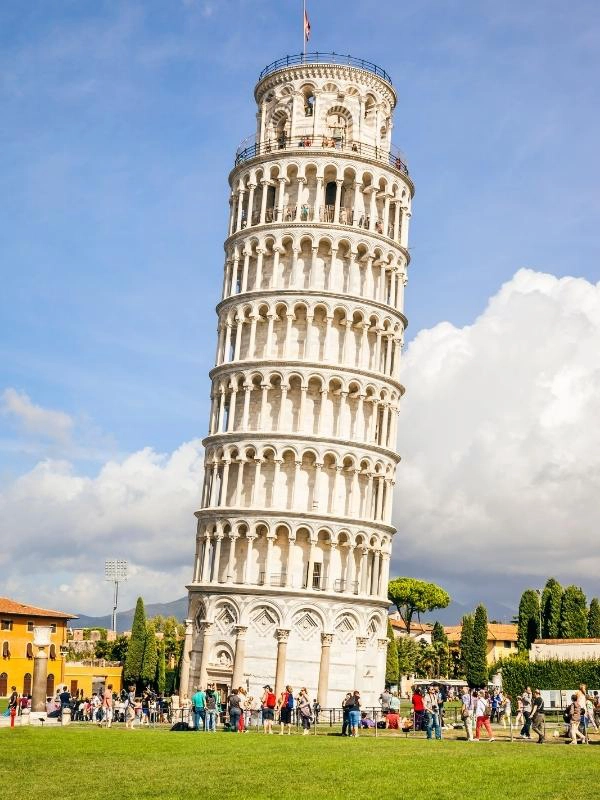 San Gimignano
As you approach this most archetypal of Tuscan hill villages, you'll see its thirteen towers dominating the skyline.
Historically, this beautiful place was on the main pilgrim route from Northern Europe to Rome and the towers were built by merchants to show the world their power and wealth.
San Gimignano is now beautifully preserved and perfect for an afternoon meandering the atmospheric narrow cobbled streets and piazzas of the historic center.
Make sure to visit the ancient Torre Grossa, the only one of the thirteen towers open to visitors.
Other must-sees are the stunning frescos in the 11th century Collegiate and the ornamental Rococo interior of Sant' Agostino church. Otherwise, grab a gelato or a coffee and stroll to your heart's content.
As with all Tuscan hill villages, if you're in a motorhome or anything bigger than a car you will need to identify parking at sea level and walk up, or take public transportation – often provided by the municipality in the summer months.
When you leave San Gimignano, you'll have time to make a quick stop to visit Monteriggioni, a fine example of a beautiful medieval walled castle and village.
RELATED POST: The Complete Guide to Touring Italy by Motorhome
Upmarket: Agriturismo Mormoraia – Booking.com | Agoda
Mid-Range: Hotel Bel Soggiorno – Booking.com | Agoda
Budget: Relais Cappuccina – Booking.com | Agoda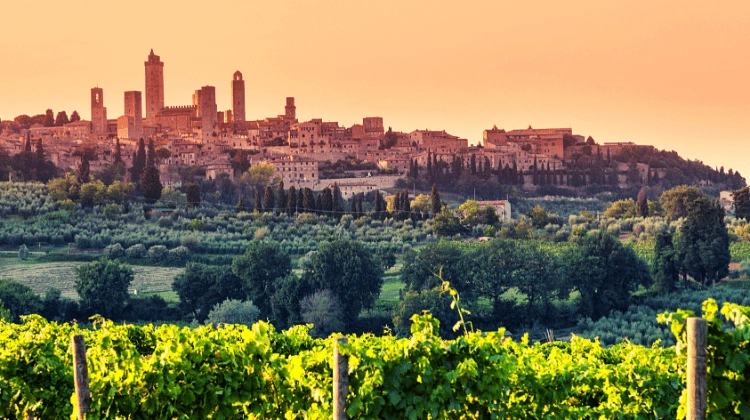 Siena
Siena is gloriously Tuscan, its warm colors beckoning you into the medieval streets and towards the jewel in Siena's crown, the famous Piazza del Campo.
The prettiest of Tuscany's must-see towns is not only home to one of Europe's greatest medieval squares but a wealth of stunning religious and civic buildings and a busy shopping area packed with interesting galleries and boutiques.
Any visit to Siena has to include the Piazza del Campo, an extraordinary site as you enter from Via di Citta to fully appreciate the symmetry, layout, and beauty of the square.
Lined with fine buildings that will grab your attention, don't miss the tiny Fonte Gaia on the northern edge of the piazza, whose water is still supplied by a 500-year-old viaduct.
Take a walking tour of Siena and the Duomo to fully appreciate the city's turbulent history and breathtaking architecture.
Stop for lunch at one of the many lively restaurants lining the streets around the main square and sample delicious Ribollita, a traditional Tuscan soup made with beans, vegetables, and bread, before heading off on one of the best drives in Italy.
Upmarket: Palazzetto Rosso – Art Hotel – Booking.com | Agoda
Mid-Range: Hotel Athena – Booking.com | Agoda
Budget: Hotel Palazzo di Valli – Booking.com | Agoda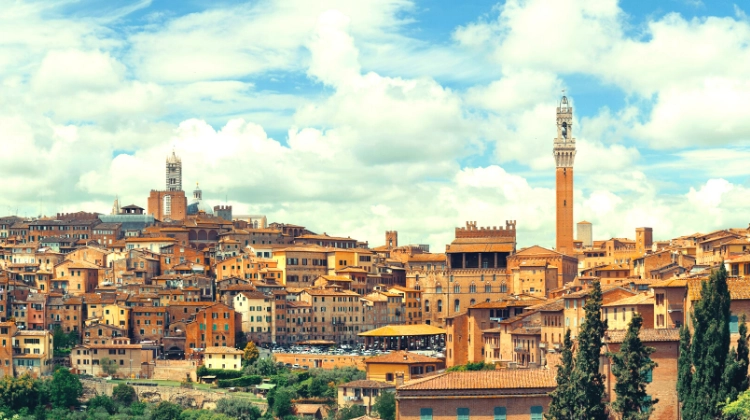 Val d'Orcia
Driving in Tuscany is one of the greatest pleasures as you road trip through Italy. As you leave Siena for Montepulciano, you'll be motoring through some of Italy's most iconic and stunning scenery.
Head south, setting your sat nav for the Val d'Orcia, and enjoy one of Europe's best driving routes and Italy's most scenic drive.
This journey will take you past small villages, vineyards, and olive groves, and you'll pass row upon row of majestic cypress trees lining the roads and on the skyline. This is Tuscan countryside at its very best.
If you pick up the SP146 between San Quirico d'Orcia and Montepulciano, you might even spot the famous house from the film 'Gladiator', some of which was shot in Tuscany.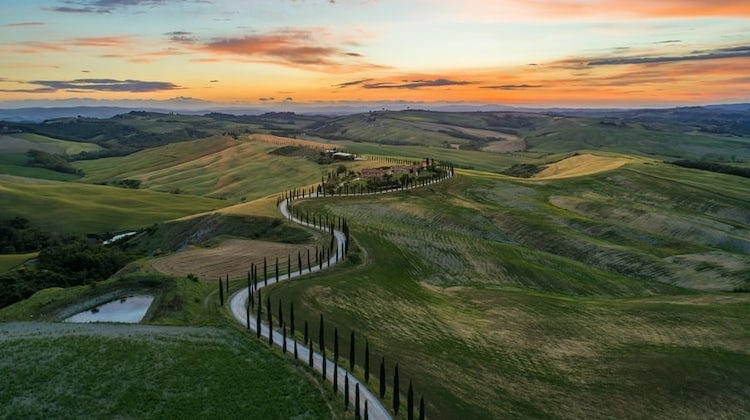 Montepulciano
Famous for the classic, rustic wine of the same name, the gorgeous medieval town of Montepulciano is nestled into the chalky hills at the meeting point of the Val d'Orcia and the Vall di Chiana.
Surrounded by the classic Tuscan landscape of rolling green hills and golden fields dotted with cypress trees, this is your picture-perfect Tuscany road trip destination.
The old town itself is a masterpiece of cobbled streets, charming piazzas, restaurants, and gift shops which can easily draw you in for a deliciously pleasant afternoon and evening.
Enjoy a meal of wild boar ragu, followed by local cheese and honey washed down with the famous Vino Nobile di Montepulciano.
The town is also one of the best spots in this itinerary for a wine-tasting tour of a local vineyard, to understand the history and process of making wine in Italy.
You cannot park within the town walls and need a permit to park in one of the numbered car parks on the outskirts, which your hotel will provide for you.
The car parks are around a ten to fifteen minute walk from the center of the town, so maybe pack a small bag for an overnight stay.
Upmarket: Palazzo Carletti – Booking.com | Agoda
Mid-Range: Il Rondò Boutique Hotel – Booking.com | Agoda
Budget: Albergo Duomo – Booking.com | Agoda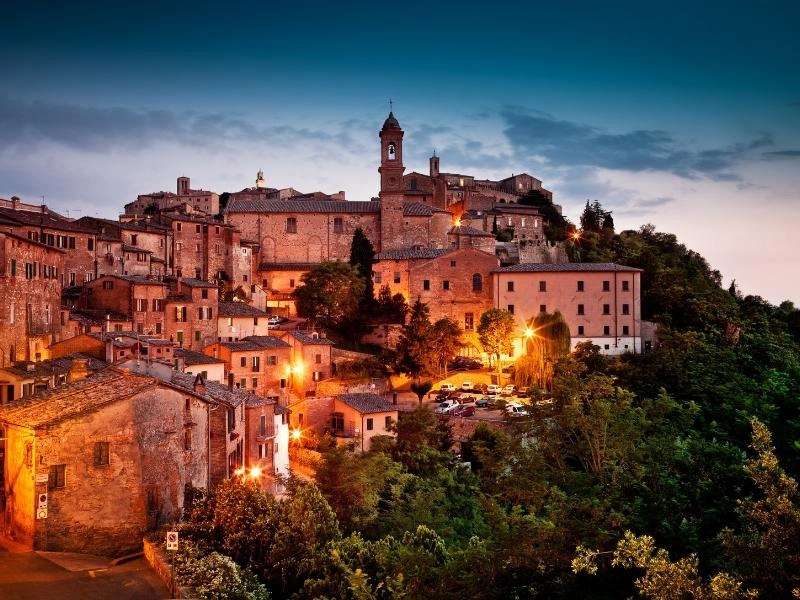 Italy Road Trip Ideas
Rome
The center of a vast empire and capital of the Christian world for centuries, Rome is full of the works of the artists and architects who gathered here to work for the Popes and their wealthy families.
This magnificent legacy has assured the eternal city's position as one of the most important historical places in the world. Even if you just have one day, you should see the most important of Rome's ancient architecture like the Colosseum, Pantheon, and Roman Forum, and the slightly more modern historical sites like the Vatican Museums, St. Peter's Basilica, the Trevi Fountain and Spanish Steps.
As you walk, you'll take in a handful of light and airy piazzas, perfect for stopping and enjoying a coffee or ice cream as you people-watch.
Our Rome in one day itinerary has all the information you need to visit the city and get a real flavor of why Rome is a must-visit place in Italy.
RELATED POSTS: The Best of Rome in 36 Hours | Rome in a Day – Itinerary, Map, Tips & Guide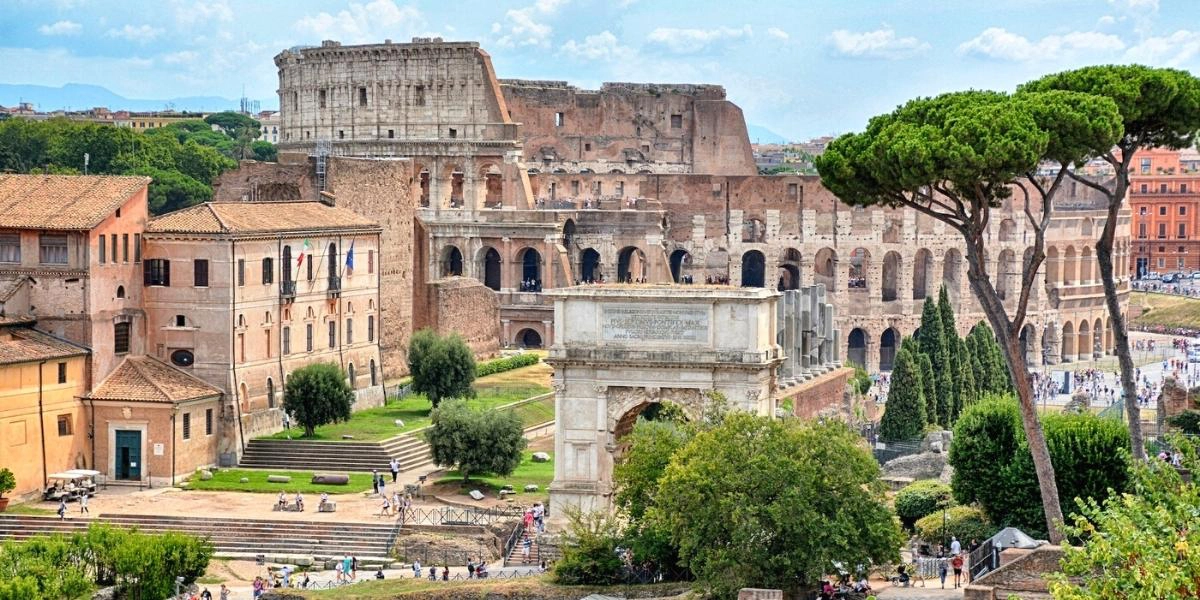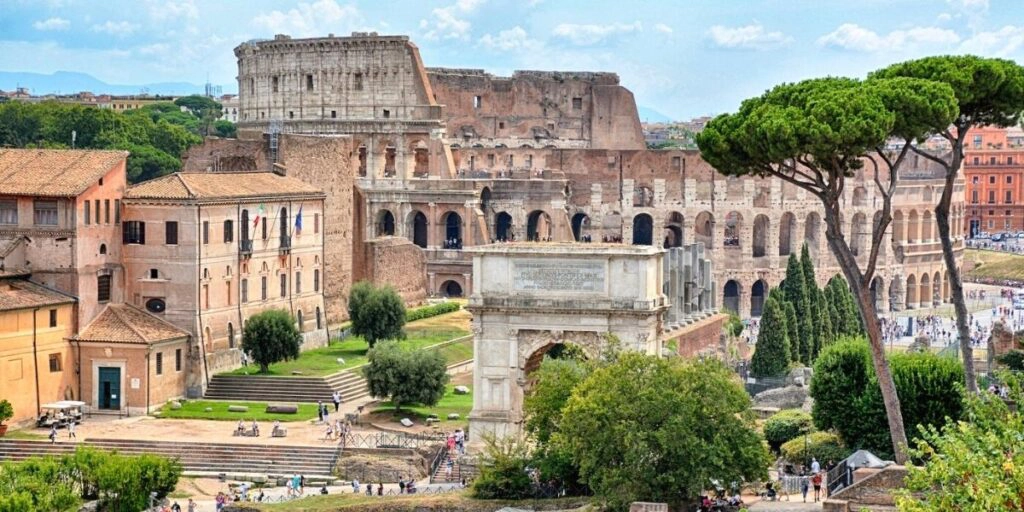 If you have four weeks or longer for your driving tour of Italy, one of the best road trips from Rome is to head south for around three hours to the Amalfi Coast.
This stunning stretch of gravity-defying road from Sorrento to Salerno passes by the beautiful beaches of Positano, the romantic village of Ravello and authentic Vietri sul Mare, and is considered the best Italian coast road trip of them all.
The road south to the Amalfi Coast will also take you past Mount Vesuvius (one of Italy's three live volcanoes – the others are Mount Etna on Sicily and Stromboli, its own small island in the Tyrrhenian Sea), and the magnificent Pompeii Archaeological Park.
Both Vesuvius and Pompeii can be seen in a day, meaning you could visit three major Italian attractions, adding just two extra days to your roadtrip Italy – be prepared for an early start from Rome though!
RELATED POST: Southern Italy Road Trip: Discover the Best 33 Places To Visit
Spoleto
Driving from Rome to Florence you'll find Spoleto, often overlooked in favor of its famous neighbors but a true hidden gem.
Nestled in a beautiful wooded setting in Umbria, the town is famous for the Festival dei Due Mondi (Festival of the Two Worlds) held in June and July annually.
Outside of this time, tourists are welcomed, but not thick on the ground like they are in next-door Assisi.
Spoleto's independent nature has allowed it to thrive and progress as a town in its own right, rather than a tourist hot spot.
Come to Spoleto to enjoy a slow day, sipping coffee in the square, taking the travelator (an experience in itself) up to the mighty fortress of La Rocca Albornoz, which dominates the skyline, and wandering around the many beautiful churches and religious buildings in the town.
Upmarket: Palazzo Leti Residenza d'Epoca – Booking.com | Agoda
Mid-Range: Hotel dei Duchi – Booking.com | Agoda
Budget: Hotel Vecchio Forno – Booking.com | Agoda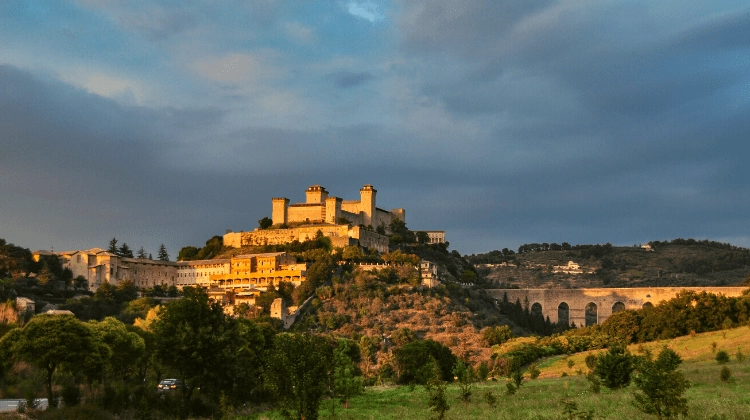 Assisi
The birth and final resting place of St Francis of Assisi, this beautiful medieval hill town, with its geranium-filled narrow streets, charming piazzas, and panoramic views is a must-see on your Italian road trip itinerary.
Wreathed in history and religion, the magnificent Basilica di San Francesco draws pilgrims and tourists from across the globe – think of Italian novels like 'The Name of the Rose' and you're imagining Assisi.
Clinging to the side of a craggy outcrop and visible for miles, the Basilica dominates the town and surrounding landscape. Spend the day wandering between here and Assisi's main square, Piazza del Comune, where the Roman columns of the Templo di Minerva still stand.
There are many other religious buildings of note, a walking tour with a private guide will help you understand the importance and history of each.
Upmarket: Nun Assisi Relais & Spa Museum – Booking.com | Agoda
Mid-Range: Le Silve di Armenzano – Booking.com | Agoda
Budget: Hotel Cladan – Booking.com | Agoda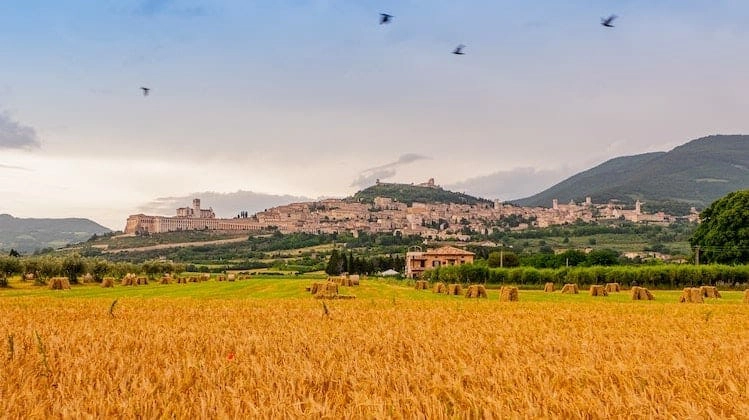 If you're all eaten and drunk out at this stage, consider giving Bologna (the stop after Florence) a miss and heading up the east coast of Italy from Assisi, before cutting back inland to Florence.
This route takes in the best of Le Marche, a remote corner full of beautiful scenery that is sandwiched between the Apennines and the Adriatic.
The coast is home to a number of seaside resort towns with long sandy beaches and the stunning Conero Peninsula, which makes a welcome relief from the almost uninterrupted beach which dominates the coastline.
Inland are lots of beautiful and historic towns, less visited and the better for it. For a real punch of medieval architecture, check out Urbino and Ascoli Piceno, the highlights of the region.
Whilst you're there, pop into San Marino, said to be the world's oldest surviving republic and the fifth smallest country in the world!
Florence
Florence is a vast and graceful monument to the Renaissance, the period of cultural and artistic rebirth following the Middle Ages. Many famous artists such as Michelangelo and Botticelli contributed to Florence's heritage, making it one of the artistic capitals of the world.
Historic Florence is compact and walkable and could be seen in a day if you're ruthless in your selections.
Better to spend two days here and visit the must-sees of the exceptional Duomo, the stunning Palazzo Vecchio, the sublime Uffizi Gallery, and the ancient church of Santa Croce.
Across the River Arno, via the Ponte Vecchio, lies the vast and imposing Pitti Palace and the Santa Spirito church.
Book everything in advance, whether that's tickets, tours, or guides; this city never sheds itself of tourists, all clamoring to see the same things as you!
RELATED POST: One Day in Florence – Itinerary, Map, Tips & Guide
Upmarket: Hotel Spadai – Booking.com | Agoda
Mid-Range: Soprarno Suites – Booking.com | Agoda
Budget: Hotel Perseo – Booking.com | Agoda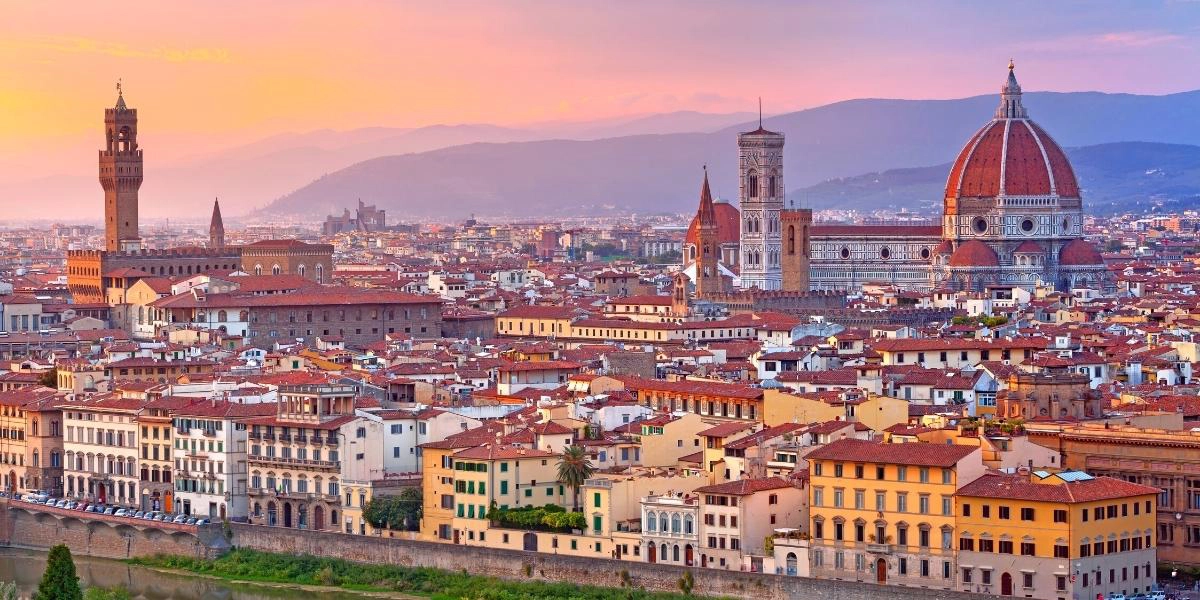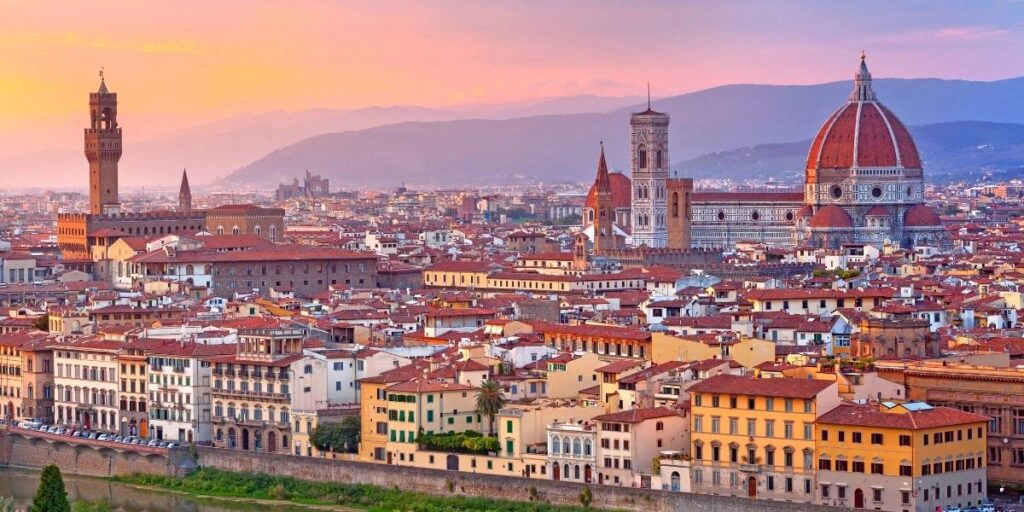 Bologna
One of the best medieval cities in Italy and the foodie capital of Emilia-Romagna (and possibly the whole of Italy) Bologna will surprise and delight you. Follow our self-guided foodie walking tour of Bologna to sample the best food and architecture the city has to offer.
If you have time, pop across to Modena to sample the famous Balsamic vinegar made there, and then Parma for the ham of the same name.
RELATED POST: Self-Guided Food Tour of Bologna
Upmarket: Grand Hotel Majestic Gia Baglioni – Booking.com | Agoda
Mid-Range: PHI Hotel Al Cappello Rosso – Booking.com | Agoda
Budget: The Social Hub Bologna – Booking.com | Agoda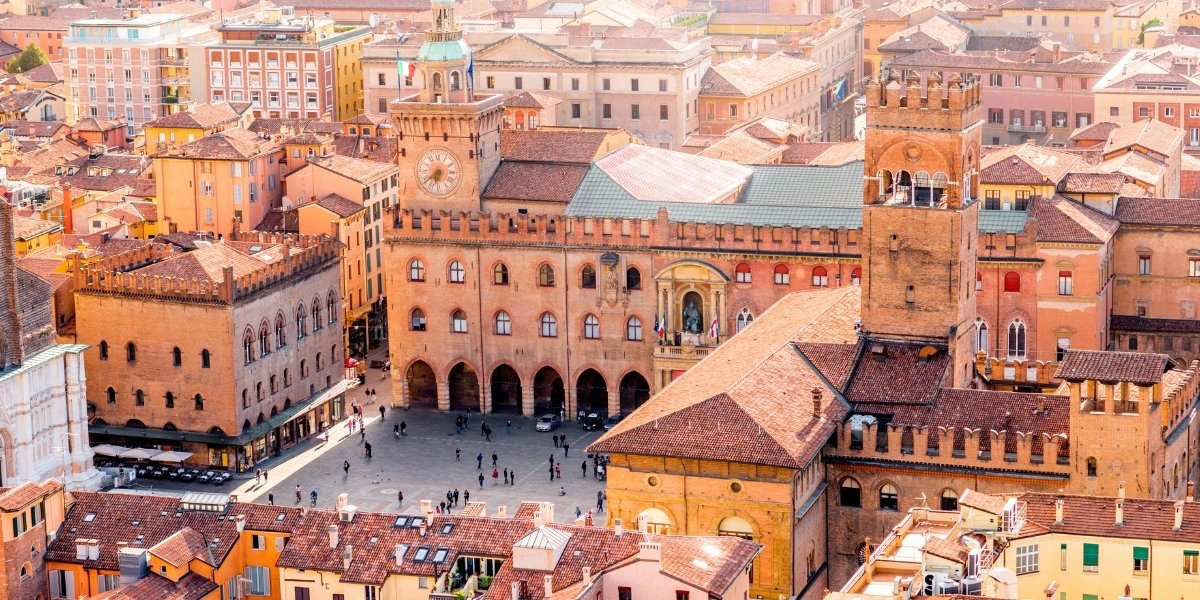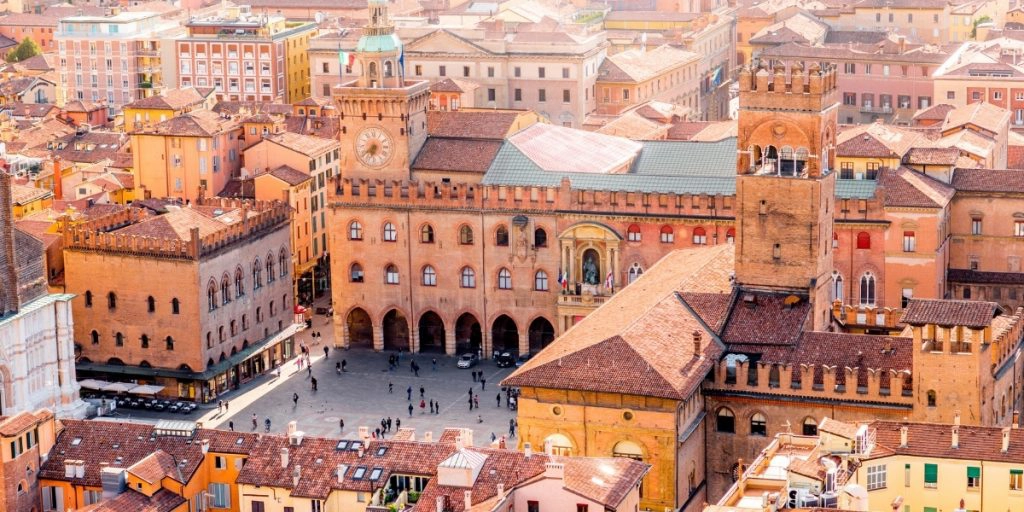 Venice
Ahh, Venice. This unique city has survived against all the odds; built on a series of mud banks, and in the tidal waters of the Adriatic, Venice regularly floods.
Despite this, little of the essential fabric and infrastructure of Venice has changed in 200 years, and more than 20 million visitors a year fall in love with the beguiling city of water.
Trying to see Venice in a day will not do it justice, and leave you feeling frustrated. If that's all you have, either come back another time or take a private full day trip so you can be whisked around and see all the best bits, without getting lost.
Whenever you visit and whether you choose to see the religious and historic buildings, the famous glass island of Murano, the lace-making island of Burano, and haunting Torcello, or take a gondola along the Grand Canal, Venice will be crowded.
Park at Garage San Marco Venezia, (book well in advance) a five minute walk from the hotel. There is no free parking in or around Venice, expect to pay at least €25 per 24-hour period.
RELATED POST: One Day in Venice – Itinerary, Map, Tips & Guide
Upmarket: Sina Centurian Palace – Booking.com | Agoda
Mid-Range: Palazzo Veneziano – Booking.com | Agoda
Budget: Hotel Saturnia & International – Booking.com | Agoda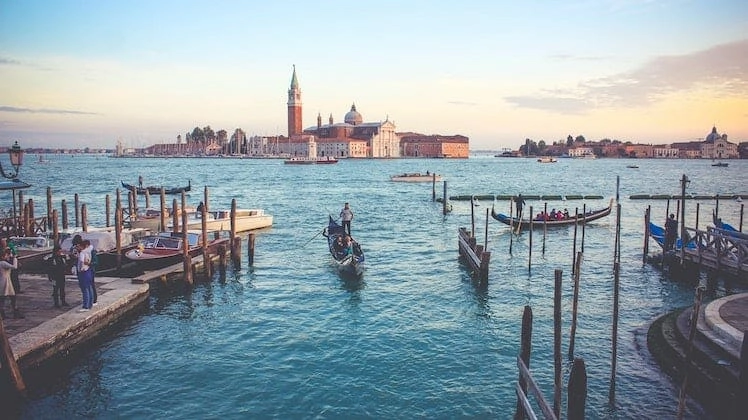 Lake Garda
Lake Garda is your final stop before heading back to Milan to drop off your hire car. Lake Garda, the most well-known and largest of the Italian lakes, borders three regions; Trentino, Lombardy, and the Veneto.
The further north along the lake you go, the more dramatic the landscapes become, as you head towards the snowcapped Alps of the South Tyrol.
There are many beautiful towns around Lake Garda, all offering opportunities for water sports, hiking, and relaxing at the end of your epic road trip around Italy.
Our pick is Bardolino on the east shore, a lively town with easy access to the lake and lots going on, as well as spectacular sunsets over Lake Garda to end your day.
From Bardolino, it's a few hour's drive to Milan Airport, perhaps via Lake Iseo, Lake Como, and Lake Maggiore if you have a few extra days to explore.
Upmarket: LLAC Living Nature Hotel – Booking.com | Agoda
Mid-Range: Resort Casino di Caccia – Booking.com | Agoda
Budget: Hotel La Terrazzina – Booking.com | Agoda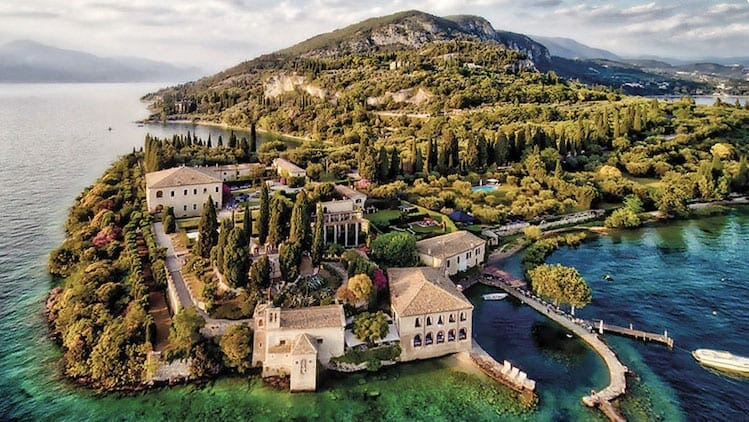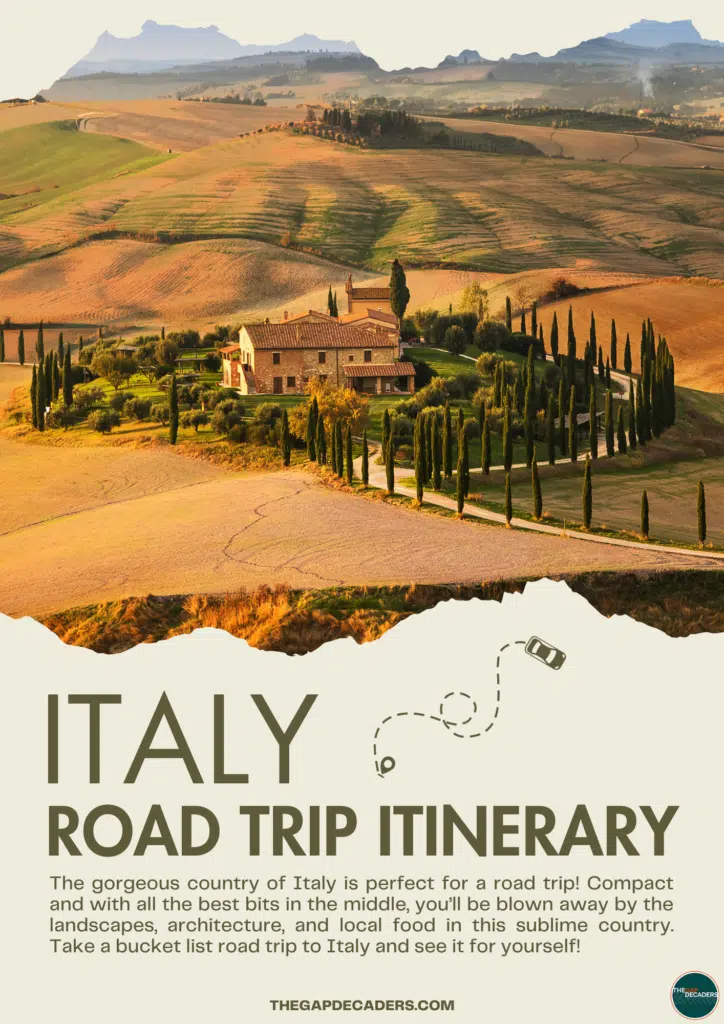 Want to print this itinerary? Download and print a text only version with no ads or images. Includes space for your trip planning notes and a packing list for Italy!
Italian Road Trip Resources
Here are the websites and services we personally use and recommend for trips to Italy.
Are you looking for more road trip inspiration? Check out these top posts…
Amongst the beautiful landscapes of Spain, in the mountainous interior and along the gorgeous coasts, you'll find fascinating history, vibrant culture, and incredible cuisine. One of the best ways to experience Spain is by taking a road trip. We base ourselves in Spain when not traveling and have explored much of the country on four wheels and two! Whether you want historic cities, gorgeous landscapes, beaches and sun, or something a bit different, our detailed…
Love it? Pin it!