This post may contain affiliate links, from which we earn an income.
What To Do in Rome in One Day
Rome is a charismatic city, high on any Italian travel bucket-list. With fantastic architecture bathed in Rome's unique light, incredible Roman ruins, a world-class artistic heritage and delicious Italian gastronomy, the eternal city is exhilarating.
Even if you only have a short time here, you can pack in a lot when you follow our one day in Rome guide.
In this Rome travel guide, you'll find a complete one day itinerary of all the most important must see Rome attractions, with an interactive map, organised to make the best use of your time.
We also share recommendations for central places to stay, ideas about where to eat local food, and tips about how to make the most of your 24 hours in Rome.
When to Visit Rome
Rome has a beautiful Mediterranean climate with hot and sticky summers and cool winters. Temperatures in July and August can easily exceed an uncomfortable and humid 30°c.
These are also the busiest months for tourists to visit, and the city becomes a hot mess, clogged with people, heat and humidity.
Spring and autumn are by far the best times times to visit, for kinder temperatures, quieter attractions and better deals on accommodation. Try for April or May (avoiding Easter) or September and October when the light is at its most luminescent.
Visiting Rome in winter means you'll get the best deals on places to stay and attractions. You will need to wrap up though, average temperatures in winter are between 12-15°c and it regularly dips below zero overnight.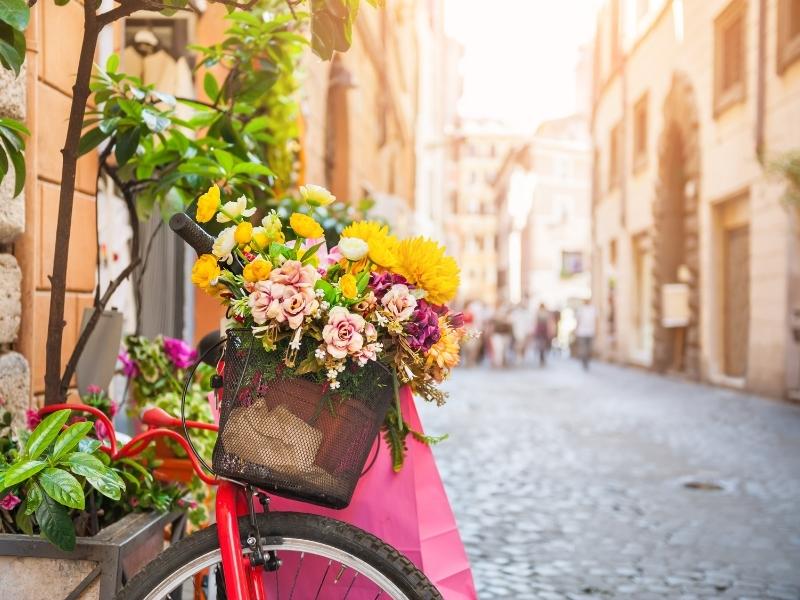 Where to Stay in Rome
For Road Trippers
Stay at Casa Fabbrini in the heart of the historical centre. Hidden away along a cobbled alley, just five minutes from the Spanish Steps, this charming four room hotel is homely, contemporary and classy all wrapped up in one.
With a whole floor given to a welcoming living, cooking and dining space, open to guests 24/7, this is a fabulous place to lay your head after an intoxicating day in Rome.
Visitors to Rome looking for five star style on a four start budget will love Chapter Roma.
Equidistant between the Pantheon and ancient Rome, this delightful boutique hotel with its pared down industrial-luxe decor and attentive service, provides a perfect stay for those looking to conquer Rome in a day.
For Motorhomers
Things to See & Do in Rome
Our one day Rome itinerary is jam packed and covers a lot of ground, so starting early is a must. You will be busy, and on your feet a lot, so make sure to take water, slather on the sunscreen or put on a hat in summer, and wear comfortable shoes.
If you want to save your legs make use of the frequent tram and metro stops around central Rome, to get to your next destination.
If you prefer to have your day managed for you, book a walking tour. With so many things to do in Rome in 24 hours, a guided tour will take you to all the key attractions and important sites, and some Rome under the radar places too, with a full back-drop of information, insider tips, recommendations and answers to all your questions.
TOP TIP: Remember to carry tissues or loo paper as lots of restaurant and cafes don't provide this. Hand sanitiser or wipes are also a good idea.
Interactive Map of Your Rome Itinerary
How to use this map – Use your fingers (or computer mouse) to zoom in and out. Click or touch the icons to get more info about a place, and click the arrow in the box top left to open the index. To add to your own Google Maps account, click the star next to the title of the map.
Morning
Wander the Villa Borghese
Villa Borghese is a delightful landscaped garden right in the centre of Rome. The gardens cover an area of 80 hectares and were developed in 1606 by Cardinal Scipione Borghese, who wanted to turn his former vineyard into the most extensive gardens built in the city.
The gardens are known as the green lung of Rome, and you could easily spend hours wandering them. Calm, peaceful and quintessentially Italian, there is lots to see and do here.
The gardens themselves are one of the best free attractions in Rome, but the museums and historic buildings will require a ticket, or perhaps try a small group tour.
TOP TIP: Head for Terrazza del Pincio which lies within the park for incredible panoramic and romantic views of the dominating Basilica of St Peter in the Vatican City and Piazza dell Popolo. This is one of the best places to visit in Rome to capture the iconic domes of the city skyline.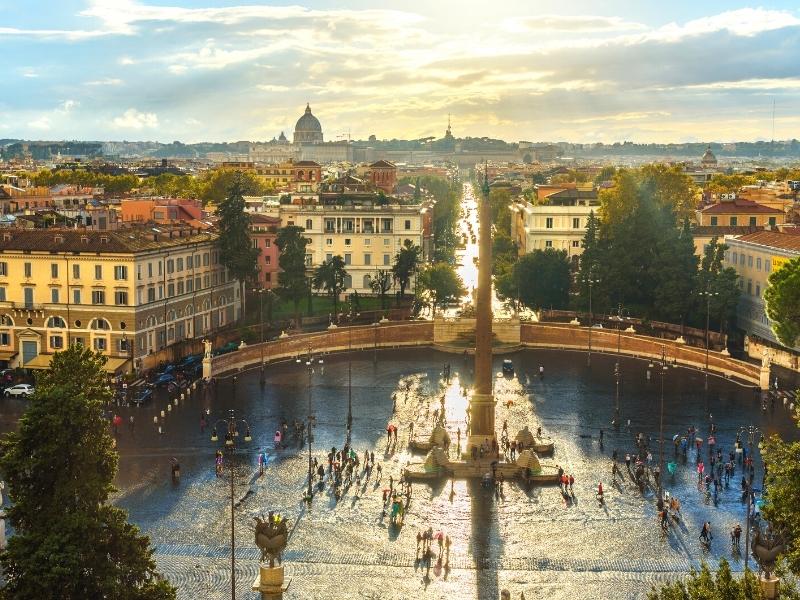 Admire the Piazza del Popolo
The Piazza del Popolo is one of the best known squares in Rome, although it's not even square! In Italian the name means 'People's Square', but the name actually comes from from the poplar trees that surrounded the oval square.
The original function of the graceful Neo-Classical square, designed between 1811 and 1822, was to welcome visitors and pilgrims who entered Rome through the Porta del Popolo on the Via Flaminia. One of Rome's major thoroughfares, Via Flaminia was an ancient Roman road leading from the city over the Apennine Mountains to Rimini on the coast of the Adriatic.
Look out for the almost idential Baroque churches of Santa Maria deo Miracoli and Santa Maria in Montesanto, which are located opposite each other on either side of the Via del Corso. On the far side of the square to these two churches is the Basilica Parrocchiale Santa Maria del Popolo.
One of the most defining sights on the Piazza is the 36 metre high Egyptian obelisk. The obelisk, dated to 1300 BCE, originally came from the Sun Temple of Heliopolis and brought to Rome by Emperor Augustus, before being restored in 1589 and moved to the square.
Climb the Spanish Steps
From here, it's on to the Piazza di Spagna to see the famous Spanish Steps and the Trinità dei Monti Church standing guard. The steps take their name from the Spanish Embassy to the Holy See, which was located on Piazza di Spagna or Spanish Square.
After they were completed in 1725, the steps became a prime people watching spot because they attracted a crowd, just like they do now! At busy times the steps themselves are covered in a carpet of people taking selfies and eating lunch, so try and get here early if you can.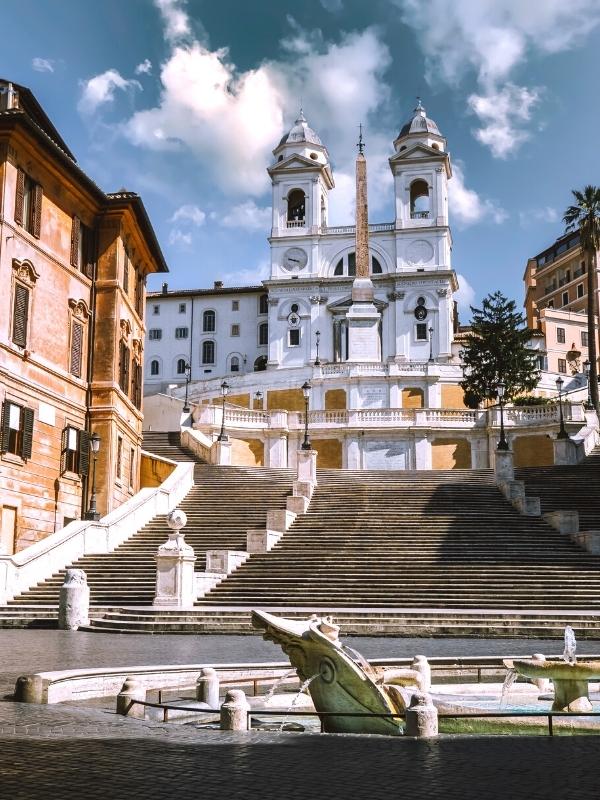 The Trevi Fountain
Next up is the glorious Baroque Trevi Fountain, one of the oldest water sources in Rome. The fountain dates back to ancient Roman times and provided water to the Roman baths and the fountains of central Rome.
Located at the junction of three roads, the Trevi Fountain marks the final point of Aqua Virgo, one of the earliest aqueducts in Rome. The name of the fountain itself means "Three Street Fountain."
The Pantheon
From here, you'll wander through the centro storico, the historic district, with its traditional trattorias and bohemian atmosphere, a great place to stock up on Italian souvenirs and gifts.
Dominating the Piazza della Rotonda is the ancient and gravity defying Pantheon, the most preserved and influential building of ancient Rome. A Roman temple, it is dedicated to all the gods of pagan Rome, built between 118 and 125 CE.
Probably one of the most fascinating features of the Pantheon is the architecture and structure, comprising of a series of intersecting arches. The arches rest on eight piers which support eight arches which correspond to the eight bays on the floor level that houses statues. The dome itself is supported by a series of arches that run horizontally around.
The oculus (the hole in the centre of the dome) was a feat of Roman engineering and was by far the largest oculus of its time. The main source of light for the whole building, the oculus was never covered.
An interesting Rome fact is that when rain falls into the interior, it runs off the slightly convex floor to the still functioning Roman drain pipes underneath.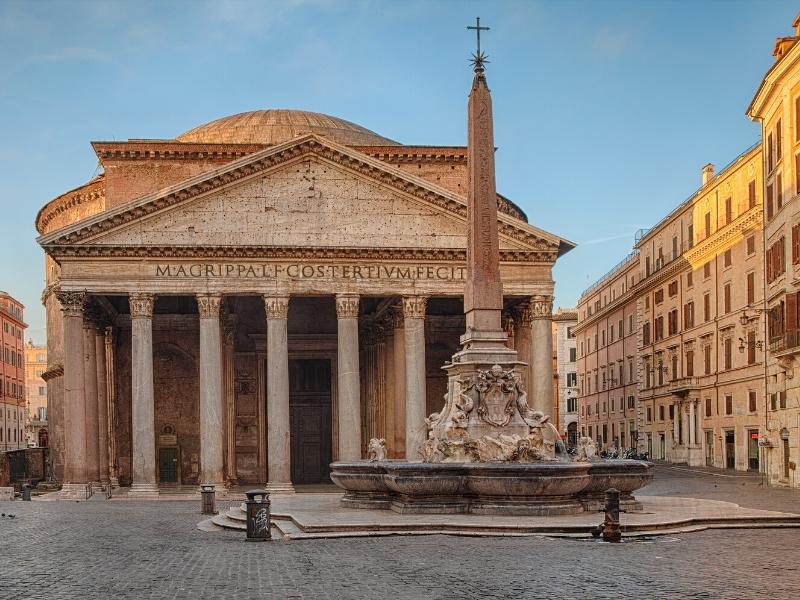 Piazza Navona
You'll finish at the the beautiful open and airy square of Piazza Navona, with its three impressive fountains. Fontana dei Quattro Fiumi (Fountain of the Four Rivers), the one in the middle, was designed by Gian Lorenzo Bernini in 1651.
This important Italian sculptor and architect was a genius of the Baroque era and left a lasting mark on Rome's artistic and architectural heritage. 350 years after his death, Bernini's masterpieces can still be found in Rome's streets as well as its palaces, churches and museums.
TOP TIP: Just a three minute walk from Piazza Navona is Gelataria Frigidarium Roma, the place to visit in Rome for gelato. So good is their ice-cream, people queue even in January for their legendary flavours.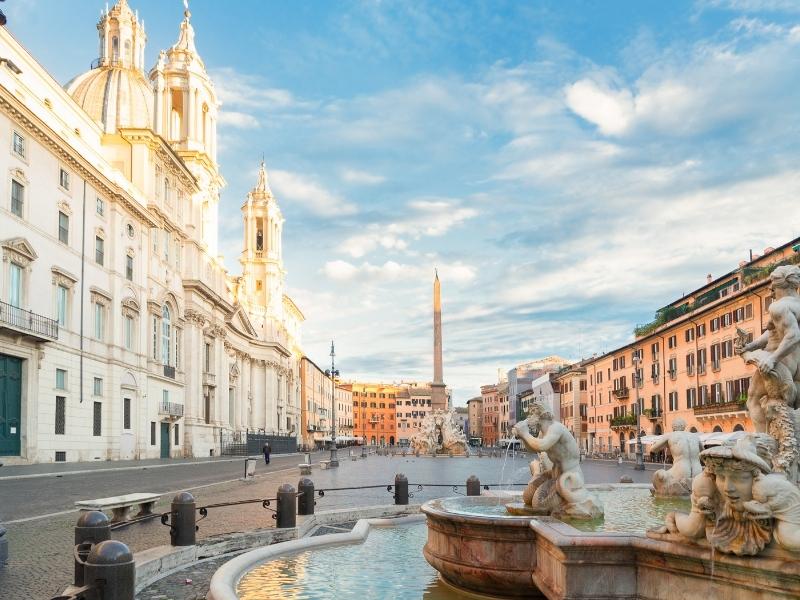 Afternoon
Explore the Colosseum
Your first afternoon stop in the city of ancient Rome must be to visit the unmissable Colosseum. Approach along Via dei Fori Imperiali from Piazza Venezia and you'll be rewarded with one of the most breathtaking sights to see in Rome, as the vast historic colossus rises in front of you.
Rome's huge arena is the mightiest of the city's ancient sights and one of the top historic sights in Europe. Opened in 80 CE by the emperor Titus, the inauguration of the Colosseum was marked by gladiatorial games that lasted one hundred nights and days, during which 5000 animals were slaughtered.
The 50,000 seat Colosseum was originally covered by a canvas awning to protect the tiered seating which circled the arena's wooden floor, which was covered in sand to stop the gladiators from slipping, and to absorb the rivers of blood which flowed during a contest.
The seating was built over an underground area where wild animals were caged, before being let loose into the arena to fight with unlucky gladiators. Trapdoors led down to these chambers, from which animals in cages were hoisted up to the arena by winch operated lifts.
Alongside various tiers for seating, depending on your rank and sex, there was also a podium in front of the tiers of seats, which was reserved for emperors, senators and VIPs.
When the Roman Empire fell in the 5th century, the Colosseum was abandoned until the Middle Ages, when it became a fortress occupied by the powerful Frangipani family. Later, it was looted of its external travertine, and marble that was taken from the building was used to decorate notable palaces such as Palazzo Venezia, Palazzo Barberini and Palazzo Cancelleria.
More recently, pollution and vibrations caused by traffic and the metro have taken a toll. To help counter this, the Colosseum was given a major clean-up between 2014 and 2016, the first in its 2000-year history, as part of an ongoing €25 million restoration project.
The Colosseum is one of the most important places in Rome to visit, and you only do this stuff once, so it's worth doing it as well as you can afford to.
Do not use the touts outside the Colosseum, they will sell you every story in the book to get you to buy skip the line tickets for €30 which are a total rip-off. You will not skip the line and only be provided with a rushed and uninformed tour.
Instead, book our recommended small group private tour online in advance, where you'll get access to all areas of the Colosseum with a knowledgeable live tour guide.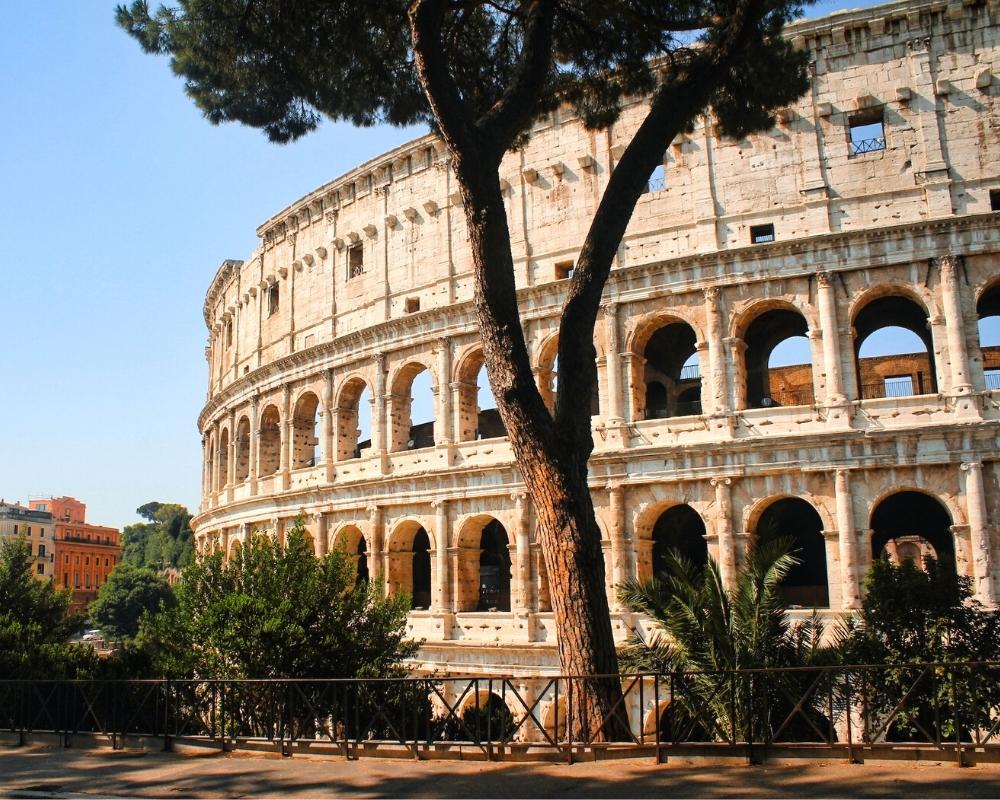 Visit the Roman Forum and Palatine Hill
If you have enough time after the Colosseum, visit the Roman Forum, an hour is more than sufficient. This quintessential Roman ruin is perhaps the most Roman thing in Rome!
It evokes visions of toga'd philosophers and evil emperors discussing matters of state and law as they wander the once hallowed spaces of these ancient government buildings and squares.
Palatine Hill, one of the seven original hills in Rome, is known as the 'first nucleus of the Roman Empire'. The Palatine has spectacular views of the labyrinthine ruins of the Roman Forum, the Arch of Titus, the Colosseum and Capitoline Hill, and the photo opportunities from here are endless.
You can books guided tours which cover the three behemoths of ancient Rome, you can find the best of them here.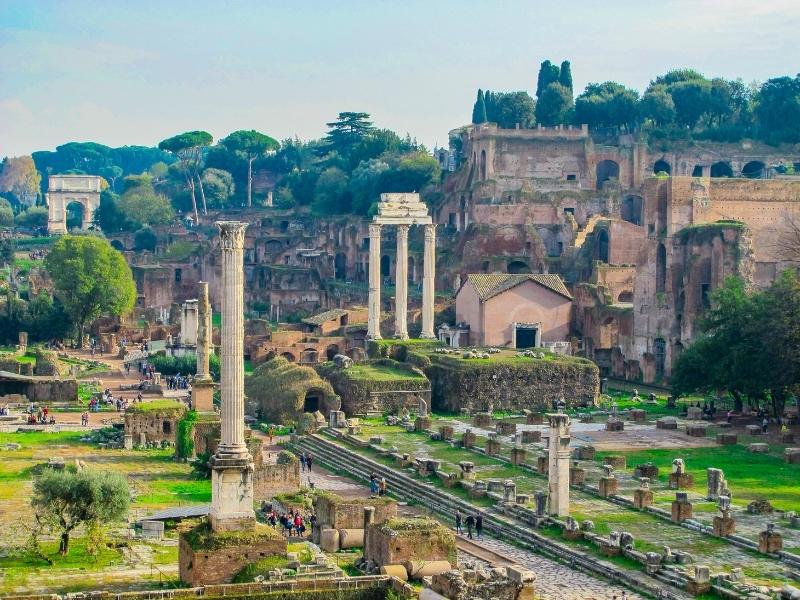 Other Italian City Itineraries
Evening
Take an After Hours Tour of the Vatican
You cannot miss the fascinating Vatican Museums and glorious Sistine Chapel when you visit, even if you're only spending a day in Rome.
Visiting this popular Rome attraction in the evening means less crowds, and more space and time to enjoy the sublime masterpieces of art and architecture.
With our recommended three hour evening tour, you'll be able marvel at the Sistine Chapel, with Michelangelo's Last Judgement and Creation of Adam, and admire at masterpieces by the Italian artists Michelangelo, Raphael and Caravaggio.
You'll also visit the Gallery of Maps, the Gallery of Tapestries and the Gallery of the Candelabra with a tour guide, from whom you can learn more about the Vatican City.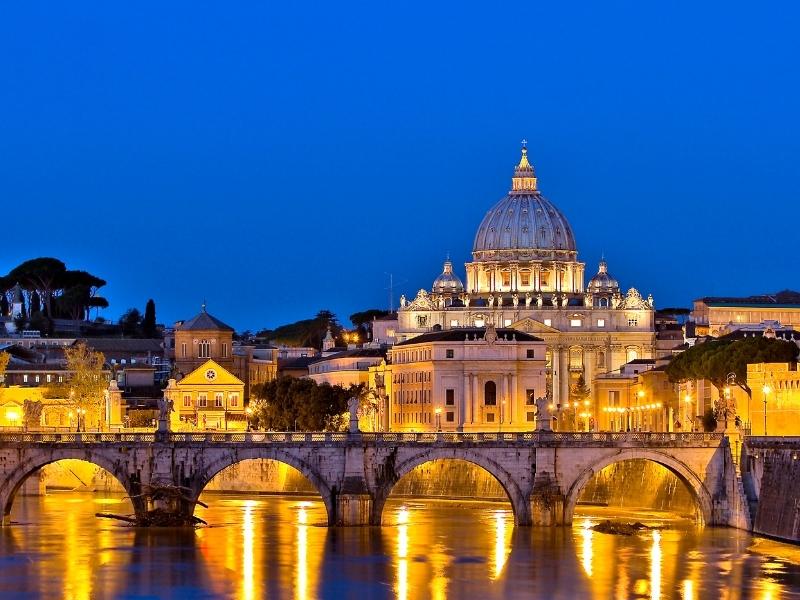 Cruise the River Tiber
The Tiber River wends it way through Rome, under at least five bridges as it heads from the Apennine mountains, through Tuscany, Umbria and Lazio, to the Tyrrhenian Sea.
If you don't have the energy for The Vatican, take a relaxing Tiber river cruise and enjoy a glass of Italian Prosecco with 360° panoramic views of the city at dusk.
This is one of our top things to do in Rome at night, living la dolce vita and admiring the city without having to move from your chair!
Explore Foodie Rome
You have to explore foodie Rome, it's such an important part of life in the city. Take an evening tour to Rome's gastronomic neighbourhoods and enjoy 20 different tastings of Italian and Roman food and wine, with the opportunity to meet chefs and food producers.
No dinner required, all those delicious nibbles will fill you up!
Where to Eat in Rome
Supplizio
Supplizio is is a casual dining, street food inspired spot in the old town, serving gourmet sandwiches, finger foods and delicious fried specialities, such as Roman rice balls and potato croquettes.
In their own words, "don't call it street food, it's pure and authentic street food". That sounds pretty good to us!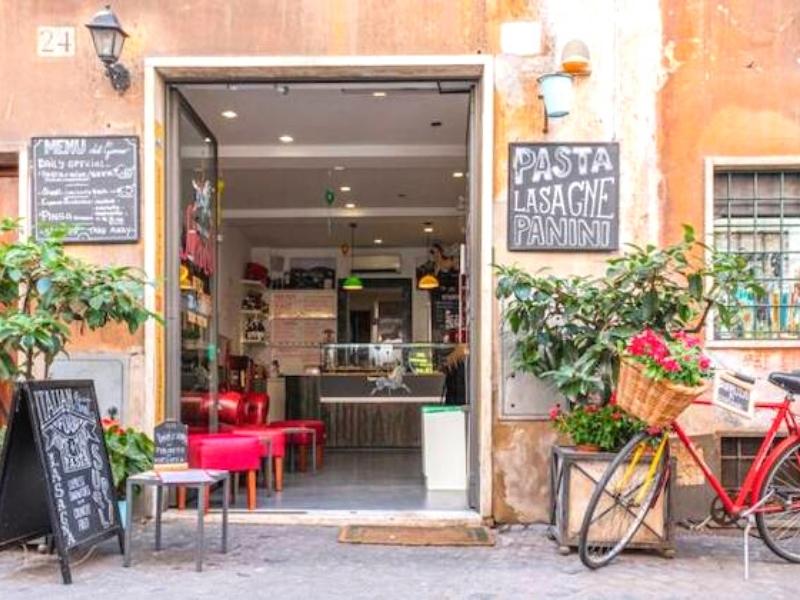 Cesare al Casaletto
A traditional style trattoria, Cesare al Casaletto, is run by a husband and wife team who spent years cheffing elsewhere in Italy and Europe before opening in Rome in 2009.
The menu features all the Roman classics, with the pasta alla gricia (cured pork jowl, black pepper and Pecorino Romano) being a firm favourite. Ingredients are local and seasonal and the wine list showcases some fantastic affordable Italian vinos.
TOP TIP: The trattoria is slightly off the tourist path, so you may need a taxi to get there. Book well in advance, this is a popular spot.
Top Five Rome Travel Tips
Carry cash in Rome. Italy is still very much a cash driven society and coins, or spicci, will be appreciates at cafes and small shops. Hotels, restaurants and shops will of course, take credit cards.
Look after your bags and purses. Rome has its fair share of pick pockets and petty thieves who prey on tourists.
Rome has over 900 churches and undoubtedly, you'll want to step inside some of them as you walk the streets of the city. To enter you must be dressed appropriately. For women, that means shoulders covered and legs above the knee covered, while men should wear pants or shorts that extend to the knees.
Greet vendors, cafe staff and shop workers, a little effort goes a long way. The customary morning greeting is "buongiorno". In the afternoon and evening it's "buonasera". When you leave, you should say "arrivederci" or the more casual "ciao", which is also used as a greeting!
Rome's state-owned museums, galleries, archeological sites, parks and gardens are free on the first Sunday of each month. Get there early or pick less popular venues to beat the crowds.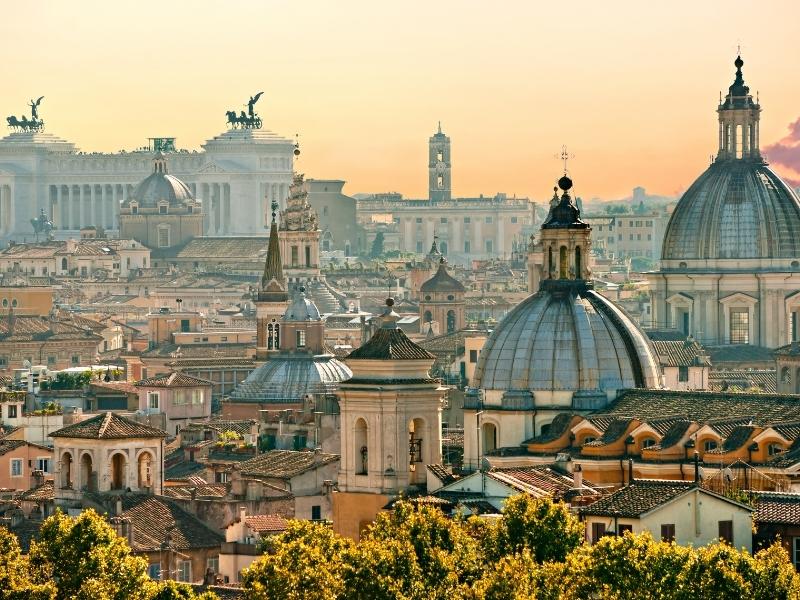 More Than One Day in Rome?
If you have just another half a day in Rome or want to see Rome in 2 days, then you should add some of these attractions and day trips to your itinerary;
Castel Sant'Angelo
Also known as 'The Mausoleum of Hadrian', the Castel Sant'Angelo is as enormous round building on the Tiber river which was commissioned by the emperor Hadrian as a burial place for himself and his family, and is now a museum.
Mausoleum of Augustus
Visit the Mausoleum of Augustus, resting place of some of Rome's most iconic leaders, and opened to the public in 2021 for the first time in its long 2,000 year history.
Ostia Antica
Take a half day or one day trip from Rome to the harbour city of ancient Rome. Ostia Antica is now a vast archeological site, located near the city of Rome. The town was abandoned and buried for over ten centuries until it was rediscovered.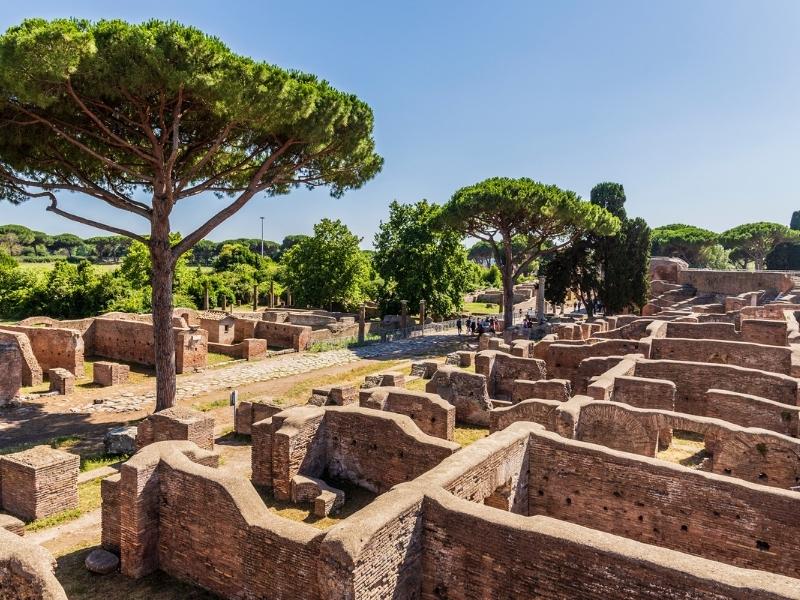 Pompeii and Mount Vesuvius Volcano Full Day Trip
If you take one day trip from Rome, head south to iconic Italy on this highly rated and well organized day trip.
Explore the intact remains of the UNESCO Roman town of Pompeii and climb the live volcano of Mount Vesuvius, the mountain that destroyed it. Enjoy panoramic views of the Bay of Naples and Amalfi Coast from the summit.
With a professional guide to offer insights, an organized tour is the perfect opportunity to see more of Italy in less time!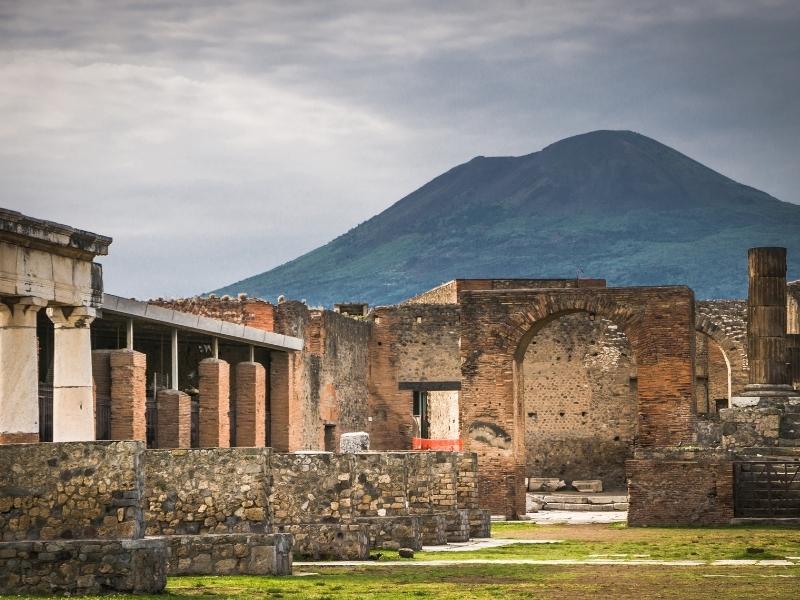 Are you looking for more Italian travel ideas? Check out these top posts…
The gorgeous country of Italy is perfect for a road trip! Compact and with all the best bits in the middle, you'll be blown away by the landscapes, architecture and food in this sublime country. Take a bucket list road trip to Italy and see it for yourself!
Love it? Pin it!