This post may contain affiliate links, from which we earn an income.
How to Spend One Day in Berlin
Berlin, the capital of Germany, is a multi-cultural hub for travelers. A fascinating and dark recent history, a legendary nightlife scene and an eclectic vibe means there are plenty of options for foodies, hipsters and historians alike. In short, no matter what you're into, you'll find something worth exploring with our one day Berlin itinerary and city guide.
In this Berlin travel guide, you'll find a complete one day itinerary of all the most important must see Berlin attractions, with an interactive map, organised to make the best use of your time.
We also share recommendations for central places to stay, ideas about where to eat local food, and tips about how to make the most of your 24 hours in Berlin.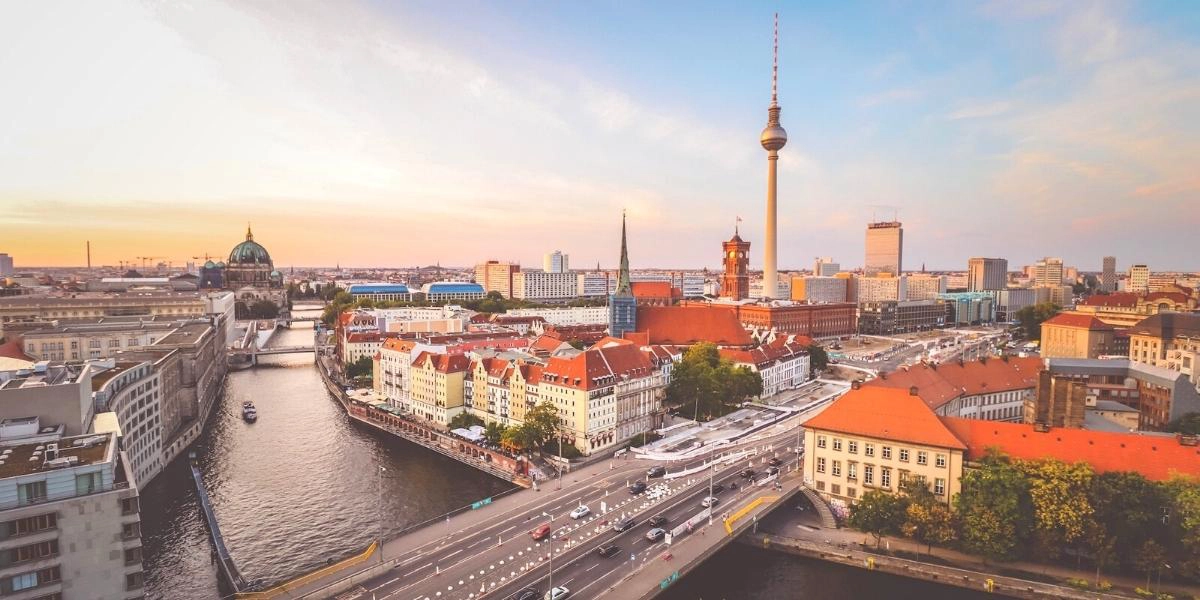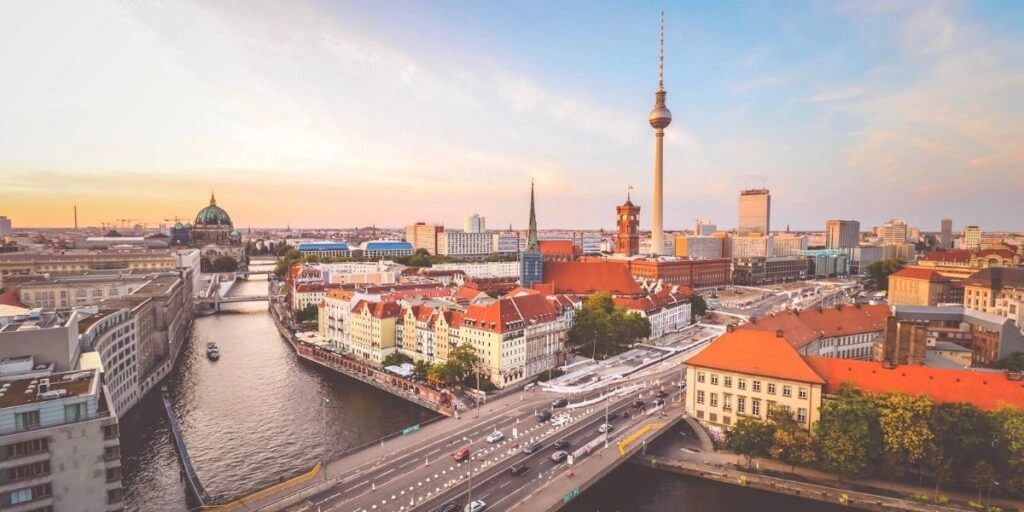 When to Visit Berlin
Summer
Summer in Berlin, which is the most popular time to visit, is hot and dry. It's a good idea to make sure that you have a room with air conditioning during the summer.
Prices will be higher than usual, but it's worth being able to sit outside and enjoy a beer in one of Berlin's many beer gardens and parks.
Winter
In the winter, Berlin is cold and damp. Over the holidays, roughly between the end of November and Christmas Day, there are Christmas markets dotting the city.
While it's not the most pleasant time to be in Berlin in terms of weather, the atmospheric Christmas markets are well worth a visit in December, where you'll sip gluhwein and shop for traditional and artisan Christmas-themed trinkets alongside locals and other tourists.
Fall
Fall brings Oktoberfest to Berlin. It's actually in September, not October, and it's not nearly as much of a spectacle as the one in Munich, but it's still an event worth exploring.
Autumn is cooler than summer, and towards the end it turns cold and drizzly as winter descends on the German capital.
Spring
In the spring, Berlin is still cool and damp, with the occasional day of sun that is the perfect time to head out to one of Berlin's many green spaces as local Berliners celebrate the arrival of warmer weather.
Is this your first time visiting Germany? Get all the information you need in our Germany Travel Guide, including what to pack, the best time of year to go, getting there and practical tips to help you have the best trip!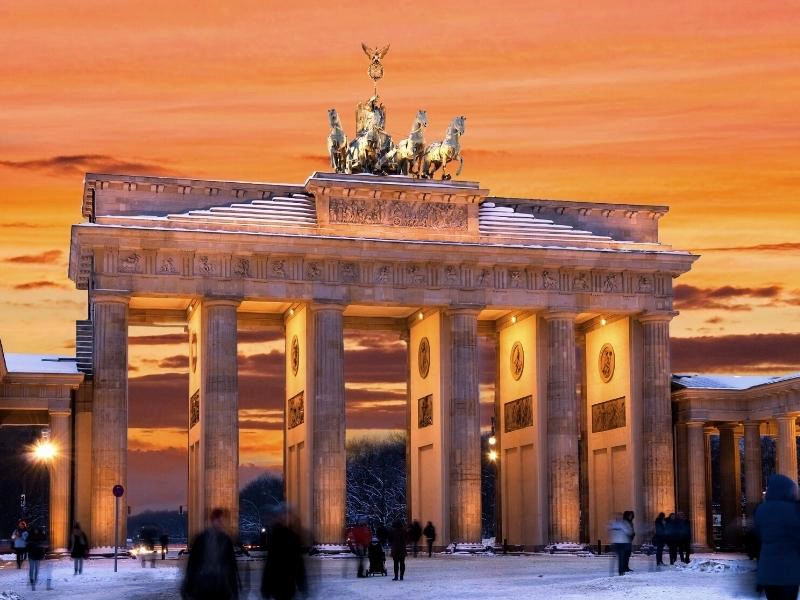 Berlin Trip Resources
Flying
Fly into Berlin's Brandenberg Airport
Driving
Drive in from Europe or hire a car in Germany
Travel Insurance
Medical costs, delays and lost luggage
Getting to Berlin
Flying
When flying to Berlin you will land at Brandenberg Airport (BER) which is only 27km from the city.
The easiest way to get into the city is by the Airport Express (FEX) which runs every half hour between BER terminal 1-2 and Berlin Central Station, the trains take about half an hour and also stop in Berlin Gesundbrunnen and at Ostkreuz station.
You can also take a regional train, trains run several times an hour between BER terminal 1-2 and Berlin Central Station. To find out more information on timings and purchasing tickets go here.
The express buses X7 and X71 travel frequently between underground station Rudow and terminals 1-2 and the underground station Rudow, the journey takes 16 minutes, and you can then continue your journey on the underground.
You can also book a private transfer from the airport with Klook directly to your accommodation in the city. Klook works with a large range of local operators to bring the the best options and prices for your transfer.
Where to Stay in Berlin
Luxury: Hotel Zoo Berlin – Booking.com | Agoda
Mid-Range: 25hours Hotel Bikini Berlin – Booking.com | Agoda
Budget: Monbijou Hotel – Booking.com | Agoda
Hostel: Pfefferbett Hostel – Booking.com | Agoda
What to See & Do in Berlin
Berlin is actually quite a compact city, and our one day in Berlin itinerary is easily manageable on foot.
With this itinerary, you'll cover all the Berlin bucket list sights, meaning you can leave knowing you have experienced the best of Berlin in your short timeframe.
If you prefer to have your day in Berlin organised for you, why not consider one of these highly recommended Berlin tours? You'll have a knowledgeable guide and commentry, get tips about the city and learn about Berlin's history and character. You can even take a tour in a VW campervan!
Berlin One Day Itinerary Interactive Map
How to use this map – Use your fingers (or computer mouse) to zoom in and out. Click or touch the icons to get more info about a place, and click the arrow in the box top left to open the index. To add to your own Google Maps account, click the star next to the title of the map.
Morning
The Brandenburg Gate
Start your time in Berlin with what is quite possibly the most iconic sight in Berlin, if not all of Germany, the Brandenburg Gate. Plan to get up early and be there first thing in the morning, before all the crowds show up and ruin the moment (and the pictures).
The Brandenburg Gate was built in the 18th century, and shortly after, it was requisitioned by Napoleon as he marched into the city following his military victory, before he took the 'quadriga' (the statue on top) off with him to Paris. Don't worry, it was returned shortly thereafter when Napoleon was defeated.
Today, the icon serves as the gateway to a couple of other top Berlin sights to see including the Tiergarten and the Reichstag Building, which are next up on your Berlin must see itinerary.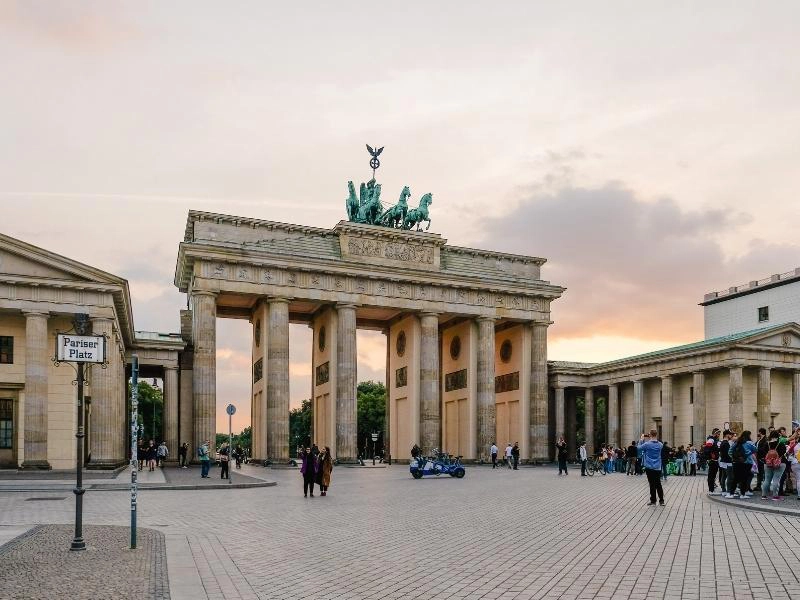 Reichstag Building and Dome
Home to the German Parliament, the Reichstag building is a mainstay in Germany's tumultuous history. Following the Reichstag fire in 1933, that served as a major plot point in Hitler's rise to power, it was dormant until the reunification of Germany in the early 1990's. It was rebuilt and unveiled in 1999.
Today, it is an important symbol of German democracy, housing the Bundestag, which you can actually go and watch in session, if you speak German and are interested in procedural politics.
The more interesting thing for visitors to do is to climb to the dome of the Reichstag, which has an informative self-guided tour about the history of the building and Germany itself, and is a modern architectural marvel.
To gain access to the Reichstag dome, one of the most popular sights to see in Berlin, you need to register in advance. Several months in advance, if you can. There's a chance you'll find spots available a week or two out, but it's not likely, especially in high season.
If you're booking at the last minute, this highly rated tour of the Reichstag Building and Dome will get you access to all areas of the building with an experienced and knowledgeable guide. Learn about the political and historical background of Berlin and Germany as you go, and after the tour, discover the other impressive buildings around Berlin's parliament quarter.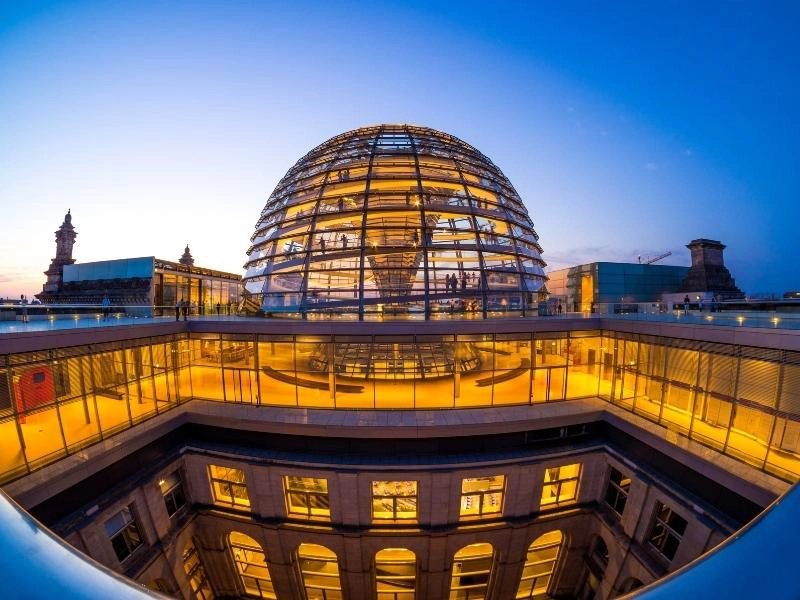 Victory Column
Next, make your way through the Tiergarten, Berlin's third largest park, to the Victory Column. This towering… tower was built in the mid-1800's after a Prussian Victory, and is topped with a gold statue of the Greek Goddess of Victory.
If you choose to buy a ticket to the observation deck, you'll climb 270 steps to the top where you'll have far-reaching views of the city and surrounding area.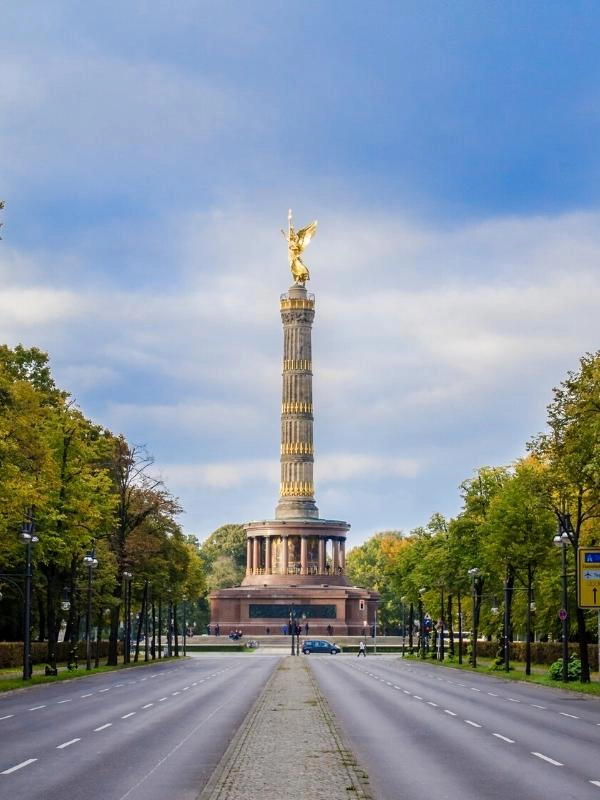 Tiergarten
The Tiergarten is huge, and it's actually not even Berlin's biggest park. It is, however, Berlin's most popular park to visit, with attractions like the Victory Column, Brandenburg Gate, and Reichstag Building all either in the park, or on the border of it. It's a lovely place to walk around, particularly in the summer when it's warm and dry.
At the southwest corner of the park, you'll find the Berlin Zoo and the Aquarium, which make good stops for traveling families with kids.
TOP TIP: If you find yourself craving a beer, head for Cafe am Neuen See, which is a gorgeous location for a beer garden. Sit alongside the pond sipping German beer with tourists and locals alike. The biergarten is closed from late fall to late spring, when it's cool and drizzly in Berlin, but you can get a delicious and warming hot chocolate in the cafe.
Afternoon
Potsdamer Platz
You can't visit Berlin for the first time without standing where the Berlin Wall once did. Now a thriving and lively square, full of bars and restaurants and modern architecture, Potsdamer Platz was once brutally cut in two by the Berlin Wall.
Between the inner and outer zones of the wall lay a desolate no-mans land, which those escaping over the wall from East Berlin would have to cross. Known as the 'death zone' the area was finally dismantled after the end of the cold war in 1990, in preparation for the Pink Floyd 'The Wall' concert, which was held where no-man's land had previously existed.
TOP TIP: For a fantastic view of the Berlin cityscape, head to Potsdamer Platz 1, home to the Panoramapunkt viewing platform, 100m above the square and accessed by riding Europe's fastest elevator, which shoots upwards at 8.65 metres per second! Book your skip the line tickets here.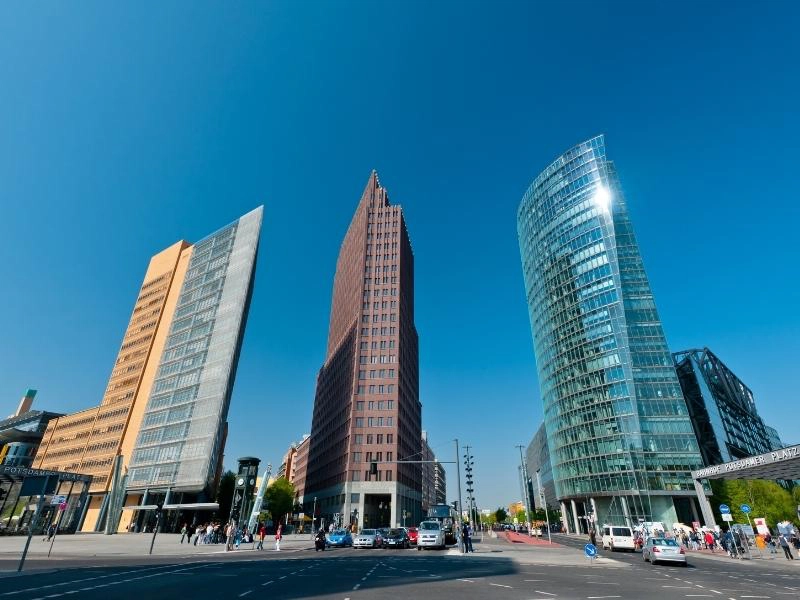 Memorial to the Murdered Jews of Europe
In the middle of the city is the important and very moving Holocaust memorial. This place of remembrance and contemplation is huge, with 2711 concrete slabs or 'stelae' of different heights placed on the 19,000 square metre site.
Open to the skies, it can feel pretty grim here, but it's an important place to stop and visit when you're in Berlin.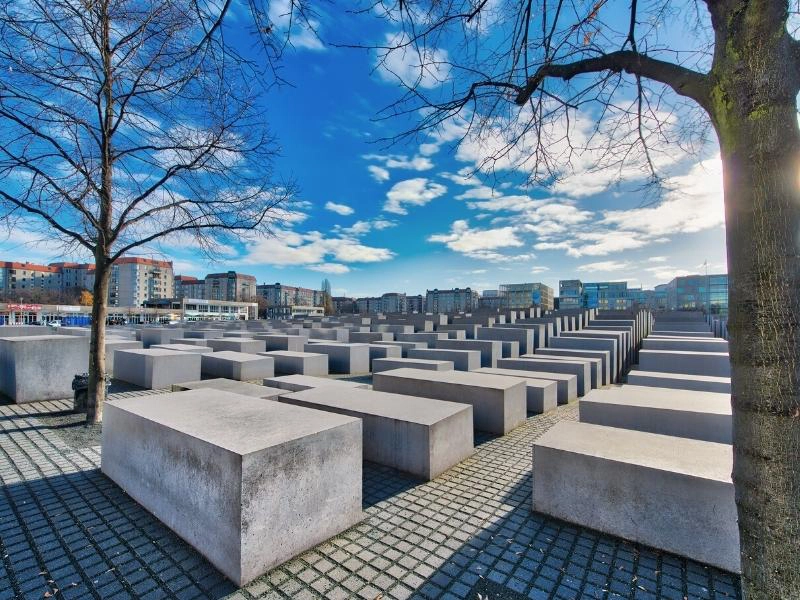 Museum Island
Berlin's Museum Island is a UNESCO World Heritage Site on Spreeinsel, or Spree Island, in the historic heart of the city. It is one of the most visited sights of Germany's capital and one of the most important museum sites in Europe, so a must do in Berlin.
There are a bunch of different museums here built under the Prussian rulers that are worth coming back for if you find yourself with more time, but with only 24 hours in Berlin, you'll want to head to the Pergamon Museum. It houses a collection of Roman, Greek, Byzantine, and Persian artefacts, including the supremely impressive Ishtar Gate.
The eighth gate to the inner city of Babylon, the Ishtar Gate was constructed in about 575 BCE by order of King Nebuchadnezzar II. When German archaeologists excavated Babylon in the 1930s, they dismantled the Ishtar Gate and took it back to Berlin to be meticulously reconstructed in the Pergamon Museum.
Other museums on the island include Neues Museum for Egyptian history and artifacts, or the Deutsches Historisches Museum, which is focused on German history.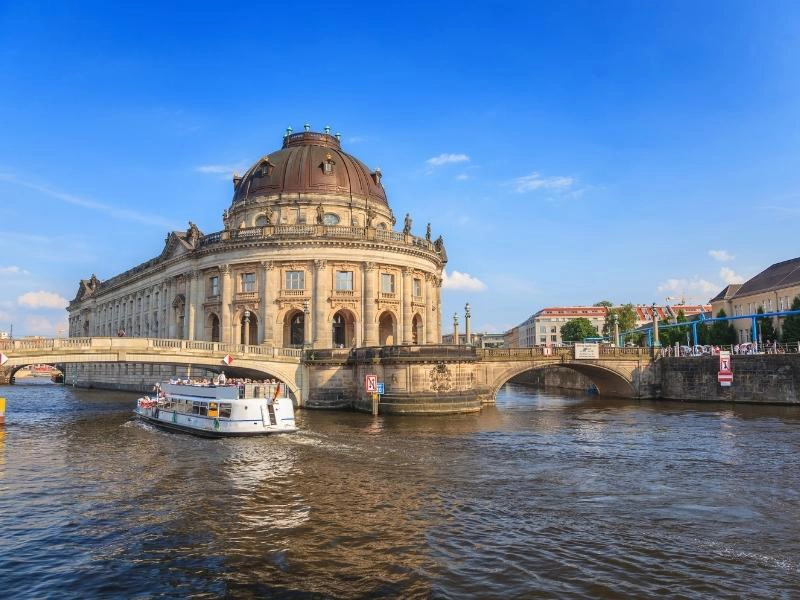 Berliner Dom
You'll also find the Berliner Dom, or Berlin Cathedral, on the island, overlooking the River Spree. The distinctive dome of the Cathedral is one of the main landmarks on Berlin's skyline. With its elaborate ornamental and decorative interiors, the church is definitely worth visiting.
Not a centuries old church, the cathedral replaced the original 15th century building and was not consecrated until 1905.
Severely damaged in World War II, the cathedral was unlucky enough to be in East Berlin after the division of Germany and full restoration was only completed in 1993, four years after the fall of the Berlin Wall.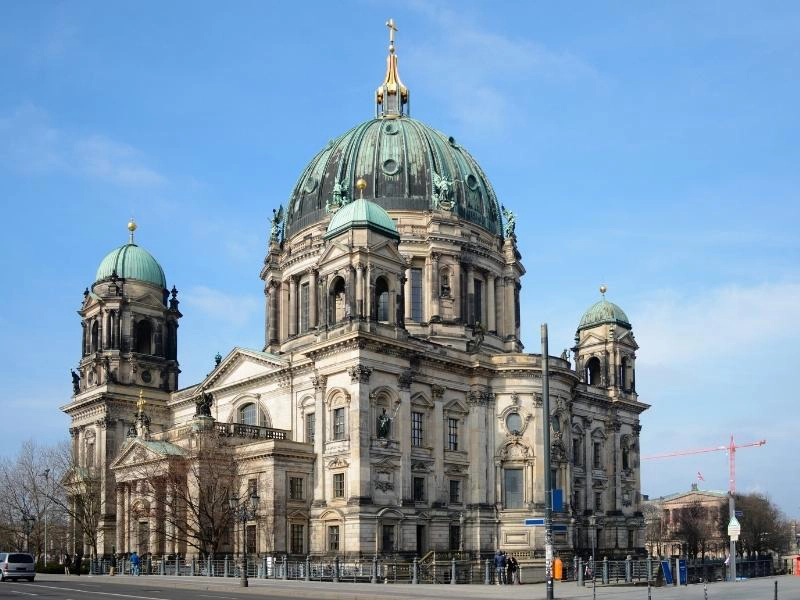 Berliner Fernsehturm
The Berlin TV Tower which dominates Alexanderplatz is pretty iconic, with its distinctive shape standing 368 meters tall. Known as 'the top of the city', this is the tallest building in Berlin.
The TV tower opened in 1969 and the globe is home to a viewing gallery at 203 metres and revolving restaurant at 207 metres.
The view from the tower is epic, with Berlin and the surrounding countryside spread below. You can even enjoy it with a drink from the bar if you visit at sunset!
It can get really busy, and it's one of the places we recommend booking your timed ticket in advance, to beat the queues and get the best views. If you're celebrating a special occasion, why not reserve VIP tickets with a reserved window seat in the Sphere restaurant?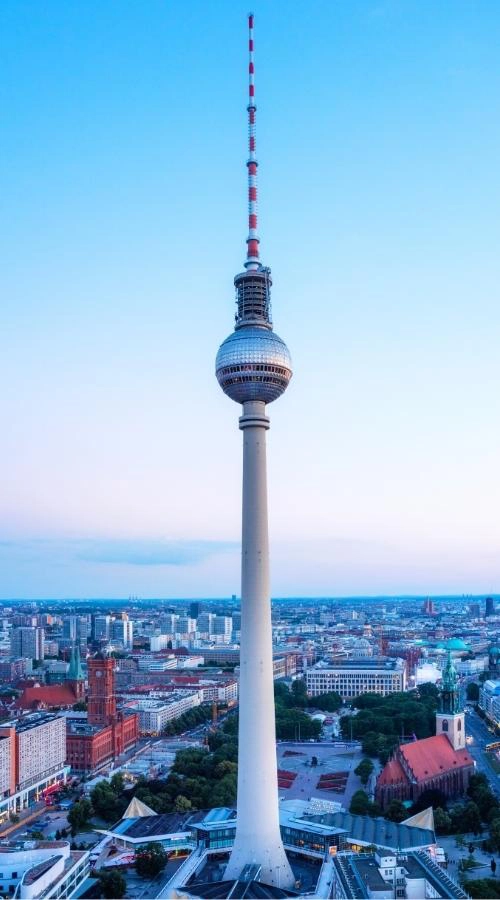 East Side Gallery
The East Side Gallery in Berlin is well worth the journey over to Fredrichschain. It's an open air art gallery along the river Spree that has over one hundred pieces of political art on a 1.3km stretch of the original Berlin wall, one of the few piece still standing after the reunification of Germany in the 1990's.
You can walk the length of the fascinating and moving gallery and check each of the pieces out. Some of the art reflects on life in East Germany, while other pieces are more hopeful and forward looking, imagining a new Germany in the future.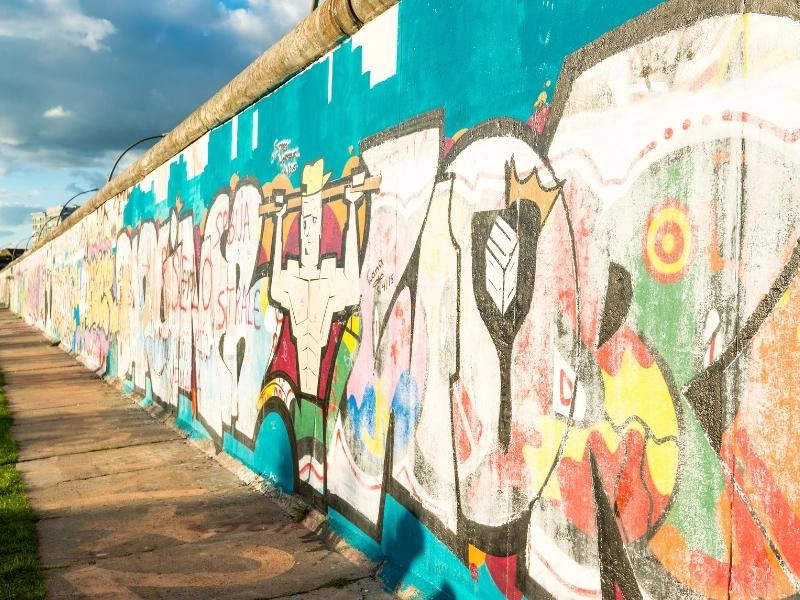 Evening
Enjoy a Beer Tasting
The Germans love a beer and a great way to experience Berlin is through their beer culture. You don't have to visit during Oktoberfest to enjoy the beer, but join a craft beer and brewery tour to discover some of Berlin's finest beers.
This highly rated tour has you meeting your guide to visit three local craft beer bars or craft microbreweries to sample some fantastic German beers and traditional snacks. The tour is perfect for learning all about Berlin's rich brewing history with an expert guide.
Take in a Show
A cultural hotspot, Berlin enjoys a vibrant theatre and arts scene which caters to all tastes. From comedy, to live shows and classical music, there's something here for everyone.
Visit the Icebar
Berlin's Icebar is constructed from a cool 69,000 kilos of ice, and everything in the Icebar is made from ice too!
Located between Alexanderplatz and Hackescher Markt, the Icebar operates at minus ten degrees celsius. There are ice sculptures of polar bears, sledding dogs and even Berlin sights like the Brandenburg Gate, and at the bar, made of ice, the glasses are made of ice as well!
You can't just stroll in though. You need to book in advance so the team know how many sets of thermals to get ready. Yes, you'll have to wrap up in proper arctic gear when you arrive, once you've had a welcome drink of course!
Where to Eat in Berlin
Curry 36
When you're in Berlin for a day, you have to try currywurst, which is a local delicacy that consists of pork sausage, often cut into coins, on top of a bed of fries and topped with curried ketchup and a sprinkle of curry powder.
The invention of currywurst is attributed to Herta Heuwer in Berlin in 1949, after she obtained ketchup (or maybe Worcestershire sauce) and curry powder from British soldiers in Germany. She mixed these ingredients with other spices and poured it over grilled pork sausage.
Currywurst is delicious and cheap, making it a perfect lunch to fuel your Berlin exploration. The best place to get currywurst according to locals and tourists alike is Curry 36, who have three locations around the city, which you can find on the interactive map.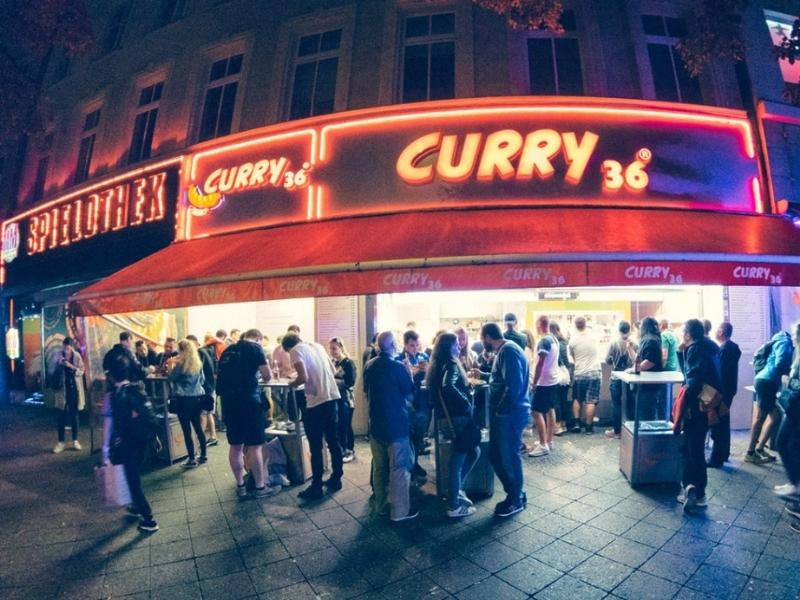 Mustafas Gemüse Kebab
In a show of the diversity of Berlin and the impact of immigrants on its culture, some of the best foods to eat in Berlin were brought to the cosmopolitan German capital from other countries. You'll find döner kebab all over Berlin, a fitting nod to Berlin's large Turkish population.
It's a combination of juicy lamb, beef, veal or chicken (never pork) sliced from a vertical rotisserie onto pita bread, and topped with all sorts of goodies from fresh salad, tomatoes, slaw and kebab sauce, usually made from garlic, mayonnaise, yoghurt, and lemon zest. It's quick, filling, and handheld, which makes it a great on-the-go meal for exploring Berlin.
Mustafas Gemüse Kebap is widely regarded as one of the best spots in Berlin – although you might have to queue.
TOP TIP: If you have a bit of extra time, avoid the queues and head for Rüya Gemüse Kebap, an off grid place that serves a chicken döner kebab that is as good, if not better, that Mustafa's version.
Other Germany Travel Ideas & Guides
Top Five Berlin Travel Tips
The 3 Day Berlin Museum Pass is a great deal for travellers who are planning on visiting two or more museums in Berlin, but if you're only in town for just one day it doesn't really make sense to purchase it.
Get yourself a Tageskarte one day ticket to make traveling around the city seamless. It costs €8.80, and covers all forms of public transportation from the time it is validated until 3am the following morning. Single rides cost over €3, so if you're planning on taking more than a couple of trips, it's worth getting.
Bring a rain jacket and layers with you in the fall, winter, and spring. Weather can be cold and drizzly, but it shouldn't stop you from getting out and exploring.
You can drink in public in Berlin, which means that a picnic in the park with currywurst and a bottle of local beer is the perfect way to spend an afternoon in Berlin. As long as it's sunny and warm, anyway.
Checkpoint Charlie is super touristy, and hardly worth seeing. Skip it, and spend your time elsewhere.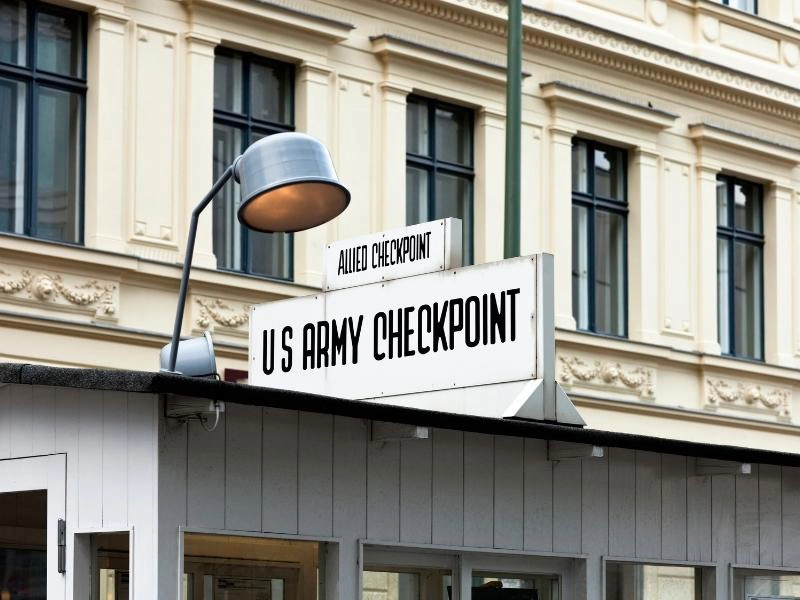 More Than One Day in Berlin
If you're wondering what to do in Berlin for half a day more, check out these Berlin top attractions to add to your itinerary.
Visit The Berlin Wall Memorial
The Berlin Wall Memorial is place of remembrance and where the Berlin Wall one stood as it snaked south from Prenzlauer Berg through the city, creating a border between East and West Germany.
Today, there is a 70m stretch of the original Berlin Wall with border strip and watchtower directly on Bernauer Straße, in this open air museum.
Learn About Berlin's Modern History
If you're fascinated by Berlin's Word War Two history, the exhibition 'Hitler, How Could It Happen' and the Berlin Story Museum, housed in a WWII bunker, are a must. You'll learn about the rise of the Third Reich, National Socialism and Hitler as well as the history of Berlin when you visit. Get your two-in-one ticket here.
Explore the Topography of Terror Museum
Head to the Topography of Terror Museum, where you'll learn about the Nazi regime in the former Gestapo Headquarters in Berlin.
Discover Charlottenburg
Just west of the city center is Schloss Charlottenburg, a baroque palace in, you guessed it, Charlottenburg. It's beautiful, and it's worth walking around the grounds, but probably not worth going inside to the museums.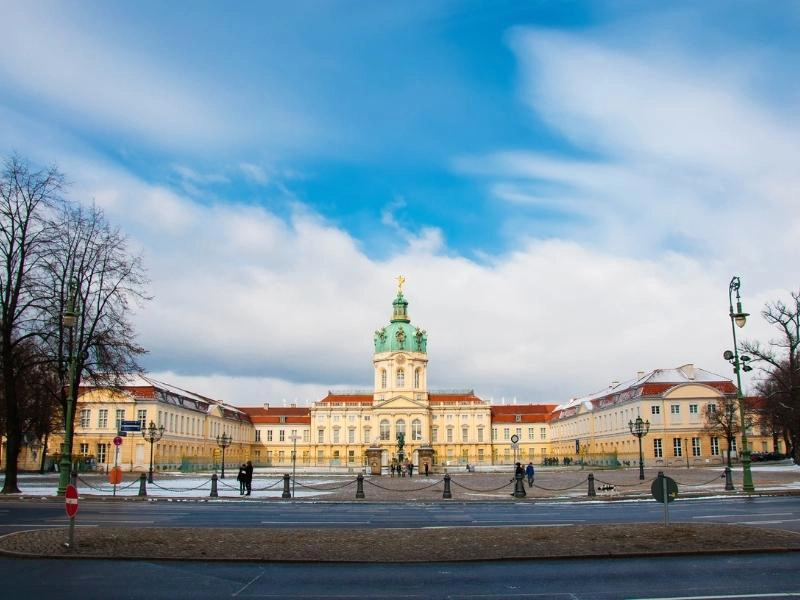 Small Group Sachsenhausen Memorial Walking Tour
If you take one day trip from Berlin, make it this highly recommended and well organized walking tour.
Take a trip to the Sachsenhausen Concentration Camp Memorial and learn about a somber but important chapter in Germany's history. Start your guided experience at the Camp Administration Center, now an on-site museum, but formerly the base for overseeing the Third Reich's 32 main camps and 1000+ satellite camps. Hear stories of revolt by Jewish prisoners in 1942, defiance by British prisoners of war, and sabotage by Soviet and Polish prisoners.
With a professional guide to offer insights, an organized tour is the perfect opportunity to see more of Berlin in less time!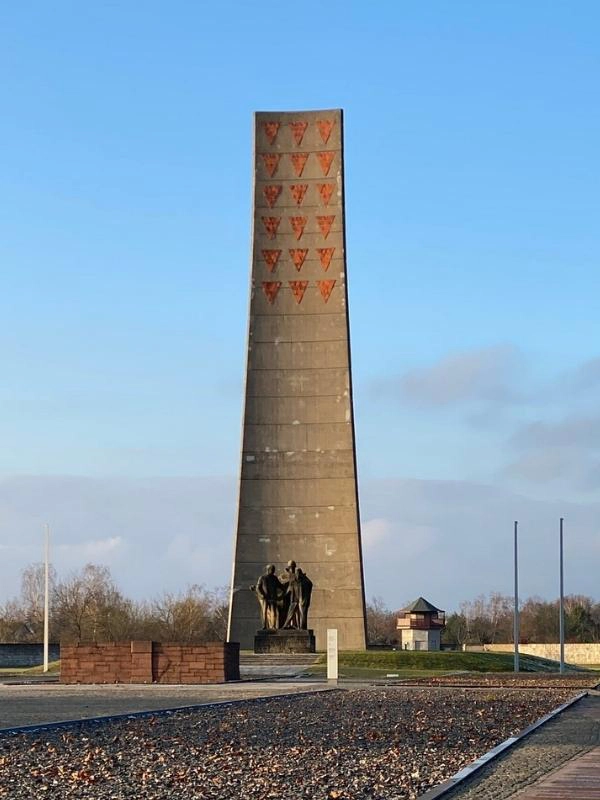 Written for The Gap Decaders by Matt of Wheatless Wanderlust
Are you looking for more one day city itineraries? Check out these top posts…
Rich in culture, history and stunning architecture, the City of a Thousand Spires is one of Europe's most fascinating places. Today, the vibrant Czech capital thrives as a part of the EU and attracts tourists from around the globe. You could spend weeks exploring the city and still leave things undiscovered, but if you only have 24 hours, this one day Prague itinerary and guide will show you all the highlights.
Love it? Pin it!