This post may contain affiliate links, from which we earn an income.
How to Spend One Day in Oslo
Oslo, the capital of Norway, is located on the beautiful Oslofjord, surrounded by mountains and water. Oslo is a cultured and fun city, with architecture both historical and modern, a growing gastro scene and plenty of vibrant green spaces. If you only have one day in Oslo, our 24 hour city guide will show you the best of this cool Scandinavian city.
In this Oslo travel guide, you'll find a complete one day itinerary of all the most important must see Oslo attractions, with an interactive map, organised to make the best use of your time.
We also share recommendations for central places to stay, ideas about where to eat local food, and tips about how to make the most of your 24 hours in Oslo.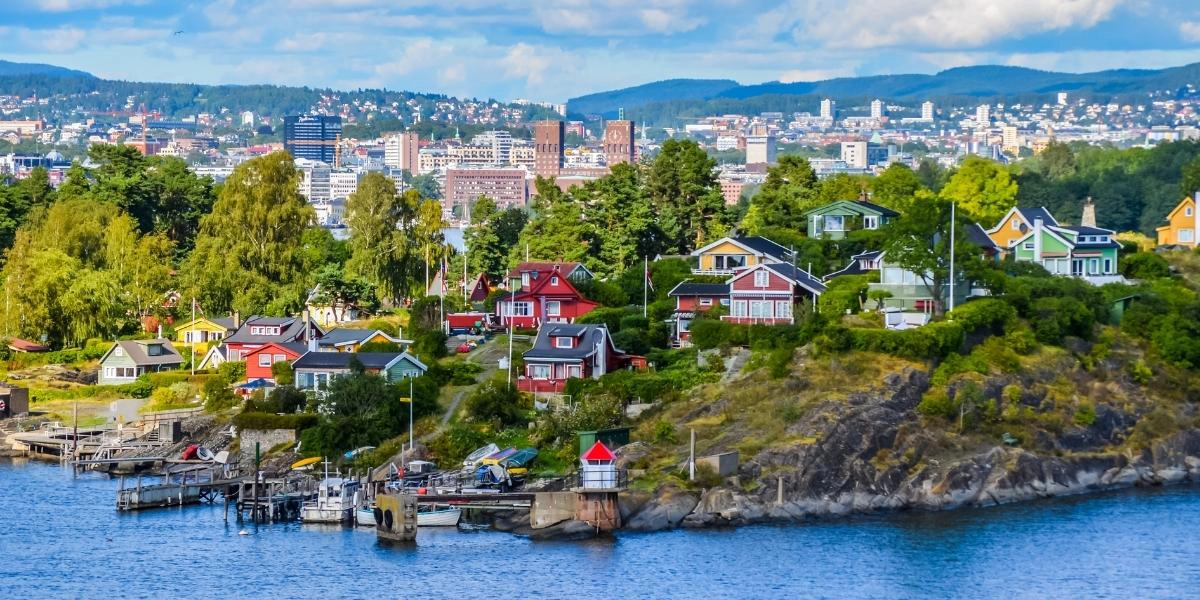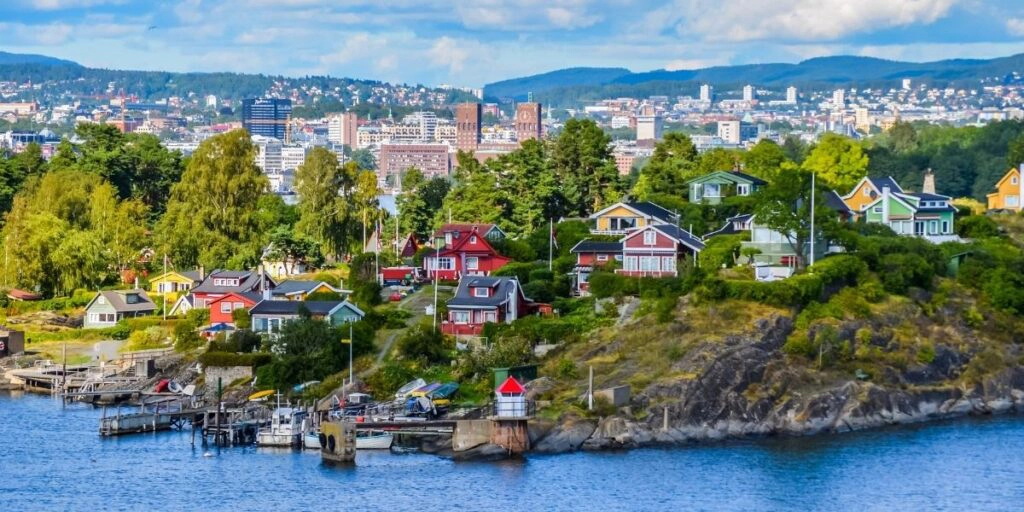 When to Visit Oslo
Summer
Oslo is a fantastic city to visit year-round. Summers are mild, with long daylight hours and warm, sunny weather typical of the region, but mobs of visitors descend upon Norway's many sought-after tourist destinations.
Spring & Fall
Shoulder seasons of spring or autumn are ideal for temperate weather. Not as cold as winter, though not as balmy as summer, there are less tourists, giving you better visiting conditions, and hotels and airlines lower their prices accordingly.
Winter
Winter is an absolutely marvellous time for 1 day in Oslo. You'll get or snowy, sparkly weather, almost no tourists, and bottom-of-the-barrel prices. Winter is cold, of course, and the days can be quite short, but if you layer accordingly, nothing beats Oslo in the wintertime.
A common misconception about the region is that it is 'dark all the time' in winter. While the days are certainly shorter, it is by no means dark 24 hours a day. In fact, the sun rises at around 9am and starts to set at around 4pm, which is plenty of time to do daytime activities and is further lengthened by dawn and dusk. Lastly, this type of soft winter light is excellent for photos!
Is this your first time visiting Norway? Get all the information you need in our Norway Travel Guide, including what to pack, the best time of year to go, getting there and practical tips to help you have the best trip!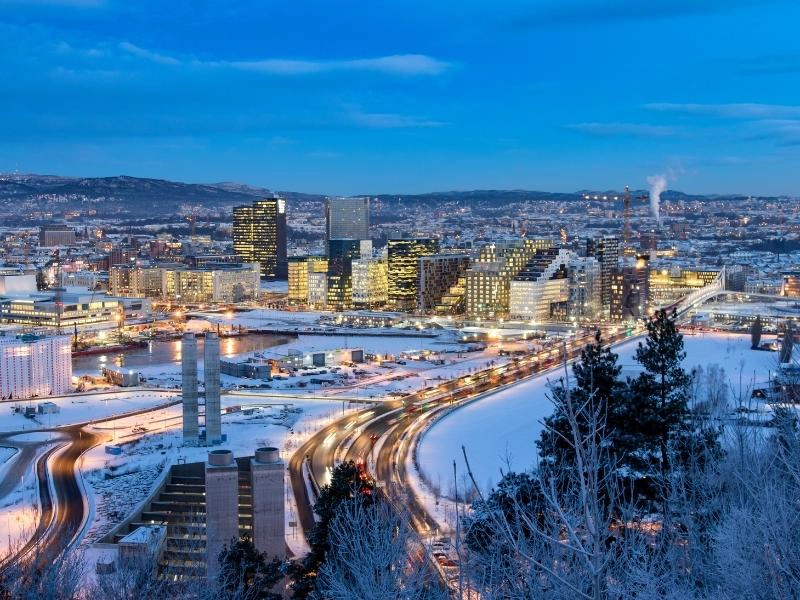 Oslo Trip Resources
Flying
Fly into Oslo Airport Gardermoen or Torp Sandefjord Airport
Driving
Drive in from Europe or hire a car in Norway
Travel Insurance
Medical costs, delays and lost luggage
Getting to Oslo
Flying
When flying to Oslo, you have the choice of two airports, Oslo Airport Gardermoen is 47km from the city, it is the main international airport, and all the major airlines land here, or Torp Sandefjord Airport which is 110km from the city and is where several of the low-cost carriers land.
The quickest and cheapest way to get into Oslo from Airport Gardermoen is on the FlytoGet Airport Express train, the trains leave the airport every 10 minutes and the journey is approximately 20 minutes. Alternatively, you can get the Flubussen bus, which leaves the airport every hour and takes about 45 minutes to get to the city. The best way to pay for your tickets would be to pre-purchase an Oslo Card, which includes free public transport in the city and free entry into many of Oslo's attractions.
From Sandefjord Airport the best way to get to Oslo is by train, you will need to catch a shuttle bus from the airport to Torp station where you can catch a Vy Train, the shuttle bus takes 8 minutes to the station and the train is 1.5 hours to Olso city centre. You can check the timetables and prices for the trains here.
You can also book a private transfer from the airport with Klook directly to your accommodation in the city. Klook works with a large range of local operators to bring the the best options and prices for your transfer.
Where to Stay in Oslo
Luxury: Amerikalinjen – Booking.com | Agoda
Mid-Range: Clarion Hotel The Hub – Booking.com | Agoda
Budget: Citybox Oslo – Booking.com | Agoda
Hostel: Anker Hostel – Booking.com | Agoda
What to See & Do in Oslo
The majority of this one day Oslo itinerary is easily managed on foot, with the exception of the Bygdoy peninsula, to which you can catch a ferry, and the Mathallen Food Hall, which might require an Uber or metro journey. Otherwise, all the top things to see in Oslo in one day are within a few kilometres of each other in this compact and accessible city.
If you prefer to have your day in Oslo organised for you, consider this highly recommended Oslo walking tour. You'll have a knowledgeable guide who will share tips and trick about navigating the city and you'll learn about Oslo's history, architecture and character.
Oslo One Day Itinerary Interactive Map
How to use this map – Use your fingers (or computer mouse) to zoom in and out. Click or touch the icons to get more info about a place, and click the arrow in the box top left to open the index. To add to your own Google Maps account, click the star next to the title of the map.
Morning
Climb on Oslo Opera House
Start your Oslo one day trip at the Opera House. You can walk up to the roof, which slopes from ground level and has lovely views of the Oslofjord. To clarify, you're allowed, and in fact encouraged, to walk up to the roof to see the views of the city!
The Oslo Opera House is made from glass and Carrara marble, and has a variety of art installations to enjoy, such as the floating "She Lies" by Monica Bonvicini in the water below.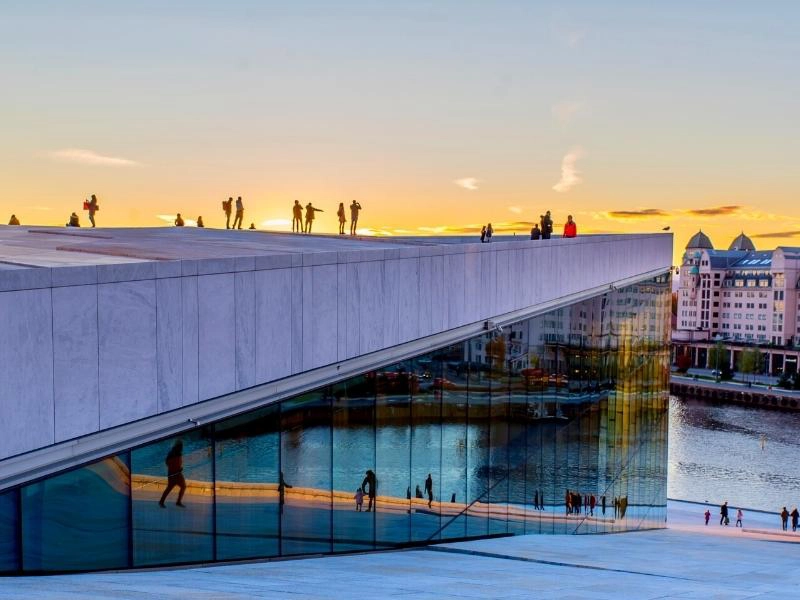 Visit Oslo Cathedral
Oslo Cathedral, or Oslo Domkirke, was first consecrated in 1697, and in 1950 it was restored back to its original Dutch Baroque interior. The cathedral was close again in 2006 for further restoration, and re-opened in 2010.
King Harald V of Norway and the Norwegian royal family use the cathedral for weddings and funerals, with Prince Haakon and Princess Mette-Marit Tjessem Høiby most recently using it for their wedding in 2001.
Today, the beautiful cathedral symbolises a blend of Oslo's old and contemporary history, architecture, and artwork.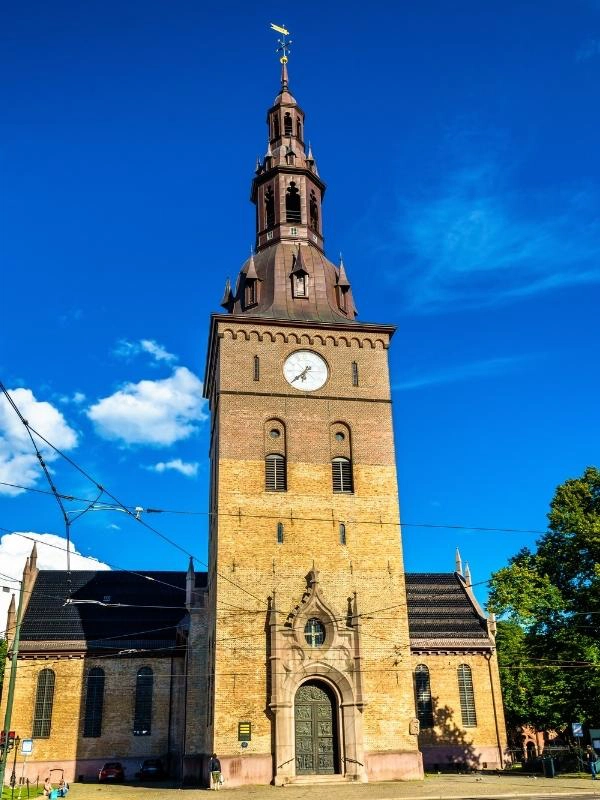 Window Shop on Karl Johans Gate
Do some window-shopping along the Johan Karl, and pop into the variety of boutiques, coffee shops, and more. Be sure to check out the Freia store for delicious Norwegian chocolate, definitely the country's most famous chocolate brand.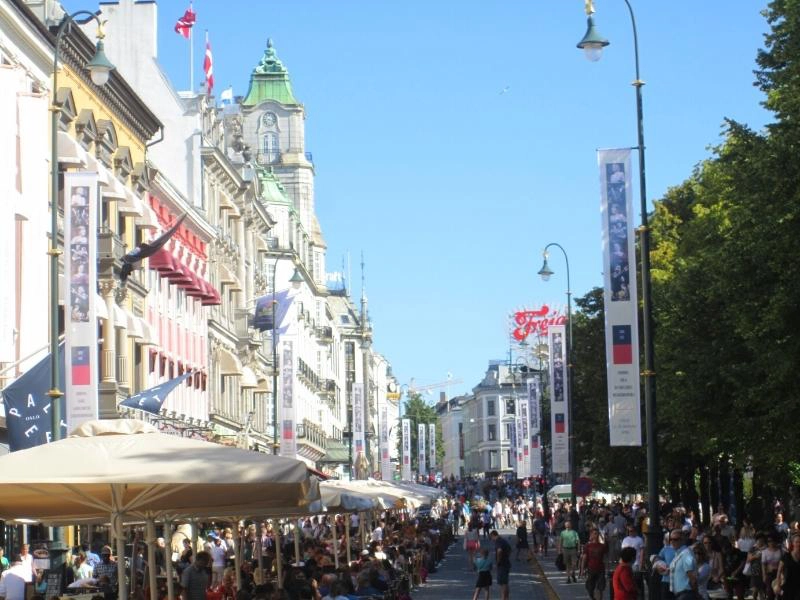 Stroll Eidsvolls plass
This beatiful square and park in the city centre, known as the 'National Mall of Norway', Eidsvolls plass is home to the Stortinget, or Norwegian Parliament, buildings of the University of Oslo, the National Theatre and the Studenterlunden, or student's grove.
TOP TIP: Spikersuppa Pond is a great place to practice your ice skating, time permitting!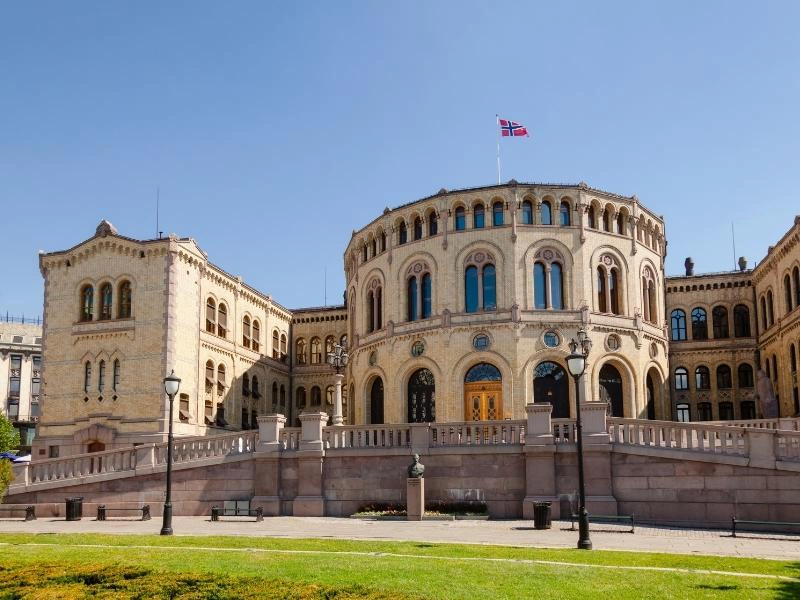 Take in the National Gallery
Just a five minute walk from here is the Nasjonalgalleriet, which is currently being transformed into the largest art museum in the Nordic countries, where older and modern art, contemporary art, architecture and design will be displayed under one roof.
The new National Gallery is due to open on 11th June 2022 and will house, amongst other famous Norwegian art, the infamous painting by Edvard Munch, The Scream.
Explore the Royal Palace & Grounds
Explore the Palace Park, Palace Square, and Royal Palace area, at the terminus of the Karl Johans gate. The Norwegian royal family still lives here full-time, and the palace becomes one of Oslo's best free an attractions in the summer, when it's open for guided tours.
TOP TIP: A real Oslo must see is the changing of the guard that happens at 1.30pm every day, all year round, come rain or shine!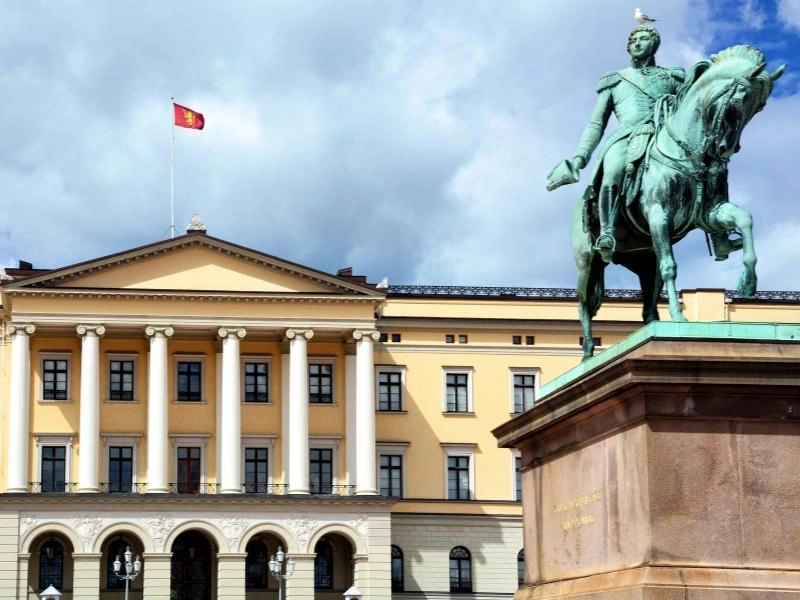 Afternoon
Stop at Oslo City Hall
Oslo City Hall, or Rådhuset, is home to the the city's administrative body and City Council. The whole Pipervika area was renovated and rebuilt to make room for the new city hall in the 1920s.
It took 30 years for City Hall to be built, including a pause in construction at the outbreak of World War II. In 1950, Oslo City Hall, designed in the Functionalism architectural style, was finally completed.
A large brutish building finished in clumpy brown brick, city hall can feel at odds with Oslo's contemporary and minimalist Scandinavian architecture. Nevertheless, in 2005, Radhuset was dubbed Oslo's 'Structure of the Century'.
As well as being an administrative building, City Hall is the location of the Nobel Peace Prize Award ceremony and is also a museum of Norwegian art and culture, Oslo's answer to London's Tate Modern.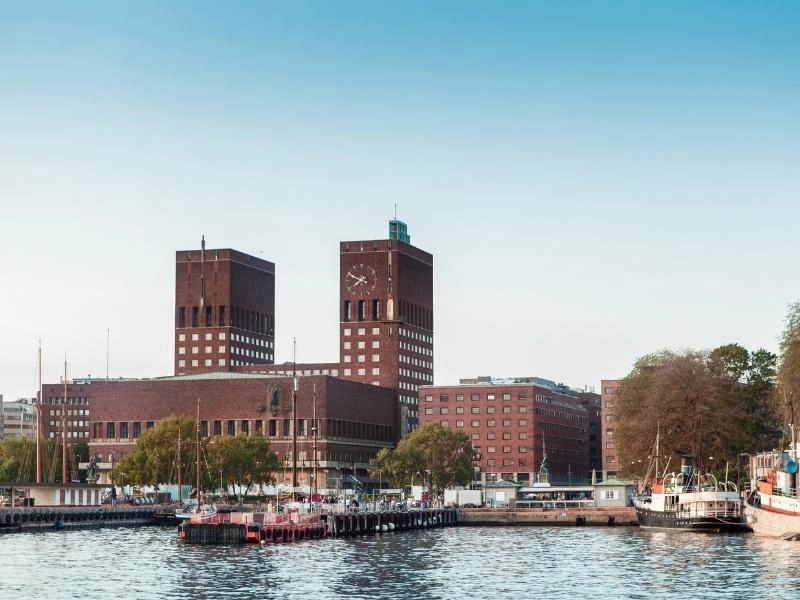 Visit the Akershus Fortress
This must do Oslo attraction is a medieval palace and fortress complex which dates back to the 1290s. Akershus Fortress has worn several hats throughout its history, alternatively serving as the seat of county government of Akershus prior to it being incorporated into Oslo, a royal residence, a prison, and the Prime Minister's office.
While you're here, you can visit the fortress for free, or the palace for a NOK 70 fee. There are also a few museums, including the Norwegian Resistance Museum, on the fortress grounds, but if you are only in Oslo for a day, prioritize exploring the fortress portion.
TOP TIP: From here, catch the Bygdoyfergene, or boat to the museums. Operating between March and October, the ferry leaves City Hall Pier 3 every 30 minutes. The ferry is included in the Oslo Pass, which you can find out about below.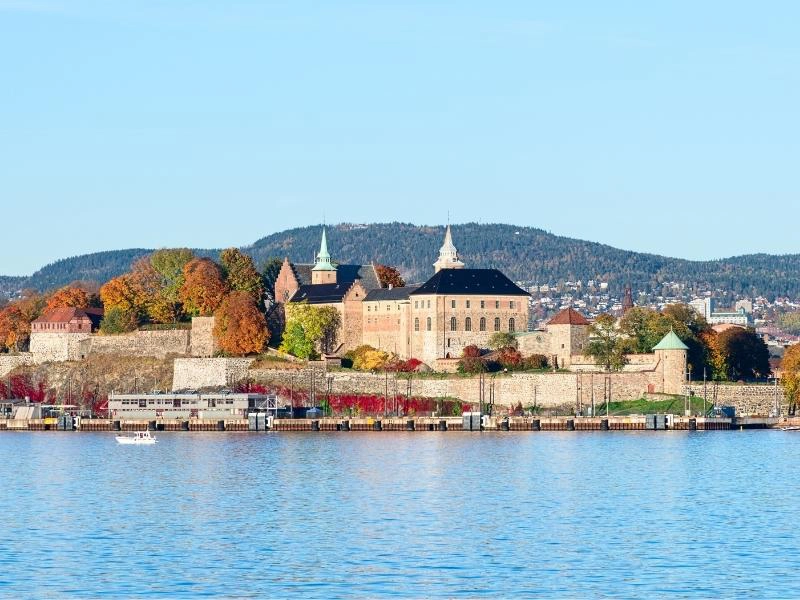 Explore the Bygdøy Peninsula
The Viking Ship Museum and Norwegian Museum of Cultural History (dedicated to Sami and Viking folk cultures) on the Bygdoy peninsula give a real flavour of viking life in Norway.
Vikings were gifted craftsmen and you'll find genuine Viking vessels in the ship museum, that were unearthed from burial mounds in Gokstad, Oseberg and Tune dating back as far as 820 AD.
As well as being a green haven in the city, full of walking and cycling trails, the peninsula is also home to a number of other museums, making it one of the best things to do in Oslo.
The Fram Museum is all about the Polar ship Fram, the strongest wooden ship ever built which holds the records for sailing farthest north and farthest south.
You also have the Norwegian Maritime Museum, and finally, the Kon-Tiki Museum, dedicated to Thor Heyerdahl, who gained worldwide fame when he crossed the Pacific Ocean on the balsa wood raft Kon-Tiki in 1947.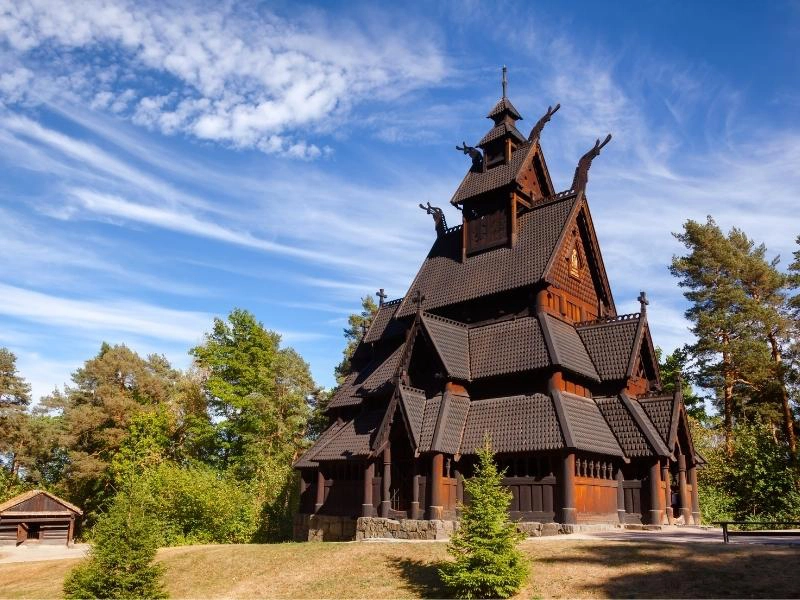 Evening
Explore Aker Brygge
Explore the hip and recently revitalised Aker Brygge area. A former shipyard, the area has been totally remodelled, with sleek, glass buildings, eateries and bars along the pier, which include a "boat bar" in the summertime, and a contemporary and modern shopping center.
The Nobel Peace Prize Centre, a showcase for the Nobel Peace Prize and the ideals it represents, is located here, as well as Oslo's Astrup Fearnley Museum of Modern Art.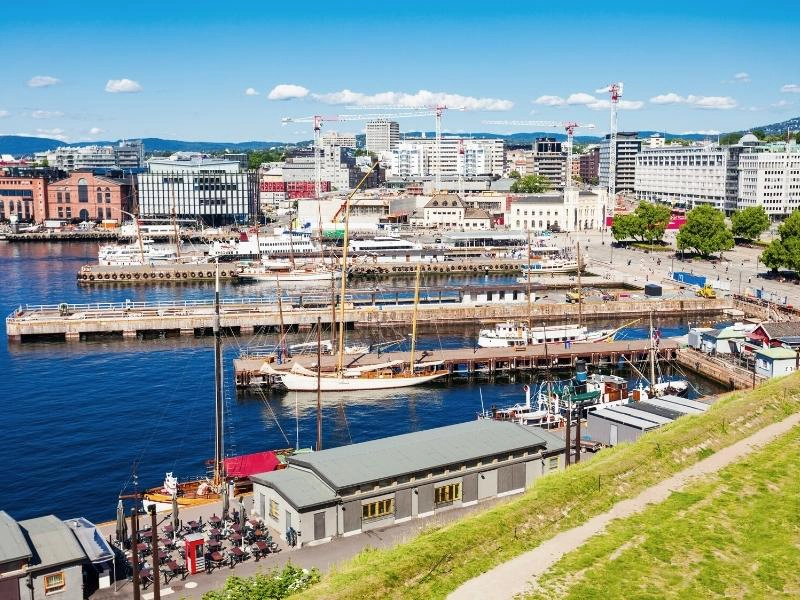 Take a Fjord Cruise
Explore the Oslofjord on an evening cruise. There's no better way to see the city than from the water which surrounds it. Most cruises are on restored wooden ships, traditional to the region, although there are modern hybrid and electric boats cruising the water too!
On our recommended trip you'll climb aboard a wooden sailing ship for a three hour evening cruise of the Oslo fjords. Sit back to enjoy the wonderful scenery as you savor the fresh flavor of fjord shrimps and seafood at a dinner buffet, with hot and cold drinks from the bar.
Where to Eat in Oslo
Following in the footsteps of Copenhagen and Stockholm, Oslo has developed into a culinary gem. Local and sustainable ingredients, classic Nordic seafood and an emerging plant based food scene has created a food lovers paradise.
If you want to find out more about Norwegian street food, join this highly rated Oslo street cuisine guided walking tour that combines exploration of the city's hidden gems and the places offering the most typical flavors of Oslo.
The Mathallen Food Hall
Along the banks of the Akerselva River in the up and coming Vulkan district is he Mathallen Food Hall, a great place to check out classic Norwegian fare.
It is definitely a bit touristy, but has over 30 stalls dedicated to Norwegian gastronomy, perfect for those only in the city for a short time.
TOP TIP: This is a perfect place for lunch or an early dinner, on week nights it closes at 6pm and 8pm on Saturdays.
Kolonihagen Frogner
In the up-market district of Frogner is Kolonihagen, a neighbourhood restaurant serving smaller plates and a Norwegian focussed tasting menu of natural, organic and locally sourced ingredients.
With Scandi meets industrial decor and friendly service, this is an ideal place for dinner after a perfect day in Oslo.
Norway Travel Ideas
Top Five Oslo Travel Tips
If you're visiting in winter, don't miss the Christmas markets! Whilst not quite as cute as their counterparts in Austria or France, Oslo's have a distinctly Nordic vibe that is simply adorable. You have two options: outdoor Jul i Vinterland (right by the Royal Palace), and indoor-outdoor Julemarked, on Youngstorget Street, a few blocks away. If you have time, absolutely meander through both! Jul i Vinterland has a Ferris Wheel, and both have stalls selling traditional winter goodies like juleglogg, a seasonal mulled wine drink, as well as lovely little nooks selling seasonal gifts like ornaments, scarves and hats.
Perhaps the biggest tip for Oslo (and Norway in general) at any time of year, but especially in the winter, spring, or fall, is that the weather can be very fickle. It's best to wear solid, comfortable shoes that are somewhat water-resistant, pack layers such as long-sleeved shirts or sweaters, and have a rain jacket with you that's easy to take on and off if the weather changes. Umbrellas can be bulky and hazardous if it gets windy, so something with a good hood is usually better.
You won't see the Northern Lights or any polar bears in the Norway capital -you need to go much further north for both.
Oslo has a fantastic public transit system, a network of trams, buses, metros, and even ferries, all connected on the same ticket! If you're only in town for a short time, it may be worth getting the 24 hour Oslo Pass, which includes unlimited public transit in zone 1 and admission to Oslo's museums.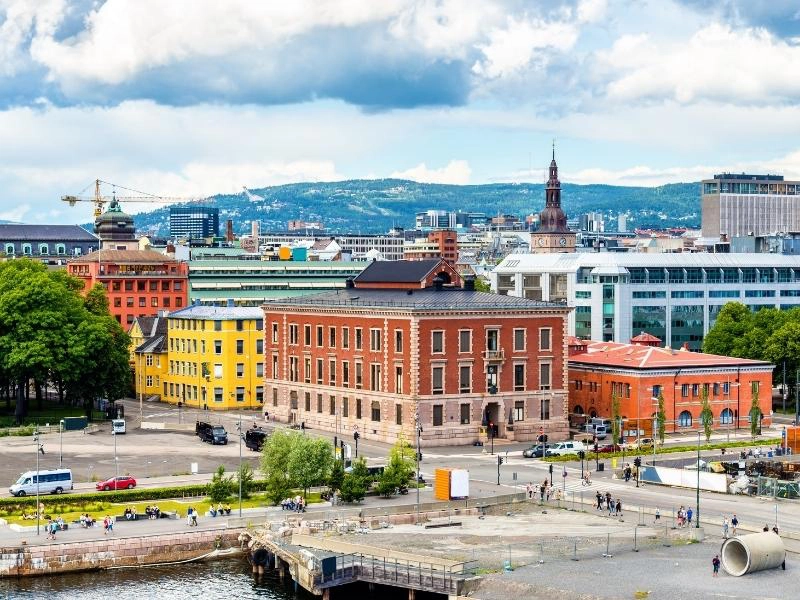 More Than One Day in Oslo
Do you have time to explore Oslo in two days? Or perhaps you have just another half day? If so, add these top things to do in Oslo to your itinerary.
Explore Frogner Park
Take a day trip from Oslo to Frogner Park, home to the Vigeland Sculpture Park. Located about half an hour from the center of the city by tram, Vigeland Park is the world's largest sculpture park made up of works from merely one artist.
There are over 200 pieces by Gustav Vigeland, sculpted from 1924 to 1943 and later given to the city of Oslo. A lot of the sculptures are on the bizarre side, but well-worth visiting.
Frogner Park, a former manor house and Baroque garden, is gorgeous, and the surrounding Frogner neighborhood is lovely for a wander.
Discover Nordmarka
A mere tram ride away will make you feel like you're in a different world in Nordmarka, a massive outdoor recreation area on the city limits. Gape at the Holmenkollen Ski Jump (yes, people voluntarily jump off of it!) and enjoy hiking in the summer and cross-country skiing, snowshoeing, and other typical Norwegian activities in winter.
Damstredet & Telthusbakken
Two adorable historic streets to check out are Damstredet and Telthusbakken. A mere 160 and 300 meters in length, respectively, both are charming and cobblestoned, reminiscent of times gone by.
Damstredet was once a shantytown, but its wooden houses survived, and are a great photo spot. Nearby, the Vår Frelsers cemetery is the final resting place of Norwegian greats like Henrik Ibsen and Edvard Munch.
Near Telthusbakken, check out the medieval Gamle Aker church and nearby gardens.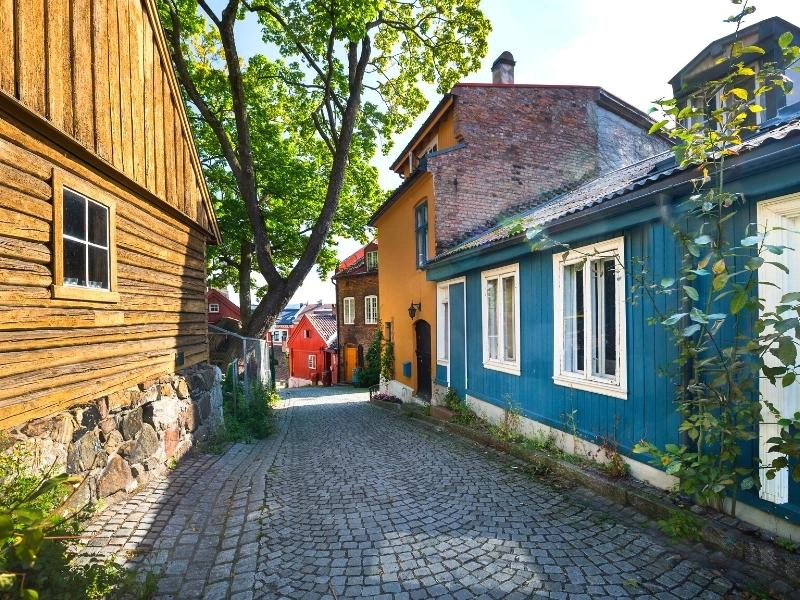 Written for The Gap Decaders by Tegan of Why Not Walk?
Are you looking for more one day city itineraries? Check out these top posts…
Rich in culture, history and stunning architecture, the City of a Thousand Spires is one of Europe's most fascinating places. Today, the vibrant Czech capital thrives as a part of the EU and attracts tourists from around the globe. You could spend weeks exploring the city and still leave things undiscovered, but if you only have 24 hours, this one day Prague itinerary and guide will show you all the highlights.
Love it? Pin it!