Norway is a truly beautiful country and a real bucket list destination. Mountains, glaciers and waterfalls appear around every corner, with vast areas of wilderness waiting to be explored.  If you love adventure and raw nature, then a Norway road trip is for you! Campervans touring Norway are welcomed; wide, empty roads and great facilities beckon. Our essential guide to visiting Norway in a motorhome will provide you with all the information you need…what are you waiting for?
This post contains affiliate links.  When you click on a link and make a purchase, at no cost to you, we earn a small commission.
How to get from the UK to Norway in a campervan is possibly the most challenging part of planning a Norway road trip. There are so many options; at some point you've got to get your campervan over the water, it's just a matter of how you do it and how much it costs!
Why not hire a motorhome? Motorhome and campervan rental Norway is a great option for short road trips. Motorhome rental Norway can easily be organised from Oslo, Bergen, Trondhiem and Tromso airports. Check out Motorhome Norway for the best deals on complete camper hire and Norway motorhome rental.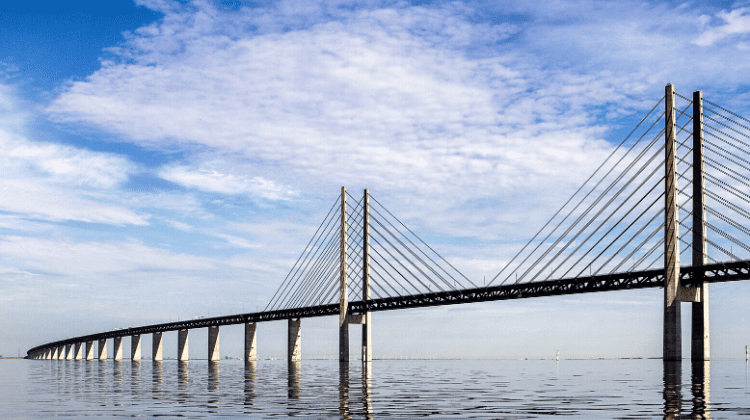 The Bridges – this involves taking the Storebaelt (Great Belt) Bridge in Denmark en route to Copenhagen and then crossing the Oresund Bridge (of BBC fame) from Copenhagen to Malmo in Sweden.  This option gives you the opportunity to see beautiful Copenhagen on the way through and experience both incredible bridges, their views and architecture.  It's not cheap though, in a 3500kg campervan of 6m length, it will cost approximately €85 one way; if you're in a bigger beast such as a twin axle motorhome then you're looking upwards of €150 one way and you still have a long drive up the coast of Sweden.  If you intend to cross both ways, look at getting a BroPass which gives you a roughly 50% discount on the Oresund bridge and can be purchased online.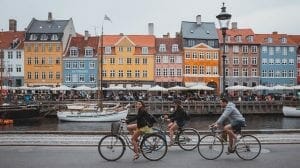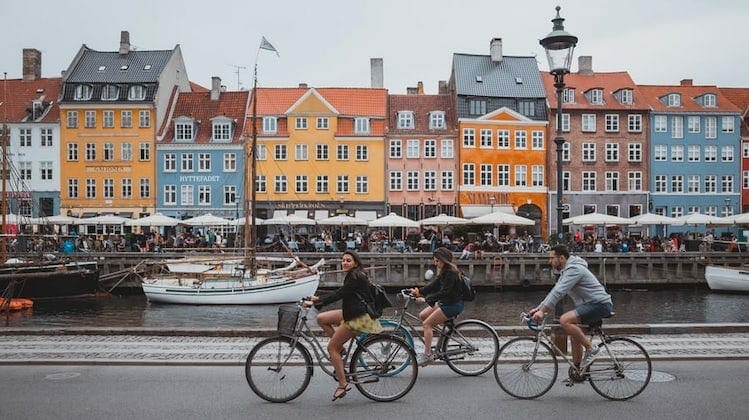 Copenhagen, the capital of Denmark, is an easy city to navigate, filled with old world charm and plenty of sightseeing opportunities including canals, towers, castles and amusement parks, making one day in Copenhagen an amazing experience.
Read More »
There are so many options here (although sadly no England to Norway ferry!) 
Ferries from Denmark to Norway
Getting a ferry to Norway is possible; drive to the north of Denmark avoiding all bridges and get a ferry to Kristiansand or Gothenburg in Sweden. 
Ferries from Germany to Norway
Take a boat from Travemunde in Germany to Malmo, but then have the long drive up through Sweden. Get a ferry from Germany to Denmark and cross to Malmo by the Oresund Bridge…and it goes on!  
If you have time, a 'reverse' trip could work.  What I mean by this is to not follow the usual routes into Norway which most people take because they are time-limited, but take a ferry from Tallinn in Estonia to Helsinki in Finland, or Stockholm in Sweden and then drive north and east until you get into Norway. It's a bit more complicated than that but you get the idea. There are worse things than travelling around Scandinavia in a campervan!
Is Norway Expensive to Visit?
Why is Norway so expensive? Norwegians enjoy a very high standard of living and are generally paid well, which in turn pushes up prices. There is no escaping that for foreigners, this is an expensive country and travelling in a campervan in Norway requires careful planning. Follow our travel tips to budget as effectively as possible.
Norway camping prices are similar to the rest of Europe in summer, although cheaper than the super-tourist areas of the Med, for example.  We paid anywhere between NKR210 – 350 a night, including electricity.  You normally have to pay extra for a hot shower, typically NKR20-30 for five minutes.  Aires will cost around NKR120-180 a night.
Diesel costs are similar or slightly higher than the UK, but considerably cheaper than France or Italy.  We paid an average of NKR14.5 a litre.
Alcohol is really expensive.  A beer, cider or glass of wine in a restaurant will cost between NKR60-90.  In a Vinmonopolet you will pay around NKR150 for a bottle of wine and NKR50 for beer and cider.  Spirits cost considerably more, so we just didn't drink them! 
Norway food and drink prices vary; try and shop in the Spar or Co-op's.  There is no Lidl or Aldi or their equivalent in Norway (Lidl opened around four years ago, lasted two years and shut up shop!) Some food prices, like tinned and dried goods are similar to UK but fresh fruit, vegetables, fish, cheese and US products such as Coca Cola are expensive in comparison. Local produce like salmon and goats cheese is expensive in tourist areas. 
Eating out is costly; we ate out a few times and on one occasion paid NKR 650 for two pizzas, burger and chips, two beers and a coke!
Activities are about 20% more expensive per person than the UK. There are lots and lots of free hiking and cycling routes and swimming opportunities wherever you go to help you save money. 
Tolls and ferry costs are quite high but it is almost impossible to avoid them! You can go onto the Autopass website and attempt to calculate your road trip route of Norway but I wish you luck, it defeated us!
If you can avoid the high season in mid June to mid August, some things like activities and campsites may be cheaper.
Average Cost of a Trip to Norway
It is impossible to say what the average cost of a trip to Norway is. There are so many variables such as length of trip, size of your campervan or motorhome, how you like to camp and which route you will take to Norway. How expensive is Norway compared to UK? Our experience suggests that the cost of visiting Norway is around a third more expensive than UK, with our average daily spending money in Norway coming in at €55 a day. Yep, Norway is expensive!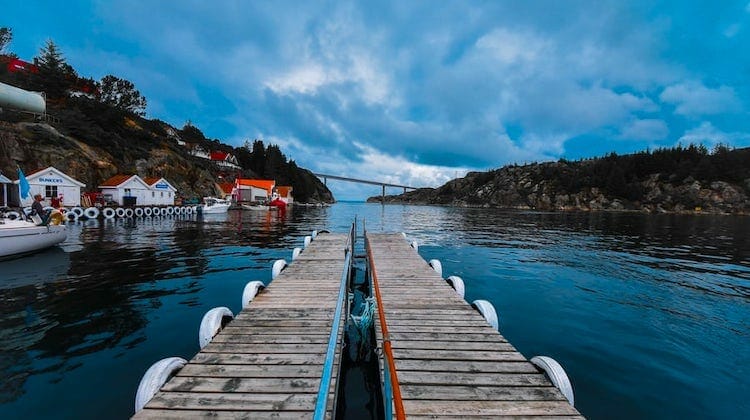 Norwegian drivers are usually disciplined and calm, happy to give way and wait where necessary. Do not underestimate how difficult and time consuming it is to travel around Norway in a campervan, especially if you want to go north enough to see the northern lights or enter the arctic circle. It takes around 30 hours of solid driving from the Lofoten Islands to Oslo. One thing every road tripper we talked to told us was that they had not given themselves enough time to explore the country fully. Do your research and plan carefully, it will always take longer than you think!
Roads are generally in good condition and well maintained.
Some of the old roads along the edges of the fjords, which have not yet been replaced with a road tunnel and can be a bit tight so drive with caution as you will meet lots of other large vehicles.
You will require a green card to prove you have motorhome insurance cover when travelling in Norway.
Your UK licence allows you to drive in all EU countries. If you only have a paper driving licence or a licence issued in Gibraltar, Guernsey, Jersey or the Isle of Man then you will need an International Driving Permit.
You must carry a warning triangle, reflective jackets and use snow chains or winter tyres if there is snow or ice on the roads.  If you are motorhome touring in Norway in the winter, you may be asked to purchase a set if you cannot evidence to the border police that you have them.  For more information about driving requirements for Norway travel, see the AA website.
There are no restricted emissions zones in Norway, however central Oslo is closed to diesel traffic when monitored  emissions are considered high.  
It may seem obvious and apologies if you know this, just doing my bit to keep you safe!! Brakes may overheat on long downhill stretches; to avoid this, drive in a low gear. Eventual braking will require less force and brakes will stay cool. When driving uphill, watch the motorhome's temperature gauge to avoid engine overheating in time.  You will go up and down a lot of mountains, especially if you take on the Trollstigen road, one of Norways best!
There is a sophisticated and comprehensive toll system in Norway.  You will know you're on a toll road by the signage of camera and wifi, but it's safe to assume if you're on a major main road, it will be a toll road.
You must register your campervan or motorhome on the Autopass website; if you don't you will receive a bill in the post with an assumed class and emissions category and a charge for not registering.  Once registered, you can choose to get your bill (produced probably four to six weeks after you have left Norway, although we waited three months for just our first bill!) by email and pay with a credit card. There is no manual way of paying tolls whilst in the country, other than on the Atlantic Road stretch. 
From time to time, you will need to take a car ferry across a fjord.  This is not a fjord cruise, but a quick crossing designed to get you from one place to the other as fast as possible, a bit like public transport. It is not complicated, the road stops with no option to take another route and there is a ramp for a ferry there!  Google maps or your sat nav will know this and direct you accordingly.
There are generally two car ferries passing each other in the middle, and the operation of getting vehicles on and off pretty slick.  Usually, the ticket seller will come to your vehicle with a mobile card device and dispenser; expect to pay around NKR100 for every ten minutes of ferry time in a class 2 campervan or motorhome.  This is Norway by campervan at its very best!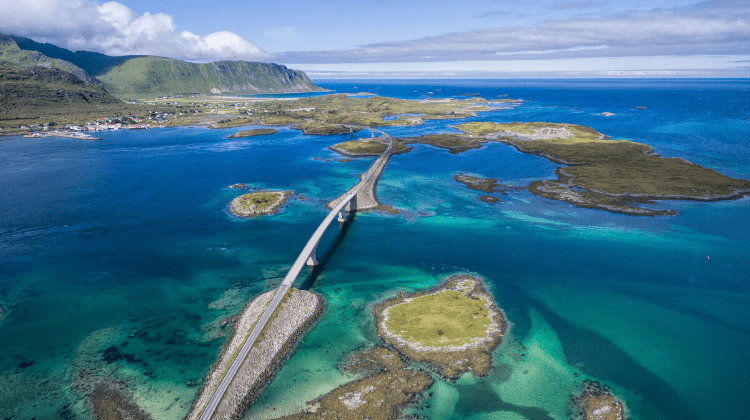 Motorhome Camping in Norway
Norway is very tolerant of campervan visitors, although numbers have increased exponentially over the past five years; we felt welcomed wherever we went.  You'll be able to find camping outside all the major cities and near all the top places to visit in Norway.
Wild or Free Camping in Norway
The allemannsrett (all men's rights) law was enshrined a long time before campers became such a popular way to see a country but the spirit of the law stands and seems to cover motorhomes. The gist is that you can practice wild or free camping in Norway where the land is not owned, cultivated or where there is a sign forbidding it.  
Follow the usual free and wild camping good practice and don't overstay your welcome, we would suggest one day and certainly no more than 48 hours in the same spot. Use Park4Night to find the best free and wild camping spots.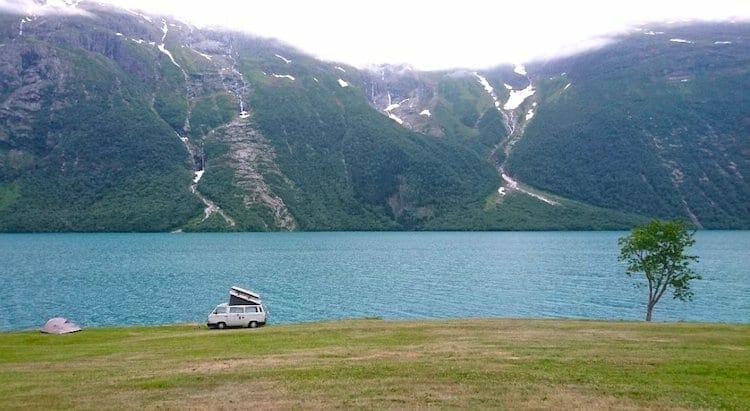 Motorhome Campsites in Norway
There is a good network of campsites for camper vans and campers with tents in Norway, although most cannot be booked and seem much more transient than those on the continent.  All have small sleeping huts for rent to hikers and offer kitchen facilities where groups of people can cook together.  
Generally they don't have bars or restaurants and people retire and rise early. Expect to pay between NKR210 – 350 a night, including electricity.  You normally have to pay extra for a hot shower, typically NKR20-30 for five minutes.  
There are also good aires with campervan and motorhome service points across Norway. Use Park4Night to locate them or head into the nearest tourist office who will provide you with information.
Things You Might Need for Norway
Norway is a vast country with only five million inhabitants, shaped by its Viking history, geography and unique farming culture which is still alive and kicking today.
Things to Know About Norway
There is no getting around the fact that a motorhome tour of Norway is more expensive than most other countries.  
The weather in Norway is changeable even in July and August so make sure you have some warm clothes with you. With forward planning and the right equipment, you can take your campervan to Norway year round and join the arctic campers. The Visit Norway website has some great information on driving in Norway in the colder months.
There are a lot of vans in Norway from many different EU countries; we were surprised by how many.  But, this is a huge country and there is plenty of room, especially when you get off the beaten track or head further north whether you're going hiking in Tromso or chasing the northern lights.
Norwegian (and in fact most Scandinavian) society is based on Janteloven (the law of Jante) which at its simplest describes the way that all Norwegians behave; putting society ahead of the individual, practicing humility, equality, respect, and simplicity. Wealth is not flaunted, people don't criticise others, and egalitarianism is key. This is not an actual law but describes how people should behave in society; it helped us as visitors to understand Norwegian culture and behaviour.
Almost all Norwegians speak English at an intermediate level, unless they are older and live rurally.  Google Translate comes in handy here!
Norwegians work to live; Koselig has no direct translation but influences Norwegian behaviour at weekends and holidays.  This post by our friends Life In Norway explains the concept visually.
Norway is on the verge of becoming a truly cashless society and are streets ahead of many other EEA countries.  It is completely normal to pay for a €3 iskrem using a card or ApplePay.
Recycling is important here; a pant (pledge) is charged on all bottles.  You can return the bottles to the panteroom to get your deposit back or press a button and give your deposit to charity.
Norwegian people like their personal space.  They will not willingly sit next to a stranger on the train or bus and prefer not to stand too close to others in queues. This is because there are so few Norwegian people in their huge country that they are used to having lots of room to move!
Thanks to a public rights law named allemannsrett (all men's rights), people are free to roam through all uncultivated land. This makes for incredible attractions, outdoor sports opportunities and ventures into landscapes and places seemingly untouched by modern life.
Norwegian people are reserved and generally look to others comfort and wellbeing before their own.  They will not impose themselves upon you, rather wait for an offer or invite.  Norwegians tend not to be party people, but value the outdoors and nature more.
If you head to the far north of Norway in summer, you will find that it never truly gets dark due the midnight sun phenomenon.  Even in the Western fjords, days will be light until 11pm around the time of the summer solstice; going to bed in the light takes some getting used to!
Most grocery shops will be closed on Sundays.  Garages will sell basic groceries but at inflated prices so better to be prepared!
Alcohol in Norway is sold mainly by the state.  Beer can be found in most shops, but is only sold before 8pm on weekdays or 6pm on Saturdays and not on Sundays. For wine, spirits or stronger beer, you must visit one of the Vinmonopolet (wine monopoly), known to locals as pole, outlets, found in most large cities and towns.  Tax Is levelled on all alchohol with more than 0.7% by volume of alcohol and is pretty hefty, making all alcohol expensive. We would not advise you to to take alcohol over the border to Norway in your campervan or caravan; customs police check and search vans regularly, if you are caught you will pay an eye-watering fine.
Norway Travel Inspiration
Food & Eating Out in Norway
Norwegian food can be excellent. Abundant seafood, local specialities such as reindeer, and a growing trend towards using hyperlocal, seasonal ingredients are undoubtedly the highlights.
Norway loves meat; reinsdyrstek (reindeer) should be sampled if you are a meat eater and should be eaten on the rare side for the best flavour. Beef, lamb and venison are also popular and cheaper than reindeer.
Vegetarian food is becoming more and more popular and we found multiple options of plant-based dishes on most menus.
Salmon is the most eaten fish; farmed is much, much cheaper than wild salmon and often tastes just as good.
You will also come across lots of raw, salted, dried and cured fish…it's definitely an acquired taste but necessary when fishing is difficult as all the fjords are frozen!
Potatoes are served with almost every dish, especially if you are eating out in a rural town or traditional restaurant.  
Berries are delicious in Norway, they take longer to ripen and are thus more juicy and bursting with flavour; the raspberries are the largest and best we've ever eaten, expect to pay around NKR300-400 for a punnet. 
Other berries include strawberries, blackcurrants, red currants, blueberries (sometimes called huckleberries), which grow on open uplands; blue, swamp-loving bilberries; red high-bush and low-bush cranberries and the famous moltebær (cloudberries), which are highly prized and considered a delicacy. They grow one per stalk on open swampy ground and in Norway cloudberry patches are zealously guarded. Cloudberry jam is amazing with brown goats cheese (yes brown!) and fresh cream on a fluffy pancake!!
Brown goats cheese or Brunost is a Norwegian staple and eaten at all meals. It has a distinctive caramelised flavour and delicious taste which is rich and creamy.  Read about the traditions of brown goats cheese in this Life in Norway post.  You should try it!
Breakfast in Norway is coffee, some sort of crispbread (often the dieter's favourite, Ryevita!) with cucumber and tomatoes and maybe a boiled egg or pickled herring.  You may find cafe's selling toast or croissants in larger towns.
Lunch is an open sandwich with meat, fish or eggs and dinner is usually the hot meal of the day, served between 4 and 6pm in the winter months and considerably later in the summer. 
We would suggest avoiding torsketunger (cod's tongues) and rakfisk (fermented trout) unless you are a particularly hardy type with the constitution of an ox!!
If you get the opportunity, try the national spirit akevitt (aquavit), a potent dose of Norwegian culture made from potatoes and caraway liquor. Although caraway is an essential ingredient, various modern distilleries augment the spicy flavour with any combination of orange, coriander, anise, fennel, sugar and salt. The confection is aged for three to five years in 500L oak barrels that have previously been used to age sherry.  Just go slow and don't drive afterwards!
We have been living and travelling in our motorhome in Europe for two years and love to share our adventures. If you're looking for information about visiting in a motorhome, check out our Norway blog posts and our campervan Norway blog.
LOOKING FOR MORE TOURING GUIDES? CHECK OUT THESE TOP POSTS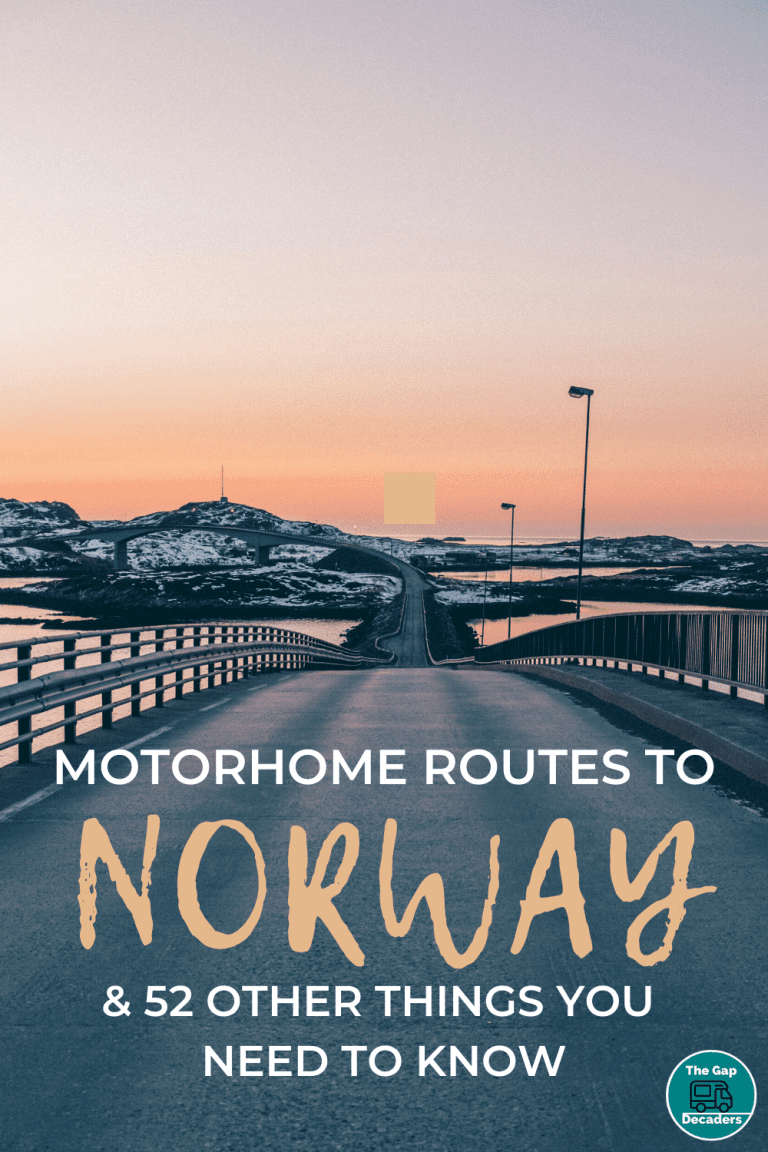 Find out the best way to get to Norway in a motorhome or campervan and 52 other things you need to know before you go! #motorhomenorway #campervannorway #norwayroadtrip #motorhometips #norwaytraveltips #motorhomeroutestonorway #isnorwayexpensive #norwaydestinations #gettingtonorway #bucketlisttravel