This post may contain affiliate links, from which we earn an income.
Touring Norway in a Motorhome & Campervan
A truly beautiful country, Norway is a real bucket list destination. Mountains, glaciers and waterfalls appear around every corner and vast areas of wilderness and national parks wait to be explored. If you love adventure and raw nature, then campervanning in Norway is for you.
One of our favourite European countries for a campervan road trip, driving in Norway means big sweeping roads, exciting mountain passes and regular fjord crossings, as well as plentiful off-grid camping and outdoor activities.
We've spent months motorhoming in Norway and our advice and tips for campervanning in Norway come from our own lived experience. We cover driving, budgeting, where to stay overnight and off-grid and wild camping, to motorhome and camper van services and a round-up of the best motorhome destinations. In fact, you'll find all the information you need for an amazing road trip in Norway!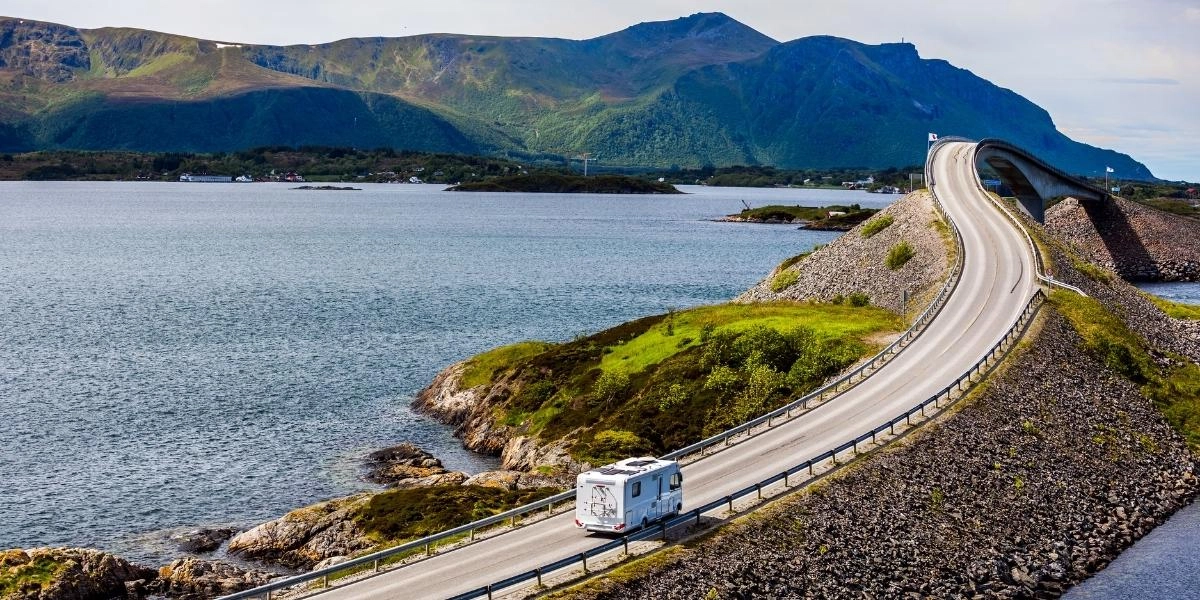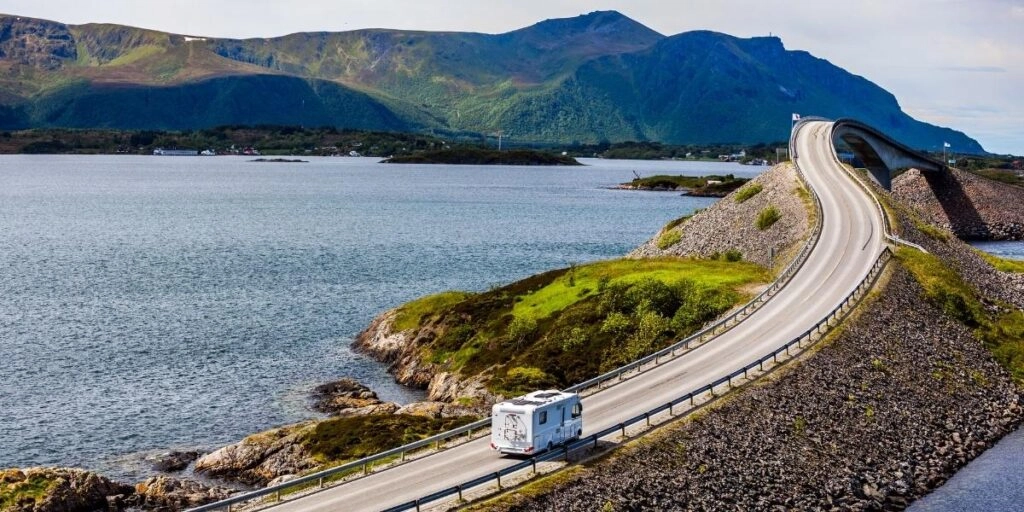 Norway Motorhome Routes
Getting from the UK to Norway in a campervan is possibly the most challenging part of planning a Norway motorhome trip! There are so many options, but at some point, you've got to get your campervan over the water, it's just a matter of how you do it and how much it costs! These are the best Norway motorhome routes:
The Bridges
This route involves taking the Storebaelt Bridge (Great Belt Bridge) in Denmark en route to Copenhagen and then crossing the Oresund Bridge (of BBC The Bridge fame) from Copenhagen to Malmo in Sweden.
This option gives you the opportunity to road trip Denmark and see beautiful Copenhagen on the way through and experience both incredible bridges, their views and architecture. But, it's not cheap and you still have the long six hour drive up the coast of Sweden.
Toll operators in Norway work with the bridge operators to provide discounts if you use electronic tags. Check the Tolls section below to find out more.
Storebaelt Bridge
(2023 prices for a one-way crossing)
Oresund Bridge
(2024 prices for a one-way crossing)
Is this your first time visiting Norway? Get all the information you need in our Norway Travel Guide, including what to pack, the best time of year to go, getting there and practical tips to help you have the best trip!
The Ferries
There are so many options here, although sadly no England to Norway ferry these days.
Ferries from Denmark to Norway
Getting a direct ferry to Norway from Denmark avoids the bridges and the long drive up the Swedish coast. Popular ferries from Denmark to Norway are from Frederikshavn to Oslo, Hirtshals to Kristiansand, Larvik, Stavanger and Bergen.
The longer crossings are not prohibitively expensive and sailing to Bergen gets you right into the beautiful western Fjords – balanced against fuel and toll costs, it may be worth considering.
Ferries from Germany to Norway
From Travemunde to the northeast of Hamburg, a nine hour crossing gets you into Malmo, costing at least 50% less than taking the bridge's route, and you can stop and see Hamburg on the way!
You still have the six hour drive up through Gothenburg to Oslo and will miss the wonders of Copenhagen, but for those on a budget, this is a great option.
Ferries from the Netherlands to Norway
Holland Norway Lines has introduced a new route from Eemshaven in the north of the Netherlands to Kristiansand. With three 18 hour crossings a week each way, you'll arrive at 9am the next day feeling refreshed and ready to drive in whichever direction takes your fancy.
This cuts around 1000km of driving from the route and is a great option if you are planning to visit the western fjords and southern Norway, or if you're planning to sail from the UK to the Netherlands.
We recommend finding the best deals and crossings with Direct Ferries, who make it easier to compare timings, routes and costs in one place.
The Alternative Campervan Route to Norway
If you have a lot of time, a 'reverse' route through Scandinavia could work. What we mean by this is to not follow the usual routes into Norway which most people take because they are time-limited, but take a ferry from Tallinn in Estonia to Helsinki in Finland, or Stockholm in Sweden, and then drive north and east until you get into Norway.
It's a bit more complicated than that but you get the idea. There are worse things than travelling around Scandinavia in a campervan!
Motorhome & Campervan Rental Norway
Campervan & Motorhome Rental Norway
Flying and hiring a motorhome is the best way to tour Norway if you don't own one. Our recommended Norway campervan rental company is Motorhome Republic, which has depots in Oslo, Bergen, Tromsø and many other major Norwegian cities – perfect starting points to see all the best bits as you road trip Norway.
An aggregate motorhome and campervan booking site, Motorhome Republic pull together all the best deals from a number of rental companies, like Indie Campers, Campervan Norway, Arctic Camper and Cabin Campers to offer you a wide choice of options alongside an excellent English-speaking expert motorhome Concierge Team.
You can also hire a motorhome in the UK and drive it across to Norway. Most hire companies allow their motorhome rentals to be taken overseas, including our recommended rental company, Spaceship Rentals. With a depot in London, top-notch customer service and all the equipment you need for an easy holiday, Spaceship offers the best deals for Europe.
Best Time to Motorhome in Norway
October to April
Can you take a campervan to Norway in winter? Absolutely you can but it will be cold wherever you go, and there's likely to be snow… possibly quite a lot of snow, although the Scandinavians are really good at managing adverse weather conditions, so main roads do stay open.
November, December and January are dark months in the north of the country, and from November 27th until 15th January the polar night occurs when night-time lasts for 24 hours. Outside of these times, daylight hours are very short with maybe only a few hours of light.
Many campsites will close in winter, but if you're travelling to Norway for winter sports or to see the Northern Lights, this is the perfect time.
It's a good idea to make sure you're well prepared with adequate heating and power in your van, and snow chains or tyres for when conditions require them. You'll also need lots of warm clothing and thermal layers to keep you warm!
May to September
Campervanning Norway in the summer means the weather will be kinder, with July and August being the warmest months. Fjord swimming without a wetsuit is possible in the peak season and you'll be comfortable during the day in shorts and a t-shirt. It can still be chilly in the evenings for Arctic campers, where the weather is also more unpredictable.
Between the end of May and end of July, you'll experience the midnight sun phenomenon in the far north of Norway, when the sun remains visible at the local midnight and moves across the horizon from left to right.
Norway's Borders
Norway is not a member state of the European Union. However, it is associated with the Union through its membership of the European Economic Area (EEA) and is an associate member of the Schengen Area, meaning you must include Norway in your 90 in 180 days calculation.
Norway has open borders with Sweden and Finland, however, they still practice random border checks at some popular road crossings. You will find a 'hard' border if you arrive in Norway by ferry, and will need to complete a customs declaration form before you enter the country.
Many motorhomers travelling north through Sweden from the ferry will cross the border at Svinesund on the E6, where there is a permanent customs post. There is often queueing traffic to cross, although not many vehicles are actually stopped or searched.
The allowance for alcohol is small (1L of spirits over 22% volume, 1.5L wine less than 22% volume and 2L of beer up to 4.7% volume) and given the cost of buying booze in Norway, it's tempting to stock up at the large supermarket in Sweden just before the Norwegian border. If you do get caught carrying more than your allowance, the fines can be large.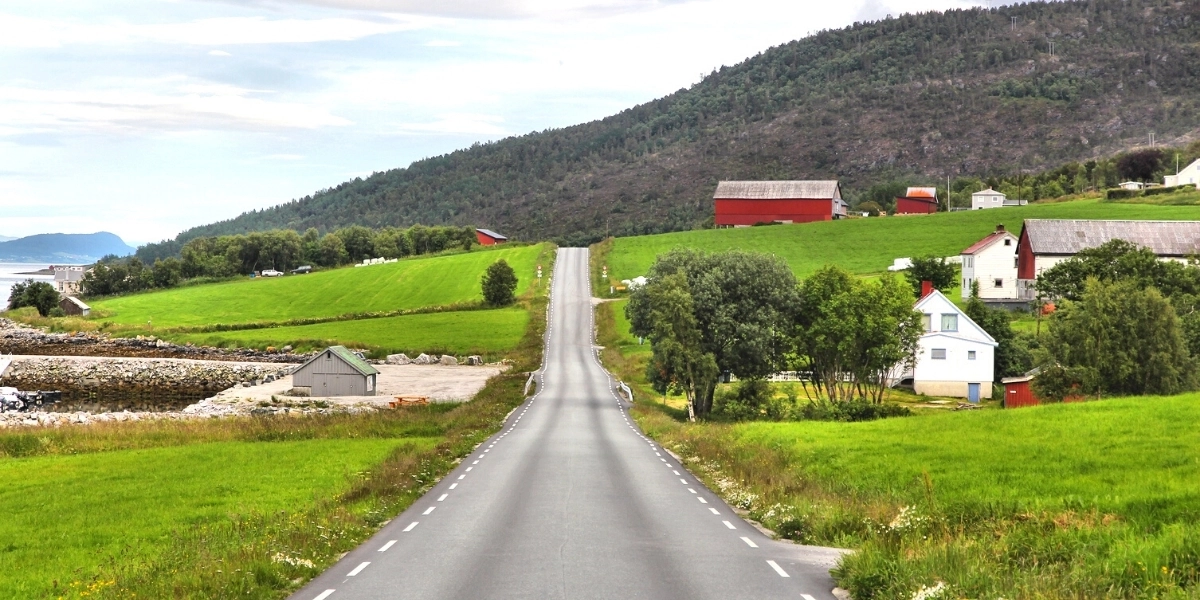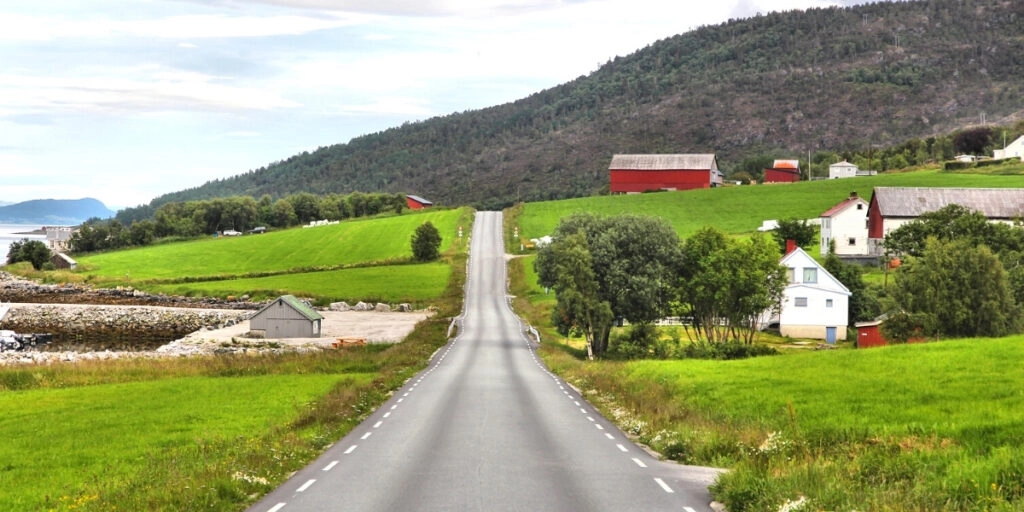 Motorhome Norway & Brexit
Although the UK left the EU at the beginning of 2020, because the pandemic came swiftly on its heels, many of us are still realising the repercussions and getting used to how it affects travelling in a motorhome. You can find out all the details you need in our guide to motorhoming in Europe after Brexit. In the meantime, here are a few frequently asked questions and answers;
Do I need a visa for Europe?
Nothing changes with your passport, but from 2025, the EU will introduce the ETIAS (European Travel Information and Authorisation System), which will be an additional entry requirement for visa-exempt travellers and will involve the traveller registering their details online before travelling, mainly for security purposes.
How long can I stay in Europe?
UK citizens can only stay in the Schengen Area (a zone in Europe where countries have no internal borders and allow the free and unrestricted movement of people) for 90 days in every 180 days in the Schengen Area.
The 90 in 180 day rule works on a rolling basis and it can be difficult to work out whether you are within the rules or not, especially if you have visited the Schengen area on several occasions in the preceding 180 days. Use a Schengen calculator to ensure that you stick to the right number of days and stay within the rules.
What food can I take in my motorhome to Norway?
The European Commission says the following:
Can I use my mobile data in Norway?
It very much depends on who your mobile phone contract is with and when you started the contract. All UK providers now limit data usage in the EU in some way or another, and it's best to check with your provider to make sure you don't run up a big bill. You can find lots of information in our guide to the best SIM cards in Europe, especially if you're planning to be away for more than a few weeks.
We have been using and recommend ConnectPls for cloud SIM connectivity in the UK and Europe. You can choose from unlimited data packs to just single days, depending on your needs. The device is no larger than a slimline smartphone, connects with up to ten devices, is charged easily with a USB and can be delivered within a few days of ordering. Use the code 'thegapdecaders' at checkout to get 50% off in the first month!

Can I take a pet to Norway in my motorhome?
Yes, you can take dogs, cats and ferrets to Norway. You'll need to book a pet-friendly cabin or kennels on the ferry or travel via the tunnel from the UK. Your pet will need a microchip, a valid rabies vaccination and an animal health certificate (AHC).
When pets are travelling to Norway from countries in the EU/EEA (such as Germany or Denmark) the animal and necessary documentation must be presented to Norwegian Customs for checking. Walk or drive through the red zone in the Customs area to present your paperwork and pet.
When travelling to Norway from Sweden, the animal and documentation need not be shown to the Norwegian Customs if the animal has been kept legally in Sweden and meets all requirements for entry.
It can take some time to get all the documents together and the vaccines organised, so make sure you start the process well in advance.
More Norway campervan travel advice and guides;
Is Norway Expensive to Visit?
Why is Norway so expensive? Norwegians enjoy a very high standard of living and are generally paid well, which in turn pushes up prices. There is no escaping that for foreigners, this is an expensive country and travelling in a campervan in Norway requires careful planning. Follow our Norway advice and travel tips to budget as effectively as possible.
Norway Prices & Tips
Average Cost of a Trip to Norway
It is impossible to say what the average cost of a trip to Norway is. There are so many variables such as length of trip, size of your campervan or motorhome, how you like to camp and which route you will take to Norway.
How expensive is Norway compared to UK? Our experience suggests that the cost of visiting Norway is around a third more expensive than the UK or France, with our average daily spending money in Norway coming in at €65 a day.
Yep, it's expensive to road trip Norway, but budget carefully and it's no more expensive than France or Switzerland.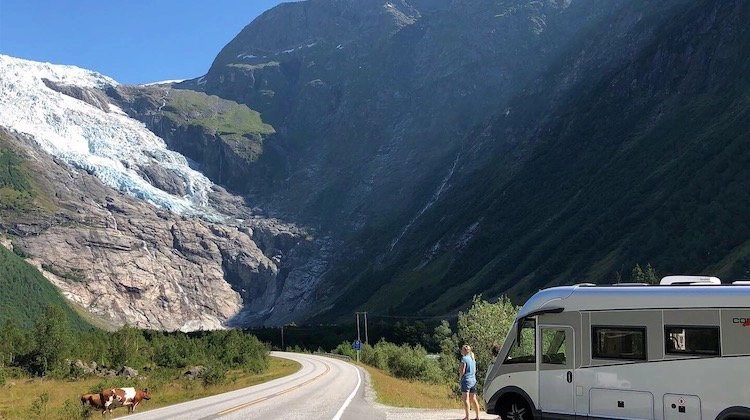 Documents You Need to Travel in Norway
Make sure you have travel insurance you can trust when motorhoming Norway. We recommend True Traveller for their 5-star TrustPilot reviews, variety of cover options, best activities cover as standard, great prices and excellent service.
Motorhome Driving in Norway
Driving in Norway is a real pleasure. Norwegian drivers are usually disciplined and calm, happy to give way and wait where necessary. The road network is well maintained, even on smaller 'B' type roads, and often we drove long distances without seeing other vehicles, although expect roads around popular tourist attractions to be busy.
Western Norway is also home to an immense network of road tunnels which have mostly replaced the old fjord-side single-track narrow roads. These older Norwegian roads can be a bit narrow and tight so drive with caution, especially if you're in a new motorhome, as you will meet lots of other large oncoming traffic.
Norway's tunnels are legendary – well-lit, beautifully sealed and some even have roundabouts in them! Norway is also home to the Laerdal Tunnel, or Lærdalstunnelen, at 15 miles it's the longest road tunnel in the world!
Do not underestimate how difficult and time-consuming it is to travel around Norway in a campervan, especially if you want to go north enough to see the Aurora Borealis or enter the Arctic Circle. It takes a whopping 30 hours of solid driving from the Lofoten Islands to Oslo for example.
One thing every road-tripper we talked to said was that they had not given themselves enough time to explore the country fully. Do your research and plan carefully, it will always take longer than you think.
Motorhome Speed Limits in Norway
Always observe the speed limits when campervanning in Europe. There are speed cameras just as in the UK, and the Norwegian authorities are pretty vigorous in their pursuit of people caught speeding and the non-payment of fines. This has not changed since Brexit as the information-sharing agreement with the DVLA continues.
Motorhomes < 3,500 kg
Motorhomes > 3,500 kg
Norway Rules of the Road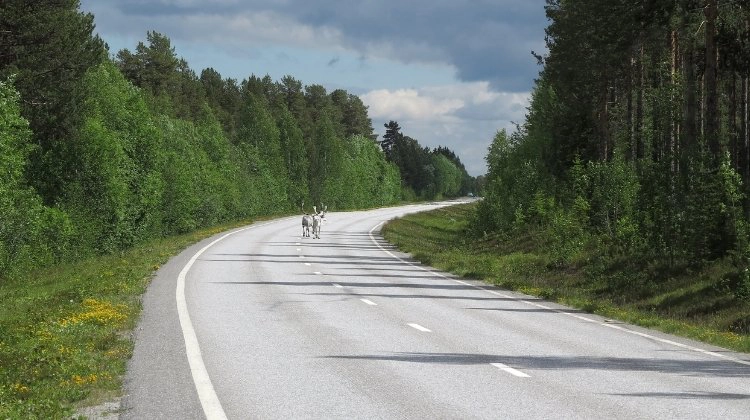 Road Tolls in Norway
There is a sophisticated and comprehensive toll system in Norway. You will know you're on a toll road by the signage of a camera and wifi, but it's safe to assume if you're on a major main road, it will be a toll road.
Now it starts to get complicated! The system is not straightforward but this is what you need to do in advance of touring Norway by motorhome or campervan:
Register your campervan or motorhome for electronic tolls with one of the AutoPASS-authorised providers. Head to the section entitled 'register a payment account for your foreign vehicle'. Leave plenty of time for this step, so your electronic toll tag can arrive in the post.
Flyt is one of the user-friendly options on the list and we would recommend them. Their tag covers you for toll roads, bridges, tunnels and some fjord ferries in Norway and you are invoiced by email monthly in arrears.
If you want an electronic tag to cover you for Sweden and Denmark as well, EasyGo operates this scheme and using it gives a discount on both the Strebaelt and Oresund Bridges when linked up with a BroPas account. EasyGo doesn't actually issue the tags themselves, you need to use one of their operators such as the Oresund Consortium. We would suggest that the EasyGo tag is only worth doing if you're planning to cross to Norway over the Danish bridges and/or travel in Sweden.
If you choose not to have the tag (or the discounts), you only need to register with Epass24 who manage billing and collects monies on behalf of AutoPASS, who is the toll system operator (until April 2021, the collector was Euro Parking Collection, so if you registered with them previously, you'll need to do so again with the new provider). Once registered, you can choose to get your invoice monthly by email and pay with a credit card or make payments via a linked credit card as you go.
It is not compulsory for you to have the electronic toll tag, even if you are over 3.5t – this rule is for commercial vehicles only. But, the tag does provide a 20% discount on the car rate if you decide to have one. Without the tag, the rate that motorhomes over 3,500kg are charged is typically 2-4 times the car rate.
If you don't register, your license plate will be identified via ANPR and you'll receive a bill in the post from Epass24 with an assumed class and emissions category, and a charge for not registering. Even though the UK is no longer a part of the EU, information-sharing agreements with the DVLA remain in place and Norway is pretty ruthless about tracking down no-toll payers.
There is no manual way of paying tolls whilst travelling Norway, other than the Alesund Tunnel.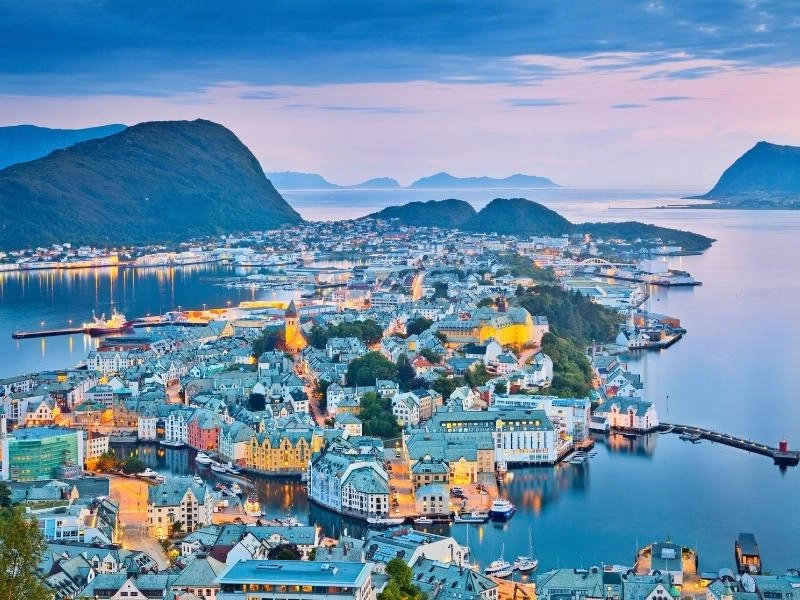 Low Emission Zones
There is a combined congestion and low emission zone in Oslo called the Oslo Charging Scheme. The cost of entering the LEZ is calculated within the toll charges for driving in Oslo and is dependent on the Euro standard and fuel type. No sticker or vignette is required – AutoPASS will collect the toll along with your other tolls.
Oslo also operates emergency measures and closes to diesel traffic when emissions are high. 24 hours' notice is given of any closure, you can check here for updates and current status.
Elsewhere in Norway, there are low emission zones in Bergen and Kristiansand, operated under the Bergen Charging Scheme and Kristiansand Charging Scheme. All three LEZ will be charged using the AutoPASS system.
But who wants to drive into a capital city in a motorhome or campervan anyway? Park or camp outside and use the excellent public transport system to get into the city centre.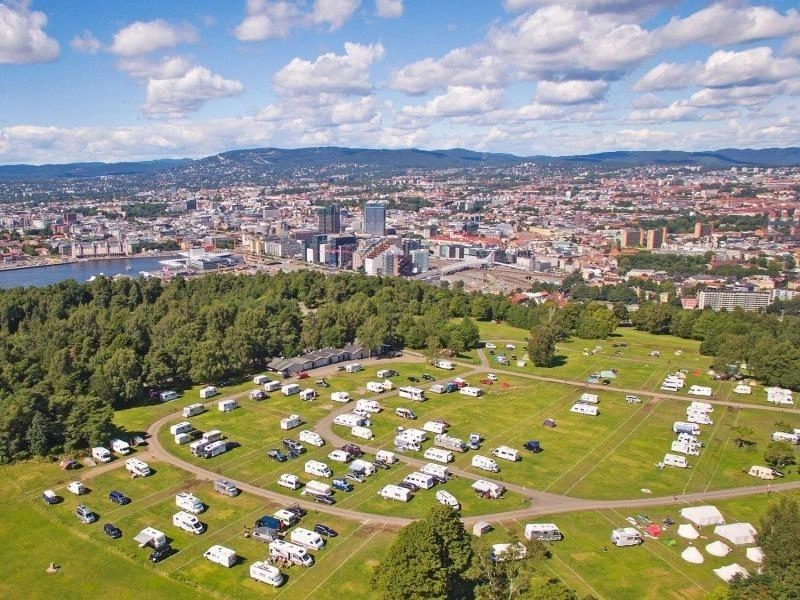 Fjord Ferries
From time to time, you will need to take a car ferry across a fjord. This is not a fjord cruise, but a quick crossing designed to get you from one place to the other as fast as possible, a bit like public transport.
It is not complicated, the road stops with no option to take another route and there is a ramp for a ferry there. Google Maps or your sat nav will know this and direct you accordingly.
There are generally two car ferries passing each other in the middle, and the operation of getting vehicles on and off is pretty slick.
Usually, the ticket seller will come to your van with a mobile card device and dispenser. Expect to pay around NKR120 for every ten minutes of ferry time in a class 2 campervan or motorhome, or use your AutoPass electronic toll tag to pay.
We loved this part of touring in Norway by campervan, it somehow felt more exciting than driving the M25!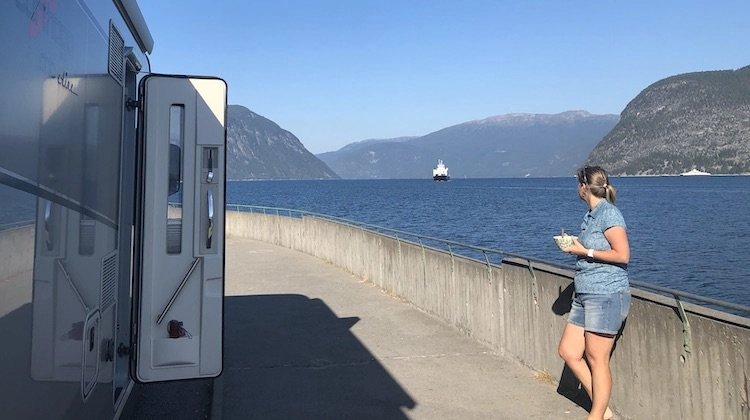 Campervanning in Norway FAQs
Can I park a campervan anywhere in Norway?
You can park a motorhome or campervan on the street or in a car park in Norway. You can also stay the night on private property if you have permission from the owner. The allemannsrett (all men's rights) Norwegian law means that you can camp anywhere in Norway where the land is not owned or cultivated or where there is no signage forbidding it.
How do I get from UK to Norway by motorhome?
You can get from the UK to Norway in a campervan or motorhome by crossing the English Channel to the continent, driving north into Denmark and crossing the Storebaelt Bridge and Oresund Bridge to Sweden before driving into Norway, or by taking a ferry to Norway from Germany, Denmark or the Netherlands. There is no direct ferry from the UK to Norway.
Is it easy to campervan in Norway?
Yes! Norway is a hospitable nation and welcomes van lifers who want to explore the diverse and stunning landscapes of the country. It may cost a little more than van life in Spain, for example, but it's a real bucket list destination and well worth the effort and cost.
Is it safe to wild camp in Norway?
Absolutely. We have visited Norway twice in a motorhome, for several months each time. We usually spend about 80% of our time camping off-grid and Norway was no different. We loved the friendly people and the huge open spaces and never felt unsafe wild camping in Norway.
Campervan Services in Norway
Motorhome service points are pretty widespread and usually free although you might need a coin or two for a CamperClean automatic toilet cassette emptying machine if there is no other option.
You'll often see water and waste services in petrol stations, and Park4Night is an excellent way to find campervan and motorhome services as you travel Norway. You can also find information on BobilVerden and BobilPlassen websites.
Camping in Norway
Norway is very tolerant of campervan visitors and although numbers have increased exponentially over the past five years, we felt welcomed wherever we went.
You'll be able to find camping outside all the major cities and near all the top places to visit in Norway.
Wild or Free Camping in Norway
The allemannsrett (all men's rights) Norwegian law was enshrined a long time before travelling in campers became such a popular way to see the country, but the spirit of the law stands and the best part is that it seems to cover campervans and motorhomes.
The gist is that you can practice off-grid camping in Norway where the land is not owned or cultivated or where there is no signage forbidding it.
Follow the usual free and wild camping good practice and don't overstay your welcome – we would suggest one day and certainly no more than 48 hours in the same spot. Use Park4Night to find wild camping spots and best places for free overnight parking.
Always follow the 'leave no trace' principle, take your rubbish, black and grey waste with you or dispose of it in the proper place.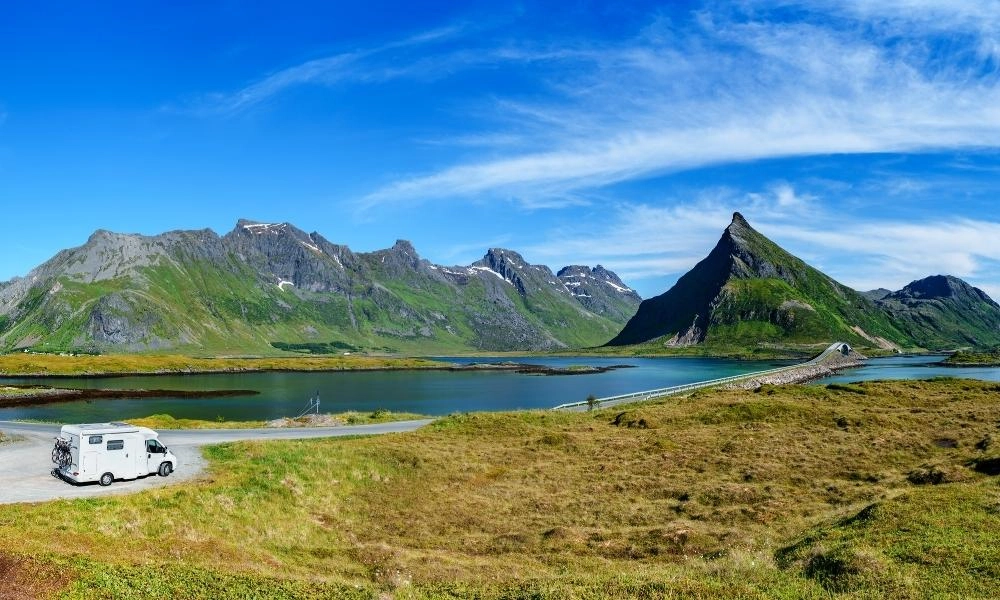 Campsites in Norway
There is a good network of campsites for camper vans and campers with tents in Norway, although most cannot be booked and seem much more transient than those on the continent.
All have small sleeping huts or cabins to rent for hikers and offer kitchen facilities where groups of people can cook and eat together. This works well for those in touring cars with a rooftop tent or with a mini camper, where cooking facilities are limited. Visit Norway has a great blog post on the top ten motorhome and campervan sites in Norway which you may find helpful.
Norway camping sites don't usually have bars or restaurants and people tend to retire early and rise early. Expect to pay between NKR250-400 a night, including electricity. There are normally extra charges for a hot shower, typically NKR50-60 for five minutes.
Find motorhome sites Norway with Eurocampings, who have over 200 campsites across Norway, perfect for campervans and motorhomes. Some campsites are more informal than others and it's not always possible to book overnight, but campervanners tend not to stay for long periods and pitches become available daily.
Campsites you find on Eurocampings will also accept CampingCard ACSI, which gives over 60% discount on Norwegian campsites outside of high season.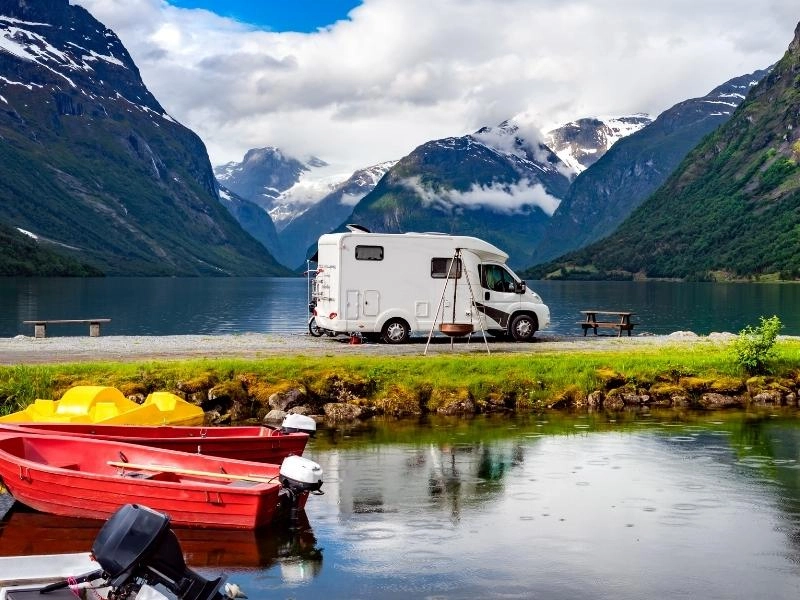 Motorhome Aires Norway
There are also good camping aires with motorhome and campervan service points across Norway, where you can find overnight motorhome parking and services like fresh water and cassette emptying.
Use Park4Night or BobilPlassen (bobil means motorhome in Norwegian) for up-to-date information about locations of rest areas and facilities.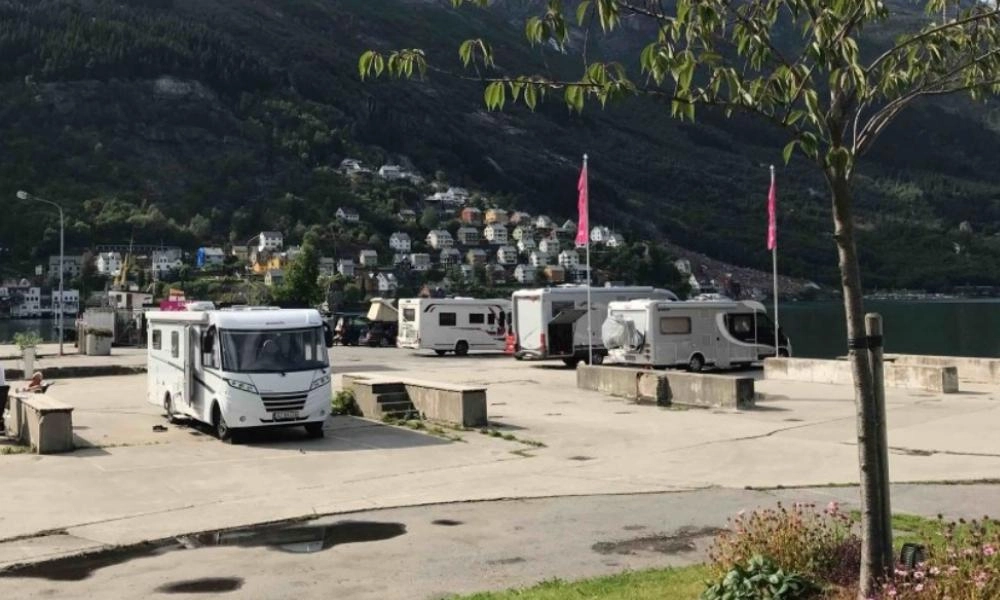 Nortrip
Similar to France Passion, which provides free campervan stops in France, Nortrip connects motorhome travellers who want to experience authentic Norway with hosts that have something special to offer like local farms, dairies, microbreweries, musuems, cideries and mountain shielings (smallholdings).
A physical book and an app, the Nortrip scheme allows members to stay on their hosts land overnight. Some hosts offer facilities, but not all do, and there is no obligation to buy.
For those travelling through Denmark to Norway, you'll be please to know there is a similar scheme, called Pintrip.
---
Norway Campervan Essentials
---
Motorhome & Campervan Destinations in Norway
Wherever you go on your Norway campervan trip you'll be wowed by the starkly beautiful landscape, with glistening deep blue fjords, dramatic mountains, ancient glaciers and waterfalls everywhere you look. If you can't decide where to go, check out our three ready-made Norway road trip itineraries, for the best campervanning in Norway!
If you like being active…
If you've ever looked at those amazing images of people perched on tongues of rock, practising yoga on sheer cliffs or star-jumping off precipitously balanced boulders whilst gazing out over sparkling blue fjords, these three great hikes are for you!
Preikestolen
Pulpit Rock, or Preikestolen, is an easy 7.6km hike with a small elevation gain of 334 meters, and can be done in half a day with an early start. The best option is to begin the hike at the trailhead in Preikestolenhytta where you can park easily, or camp nearby.
There are zero facilities on the Pulpit Rock hike, so make sure to go prepared and take additional clothing as the weather in the fjords can be unpredictable.
Kjeragbolten
From Preikestolen, you can take the Lysebotn-Forsand car ferry along the Lysefjorden for the next stop, the Kjeragbolten hike. Kjeragbolten is a giant boulder wedged in a crevasse at 1084m on Mount Kjerag, the highest peak in the Lysefjorden. You can also base jump and climb here.
The hike to Kjeragbolten is around 11km long with 800m of altitude gain, and the round trip takes about seven to ten hours depending on your fitness and experience. You need to be in good physical shape and have some hiking experience before attempting this route.
The starting point is at the parking lot at Oygardstol, where there is also drinking water available. Just getting there involves a pretty spectacular drive up the Fv500 with hairpin bends aplenty! If you want to stay close overnight, try this wild camping spot further up the hill.
Trolltunga
Odda is a great place to base-camp for the infamous Trolltunga hike through the glorious Folgefonna National Park. The most challenging of these three famous Norway hikes, the route is 20km across mostly flat terrain, but the path can be tricky underfoot and the weather changeable.
Hiking Trolltunga is not for the faint-hearted or unprepared but is an absolute must-do on your Norwegian campervan road trip.
RELATED POST: Norway Road Trip Itinerary – Three Unmissable Routes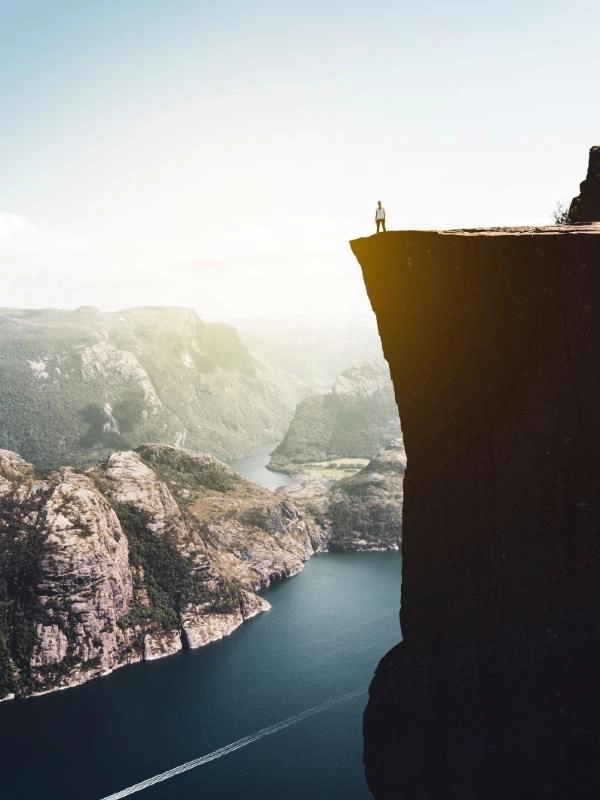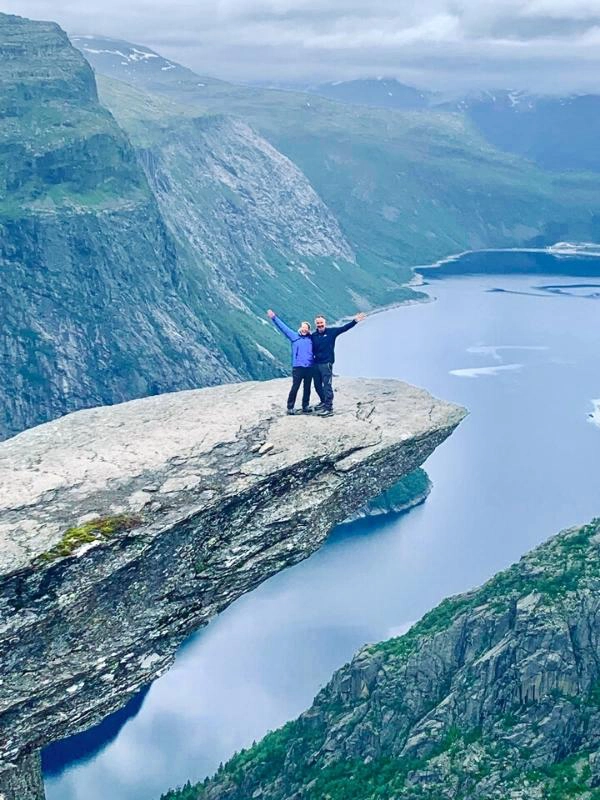 Flam
Popular with motorhomes and road trippers, Flam is a small village right at the top of the beautiful Aurlandsfjord.
Surrounded by towering mountains, waterfalls, fjords and rushing rivers, this is a playground for hikers, water sports enthusiasts and mountain bikers, and is also home to the spectacular Flamsbana railway, considered one of the most scenic train rides in the world. Taking the railway to Myrdal and cycling back to Flam on the Rallar Road is a unique experience and sure to be a highlight of your stay.
From Flam you can follow the magnificent Sognefjord east to the stunning Jotunheimen National Park and into the 'Giant's Home', a fitting name for this vast and soaring place where there are over 250 mountain peaks of almost 2000m high, and some of Norway's very best scenery.
RELATED POST: Flåm Norway: Visitor Guide & Tips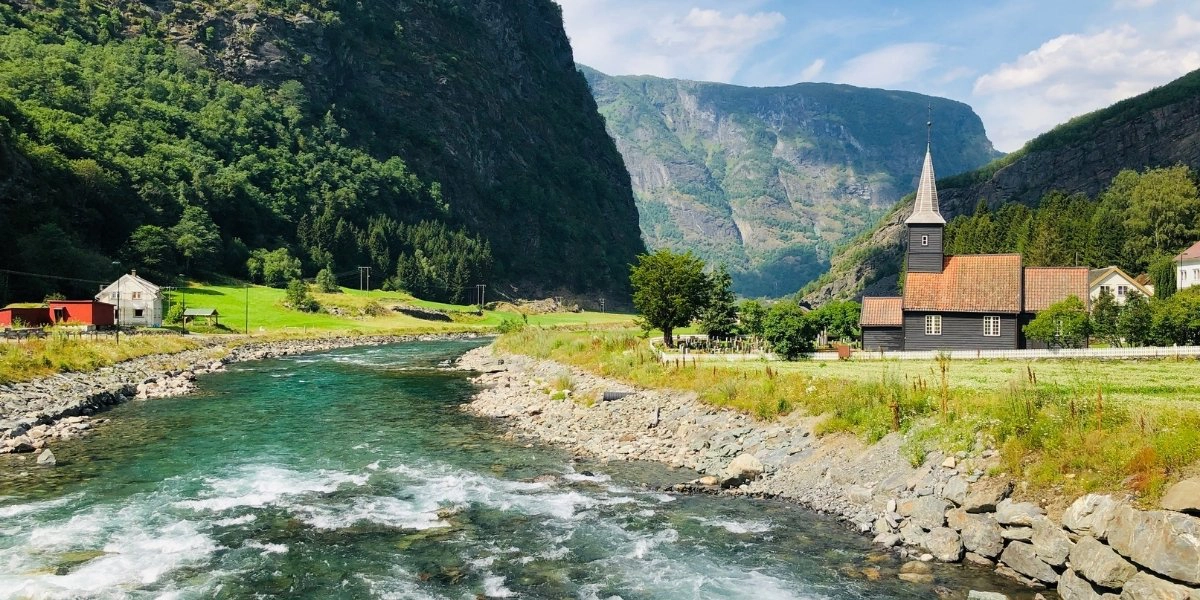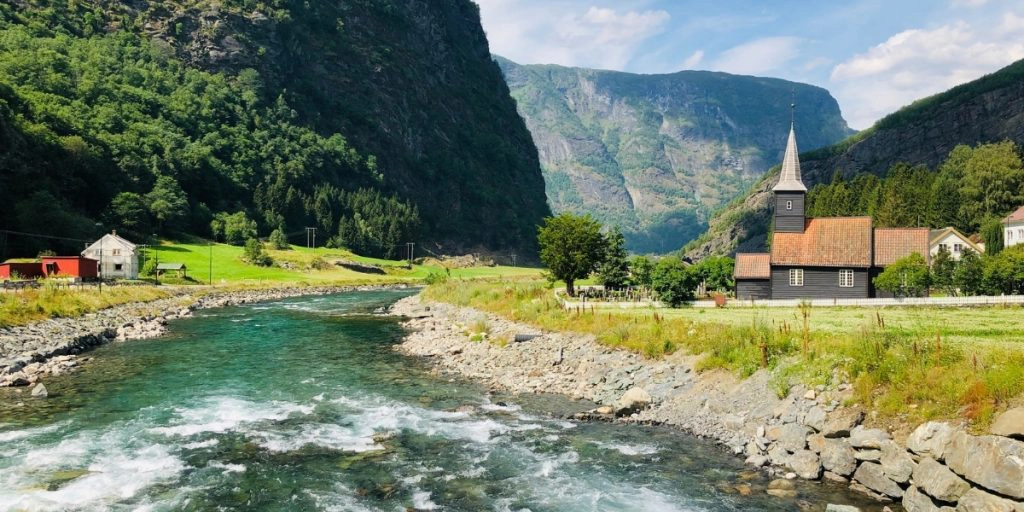 Loen
Loen is where you'll find the amazing skylift which takes you to the top of Mount Hoven for spectacular views of the blue-white Jostedal glacier. If you prefer to get to the top under your own steam, take the via Ferrata up and the zip-line down.
If sea-level activity is more your thing then head for the very Instagrammable, but glacial, Lake Lovatnet. Take a boat trip or go swimming and kayaking in the summer months, before stopping at Sande Camping, possibly the best motorhome campsite in Norway.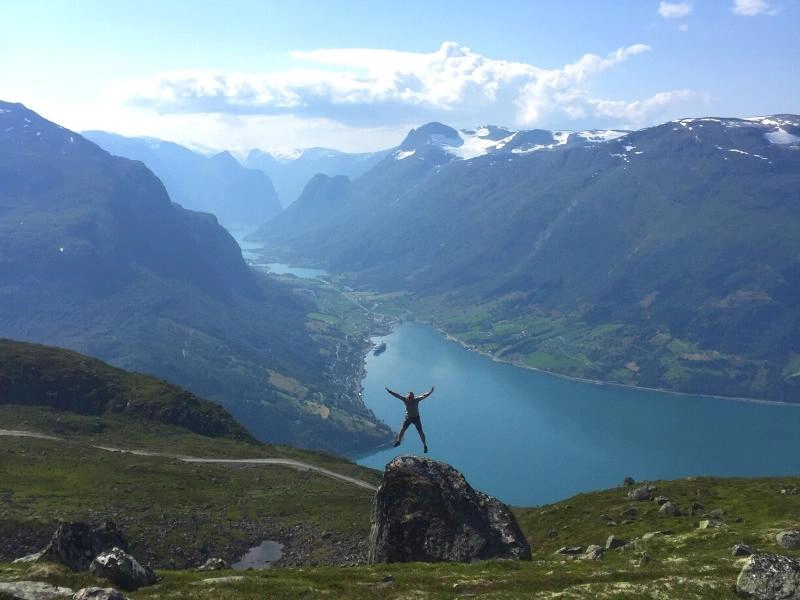 Geiranger
At Hellesylt, take the ferry through the UNESCO World Heritage Site of Geirangerfjord to the town of Geiranger itself. Expect the town and ferry to be busy, this area is one of the top road trip destinations in Norway.
As you leave Geiranger for Eidsdal and wind your way up the steepest section of route 63, along its eleven switchbacks hanging 700m above the fjord below, you'll understand why this scenic drive is called 'the Eagle Road'.
At the highest bend is the most breathtaking view over beautiful Geirangerfjord, and the location of the must-watch-before-you-go movie, The Wave.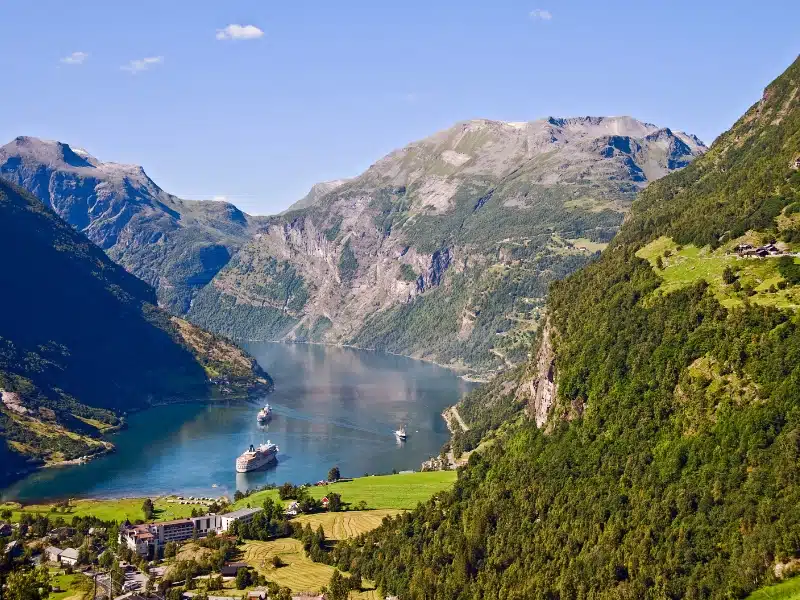 Lofoten Islands
One of the most stunning areas of Norway, the Lofoten Islands are where dramatic mountains meet brilliantly white sandy beaches, picture-perfect fishing villages of cute wooden houses dot the coastlines, and hiking trails snake their way through some of the most magnificent landscapes in Europe.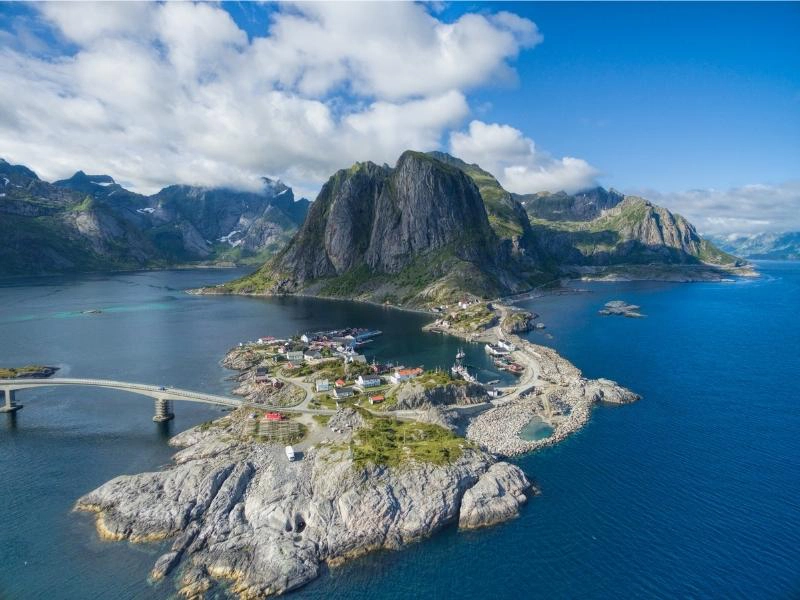 If you're all about the driving…
Trollstigen Mountain Road
The RV63 Trollstigen Mountain Road is one of the best driving roads in Europe. Incredibly beautiful, this road was opened in 1936 and includes eleven hairpin bends and a 9% incline.
Without a doubt, it's one of the most dramatic and scenic roads in Norway. Stop at the Ornesvingen viewing point for incredible vistas, and again at the top to admire the Stigfossen waterfall before heading on to stunning Geraingerfjord, one of Norway's eight UNESCO World Heritage Sites.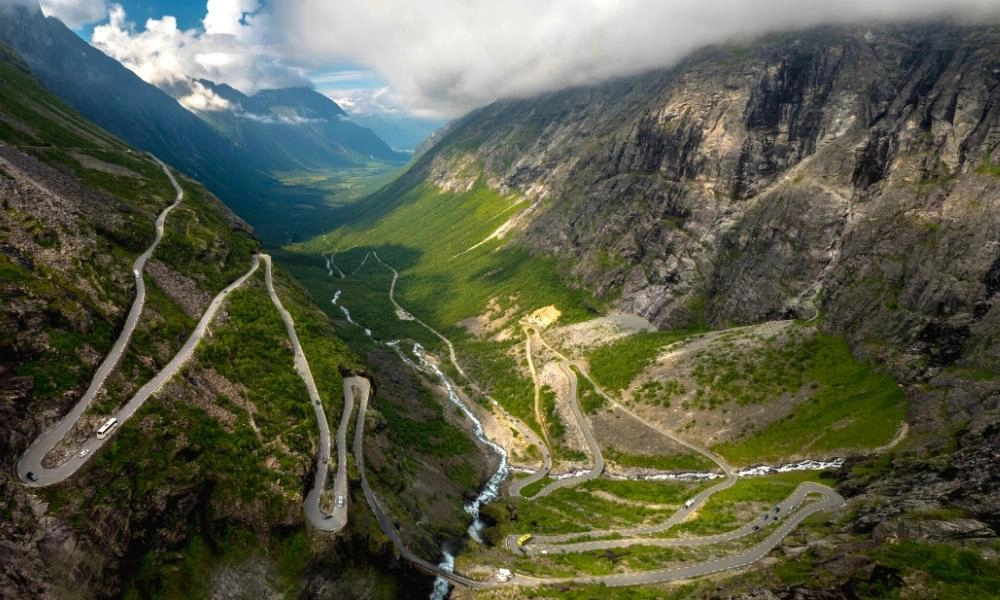 Atlantic Ocean Road
A fantastic visual experience, Norway's Atlantic Ocean Road snakes for around 30km across seven islands along the west coast like a silver ribbon dancing in the sunlight.
Award-winning, this road is a designated Cultural Heritage Site, a National Tourist Route, and has been recognized as the Norwegian Construction of the Century.
RELATED POST: Atlantic Road Norway: Absolutely Everything You Need to Know!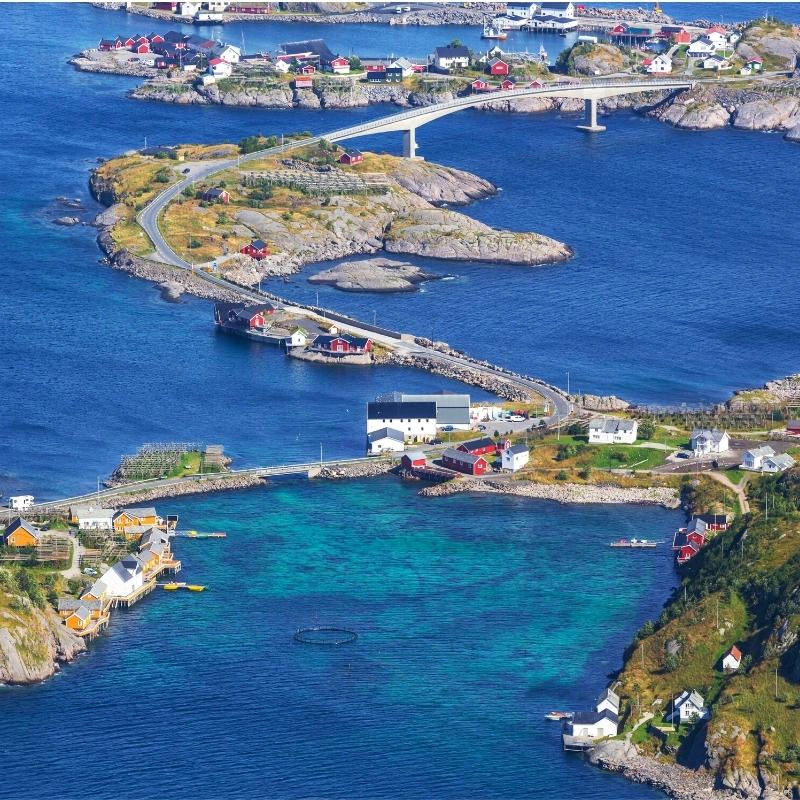 Kystriksveien Coastal Route
If you're heading to northern Norway, there are two different ways to get there. You can take the E6 Arctic Highway all the way or around 80km north of Trondheim.
But we think a far better way is to pick up the FV17 just after Steinkjer and take in the glorious landscape and coastal views from the magnificent Kystriksveien Coastal Route, one of Norway's most scenic road trips and an official Norwegian scenic route.
Taking this Atlantic road route will add quite a few kilometres, two days and six fjord ferries to your journey, but the detour will be so worth it! You'll cross into the Arctic Circle at 66 degrees, on the boat between Kilborghavn and Jektvik.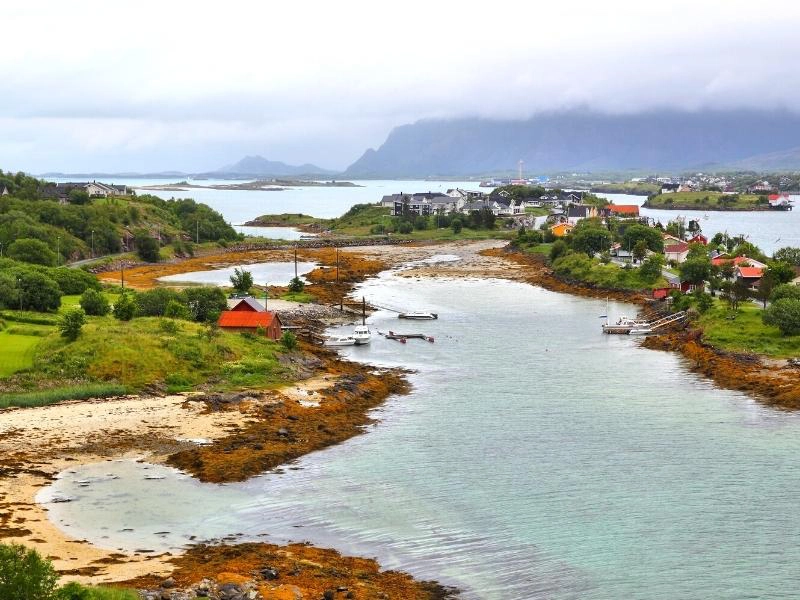 Norway Travel Inspiration
Norwegian Life
Norway is a vast country with only five million inhabitants, shaped by its Viking history, geography and unique farming culture, which is still alive and kicking today.
Things to Know About Norway
There are a lot of vans in Norway from many different EU countries; we were surprised by how many. But, this is a huge country and there is plenty of room for everyone, especially when you get off the beaten track, or head further north, whether you're going hiking in Tromso or chasing the northern lights.
Norwegian (and in fact most Scandinavian) society is based on Janteloven (the law of Jante) which at its simplest describes the way that all Norwegians behave; putting society ahead of the individual, practising humility, equality, respect, and simplicity. Wealth is not flaunted, people don't criticise others, and egalitarianism is key. This is not an actual law but describes how people should behave in society; it helped us as visitors to understand Norwegian culture and behaviour.
Almost all Norwegians speak English at an intermediate level unless they are older and live rurally.
Norwegians work to live; Koselig has no direct translation but influences Norwegian behaviour at weekends and holidays. This post by our friends at the Life In Norway blog explains the concept visually.
Norway is on the verge of becoming a truly cashless society and are streets ahead of many other EEA countries. It is completely normal to pay for a €3 iskrem using a card or ApplePay.
Recycling is important here; a pant (pledge) is charged on all bottles. You can return the bottles to the panteroom to get your deposit back or press a button and give your deposit to charity.
Norwegian people like their personal space. They will not willingly sit next to a stranger on the train or bus and prefer not to stand too close to others in queues. This is because there are so few Norwegian people in their huge country that they are used to having lots of room to move!
Most grocery shops will be closed on Sundays. Garages will sell basic groceries but at inflated prices so better to be prepared and shop on Saturday.
Alcohol in Norway is sold mainly by the state. Beer can be found in most shops but is only sold before 8pm on weekdays or 6pm on Saturdays and not on Sundays. For wine, spirits or stronger beer, you must visit one of the Vinmonopolet known to locals as pole, found in most large cities and towns. Tax Is levelled on all alcohol with more than 0.7% by volume of alcohol and is pretty hefty, making booze really expensive.
Food & Eating Out in Norway
Norwegian food can be excellent. Abundant seafood, local specialities such as reindeer, and a growing trend towards using hyperlocal, seasonal ingredients are undoubtedly the highlights.
Norway loves meat; reinsdyrstek (reindeer) should be sampled if you are a meat eater and should be eaten on the rare side for the best flavour. Beef, lamb and venison are also popular and cheaper than reindeer.
Vegetarian food is becoming more and more popular and we found multiple options of plant-based dishes on most menus.
Salmon is the most eaten fish; farmed is much, much cheaper than wild salmon and often tastes just as good.
You will also come across lots of raw, salted, dried and cured fish… it's definitely an acquired taste but necessary when fishing is difficult as all the fjords are frozen.
Potatoes are served with almost every dish, especially if you are eating out in a rural town or traditional restaurant.
Berries are delicious in Norway, they take longer to ripen and are thus more juicy and bursting with flavour. The raspberries are the largest and best we've ever eaten, expect to pay around NKR350-450 for a punnet.
Other berries include strawberries, blackcurrants, red currants, blueberries (sometimes called huckleberries), which grow on open uplands; blue, swamp-loving bilberries; red high-bush and low-bush cranberries and the famous moltebær (cloudberries) which are highly prized and considered a delicacy. They grow one per stalk on open swampy ground and in Norway cloudberry patches are zealously guarded. Cloudberry jam is amazing with brown goat's cheese (yes brown!) and fresh or sour cream on a fluffy pancake!!
Brown goat's cheese or brunost is a Norwegian staple and is eaten at all meals. It has a distinctive caramelised flavour and delicious taste which is rich and creamy – you should definitely try it!
Breakfast in Norway is coffee, some sort of crisp bread (often the dieter's favourite, Ryevita) with cucumber and tomatoes and maybe a boiled egg or pickled herring. You may find cafe's selling toast or croissants and pastries in larger towns.
Lunch is an open sandwich with meat, fish or eggs, and dinner is usually the hot meal of the day, served between 4pm and 6pm in the winter months, and considerably later in the summer.
We would say to avoid torsketunger (cod's tongues) and rakfisk (fermented trout) unless you are a particularly hardy type with the constitution of an ox!!
If you get the opportunity, try the national spirit akevitt (aquavit), a potent dose of Norwegian culture made from potatoes and caraway liquor. Although caraway is an essential ingredient, various modern distilleries augment the spicy flavour with any combination of orange, coriander, anise, fennel, sugar and salt. The confection is aged for three to five years in 500 litre oak barrels that have previously been used to age sherry. Just go slow and don't drive afterwards!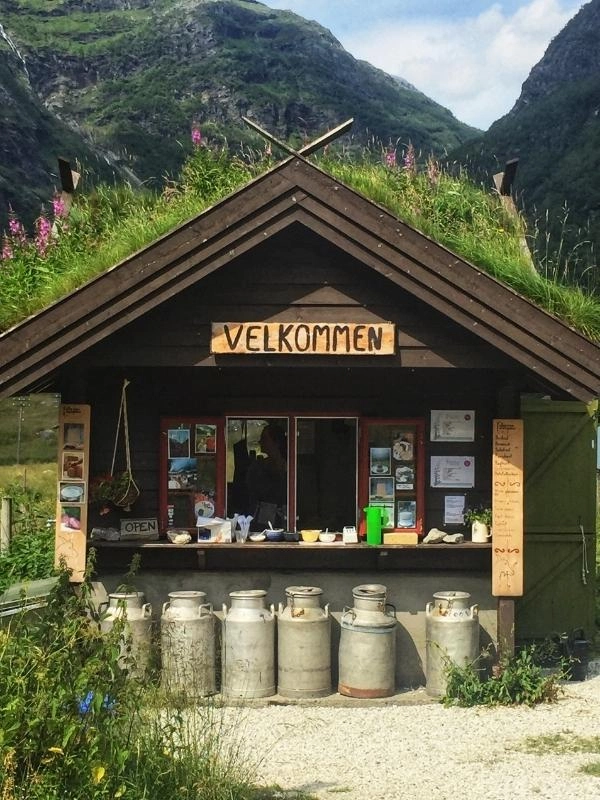 Are you looking for more motorhome touring guides? Check out these top posts…
New Zealand is an absolute dream for campervan enthusiasts. The breathtaking landscapes, diverse wildlife, and incredibly friendly locals make it the perfect destination for your next campervan adventure. We'll will provide you with all the tips, tricks and insider knowledge to make your vanlife experience in New Zealand truly unforgettable. So, buckle up and get ready for an adventure of a lifetime!
Love it? Pin it!