This post may contain affiliate links, from which we earn an income.
Flåm is a small village situated in Western Norway, surrounded by steep mountains, thundering waterfalls, turquoise fjords and truly spectacular scenery.
Perfect as a stopping point on a Norway summer road trip, Flåm has a lot to offer visitors. From adventurous activities and fjord sports to cute ice-cream parlours and traditional cuisine, as well as scenic day trips, there are things to do in Flåm for everyone.
In Flåm travel guide you'll find information about getting to Flåm, campsites and hotels, all the best things to see and do including top outdoor adventures and activities, and lots of Flåm travel tips to help you have the best time.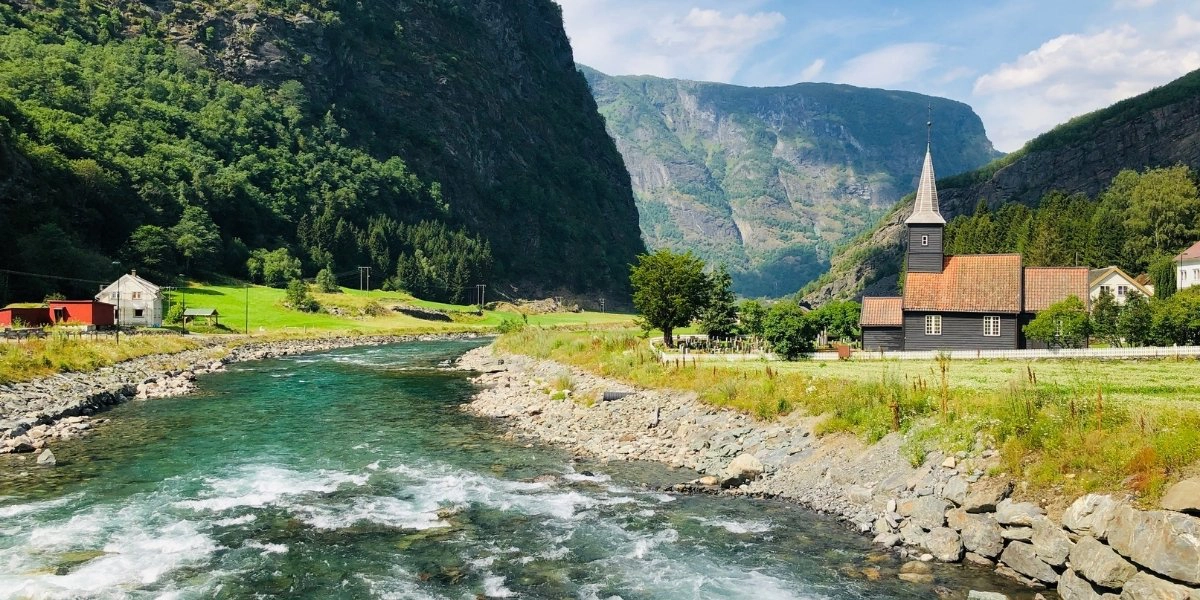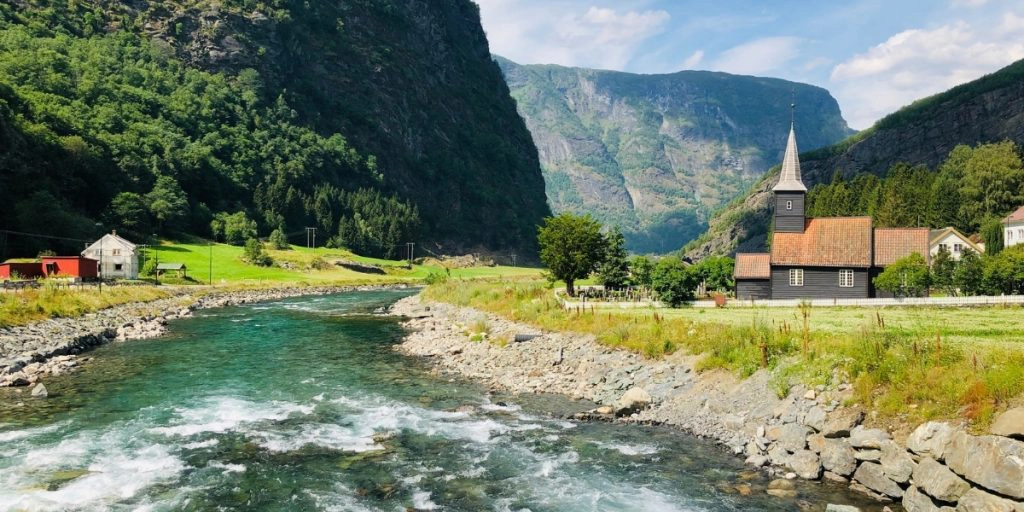 Interesting Flåm Norway Facts
Flåm is pronounced 'Flom'. Did you know that the Norwegian alphabet has three more letters than the English alphabet? They are æ, ø and å, pronounced "ee", "ur" and "haw" respectively.
The permanent population of Flåm is approximately 350 people.
Flåm receives 450,000 visitors a year from both the Flåm railway line and cruise ships and is on every Norway in a Nutshell tour.
Flam sits on the Aurlandsfjord, the innermost branch of the Sognefjord, the world's deepest and second longest fjord and a UNESCO World Heritage Site. This fjord stretches halfway to Sweden!
Around 160 cruise ships dock in the harbour every year.
Is this your first time visiting Norway? Get all the information you need in our Norway Travel Guide, including what to pack, the best time of year to go, getting there and practical tips to help you have the best trip!
Where is Flåm Norway?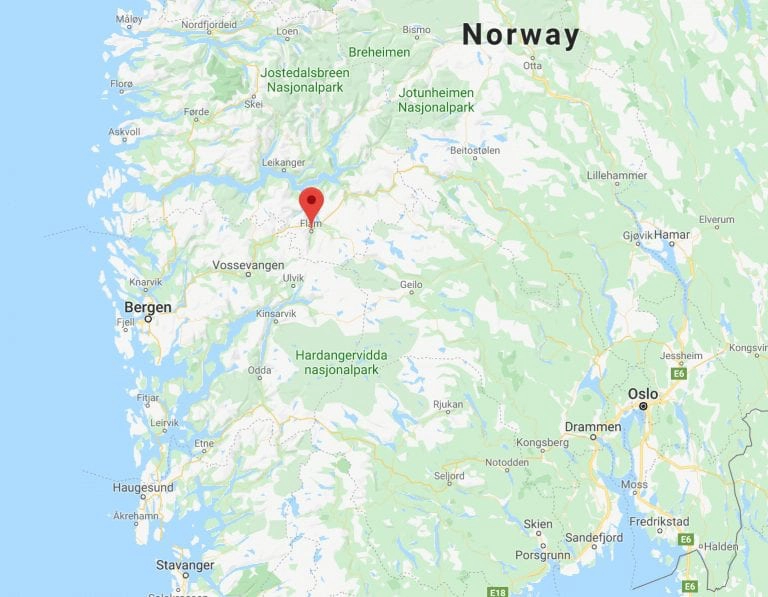 Getting to Flam
Driving to Flam
Getting to Flåm by car, motorhome, campervan, or motorbike once you're in Norway is pretty straightforward. Flåm is easily accessible to road vehicles, it lies on the E16 between the major cities of Oslo and Bergen.
Driving from Oslo to Flam will take just over five hours, and from Bergen to Flam, just under three hours.
You will encounter lots of tunnels under the Norwegian fjords and some high mountain passes dependent on your route, but all the roads are well-maintained and wide enough for large vehicles to pass with ease.
Don't forget to register your vehicle on the Autopass website so you are billed correctly for toll roads.
Are you visiting Flåm as part of a road trip? Find your perfect Norwegian road trip route with our guide to the best road trips in Norway, including maps, itineraries and Norway travel tips.
Flying to Flam
The nearest airport is Sogndal Airport Haukåsen, 90 minutes by car from Flåm. Widerøe operates several daily flights to and from both Bergen and Oslo.
Getting the Train to Flam
You can also get to Flåm Norway by train from Bergen. The famous Flåm Railway connects with most trains on the Bergen Line between Oslo and the beautiful city of Bergen. It's a spectacular train ride which we cover later in the post.
Getting the Ferry to Flam
Of course, you could always get there on the Flåm ferry. Between 1 May and 30 September, a daily Norled Express ferry runs a round trip from Bergen to Flåm.
In the summer season, the express boat operates between Flåm and Balestrand, perfect for a day tour. Find practical information, timetables and prices here.
You can also take the King of the Fjords one-way or round trip cruise from Bergen, with same day and overnight options available, meaning you can spend one day in Flam before returning to Bergen.
Finally, many people take a scenic cruise to Flåm Norway each year, exploring Norway and the beautiful fjords as they go, or doing the Sognefjord in a Nutshell Tour.
Day Trips to Flam
Taking a day trip from Bergen to Flam is a great way to see more of Norway in less time! These are our top picks of the best day trips to Flam – book well in advance though, these trips are super popular!
When to Visit Flåm
May – September
Flåm is alive and bustling during the summer months and as the snow has gone, it's the ideal time to visit in a motorhome or with a tent. The days are long, and most adventures and outdoor activities are accessible so if you want to visit Norway with kids, now is a great time.
If you're lucky, temperatures during the day might rise above 20°c, but at night the temperatures might drop to below freezing point so warm clothes are still required, although you may be in shorts during the day!
October – December
Like most other parts of the country, Norway weather can be unpredictable and at this time of year you might experience heavy winds one day and bright sunshine the next. You're likely to see snow in November and December, perfect for winter sports.
January – April
A winter wonderland of frozen waterfalls and snow-covered mountains best describe Flåm in this season. Fjord cruises still operate during the winter and there will be plenty of snow based activities and typical Norwegian excursions on offer. Check out this excellent post for information about visiting Flåm and things to do in Flåm in winter.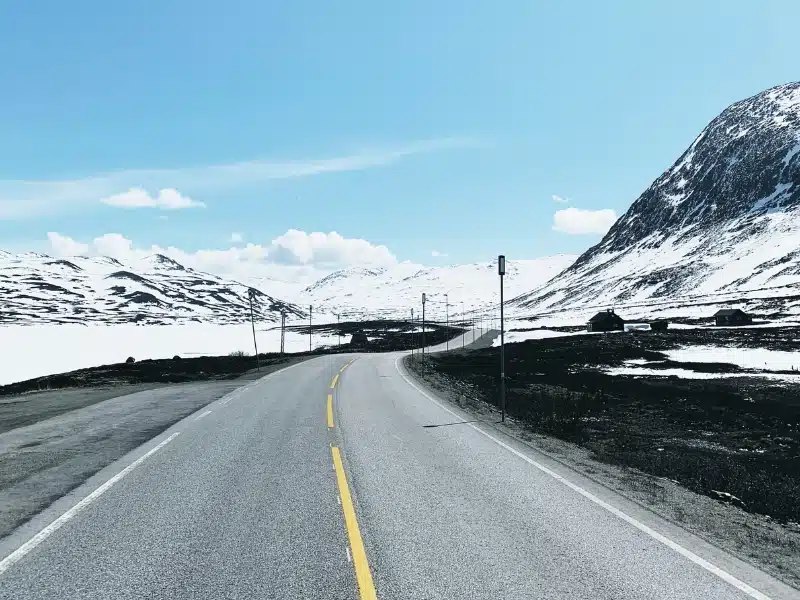 Make sure you have travel insurance you can trust when visiting Norway. We recommend True Traveller for their 5-star TrustPilot reviews, variety of cover options, best activities cover as standard, great prices, and excellent service.
Where to Stay in Flåm
Campsite & Hostel
If you want to be in town, at the centre of most activities and within walking distance of the railway, excellent tourist information office and fjord, then you should stay at Flåm Camping og Vandrarheim (also known simply as Flam Camping). This is a friendly site, with terraced grass pitches, a hostel and cabins with a variety of room types for back-packers and travellers.
The facilities are clean although we found we queued for showers most days (although only at peak times) and the queue for motorhome services is usually long unless you leave very early or very late!
It is possible to book the hostel and cabins on their website. If you are in a motorhome of want to pitch a tent, get to the campsite early. By 4pm during high season it will be full on most days and pitches cannot be booked in advance. Wild camping in the area is limited and there is signage at all the main car-parks in town forbidding motorhomes staying overnight and in some there is no motorhome parking at all.
Hotels
Stay at the Flåmsbrygga Hotel (Booking.com | Agoda) for its superb central position and cosy traditional decor. The hotel boasts a Norse styled pub and restaurant with a micro-brewery, great for a relaxed evening after an activity packed day.
The Flåm Marina (Booking.com | Agoda) is a low-rise whire building next to the marina, and slightly away from the hustle and bustle of the port. With a choice or rooms and self-catering apartments, this is a great choice for families, or for those planning a longer stay in Flåm.
For a real treat, stay at historic Fretheim Hotel (Booking.com | Agoda) in the centre of Flam. The white clapboard building is a focal point of the town, inside you'll find modern rooms and a restaurant showcasing the best of Norway's seasonal and local foods.
Other Norway Travel Guides
Top Things to Do in Flåm Norway
Travel on The Flåm Railway (Flåmsbana)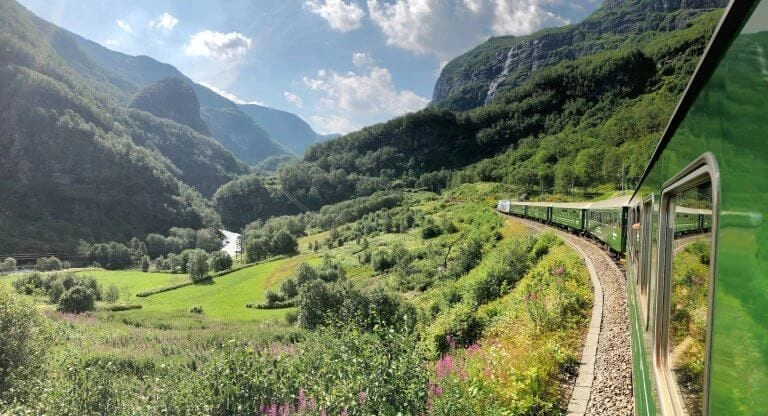 Billed as one of the most scenic railway routes in the world, this truly spectacular train journey is a must if you are in Flåm. The Flåm Line is a 20km long railway line between Myrdal and Flåm and a brach line of the Bergen Line, it runs through the valley of Flåmsdalen and connects the mainline with Sognefjord. The line's elevation difference is 866m; it has ten stations, twenty tunnels and one bridge.
The Flåm railway is considered one of the most beautiful train journeys in the world and there are certainly some incredible views. The train stops at the 225m Kjosfossen Waterfall, where there is a viewing platform.
As you get off the train, a mysterious woman appears in a red dress singing; she is Huldra, a forest spirit from Norse mythology who lures men into the woods, never to be seen again! At the end of her performance it seems that she falls into the waterfall… we never did find out whether that was theatrics or not!
You can do a return journey from Flåm to Myrdal and back or you can cycle, hike or zip-line down the valley and make it a real Flåm railway adventure!
Before hopping on the train, check out the Flam Railway Museum, which is situated in the railway station itself, and free to enter. You only need 15 minutes and can find out about the construction of the line, which is actually really interesting.
There is a large ticket office in Flåm (in the same building as Flåm Tourist Information) or you can book your Flam railway tickets online. We would strongly advise that you do book in advance, as this is one of the most popular attractions in Norway.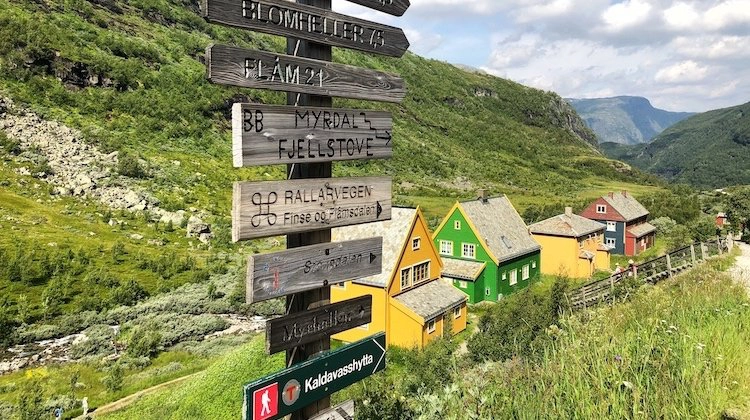 Cycle or Hike the Rallarvegen from Myrdal to Flåm
Take the Flam train to Myrdal and cycle or hike back down the Rallarvegan road to Flåm. You can take your bikes on the train or hire them at the stations in Flåm or Myrdal.
If you book online to take your own bikes, go to the ticket office to exchange your online tickets for tags to hang on your bikes or you won't get loaded.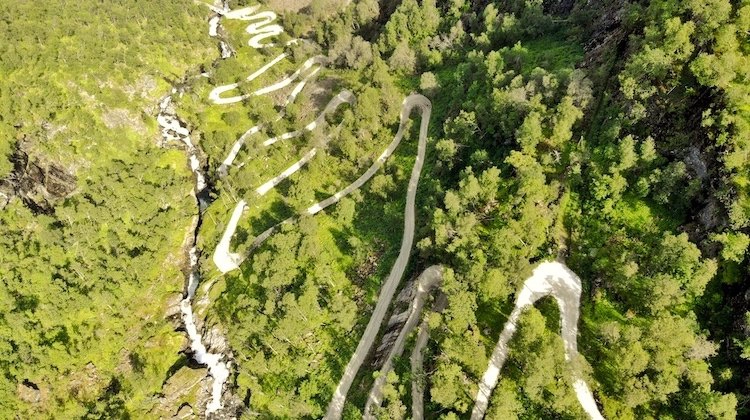 The cycle/hike down is around 20km, with the first 2km being on gravel switchback paths called the Myrdal Bends, which can be quite steep. We got off and did a bit of pushing here rather than pedalling!
It is a stunning route, through pastures surrounded by steep mountains and waterfalls at every corner. The track follows the gorgeous Flåm river which alternates between gentle meandering and angry boiling through narrow gorges and over enormous boulders… wild swimmers we may be, but this is not a river for messing about in!
Stop on the way at the Rallarrosa Stølsysteri Farm where you will be able to sample various local to Flåm food such as goats cheese, goats milk products and the delicious local apple juice.
You have to try the goats cheese and cloudberry jam pancakes… they are to die for!! The goats are very friendly too, they will nuzzle you and look for attention; it can be difficult getting through them on a bike!
Take the Flam Zipline
An alternative route down is to take the ziplane from just below Myrdal at Vatnahalsen (clearly signed from the Rallarvegen Road) to the Rallarrosa Stølsysteri Farm, from where you can cycle/walk back down to Flåm.
Not for the faint-hearted, Scandinavia's longest zip-line, 1381 meters long will whizz you down the valley at around 100kmph, with the most amazing views on the way.
Your backpacks and bikes will follow after you in a cart! For more information, click here.
Go Fjord Paddling
You have to get out onto the water here; sea kayaking and SUP (stand up paddle) on the Aurlandsfjord is an experience you won't forget!
We booked a kayaking fjord safari through Sea Kayak Norway, who provide 3 and 4 hour guided tours which can be combined with local hiking. You will learn about the landscape, local wildlife and life in Norway whilst paddling!
Be aware that these kayaking excursions are designed for beginners and there is extensive (at least 1 hour) on shore instruction and a safety brief before you can start and then you are required to stay with the group. This is perfect for families but if you are an experienced kayaker you may find it a little tame.
A good alternative is to carry your own kayak and SUP, either rigid or inflatable, and take to the fjords under your own steam. You may well see porpoises and seals on your journey; it's a great way to see the fjords in Norway.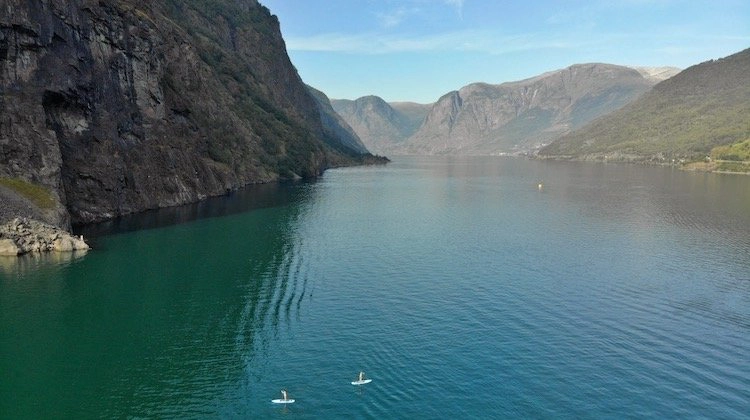 Visit the Stegastein Viewpoint
This incredible and beautiful structure juts 30m out from the mountainside, 650m above the Aurlandsfjord and provided jaw-dropping views of the fjord itself and surrounding mountains.
The Stegastein Viewpoint is open all year and can be accessed by line 850 bus from Flåm kryss, or you can drive there in 15 minutes from Flam. If you do drive, continue along the road north from the viewpoint – this is the Aurlandsfjellet National Tourist Route, and one of Norway's most scenic drives!
If you don't have your own car, and the bus doesn't appeal, take this highly rated small group tour to Stegastein from Flam. You'll get an audio guide and have plenty of time to take all those Instagram pictures!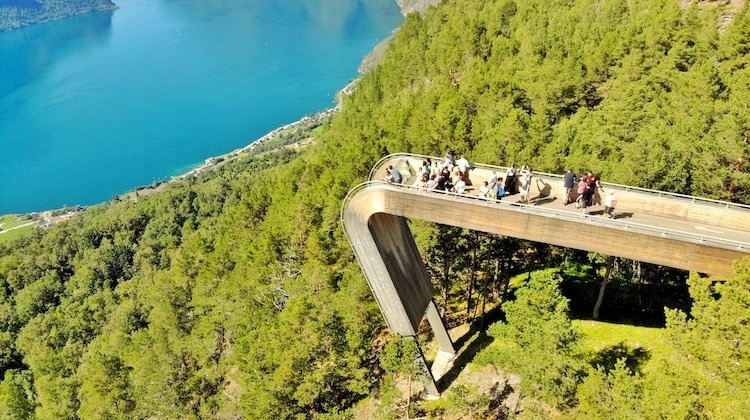 Explore the Viking Village
One of the best things to do in Gudvangen, the Viking village of Njardarheim sits high above the Nærøyfjord (dedicated to Njord, the god of trading and sailing) and gives an authentic glimpse into what life in the Viking valley was like.
Take the Viking villae experience guided tour, when you'll get to participate in some axe shoring and sample typical Viking food in this interesting living museum.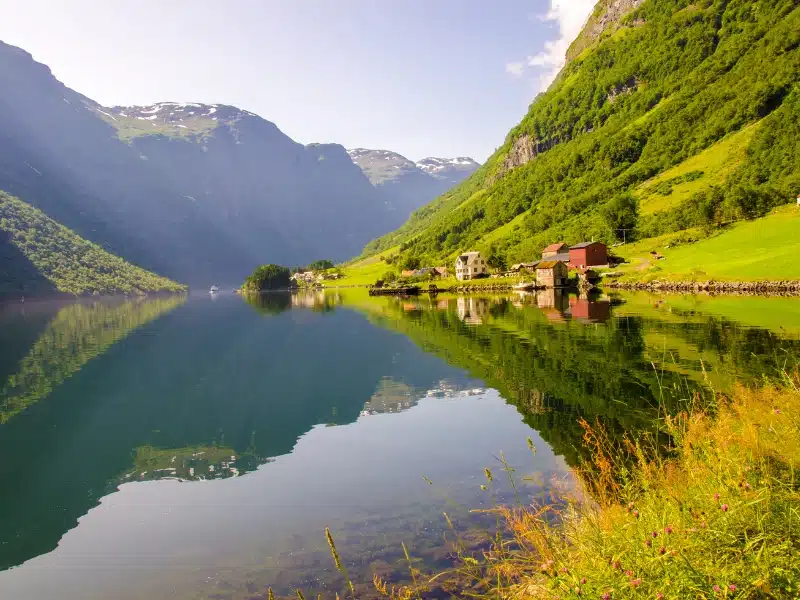 Bike & Hike to Brekkefossen Waterfall
Start your cycle ride from Flåm town centre up the valley alongside the Flåm river on Flamsdalsvegen for about 1 mile / 1.5km before taking the first bridge over the river. You need to cross and turn right to get to the parking, where you can leave your bike.
You'll see the start of the steep and rocky trail signed, and after 30 minutes of uphill hiking, the path opens onto a grassy ledge, with fantastic views across the town and fjord and to the waterfall.
You can find full details and a route map at outdooractive.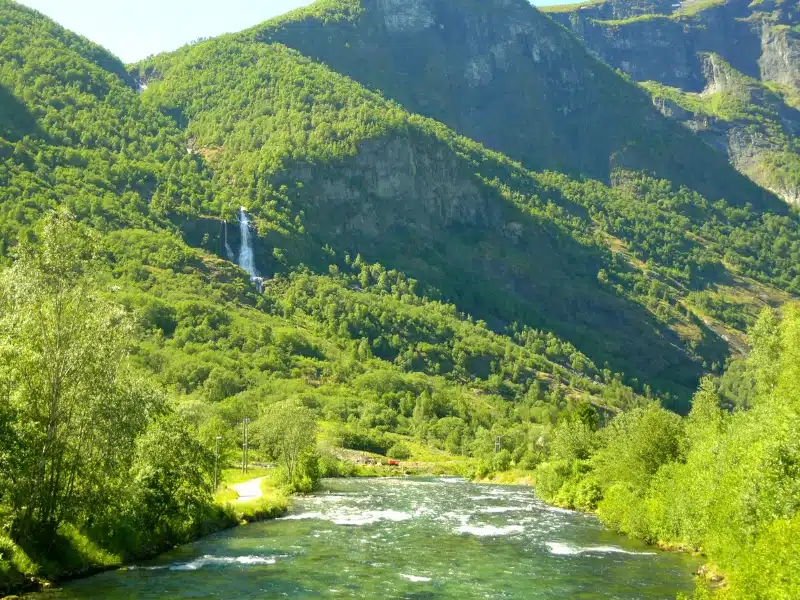 Take a Fjord Swim
Fjord swimming is a quintisential Norwegian activity, you cannot visit the country without going for a dip! There is nothing quite like looking up at the magnificent mountains and waterfalls as you float around on your back enjoying the water.
In the summer the water is surprisingly warm but don't expect it to be crystal clear due to the minerals and algae present in the warmer months.
There is a small beach in Flåm with a gentle entrance to the water, but be warned, it then becomes quite deep so only swim out if you are confident. There is no tide but you do get swells from various ships coming and going.
It is also possible to swim in the river as it comes down towards the fjord, by which time it has exhausted itself and flows rather than thunders!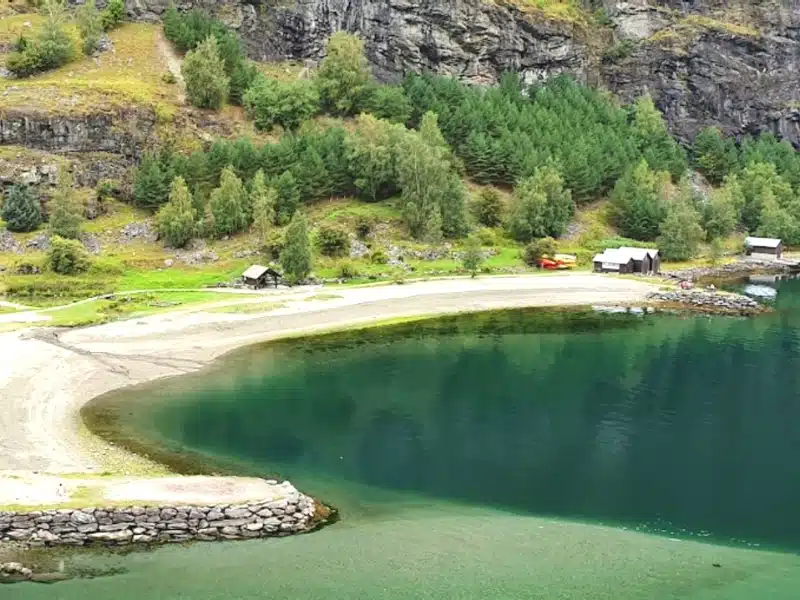 Cruise Nærøyfjord
Take one of the fjord tours from Flam to the narrow and dramatic Nærøyfjord, a UNESCO World Heritage List site. Environmentally friendly vessels offer a regular fjord boat tour from Flåm, taking two hours to get to Gudvangen, the innermost point of the Nærøyfjord before returning you to Flåm.
Alternatively, depart the ship at Gudvangen and return to Flåm by bus. Visit Norway's best website for more information and to book your cruise.
On the cruise, look out for picturesque Undredal village and it's 12th century stave church (once common in medieval northern Europe, stave churches are wooden structures with a post and lintel construction – a type of timber framing where the load-bearing pine posts are called stafr in Old Norse).
There's not a lot to do in the village itself and it can get busy with tour buses, it's one of those places best enjoyed from the water.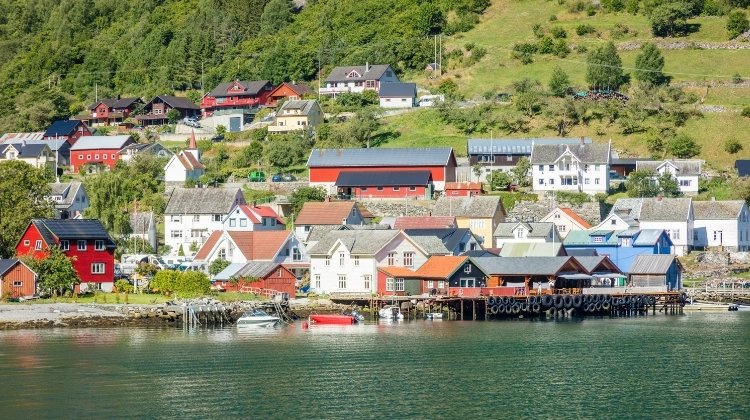 Visit Flåm Church
Flåm chuch is situated 1.8 miles / 3km up the Flåm valley. The small and beautifully formed wooden church constructed in 1667 makes for a pretty iconic Norwegian photograph and is set in a stunning location.
The altar piece and decorations of the choir date from 1681 and depict grapevine patterns. The church nave was decorated some time in the 18th century with pictures of deciduous trees and different kinds of animals, these are unique of their type as church art.
This is one of the best walks in Flåm and offers a bit of respite from the town, which can be very busy on cruise ship days. Sitting by the church looking across bubbling river you get a real sense of the true Norway.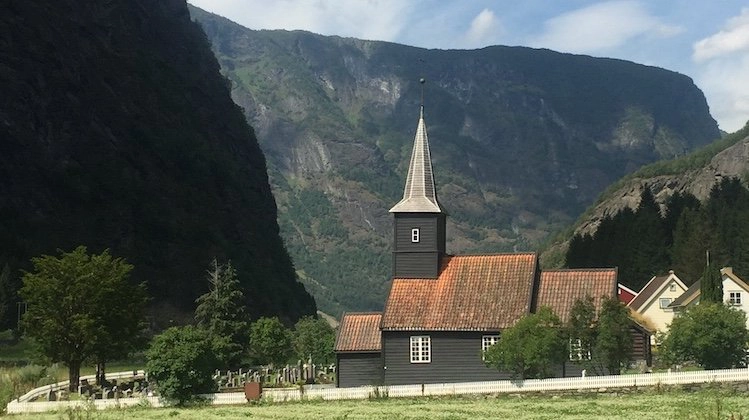 Take a Ride on an Electric Scooter
A great alternative way to get to Flåm Church, hire an electric scooter at the railway cycle hire shop! There is a route around the town and past Flam marina on the old Vikjavegan road which you can follow, or head up the valley for a few kilometres.
Or how about a small electric car to whizz around in? eMobility Flam have a fleet of all-electric Renault Twizy cars for rent, and they are a super-cool and environmentaly friendly way to see all of Flam's attractions.
This is a fun way to get around and slightly off the beaten-track locally…why not take a picnic and find a quiet spot?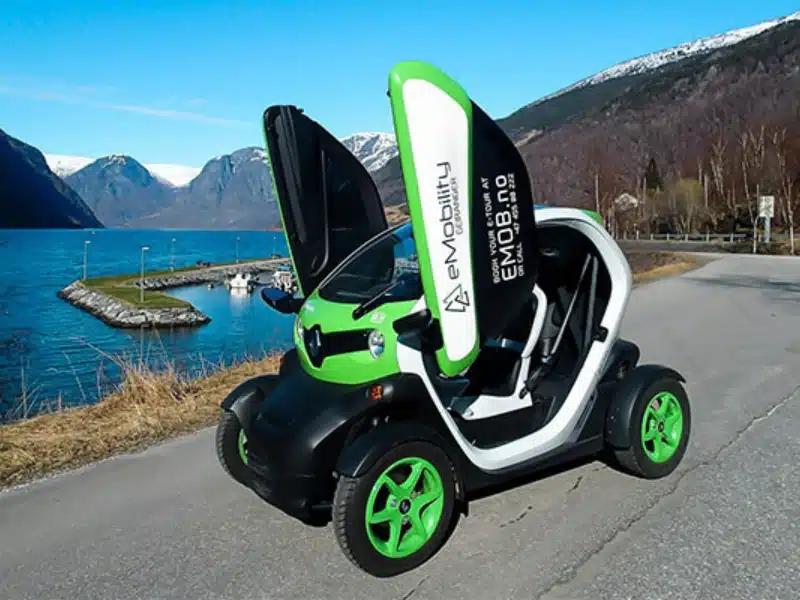 Enjoy an Iskrem (or two)!
We did extensive ice-cream research in Flåm, not for our own pleasure, but so that we could report in this post where to enjoy the best! The Flåm Bakery serves by far the best ice-cream and sorbets in the village, and that's official!
Go to the stand in the market place if you want a cone as they only serve in tubs in the bakery itself. Our recommendation would be passion fruit sorbet or chocolate ice-cream…both delicious.
Are you looking for more destination ideas? Check out these top posts…
Croatia is home to a variety of beautiful landscapes, including rugged mountain peaks, stunning islands, enchanting waterfalls, incredible beaches, vibrant cities, and charming historic towns. There are so many beautiful places to visit, it can be difficult to decide where to go. We've pulled together all our favorite most beautiful places in Croatia to visit to inspire you and help plan your next trip.
Love it? Pin it!