This post may contain affiliate links, from which we earn an income.
The Best Routes to Norway from the United Kingdom
Are you planning an adventure or road trip in Norway but don't want to fly? With a lots of different driving routes from UK to Norway, it's easy to take your own car or campervan to this stunning country.
With information about routes, maps, costs and comparisons, plus ferries to Norway and tips about driving once you're there, our driving to Norway from UK guide will help you decide which is the best route for your driving trip to Norway, so you can arrive refreshed and ready to go!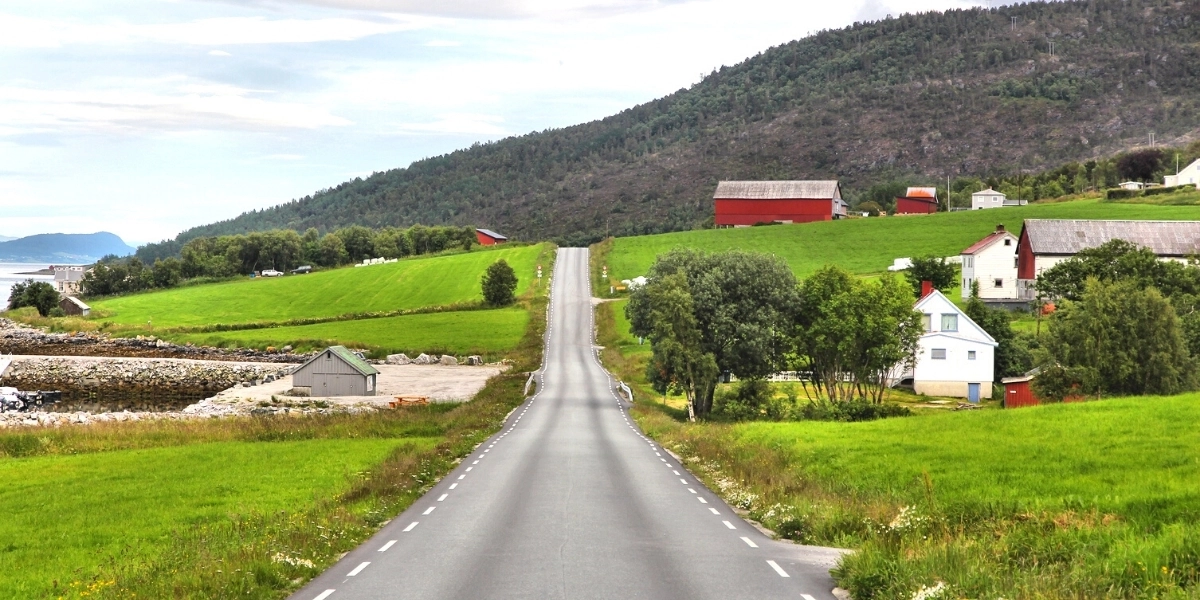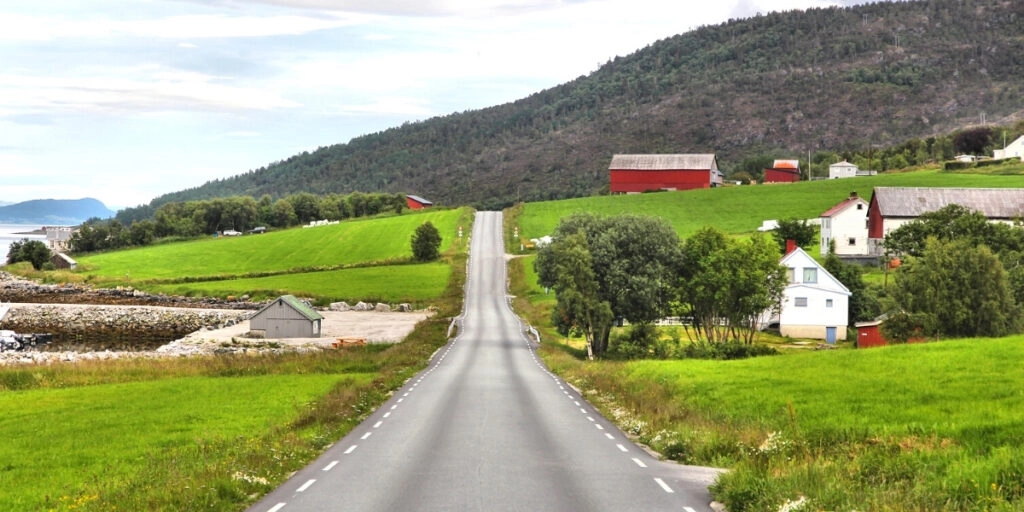 Crossing the Channel
Before you even think about getting to Norway from continental Europe, you need to get to Europe first, which means crossing the English Channel or North Sea.
We recommend finding the best deals and crossings with Direct Ferries, who make it easier to compare timings, routes and costs in one place.
Ferries from UK to Norway
Until 2008 you could get a direct DFDS ferry from Newcastle to Bergen, but that route no longer operates. Sadly there is now no direct ferry to Norway from UK, or even direct to Germany from UK. You'll need to cross to one of the French or Dutch ports and drive north.
You may have read about getting a freight ferry from England to Norway. The Immingham to Norway route was a popular option for car drivers but DFDS Norway state on their website;
"The DFDS freight port of Immingham can accept commercial freight drivers with their loads. Due to UKBF port approval, private passengers are not permitted to be carried through Immingham. This means that we can no longer accept leisure fare paying passengers on the freight routes through Immingham."
This means there is no direct ferry from United Kingdom to Norway. But, you can still get to Norway in less than 24 hours if you pick the right routes and share the driving. We'll show you how.
EuroTunnel Le Shuttle
The fastest route to Europe is the Eurotunnel Le Shuttle to Calais from Folkstone. The crossing under the channel takes 35 minutes, and with a quick check in and boarding process, you can be in France proper within an hour.
This crossing is ideal if you are driving to Norway from UK with a dog, or just want to get to the other side as quickly as possible.
Dover to Calais
Certainly the quickest way by ferry is the Dover-Calais route, on which both P&O and DFDS Seaways operate up to 40 crossings between them a day in July and August. Taking just 90 minutes, you'll have time on board for a meal or drink, and perhaps a quick snooze.
Getting on and off can take time, as they have to piece all the vehicles together like a jigsaw puzzle. It's not as quick as the shuttle, but very possibly cheaper, especially if you can be flexible with crossing times and want a break from time in the car.
Crossing to the Netherlands
More expensive and quite a bit longer than the Dover to Calais route, the crossings from Harwich, Hull and Newcastle to the Netherlands may prove to be cost effective for your road trip, but only if you don't live in the south east of England.
The Stena Line Harwich-Hook of Holland route operates daily at 9am, with the crossing taking around seven hours.
If you cross from Hull to Rotterdam with P&O, their daily crossing departs at 20.30pm and takes around eleven hours, meaning you arrive refreshed and ready for a full days drive.
The DFDS Newcastle to Amsterdam crossing is also overnight, but takes nearly 16 hours and is a but more expensive, although ideal for those starting their Norway trip in the north of the UK.
Other Popular Crossings
There are a handful of other routes out of Newhaven, Folkestone and Poole which are also worth exploring. You could also consider sailing to Le Havre or St Malo from Portsmouth, or Dunkirk from Dover.
The key here is to to be flexible with dates (but don't book an open ticket if you're on a budget, they are always more expensive) and times to get the best deals …this is where you may just find a bargain.
RELATED POST – 19 Helpful Long Distance Driving Tips
Route Planner – Mainland Europe to Norway
There are essentially two ways to get from mainland Europe to Norway – one involves crossing the water via a series of bridges, the other involves getting a ferry.
To achieve a level playing field, we'll assume you're travelling from Calais to Oslo in an E5 two litre petrol car. All ferry costs are approximate for a one way crossing and will vary depending on when you sail, the size of your vehicle, the number of passengers and the type of cabin you book if you decide to take a ferry.
Is this your first time visiting Norway? Get all the information you need in our Norway Travel Guide, including what to pack, the best time of year to go, getting there and practical tips to help you have the best trip!
Quick Comparison of Routes to Norway
| Route | Distance km | Drive Time | Cost € |
| --- | --- | --- | --- |
| 1. | 1822 | 19 | 324 |
| 2. | 1258 | 12 | 290 |
| 3. | 1399 | 18 | 275 |
| 4. | 843 | 9 | 610 |
| 5. | 1425 | 24 | 299 |
| 6. | 1523 | 24 | 293 |
| 7. | 865 | 9 | 1105 |
Assumes travel from Calais to Oslo for comparison purposes, in an E5 hatchback. Ferry costs calculated on high season crossing. Costs accurate at June 2022.
The Bridges
Storebaelt & Oresund
Route 1: Calais – Antwerp – Munster – Bremen – Hamburg – Flensburg – Odense – Copenhagen – Malmo – Gothenburg – Oslo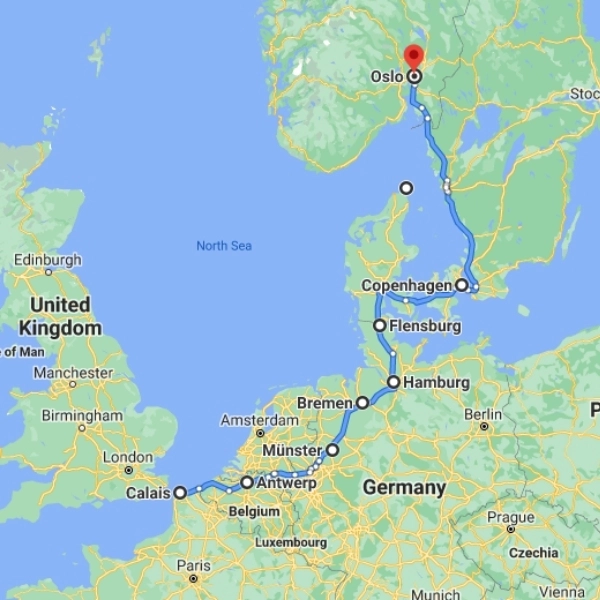 This route involves driving up through Denmark before heading east to take the Storebaelt Bridge (Great Belt Bridge) in Denmark en route to Copenhagen, and then crossing the Oresund Bridge (of BBC 'The Bridge' fame) from Copenhagen to Malmo in Sweden.
This option gives you the opportunity to  see historic Hamburg and beautiful Copenhagen on the way through and even road trip Denmark as you experience both incredible bridges, their views and architecture.
RELATED POST – One Day Copenhagen Itinerary – Map,Tips & Guide
The down side of this scenic route to Norway is the continual and long hours of driving. Once you get to Sweden you still have a six hour motorway drive ahead of you, so you may need to book accommodation on route.
This is also an expensive route if you're driving to Norway in a motorhome or campervan as the costs increase exponentially the longer and heavier your vehicle. In a 7m motorhome, the bridge crossings alone will cost over €200, unless you buy online with a discount.
The Ferries
Ferries from Denmark to Norway
Getting a ferry to Norway from Denmark avoids the bridges and the long drive up the Swedish coast. Time it right and the ferry can also provide your overnight accommodation, landing you in Scandinavia feeling refreshed and ready to drive.
Route 2: Calais – Antwerp – Munster – Bremen – Hamburg – Flensburg – Frederikshavn – Oslo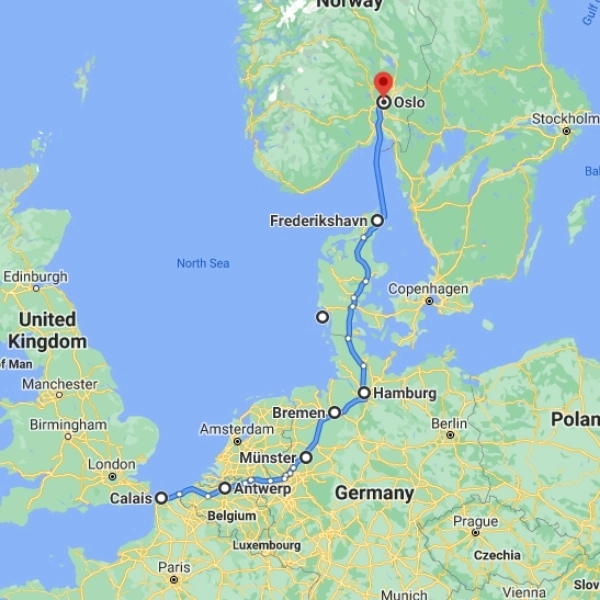 This northern Denmark to Norway ferry is a great budget option and is this the cheapest route to Norway from the UK. With low driving hours, this nine and a half hour crossing has daily departures at 11.45pm every night, arriving in Oslo at 9.15am the following morning.
Get an early boat from the UK to Calais, or one of the Dutch ports and spend your first night onboard meaning you don't need to book a hotel on the way. Find out about this crossing here.
RELATED POST – One Day Oslo Itinerary – Map, Guide & Tips
Route 3: Calais – Antwerp – Munster – Bremen – Hamburg – Flensburg – Hirtshals – Larvik – Oslo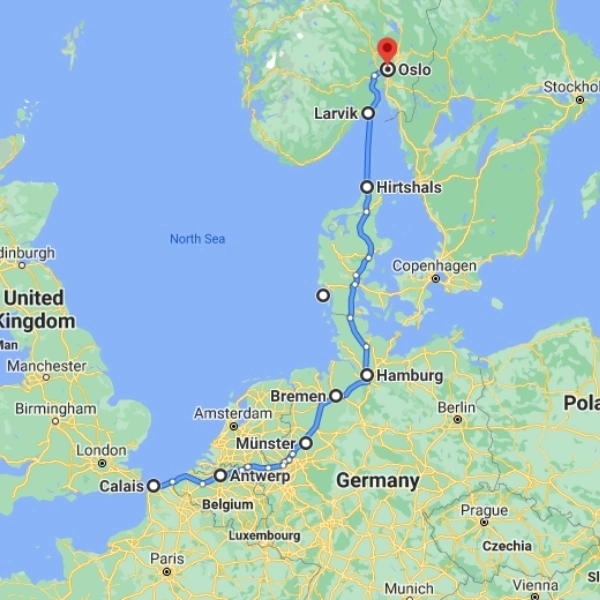 This is another good route into Norway, with Larvik being a few hours south of Oslo, and the ferry crossing only taking four hours and is a better option than the Frederikshavn to Oslo route if you're planning on exploring the beautiful area of southern Norway around Kristiansand.
Ferries to the Western Fjords
Hirtshals in Denmark is a great port to sail from if you're heading to the western fjords, or towards northern Norway for thrilling mountain passes and northern lights hunting. From Hirtshals you can get a direct ferry to Bergen in sixteen hours, Stavanger in ten hours and Kristiansand in four hours with Fjord Line.
These ferry routes are definitely an option worth considering if you're planning to drive up the west coast, visit the fjords or head to some of the popular tourist areas. The price of the longer crossings balanced against fuel and tolls has to be worth considering. Find out more information about sailing from Hirtshals here.
Ferries from Germany to Norway
Route 4: Calais – Antwerp – Munster – Bremen – Hamburg – Kiel – Oslo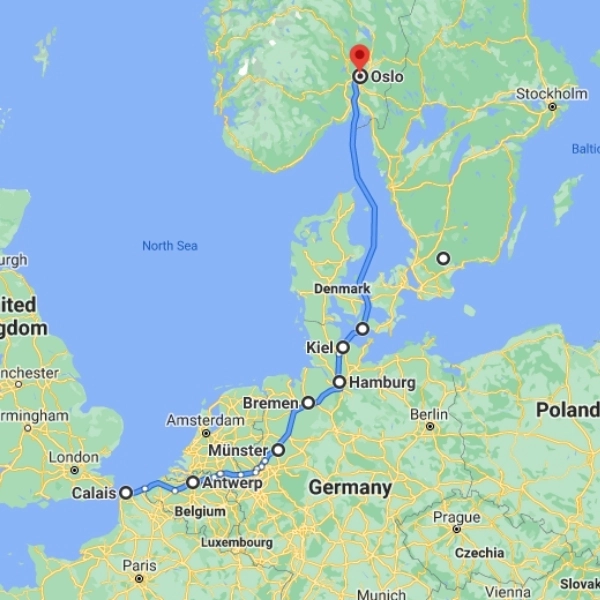 This 20 hour crossing from Kiel in Germany takes you directly into Oslo. Leaving at 2pm daily, you arrive at 10am the following morning. This crossing is more like a mini cruise than a ferry, with plush lounges and dining, spa facilities and well appointed cabins.
These Color Line sailings from Germany to Norway is not for the budget conscious, but a relaxing experience to start your Norway holiday. Find out more here.
Ferries from Germany to Sweden
Route 5: Antwerp – Munster – Bremen – Hamburg – Travemunde – Trelleborg- Gothenburg – Oslo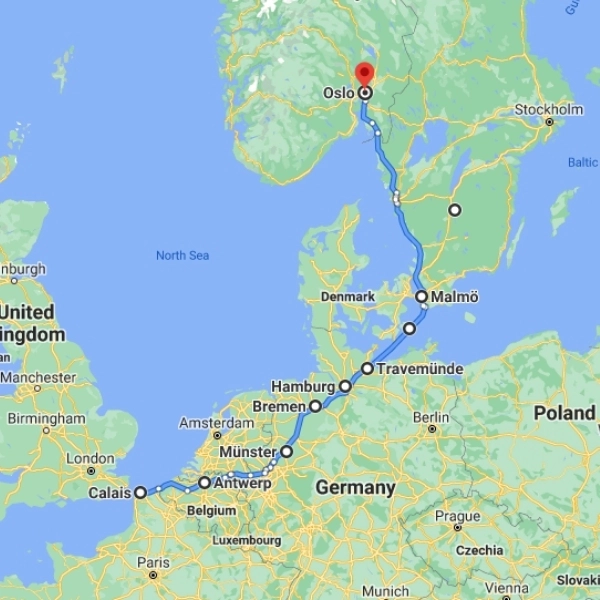 From Travemunde to the north-east of Hamburg, a nine hour crossing gets you into Trelleborg, south of Malmo. You still have the six hour drive up through Gothenburg to Oslo, and will miss the wonders of Copenhagen.
Day crossings to Sweden are cheaper but an overnight crossing means you can have a proper nights sleep and wake refreshed and ready to go in the morning. Time it right and you'll be able to get to Oslo without booking a hotel on route. Click here to check the route and deals.
Route 6: Antwerp – Munster – Bremen – Hamburg – Rostock – Trelleborg – Gothenburg – Oslo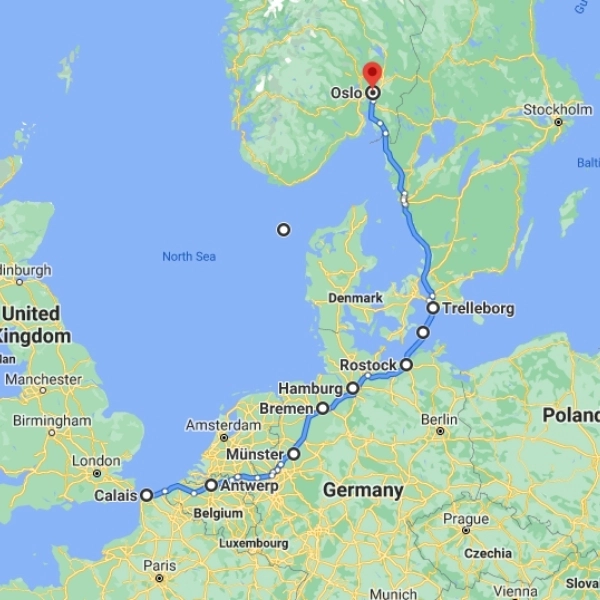 From Rostock, another few hours on from Travemunde, the seven hour overnight crossing gets you into Trelleborg early in the morning.
What you make up for in crossing time, you lose in driving time. Your choice between departing Germany from Rostock or Travemunde might just come down to the best costs on the day you want to travel. Find out more here.
Ferries from Netherlands to Norway
Route 7: Antwerp – Eemshaven – Kristiansand – Oslo
Holland Norway Lines have introduced a new route for 2022, from Eemshaven in the north of the Netherlands to Kristansand. With three 18 hour crossings a week each way, you'll arrive at 9am feeling refreshed and ready to drive in whichever direction takes your fancy.
This cuts around a 1000km of driving from the route and is a great option if you are planning to visit the Western fjords and southern Norway, or if you're planning to sail from the UK to the Netherlands.
Other No Fly Options
If you're thinking the drive to Norway from UK sounds long, tiring and expensive, you could consider getting to Norway by train and then hire a car. Another great no fly option, but trains and car rental are likely to be more expensive and the journey will take longer.
Train and rail expert The Man in Seat 61 says there are three options for you to choose from. Visit the website for more information on train times, fares and tickets.
take an evening Eurostar to Brussels, going from Brussels to Copenhagen by train next day, then the Copenhagen Oslo train the day after that.
travel by Eurostar and onward trains from London to Hamburg, staying there overnight, then take a train to Frederikshavn next morning then the comfortable overnight ferry to Oslo.
take a train to Kiel in Germany then the luxurious Color Line ferry to Oslo, sailing up Oslo Fjord.
RELATED POST: Road Trip on a Budget: 36 Tips to Save Money in Europe
Driving in Europe
Driving to Norway from UK means observing the driving rules and regulations of up to seven countries depending on your route – France, Belgium, Netherlands, Germany, Denmark, Sweden and Norway itself.
That means you'll need different kit and equipment in each country – sigh – but happily lots of the basic travel and road laws in each country are the same;
You must have at least three months remaining on your passport (issued in the past ten years) at your intended date of departure from Norway.
You must have at least 3rd party insurance for your vehicle. Update August 2021 – you no longer require a green card to prove you have vehicle insurance cover when travelling in Europe.
From 28th September 2021, you will have to display a UK sticker on the rear of of your vehicle, instead of a GB sticker, unless you have a new style UK numberplate which displays the Union Jack flag.
Your headlights must be adapted for driving on the right.
Your UK licence allows you to drive in all EU countries and Norway. If you only have a paper driving license or a licence issued in Gibraltar, Guernsey, Jersey or the Isle of Man then you will need an International Driving Permit.
You may also want to take out breakdown cover for your trip.
If you are travelling to Norway and other Schengen countries without a visa, make sure your whole visit is within the 90 day limit – even though Norway is not in the EU (it's in the European Economic Area), they are part of the Schengen area.
RELATED POST: Driving in Europe – Everything You Need to Know
Norway Travel Ideas
Driving in Norway
Norway is a fantastic country for a driving holiday. Modern roads, national tourist routes, huge tunnels to get you under the fjords, and the Trollstigen mountain pass and Atlantic Road all make for a great road trip experience. Follow these tips for safe driving in Norway;
It is compulsory to carry a warning triangle in all vehicles in case of a breakdown.
Always stick to the speed limits. In general, the Norwegian speed limit is 50mph, except in built-up areas, where it is 30mph unless otherwise stated. Dual Carriageways and motorways have a speed limit of 70mph unless otherwise stated.
If there is snow or ice covering the roads, winter tyres or snow chains are compulsory. You can be fined for travelling on icy/snowy roads using summer tyres only. You can expect your vehicle to be checked at or near the border in winter – if you are not carrying or using snow chains you must purchase a set or return to the border. When winter tyres are used they must be fitted on all wheels and must have a minimum tread depth of 3mm.
It's also recommended to carry:

Spare bulbs for your car's external lights.
A fire extinguisher.
A first-aid kit.
A reflective jacket.
Drinking and driving penalties are severe in Norway and include heavy fines, prison and the surrender of your driving licence. The legal limit is much lower than the UK at 20 milligrams of alcohol per 100 millilitres of blood (in the UK its 80 milligrams) so be mindful of this.
It is forbidden to use radar detectors.
You must use dipped headlights or daytime running lights during the day in towns as well as rural areas.
Low Emissions Zones in Norway
There is a combined congestion and LEZ zone in Oslo called the Oslo Charging Scheme. The cost of entering the LEZ is calculated within the toll charges for driving within the city limits. No sticker or vignette is required.
Oslo also operates emergency measures and closes to diesel traffic when emissions are high. 24 hours notice are given of any closure, you can check here for updates and current status.
Bergen is planning a zero emissions pilot scheme which will start in 2023.
Toll Roads in Norway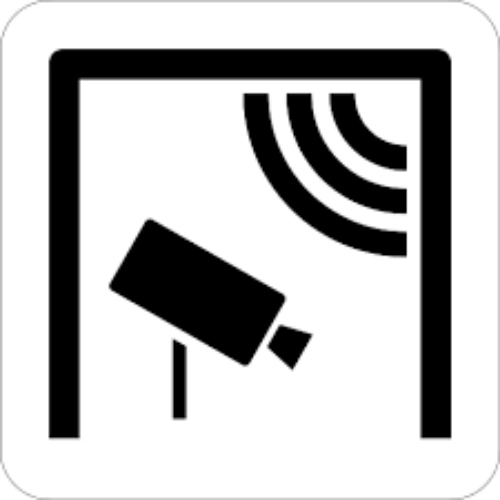 There is a sophisticated and comprehensive toll system in Norway.
You will know you're on a toll road by the signage of a camera and wifi, but it's safe to assume if you're on a major main road, or in a city, it will be a toll road.
The sign is sometimes accompanied by another sign with the cost for that stretch of road, but it's almost impossible to keep a tally of costs.
Now it starts to get complicated! The system is not straightforward but this is what you need to do;
Register your vehicle for electronic tolls with one of the AutoPASS authorised providers. Head to the section entitled 'register a payment account for your foreign vehicle'. Leave plenty of time for this step, so your electronic toll tag can arrive in the post.
Flyt is one of the user-friendly options on the list and we would recommend them. Their tag covers you for toll roads, bridges, tunnels and some fjord ferries in Norway and you are invoiced by email monthly in arrears.
If you want an electronic tag to cover you for Sweden and Denmark as well, EasyGo operate this scheme and using it gives a discount on both the Strebaelt and Oresund Bridges when linked up with a BroPas account. EasyGo don't actually issue the tags themselves, you need to use one of their operators such as the Oresund Consortium. The EasyGo tag is only worth doing if you're planning to cross to Norway over the Danish bridges and/or travel in Sweden.
If you choose not to have the tag (or the discounts), you only need to register with Epass24 who manage billing and collect monies on behalf of AutoPASS, who are the toll system operator (until April 2021, the collector was EPC [Euro Parking Collection], so if you registered with them previously, you'll need to do so again with the new provider). Once registered, you can choose to get your invoice monthly by email and pay with a credit card or make payments via a linked credit card as you go.
If you don't register, you will be identified via ANPR and will receive a bill in the post from Epass24 with an assumed class and emissions category, and a charge for not registering.
There is no manual way of paying tolls whilst travelling Norway, other than on the Atlantic Ocean Road stretch and the Alesund Tunnel.
Fjord Ferries
From time to time, especially on Norwegian scenic routes, you will need to take a car ferry across a fjord. This is not a fjord cruise, but a quick crossing designed to get you from one place to the other as fast as possible, a bit like public transport.
It is not complicated, the road stops with no option to take another route and there is a ramp for a ferry there. Google Maps or your sat nav will know this and direct you accordingly.
There are generally two car ferries passing each other in the middle, and the operation of getting vehicles on and off is pretty slick.
Usually, the ticket seller will come to your vehicle with a mobile card device and dispenser. Tickets cost around NKR100 or €10 for most regular ferry crossings, or use your electronic toll tag to pay.
Are you looking for road trip resources? Check out these top posts…
Can you actually drive to France from UK? Yes! It's possible to drive from the United Kingdom to France with ease. But before you pack your bags and hit the road, there are a few things you need to know. In this comprehensive guide, we'll cover everything you need to know about driving to France from the UK, including the best routes, legalities of driving in France, what to take, and lots of France travel…
Love it? Pin it!