This post may contain affiliate links, from which we earn an income.
Norway's Atlantic Road is a dancing ribbon of tarmac that connects a string of islands in Western Norway and is one of Norway's most popular and Instagrammable attractions.
Forming part of route 64, the Atlantic Ocean Road is regarded as one of Norway's most scenic roads. Linking Kårvåg and Vevang, the road snakes through breathtaking natural surroundings and has eight bridges and multiple viewpoints to enjoy the magnificent ocean and mountain views.
This is a road to be savored, and we have put together a 4-5 day itinerary with the Atlantic Road as a highlight. We share literally everything you need to know about the Atlantic Road including getting there, the iconic sights, places to stay, and things to do along the route, taking in the best that this part of Norway has to offer.
What is the Atlantic Ocean Road Norway?
Opened in 1989, The Atlantic Road (Atlanterhavsvegen or Atlanterhavsveien in Norwegian) is one of eighteen Norwegian Scenic Routes and connects Kårvåg on the island of Averøy with Vevang in Hustadvika on the mainland over several small islands, islets, and skerries. The road is considered to be one of the most beautiful drives in the world.
The 5.2 miles / 8.3km road connects the islands over several causeways, viaducts, and eight bridges, the most prominent being the sweeping and elegant Storseisundet Bridge. To the north of the road lies Hustadvika, an unsheltered area of the Norwegian Sea, and to the south is Lauvøyfjorden. In 2005, the road was voted Norwegian Construction of the Century.
The Atlantic Road, sometimes called the Atlantic Ocean Road, is a Norwegian Cultural Heritage Site and has National Tourist Route status. The entire stretch of route 64 between Kristiansund and Bud is packed full of breathtaking vistas, coastal scenery, unique nature and Nordic culture.
In 2009, the 3.6 miles / 5.7km Atlantic Ocean Tunnel opened from Averøy to Kristiansund, and together with the Atlantic Road, they form a fixed link on the scenic route between Kristiansund and Molde.
Is this your first time visiting Norway? Get all the information you need in our Norway Travel Guide, including what to pack, the best time of year to go, getting there, and practical tips to help you have the best trip!
Getting There
Our Atlantic Ocean Road trip can be started in either Kristiansund or Molde.
To start in Kristiansund fly into Kristiansund Airport from Bergen or Oslo, and to start in Molde fly into Molde Airport, also with direct flights from Bergan and Oslo.
Alternatively, fly directly into the international airports of Bergen or Trondheim which have connections to much of Europe and the United Kingdom, and make the Atlantic Road part of a wider Norwegian road trip.
We recommend booking through Skyscanner for live deals and the best prices.
Why not take your own car, motorbike, or camper to Norway from Europe by ferry? Use Direct Ferries to compare and book the best crossings to Norway from Germany, Denmark, and the Netherlands.
RELATED POST: Driving to Norway from UK – Routes & Tips
Make sure you have travel insurance you can trust when visiting Norway. We recommend True Traveller for their 5-star TrustPilot reviews, variety of cover options, best activities cover as standard, great prices, and excellent service.
How to Travel the Atlantic Road Norway
Self-Drive
Whether you're in a car, motorcycle, campervan, or motorhome, self-driving is absolutely the best way to explore Norway's Atlantic Road, meaning you can stop whenever you want, try new activities, visit places you see along the route, and have the freedom to change plans at the last minute.
Are you planning to rent a car in Norway? As one of the largest car hire aggregator companies in the world, we recommend Rentalcars.com because they have massive purchasing power which enables them to secure the best rental car prices, which benefits you when you're planning your Wild Atlantic Way drive.
For a real adventure, hire a motorhome or campervan in Norway. We recommend Motorhome Republic, an aggregate booking site who pull together all the best deals from a number of rental agencies, to offer you a wide choice of options alongside an excellent English speaking expert motorhome Concierge Team.
Use the Park4Night app to find overnight spots and campsites, and wild camp on the edge of a fjord or with incredible sea views, and find out all you need to know in our guide to campervanning in Norway.
The Atlantic Road Norway by Public Transport
The Atlantic Road was originally proposed as a railway line in the early 20th century, but the plans didn't materialize and the only way to travel the road using public transport is by bus.
Route 501 is run by Fram, the local transport service, and will take you from Kristiansund to Kårvåg in around 45 minutes.
From Kårvåg to Vevang on the Atlantic Road takes all of 6 minutes! If you want to travel on to Molde via Eide, that will take another hour and 45 minutes along the shore of Kvernesfjorden.
This is not a tourist bus and you won't be able to get on and off to take photos or explore unless you get off and wait for the next bus – they travel the route every hour or so, but do check the timetables before setting out.
Atlantic Road Norway Map & Route
This Norwegian Atlantic Road itinerary is an extended trip that takes four to five days by car, creating a road trip experience of coast, culture, and history in the most breathtaking of surroundings.
Kristiansund – Kårvåg – Farstad – Vevang – Hustad – Bud – Molde – Geiranger
How to use this map – Use your fingers (or computer mouse) to zoom in and out. Click or touch the icons to get more info about a place, and click the arrow in the box top left to open the index. To add to your own Google Maps account, click the star next to the title of the map.
Atlantic Road Norway Itinerary
Day 1: Kristiansund
Kristiansund
Kristiansund, not to be confused with Kristiansand in southern Norway, is a beautiful coastal city in the Nordmøre district of Møre og Romsdal county. It offers visitors several attractions and activities.
The city is known for many things, including clip fish (dried and salted cod), and it is home to one of the oldest opera houses in Norway. The Kristiansund Opera House, established in 1928, continues to put on live opera and dance performances today.
Explore Kristiansund's charming old town of Nordlandet, a picturesque area with historic houses and narrow streets full of local culture. Another way to take in the beautiful surroundings is by taking one of the city's many hiking trails, like the Havstien or coastal path.
You can also explore the city from the water by taking a ferry tour on the Sundbåten, Norway's oldest public transportation system. The ferry shuttles passengers between the different parts of Kristiansund. It is a fun and unique way to see the city.
Visit the Clipfish Museum to get a peek into Kristiansund's long history of producing dried and salted cod and the impact of this industry on the local economy.
Try the local seafood specialties for lunch in Kristiansund – whether cod, salmon, or shellfish, you'll have a wide choice at Smia Fish Restaurant or Dodeladen Cafe og Kultursted.
Mid-Range: Quality Hotel Grand – Booking.com | Agoda
Mid-Range: Comfort Hotel Fosna – Booking.com | Agoda
Budget: Scandic Kristiansund – Booking.com | Agoda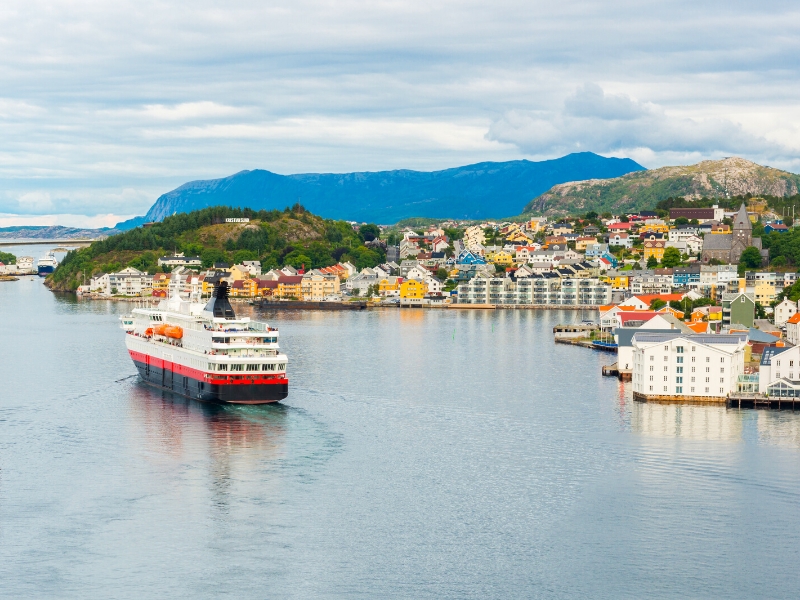 Day 2: Kristiansund to Farstad (The Atlantic Road)
The second day of the road trip offers the magnificent Atlantic Road stretch and ends the day in the town of Farstad.
Kårvåg
En route to Kårvåg, about 8 miles / 13km from Kristiansund, stop at Bremsnes. The town boasts one of Norway's largest caves, which extends over 262ft / 80 meters into the Bremsneshatten mountain. You can walk the entire trail in under an hour, which includes the Bremsneshola cave, where many finds from the 10,000-year-old Fosna culture have been made.
Kårvåg is a small village known for its beautiful scenery and outdoor activities, including fishing, kayaking, and hiking. You can take a fishing tour or rent a kayak to explore the coastline and nearby islands if you prefer making the most of the calm waters.
Back on shore, drive about 20 minutes outside Kårvåg to Kvernes. The village is home to the medieval Kvernes Stave Church, which was built in the 1600s and is one of the best-preserved wooden Christian churches in Norway.
Another notable thing to do is visit Averøy Coastal Museum. It offers visitors an exciting look at the local history and culture, including exhibits on fishing, agriculture, and everyday life.
Try local seafood for lunch, especially the cod stew, at Bjartmars Favorittkro in Kårvåg for delicious food and good service.
The Atlantic Road
Featured in the James Bond movie No Time to Die, the Atlantic Road epitomizes what this road trip is about.
The road offers an exceptional drive with views of the powerful ocean landscape. There are also several walking trails and bridges along the road and many lookout points and rest areas for travelers to stop. These stops come in handy to stretch your legs and take photographs of the gorgeous surroundings. If you have a drone, even better!
The information center located at Eldhusøya just before the Storseisundet Bridge is the largest picnic area right by the ocean. It's well worth a stop here to admire the structure of the bridge and get all those Insta pictures!
Walk the Atlanterhavsvegen Svevesti, or Soaring Path, where you'll get an impressive view of the bridge from further out and panoramic vistas of the road and ocean.
Once you've crossed the bridge, there are a number of parking spots as you get closer to the mainland, all offering different views of the road and the surrounding archipelago. Many of these stopping places and viewing platforms are architect designed, creating a contemporary environment from which to watch the most elemental of forces.
Since you have some time on this trip, why not try fishing? The Atlantic Road runs through a fish-rich area and is a popular destination for angling enthusiasts. You can try your luck from the shore or take a fishing tour with a local guide. The best fishing is on Geitøya island or Myrbærholmbrua bridge, with designated fishing walkways.
You can also explore the area by hiking along the trails that offer stunning views of the coastline and mountains. The best track is on Eldhusøya island, which also has a café if you are craving a hot drink and a snack.
Real adventurers will want to stop at Orca Norway on Strømsholmen island, where you can take Humpback and Orca whale-watching tours or even go snorkeling with Orcas!
Farstad
En route to Farstad, stop in Vevang. Here you can visit the following:
Vevang Batteri: Historical landmark consisting of old bunkers.
Columna Transatlantica: A sculptural artwork consisting of 40 pieces extending 90 meters created by the Norwegian artist Jan Freuchen, who says that the work is a reminder of Norway's historic communication methods with the outside world via the seaway.
Kvitholmen Lighthouse: A coastal lighthouse established in 1842 on Kvitholmen Island.
Farstad is a small village about 10 minutes from Vevang at the end of the Atlantic Road. The town has a population of only 256 but prides itself in having beautiful beaches and scenic landscapes.
Farstad Beach is one of Norway's most beautiful and picturesque beaches, surrounded by mountains and stunning ocean views. Here, you can swim, sunbathe, or walk on the beach, making it a perfect spot to visit if you travel in the summer. It is also an excellent spot for kite flying and windsurfing.
Farstad offers several hiking trails, including Nordneset Kyststi. It offers breathtaking views of the nearby islands and the ocean. For a more leisurely walk, head to the scenic Hostadneset spot.
The small village is limited in dining and accommodation options. However, you will have a delightful experience at the Hustadvika Havhotell – Booking.com | Agoda. Go for their famous 3-course dinner and stay overnight.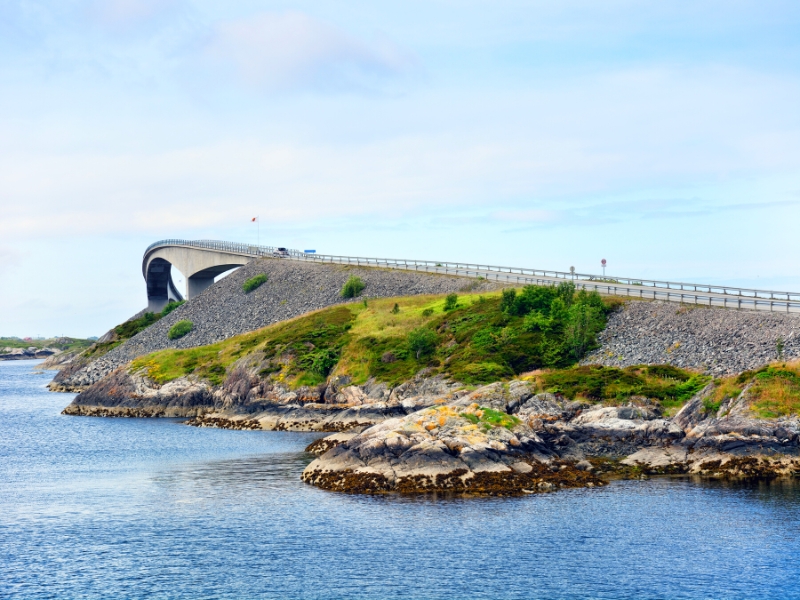 Norway Travel Inspration
Day 3: Farstad to Bud
The third day of the Atlantic Road itinerary takes you through the village of Hustad to the slightly bigger town of Bud.
Hustad
Hustad is a small village, similar to Farstad, located in the municipality of Fræna. It is known as where Øystein Magnusson, the King of Norway (1103-1123), died during a stay at the royal estate Stim at Hustad, and you can see the Viking King memorial erected in the town center commemorating this event.
Visit the beautiful wooden Hustad Kyrkje (Hustad Church) that dates back to the 18th century and is located in the village center. Afterward, explore the surroundings by hiking along the popular Hustadnabben trail, which offers stunning views of the village and the ocean.
For a short trip out of the village, go to the wonderfully named Trollkirka, or Troll Church, just 8 miles / 13km south of Hustad. This tourist spot is not a real church but a marble and limestone cave in the mountains with underground rivers and waterfalls. Ensure you have all the required gear for hiking through the caves, such as proper shoes and a flashlight.
For lunch, try Gunn's Utsøkte Thai Mat. It will feel like you have traveled to Thailand!
Bud
About 15 minutes west of Hustad is the small fishing village of Bud, with a population of less than 800, known for its scenic views and rich history. On your way to Bud, stop at the Askevågen Viewpoint, about 2.6 / 4km miles from Hustad, for stunning coast views.
Once in Bud, start your exploration by visiting the 15th century Bud Kyrkie, or Bud Church, one of the oldest and best-preserved buildings in the village.
History enthusiasts will enjoy the Bud Coastal Museum and Ergan Coastal Fort, a restored German fort from World War II that serves as a war memorial. It has a command center, cannons, a sick bay, and a water reservoir built into the rock.
Bud is known for its fresh seafood, especially cod, haddock, and halibut. If you are an avid angler, rent a boat or take a fishing boat tour. It will allow relaxing time on the water, with the gorgeous coastline and surrounding islands as a backdrop.
Enjoy local seafood for dinner at Bryggjen i Bud or Bud Kiosk og Spiseri.
Options are extremely limited, but Bud Camping + Rooms – Booking.com | Agoda, has a collection of cabins and microhouses that are clean, comfy and well equipped, with amazing sea views. They even rent out a boat in the summer so you can sleep on the water in the harbour!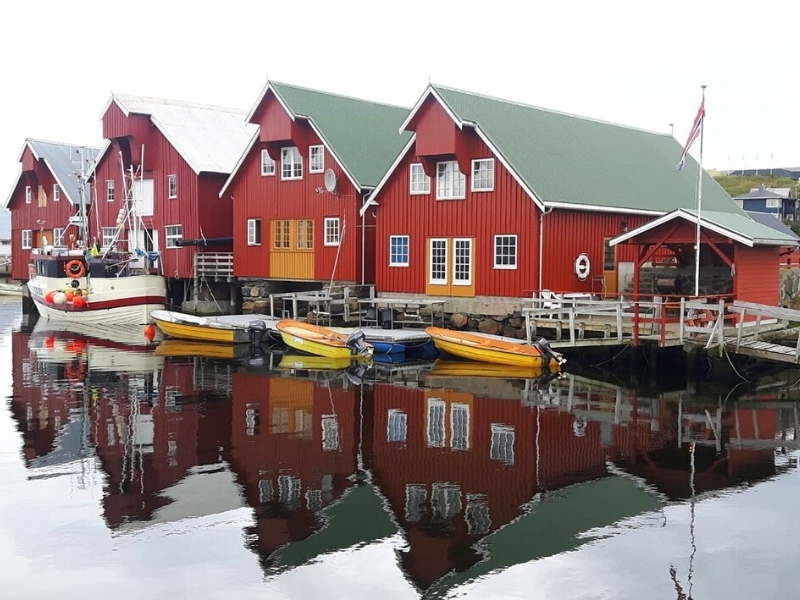 Day 4: Bud to Molde
The last day of the Atlantic Road itinerary takes you from Bud further south to the vibrant town of Molde.
Molde
Molde is about 24 miles from Bud and offers more options for accommodation, dining, shopping, and other activities. En route to Molde, stop at Tornes Keramikk- og Tekstilverksted, a charming art gallery that sells handmade textiles and pottery.
Once in Molde, visit the Romsdal Museum. This open-air museum is one of the largest folk museums in Norway. It has several historic buildings, including a stave church, farmhouses, and workshops that give visitors a glimpse into the life of the people of Romsdal throughout Norwegian history.
Another unique architectural marvel to explore is the stunning Molde Cathedral, the oldest building in Molde. It boasts a beautiful interior with stained glass windows and intricate wood carvings.
Hike up the Varden viewpoint for panoramic views of the town and the surrounding fjords. You can even see the famous Molde panorama, which is a view that allows you to see 222 mountain peaks at once. It takes about one hour to get there on foot, or 10 minutes by car from the town center.
Stop by Vardestua Restaurant for a quick drink or snack if you need refreshments after the walk.
Jazz lovers should plan their Atlantic Road trip in July when the town hosts the annual Molde International Jazz Festival, Europe's oldest jazz festival featuring world-renowned musicians.
In August or September, you can catch the Bjørnson Festival, a literature festival held in honor of the Nobel Prize laureate, writer Bjørnstjerne Bjørnson raised in the area.
Treat yourself to lunch or dinner at Restaurant Hav, Sense Amalie Restaurant, or Glass Restaurant & Bar – just ensure to book your table in advance.
Luxury: Molde Fjordhotell – Booking.com | Agoda
Mid-Range: Thon Hotel Moldefjord – Booking.com | Agoda
Budget: Scandic Seilet Hotel – Booking.com | Agoda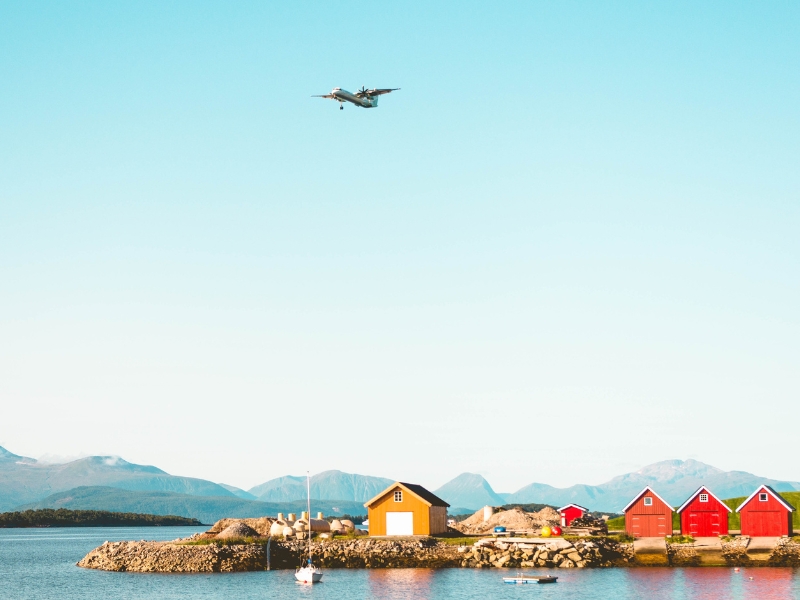 Day 5: Molde to Geiranger
This optional final day is for true die hard drivers, where the journey is more important than the destination. You'll be adding an additional 88 miles / 142km onto your trip mileage, and an extra 3.5 hours behind the wheel – but we think it's worth it!
Trollstigen Road
From Molde, continue south on route 64 to Åndalsnes, where you'll pick up the E136 briefly, before turning south onto route 63. This route involves catching the Sølsnes-Åfarnes ferry to cross the Langfjorden – it's a 30 minute crossing that helps break up the driving.
In around 44 miles / 71km you'll be at the start of the Trollstigen Road, or Troll's Ladder, very possibly Norway's most famous stretch of tarmac. Incredibly beautiful, this mountain pass was opened in 1936 and includes eleven hairpin bends and a 9% incline. Without a doubt, it's one of the best roads in Norway.
Stop at the Ørnesvingen Viewpoint for incredible vistas, and again at the top to admire the Stigfossen waterfall.
Geiranger
From Trollstigen, continue on the very scenic route 63. Stop at Gudbrandsjuvet, mid-way between the Trolls Road and Geiranger. At the bottom of the gorge is the powerful Valldøla river, over which pass paths and bridges giving you a close-up view of the waterfalls. Take a break from the road at the Gudbrandsjuvet Café, where you can enjoy traditional Norwegian treats.
As you get close to the UNESCO World Heritage Site of Geirangerfjord, you'll start to wind your way up the steepest section of route 63, along its eleven switchbacks hanging 600m above the fjord below. You'll understand why it's called 'Eagle Road'.
At the highest bend is the most breathtaking view over the spectacular Geirangerfjord, and the location of the must-watch before-you-go movie, The Wave.
The town of Geiranger has been named the best travel destination in Scandinavia by Lonely Planet and is surrounded by dramatic scenery, waterfalls, and high mountains.
If you do drive this final stretch on our Atlantic Road itinerary, you can either return to Molde Airport via the 63, 550, and E39 roads, a more direct route back taking 3 hours, or head to Ålesund Airport, a drive of around 2.5 hours.
Luxury: Hotel Union Geiranger Bad & Spa – Booking.com | Agoda
Mid-Range: Grande Fjord Hotel – Booking.com | Agoda
Budget: Vinje Camping – Booking.com | Agoda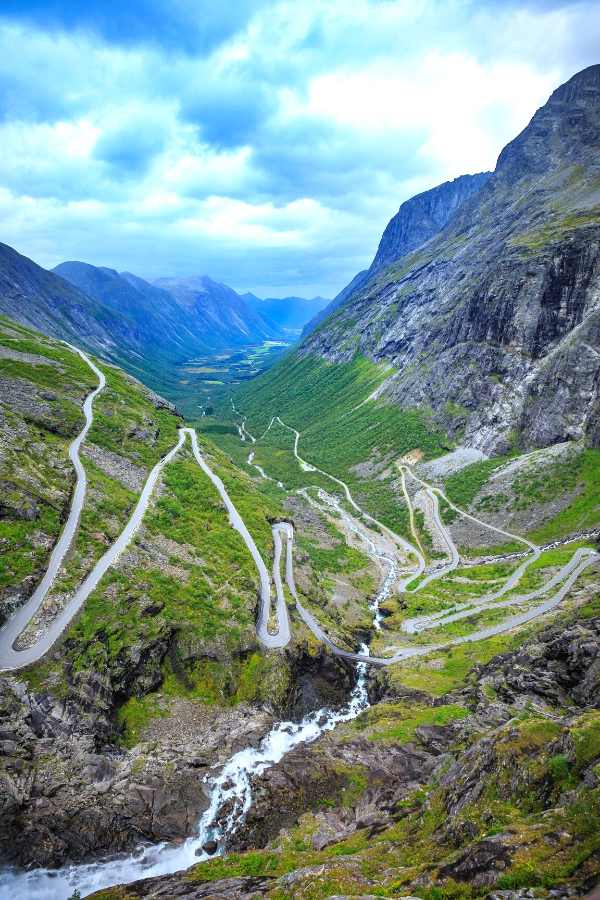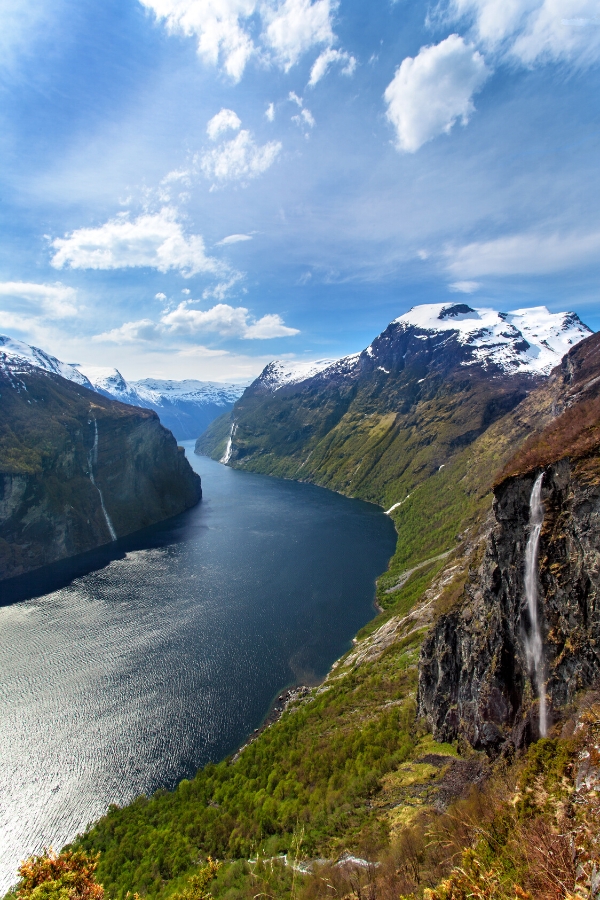 The Atlantic Road Norway FAQs
When is the best time to drive the Atlantic Road Norway?
The Atlantic Road is remote, rugged, and completely exposed to a harsh environment, and during construction was hit by twelve hurricane-level storms!
You can expect road closures during the winter months of November through March due to heavy ice, snow, poor visibility, and large waves that wash over the road, making driving extremely challenging.
To avoid disappointment, plan your Atlantic Road trip between April and October when the weather will be kinder, the days longer, and attractions and activities will be open and available.
If you are driving the route during September and October, note that these are the wettest months in Norway and road surfaces can get very wet. Ensure that your vehicle's tires have sufficient tread depth to clear water between the road surface and your tires to avoid skidding or hydroplaning.
How long does it take for the Atlantic Road Norway?
The actual Atlantic Road, the stretch between Kårvåg and Vevang, is just 5.2 miles / 8.3km long, which Google Maps says takes 7 minutes to drive. But this is a simple equation of miles divided by speed and doesn't take into account the number of times you'll want to stop to admire the scenery and take photos.
To truly enjoy the surrounding area and cover the tourist routes of 64, 663 and 664 that feature on this Atlantic Ocean Road itinerary we recommend four to five days.
If you can manage seven days, then you'll be able to stop and enjoy activities and tours, take the optional drive to Trollstigen and Geiranger, and fully discover one of Europe's most scenic routes.
Is the Atlantic Road Norway a dangerous road?
Although the route features on the dangerousroads.org website, the road itself is fully sealed and very well maintained, as you would expect in Norway, and the road is considered safe to drive.
However, it can be challenging and may require careful attention, especially as you drive over the Storseisundet Bridge which can feel a bit like a rollercoaster with its curves and dips.
It's best to check the weather beforehand and check any road closures here. The road can be more difficult in adverse weather conditions such as strong winds, rain, or snow. If a storm is inbound, waves may splash over the road – this is pretty dramatic and makes for great images, but when you're driving through it, it's not so much fun!
But overall, the Atlantic Road looks more daunting than it is. It's an incredible driving experience navigating the road with its many curves and bridges.
RELATED POST: Driving in Norway – All You Need to Know
Are there tolls on the Atlantic Road Norway?
The Atlantic Road Norway road was opened on 7th July 1989, having cost 122 million Norwegian krone, of which 25% was financed with tolls and the rest from public grants.
Toll collection was scheduled to run for 15 years, but by June 1999 the road was paid off and became toll-free.
So no, there are no tolls on the Atlantic Road Norway.
And even better news, the Atlantic Ocean Tunnel from Kristiansund to Øksenvågen, the first part of this road trip, has been toll-free since 1st July 2020. So if you see comments on TripAdvisor regarding the cost of this toll, they are out of date:)
However, there are tolls on much of Norway's road network, and you'll need to register for their system before you start your road trip. Find out more in our Norway driving guide.
Norway Road Trip Essentials
Here are the websites and services we personally use and recommend for traveling in Norway.
Looking for more road trip inspiration? Check out these top posts…
Amongst the beautiful landscapes of Spain, in the mountainous interior and along the gorgeous coasts, you'll find fascinating history, vibrant culture, and incredible cuisine. One of the best ways to experience Spain is by taking a road trip. We base ourselves in Spain when not traveling and have explored much of the country on four wheels and two! Whether you want historic cities, gorgeous landscapes, beaches and sun, or something a bit different, our detailed…
Love it? Pin it!