This post may contain affiliate links, from which we earn an income.
The Top Six Germany Road Trips
Germany is an incredible country in which to road trip. With landscapes ranging from the dramatic to gentle, medieval towns alongside cities full of cutting-edge architecture, fairytale castles, and amazing roads, you'll enjoy the road trip of a lifetime as you explore this often overlooked country.
From the lively attractions of Berlin to historic medieval cities and the mighty Alps to the starkly beautiful northern coast, Germany is a seriously great country for road tripping.
Our Germany road trip planner will help you decide whether you want drama, fairytale castles, towns, vineyards, or something a bit different. Use our detailed guide and travel tips to find our pick of the best German road trip routes, itineraries, and places to see along the way.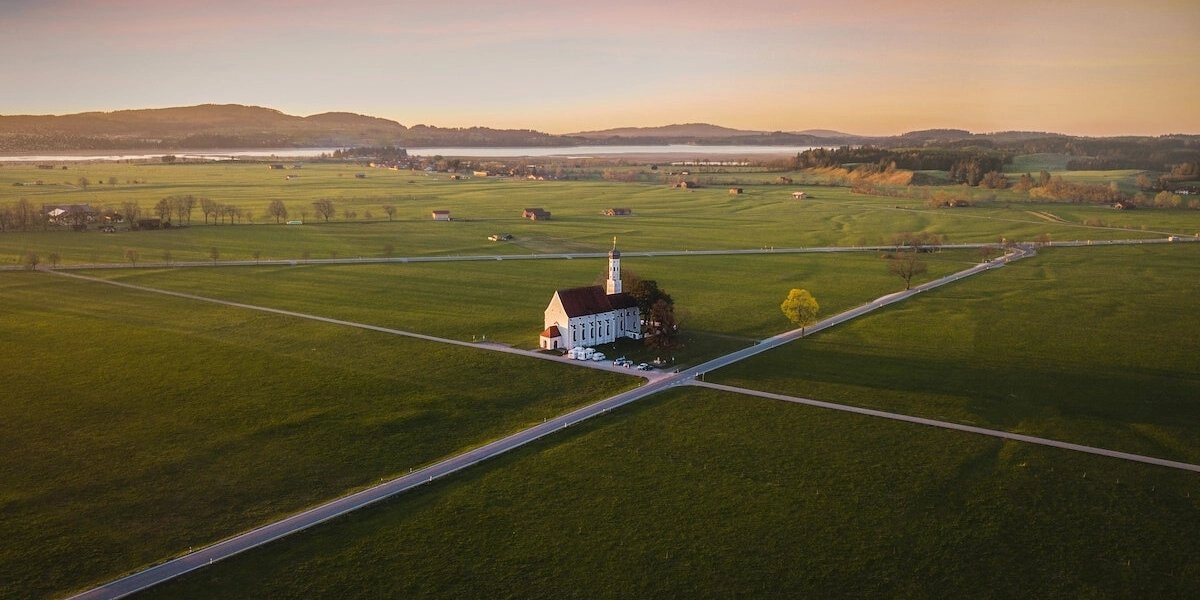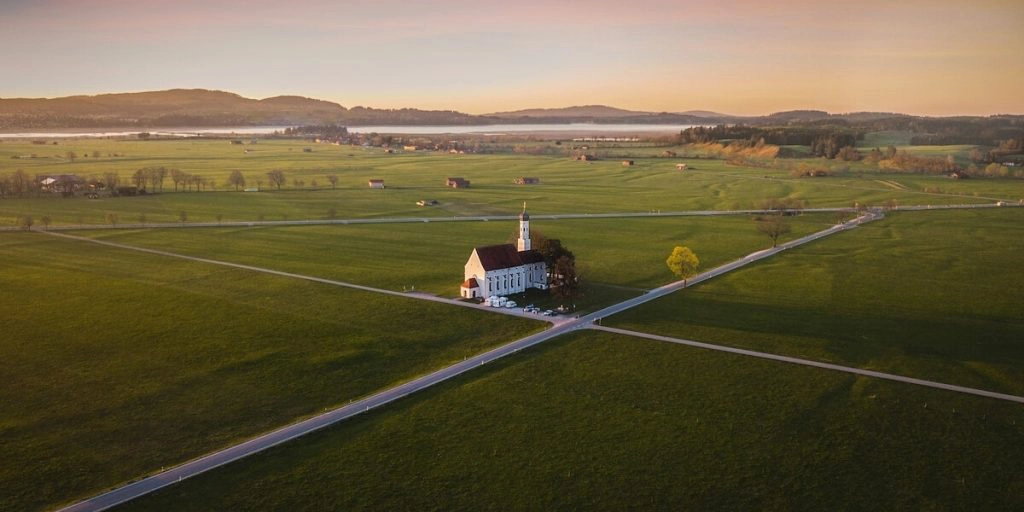 Getting to Germany
Germany is an easily accessible country from the UK and most of Europe, with an excellent network of autobahns to deliver you right where you want to be. Plan getting to Germany as part of your trip and could enjoy an epic road trip to Germany, followed by one in the country itself!
For those flying in, the well-located airports of Frankfurt, Munich, and Hamburg are ideal for car rental, or even hiring a VW campervan or motorhome from Motorhome Republic, and starting your German road trip. We recommend booking your flights through Skyscanner for live deals and the best prices.
RELATED POST: Driving from UK to Germany: Best Routes, Costs & Tips
Fly into the well-located international airports of Frankfurt, Munich, and Hamburg, ideal starting points for your German road trip. We recommend booking through Skyscanner for live deals and the best prices.
Are you planning to rent a car in Germany? As one of the largest car hire aggregator companies in the world, we recommend Rentalcars.com because they have massive purchasing power which enables them to secure the best car rental prices, which benefits you when you're planning a roadtrip in Germany.
For a real adventure, hire a motorhome or campervan in Germany. We recommend Motorhome Republic, an aggregate booking site who pull together all the best deals from a number of rental agencies, to offer you a wide choice of options alongside an excellent English speaking expert motorhome Concierge Team.
Use the Park4Night app to find campsites and places to stay along the route, and park for the night on a mountain pass, flower filled meadow of with a glorious view of the sea.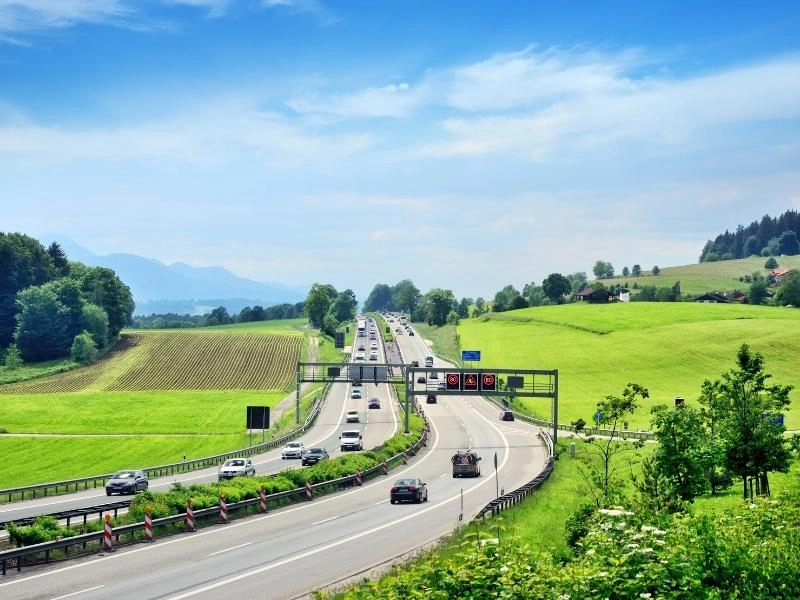 Best Time to Visit Germany
The German climate is fairly typical of central European weather.
The high season is considered to be between April to August when the weather is generally warm. If you want to increase your chances of a dry holiday without rain, roadtrip in Germany between July and September. Temperatures during this period fluctuate between 68°F/20°C to 86°F/30°C.
The colder low-season German weather starts in November and lasts until late March or early April. Snow is common across the country, with temperatures dropping well below freezing. By late March, snow turns to rain, a sure sign that spring is on the way!
That doesn't mean that you shouldn't choose to take a German road trip in winter. As a European winter destination, Germany packs a real punch with fantastic Christmas markets, winter activities in Bavaria, and everywhere dusted in snow.
Is this your first time visiting Germany? Get all the information you need in our Germany Travel Guide, including what to pack, the best time of year to go, getting there, and practical tips to help you have the best trip!
The Mosel Valley
Explored by James from The Travel Scribes
Koblenz – Cochem – Beilstein – Zell am Mosel – Traben Trarbach – Trier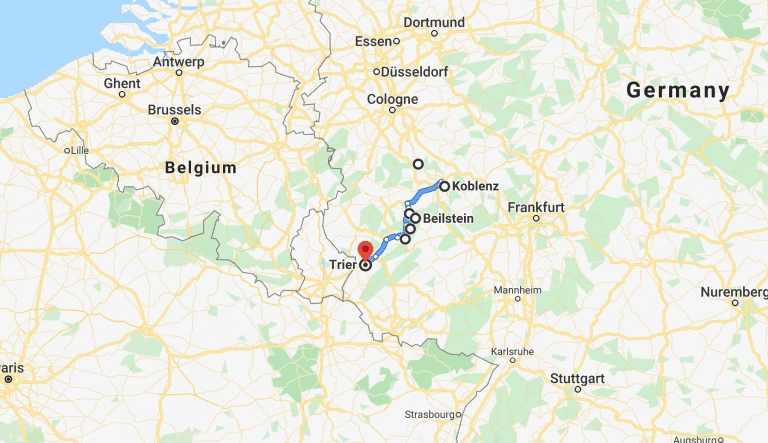 A beautiful river snaking through it, soaring medieval castles dotted across it, and almost vertical vineyards nestled on its hills. It's the picturesque Mosel (or Moselle) Valley, and this is one of the best roads in Germany for wine lovers!
Punctuated by the small but beautiful Mosel river, the valley essentially stretches from the small city of Koblenz, a fairy-tale German town, to Trier along the water's edge.
This breathtaking valley is best explored by taking a least a week, the pinnacle of slow travel as you hop from one riverside town to the next.
Kick off your west Germany road trip in Koblenz, where the mouth of the Mosel meets the Rhine, to walk along the ancient Roman walls or just amble through the Altstadt (old town), before heading to visit the first traditional town of Cochem.
On the way there, avid Instagrammers and history buffs should definitely make a turn at Burg Eltz, one of the most spectacular castles and hidden gems in Germany, to take the requisite snap. Once in Cochem, you'll slow the pace.
You can marvel at the unique vineyards (a signature of the entire Mosel road trip), where the vines crawl up the hillside at 90-degree angles. If you go in harvest time, you'll see the workers strapped into harnesses with spiked boots just to be able to pick the ripe grapes.
Cochem also boasts one of Germany's legendary castles looming above it, plus it's the best place to just take a walk along the promenade, stopping in at one of the riverfront cafes for a plate of zwiebelkuchen (onion cake) and a sparkling glass of federweisser, a traditional fizzy grape drink.
Your next few nights should definitely see you stay over in one of the many lovely towns sprinkled along the river: Beilstein for the Burg Metternich castle, a climb up the hill (and more traditional German food) in Zell am Mosel and our favorite stop on the entire itinerary, Traben Trarbach.
This gorgeous little town used to be two villages, Traben and Trarbach, on opposite sides of the river, which were eventually united with the construction of a short bridge.
Before you hit your final destination of Trier, stay overnight in Bernkastel-Kues, a spa town peppered with wood-timbered houses, many a hot spring, and the ruins of the Landshut Castle.
Before you know it, your German road trip is at an end, as it culminates in the beguiling town of Trier. An old Roman city with landmarks like the Porta Nigra black gate, an old-school amphitheater, the Roman baths, and a towering cathedral, just to name a few.
It's here that you should raise a(nother) glass of perfectly poured Riesling in celebration of the Mosel valley, one of the best road trips in Germany.
Where to Stay
Cochem ⇒ Hotel Villa Vinum for its highly rated service, perfect riverside location, and quirky decor.
Traben Trarbach ⇒ The Goldene Traube for its traditional exterior and modern interior, rooftop terrace, and fabulous breakfast buffet!
Trier ⇒ Vienna House Easy for its excellent location close to the old town, modern and funky style, and private parking garage.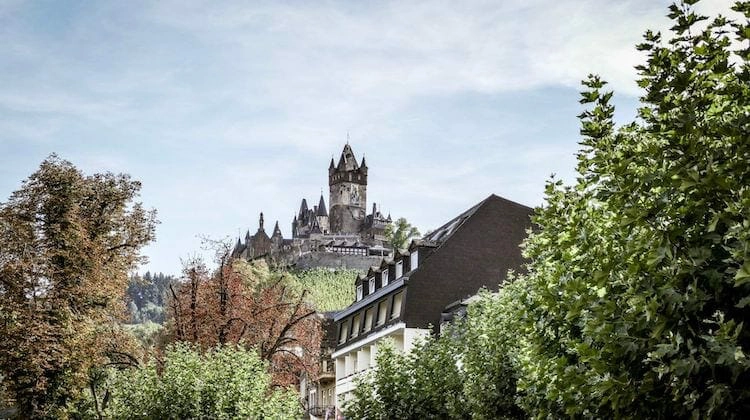 Make sure you have travel insurance you can trust when visiting Germany. We recommend True Traveller for their 5-star TrustPilot reviews, variety of cover options, best activities cover as standard, great prices, and excellent service.
The German Fairy Tale Road
Frankfurt – Steinau – Marburg – Kassel – Gottingen – Hamelin – Bremen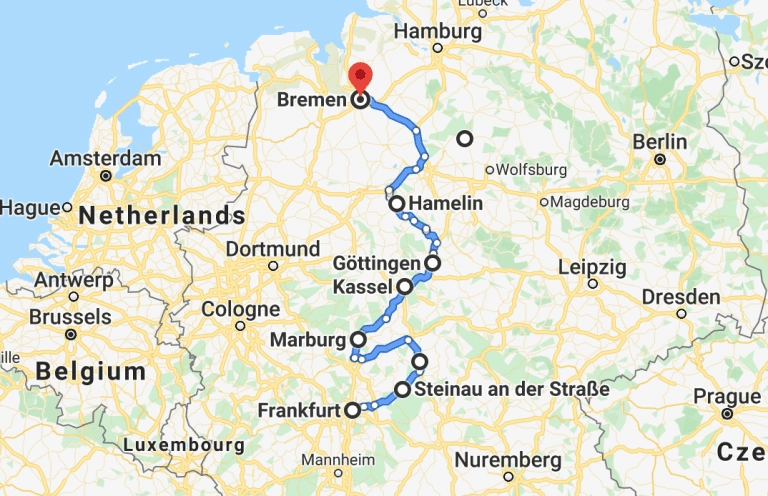 This central to north Germany road trip from Frankfurt does not technically start in the city, but Frankfurt is the perfect place to fly into and pick up a rental car. If you're spending the night, make sure you visit the South Bank, where you'll find an eclectic selection of restaurants, bars, and clubs.
The Fairy Tale route officially starts in the pretty town of Steinau an der Strasse where the Brothers Grimm lived until they were aged twelve.
The setting is straight out of their own fairy tales, complete with typical half-timbered houses, twisting cobbled alleys, and the turreted fairy tale castle of Schloss Steinau which overlooks the whole town. Visit the Brüder Grimm Haus and Museum Steinau, both of which showcase the works of the brothers.
Take the back roads to Marburg and enjoy the gorgeous landscapes and slower pace for a few hours. Marburg's altstadt is full of medieval houses and the hilltop Landgrafenschloss, a dramatic castle holding exhibits on sacred art and local history.
Lively bars and restaurants line the Marktplatz and the narrow streets surrounding it, making this a great location for an overnight stop.
From Marburg, head to Kassel, where the Brothers Grimm spent their teenage years whilst working as librarians for the King of Westphalia, Jerome Bonaparte, the younger brother of the infamous Napoléon.
There is very little left of historic Kassel but there are two worthwhile attractions to visit; the Brüder Grimm Museum, and the Schloss und Bergpark Wilhelmshöhe, a tranquil green space and the largest hill park in all of Europe.
Gottingen is home to the University of Gottingen, where the Grimm Brothers once served as professors. Make for the traditional and atmospheric central market square, where the statue of Ganseliesel, the little goose girl of German lore, is one of the most kissed statues anywhere in the world. It is said that the kisser is rewarded with good luck, but maybe post-virus this practice will change!
Hameln (or Hamelin) is next up and one of the most famous fairy tale destinations in Europe. Hameln is the home of the Pied Piper, or Rattenfänger, who rid the town of rats in 1284, only to be cheated out of his payment.
The Pied Piper returned to Hameln a year later and lured away all the children. The story is re-enacted in the town center every Sunday between May and October and is a fantastic spectacle.
The Weser Renaissance architecture of the Rattenfängerhaus and the Hochzeitshaus makes a fitting historic backdrop for the streets which are thronged with locals dressed the part, stalls selling food, and live music playing.
Finally, on to the Hanseatic city of Bremen, your final stop. Good places to visit in Bremen include the traditional Marktplatz, which is located in the city's charming altstadt, the 600-year-old Rathaus or town hall, the Roselius-Haus Museum, and the stunning St. Petri Dom, the 11th century gothic cathedral.
Another landmark can be found in the city's central town square – a statue of the Bremen musicians and heroes of the Brothers Grimm story, "The Town Musicians of Bremen."
If you have time, extend your trip and head to the modern and progressive port city of Hamburg. Explore the historic districts, edgy culture, and extraordinary commercial past with our one day Hamburg itinerary.
RELATED POST: Deutsche Märchenstraße: Germany's Fairy Tale Road
Where To Stay
Frankfurt ⇒ Kempinski Hotel Frankfurt Gravenbruch for its proximity to the airport and city center, fantastic spa, and beautiful surroundings.
Marburg ⇒ The Vila Vita Rosenpark for its central location, excellent regional restaurant, and stylish bedrooms.
Bremen ⇒ Atlantic Grand Hotel for its perfect riverside location, bike rental from reception, and ultra-stylish bathrooms.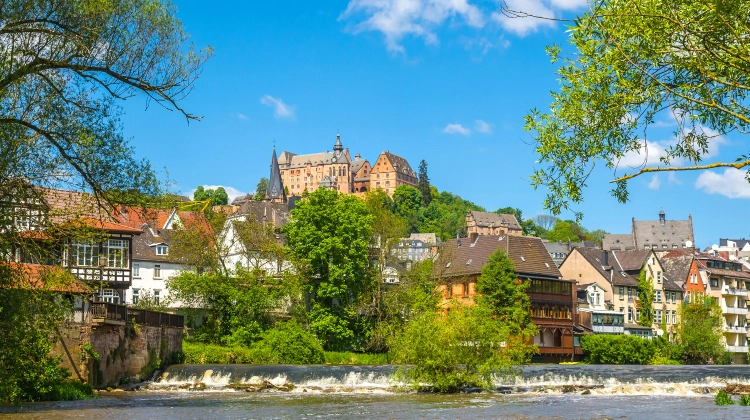 Germany Travel Ideas
The Romantic Road
Explored by Carolyn from Holidays to Europe
Wurzburg – Weikersheim – Rothenberg – Dinkelsbühl – Augsburg – Fussen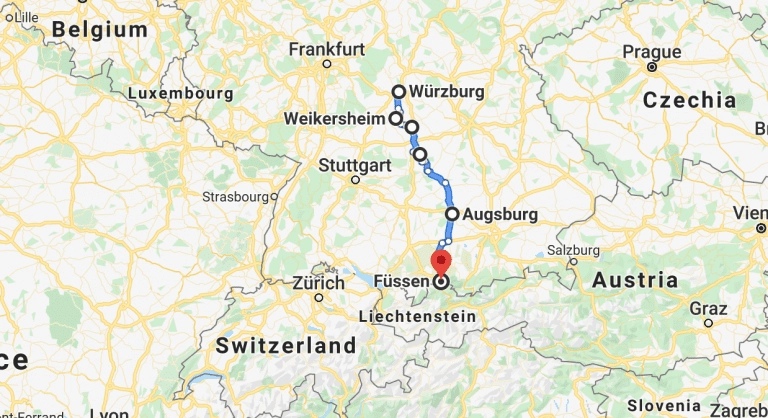 One of the best southern Germany road trips is along the scenic route known as the Romantic Road or Romantische Strasse. This Bavaria road trip stretches for 340km from Wurzburg to Fussen, the route has many highlights and passes through some of Germany's prettiest landscapes and most fairy tale towns and villages.
Whilst you could travel this entire Bavaria itinerary in one or two days, to make the most of your Romantic Road drive, I suggest you allow at least 5 days in Bavaria, which will give you the chance to stop and explore many of the 29 towns along the route, of which the best six are listed above.
The first stop on Germany's Romantic Road is Wurzburg, an attractive city that was almost totally destroyed in WW2. Highlights include the Marienberg Fortress, Wurzburg Cathedral, the Old Main Bridge (which crosses the River Main), and the stunning UNESCO World Heritage listed Wurzburg Residence. Wurzburg and the Franconia region are also well-known for their wines.
You'll see vines planted in front of the Marienberg Fortress and in the surrounding countryside, so be sure to sample the local drop.
After a couple of days in Wurzburg, head south to the fairytale town of Rothenburg ob der Tauber, one of the most beautiful places in Germany.
I recommend you stop in the charming town of Weikersheim en route, there's a beautiful castle you can visit and a small but very pretty old town. In Rothenburg, you'll see why visitors flock here from all over the world.
The brightly painted timbered houses that line the cobbled streets and the medieval city walls with their watchtowers, ooze romanticism and entice people on day trips from all over southern Germany.
Other highlights include St. Jacob's Cathedral, the castle gardens, the views from the tower of City Hall and the Kathe Wohlfahrt Christmas Store and the German Christmas Museum.
With numerous nearby towns and villages worth a visit, too, you could easily fill three days in Rothenburg ob der Tauber. Next, drive further south to your final stop at Fussen.
You'll want to stop at Wies to visit the Wieskirche, a small baroque church with an impressive interior that is UNESCO listed.
In Fussen, explore the old town and head to Schwangau to visit Germany's most famous schloss, Neuschwanstein Castle, built by mad King Ludwig. If you have a few extra days, enjoy some city life by heading to Munich, where you'll find fantastic Bavarian culture and a lively social scene.
Base yourself here for a few days and enjoy some of the day trips from Munich on offer, to experience the best of the surrounding landscapes and attractions. We think this could well be the best road trip in Germany. 
RELATED POST: Romantic Road Germany: Itinerary, Map & Tips
Where to Stay
Wurzburg ⇒ Hotel Grüner Baum for its great location, traditional Franconian decor, and outstanding breakfast.
Rothenburg ⇒ Hotel Herrnschloesschen for its gorgeous and unique decor, fantastic restaurant, and beautiful garden.
Fussen ⇒ Hotel Das Rübezahl for a real treat. This luxury hotel has amazing views across the Alps and both Neuschwanstein and Hohenschwangau castles. There is also a fantastic spa and restaurant, making this the perfect hotel to end your German road trip.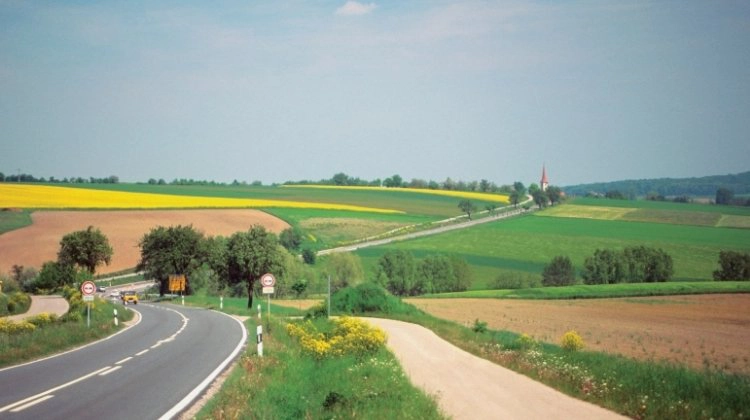 The Castle Circuit
Explored by Becki from Meet Me in Departures
Koln – Frankfurt – Mespellbrunn Castle – Stuttgart – Bad Wildbad – Heidelberg – Koblenz – Eltz Castle – Rheinstein Castle – Cochem Castle – Köln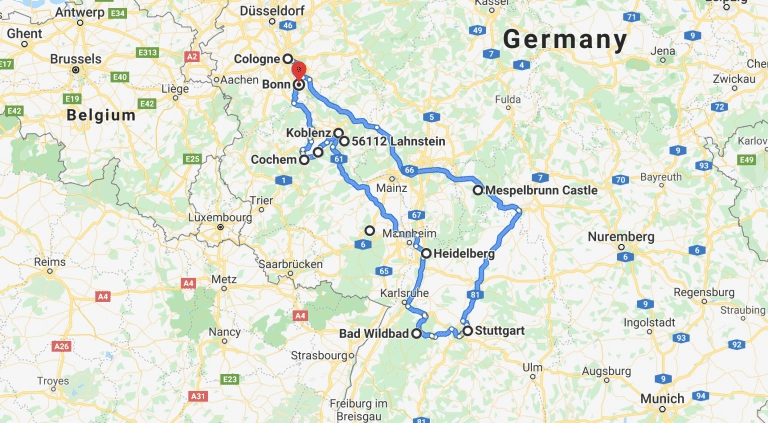 This south Germany itinerary covers a whole mix of destinations in a fabulous circuit, visiting some of Germany's best castles on the route. Starting and finishing in the graceful city of Cologne (Koln in Germany) this road trip covers the southwest of the country.
It takes you south as far as Stuttgart, before circling back north towards the Mosel Valley. To make the most out of this road trip, I suggest three to four days, which will give you time to enjoy the castles as well as the wine in the Rhine region; perfect for a long weekend.
This part of the country is one of the best places to visit in Germany and you'll get to see some of Germany's prettiest castles, the stunning and verdant forests, the Rhine river, as well as a number of picturesque cobbled towns. Stay off the autobahns for the best driving, through beautiful landscapes and scenery.
Start your castle road trip in Koln, making sure to visit the simply stunning cathedral, and head southeast towards Frankfurt. Spend some time in the altstadt wandering around the pretty and atmospheric streets.
From here head towards Mespellbrunn Castle. It's located pretty much in the middle of nowhere, however, it's a stunning castle, which looks a lot like the Sleeping Beauty tower, located on a lake.
From Mespellbrunn Castle, keep heading southeast towards Stuttgart, a beautiful city full of green and open spaces. Be sure to spend plenty of time here exploring the town and its elegant buildings.
It's worth stopping overnight and taking advantage of the fantastic restaurants, bars and beer gardens which line the narrow cobblestone streets of the old town.
From Stuttgart, start to head back north-west. Spend time visiting the lovely Bad Wildbad in the Black Forest and maybe indulge yourself in one of the many thermal baths there.
Head for historic Heidelberg and spend some time admiring and visiting the imposing Heidelberg Castle before crossing the wide river Neckar on the famous old bridge. This is another great town for an overnight stay.
Stop by the pretty and very German town of Koblenz, before heading to Eltz Castle. If you're looking for a quintessential fairytale castle, then Berg Eltz is it! When you're done swooning over Eltz, head to the small complex of Rheinstein Castle high on the banks of the Rhine (or Rhein in Germany) river.
Make for your last stop in Cochem on the gorgeous Moselle, and the impressive Cochem Castle. Stay for the night and try some of the delicious wine produced in this region or take a guided tour of a vineyard with a wine tasting.
This is a fully packed itinerary covering all the best bits of Germany. I'm sure you'll agree, this makes a fantastic German road trip! 
RELATED POST: 18 Magical Castles in Germany to Add to Your Bucket List
Where to Stay
Koln ⇒ Hotel Lyskirchen for its ideal old town location, boutique vibe and modern rooms.
Bad Wildbad ⇒ Mokni's Palais Hotel and Spa for some of that thermal action, as well as old-fashioned elegance and service.
Heidelberg ⇒ Ninetynine Hotel Heidelberg City for funky and modern design, super-comfortable beds and a lively, sociable bar.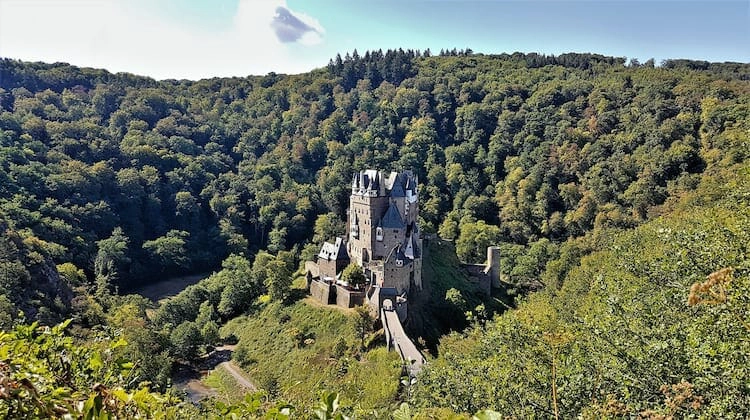 The German Alpine Road
Lindau – Bad Hindelang – Pfronten – Füssen – Oberammergau – Garmisch-Partenkirchen – Bad Tölz – Rottach-Egern – Oberaudorf – Aschau im Chiemgau – Reit im Winkl – Berchtesgaden
Starting at Lake Constance (Bodensee) and winding its way through the diverse and spectacular Bavarian landscape to Lake Koningssee, following the Alps from west to east, the Deutsche Alpenstrasse is simply spectacular and has to be one of the most scenic road trips in Germany.
On this south Germany road trip, the oldest tourist route in Germany, you'll explore picture-perfect towns, alpine lakes and meadows, historic castles, and fantastic driving roads, perfect for whatever your means of transport.
Starting in the pretty harbor town of Lindau on Lake Constance, take the twisting road of the Rohrbach ascent into the Allgäu peaks, for spectacular views and the Scheidegg waterfalls in the Rohrach Gorge.
Continue through Oberstaufen, stopping for a dip in the cold and clear waters of Grosser Alpsee, to the traditional German town of Immenstadt, before crossing the Oberjoch Pass. With 106 bends, this is one of the most scenic and exciting drives of the whole route – make sure you allow enough time to stop for photos!
As you continue east, you'll step into the fairytale world of King Ludwig II on a tour of the castles of Neuschwanstein and Hohenschwangau and the Museum of the Bavarian Kings. Three lakes on this part of the route – Weissensee, Hopfensee, and Forggensee – offer gorgeous scenery.
Upper Bavaria, the land of drama, adventure, and extreme sports is next on the route. Here you can explore the summit of the Zugspitze, Germany's highest mountain, take in Linderhof Palace, swim in the beautiful Eibsee, and discover the many intricate Baroque churches and monasteries, like the Church of Wies. Oberammergau, home of the famous ten yearly Oberammergau Passion Play, is also in this region and well worth visiting.
Fancy a swim? The next part of the route runs through the Tölzer Land, beside Lake Walchensee, across the fabulous Kesselberg Pass, and on to Lake Kochelsee. After Benediktbeuern with its abbey, Bad Heilbrunn, Bad Tölz, and Lenggries, the route climbs to the Sylvenstein reservoir, where you'll have fantastic views.
The next section of the route in the Tegernsee and Schliersee region sees you driving through Rottach-Egern, Tegernsee, Schliersee, and Bayrischzell, known for their restaurants and cafés that provide Bavarian hospitality and delicious local food and drink for you to sample. As you continue on, the road meanders through the mountains to Chiemsee, and panoramic views are guaranteed.
The German Alpine Route saves the best for last – crossing the 868m high Schwarzbachwacht Pass into the incredible landscape of the Berchtesgaden Alps and Konigsee, widely thought to be the most stunning lake in Germany.
RELATED POST: Deutsche Alpenstrasse: Route, Map & Highlights
Where to Stay
Fussen ⇒ Hotel Sonne for its wonderful old town location, local cuisine, and contemporary decor.
Bad Tolz ⇒ Hotel am Wald for its wellness area, panoramic views, and cozy rooms.
Berchtesgaden ⇒ Alpenhotel Fischer for its fabulous spa, out-of-town location, and family hospitality.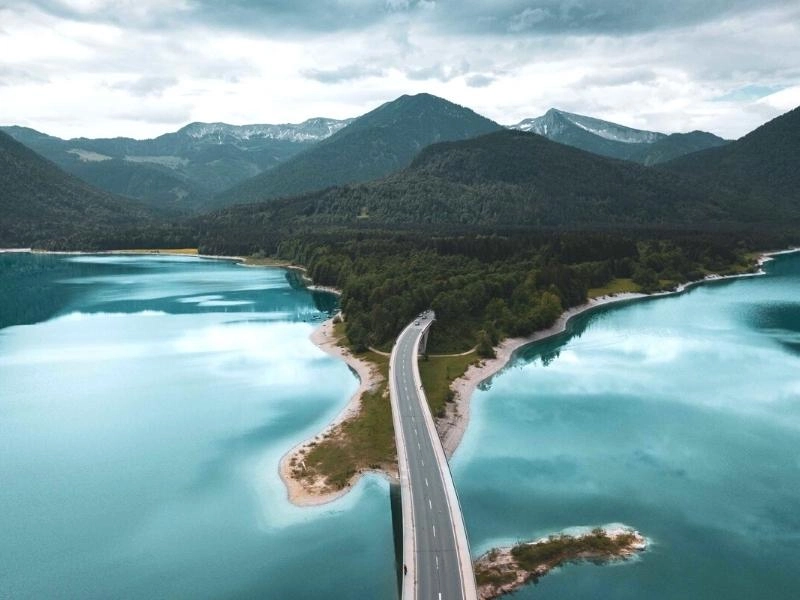 Iconic German Cities
Frankfurt – Munich – Cologne – Munster – Hanover – Frankfurt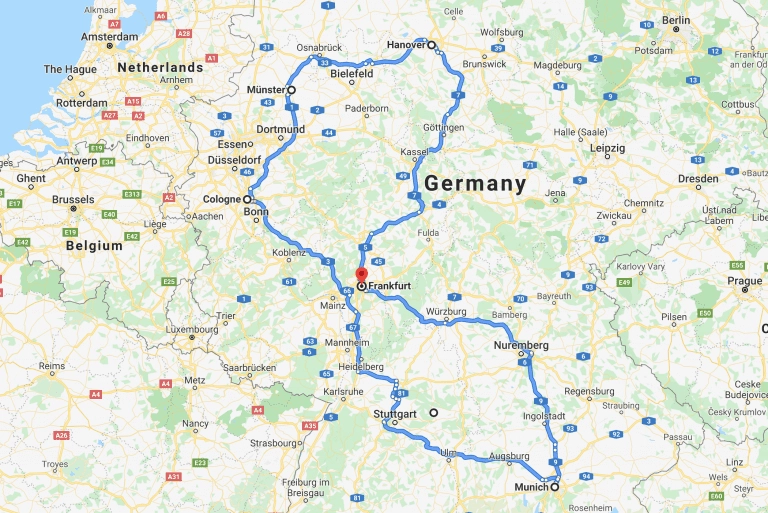 If you really can't decide which road trip to take and you have a few weeks. then why not consider taking a driving tour of Germany, hopping between some of Germany's most historic and beautiful cities, and taking in elements of all our road trips on the way?
This road trip route will take you past or in close proximity to some of the most beautiful places in Germany including fairy tale castles and towns, famous landmarks, stunning rivers, and wine regions.
You'll drive on fantastic roads and if you choose not to use the autobahns, you'll enjoy a relaxed pace and be able to enjoy the ever-changing scenery and small historic towns of this surprisingly gorgeous country.
If you're road tripping Germany in winter, you'll love the clear crips days, frosty landscapes and of course, the traditional Christmas markets that the country is famous for. Fairy lights, gluhwein, traditional artisan gifts, and hearty, warming local food will make your winter road in Germany really memorable.
Don't forget Germany's recent history either. This route will take you close to both Dachau and Bergen Belsen concentration camps, which make for harrowing visits that nevertheless should be taken, lest we forget the past, which must never be repeated.
You'll also find the opportunity to tour the top car museums of BMW in Munich and Porche and Mercedes in Stuttgart. Why not test yourself and take a drive around the famous Nurburgring on your way past?
If you are lucky enough to have three weeks or longer, then add the eclectic and fascinating city of Berlin to the mix, or head south from Munich for the incredible Deutsche Alpenstrasse, or German Alpine Road, one of the most scenic drives in Germany.
Where to Stay – Our Top German Hotels
These are luxurious, treat-yourself hotels, known for their sumptuous decor, opulent furnishings, and outstanding service.
Frankfurt ⇒ Hotel Villa Kennedy for its incredibly gorgeous rooms, comprehensive spa, and superb, discreet service.
Munich ⇒ Hotel Vier Jahreszeiten Kempinski for its high-end location on the fashionable Maximilianstrasse, architectural grandeur, and first-class service.
Koln ⇒ Excelsior Hotel Ernst am Dom for its fabulous cathedral location, love of tradition, and impeccable service.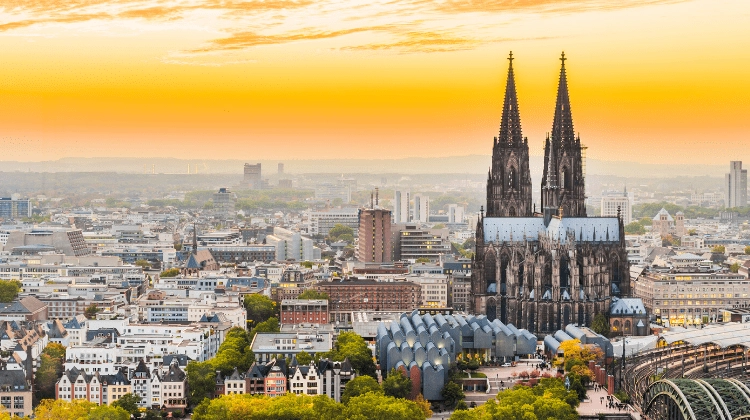 German Road Trip Resources
Here are the websites and services we personally use and recommend for traveling in Germany.
Tips for Driving in Germany
The roads in Germany are well maintained, the autobahns are toll-free and there are excellent regional and minor roads with great services for drivers, making Germany a fantastic place to road trip.
Contrary to popular belief though, there are speed limits on the autobahn, and many sections have limits between 120km/h (75mph) and 110km/h (68mph) or lower, especially in urban areas.
Whether you're traveling in your own vehicle or flying in and renting a car, you need to follow these rules when you drive and travel in Germany;
You must have at least three months remaining on your passport (issued in the past ten years) at your intended date of departure from Germany.
You must have at least 3rd party insurance for your vehicle.
Citizens of non-EU third countries may require an IDP, you can check here.
It is compulsory to carry a warning triangle, reflective jacket (for the driver and all passengers), spare wheel, and the tools to change a wheel or a tire repair kit.
If you wear glasses you must carry a spare pair.
You should carry a first aid kit, but this is only compulsory for four-wheeled vehicles registered in Germany).
Germany introduced regulations in 2010 requiring all passenger cars and motorbikes to be fitted with winter or all-season tires in wintry conditions.
RELATED POST: Driving in Europe – Everything You Need to Know
Are you looking for more road trip inspiration? Check out these top posts…
Amongst the beautiful landscapes of Spain, in the mountainous interior and along the gorgeous coasts, you'll find fascinating history, vibrant culture, and incredible cuisine. One of the best ways to experience Spain is by taking a road trip. We base ourselves in Spain when not traveling and have explored much of the country on four wheels and two! Whether you want historic cities, gorgeous landscapes, beaches and sun, or something a bit different, our detailed…
Love it? Pin it!