This post may contain affiliate links, from which we earn an income.
Top European Winter Destinations
Wondering where to spend winter in Europe? Europe in the winter offers so much variety, whether you're looking for warm winter sun, beautiful snowy landscapes or Christmas markets and festivities, you'll find the best winter destinations Europe in our winter travel guide.
Winter Travel in Europe Map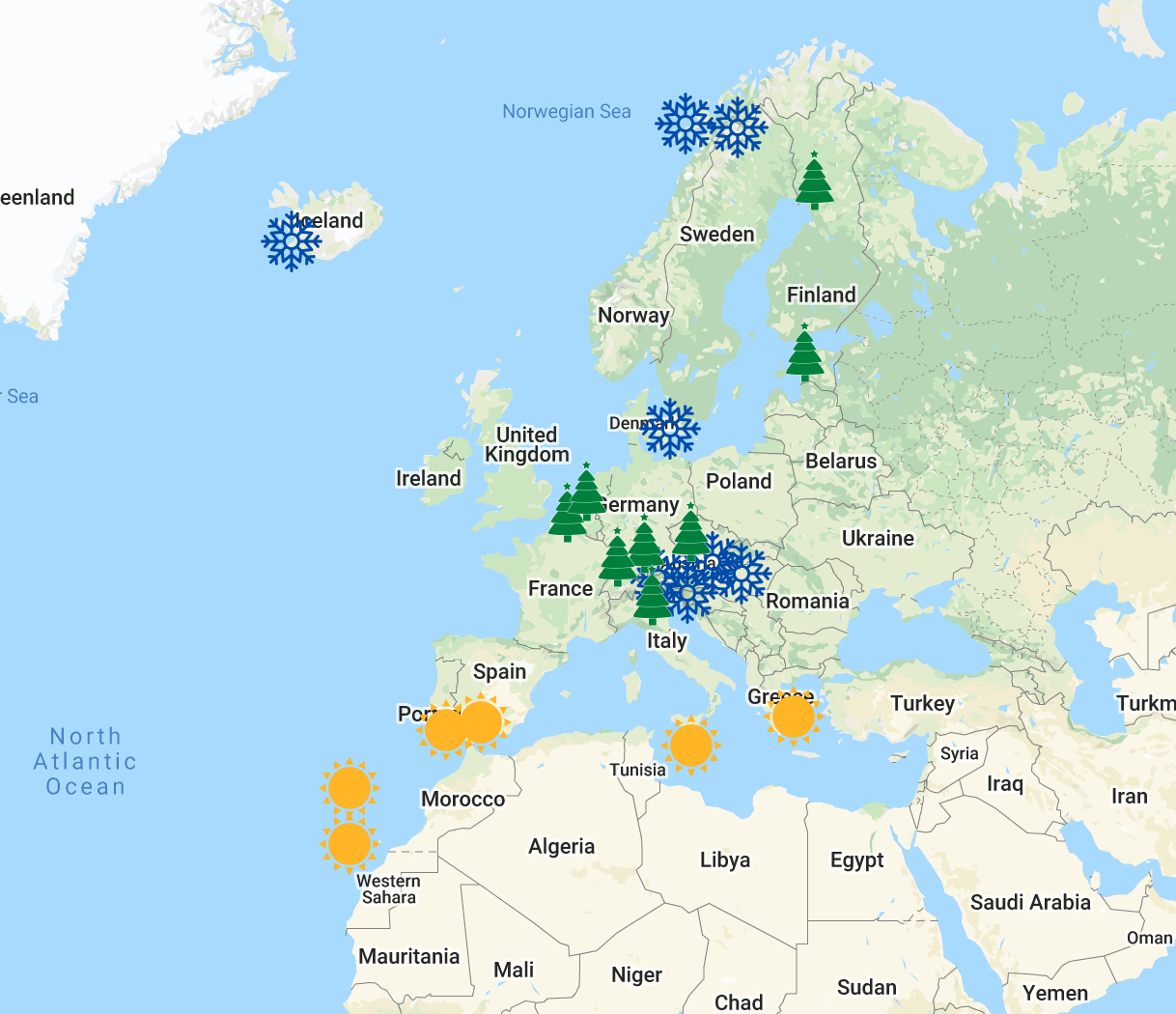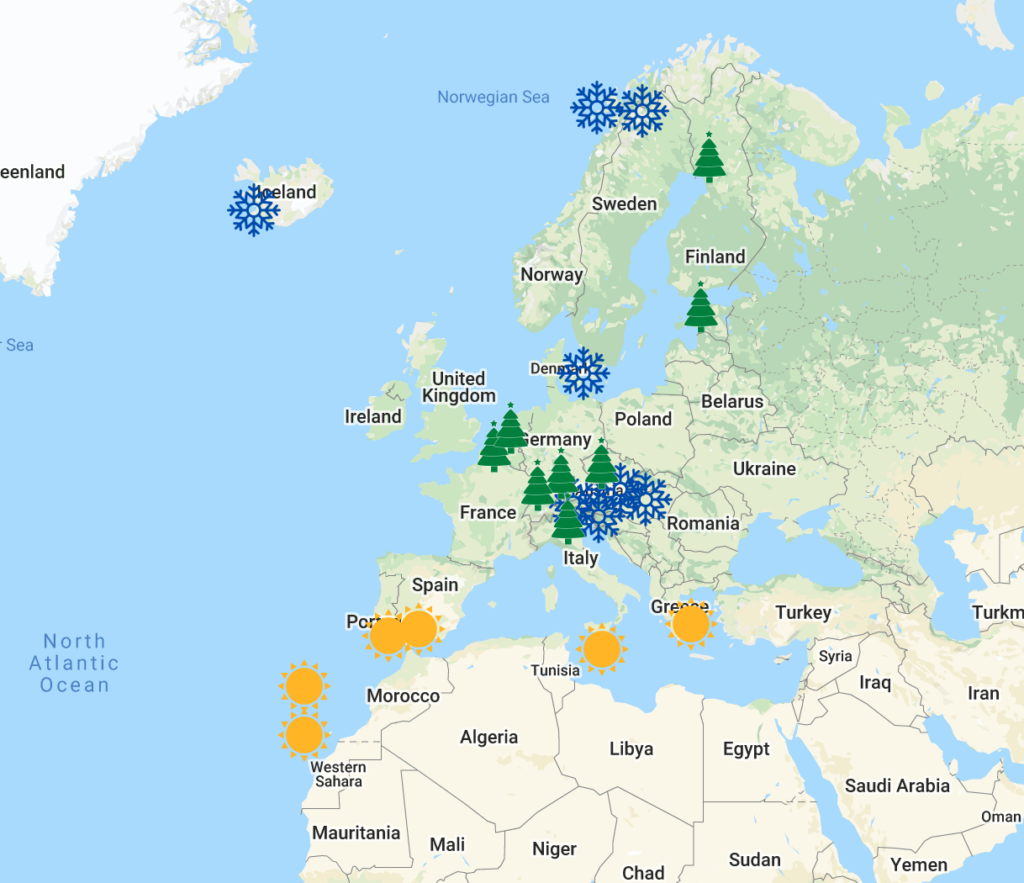 Best Winter Sun Destinations
Andalucia, Spain
The southern Spain region of Andalucia is warm throughout the year, with some of the best winter sun to be had in Europe. Take a fly and flop to the Costa del Sol, that golden stretch of coast between Malaga and Estepona, and enjoy soaking up the rays before stepping out for tapas in the charming old towns along the coast.
Follow an Andalucia road trip itinerary from Malaga to the most beautiful Spanish cities of Seville, Cordoba and Granada to see some of the best ancient Moorish architecture in the world. Or head east to the hidden gem sea city of Cadiz where the fish is freshly caught every day and sherry is made on the doorstep of this wonderful town.
As warm European countries in December (or any winter month) go, Spain is one of the best.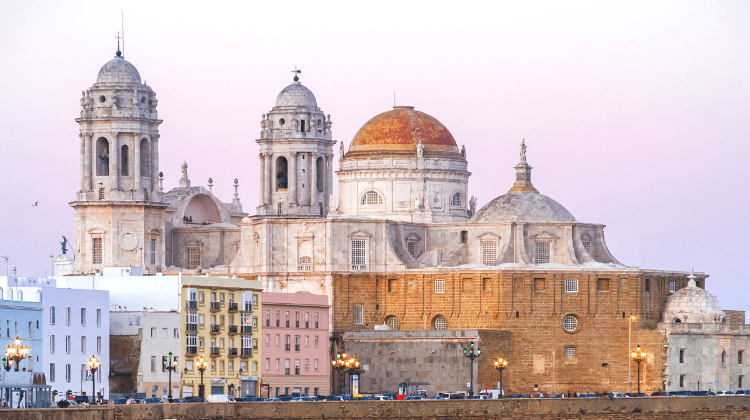 The Algarve, Portugal
Despite its proximity to the Atlantic and western edge of Europe, the Algarve offers high temperatures and long daylight hours during winter, making Portugal one of the best European countries to visit in December for winter sun holidays.
Head for the western Algarve for vast unspoilt beaches and hiking along the magnificent Rota Vicentina, which you can walk in just a t-shirt, even in January. This is a region that's well set up for visitors and you'll find lots organised Algarve activities, tours and trips available, giving you lots of opportunity to make the most of the winter sun.
If you're after a bit more glitz and glamour then the coastal resorts of historic Lagos and busy Albuefeira will tick the box and give you one of the best winter vacations in Europe. For a road slightly less travelled, head for Tavira, a sleepy fishing town with a 14km stretch of stunning sandy beach.
Athens, Greece
Almost unbearably hot and busy in the summer months, Athens is one of the best European cities to visit in winter, the best time to explore the country's rich history and heritage without queuing for hours. You might even be able to get that image of the Acropolis or Parthenon without thousands of other people in it!
Head to Athens for a winter city break and you'll also find cheap flights, good prices on hotels and hostels, value for money tours, quieter restaurants and sunshine …what's not to love about this winter holiday destination?
RELATED POST: Greece Road Trip – Two Incredible Routes
Canary Islands, Spain
An archipelago off the north-west coast of Africa, the Canaries are a group of rugged volcanic isles. The main islands are Tenerife, Fuerteventura, Gran Canaria, Lanzarote and La Palma. Known for their black sandy beaches, The Canaries are a staple of European winter holidays.
The Canary Islands seas are warm enough to swim in the sea all year round, the average January temperature is in the mid 20's and they have less rainfall than Spain and Portugal. They can be windy in the winter months, but if you enjoy sailing, wind-surfing and kiting, then so much the better!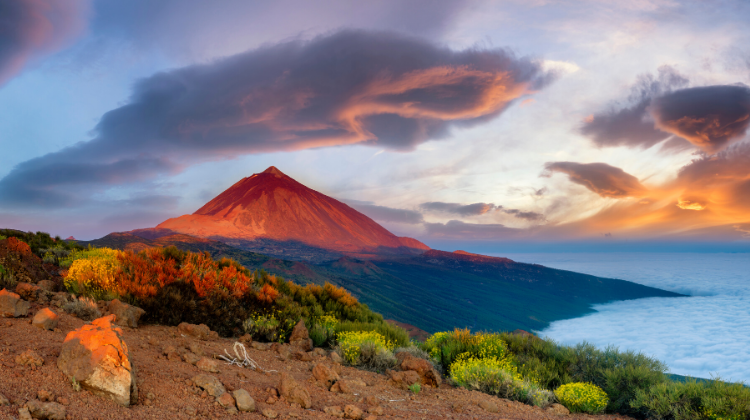 Madeira, Portugal
Madeira has to be one of the most beautiful islands in Europe in winter. With a perfectly balanced, warm sub-tropical climate throughout the year, lush landscapes and delicious wine, it's a perfect island for a winter break.
The capital, lively Funchal, also has one of the largest fireworks display in the world at New Year, another great reason to visit over winter.
Hiking in Madeira, through the rugged volcanic interior is a top activity here. Or head out to sea for whale and dolphin watching, learn to scuba dive or visit one of the islands famous gardens. If you just want to chill on the beach, its the perfect place for that too!
Malta & Gozo
In the Mediterranean, between Sicily and the North African coast, the Maltese archipelago enjoys some of the highest hours of sunshine anywhere in Europe and will be around 18-20 decrees celsius during the winter months.
These tiny islands pack a real punch. With a fascinating history, prehistoric temples, azure blue secret coves, dramatic cliffs full of fossils waiting to be found, and some of the best scuba diving in the Med, Malta makes an active winter holiday destination.
For city lovers, there's loads to do and see in Valletta, one of Europe's smallest capital cities and a fantastic winter city destination in its own right.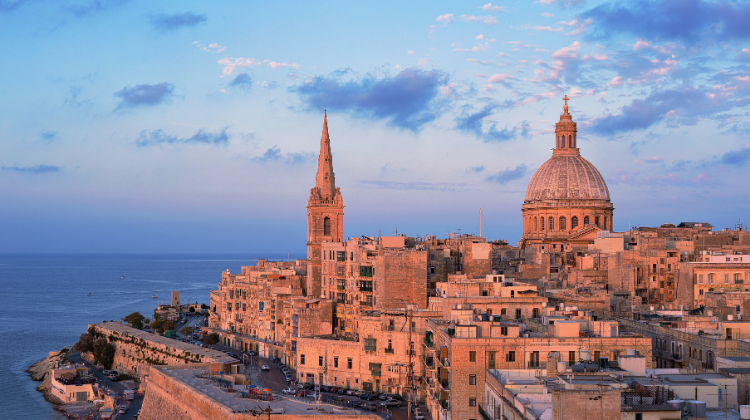 YOU MIGHT ALSO LIKE… Where is Hot in January in Europe? The Top 32 Warmest Places
Best Snow & Ice Destinations
Lofoten Islands, Norway
Not for the faint-hearted, this is serious winter travel in Europe. The Lofoten Islands in winter, when all the summer tourists have gone, are simply glorious. Above the Arctic Circle and a great place to see the Northern Lights, this trek is an unforgettable one, especially if it's your first time in Norway.
There is not a great deal to do here in winter; take long coastal walks, hike (as long as you're prepared and have the right gear), capture amazing winter images and enjoy the solitude. This winter destination is not for everyone but for some, the lure of spending time in the Arctic Circle during the colder months cannot be denied.
It rains a lot in November. From December 9th to January 4th you will experience the incredible polar night. In January the days will be short, with the sun sitting low on the horizon; amazing for capturing the moody skies and changing light during the short time between sunrise and sunset.
Winter conditions are more stable in the first two months of the year, coupled with a strong Northern Lights presence this makes the Lofoten Islands one of the best places to visit in January in Europe if you're looking for adventure.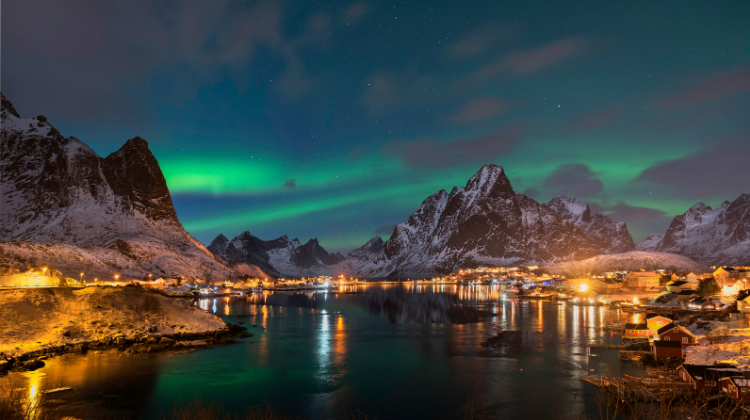 Innsbruck, Austria
If you want a perfect destination with winter sports and an alpine backdrop, look no further than Innsbruck. Surrounded by the mighty Alps, with its imperial architecture and charming alt Stadt, Innsbruck is a welcoming city that offers immediate access to a vast winter sports playground.
One of the best places to visit in Europe in winter for skiing, snowboarding, tobogganing or hiking, the accessible mountains and glaciers surrounding Innsbruck are waiting for you to experience all they have to offer.
Budapest, Hungary
This is a winter city, if ever there was one. Rich in history and culture, winter in Budapest has a fairy tale like quality and is one of the best European cities to visit in December.
An added bonus is that Budapest is also a fantastic budget destination, easy on the pocket at any time of year. There are the beautiful Christmas markets with Vörösmarty Square being one of the most popular in central Europe, as well as one of the oldest in Hungary.
Over in City Park, with Vajdahunyad Castle as the backdrop, is a huge ice skating rink which runs from late November to mid January before it is turned back to a summer pond complete with ducks!
There's also the stunning State Opera House and St Stephens Basilica to see, but the main winter attractions are the fabulous natural thermal springs that deliver 70 million litres of warm and therapeutic water every day to more than a dozen spas.
Taking a dip in the famous Széchenyi Baths is an absolute must during a winter visit and with its 15 indoor baths, three outdoor pools, saunas, Turkish baths and massages you'll be in heaven!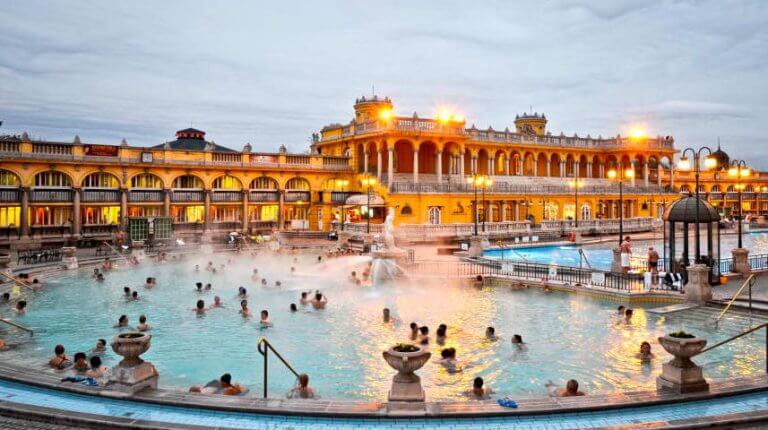 Abisko, Sweden
Almost the last train stop in Europe, Abisko in Lapland is for serious winter lovers and those making a visit to the nearby famous ice hotel in Kiruna.
Abisko has one of the highest Northern Lights sight ratings in Scandinavia. Head here during the few weeks of December and January when the sun stays below the horizon for the best chance to see the breathtaking aurora borealis. Whilst you're waiting for the show to start, try your hand at husky mushing or cross-country skiing – just make sure you include thermals on your packing list!
Vienna, Austria
Vienna is one of the most captivating European cities in winter, when hot chocolate and Sacher torte are high on the menu and classical holiday concerts take place almost daily.
Visit during ball season for an opportunity to re-enact the bygone era of high society and decadence; experienced waltzers should make for the traditional Philharmonic Ball while those wanting something a little more modern can check out the less formal Bonbon Ball.
If that's not your thing, try a spot of dancing on ice at one of the ice-skating rinks set up over the city in winter. Follow this up with seasonal roasted chestnuts and delicious potato wedges from the street stalls whilst warming up with a steaming mug of gluhwein.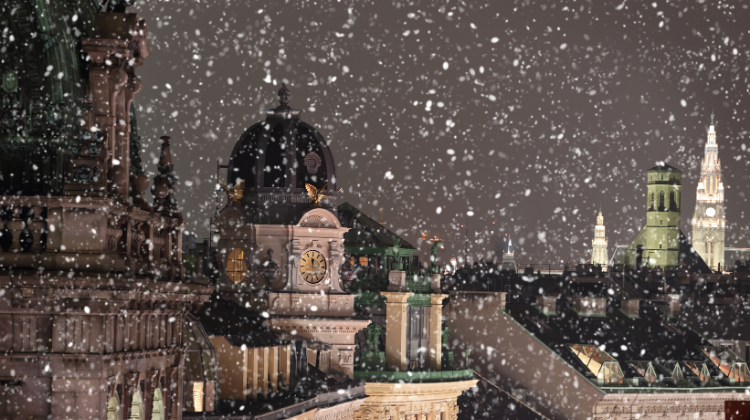 Reykjavik, Iceland
The world's most northerly capital combines brightly painted buildings and fascinating culture with lively nightlife and an excellent restaurant scene, perfect for city breaks at any time of the year but particularly atmospheric in winter.
A town by many countries standards, the tiny city of Reykjavik has a lot going on. Visit the unearthed Viking longhouse for a history lesson on Iceland's rich heritage, head for the some of the many galleries and art spaces in the city or make your way out of town to experience the snow-capped mountains, wild seas, crystal-clear air and geothermal waters of the stunning landscape. This is a city which is good for the soul.
If you love the look of this small country, but really don't want to go in the winter, then a trip to Iceland in summer will reward you with wild flowers, sunlit waterfalls and warm days.
RELATED POST: One Day Reykjavik Itinerary – Map, Tips & Guide
Copenhagen, Denmark
The air thick with hygge, the canals crisp with ice and a dusting of snow on the cobbled streets make Copenhagen one of the top winter city breaks in Europe. It will be cold, but thats ok because there's glogg (mulled wine with raisins and almonds), pancake puffs and real fires in hotels and bars, perfect for keeping warm (and snuggling!).
Venture out to the Tivoli Gardens for the Christmas market and winter wonderland that even the most responsible of adults will enjoy. Find a sauna and warm up the traditional way (perhaps skip jumping in the canal afterwards) and head for Nyhavn, where the colourful houses stand out in stark contrast to the grey skies and icy water.
RELATED POST – One Day Copenhagen Itinerary – Map,Tips & Guide
Bled, Slovenia
Bled's stunning landscape not only makes it one of the most beautiful places in Slovenia, but one of the best alpine areas in Europe. Known for its healing climate, thermal waters, and off the beaten track ambiance, this small city is perfect if you want a quieter escape and is one of the must see places in Europe in winter.
Bled is also perfect if you're looking for a bit of adventure. The surrounding landscape is ideal for outdoor activities such as hiking or skiing. In between all this, don't forget to check out Bled Castle, a medieval fortress believed to be the oldest castle in Slovenia, and the famous Lake Bled, which you can skate on if it ices over.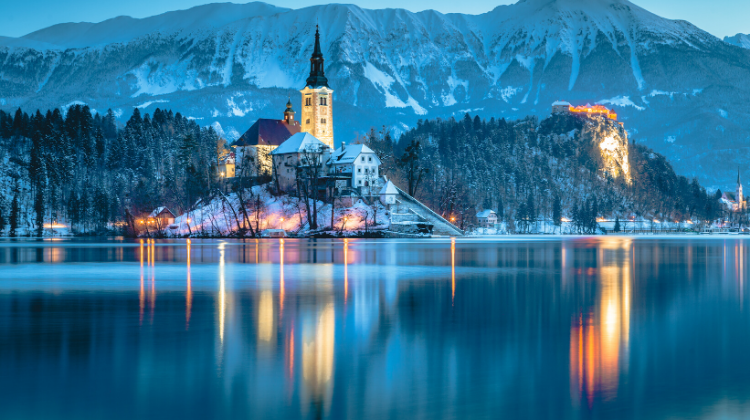 Best Christmas Destinations
Prague, Czech Republic
An idyllic destination during the festive period, Prague becomes a winter wonderland around Old Town Square and Wenceslas Square, making it one of the best cities to visit in the winter.
The traditional Christmas markets here are some of the most traditional in Europe and alongside these two squares there are a further three more; the cute huts on Republic Square and those at Havelska Market and in front of St George's Basilica.
Wander the streets in between, enjoy the cafe culture and street snacks whilst soaking up the historic sights of the castle and famous bridges sprinkled with snow and frost. Head back to one of the main squares for a traditional sing along with carols, and yep, you've guessed it, Good King Wenceslas is always top of the list!
Tallinn, Estonia
Tallinn is a beautiful place and one of the best cities to visit in Europe at any time of the year. Go in winter though, with cold crisp days and stunning medieval architecture and Tallinn's Vanalinn district (old town) becomes simply magical.
From mid November until early January you will find the sparkly Christmas market and tree in Raekoja plats, the Town Hall Square. In December you can skate next to the stunning and historic St. Nicholas Church in the centre of the old town, before heading to Kehrwieder Chocolaterie for a warming hot chocolate.
It's not all about markets and hot chocolate though. The UNESCO World Heritage Site of Tallin has plenty of other attractions, including superbly well-preserved medieval buildings, historic urban structures and tradition by the bucket load. Take a walk along the city walls, visit Toompea Castle and climb some of the 20 towers still surrounding the city today.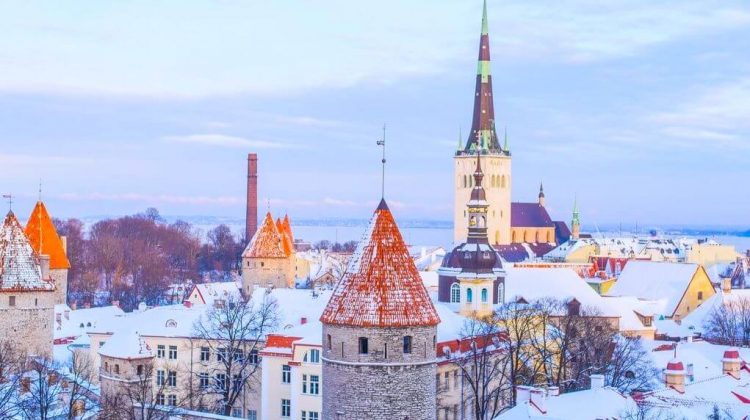 Rothenburg ob der Tauber, Germany
Considered one of the most photogenic Christmas destinations in Europe, Rothenburg is Christmas, Germany and medieval all rolled into one gorgeous parcel. It has to be one of the most romantic towns in Germany and especially beautiful in the winter, with a light dusting of snow. It will be busy here at this time of year though, book well in advance.
The Christmas market is legendary, even in Germany, home to the Christmas Market! Rothenburg's market has been taking place every year since the 15th century. We've been to a fair few Christmas markets in Europe and this is one of our favourites, for the tradition and spectacle it provides and its picture perfect setting.
Make sure to visit the world famous Kathe Wohlfhart Christmas shop – love it or hate it, you can't ignore this most distinctive of tourist attractions it when you're in Rothenburg!
Bruges, Belgium
Bruges is a delightful city, perfect for a day trip from Brussels, and one of the best European cities in winter if you're travelling from the UK. Full of historic architecture, pretty squares and interesting, independent shops, it's easy to lose yourself in the old town of Bruges for a day.
There will be Christmas markets, gluhwein, and perhaps a horse drawn carriage ride along the cobbled streets to enjoy making this a perfect winter destination for romantics.
Bruges is also a foodie destination, famous for Belgian frites, fine chocolate and fluffy waffles with a vast array of toppings. It's even better in winter, when the twinkling lights and clear frosty days give you licence to eat as many waffles as you want!
Strasbourg, France
Strasbourg, on the German border is easily reachable by car in a day from Calais. This gorgeous medieval city is made up of charming half-timbered houses, imposing churches and pretty canals.
Think of a medieval town dusted with snow and you will be imagining Strasbourg, one of the best cities in Europe to visit in December for its beautiful Christmas market.
Yes, Christmas markets do exist outside Germany and Strasbourg's has been going for centuries! This Christmas market is becoming more popular by the year and offers all the usual hand-crafted gifts and lots of delicious French goodies to eat.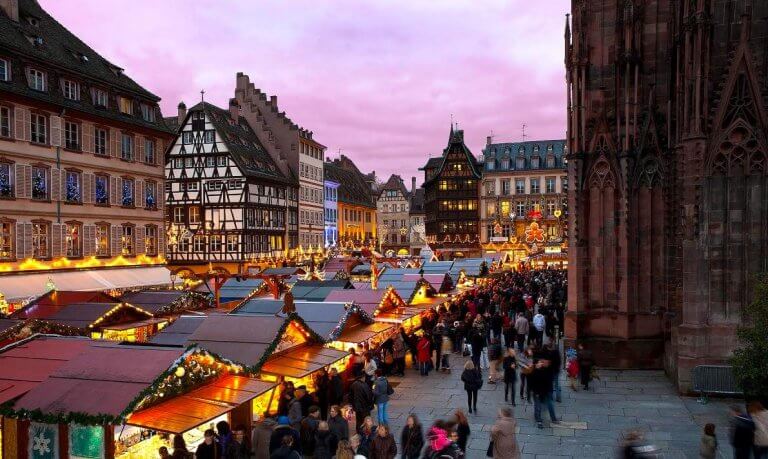 Rovaniemi, Finland
Rovaniemi has to be one of the best Christmas destinations in Europe and is known as the home of Santa Claus. It's also the site of the official Santa Claus Village, where you can meet the man himself and hang out with his reindeer.
Once you're over that, some of the best things to do are dog sledding, snow shoeing, Northern Lights watching, ice fishing, snowmobiling, ice-cart racing and ice floating (whatever that is).
For a bit of culture and to learn more about Finnish Lapland and the Arctic, head to the Arktikum Science Museum where you can find out more about the history, nature and landscapes of the area.
Amsterdam, Netherlands
One of the best European city breaks, Amsterdam shines in winter and is a magical city in the lead up to Christmas, with celebrations that go on for the whole month of December.
The crowds are thinner in the colder months, leaving you to enjoy frosty canals, cozy cafes, and cool bars without the crowds of summer. Make sure to check out the Amsterdam Light Festival which runs through December and January, and Museumplein, which transforms into a winter wonderland complete with traditional Christmas market.
Madonna di Campiglio, Italy
Madonna di Campiglio is the perfect place for a magical white Christmas in Italy. With its beautiful scenery, high end boutiques and lively bars, this elegant and charming mountain town is a wonderful European winter destination.
Surrounded by the snow-topped peaks of the Brenta Dolomites national park and sitting at an altitude of 1,522m this beautiful town is also one of the Dolomites best ski resorts and offers nine miles of cross-country ski trails and 35 pistes served by modern facilities.
During the Christmas season, Madonna di Campiglio comes into its own with thousands of sparkling fairly lights and vibrant festivities, including the traditional Christmas slalom on the Canalone Miramonti run.
Enjoy the atmospheric Christmas market, which sells everything from beautiful decorations and handcrafted items to honey and mulled wine. Wrap up warm, there will definitely be snow!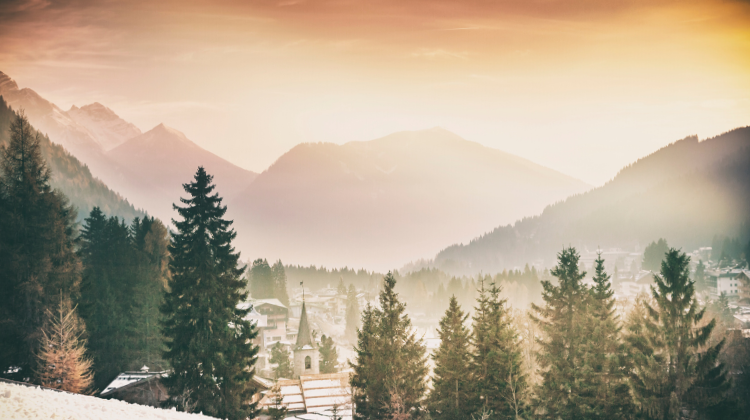 Are you looking for more European destination inspiration? Check out these top posts…
Europe is perfect for an epic road trip; from the rolling fields of Tuscany to the soaring mountains of the Sierra Nevada and luxe living in the South of France, you can find a road trip route to suit your taste and travel style. Whether you have a week, a month or a year, our top seventeen bucket list Europe road trip itinerary ideas will give you plenty of inspiration to get on the road.
Love it? Pin it!