This post may contain affiliate links, from which we earn an income.
How to Spend One Day in Reykjavik
While Reykjavik may be one of Europe's smaller capital cities, what it lacks in size, it makes up for in breathtaking views, quirky architecture, and a charming city centre with a distinctly hip vibe.
In our one day Reykjavik itinerary and travel guide, you'll find information and tips for visiting all the most important must see Reykjavic attractions, with an interactive map, organised to make the best use of your time.
We also share recommendations for central places to stay, ideas about where to eat local food, and tips about how to make the most of Reykjavik in one day.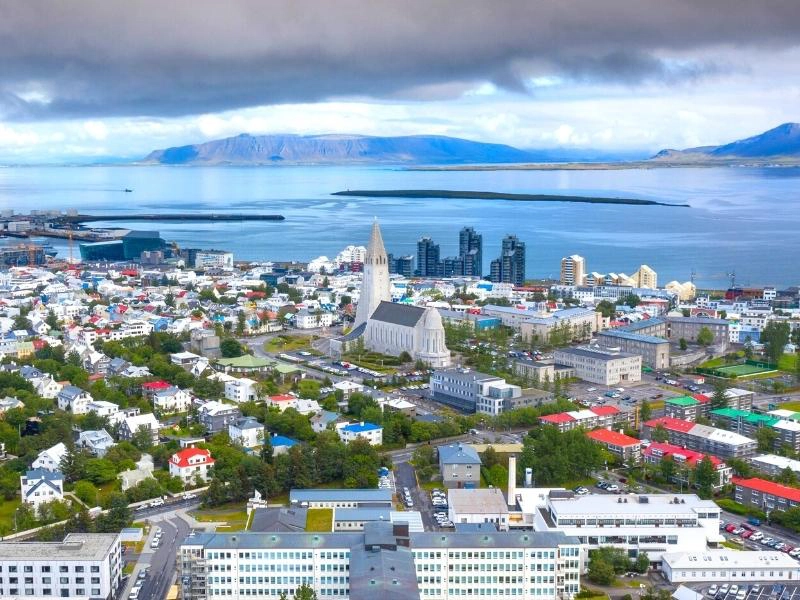 When to Visit Reykjavik
We are firm believers that you can travel to Reykjavik (and Iceland in general) year-round. A lot of people will tell you that Iceland is a desolate and unnavigable lava field in the wintertime, and that you'll be blown off a cliff or be miserably cold the whole time you're there. This couldn't be further from the truth.
In fact, the wintertime is a delightful time for visiting Reykjavik, and it's definitely possible to drive the full Ring Road (minus the Westfjords region) in the winter like we did. We definitely recommend visiting in winter due to the gorgeous snowfalls, sparkly snow-capped mountain vistas, and lack of other tourists and travels.
If you wear lots of layers to protect yourself from the wind, and add on a scarf and hat to keep your neck and ears covered, you'll be as good as gold. The cold is comparable to mainland Europe or the U.S. in winter, not much colder at all, despite what you may think!
While we're on the subject, another myth-buster about Reykjavik in winter; many claim that it's too dark to visit, thinking that it's dark all day like some parts of Alaska, but this really isn't true either.
While the sun is certainly high in the sky for less time than locations geographically south of Iceland, the spectacular sunrises and sunsets provide for enough daylight to get everything done in a day that you'd like to.
If you decide to visit in summertime, keep in mind that Reykjavik has become quite popular with tourists in the last few years, and the summertime is certainly the busiest time to visit. Accommodation and tours are likely to cost a bit more in the summer, and there will likely be more people visiting the main attractions. If you plan and book ahead and wake up early in the morning, you should be just fine.
If you're looking for a bit of both worlds – less snowy than winter, less busy than summer – consider shoulder-season travel. While spring and fall are perhaps a bit wetter and muddier, you'll score great deals on air travel to the country and hotels as well as enjoying the main attractions with fewer crowds.
TOP TIP: The period immediately preceding sunrise and just after sunset in winter is a photographer's dream – perfect lighting for photos and a gorgeous, ethereal glow that you'll never forget.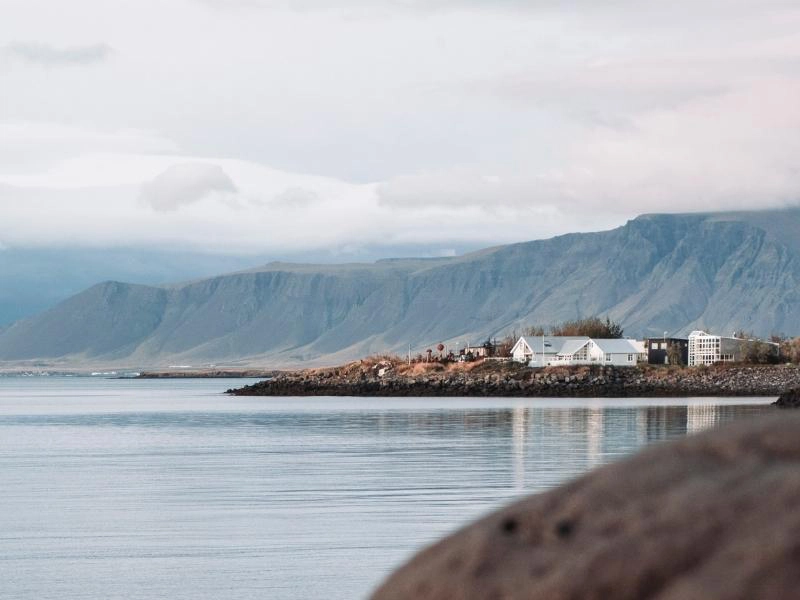 Reykjavik Trip Resources
Flying
Fly into Reykjavik-Keflavik International Airport
Driving
Hire a car at Reykjavik Airport in Iceland
Travel Insurance
Cover medical costs, delays and lost luggage
Getting to Reykjavik
Flying
You will land at Reykjavik-Keflavik International Airport, the airport is 50km from the city. The best way to get to Reykjavik from the airport is by bus.
Flybus operates in connection with all arriving flights at Keflavik Airport with direct transportation to Reykjavik City Center. The bus is scheduled to depart 35-45 minutes after every arriving flight, and takes about 45 minutess to get into the city.
It is possible to add connections to hotels and bus stops where passengers are picked up or shuttled to the hotel of their choice. The bus stop is located right outside the terminal. Buy your tickets in advance for Flybus online.
Airport Direct is another bus service that runs between Keflavík Airport and Reykjavik Bus Terminal. The bus stops once on the way, in Hamraborg, Kópavogur. The bus is scheduled to depart 35-45 minutes after every arriving flight and takes about 45 minutess to get into the city. It is possible for an extra fee to add connections to hotels and bus stops where passengers are picked up or shuttled to the hotel of their choice. The bus stop is located right outside the terminal. Buy your tickets for Airport Direct online in advance.
You can also book a private transfer from the airport with Klook directly to your accommodation in the city. Klook works with a large range of local operators to bring the the best options and prices for your transfer.
Where to Stay in Reykjavik
Luxury: Sand Hotel – Booking.com | Agoda
Mid-Range: Hotel Borg – Booking.com | Agoda
Budget: Alda Hotel – Booking.com | Agoda
Hostel: Student Hostel – Booking.com | Agoda
What to See & Do in Reykjavik
Our Reykjavik one day itinerary is an easy meander around the top sights of this compact and walkable city. There is a great atmosphere in this happy and friendly country, best experienced by stopping for a coffee and chatting with locals – although not an attraction, it's one of the best things to do in Reykjavik.
Reykjavik One Day Itinerary Interactive Map
How to use this map – Use your fingers (or computer mouse) to zoom in and out. Click or touch the icons to get more info about a place, and click the arrow in the box top left to open the index. To add to your own Google Maps account, click the star next to the title of the map.
Morning
Visit Hallgrímskirkja Church
When you're first starting your day in Reykjavik, check out the Lutheran Hallgrímskirkja Church, an imposing structure commissioned in 1937 and completed in 1986.
The church was designed by architect Guðjón Samúelsson, who used the Icelandic environment to inspire and influence his vision of the church being at one with nature, depicted in the design as lava cooling into basalt rock.
Climb the 73m tower for stunning views of Reykjavik city and harbour, Mount Esja and the legendary Snæfellsjökull glacier to the north and the mountain range of the Reykjanes peninsula to the southwest.
There is a large statue in front of the church of the explorer Leif Erikson, who lived around 970 –1020 and was a Norse adventurer from Iceland. It is thought that he was first known European to have landed in continental North America, approximately half a millennium before Christopher Columbus.
TOP TIP: Right by the church is the Einar Jonsson Sculpture Park, which is free and worth a quick visit.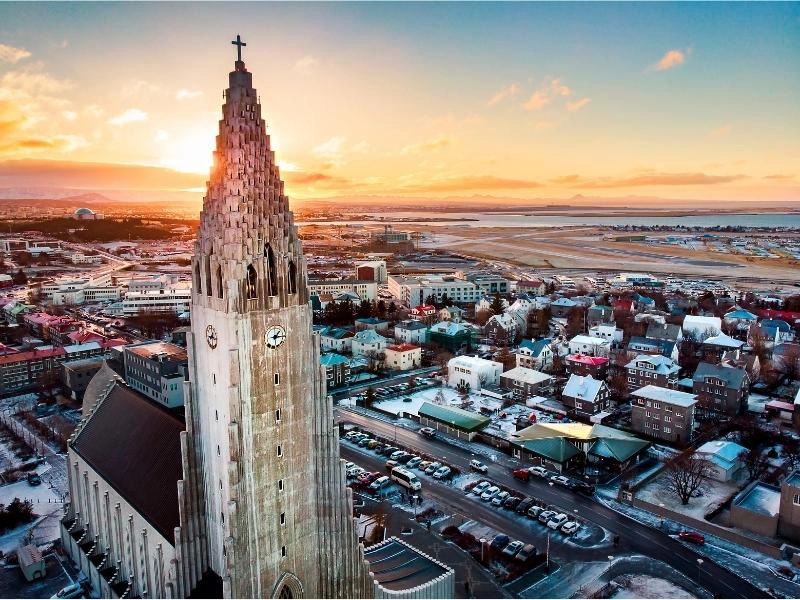 Walk Rainbow Street
Affectionately known as Rainbow Street, Skolavoroustigur is the famous striped street in downtown Reykjavik, with a rainbow painted along it. Lively and bustling, this is an iconic street which represent Iceland's friendliness and acceptance towards its LGBTQ community.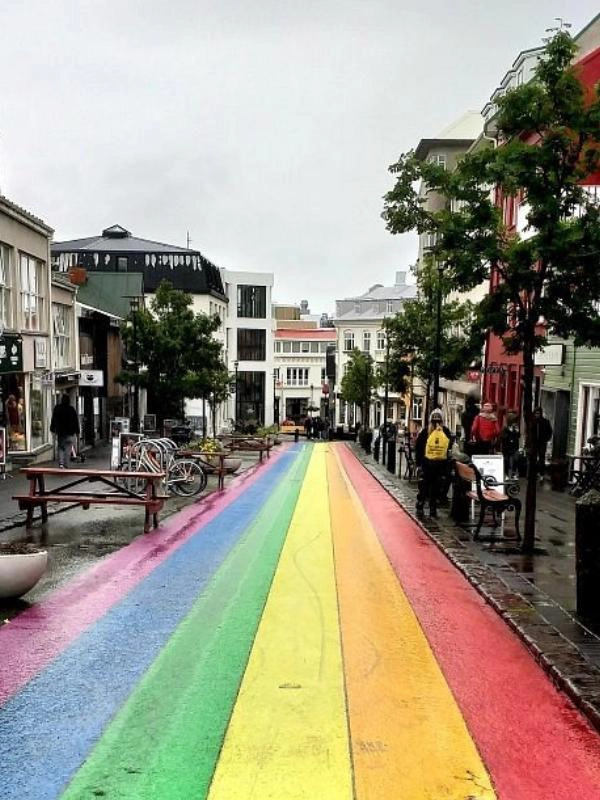 Wander Laugavegur Shopping Street
Next, spend some time meandering around Laugavegur. This is the 'Main Street' of Reykjavik, where you can stock up on traditional Icelandic souvenirs, or a a quick snack. Pop into the Visitor Centre to see what's happening in town and admire the colourful street art dotted around.
Did you know that Laugavegur means 'Wash Road'? This hip shopping street used to be the main path to the hot springs, where many Icelanders would do their laundry!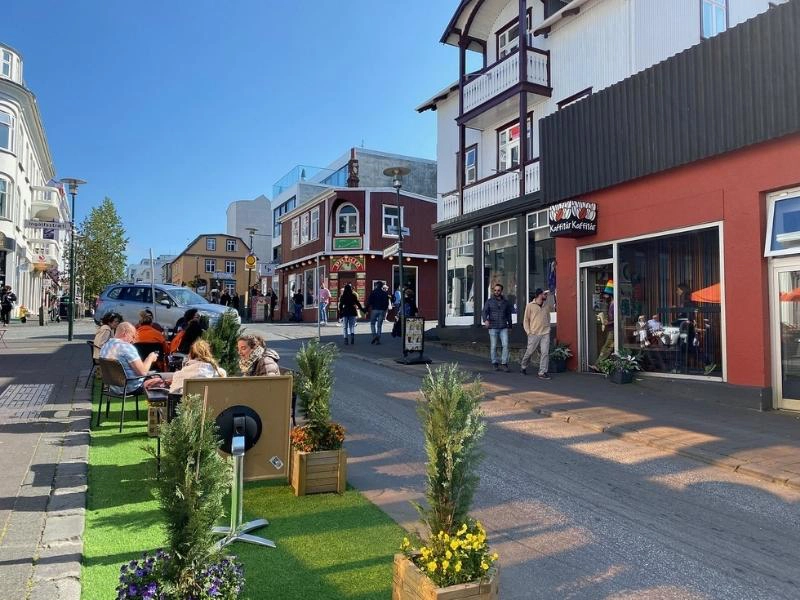 Afternoon
Take a Walking Tour
Joining a walking tour is an easy way to visit all of Reykjavik's main must see attractions in an afternoon (or morning, depending on your schedule). A walking tour is an excellent way to ensure you don't miss anything if you want to experience Reykjavik in one day, and it is frankly an absolute godsend to not have to navigate around by yourself if you've just gotten off a plane and are feeling a bit jet lagged!
Most of the walking tours in Reykjavik will cover the following sights;
Austurvöllur Main Square & Alþingi Icelandic Parliament Building & Culture House
Arnarhóll Public Park
Menntaskólinn í Reykjavík, one of the oldest schools in Iceland
Harpa Concert Hall
Historic district of Grjótaþorpið
The Hallgrímskirkja Church again (but visit it first as not all tours will cover it)
Tjörnin Pond, an amazing geothermal pond in the middle of the city
Reykjavik City Hall
Taking a half or one day walking tour of Reykjavik means you will get an in-depth history lesson about Vikings, elves, Icelandic culture and all the places you visit, and your guide will also be able to give you tips about other attractions and great places to eat.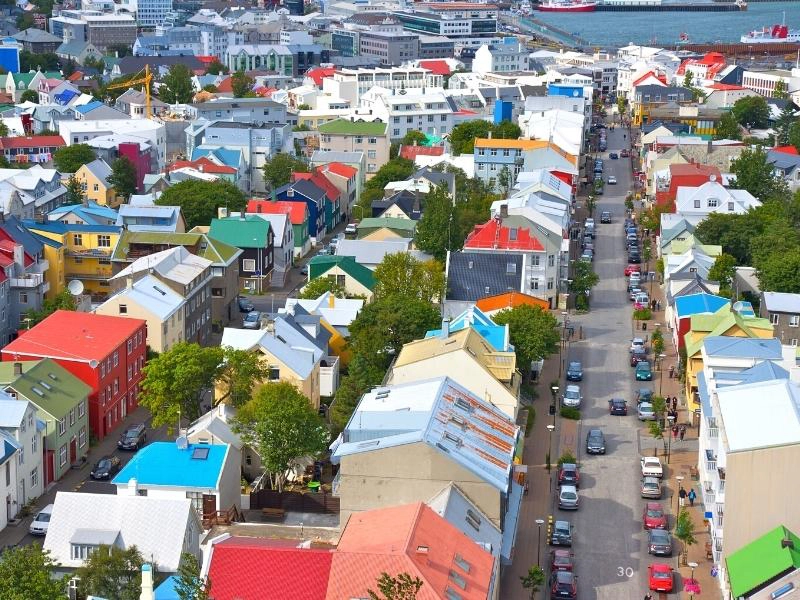 Check Out the Old Harbour
After your tour ends, walk over to the waterfront to visit the colourful Old Harbour. A service harbour until recently, growing tourism has pushed the harbour, and the neighbouring Grandi area, towards gentrification.
Now, alongside the puffin viewing and whale watching trips which depart from the pier, you'll find art galleries, museums and a plethora of eateries and shops, as well as spectacular uncluttered views of the surrounding mountains.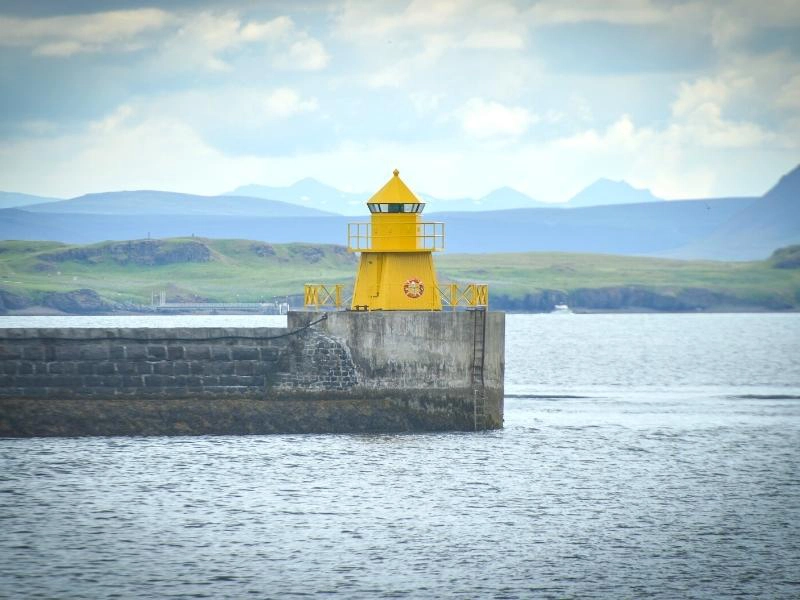 Take a Sunset Photo
Don't miss the intriguing Sun Voyager (Solfar) sculpture. This shining steel sculpture resembles a Viking long ship and was created by Icelandic sculptor Jon Gunnar Arnason, but does not, in fact, represent a Viking ship.
The sculpture is a dream boat and an ode to the sun, and contains the promise of undiscovered territory, a dream of hope, progress and freedom.
Taking a photo of the dream boat in the setting sun is a popular tourist pastime. People are generally happy to wait their turn for the perfect image, bouyed along a sense of camaraderie and good humour in the waiting crowd.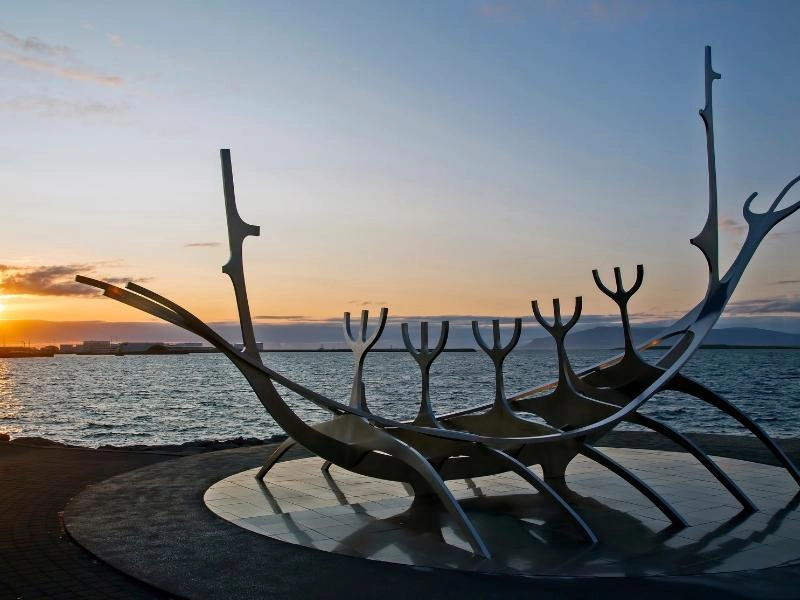 Evening
Go for a Dip at Laugardalslaug
In the evening, an excellent local place to check out is Reykjavik's largest local swimming pool. It's called Laugardalslaug, and is a totally off-the-beaten-path destination for most tourists but something we really recommend.
It was filled with locals and families, and felt much more authentically Icelandic than other geothermal pool and spa options we had seen (especially the Blue Lagoon!). Everywhere you look, normal Icelanders were spending their evening soaking in the steam, exercising, and hanging out with their friends.
Laugardalslaug has a large outdoor pool (with heated water), several hot and cold tubs, as well as facilities for kids. If you go, you will perhaps be the only tourists there.
TOP TIP: In order to enter most baths in Iceland, you must strip totally naked in the locker room and rinse off, and then change into your swimsuit and proceed outside. While this may seem odd to some visitors, it is an iron-clad rule to avoid bringing germs from outside into the pools.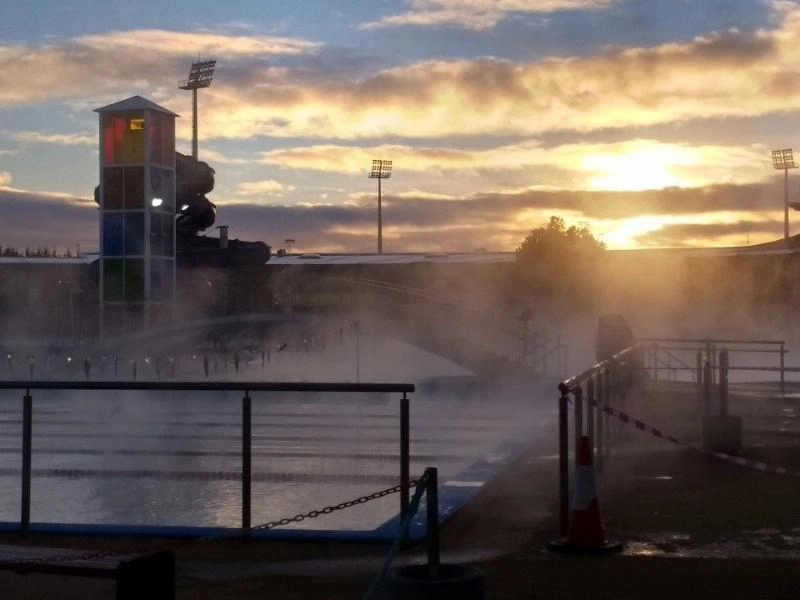 Hunt the Northern Lights
Although by no means guaranteed (see our Reykjavik tips below), a chance to see the incredible aurora borealis is not to be missed. If you are visiting September through to March, this is the best time for the lights to show themselves.
We recommend this popular small group premium northern lights tour from Reykjavik, which will take you on a quest to see one of nature's most spectacular natural phenomena as the colourful lights dance across the night sky and light up the heavens. As an added bonus, if the lights are not visible during the tour, you can easily reschedule for free.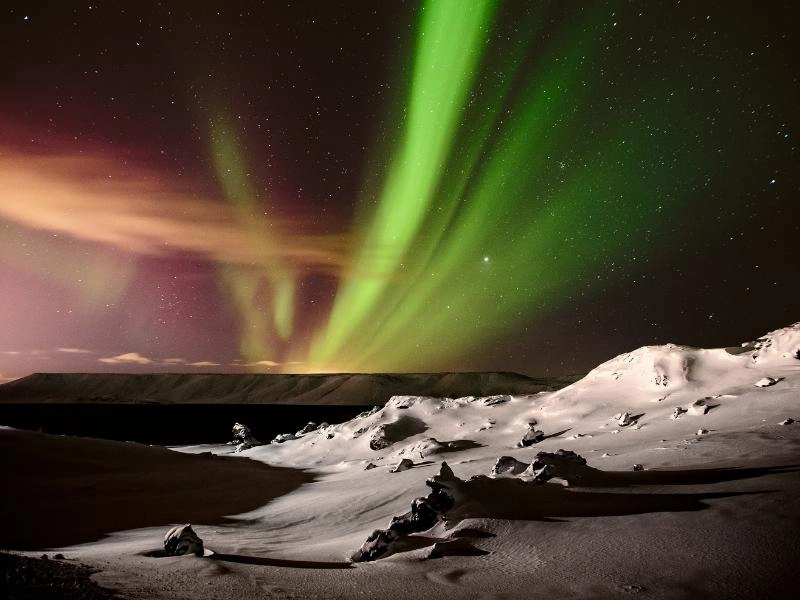 Where to Eat in Reykjavik
Due to its isolated location and harsh climate (not exactly ideal for growing fresh fruits and veggies), Iceland isn't necessarily known all over the world for its culinary prowess.
However, its foodie scene is definitely growing, and there is no shortage of neat places to check out for a bite to eat – whether a snack or a meal – in town.
If you're seeking traditional Icelandic food, such as fermented shark, lamb brains, seafood of all varieties, or horse steaks, one option is to order a tasting menu at a traditional fine dining establishment, such as Þrír Frakkar or Nostra.
These places are definitely on the pricier end of the spectrum, so another option is to go on one of these highly rated Reykjavik food tours, or visit the vibrant new food hall in Reykjavik, Hlemmur-Mathöll.
If you're in the mood for something quicker and/or cheaper, Bæjarins Beztu Pylsur has been in the hot dog business for over 60 years, and it shows. The hot dogs are made from a blend of beef, lamb, and pork meat, and topped with onions (crunchy-fried or raw) and mustard. It is definitely a no-frills establishment, and more of a food stand than a restaurant (there are stands all over the city), but don't let that fool you.
Hot dogs are an Icelandic staple, and you're likely to see lots of locals frequenting this stand too, it's not just for tourists. Fun fact: they have a picture of Bill Clinton enjoying one of their hot dogs on the wall!
If you're leaning more towards a snack, or perhaps breakfast, check out Brauð & Co for their mouth-watering kanilsnúðar, which are similar to cinnamon rolls.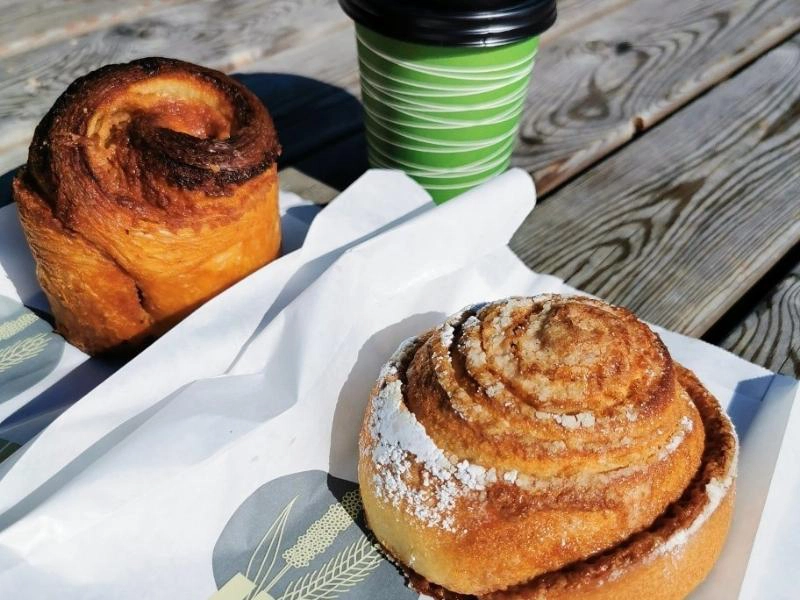 Lastly, it merits mentioning that Iceland has a few chain grocery stores where you can pick up anything you may need. We especially recommend Bonus, where you can buy Skyr.is, the original brand of skyr yogurt, and its blueberry, strawberry and pear flavours.
You absolutely cannot leave Reykjavik without trying skyr! It's best described as a thick yogurt, but it's strained several times to make it low-fat. It's creamy, filling, and delicious, and one of the tastiest things you'll have in Iceland, and much better for you than ice cream!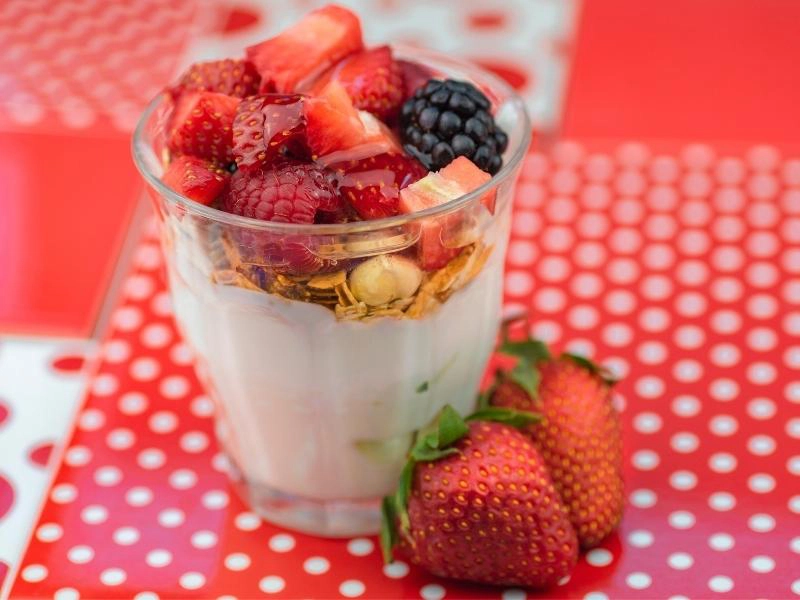 Our Top Five Reykjavik Travel Tips​
Plan to visit Hallgrímskirkja Church as soon as it opens at 9:30. When we visited (January), we arrived right when it opened and were the only people there, so we got to go up to the top and see the sweeping vistas of sleepy Reykjavik just waking up for the day by ourselves. You should definitely beat the crowds and watch the sunrise here!
Give the Saga Museum, Whales of Iceland and the Icelandic Phallological Museum a miss – they are all a triumph of marketing over substance!
This is a controversial tip, but unless your heart is really set on it, you can likely skip the Blue Lagoon. We feel it caters way too much to tourists, and the price point for entry is absolutely eye-popping compared to every other thermal bath in Iceland. Like we said above, we really loved the "local vibe" of the Reykjavik pool complex Laugardalslaug, and there are dozens of geothermal baths in Iceland if that's something you'd like to do. Ultimately, the choice is yours – the Blue Lagoon has been popular with travel bloggers for years on social media, but, similarly to Szechenyi Baths in Budapest, we think the off-the-beaten-path baths are best.
It is not guaranteed that you will see the Northern Lights while you are in Iceland. This is another myth-buster that we wish we had known before we visited. Anyone who tells you "you'll definitely see them! It's easy" is lying to you, especially when you only have one day in Iceland for the hunt! Even in winter, which is the best/easiest time to see the aurora borealis, it's a total toss-up and depends completely on things out of your control, like the weather and especially the cloud coverage.
If you decide to partake in Reykjavik's excellent nightlife, make sure you designate one person as a designated driver, who agrees not to drink even a drop of alcohol for the duration of your evening out. Unlike other places, Iceland has a zero-tolerance drinking and driving policy – if you've had even a single sip of alcohol, you aren't allowed to operate a vehicle. The Icelandic police very regularly breathalyse people and take drink driving very seriously – languishing in a cell is definitely not the best way to spend 24 hours in Iceland.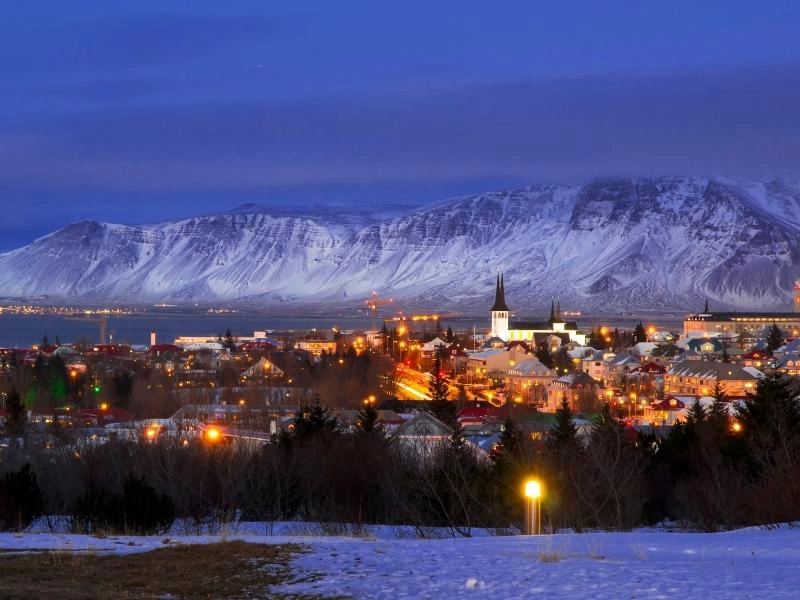 More Than One Day in Reykjavik
If you have just another half a day in Reykjavik, then there's really only one thing you should so, and that's explore the incredible Golden Circle, one of Europe's top road trips.
A 226km route which takes in the top three natural attractions in Iceland, and easy to do in half a day, the Golden Circle shares the secrets of the land of fire and ice.
Explore the Golden Circle
Take a Golden Circle Tour
Join one of many tour buses that will depart from your accommodation or the city centre. Day trips like this are the easiest and most convenient way to see the Golden Circle, but you do have to follow the tour agenda and won't be able to linger for long, or stop on route, if you spot something interesting.
We recommend this Golden Circle full day tour, which also takes in the Kerid Crater. With a 4.8/5 score on over 5,000 Get Your Guide reviews, this is one of the top rated day trips from Reykjavik. You'll see all the key places on the Golden Circle from the comfort of the tour bus, with an experienced and knowledgable guide to explain the fascinating history and geology of the area.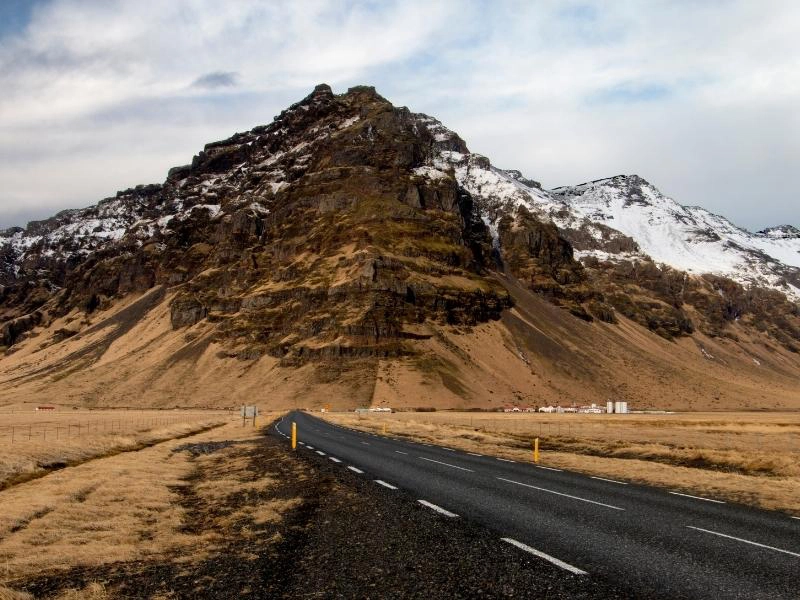 Self Drive Iceland's Golden Circle
The Golden Circle is very close to Reykjavik and driving the whole 226km route is around a four hour round trip, but factor in however much time you'd like to stop for photos and exploring.
The Golden Circle is easily the most touristy thing to do in Iceland, and traditionally the first stop on Iceland's Ring Road, so it's very busy!
If you are able to visit the Golden Circle and decide to do a DIY day trip, we recommend leaving as early as you can in order to get a head-start on the other tourists and especially the huge bus tours.
Especially at the Continental Divide (Stop #1), your photos will come out so much better if there aren't crowds of people in them.
If you plan to do the road trip yourself, then hire a car. Car rental from Keflavik airport or the city centre is easy, you can book online before arrival. Make sure you add on a GPS rental. You will need it. We almost declined, thinking we could save the money and use a paper map, but we found Icelandic signs incomprehensible and would have been very stressed out without it, especially at night.
Hop onto the Ring Road, which takes you first past the Reykjavik waterfront, and then out to the three stops on the Golden Circle, via Þingvallavegur. Again, it is a short drive away from Reykjavik, and should only take about 40 minutes to get to the first stop: Þingvellir National Park and the Continental Divide.
RELATED POST: Iceland Road Trip – 26 Epic Things to See & Do
Thingvellir National Park
Located right in Þingvellir (or Thingvellir) National Park, you can walk through the middle of the large area where the North American and Eurasian tectonic plates have been splitting apart over the course of the centuries. This is one of the coolest things to do while you're visiting the Golden Circle.
Don't miss the other attractions in the national park where the divide is located. It's home to Iceland's first Parliament, where chieftains formed the first laws and court proceedings at what is known as the Lögberg, and has lots of trails and beautiful nature to explore if you have the time.
RELATED POST: South Coast Iceland: 18 of the Best Things to Do & See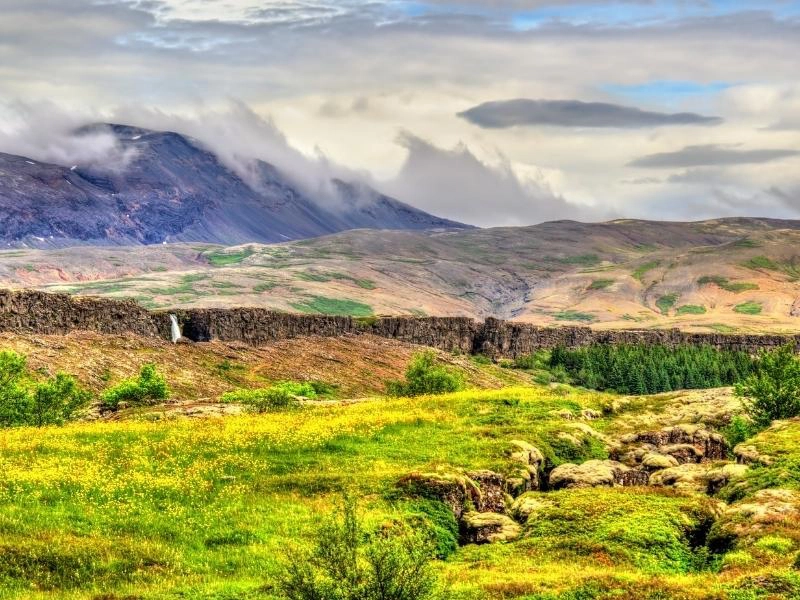 Geysers of Haukadalur Valley
The next stop, about 60 kilometers from Þingvellir, is the two geysers at Haukadalur. These geysers are especially neat because they erupt very regularly, so you don't have to wait too long to see them, and will definitely see at least one eruption while you're there. Strokkur is the larger of the two.
Lastly, a fun fact: the English word for geyser comes from the Icelandic "Geysir!" This is definitely a quick stop – after you see them erupt once or twice, you can be on your way to the third stop, which is only about 10 kilometers away.
TOP TIP: Make sure you stay behind the guide ropes, as the water is tremendously hot.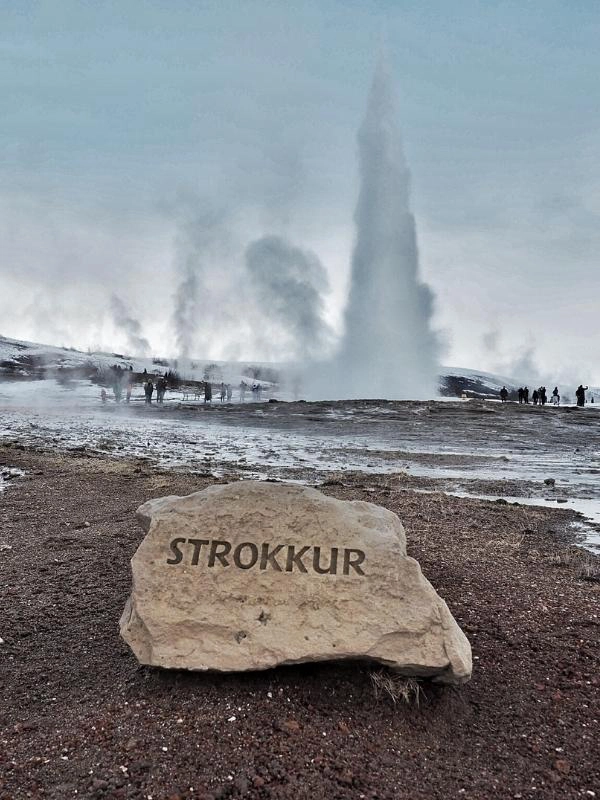 Gullfoss Waterfall
The last stop on the Golden Circle is the Gullfoss waterfall, just one of Iceland's incredible waterfalls, of which there are 10,000! The waterfall, located at the end of the Hvítá River, is absolutely gigantic, and sprouts beautiful rainbows and light prisms from every angle.
There are vistas galore here. A concrete path makes it easy to see the waterfall at various points, though there are clearly marked signs and ropes warning you where you should stop, as it can be very windy and slippery the closer you get to the edge. Note: we were fairly dismayed at the amount of tour groups going over the ropes to get closer, despite signs warning that the snow tends to avalanche there.
After you've finished seeing Gullfoss, it's about an hour and a half drive back to Reykjavik to complete the circle. All in all, this can easily be done in 3-4 hours or stretched into a full day, depending how much time you have.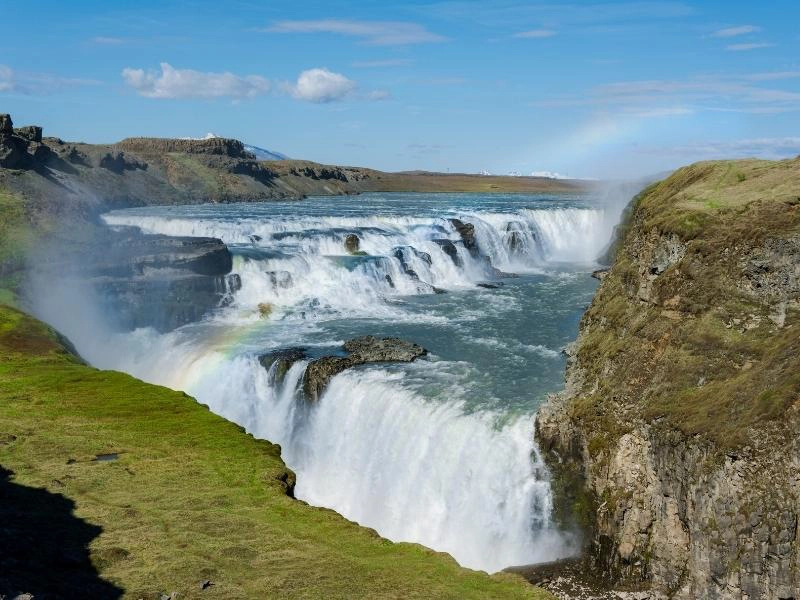 Written for The Gap Decaders by Tegan and Alex of Why Not Walk
Are you looking for more one day city itineraries? Check out these top posts…
Rich in culture, history and stunning architecture, the City of a Thousand Spires is one of Europe's most fascinating places. Today, the vibrant Czech capital thrives as a part of the EU and attracts tourists from around the globe. You could spend weeks exploring the city and still leave things undiscovered, but if you only have 24 hours, this one day Prague itinerary and guide will show you all the highlights.
Love it? Pin it!