This post may contain affiliate links, from which we earn an income.
How to Spend One Day in Palermo
A complex city, caught between West and East for millennia, Palermo is a deliciously intense experience. Full of dazzling buildings, hidden corners, chaotic markets and endless cups of espresso, the Palermo tourism experience is striking – even one day in Palermo will leave you with strong impressions and memories.
In this Palermo travel guide, you'll find a complete itinerary of all the most important must see Palermo attractions, with an interactive map, organised to make the best use of your time.
We also share recommendations for central places to stay, ideas about where to eat local food, and tips about how to make the most of your 24 hours in Palermo.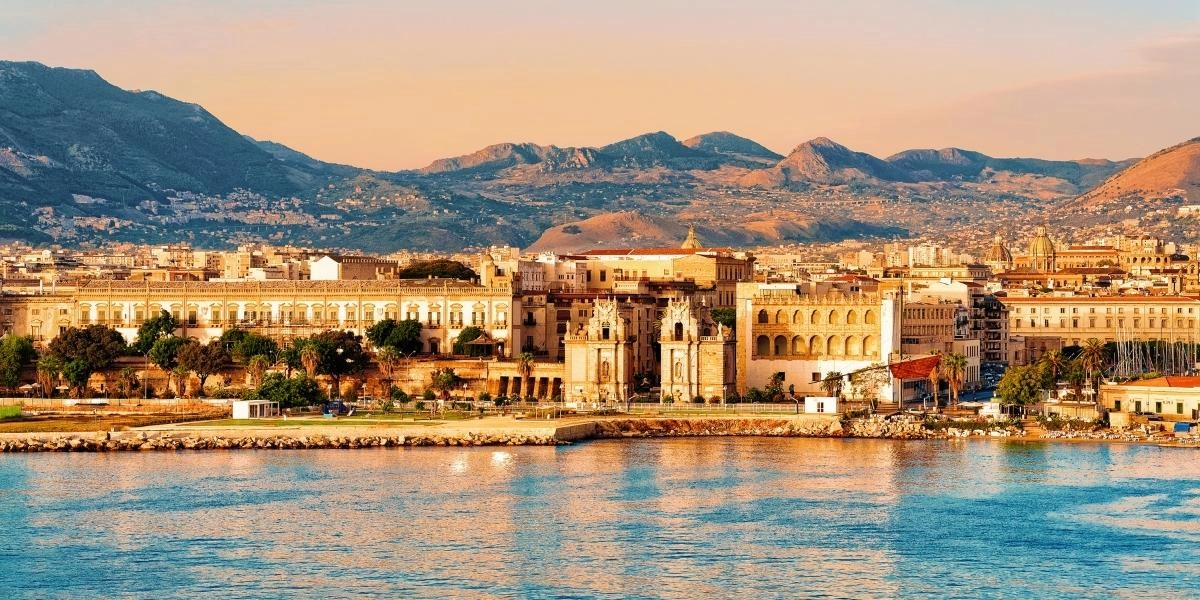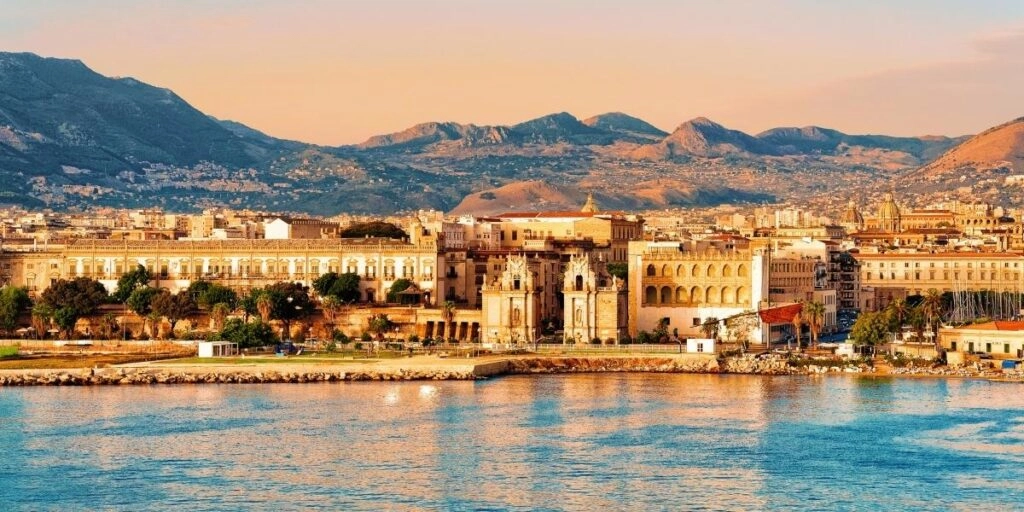 When to Visit Palermo
The best time to visit Palermo (and Sicily) is between May and June, or September and October.
The late spring and early fall months offer balmy temperatures in the mid 70s, ideal for city visits, as well as being the best time to score bargain flights and hotel deals.
If you plan on visiting Palermo in July or August, you'll find lots of crowds and queues for the top Palermo attractions, higher prices and the hottest temperatures of the year, which can be unpleasant in the city.
Winter sees temperatures in the low 60s, but you'll find greatly reduced hotel rates and a lot fewer people, although flip-flops and shorts are firmly off the packing list.
Is this your first time visiting Italy? Get all the information you need in our Italy Travel Guide, including what to pack, the best time of year to go, getting there and practical tips to help you have the best trip!
Palermo Trip Resources
Flying
Fly into Falcone Borsellino International Airport.
Driving
Drive in from Europe or hire a car in Italy
Travel Insurance
Medical costs, delays and lost luggage
Getting to Palermo
Flying
If you are flying to Palermo, you will land at Falcone Borsellino International Airport. The quickest way to get into the city is by train, there are two trains that run every hour and take just over 30 mins to Palermo Centrale. The station is located in the basement of the terminal. Check out the timetable and buy your tickets here.
You can also take a bus, the bus stop is located at the exit of the terminal, on the ground floor by the arrivals area. There is a bus every 30 mins and this gets you to Piazza Castelnuovo in the centre in 30 minutes. You can buy your tickets here.
You can also book a private transfer from the airport with Klook directly to your accommodation in the city. Klook works with a large range of local operators to bring the the best options and prices for your transfer.
Where to Stay in Palermo
Luxury: Palazzo Natoli Boutique Hotel – Booking.com | Agoda
Mid-Range: Casa Nostra Boutique Hotel – Booking.com | Agoda
Budget: Hotel Posta – Booking.com | Agoda
Hostel: A Casa di Amici – Booking.com | Agoda
Things to See & Do in Palermo
You could easily spend a month in Palermo eating brioche con gelato for breakfast and drinking cold beers in the Piazza della Kalsa by night, with a little culture sandwiched in between. But if you don't have a month and want to visit Palermo in one day, a mere 24 hours in the city will do to get a good taste.
If you prefer to have your day organised, take a walking tour of Palermo, where you'll have the added benefit of a guide to share the city's fascinating history.
Interactive Map of Your Palermo Itinerary
How to use this map – Use your fingers (or computer mouse) to zoom in and out. Click or touch the icons to get more info about a place, and click the arrow in the box top left to open the index. To add to your own Google Maps account, click the star next to the title of the map.
Morning
Wander Quattro Canti
One of the most famous intersections of Europe, the 'four corners of Palermo' was built at the beginning of the 17th century. Quattro Canti is also one of the finest examples of grand city planning in Europe and a glorious place to start your Palermo one day itinerary.
This Baroque plaza, officially called Piazza Vigliena, is where the Palermo streets of Via Maqueda and Via Vittorio Emanuele intersect. It has eight sides – four are the streets, and the other four are the magnificent curved Baroque facades, complete with fountains which embrace the plaza.
Each facade, although nearly identical, depicts different themes at different levels – the four seasons for the fountains, four Spanish rulers of Sicily, and the four female patron saints of Palermo. This is a must-photograph spot and a very lively introduction to the grandeur of the city.
TOP TIP: Literally on the corner of Quatti Canti and Via Vittorio Emanuele is the beautifully frescoed Sicilian Baroque Catholic Church of Saint Joseph of the Theatine Fathers or Chiesa di San Giuseppe dei Padri Teatini. We preferred it to the cathedral, and it's free to enter.
RELATED POST: Southern Italy: Discover the Best 33 Places To Visit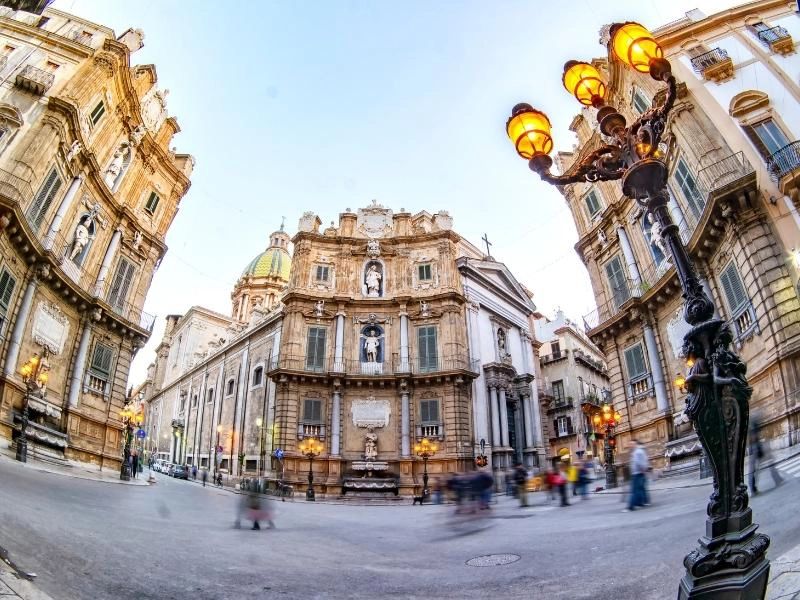 See Fontana Pretoria
The 16th century Praetorian Fountain depicts the twelve Gods of Olympus, plus the animals and the rivers of Palermo. It's gigantic, fabulous, and totally dominates Piazza Pretoria.
The fountain was once in the garden of a nobleman in Florence, but he fell on hard times and sold it to the city of Palermo. In the 18th century, on account of the nudity, the square, which is called Piazza Pretoria, became known as Piazza della Vergogna – the Square of Shame.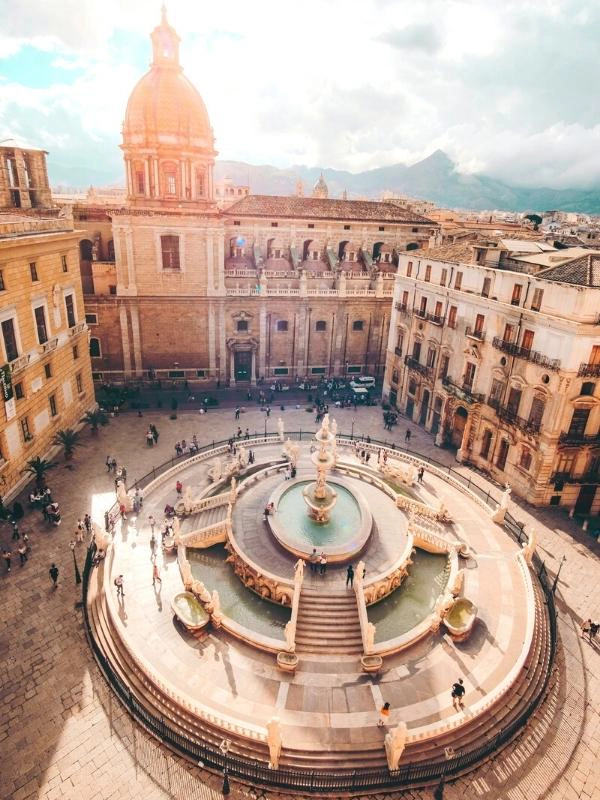 Admire the Church and Monastery of Santa Caterina d'Alessandria
On the east side of Piazza Pretoria is the Chiesa e Monastero di Santa Caterina d'Alessandria, a former Dominican monastery and church.
The exteior is plain and simple, but this is just a facade for what hides inside! The magnificent interior of the church is a masterpiece of 16th century Sicilian Baroque, which will take your breath away as you enter.
You can also access the roof terrace of the buildings for fantastic views of Fontana Pretoria and the surrounding city center.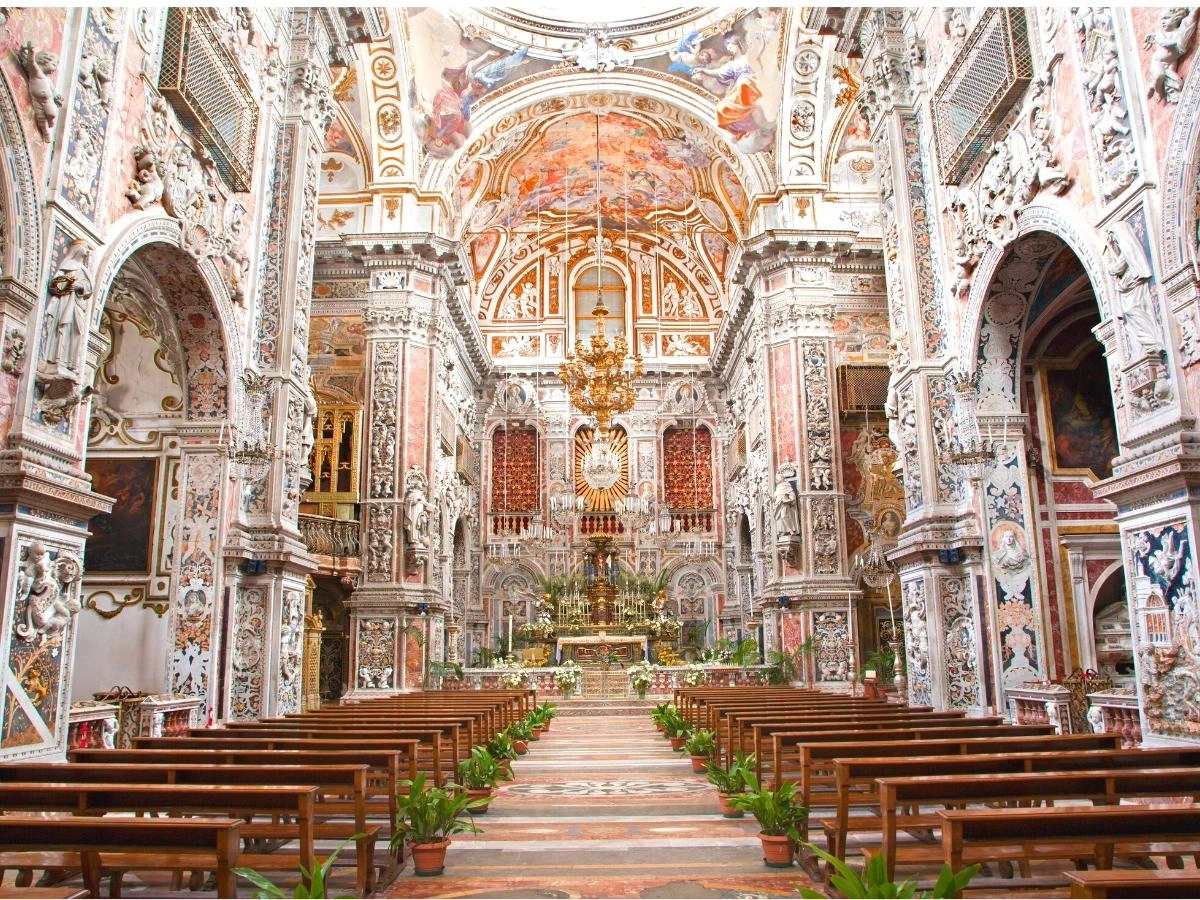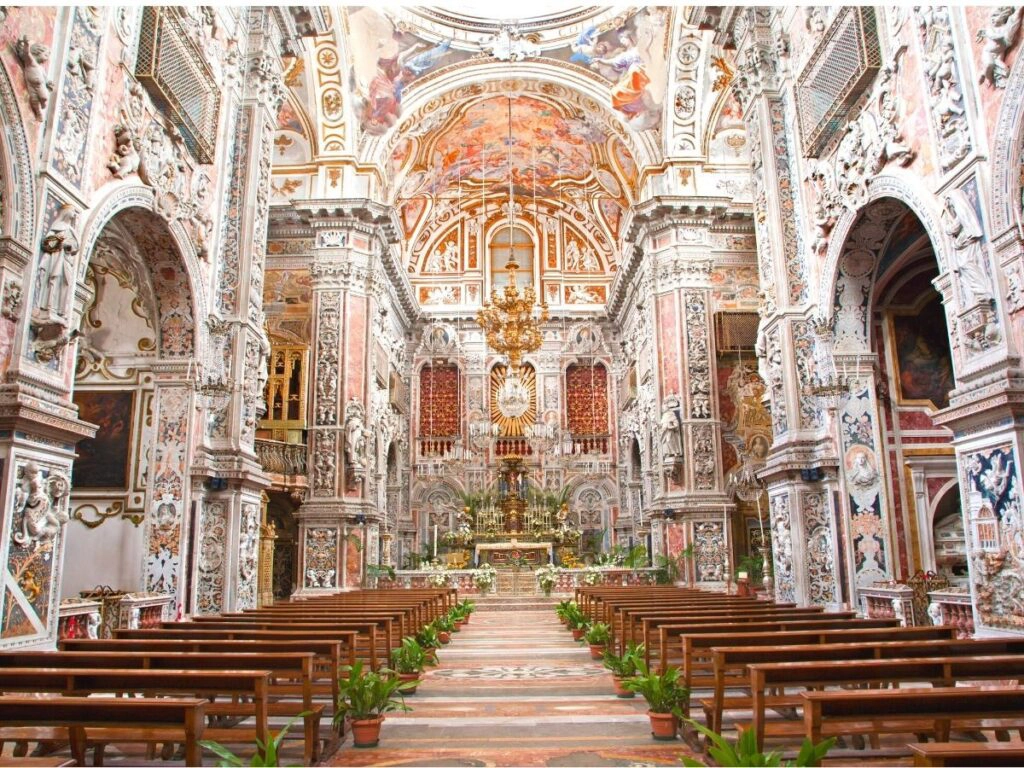 Step Inside Santa Maria dell'Ammiraglio
Saint Mary of the Admiral, also more popularly called La Martorana, is a 12th century church which combines Islamic architecture details, such as elaborate niches and geometric motifs, with stunning Byzantine-style mosaics.
Sicily was under the rule of the Arab Emirate of Sicily from the early 9th century through 1061 and the resulting Arab-Norman architecture of Palermo is like nothing you have ever seen. Or rather, it's like many things you've seen, but all mashed together in an overload of stylistic impressions.
You'll see this Arab and North African influence in many churches that are UNESCO World Heritage Sites throughout old Palermo.
When the Normans came, they had churches and palaces built in a style that drew on Western, Islamic and Byzantine styles, and skilled Arab craftsmen contributed the intricate geometric patterns, muqarnas ceilings, and other distinctive details. Seeing them in the same space as the glittering, golden Byzantine mosaics is astonishing.
When you buy your ticket to visit Santa Maria dell'Ammiraglio, you can pay one price or a slightly higher one – the slightly higher price gains you a greatly discounted entry to many other churches in Palermo.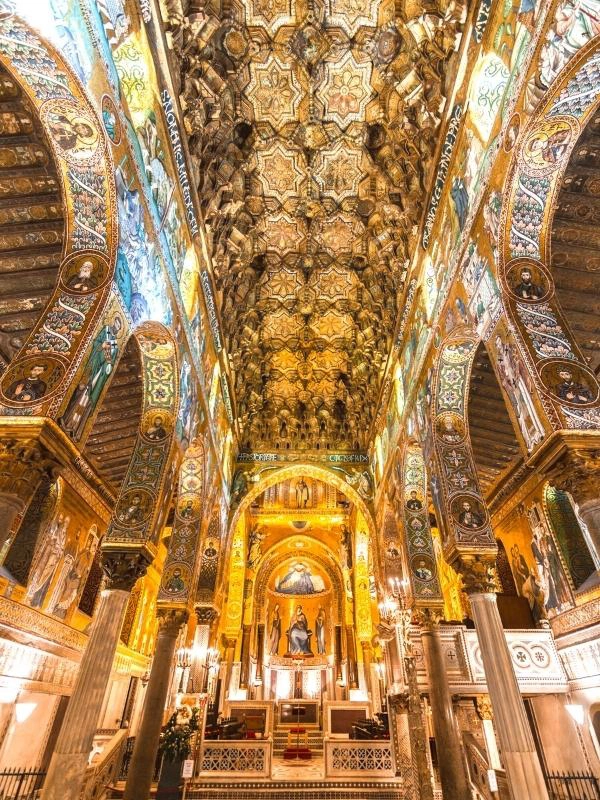 Visit the Church of San Cataldo
Also on the stunning square of Piazza Bellini is the Arabian-Norman Catholic church of San Cataldo which was constructed in 1154 but not fully completed.
Simple and elegent inside, it is listed as a UNESCO World Heritage Site and you can walk through its atmospheric halls and chapels.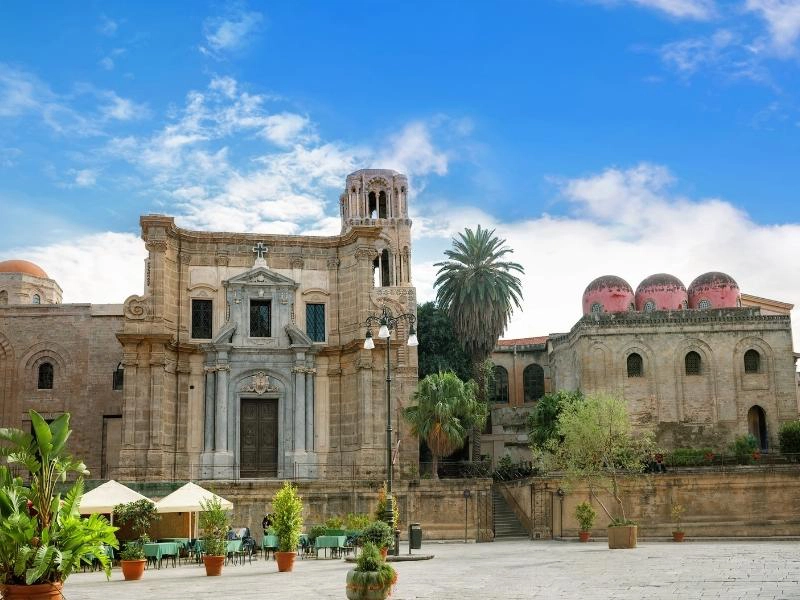 Join the Locals at a Public Market
Mercto di Ballaro, a Palermo must see, is a lively, messy, and delightful outdoor public market with fish, meat, fruit and vegetables alongside housewares, located near the Stazione Centrale.
Morning is the best time to check out the displays of fresh produce and spices, and maybe get some edible souvenirs. Mercato del Capo and Mercato Vucciria are also well known markets in the city, but will take longer to walk to than Mercato di Ballaro, which is an easy stop between churches!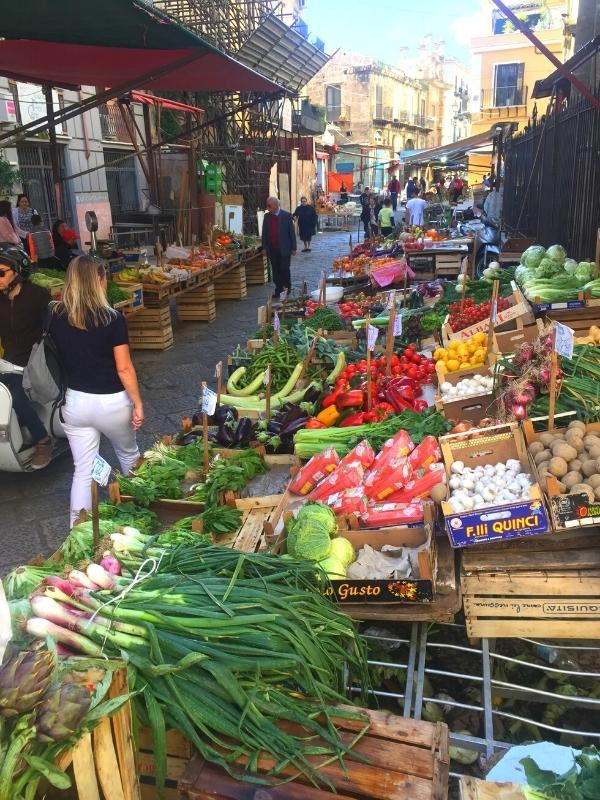 Visit San Giovanni degli Eremiti
Originally of the 6th century, but reconstructed in the 12th century, this glorious church is topped with distinctive Arab-looking domes.
The dramatic interior of raw stone has a wonderful sense of space, while elaborate floors display motifs of Islamic origin.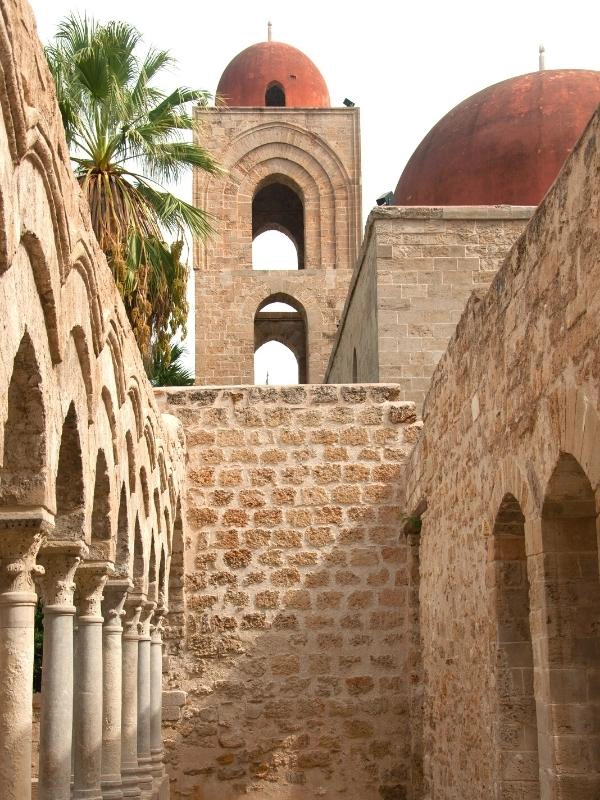 Afternoon
Explore the Palace of the Normans and Cappella Palatina
Next to the old city gate of Porta Nuova, and one of the top things to do in Palermo according to Lonely Planet, the spectacular Palazzo dei Normanni was home to the Kings of Sicily throughout the rule of the Normans, and for all rulers thereafter.
This magnificent complex comprises both the palace rooms with fantastic frescos of mythology and other scenes, such as an Asian room.
But the highlight of this UNESCO World Heritage Site is the Palatine Chapel, considered the finest of the Arab-Norman chapels, with stunning Byzantine mosaics and rich Arab-inspired details in the inlaid stone floor and the Muqarnas ceiling.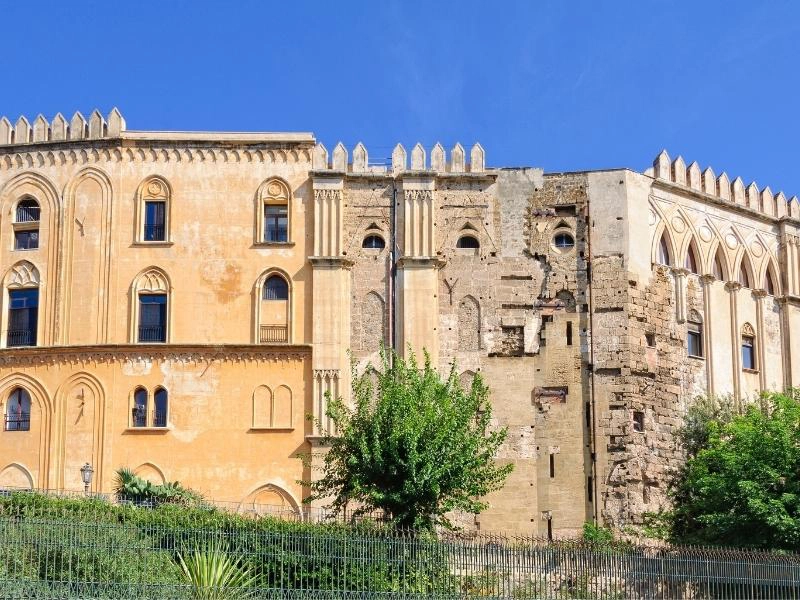 Discover the Cathedral of Palermo
Basically whatever architectural style you like – Norman, Moorish, Gothic, Baroque – you'll get it in the sacred yet sumptuous beauty of the Cattedrale di Palermo.
Look for the Meridiana – a bronze line running north to south in the cathedral's floor. There's a small hole in one of the domes, so the sun crosses the meridian at solar noon at different spots along the line, according to the time of year. The ends of the Meridiana mark the summer and winter solstices, while marble inlays along the meridian represent the signs of the zodiac throughout the year.
TOP TOP: To enter Palermo Cathedral, you will need to cover your shoulders and legs above the knee. Make sure you carry a light scarf for your shoulders and don't wear short shorts or hot pants if you want to enter. You should follow this rule for all the churches in Palermo (and Italy for that matter!)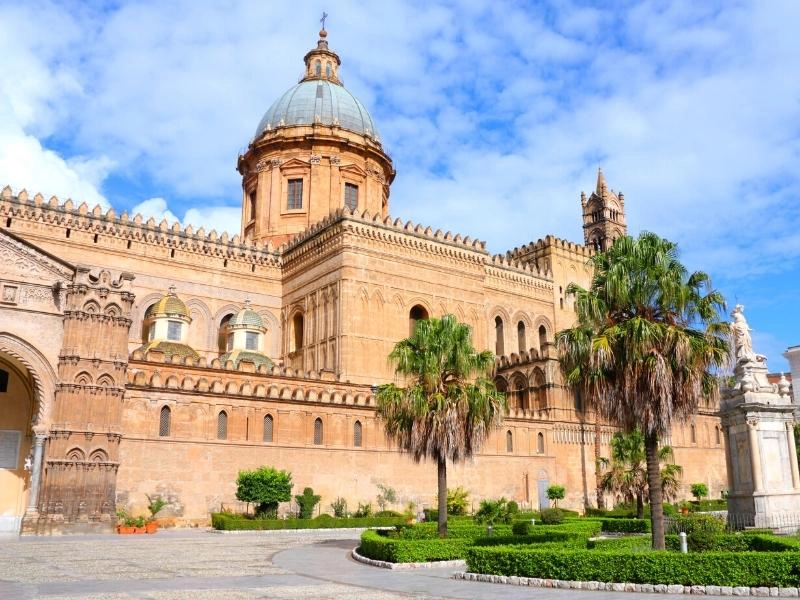 Teatro Massimo
The Massimo Theatre, meaning maximum, was the largest opera house in Italy, and the third largest in Europe when it opened in 1897, surpassed only by the opera houses of Paris and Vienna.
Cinephiles know it as the grand staircase is where the 'Godfather' trilogy reaches its climax. Note the gorgeous Stile Liberty (Italian Art Nouveau) kiosks outside.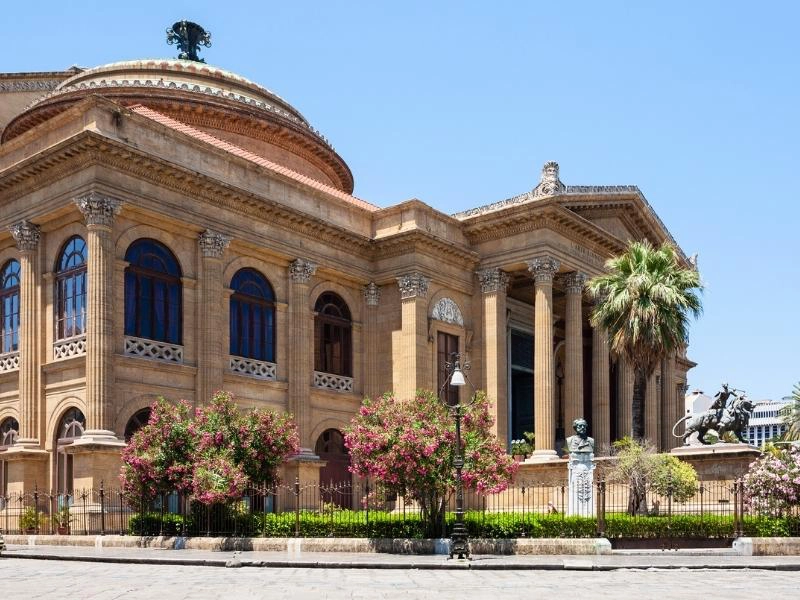 Other Italian City Itineraries
Evening
End the Day a Local Wine Bar
The perfect way to end a day in Palermo, check out our favourite wine bars…
Enoteca Picone
Enoteca Picone has been around since 1946 and is one of Palermo's most popular wine bars. With a wide selection of international and local wines, you'll find something to enjoy, alongside a great range of small plates. End your Palermo day in style!
La Nicchia Enoteca
The chic wine bar La Nicchia Enoteca is a popular choice and a great spot for an evening glass of cool prosecco, Italy's (excellent) answer to champagne.
Bottiglieria del Massimo Champagneria
Opened the Bottiglieria del Massimo in 1968, this family-run bar is one of Palermo's best known and claims to serve the best fizz in the city. It can get busy, so reserve a table in high season.
Explore the Palermo Street Food Scene
Pani ca Meusa is an extremely popular and authentic taste of Palermo. We won't mince words – it's a spleen sandwich. Fans of nose to tail dining will love these tender thin slices of spleen and lung in a savoury sauce on a bun.
For everyone else, there's panini, pizza, and other fast food classics at Ninu u Ballerino, a popular Palermo fast food place. Line up in the bright neon light, get your snacks, and join the crowds of happy locals standing up around barrels in the street. Don't overdo it though because gelato for dessert is essential!
Where to Eat in Palermo
Antico Caffe Spinnato
There are so many delicious things to eat in Palermo you need to get started right away so you don't miss anything.
One of the most popular cafes in Palermo, located on a cheerful pedestrian street, is the historic Caffe Spinnato – open since 1860. You can enjoy a cannolo (that's a cannoli but in the singular) and a coffee at a table inside or out, but it's cheaper and more fun to have it standing.
TOP TIP: For self-service, order from the cashier and pay, and then give your ticket to the guys behind the counter.
Trattoria Ai Normanni
Lunch is a serious meal in the Mediterranean. Join the locals at a neighbourhood trattoria like Trattoria Ai Normanni, very close to the Norman Palace.
Note the menu has 'primi' and 'secondi' – by all means follow the local custom and order two courses, no one's in a hurry here.
Antipasti is a classic first course – a selection of vibrant tastes including the Sicilian classic 'caponata', For a main course, you could have either a meat dish, fish, or pasta. Pasta con le sarde is a local specialty, sauced with sardines, saffron, and fennel and is absolutely delicious.
Ke Palle
The lively Via Maqueda is perfect for an evening passagiato, a little tacky souvenir shopping, and of course, sampling some of Palermo's famous street food.
One of the most approachable of Palermo's street food classics is the arancini. These deep fried balls of rice coated in breadcrumbs and stuffed with a number of fillings so resemble the orange for which they're named.
At Ke Palle, you can try arancine d'autore (home-made and home fried) in a great variety of flavours, until you're too full to eat any more!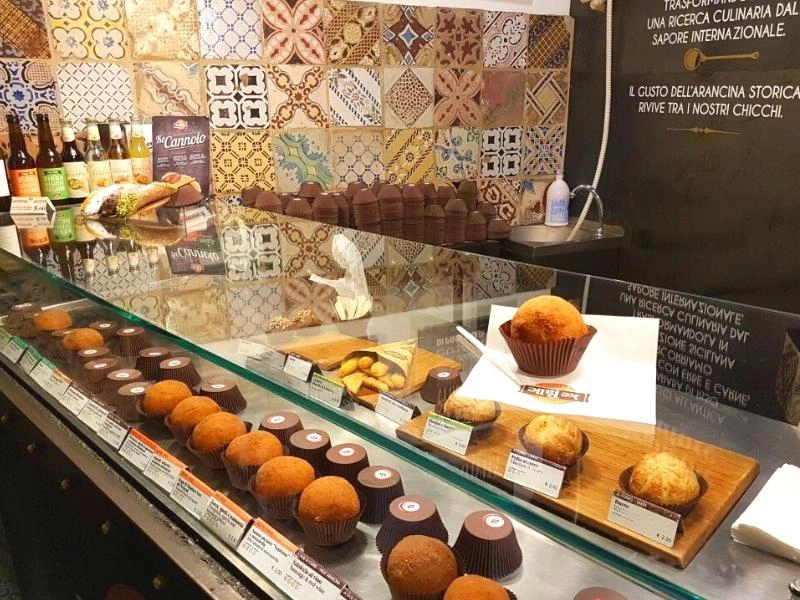 Top Five Palermo Travel Tips
Don't waste your time on any food that isn't fabulous or doesn't speak to your taste buds – there are too many things to try as it is.
Be safe – like any city there can be pickpockets and other petty crime – maybe just a little more in Palermo. Also, petty scams are popular – agree prices for cabs and horse drawn carriage rides prior to boarding. Being asked for an extra €10 "for the horse" at the end of a Palermo sightseeing ride is common!
A little Italian goes a long way – people don't speak as much English here as in some other European cities, and the effort gets you a smile. Learn a few words of the language for your Palermo trip.
This is an elegant city – dress for cathedrals, but with shoes for keeping your footing on slippery cobblestones in the marketplaces and alleys.
Traffic in Palermo is crazy. If you're in a hire car, make sure you have parking reserved and a sat nav to get you there. If you're a pedestrian, be mindful when crossing roads. Sicilian drivers like to stray and seem to appear from any direction, so look both ways!
More Than One Day in Palermo?
If you can stretch to 36 hours in Palermo or have another day to spare, add these must see in Palermo places to your itinerary;
Capuchin Catacombs
A 20 minute walk from the old town will take you to one of the most extraordinary Palermo sights, the Capuchin Catacombs, a burial place where over 8,000 mummified corpses provide a detailed historical record. This has to be one of the most unusual things to do in Palermo.
Regional Archaeological Museum
If you find the ancient history and architecture interesting, the Regional Archaeological Museum Antonio Salinas, which houses a large collection of Ancient Greek art and artefacts from Sicilian history, is well worth a visit.
Hit the Beach
If you're visiting between May and September and want to slow the pace, head for the sandy stretch of Mondello Beach, one of best Palermo beaches and just a 15 minute drive away, or visit the Botanical Garden for a spot of peace with added shade!
Take a Day Trip
Why not take a day trip? Popular day trips from Palermo will take you to some of the best places to visit in Sicily, including the mighty live volcano of Mount Etna and the historical sites of Taormina, the Temple of Segesta and the Valley of the Temples in Agrigento.
Monreale and Cefalù Half Day Trip
If you take only take one day trip from Palermo, take this highly rated and well organized half day trip.
Explore the magnificent Norman cathedral of Monreale on the slopes of Sicily's Monte Caputo on this six hour tour from Palermo. Go to the historic town of Cefalù and learn about the city's Greek origins, and see this beautiful town's highlights.
With a professional guide to offer insights, an organized tour is the perfect opportunity to see more of Sicily in less time!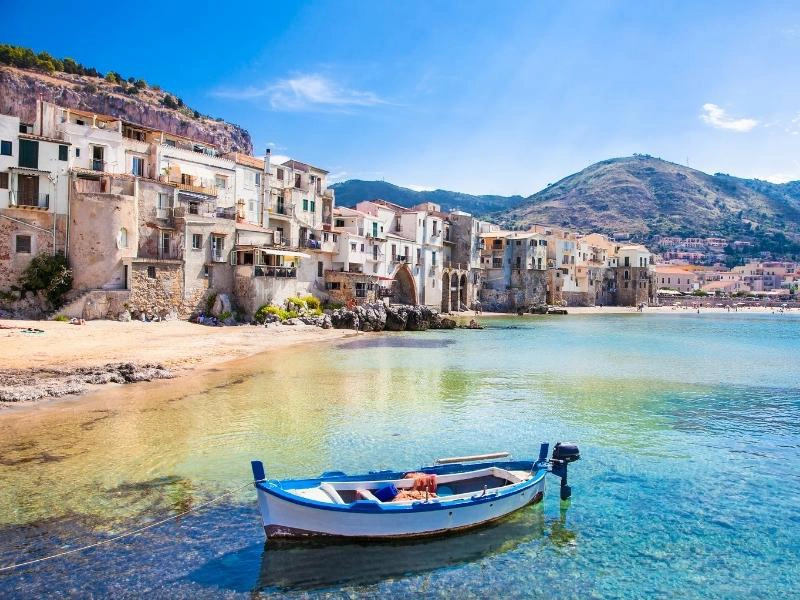 Written for The Gap Decaders by Amber Charmei of Thessaloniki Local
Are you looking for more Italian travel ideas? Check out these top posts…
The gorgeous country of Italy is perfect for a road trip! Compact and with all the best bits in the middle, you'll be blown away by the landscapes, architecture and food in this sublime country. Take a bucket list road trip to Italy and see it for yourself!
Love it? Pin it!