This post may contain affiliate links, from which we earn an income.
An Incredible Sicilian Road Trip
Sicily is a gem of an island. Rich in Greek and Roman architecture, with stunning Baroque towns dotting the landscape, incredible natural wonders and fantastic outdoor adventures, a Sicilian road trip is the best way to see this eclectic Italian island.
From the rumbling peak of Mount Etna to the rugged interior and the delights of Palermo to the ancient ruins at the Valley of the Temples, Sicily has a wealth of experiences for you to explore as you road trip around the island.
Our Sicily road trip route and itinerary with an interactive map is a coastal trip, hitting all the top spots on the way to ensure you discover the very best of Sicily.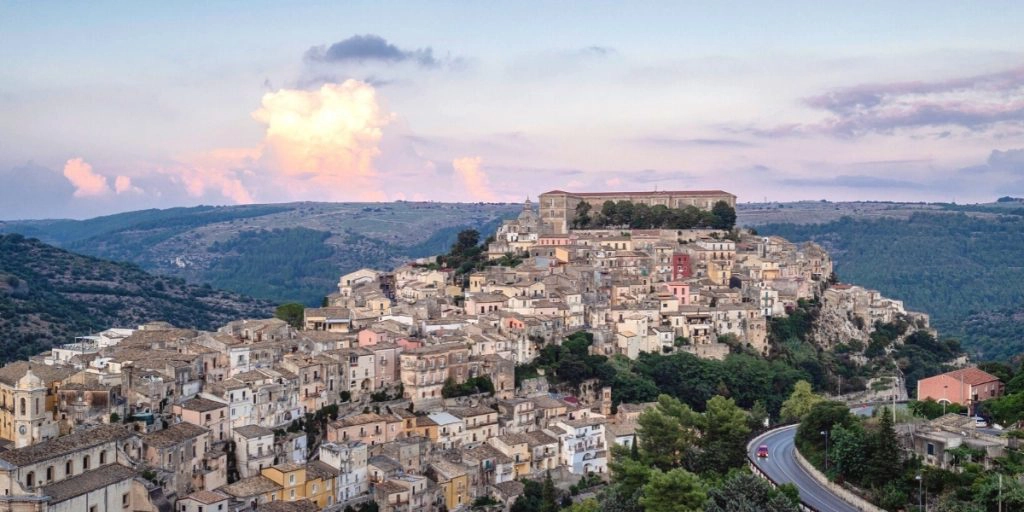 Things to Know About Sicilian Travel
The Mafia
Despite recent anti-Mafia movements, particularly strong in Palermo, the Mafia has retained much of the power in administrative and rural Sicily.
However, there are strong signs now that the Sicilian people have had enough. Movements against the Cosa Nostra are gaining momentum and becoming visible across the island, especially in Palermo. Sicilians are daring to believe that things are changing.
If you're fascinated by the Mafia, take this brilliant Godfather private tour which includes a visit to Castello Degli Schiavi, the beautiful and timeless villa used as a filming location for several Godfather films.
The Locals
The Sicilians don't conform to carefree southern Italian stereotypes. Life has long been too hard and is dominated by hard work and not much money. Sometimes, locals can seem sullen and rude towards visitors, but if you persevere then you will see a different side of the Sicilian people, who are fiercely loyal and proud.
It helps to be able to speak even a little bit of the language, most Sicilian people really appreciate it when you make an effort even if you can't pronounce 'cinquecentocinquantacinque' five hundred and fifty-five!).
Waste
Sicily is a stunningly beautiful country, apart from the piles of rubbish literally everywhere. Waste is dumped all along the sides of roads and on any rough ground.
We were told by locals that it was a protest against the mafia's control of administrative monies because no provision is made for the proper disposal of waste. Whatever the reason, you just have to learn to look past it.
Driving
Driving around Sicily on a road trip can be challenging. You need to be a confident driver to travel Sicily by car, especially if you're in an unfamiliar rental car or campervan and intend to visit cities.
Driving routes in Sicily will often take you through small villages with narrow and twisting roads which can be disconcerting for visitors from the United States especially.
Italy is not known for the skill or consideration of its drivers, or the condition of the roads, so make sure you're comfortable driving in Sicily before you embark on your Sicily road trip.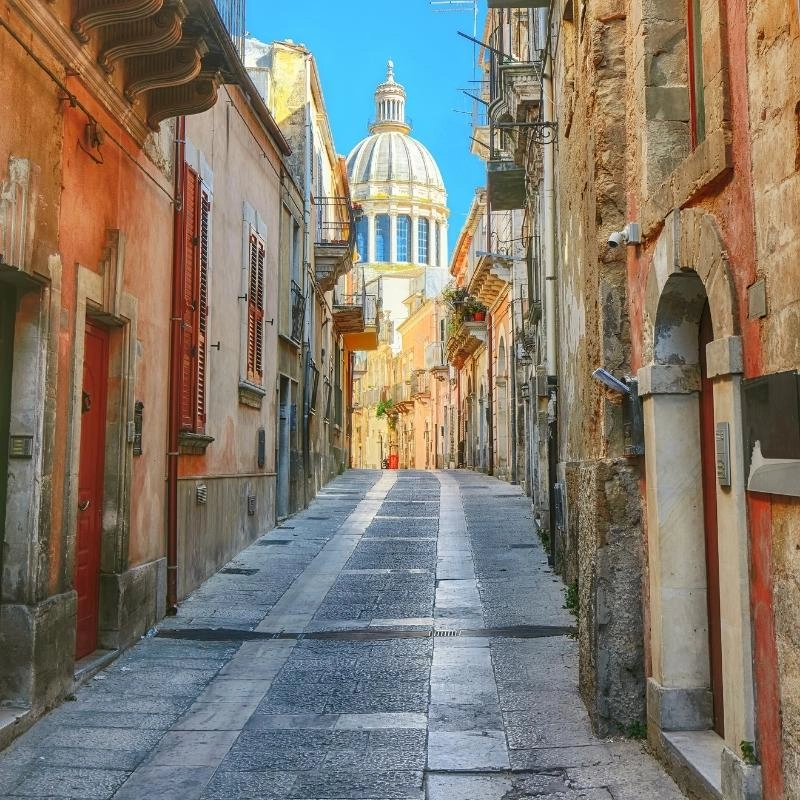 Is this your first time visiting Italy? Get all the information you need in our Italy Travel Guide, including what to pack, the best time of year to go, getting there and practical tips to help you have the best trip!
Getting to Sicily
Already On the Continent
If you are already on the continent, there are boats to Sicily from all over Europe. You can sail to Palermo from Naples, Genoa, Sardinia, Civitavecchia, Livorno, Salerno and Tunisia.
If you're not near any of those places, the chances are there is a route – the 24 hour crossing from Barcelona to Civitavecchia (Rome's port) opens up possibilities from the Iberian peninsula. Hopping on a boat from Greece or the Baltic states across to Italy, or driving there from northern Europe, means Sicily is easily accessible from across the continent
Flying In
If you choose to fly, you can head to Trapani, Palermo or Catania airports. Catania, on the east coast, is the best choice and a good road trip starting point if you are renting a car or want to hire a motorhome or campervan with Motorhome Republic on arrival. We recommend booking through Skyscanner for live deals and the best prices.
This is a perfect option if you only have one week in Sicily, long enough to see all the highlights of this amazing island, especially if you focus your visit on one area, such as the east or west coast.
Driving to Sicily from UK
If you're planning to drive to Sicily from the UK, then the most direct route from Calais to Villa San Giovanni (for the shortest ferry crossing from mainland Italy to Sicily) will take you around 23 hours of driving time over 2260km.
It will cost approximately €160 in tolls and €400 in fuel, assuming 25mpg in 2023. If you are traveling to Sicily in a car you can check costs using the Via Michelin website, a handy resource.
Once you get to Villa San Giovanni, you will need to get a boat over to Messina in eastern Sicily. You can book online but it's not necessary as there is no saving, and ferries cross at least every hour or so from a number of providers. It takes around 30 minutes to cross to Messina and will cost around €80 for a three month open return in a car.
RELATED POST – Driving to Italy from the UK – Routes & Tips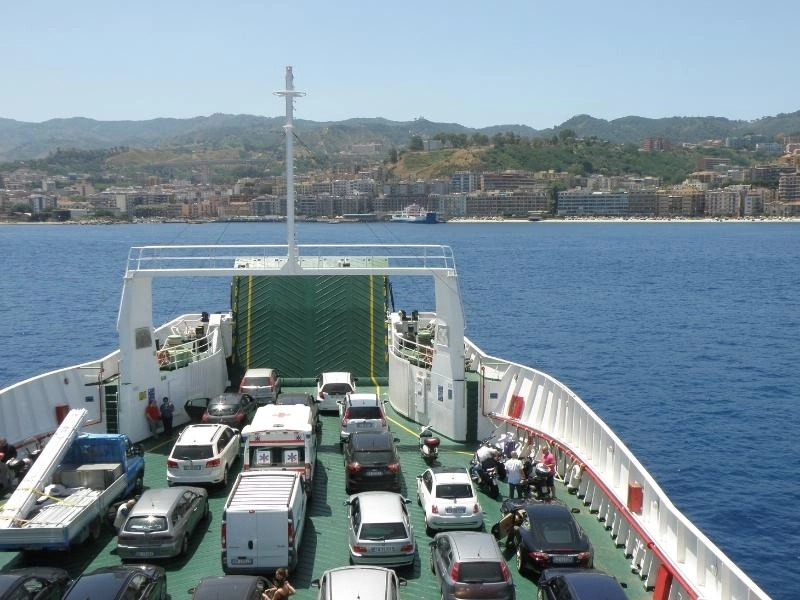 When to Visit Sicily
April to early June and late September to October are the best times to visit Sicily and travel or road trip. The temperatures are pleasant and you will have the added bonus of Sicily's gorgeous wildflowers being in full bloom in the spring months. Avoid a trip to Sicily at Easter as this is considered high season and costs will rise exponentially.
It becomes really busy around mid-June, when schools are closed, and from July to mid-September, the coastal areas are extremely busy. Unless you plan to spend time at a seaside resort or on an island, avoid a Sicily visit in August; the heat is unbearable and most city businesses are closed as the locals take their holidays.
It is quieter from late October to mid-December. There are fewer tourists in the cities but sites and attractions do tend to close earlier and some will be closed altogether. The plus is that you'll be able to enjoy warm winter temperatures across the island, especially if the African winds blow north. Things pick up again briefly during the Christmas holidays when many shops and museums have extended hours.
RELATED POST: Southern Italy: Discover the Best 33 Places To Visit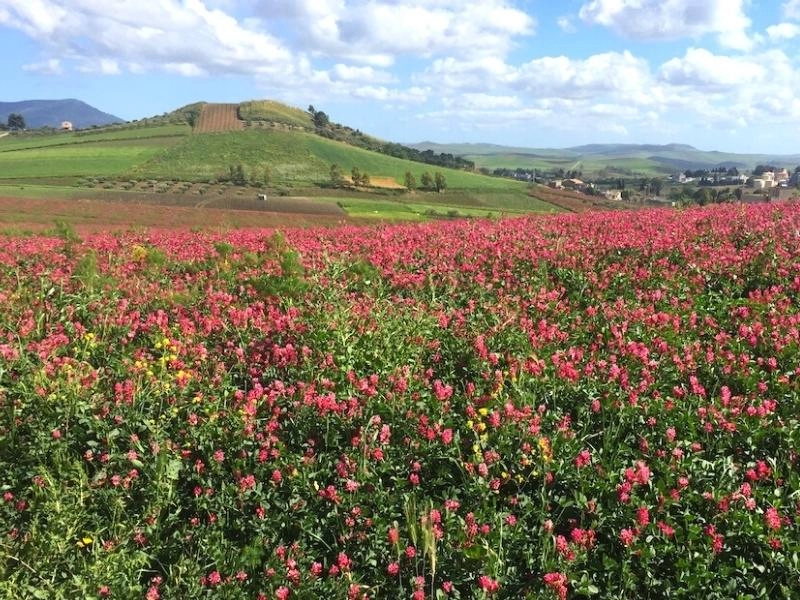 Sicily Road Trip Map & Itinerary
Syracuse – Ragusa – Valley of the Temples – Scala dei Turchi – Marsala – Stagnone – Erice – Monte Cofano – Segesta – Scopello – Palermo – Cefalu – Taormina – Mount Etna
How to use this map – Use your fingers (or computer mouse) to zoom in and out. Click or touch the icons to get more info about a place, and click the arrow in the box top left to open the index. To add to your own Google Maps account, click the star next to the title of the map.
Your Sicily Itinerary
This 14-21 day road trip will take you to all the key sites and highlights around the island. It's easy to be flexible, if something doesn't appeal, skip it and move on.
Our absolute must-sees on this driving tour of Sicily are The Valley of the Temples, Palermo and Mount Etna. Do just these three things and you'll get a flavor of this eclectic part of Italy, and see much of the wonderful landscape as you complete a perfect triangle across the island.
Syracuse
Syracuse (or Siracusa) is a city on the Ionian coast, known for its ruins, and makes the perfect first stop on your Sicily road trip itinerary. It has a vibrant and modern cafe culture, with lots of great bars and restaurants, and is perfect for an afternoon strolling the pretty streets, window-shopping, and admiring the architecture.
Head for the old town of Ortigia, on an island connected to the new city by the Ponte Umbertino. Cross from new to old and you'll find yourself in another world, with magnificent ancient churches, a temple, local markets, and even a castle.
There are also lots of small independent shops, bars, and cafes where you can sit outside and indulge in people-watching to your heart's content.
Make sure to visit Piazza Duomo to see the Cathedral, a fascinating mix of pagan temple and Christian church. The Duomo stands on the ruins of a temple dedicated to Athena, built in 480 BCE. Behind the Baroque facade of the cathedral, Doric columns from the original temple are still visible.
Another must-see is the Fonte Aratuse, a fountain originating from a freshwater spring that creates a small semi-circular lake. Here there are fish, geese, and ducks, and the only naturally occurring Papyrus in Europe.
Upmarket: Ortea Palace – Booking.com | Agoda
Mid-Range: Caportigia Boutique Hotel – Booking.com | Agoda
Budget: Ortigia Boutique Palace – Booking.com | Agoda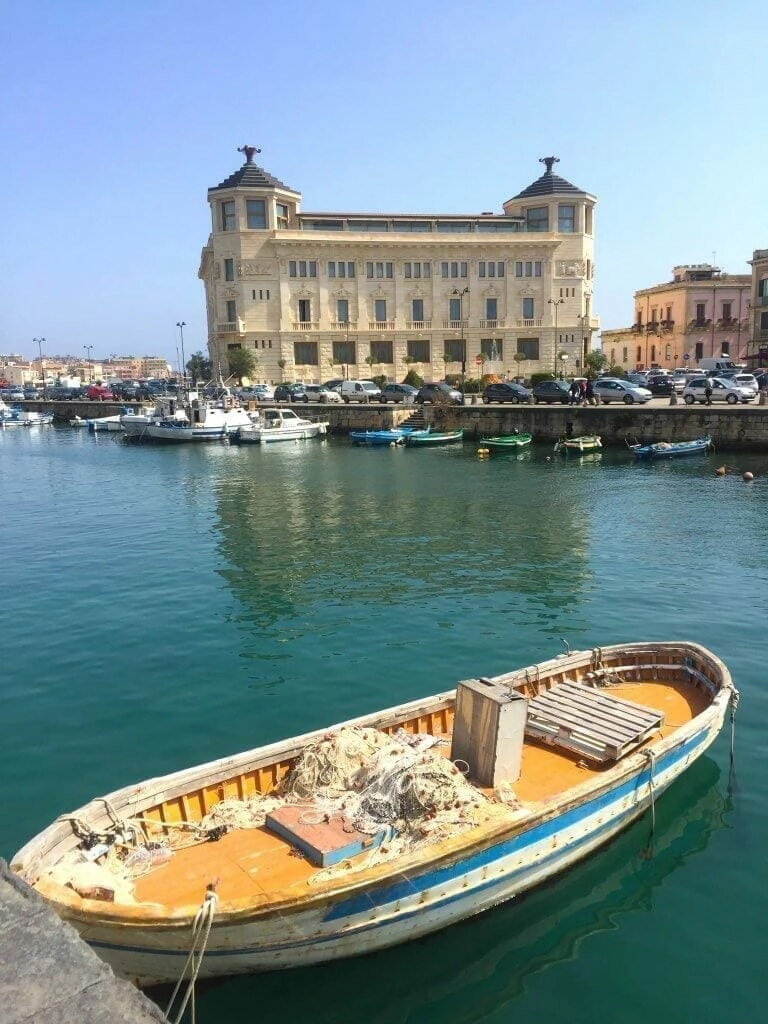 Make sure you have travel insurance you can trust when visiting Sicily. We recommend True Traveller for their 5-star TrustPilot reviews, variety of cover options, best activities cover as standard, great prices and excellent service.
Ragusa
Ragusa is a hilltop city in southeast Sicily. Ragusa Ibla, the old town, is part of the Noto Valley World Heritage site listing. It is home to many baroque buildings, like the Duomo di San Giorgio, a beautiful church with gorgeous paintings and colorful stained-glass windows.
There are impressive views from the Giardino Ibleo, a park with churches and fountains. In Ragusa Superiore, the city's newer quarter is ornate Ragusa Cathedral, rebuilt in the center of town after an earthquake in 1693 destroyed the original.
Upmarket: Villa Boscarino – Booking.com | Agoda
Mid-Range: A.D. 1768 Boutique Hotel – Booking.com | Agoda
Budget: Via Pezza 100 – Booking.com | Agoda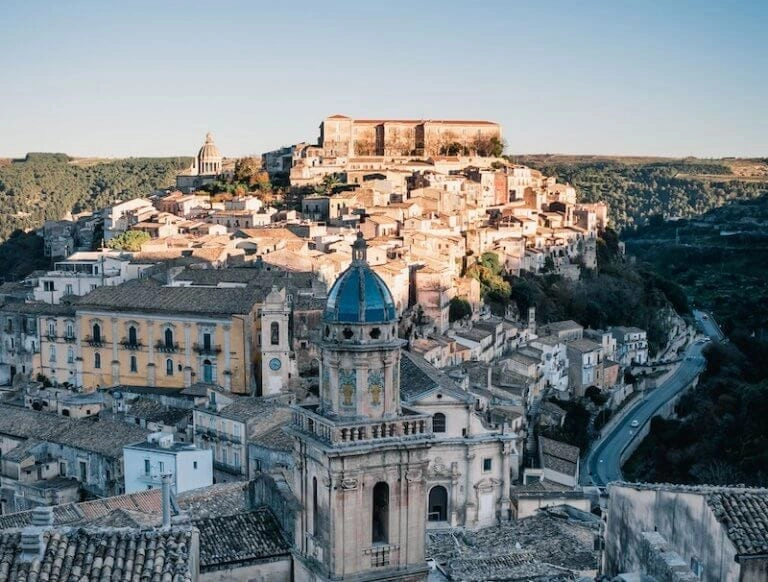 The Valley of the Temples, Agrigento
What an amazing entrance The Valley of the Temples has. Driving along the coast road heading west, you round a hill and there it is. Perched along the top of a ridge, temples literally lined up and waiting for you. It will be one of those 'wow' moments on your Sicily road trip when shock and awe hit you in equal measure.
You can buy tickets for the whole site online here. You may wish to take a tour, if you are interested in understanding the history and architecture, this is by far the best way to visit and you will come away with so much fascinating knowledge about those who lived and built here.
Start at 8.30am and spend an idyllic morning when you'll have this UNESCO World Heritage site to yourselves. Marvel at the fact that you can walk through and around the temples and ruins and touchstone that was quarried and chiseled thousands of years ago. As it gets later, it will become busier with day trip bus tours arriving although the site is so large it did not really detract from the peace and atmosphere.
The rediscovery of this ancient gem began towards the end of the eighteenth century when the first European travelers reached Sicily and discovered an unexpected and vast archaeological heritage.
The highlights are the Temple of Concordia, built around the 5th century and located along the Via Sacra. One of the best-preserved temples, the name Concordia comes from a Latin inscription found near the temple itself.
The Temple of Heracles (Hercules) is the oldest one here. Much of the temple was destroyed by wars and natural disasters and today has only eight columns left. The Temple of Castor and Pollux, the twin brothers born to Jupiter and the queen of Sparta, has only four columns left and has become the symbol of Agrigento.
If you want help finding your way around and understanding the history of this extraordinary place, then book our recommended Valley of the Temples skip-the-line guided tour, where a knowledgeable English-speaking guide will share the history and secrets of the valley.
Upmarket: Doric Boutique Hotel – Booking.com | Agoda
Mid-Range: Colleverde Park Hotel- Booking.com | Agoda
Budget: Via Pezza 100 – Booking.com | Agoda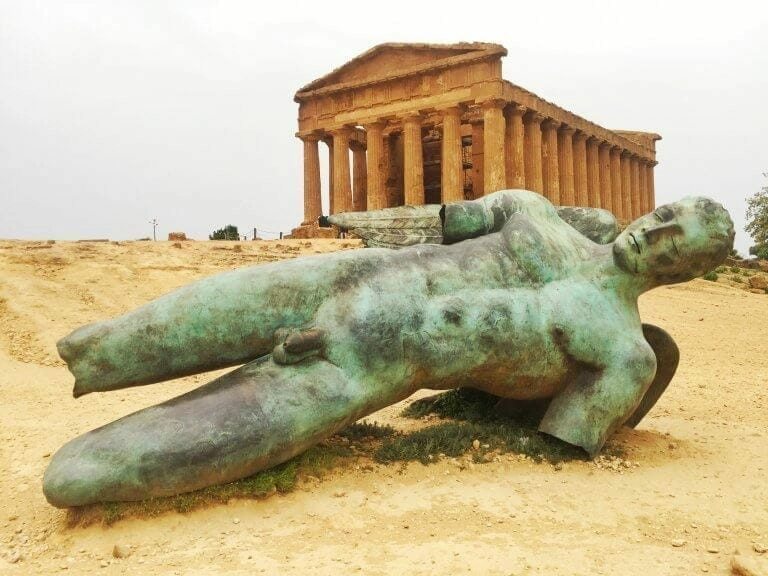 Scala Dei Turchi
The Stair of the Turks, so called because marauding Turkish pirate ships were known to find shelter in the bay, is an incredible sight. On first inspection, the cliffs seem too perfect and too white to actually be real.
The cliffs are made of soft limestone and blinding white marl, shaped, smoothed, and buffed over millennia by the sea and wind to look like a giant meringue, rising up from an impossibly blue surrounding sea.
This candidate for UNESCO World Heritage Site status was closed by the Sicilian authorities in 2020, due to the lack of protection and care for the site. Every year, thousands of visitors clambered over the famous white rocks, causing erosion, stealing pieces of marl, and leaving rubbish behind, giving he local authority no choice but to action.
It is possible to see Scala dei Turchi from the sandy beach to the east, from the road above as you approach from the west, or from a boat. People do also slip through the gaps in the fencing on the beach to the south to climb the stairs, despite the site being officially closed.
Upmarket: Masseria Agnello – Booking.com | Agoda
Mid-Range: Scala Dei Turchi Resort – Booking.com | Agoda
Budget: Case Vacanze Bellavista – Booking.com | Agoda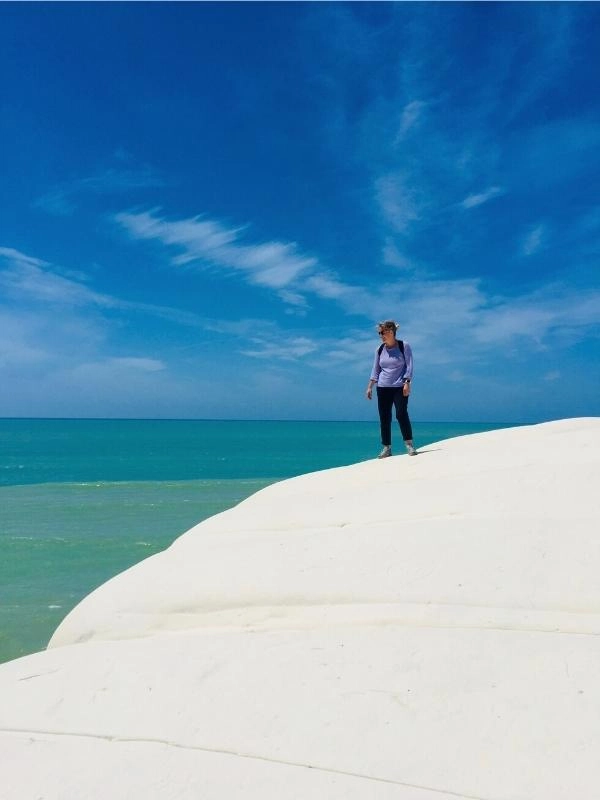 Italy Travel Ideas
Marsala
If you haven't tried Marsala wine, it will be a totally unexpected and delicious surprise. Marsala is made in much the same way as sherry and port but has its own distinct flavor due to the requirement to use only certain varieties of grapes grown in and around Marsala. True Marsala contains flavors of vanilla, brown sugar, stewed apricot, and tamarind.
This delicious fortified wine can be dry or sweet and many things in between, depending on how much cooked must is introduced to the wine. It is possible to do a tour and tasting at all the large houses, with Florio having the most atmosphere and interest in the cantina (cellar).
Book this highly-rated winery tour with wine tasting to discover the tradition of Sicilian wine-making on a tour of the Florio Winery in Marsala.
Upmarket: Hotel Baglio Oneto dei Principi di San Lorenzo – Booking.com | Agoda
Mid-Range: Viacolvento – Booking.com | Agoda
Budget: Villa Carlo Resort – Booking.com | Agoda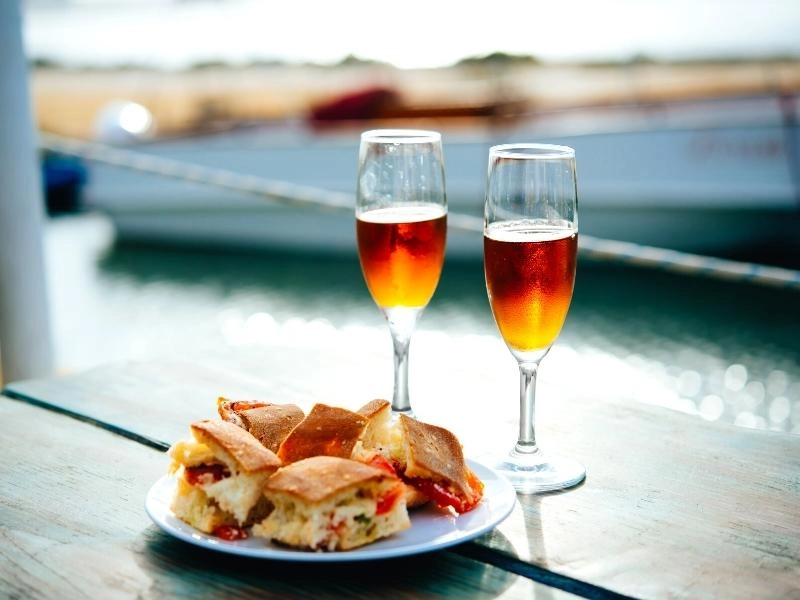 Stagnone Nature Reserve
Between Marsala and Trapani, the Regional Nature Reserve of the Islands of Stagnone di Marsala in western Sicily is a lagoon with four islands, formed around 5,000 years ago and characterized by shallow waters from 1-2m and in some places not more than 20-30cm.
The lagoon was formed relatively recently due to sand movements because of underwater currents. This has caused the closure of a part of the sea that was originally open and therefore, as there are no currents necessary for replacement, the water has become more stagnant, with a temperature above normal.
Surrounded by a very salty environment, it the lagoon presents a unique ecosystem. Windmills and salt pans characterize the landscape of the natural reserve. The "Isola Grande" is the largest of the four islands, followed by Mozia, which was colonized by the Phoenicians in the eighth century and has a great archaeological heritage. Santa Maria and La Scola are the smallest islands.
The lagoon is an ideal place for kite surfing and is widely recognized as one of the best locations in Europe. There are approximately 30 kite schools along the northern coast of the lagoon, which are evident if there is any form of wind, just follow the hundreds of colorful kites!
It's well worth taking a boat trip out into the lagoon and around the islands, to explore the natural landscape of the nature reserve and discover the story of salt and the people that produced it.
This highly rated Salt Road Tour With Winery Visit and Boat Trip hits three top attractions in one – you'll visit one of Italy's finest wineries and enjoy a guided tour of Marsala on this day trip, with a boat ride on the Stagnone Lagoon, as you travel along Italy's Salt Road.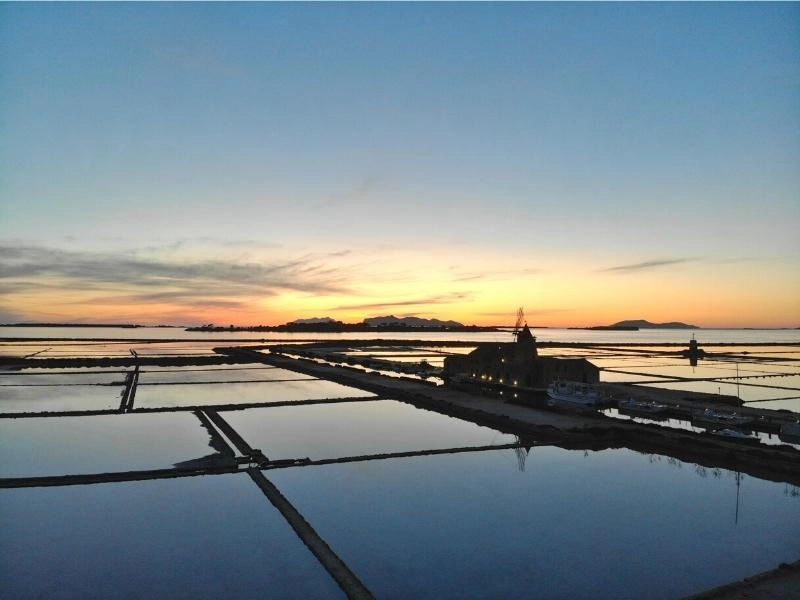 Salt Pans of Marsala
There have been salt pans in Sicily for over 2,500 years. The salt flats at Marsala have the perfect position with warm Saharan winds, shallow waters and hot summer sun. This is the perfect recipe to produce salt.
Production was at its peak in 1860, when 31 salt pans produced over 100,000 tonnes of salt a year. Much of this was exported across Europe and as far away as Russia and Norway. These days demand is diminished but there is still a market for salt produced in this way due to its 100% natural composition, which is said to enhance the flavor.
Be inspired by the beauty of this immediately recognizable vista, with windmills dotting the horizon and piles of salt visible. It's the perfect place for aerial photography if you have a drone.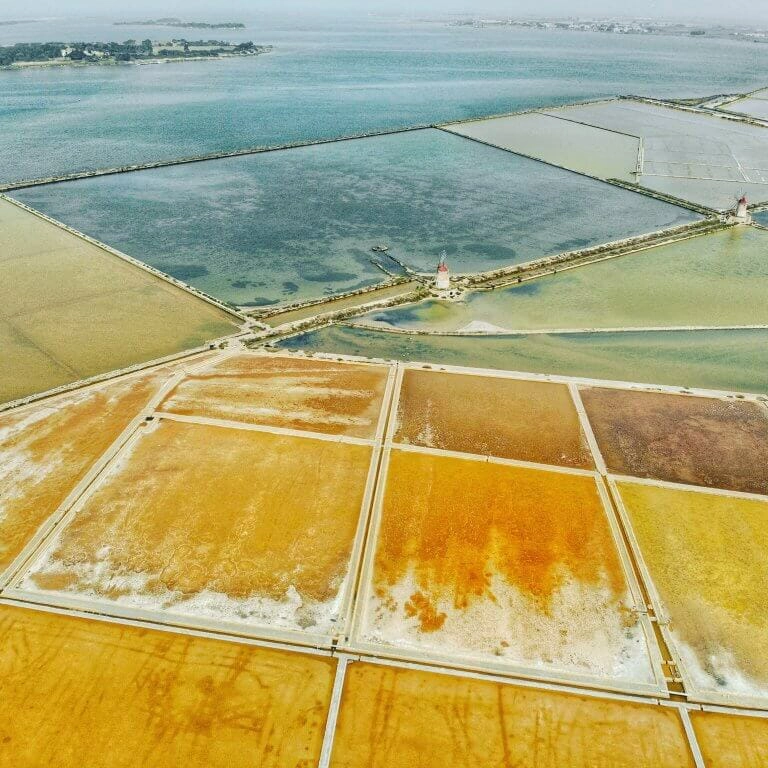 Erice
Erice is a delightful and pretty medieval hill town that is a pleasure to wander through, and the views are amazing. Standing at 751m high, on top of a huge lump of rock, Erice is known for the Castello di Venere and its numerous churches. There are rumored to be 100 but it is definitely less than that!
All visits to Erice start at Porta Trapani at the top of the hill, where the car park and cable station are. If the drive up isn't for you, then get the funierice (cable car) from Trapani and park in their car park. This will cost you €1.50 for the first three hours and the cost of the cable car is €9.50 return.
You will need three to four hours to wander through Erice's medieval cobbled streets, visit a few churches and the castle, and throw in another hour or so for lunch. Try the reasonably priced and tasty pizzas at La Rustichella in Piazza del Loggia, where you will also receive excellent customer service.
The view from the castle ramparts and gardens is stunning. Trapani and the salt pans to one side, the tip of San Vito Lo Capo to the other. It goes without saying that you should try and go on a clear day.
Make sure to try some of Erice's famous confectionary, made to ancient recipes of nuns in cloistered convents. If you like marzipan and have a sweet tooth you will be in heaven.
Upmarket: Il Carmine Dimora Storica – Booking.com | Agoda
Mid-Range: Residence Erice Pietre Antiche & rooms – Booking.com | Agoda
Budget: Hotel Elimo – Booking.com | Agoda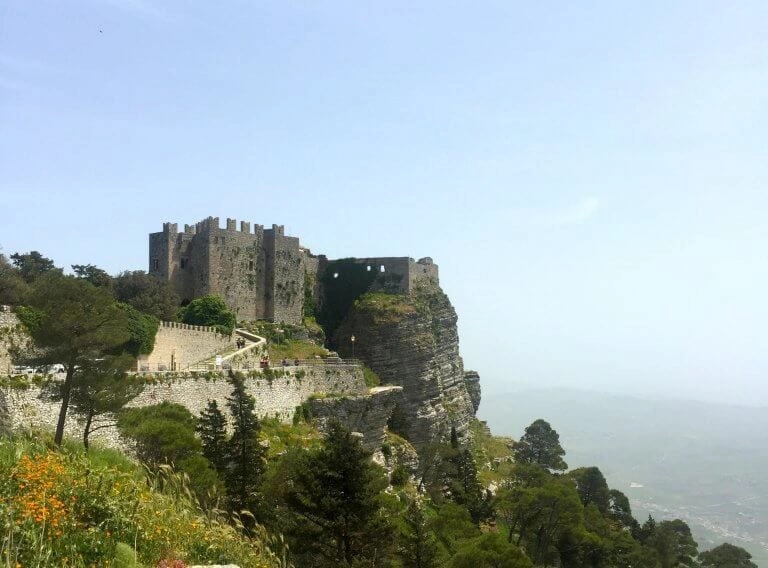 Monte Cofano
Monte Cofano is a distinctive, monolithic lump of limestone, which stands 659m high in the Monte Cofano nature reserve.
As well as amazing hiking, Monte Cofano Bay has two sandy beaches, crystal clear turquoise water, and fantastic rock pools. You can snorkel here as well as kayak and paddle board, and there are lots of places to park overnight if you're in a self-contained campervan.
If Monte Cofano is too out of the way for you, there's lots of other incredible hiking in Sicily, an island known for its dramatic landscapes and gorgeous trails.
RELATED POST – How to Hike Monte Cofano in Sicily
Upmarket: Baglio Giammaccaro – Booking.com | Agoda
Mid-Range: Hotel Oasi da Paolo – Booking.com | Agoda
Budget: B&B La mia Isola – Booking.com | Agoda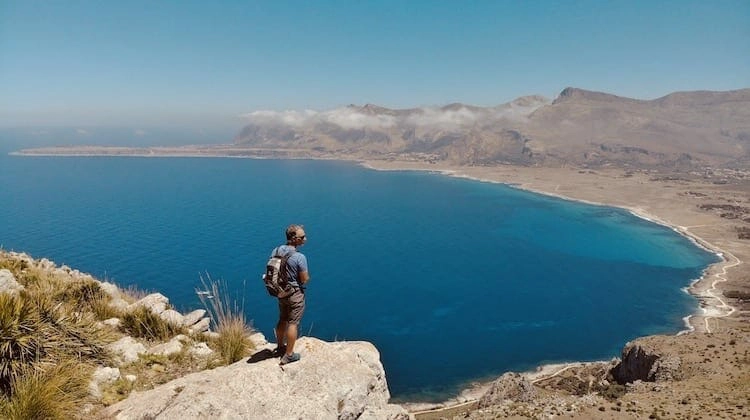 San Vito Lo Capo
From Cofano, it's a hop and a skip up to San Vito Lo Capo, a very pretty beach-side town known for its fabulous crescent-shaped beach sheltered by Mount Monaco, and the lighthouse at Cabo San Vito.
In May every year, there is a kite festival held here – the beach explodes into color and dancing shapes and the town takes on a party atmosphere with stalls and pop-up cafes making the most of the (usually) fine spring weather.
Upmarket: Baglio La Porta by Geocharme – Booking.com | Agoda
Mid-Range: I Mori Hotel – Booking.com | Agoda
Budget: Hotel Sabbia d'Oro – Booking.com | Agoda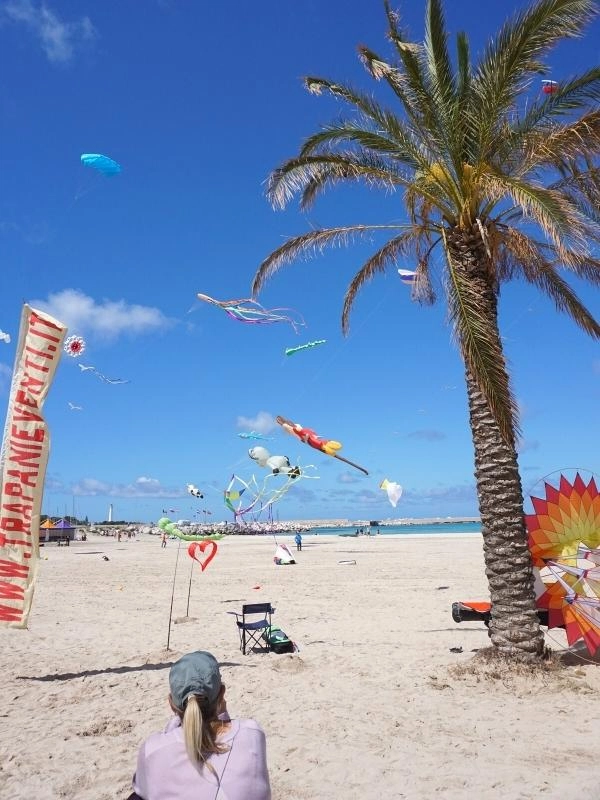 Temple of Segesta
Segesta is a glorious temple and Roman amphitheater, incredibly well-preserved and picturesque. Easily accessible and set in beautiful rolling countryside, the Temple of Segesta is a must-see on your road trip of Sicily.
A magical place, the setting between lush rolling hills, with far distant views to the sea and mountains, is perfection. The surrounding fields, with their exact rows of silver-green olive trees and vines, are archetypal Italian and just add to the atmosphere of Segesta.
The architecture of both temple and amphitheater is breathtaking. The temple is particularly interesting due to its unfinished nature and complexity. It is amazing that it has survived as intact as it is, given that until just a few years ago, visitors were able to walk inside and around the columns.
RELATED POST – How to Visit the Temple of Segesta in Sicily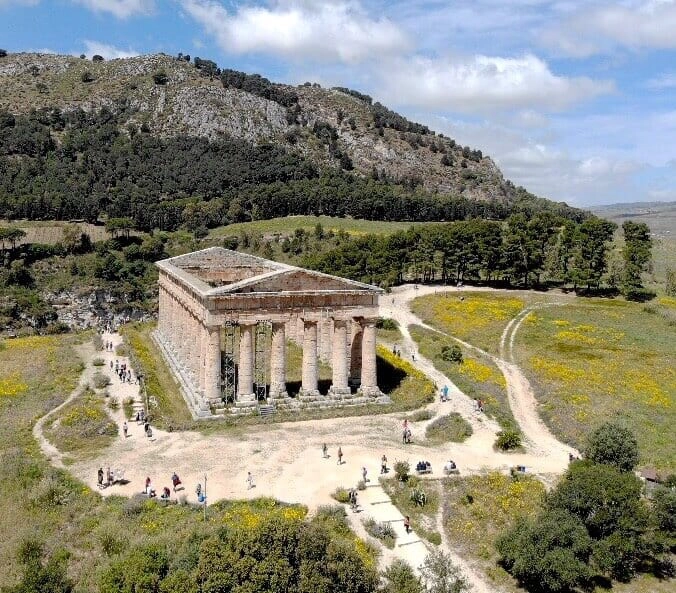 Scopello
It works well to head to Scopello for lunch or dinner after a visit to Segesta. Scopello is a charming village with a small but beautifully formed bay, about a 30 minutes drive from Segesta.
There are also a number of excellent restaurants in the village, but make sure you book if you want to eat at a specific place. If you're looking for a lively and fun lunch, try Made 'n Sicilia (no booking required) which specializes in delicious Sicilian street food.
Upmarket: Tenute Plaia Agriturismo – Booking.com | Agoda
Mid-Range: Torre Bennistra – Booking.com | Agoda
Budget: Residence Guidaloca – Booking.com | Agoda
Palermo
Palermo is a vibrant and busy city that you must visit on your road trip around Sicily. A complex city, Palermo has been caught between West and East for millennia. With dazzling buildings, hidden corners, and chaotic markets, any visit to Palermo is exhilarating.
You must visit the food market which is on every day and situated in the area around Via Porta Carini. Here you can buy fish, meat, fruit, vegetables and pretty much everything else you can imagine. You can stop for a coffee and people watch, choose your fish and meat and have it cooked in front of you, to be eaten on a ramshackle table in the open air, or simply wander and take in the colors, sounds, and smells of this fabulous market.
You should also visit the cathedral, although it is a little soulless and much less attractive than some other Italian cathedrals. In contrast, the Catholic church of San Giuseppe dei Teatini just off the Quattro Canti is spectacular and worth seeking out.
Quattro Canti is a busy and thriving area of the city with live music, street art, and food stalls dominating the streets and lots of interesting shops and a great selection of gelateria. Grab a coffee and enjoy a bit of people-watching.
If you decide to take a horse and carriage ride, make sure you agree on the price and how long your trip will take before getting in. Negotiate on the first price given, even then you may well be asked at the end of the ride for an additional tip "for the horse"! A carriage ride is a good way of seeing the major sites of Palermo quickly, and you can decide which ones most interest you for a later visit.
If you stay at a hotel without the benefit of a car park, research parking thoroughly before you get there. Palermo is manically busy with very limited parking and its quite possible to drive around for hours without finding anywhere.
If you need any more convincing, then these six reasons why you have to visit Sicily's crazy capital city should help!
RELATED POST – One Day in Palermo – Itinerary, Map, Tips & Guide
Upmarket: Palazzo Natoli Boutique Hotel – Booking.com | Agoda
Mid-Range: Casa Nostra Boutique Hotel – Booking.com | Agoda
Budget: Hotel Posta – Booking.com | Agoda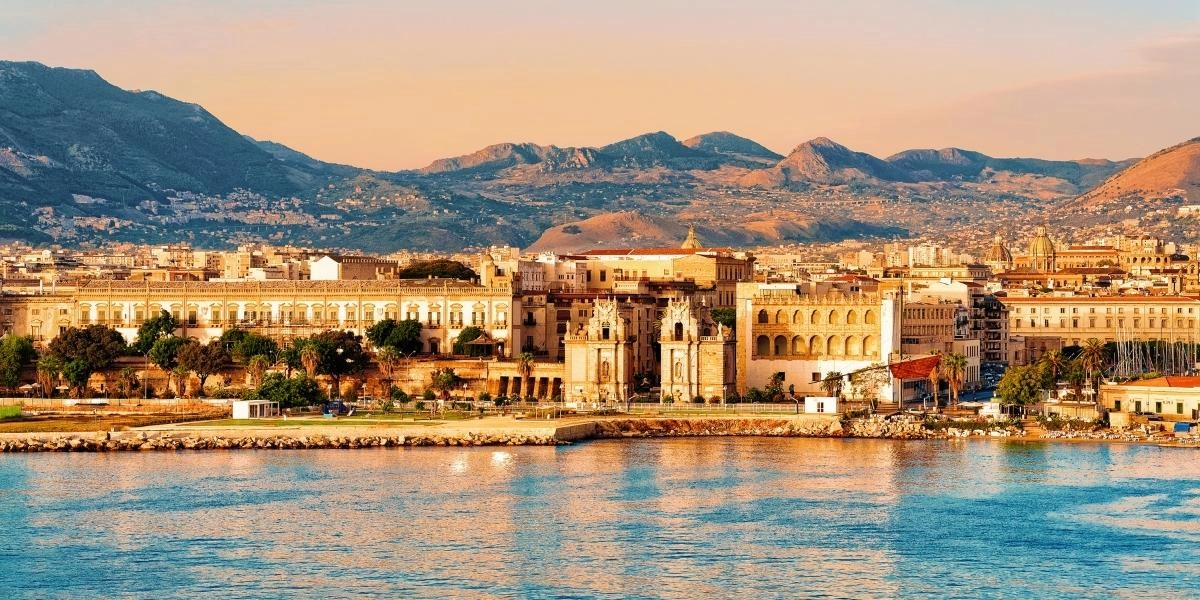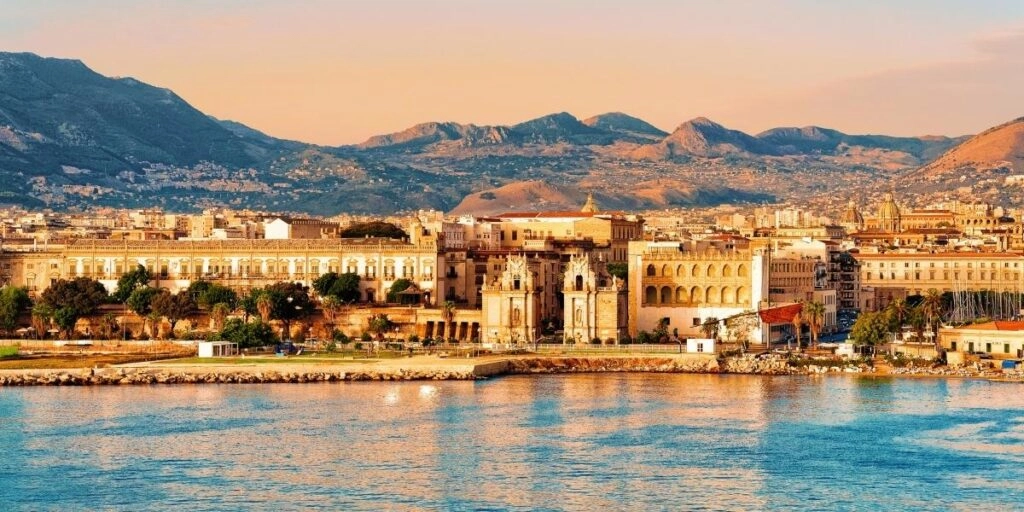 Cefalù
Cefalù is a small town on the northern coast of Sicily. It is a must-see in all the guidebooks and has a fine 12th century Norman cathedral at the edge of an attractive square.
Cefalu is a modern-day masterpiece of marketing over substance. It is pretty enough to wander around, and you could happily spend a day meandering and taking in the old cathedral and harbor – it would not be a hardship.
But you will have to dodge the large number of over-priced restaurants, cafes, and gift shops lining the streets which are thronged with guided tour parties, so go prepared!
Upmarket: Le Calette Garden & Bay – Booking.com | Agoda
Mid-Range: Villa Totò Resort – Booking.com | Agoda
Budget: Ossuna Bay Hotel Boutique – Booking.com | Agoda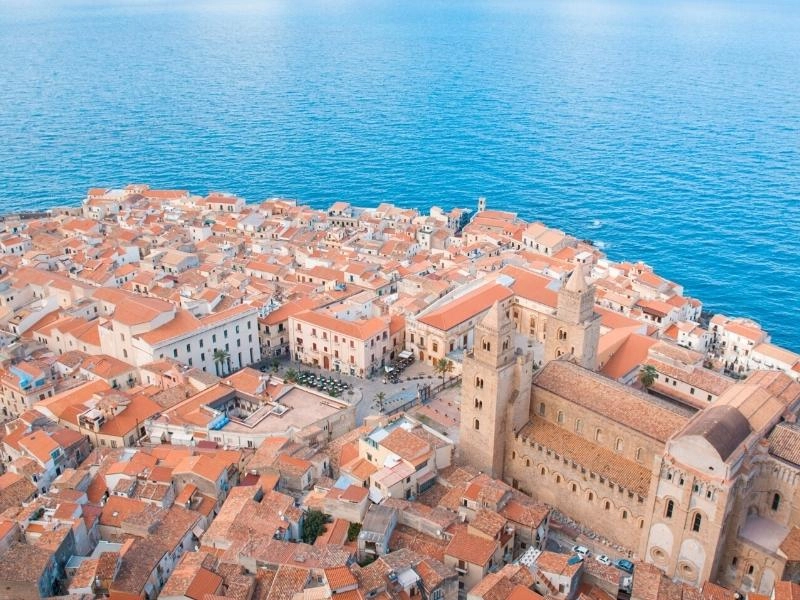 Taormina
Taormina is a stunning town perched on a hill on the east coast of Sicily. It sits in the shadow of the active volcano Mount Etna, providing fabulous views across the landscape of the smoldering mountain.
Taormina is quite touristy but also very welcoming. Visit the Teatro Antico di Taormina, an ancient Greek theatre still in use today. Close by, cliffs drop to the sea forming coves with sandy beaches, and a narrow spit of sand connects the mainland to Isola Bella, a beautiful tiny island and nature reserve.
Taormina is well known for its gastronomic delights, welcome, and hospitality. This highly recommended small group food and wine tour will take you on a walking tour of Taormina to discover the best places to eat and drink, and you'll get to sample the typical foods of Sicily paired with fine wines from the region.
Upmarket: Grand Hotel Timeo, A Belmond Hotel – Booking.com | Agoda
Mid-Range: Hotel Metropole Taormina – Booking.com | Agoda
Budget: Hotel Villa Sirina – Booking.com | Agoda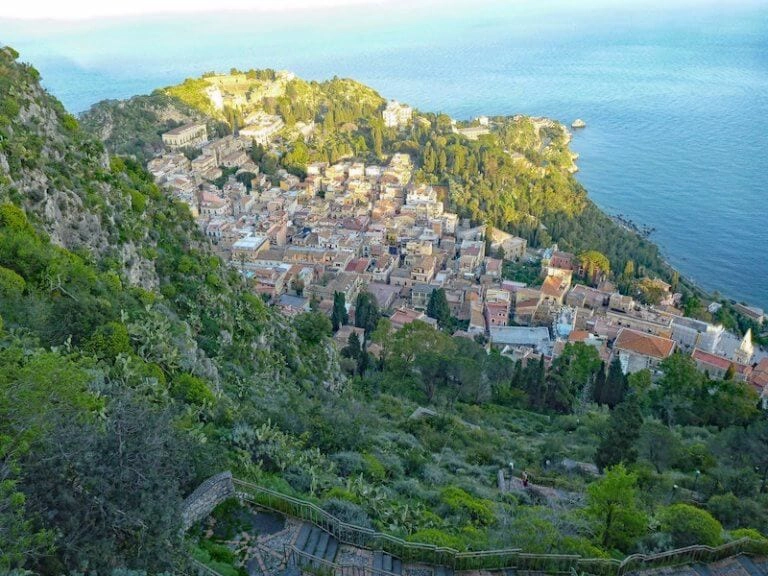 Mount Etna
Mount Etna is the biggest natural wonder of them all! She is Europe's largest and most active volcano and stands a mighty 3,350m high. After Kilaueu on Hawaii, Mount Etna is considered the second most active volcano in the world.
If that doesn't put you off, you can get to the summit of Mount Etna, look deep into her craters, and hear the rumbling magma stirring. Getting to the top of Mount Etna will require a guided tour and will take a full day but the sense of achievement and wonder is worth the effort of getting there.
Book this highly rated Mount Etna cable car, jeep, and hiking to the summit tour to hike in full safety with an authorized alpine and volcano guide, and marvel at the beauty and wonder of the highest active volcano in Europe.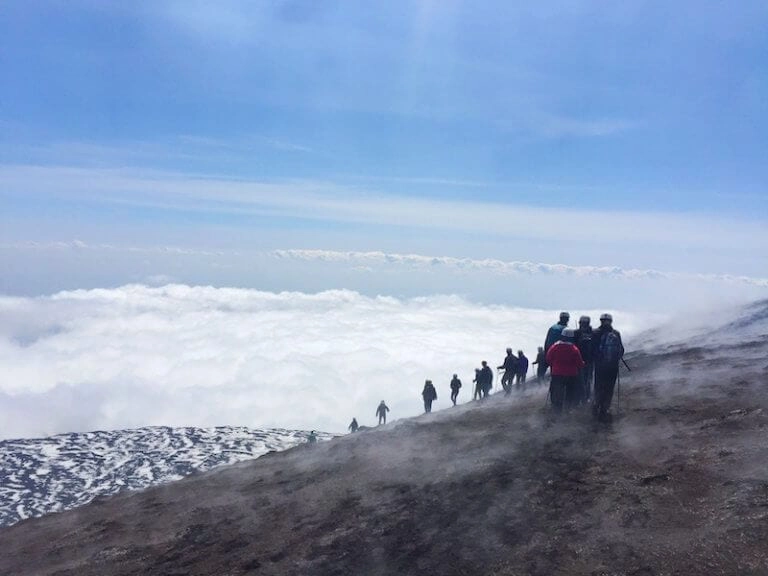 Catania
After your epic climb, head down the mountain to Catania, a city that is missed by many but is worth a visit. Check out these eighteen awesome things to do in Catania for inspiration.
Upmarket: Palazzo Marletta Luxury House Hotel – Booking.com | Agoda
Mid-Range: B&B Palazzo Perrotta – Booking.com | Agoda
Budget: Habitat – Booking.com | Agoda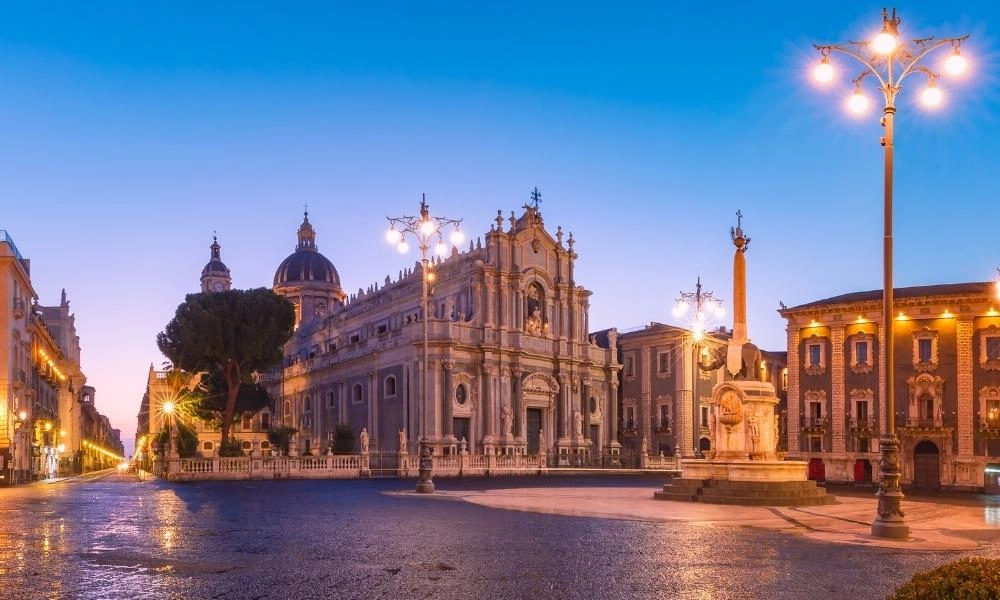 Sicilian Road Trip Resources
Sicily Essentials
Here are the websites and services we personally use and recommend for traveling in Italy.
Driving in Italy
Whether you're traveling in your own vehicle or flying in and renting a car, you need to follow these rules when you drive in Italy and Sicily;
You must have at least three months remaining on your passport (issued in the past ten years) at your intended date of departure from Italy.
You must have at least 3rd party insurance for your vehicle.
Citizens of non-EU third countries may require an IDP for driving in Europe. You can check whether you need an IDP here.
You must carry a warning triangle, a spare wheel, and the tools to change a wheel, or a tire repair kit.
It is not compulsory to carry a reflective jacket, first aid kit, spare bulbs, or a fire extinguisher but we would recommend you do.
RELATED POST: Driving in Europe – Everything You Need to Know
Are you looking for more road trip inspiration? Check out these top posts…
A UNESCO World Heritage Site, the Dolomites in Northern Italy are a wonder of impossibly jagged mountains, vertical walls and narrow and deep valleys that carve their way through the ancient landscape. We spent a month exploring the Dolomites and in this Dolomites road trip planner we share our seven day itinerary, travel tips, things to do and see along the way, and hotel recommendations to help you plan your perfect Dolomites road trip.
Love it? Pin it!