This post may contain affiliate links, from which we earn an income.
How to Road Trip the Amalfi Coast, Italy
The Amalfi Coast road, the SS163, is a 50km spectacular stretch of tarmac, hugging the cliffs and coves of the Tyrrhenian Sea in southern Italy.
This slither of gravity-defying road runs from the Sorrento peninsula to Salerno, twisting and winding its way past pastel-painted villages and the most incredible views. This scenic drive is surely one of the best bucket list driving roads in Europe.
We've road-tripped the Amalfi Coast road trip on a bike, in a car, and in both directions! Our Amalfi Coast guide has tips about driving the famous coast road, suggestions about how to road trip Amalfi plus all the best places to stop and things to see along the way.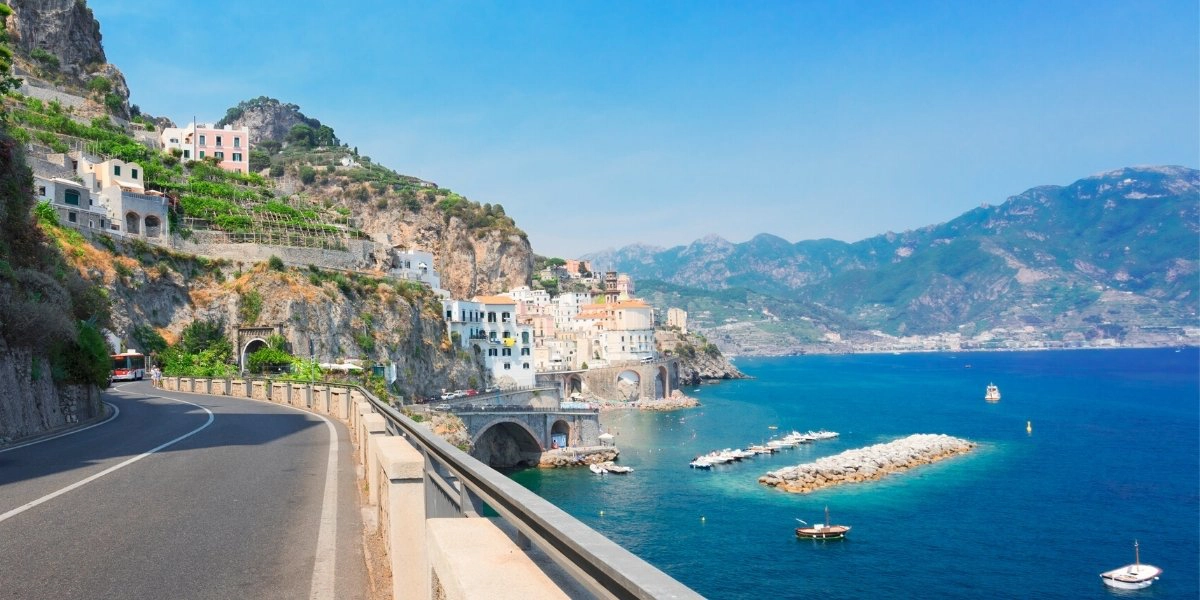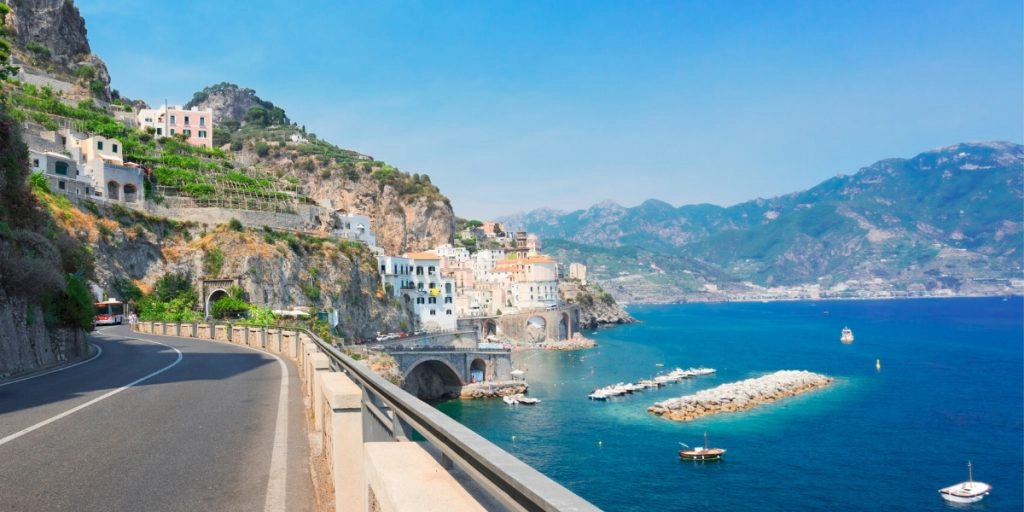 When to Road Trip the Amalfi Coast
So beautiful is this UNESCO World Heritage Site stretch of road that people come from all over the world to travel along it. Many say it is the most beautiful place in Italy because of the rugged scenery, steep cliffs, lush landscapes, and turquoise blue seas. We think it's one of the most spectacular driving roads in Europe.
If you're planning a trip to the Amalfi Coast, whether you take a coach trip, drive the road in a car, or enjoy it on two wheels, this popular destination will undoubtedly be very busy in the high season of summer.
As the Costiera Amalfitana road draws towards villages and towns en route, it narrows and larger vehicles have to practice nifty maneuvers; this slows down anything behind, including you! Patience will serve you well here… you could probably use the time to get a few stunning images of the view!
The absolute best time for driving the Amalfi Coast is April and very early May or late October into November. If you have to travel in peak season, go early in the morning or on a weekday.
Avoid the Amalfi coastal route at weekends and peak hours whenever possible. If that's not possible, accept that you will spend time in non-moving traffic and in the summer months it will get very hot. Make sure you take plenty of water with you in case you get stuck.
The Amalfi Coast is also a gorgeous winter destination, when the temperatures are warm and narrow roads and towns quieter, making it a perfect off-season destination to get away from the crowds.
RELATED POST: Southern Italy: Discover the Best 33 Places To Visit
Is this your first visit to Italy? Get all the information you need in our Italy Travel Guide, including what to pack, the best time of year to go, getting there, and practical tips to help you have the best trip!
Ways to Road Trip the Amalfi Coast
Amalfi Coast by Car
It's easy to pick up a hire car at Naples or Rome airport, or in Sorrento. As one of the largest rental car aggregator companies in the world, we recommend Rentalcars.com because they have massive purchasing power which enables them to secure the best rental prices, which benefits you when you're planning a road trip.
The Amalfi Coast drive is relatively easy if you are a confident and experienced driver. Look on the map and you will see that the strada statale 163 is twisty, and there are a few hairpin bends on the main road, and many more if you head into the hills. Most of the road consists of sweeping corners rather than tight ones.
There are some (but not many) places to stop and admire the breathtaking views and for pictures of the sparkling turquoise waters, so take your opportunity when you can.
The Amalfi Coast road itself is maintained in good condition and is wide enough for cars to pass comfortably. Our top Amalfi Coast driving tip is to drive from Salerno to Sorrento instead so that you hug the high cliffs rather than the edge.
If you are a nervous driver, it is probably the best way to drive this infamous road and the experience is no less spectacular for it.
Parking along the Amalfi Coast road is limited and as you approach the small towns along the route, you'll see cars parked alongside the road. Some places are reserved for residents and it can be hard to find a parking spot in the height of summer or at the weekends. If you do park, make sure you're doing so legally, or better yet, book a hotel with a reserved parking space or parking lot.
The Amalfi Coast road is closed to large motorhomes. Stay at Santa Fortunata Village Camping in Sorrento and take a day trip, hire a scooter, or take the bus.
Make sure you have travel insurance you can trust when visiting Italy. We recommend True Traveller for their 5-star TrustPilot reviews, variety of cover options, best activities cover as standard, great prices, and excellent service.
Amalfi Coast by Scooter
A popular road with bikers, you can hire scooters and mopeds (with helmets) in Sorrento and Salerno, and all the towns along the Amalfi Coast.
Riding a scooter along the Amalfi Coast is a cheaper option than hiring a car and means you can park quickly and easily for the best views, or wherever the fancy takes you, and it will take you often! If you're looking to do something special, why not consider a vintage Vespa tour with a local guide?
Don't make this your first time on a moped; you need to be an experienced rider to contemplate the Amalfi Coast road on two wheels, but if you are, this is by far the best way to travel the Amalfi Coast.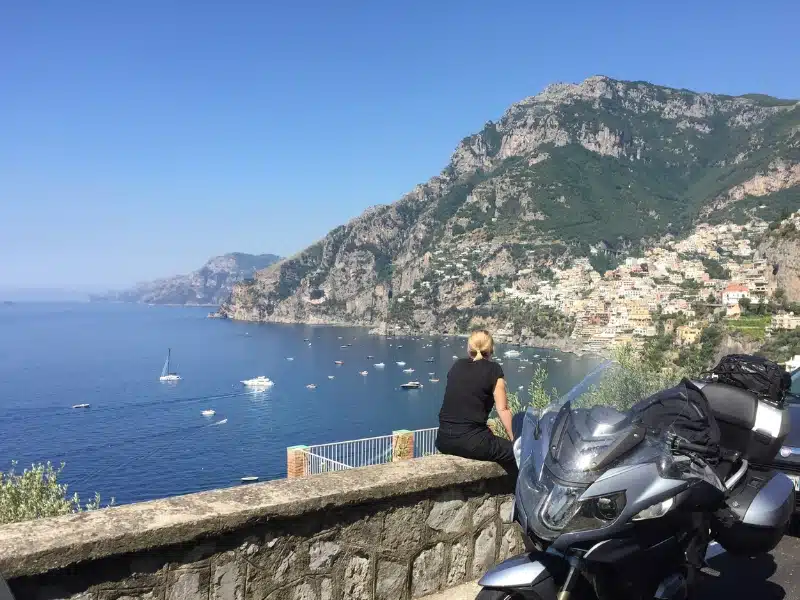 Amalfi Coast by Public Transportation
There is a regular bus service operated by Sita, which runs between all the coastal towns on the Amalfi Coast. This service is provided for locals, but in the summer months, each bus is full of tourists wanting a glimpse of the famous views and a budget-friendly way to experience the road.
Buses run every day on a frequent timetable but due to traffic volume are often very late. You may have to ride standing up and you may be on the wrong side of the bus; your only view will be the cliffs!
Taking the bus is a good idea if you need to get somewhere along the road but not the best choice if the road itself is your destination.
Organized Amalfi Coast Trips
If driving the Amalfi Coast road is not for you, you don't have to miss out.
There are lots of day trips to the main towns of the Amalfi Coast leaving from Sorrento, Naples, and even Rome. Why not let an experienced driver keep their eyes on the road whilst you revel in the gorgeous scenery and sea views, with a tour guide to take you to all the best places, answer your questions and share interesting stories.
How Many Days Do I Need to Road Trip the Amalfi Coast?
It depends on what you want to do! You could do the whole trip from Sorrento to Salerno in a day, but one of the best places to visit in Italy shouldn't be rushed.
If you hare along the whole road in a day, you won't have much time to visit anywhere, let alone see all of the top attractions and famous towns.
It would be easy to plan an Amalfi Coast itinerary of 7 days and spend a few days in each key place to see the best of the Amalfi Coast, take day trips, spend time on the beach, and generally relax… if you really wanted to chill this could easily stretch to an Amalfi Coast itinerary of 10 days!
Or, you could plan an Amalfi Coast itinerary of 3 days or less, if you plan ahead and choose where to stay and what to do carefully.
Amalfi Coast Road Trip Itinerary & Map
Sorrento – Positano – Amalfi – Ravello – Vietri sul Mare
How to use this map – Use your fingers (or computer mouse) to zoom in and out. Click or touch the icons to get more info about a place, and click the arrow in the box top left to open the index. To add to your own Google Maps account, click the star next to the title of the map.
Sorrento – The Starting Point
Sorrento is the unofficial starting point of any Amalfi Coast road trip itinerary.
Sorrento is on the road to the Amalfi Coast if you're coming from Naples or Rome and is easy to reach by car. You can also get to Sorrento from Naples International Airport train station in around two hours.
Sorrento is a good home base for your Amalfi Coast travels, as it also offers great options for day trips to Naples, the ruins of Pompeii and Mount Vesuvius, and boat trips to the beautiful island of Capri, due to its position on the peninsula.
You'll find lots to do in Sorrento. Head for Piazza Tasso where you'll find pretty shops, restaurants, and bars. The piazza is the hub of the city and a perfect spot to indulge in a little people-watching.
Take a walk through the historic town, full of narrow lanes, and home to the Chiesa di San Francesco, a 14th century church with a tranquil cloister. End your day in one of the many pizzerias and eat like a local!
Upmarket: Parco dei Principi – Booking.com | Agoda
Mid-Range: Hotel Cristina – Booking.com | Agoda
Budget: Grand Hotel Aminta – Booking.com | Agoda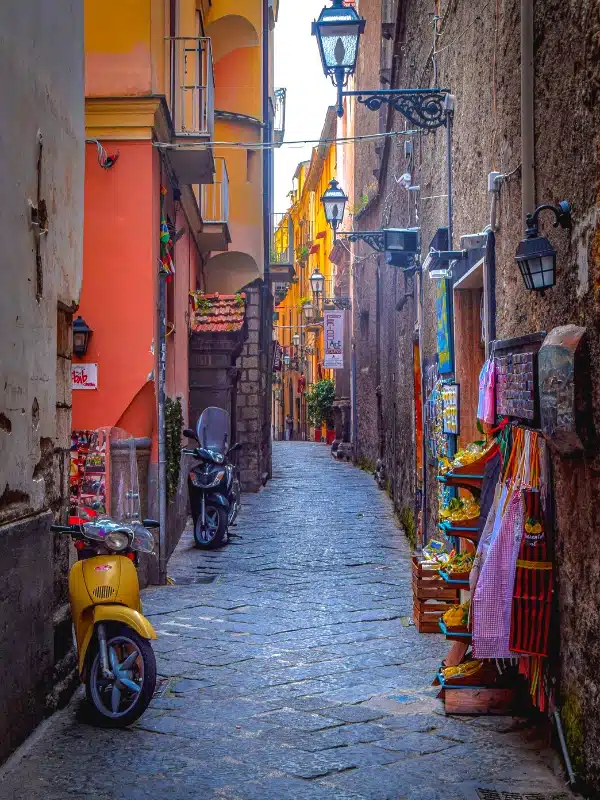 Iconic Positano
Positano, the most famous and recognizable of the Amalfi coast towns, is the first stop if you're driving from Sorrento.
You will recognize the little town from the thousands of images online, which show pastel-colored houses stacked higgledy-piggledy down to the sea. From the road, it's hard to see where people might walk and enjoy the town, such is the intimacy of the buildings.
But behind this magazine cover lies the everyday reality of faded Italian grandeur, crumbling plasterwork, and tourists. Take a wander through the maze of steep streets and steps to find charming hotels, restaurants, and interesting independent boutiques and shops, before admiring Chiesa di Santa Maria Assunta, the church of a thousand photos with its colorful majolica-tiled dome.
Some of the best things to buy are locally produced olive oil and Limoncello, hand-crafted ceramics, intarsia or inlaid wood objects, handmade leather sandals, and artisan Amalfi paper.
Take this brilliant boat tour to get a different perspective and see Positano from the water for the best Instagram shots. Or head out to gorgeous Capri island, one of the must-visit gems of Italy, and get lost in its winding streets and secret corners.
Il Sentiero degli Dei (The Path of The Gods) is an incredible and famous hiking trail in the hills behind Positano. Find out how to hike the Path of the Gods yourself or book a Path of the Gods guided tour which will organize all the transport to get you to the trailhead and you'll have a guide on the hike itself.
Positano's main beach, Marina Grande, still attracts Italian families who fight for space in the summer months with the chic middle classes on holiday from city life. If you fancy something a bit more laid-back, head west on foot to Spiaggia del Fornillo (one of Positano's most beautiful beaches), a long stretch of soft sandy beach backed by a few cool bars, where you can while away an hour or so, or spend a slightly more energetic evening bar hopping.
Upmarket: Il San Pietro di Positano – Booking.com | Agoda
Mid-Range: Hotel Conca d'Oro – Booking.com | Agoda
Budget: La Caravella di Positano – Booking.com | Agoda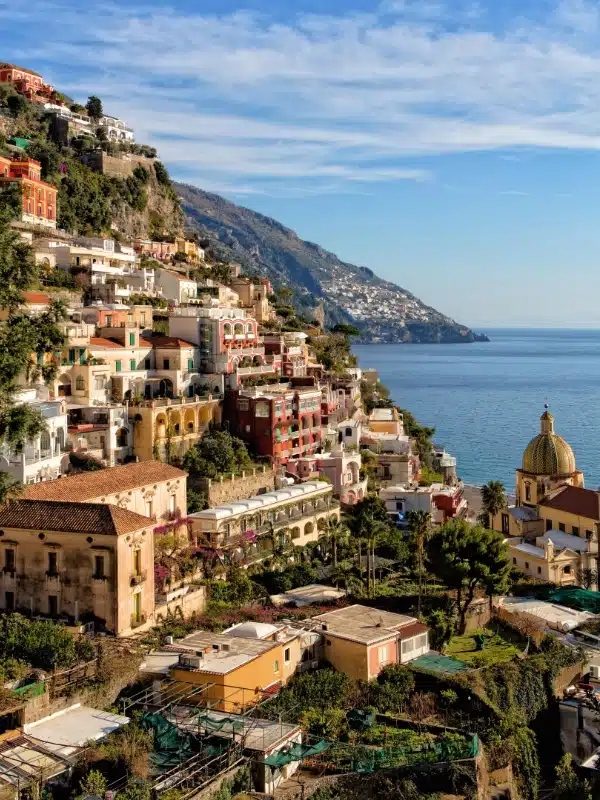 Pretty Amalfi
Positano to the beautiful coastal town of Amalfi should take about an hour, but plan on it taking at least two as you stop for photos and traffic!
You might also want to stop and see the Grotto della Smeraldo (Emerald Cave), which you can find by taking the stairs down at kilometer marker 24, just outside the fishing village of Conca dei Marini and about 5km before you reach Amalfi itself. But, parking can be a challenge and the cave receives mixed reviews.
Amalfi is a hugely popular holiday resort and the largest town along the coast road. It has less of a luxe feel than Positano but is no less attractive. The pretty seafront, with its many cafes and elegant boutiques, gives this town a buzz and it's easier to navigate than Positano; meandering rather than hurtling to the sea at its foot.
Head for Piazza Duomo, in front of the striking Amalfi Cathedral, and enjoy a coffee or gelato before taking the steps up to the church. Dedicated to St. Andrew, the Duomo di Sant'Andrea is a tranquil and beautiful place. Inside is the hidden Cloister of Paradise, dating back to 1266, with an army of columns, Arabesque arches, and an amazing fresco.
Amalfi has a fascinating history as a maritime republic, whose importance was equal to coastal Pisa, Venice, and Genoa. It was a trade bridge between the Byzantine and Western worlds for centuries and the old town is packed with graceful historical buildings. History buffs will enjoy the Museo della Carta which charts Amalfi's early role in Europe as a paper producer, dating back to 1231.
Just a few kilometers to the west of Amalfi, the tiny quaint town of Atrani hangs on the cliffside. The smallest town in all of southern Italy, its history is closely linked to Amalfi, with the two places even sharing a beach. You can learn more about both towns on a private walking tour, where you'll find out about the town's maritime history. If you're feeling a bit more energetic, take a hike up the Valle dei Mulini for fabulous views.
Everywhere you look around Amalfi, you will see lemons and marvel at the size of these huge citrus fruits, enjoying the perfect environment to produce the most flavor and juice. The lemons grown here are used for the classic Italian drink, Limoncello. Make sure you try an ice-cold glass of this delicious (and potent) liquor when you're in town.
The central location of Amalfi makes it a great place to stop overnight if you're spending two days in the Amalfi Coast area.
Upmarket: Borgo Santandrea – Booking.com | Agoda
Mid-Range: La Bambagina – Booking.com | Agoda
Budget: Palazzo Gargano – Booking.com | Agoda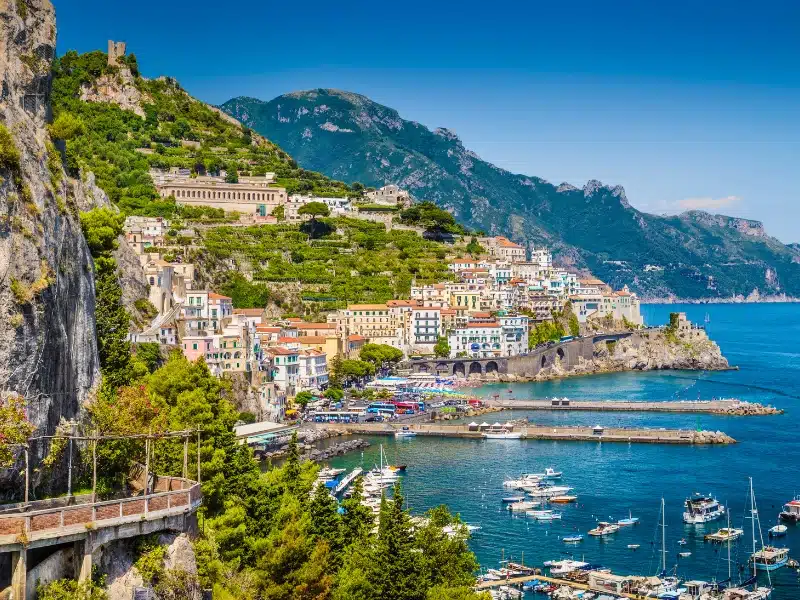 Other Italian Travel Guides
Romantic Ravello
Surely one of the most beautiful places in Italy, Ravello is perched 365m above the sea, overlooking immaculate terraced slopes full of vines, lemon trees, and olive groves. Home to a handful of superb hotels, Ravello ranks as one of Italy's most luxurious destinations.
Verdant with lush Mediterranean planting, and charming sun-dappled squares with breathtaking vistas, the detour to Ravello from the main coast road is so worth taking. Legend has it that when the devil wanted to tempt Christ with the wonders of the world, he took him to Ravello!
Visit Villa Rufolo, host to past popes and kings, and panoramic views from its beautifully landscaped and dramatic gardens. With iconic Italian cypress trees and umbrella pines, against a backdrop of azure waters and blue skies, the gardens are a highlight and are one of the best photo spots on the Amalfi Coast.
In fact, the natural beauty of this amazing place inspired opera composer Richard Wagner to complete the major portion of his final opera, Parsifal. The internationally acclaimed Ravello Music Festival, which runs from June to mid-September every year, is often referred to as the Wagner Festival in his honor.
Take a stroll into the small village and head for the pretty Piazza Vescovado, where you will find the elegant 11th century Duomo. This simple and largely unadorned church has undergone extensive renovations over the ages, and its shining white facade dates back to the last major restoration in 1931.
The perfect place to stop for lunch on a one day itinerary of the Amalfi Coast, Ravello has no shortage of good restaurants serving delicious local food with an incredible view.
Upmarket: Hotel Villa Cimbrone – Booking.com | Agoda
Mid-Range: Hotel Villa Maria – Booking.com | Agoda
Budget: Hotel Zi'ntonio – Booking.com | Agoda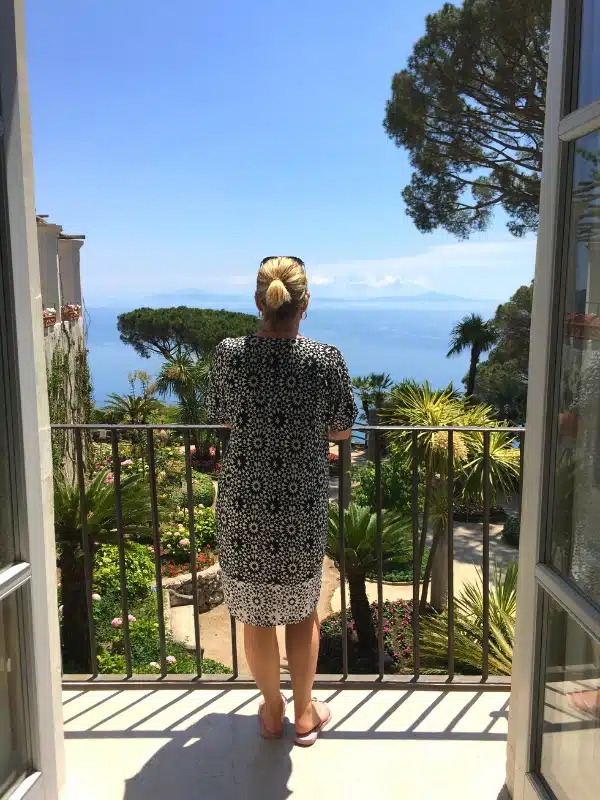 Authentic Vietri sul Mare
Vietri sul Mare, just west of Salerno, is your last stop and marks the end of your Amalfi drive. The town is the ceramics capital of Campania and you'll find colorful pottery on every corner, made locally since ancient Roman times.
This part of the Amalfi Coast and the over-looked town of Vietri sul Mare does not have the visual appeal of its more famous neighbors but it's authentic and down to earth, a great antidote to the glitz and glamour of the rest of the coast.
Vietri's narrow streets spread out from the main landmark, the Renaissance Church of Saint John the Baptist on Piazza Duomo, with its colorful bell tower and ceramic-covered dome. You'll find fabulous tuna and the local specialty, colatura di alici, a delicious extract of fermented anchovies, referred to locally as liquid gold.
Upmarket: Palazzo Suriano Heritage Hotel- Booking.com | Agoda
Mid-Range: Hotel La Lucertola – Booking.com | Agoda
Budget: Residence Zelzar – Booking.com | Agoda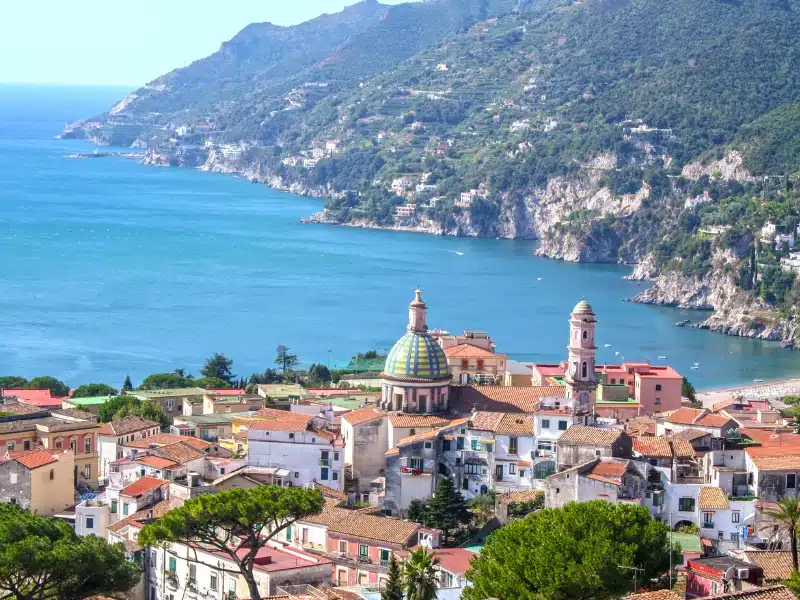 Italian Road Trip Resources
Here are the websites and services we personally use and recommend for trips to Italy.
Are you looking for more road trip inspiration? Check out these top posts…
Amongst the beautiful landscapes of Spain, in the mountainous interior and along the gorgeous coasts, you'll find fascinating history, vibrant culture, and incredible cuisine. One of the best ways to experience Spain is by taking a road trip. We base ourselves in Spain when not traveling and have explored much of the country on four wheels and two! Whether you want historic cities, gorgeous landscapes, beaches and sun, or something a bit different, our detailed…
Love it? Pin it!