This post may contain affiliate links, from which we earn an income.
Blogging in Our Adult Gap Year
Life was calling after finishing university, but we wanted something different, so we took an adult gap year and ended up starting a blog!
Why Did You Want to Take a Grown Up Gap Year?
We had just finished university and we didn't want to start "normal boring life" straight away. After all the amazing summers we have spent working as horse wagon guides in Alaska or waiting on in Yellowstone National Park, we wanted to experience something similar again. To have another chance to earn some decent money and travel around beautiful countries.
How Did You Make Your Adult Gap Year Happen?
We decided to apply for a one year Working Holiday Visa to New Zealand. New Zealand is one of the few countries outside Europe where it's relatively easy for Czechs to get a work visa, and the minimum wage is pretty good if you compare it to wages in the Czech Republic. We also both love nature, so New Zealand was a perfect choice.
When we were leaving the Czech Republic, staying and working in New Zealand for two to three years was also an option. Let's say we had an open plan. We came to New Zealand together with two other friends. Each couple bought a campervan and we started our gap year with three weeks of travelling around the North Island. It was perfect! New Zealand's nature is so beautiful.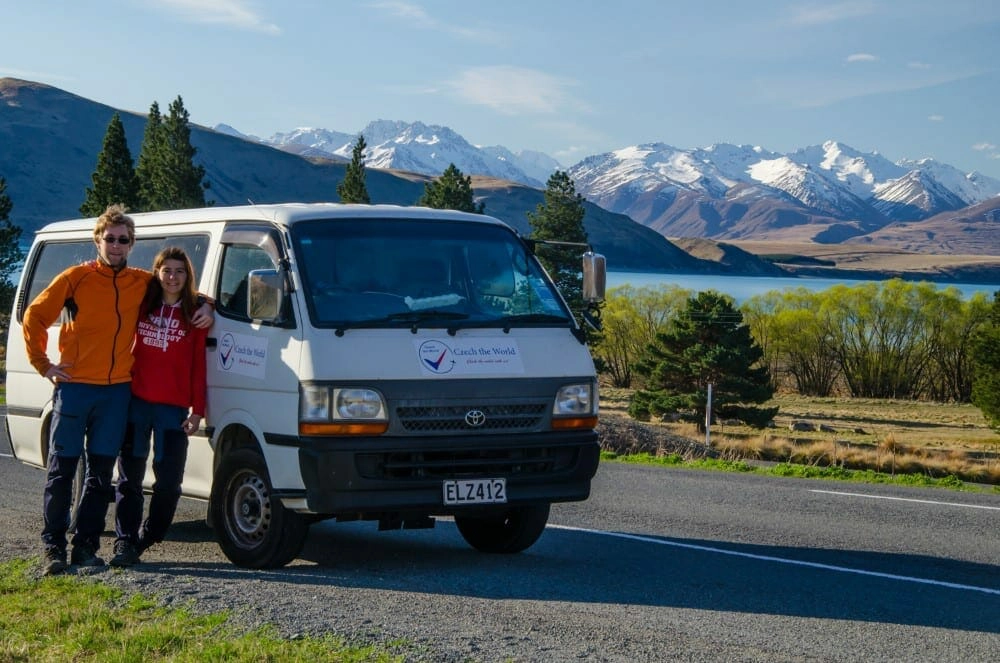 After those first three weeks, our friends came up with an idea to try some of the "backpacker's" jobs, so we found a job in the orchard. Those kinds of jobs are super-easy to find; one day you start looking and in a few days you're already working. It is usually picking fruit, thinning or work at the packing shed.
I am not gonna lie, any job like this is extremely boring. The good thing was that we were allowed to wear headphones. We found a bunch of good podcasts about blogging, SEO, etc. to learn a bit more about what we could do with our travel blog ,which was our hobby at that stage. After one month of listening to those podcasts for ten hours a day while apple thinning, we had so much new information, which we wanted to apply to our blog. It was such a big motivator that we decided to leave the orchard to work a bit more on our blog.
Starting a Blog
We were aware that it wouldn't be fast or easy to monetise the blog, so Matěj started searching for a programming job in IT, that would bring more money than the orchard job. The idea was that until he found a job, we will concentrate all our attention on the blog. Meanwhile, we had also a side job; the "bike man" which was a bike taxi around Auckland.
After a month, Matěj found a job and we also started house sitting to save on accommodation. It was perfect because we lived for free in luxurious houses in exchange for pet care. I was enjoying it very much, having cats, dogs and even horses around was just great.
After two months, Matěj lost his job because a new company overtook the old one and brought in a new IT team. So we took it as a chance for both of us to concentrate all the attention on the blog.

The Reality of Blogging
I guess our friends imagined us doing some amazing stuff during our adult gap year, but in fact, we spend more than half a year and twelve to fourteen hours a day behind the computer, working on our dream.
Seeing rising numbers of visitors was our biggest motivation, and also the fact that all new tactics that we learned actually worked!
When we had only two months of our visas left, we went for a road trip around the South Island. The best part of it was that we knew that even without working, we can cover most of our expenses from our blog earnings.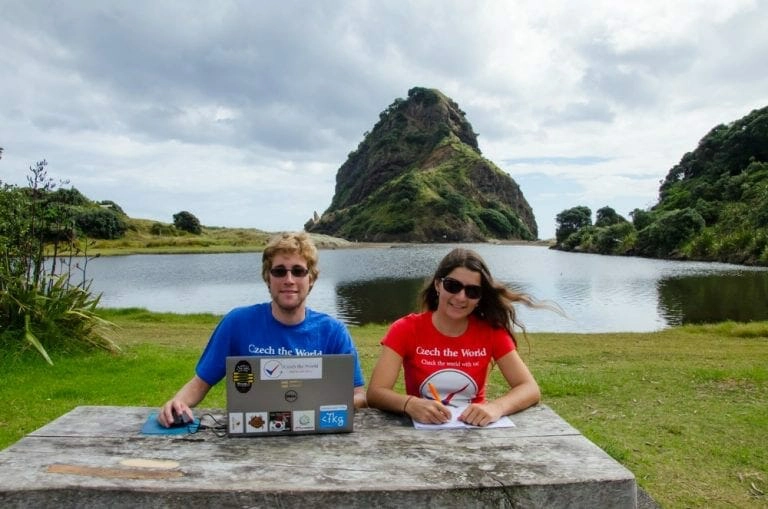 Life After Taking a Gap Year
So instead of finding a good job and staying for two or three years in New Zealand, we have started building our own business. We came back to the Czech Republic to continue blogging. And our friends? They planned to stay in New Zealand for a maximum of one year, but they liked it so much that they both stayed, got the permanent working visa and who knows if they are ever coming back?
So I would say that you never know what will your gap year brings to you, but whatever it is, it's going to be great!
Gap Year Learning
That all good friends will remain your good friends. I was always a little bit afraid that if you leave home for such a long time, you will lose some of your relationships. Not at all… All your best friends will remain your best friends even if you leave for many years. It even strengthens relationships in many instances.

On the other hand (I wouldn't expect anything like this to happen, because people that you meet on the road are usually "short-term" friends), we have met Marek, with whom we spent a lot of time in New Zealand, and he is definitely among our closest friends since then.
Another thing we have learned is that people are really helpful and like helping ex-pats. If you have a problem, you will always find someone willing to help you.
Adult Gap Year Tips
Don't wait, go!
You don't have money? Travelling is cheaper than you might think and you can work on your trips.
You don't know the language? There is no better way to learn than living in a foreign country.
You don't have anyone to travel with? Travel solo! You will have even more opportunities to meet amazing people than travelling as a couple.
Everything is about YOUR attitude. If you smile and if you are happy, people will love you and want to help you. If you look angry and unhappy, nobody will want to talk with you. The vast majority of people in the world are nice if you are also nice to them.
In the end, most of our best memories are from abroad!
Adriana and Matěj are the Czech travel bloggers behind Czech the World, who started their blogging career during their grown up gap year in New Zealand. They met in 2012 and they have been travelling together ever since. They have spent several months on working holiday and exchange programs in different countries and in places like the UK, Alaska, Yellowstone, South Korea, Malaysia, Finland, or Crete.
If you're interested in adult gap years, gap years for older people, or taking a year out from work to travel or volunteer, check out our Gap Years Travel Series for travel tips, information and stories from those who've already taken the leap!
Are you looking for more adult gap year inspiration? Check out these top posts…
Selling up to live in a motorhome or campervan is a HUGE step to take, and even if you've spent a long time thinking about it, making the final decision is tough. Having sold up and quit the rat race to spend years living in a motorhome and travelling Europe, we share the good, the bad and our tips for selling up for a life on the road.