This post may contain affiliate links, from which we earn an income.
Taking a Gap Year from Work to Travel | Kara's Story
Pushing the 'pause' button on real life to adventure around the world full-time is something many people would only dream of. And I was one of them, until I asked myself, "why only dream it?"
Why not actually DO it?
Venturing off to far away places long-term is something I have wanted to do for many, many years. I grew up in a small town in Wyoming where you don't get exposed to different cultures, or people. And I really think that had a lot to do with building my desire to experience more of what the world has to offer. I wanted more.
However, I know myself well, and I knew I would not enjoy doing a trip abroad like this solo. So there it sat, a dream in my mental bucket list, until I could find someone crazy enough to join me.
Why We Decided to Take a Year Off Work to Travel
Fast forward many years and my boyfriend and I happen to find ourselves in transitional career periods at the same time. He was working in an area of his field that wasn't 100% what he wanted to be doing. I had a terrible new boss at my company of 10+ years making me question where I stood in my own career path. It was the perfect storm of ability and opportunity.
So ultimately we decided now was THE time. We can walk away from these jobs and situations that aren't serving us anyway, and take a career gap year before figuring out our next moves.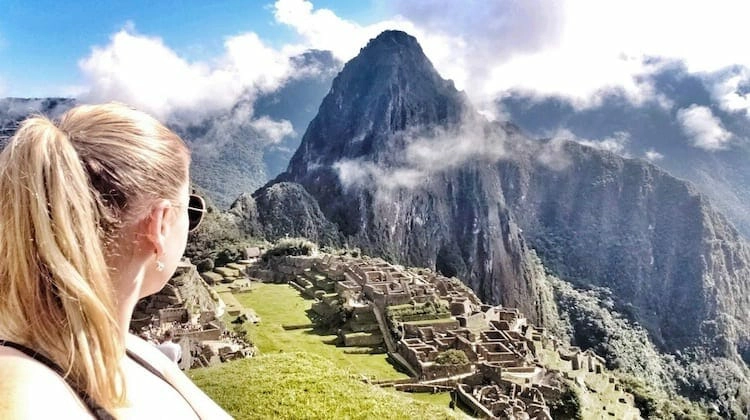 Planning for Our Grown Up Gap Year
That initial decision to take a career break and embark on this journey occurred towards the tail end of a busy year. We informed our families of our intentions over Christmas, and dove head first into the next big thing: actually planning how to do this.
Budget & Save
The first key point in planning this trip out, was figuring out how much we were willing to spend. We didn't make it any more complicated than that. No breaking it down by expense type, or allowable amount per country, or anything. We simply decided what number we were comfortable spending.
Then we moved on to figuring out how we were going to afford that amount of money. That meant making some changes to our current financial situation. Including cutting expenses, increasing income, and saving the difference as much as possible.
Credit Card Churning
If you haven't heard of credit card churning, it can be a fantastic tool (when used appropriately) to earn lots of travel rewards points through every day spending. And it's a hobby that I have been involved in for many years.
Even after we determined how much we were willing to spend, I knew building rewards points was another area of our trip planning that needed attention. With a solid points strategy, I knew we could get far more value out of our trip than the dollars we actually spent. 
In total we earned / used over 1,000,000 points for this trip (across all brands, rewards programs, etc). Some was from business travel while I was still working, but the vast majority was from credit card churning.
If you are interested in learning more about the world of miles and points, learn more at Frugal Flyer.
Timeline
We started by loosely planning which continents / geographical areas we wanted to visit. Landing on targeting to spend a few months each in South America, Western Europe and SE Asia.
Ultimately we wanted to keep our timeline flexible throughout our trip. Which means we didn't really plan our itinerary out too far. And I'm so glad we did, because our plans changed so many times along the way!
Our initial departure was pushed back two or three times. The opportunity arose to meet friends in Spain, so we made adjustments. We were chosen for a ten day house sit in London, a city we otherwise wouldn't have been able to afford on this trip. And we swapped one location for another more times than I could count.
None of which would have been possible if we had rigid timelines or travel plans in place.
Taking Our Mid Life Gap Year
Our trip ultimately began with us leaving our home in Denver, CO in April 2019, around 18 months after we decided to take the plunge. We planned to see friends and family before we left. So we spent a couple weeks road tripping around the western US, and then flew to Michigan to spend time with family.
And then the day arrived we had been planning and anticipating and we flew to Peru to start our journey.
Maximising the Value of Points
Once you've put in the work to earn those travel rewards points, it's now time to reap the benefits and book free travel for your trip. It does you no good to earn them if you aren't going to use them! 
We took eight long-haul international flights (two in business class) with our points. And we stayed 37 nights in hotels around the world on points. That's a lot of money saved on a trip like this!
POINTS = VALUE
Remember those 1,000,000 points I mentioned before? We got over $22,000 in travel value on flights, accommodations, and more! I was even featured in The Points Guy's "Reader Hall of Fame" for my points strategy on this trip.
Where We Went
In total we visited 20 countries on our trip. Some for longer than others, but each an experience to cherish. I could list them all off, but that would be SO boring! So instead, here are my top three places we went on our trip:
Bolivia
Visiting Bolivia was high on my list because I had read about the amazing salt flats in Uyuni. However, I didn't have very high expectations outside of that. And I was totally blown away!
We spent most of our time in La Paz, but our Uyuni salt flats tour with Tupiza Tours was certainly the highlight. We spent three nights and four days in a Jeep exploring desert, hot springs, volcanoes and more throughout Southern Bolivia. And, of course, we saw the world's largest salt flat in Uyuni. 
Bolivia is a totally underrated travel destination!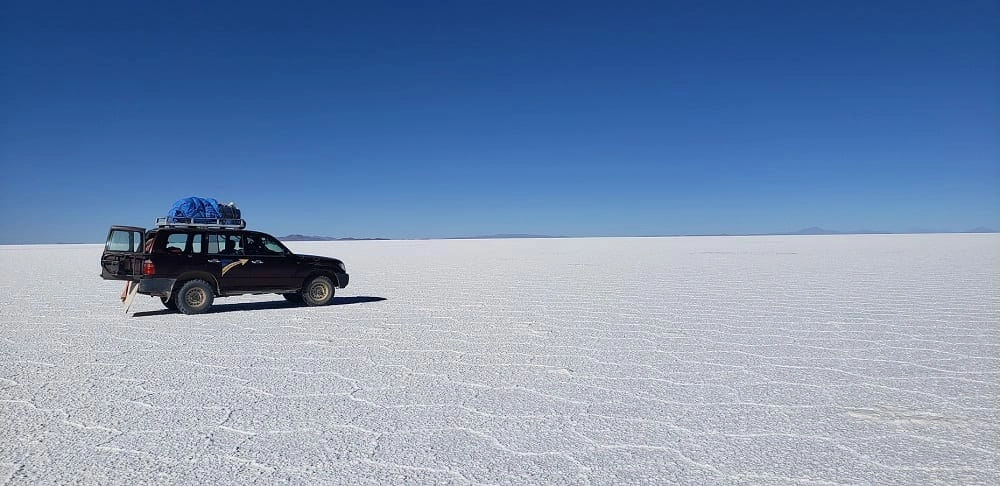 Easter Island
Easter Island is one of those elusive bucket list dreams that I wasn't sure would ever come true. It's remote, and it's super expensive. But we planned to work in some splurges along the way, and because of that we were able to make this dream a reality. 
We stayed four nights on the island, and felt that was the perfect amount of time. Seeing the moai and exploring the various historical sites within the Rapa Nui National Park is amazing!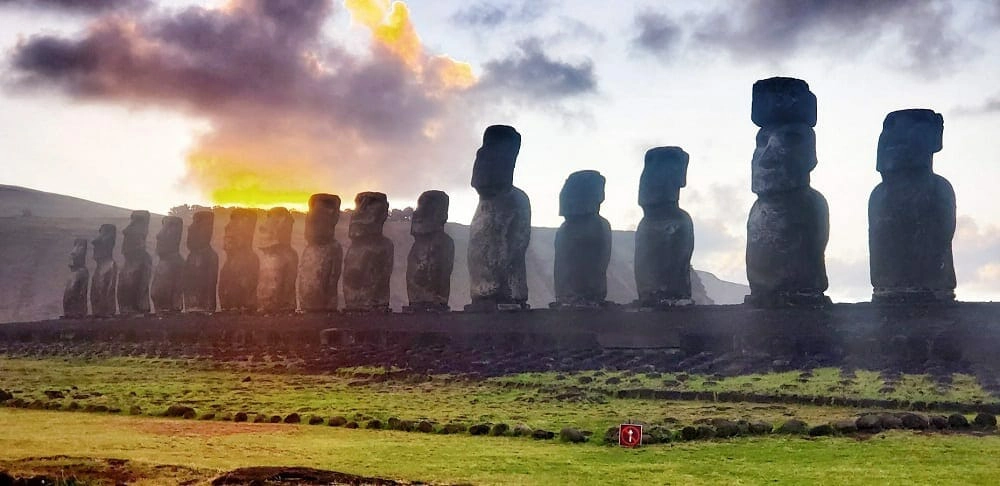 Thailand
Thailand had been at the tippy top of my travel bucket list for quite some time. Everyone I knew who had been raved about it. All the pictures I saw looked so tropical and beautiful. I simply couldn't wait to get there.
So we spent a solid three weeks exploring Thailand! We got a feel for the Thai city life in Bangkok, visiting temples and seeing the famed Khaosan Road and Soi Cowboy. Then we island hopped from Ko Samui to Koh Phangan for the Full Moon Party. And finally we relaxed and spent Christmas on the beach in Phuket.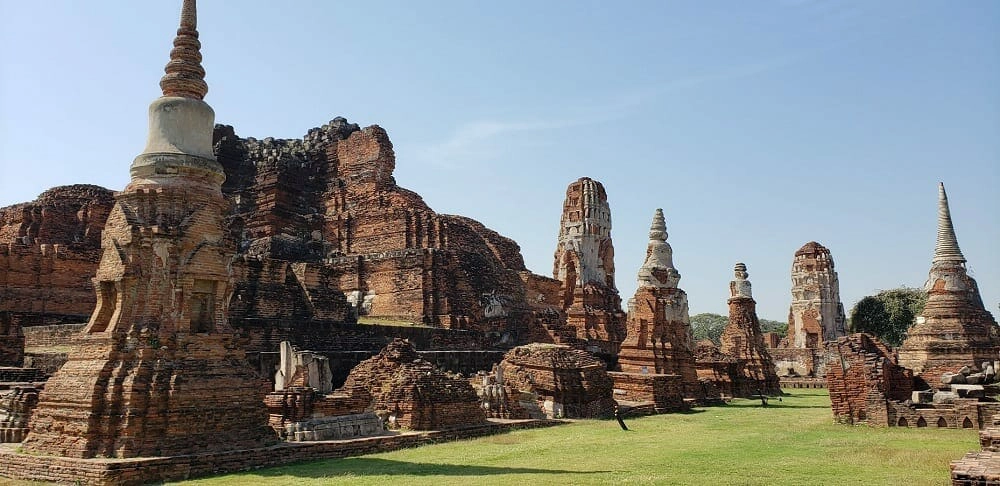 Challenges We Faced
Honestly, it would be much easier to describe what challenges we didn't face during our journey! There is no doubt that taking a trip like this, while amazing in so many ways, is also quite challenging.
We encountered language barriers that at best made communication tough, and at worst made us feel isolated.
Our Airbnb flooded in the middle of the night, soaking most of our belongings.
We traveled many places without quality drinking water sources (a big adjustment for us as Americans).
Our bus blew a tire and we were stuck on a highway in Portugal for hours.
My phone was stolen right out of my purse in Madrid.
We traveled over 18 hours to the departure point of a tour only to be informed upon arrival that our tour had been cancelled.
I could really go on and on, but you get the point! 
When traveling in this manner, challenges are to be expected. The best a person can do is know that upfront, and be mindful of how you react to the challenges you face. The better you can "roll with the punches" the better off you will be.
(This coming from the person who ugly cried on more than one occasion along the way. We can only do the best we can in that moment!)
What We Learned
Just as a trip like this is challenging, it is also an amazing learning experience. It will implore you to rethink what you believe you know about the world. What you think you know about other cultures, as well as yourself. And while our list of learnings is quite long, some of the highlights are:
The world doesn't stop just because you left; your friends and families will have celebrations, hardships, and special moments that you have to be ok with not being there for.
Traveling full-time with another person is HARD; even if you love them, you will get on each other's nerves more than you'd like.
Finding a new found respect for immigrants; dropping your life and everything you know to move to a place where you know nothing, no one, or the language is really difficult.
Taking time to slow travel is the way to go; bouncing from place to place every five to ten days is exhausting, and we wish we would have gone to fewer places, staying longer in each.
Our Advice to You
Just do it!
No, but seriously. If taking an adult gap year is something you aspire to do…there is no time like the present. Sit down and write out what is needed in your life to make it happen. Break that down into smaller, achievable items and start from there.
You will never regret doing it. But you may regret not doing it earlier, or never taking the opportunity.
Kara is the founder, editor and writer behind Destination: Live Life, a travel blog. After fleeing small-town life in Wyoming, Kara has called Denver, CO home for the last 12+ years. When she isn't living that travel life, she can be found petting every dog that will let her, spending time with friends and laughing (loudly) at any opportunity. Follow along on Instagram and Pinterest!
If you're interested in adult gap years, gap years for older people, or taking a year out from work to travel or volunteer, check out our Gap Years Travel Series for travel tips, information and stories from those who've already taken the leap!
Love it Pin it!