This post may contain affiliate links, from which we earn an income.
If you're planning a road trip to France motorhome or campervan, chances are you'll be thinking about motorhome wild camping.
We've been full time motorhoming in France and Europe for over four years and love to camp off grid. We like to freedom and space that comes with wild camping, and don't mind saving a bit of money too!
Find out everything you need to know about wild camping for motorhomes in France and finding the perfect spot as you travel the country, including the laws about wild camping in France, how to wild camp safely and wgere to find the best French wild camping spots.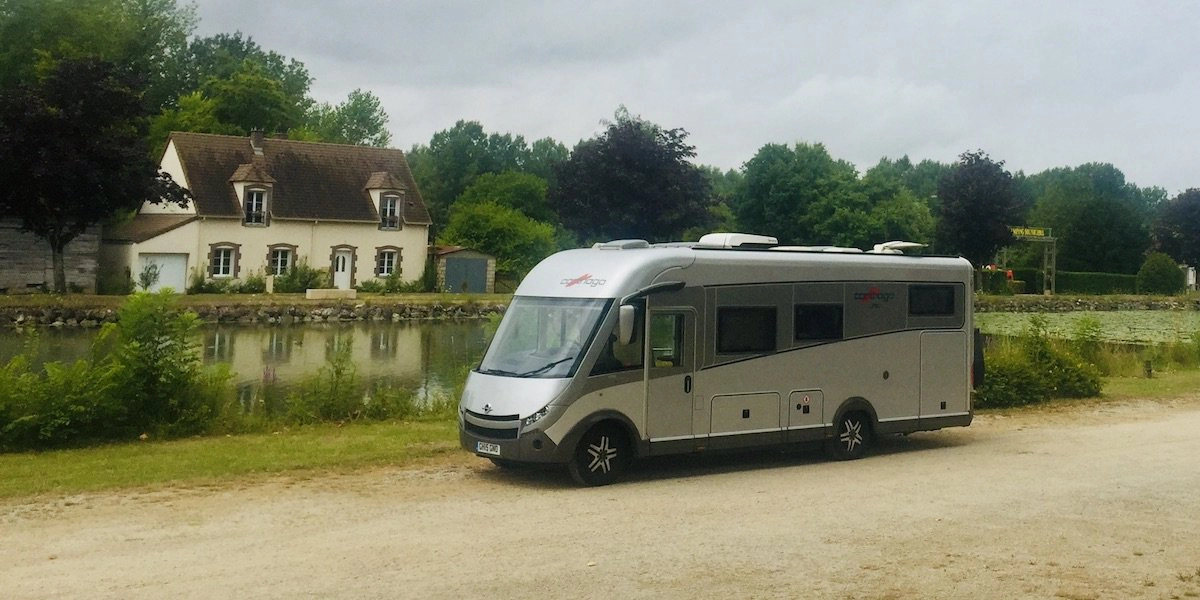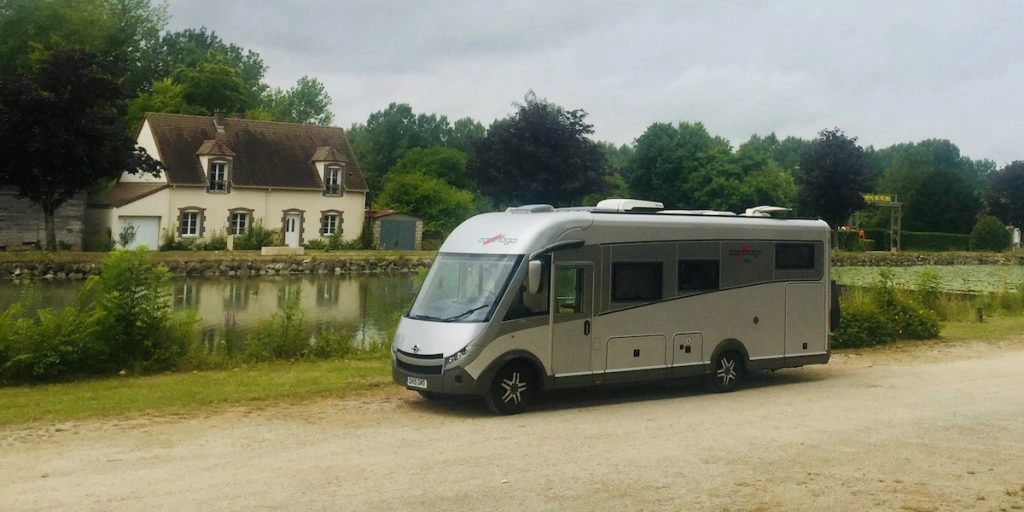 How to Wild Camp in France in a Motorhome
The Legal Stuff
First off, let's get the important stuff out of the way. Is wild camping in France legal?
For a motorhome or campervan in France, le camping sauvage (wild camping) means parking and sleeping in your motorhome anywhere that's not a campsite or designated camping ground. This could be overnight stays by the road, in a car-park, on some unused waste land and so on.
French law is clear around some areas of wild camping (if you're in a tent for example), on others it is a bit grey. These are the key parts of the law we wild campers need to know about;
Motorhome wild camping is permitted in France with the permission of the landowner or tenant and subject to certain limitations. The basic rules are set out in Article R111-33 of French town and country planning law.
The main restrictions are that motorhome free camping is not permitted on the coast, in protected natural sites, and on the perimeter of classified historic monuments.
Local authorities and the authorities in charge of designated natural sites may establish specific rules which will be displayed on prominent signs and these should be followed.
Are you planning a motorhome trip to France?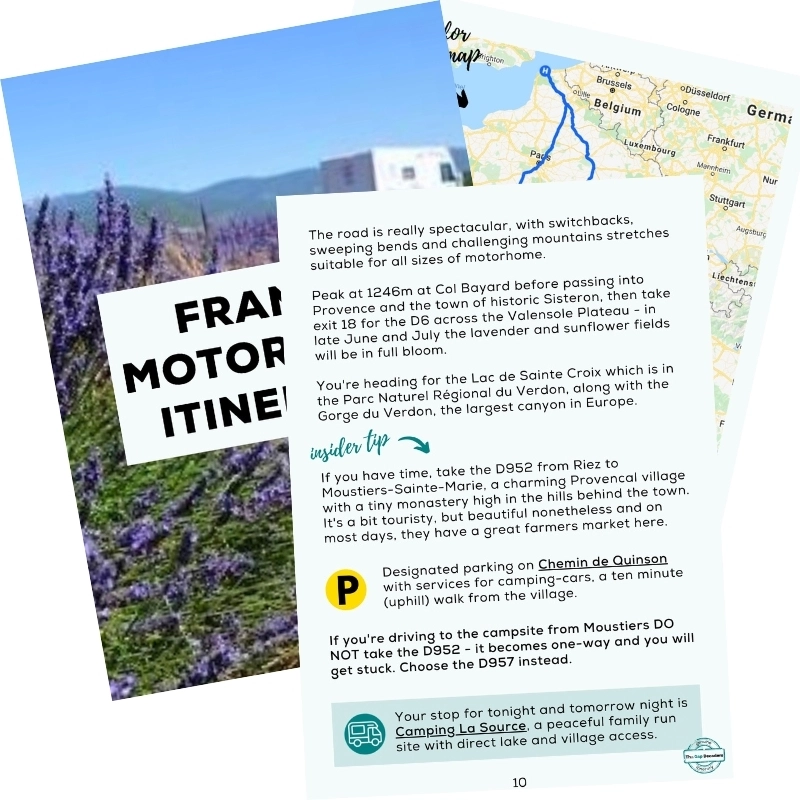 Grab our 14-21 day France itinerary, packed with campsites, aires, attractions and insider tips.
Get up every morning knowing your day is planned with driving routes, overnight stops and attractions marked out for you on your interactive map.
Make the most of your holiday and let us do the planning for you!
---
How Does This Affect Wild Camping in France in a Campervan or Motorhome?
The reality is that finding the landowner before you park up is probably impossible. As long as you're not on cultivated land or an area that is clearly private property then you're probably ok. We motorhome travel full-time in Europe and France, and in three years of wild camping we've never had an issue with being moved on.
The rules regarding restricted locations such as the coast and national parks are generally pretty rigorously enforced in the summer. You might find that if you are discreet and 'park' instead of camp, that out of season you will be left to get on with it. Make sure you follow the rules in our general post about wild camping in Europe.
The French highway code states that motorhomes may park beside roads and in designated parking places in the same way as other vehicles. Outside of cities and built-up areas, it is legal to park up a motorhome at the side of a quiet road. Many French D roads have places where bends have been straightened out, leaving unofficial lay-bys that offer a quiet place to stop for the night.
Wild caravanning is a bit different due to the size of caravans and their towing vehicles, local legislation which often prohibits caravans from parking or overnighting and the nature of the driving and living space being separate. You can find our more about wild camping for caravans here.
Is this your first time visiting France? Get all the information you need in our France Travel Guide, including what to pack, the best time of year to go, getting there and practical tips to help you have the best trip!
France Motorhome Travel Ideas
Motorhome touring in the beautiful and varied country of France is a pleasure. From the Cote d'Azur to the deserted and tranquil interior, France is the perfect place to spend a summer in your motorhome. We've spent months touring in France and from tips about driving, budgeting, where to stay overnight and off-grid and wild camping, to motorhome services and a round-up of the best motorhome destinations, you'll find all the information you need for…
Finding Wild Camping Spots in France
From wild camping in the French Alps to boondocking in the wilds of Utah, there are a number of resources for finding good spots for wild and free camping in France and across the world;
Apps such as Park4Night and Campercontact help you find spots and offer the closest thing to a wild camping map. You can find a list of the best ones here.
Word of mouth; stopping and chatting with like-minded folk can be very illuminating!
Facebook groups where people share and exchange information. You can join our Facebook group here, obviously it's the best one!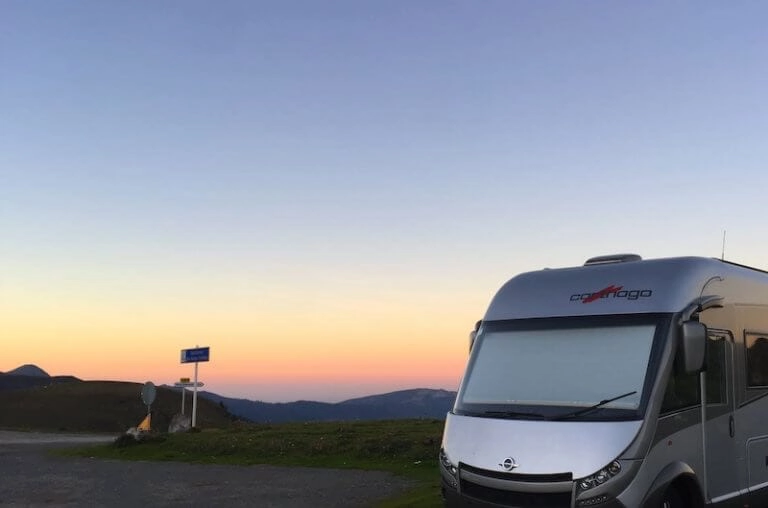 Alternatives to Wild Camping in France for Motorhomes
Aires in France
Since 2004, French local authorities have been encouraged to provide specifically designated parking areas for motorhomes. Many French towns and large villages now have motorhome aires, and these are often free or just a few euros, except in some popular tourist locations, making many of them a great free motorhome camping in France.
Some aires will give you a marked out pitch, others are a bit more relaxed. Often electricity is shared and there might inly be one outlet. Most provide the basics of fresh water and facilities for dumping grey and black waste although sometimes there is an extra charge for this. The best aires are like free campsites in France!
Most provide the basics of fresh water and facilities for dumping grey and black waste although sometimes there is an extra charge for this.
There are a couple of things to remember when using aires;
French aires cannot be booked in advance and in high season will often have a queue of vans waiting to go in as one comes out.
You should not stay more than two nights, three at the most.
Don't treat the aire like a campsite and hang washing everywhere or have your full-set up out. Some don't like you getting your awning out and in many, there will not be room.
If your aire is in a village, try and buy something or go to the bar for a drink. Your euros will help the local economy and keep the aire going.
Be respectful of any services provided and leave them clean.
Alongside these municipality aires, there are also commercial aires cropping up which are a little bit more expensive but may have EHU or wifi included in the price. Camping Car Park is one such organisation, we have used them a number of times.
You need to buy a card at the first one you use (through the machine which has instructions in English) and load up with euros. Then use the card at the barrier to each aire you enter. The system is efficient and the facilities are usually well maintained. Because they limit electronically the number of motorhomes allowed to enter, you are never crammed in but have a proper space where you can get your table and chairs out. A Camping CarPark aire typically costs somewhere between €10-15 a night.
You can use the All The Aires book, which is available here and gives clear information about all the best aires in France and provides an aires of France map. The book is updated annually and many of the aires are inspected annually also. Most aires are also on Park4Night and other motorhome apps if you prefer not to use or carry the book.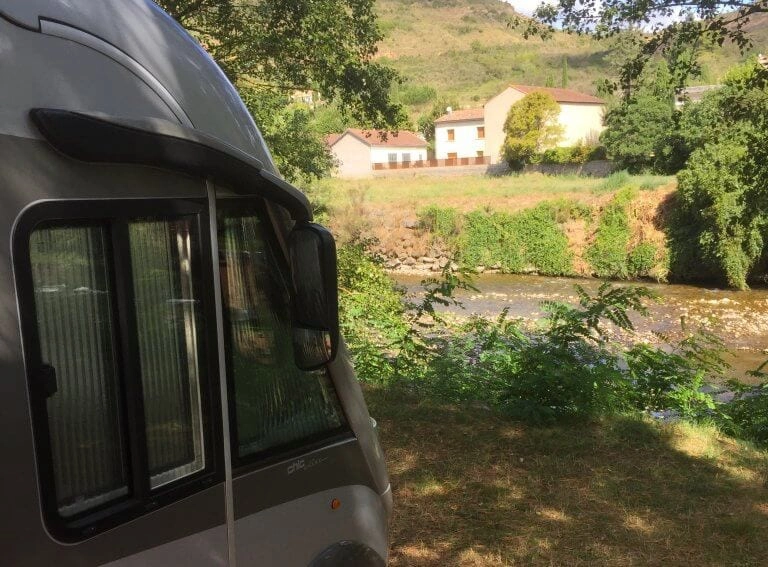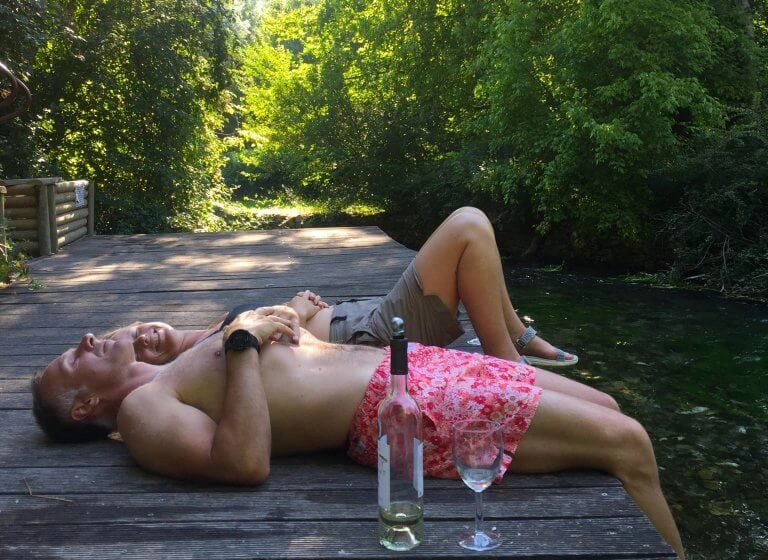 France Passion
France Passion is a scheme where growers, wine makers and farmers open up their land for motorhomes to use. This is farm and vineyard camping in France at its very best. Facilities are usually limited; you may get fresh water but grey and black waste disposal are unlikely, but these free campervan stops in France are about more than that.
The beauty off this scheme is that you can stay in vineyards, lavender farms and with cheese, oil and producers of other produce across France. You can sample their wares, buy if you wish (although there is no obligation, and there really isn't) and enjoy being away from it all, often in spectacular locations. We have never felt pressured but have often been able to buy produce at a fraction of what you would pay at the local farmers's market.
The guide costs €30 along with access to the members area of the website (no app sadly). In the guide you will find information about the 2050 sites you can stay at right across France. Some of these stops are also on Park4Night and other motorhome apps but we found the guide invaluable when planning our last tour.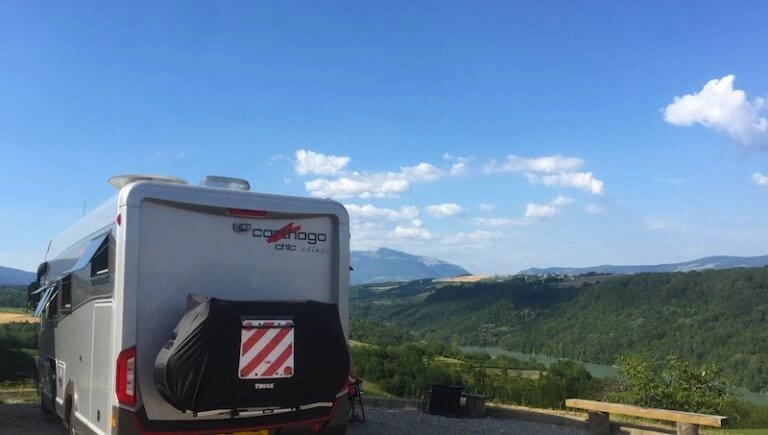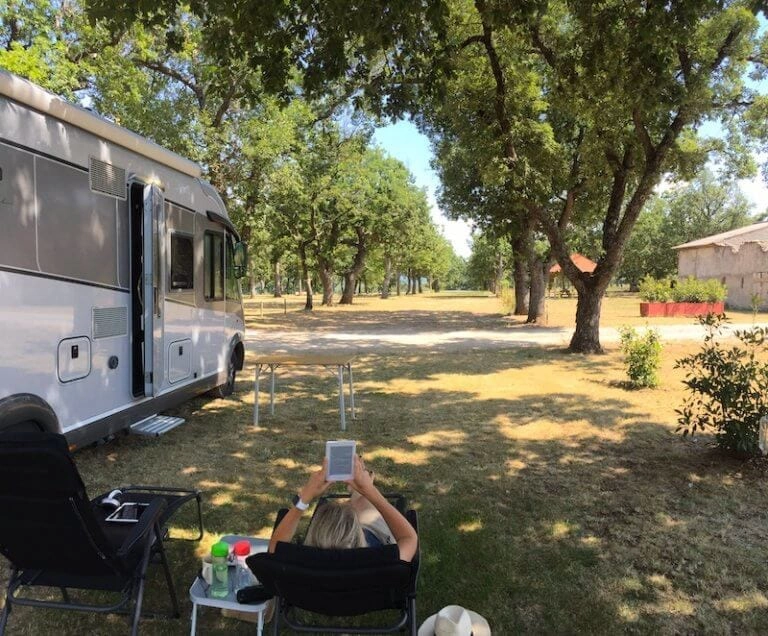 Are you looking for more wild camping tips? Check out thees top posts…
Do you want to wild camp in your motorhome? Are you feeling a bit nervous about wild camping for the first time? Then read on for all our top tips and practical advice about how to wild camp in a motorhome and get off the beaten track like an expert!
Scotland is a hugely popular motorhome destination offering stunning landscapes, huge skies and fantastic roads and routes. If you prefer to wild camp in your motorhome, we've got all the information you need to do so safely and within the rules.
Wondering where and how to find the best free overnight motorhome camping spots? We share all the resources and motorhome parking tips you need for a great night's free sleep when you're on the road.
Are you confused about motorhome electrics? How do motorhomes work? What is the difference between mains electricity and batteries? What does a solar panel and inverter do and do I need a generator? And how do I get power without EHU? Don't be confused, this easy guide to your motorhome electrical systems explains it all.
This is a collection of our favourite wild camping spots in Europe. They make the list for various reasons; not all have a stonking view, but they all have one thing in common, they provided us with a free, quiet and peaceful place to stay the night when we needed it, and where we needed it; what more can a wild camping motorhomer ask for than an incredible wild camping spot?
Looking for free parking or a campsite on your motorhome trip? Or apps that make life on the road that bit easier? Find the top 29 FREE motorhome apps in this ultimate guide. Just head to the App Store or Google Play and download!
Love it? Pin it!