This post may contain affiliate links, from which we earn an income.
Finding Free Overnight Stops for Motorhomes & Campervans Near You
Wondering where and how to find the best free overnight motorhome parking spots? Can you really camp for free in a motorhome?
As motorhome travel bloggers we rarely pay for overnight stops – and we've been on the road full-time for nearly four years. In the United Kingdom and right across Europe there are places where motorhomes and camper vans can park for a few hours or stop overnight with absolutely no costs involved at all.
We've learnt of all the best places to find free overnight parking in your motorhome or campervan and in this post, we share all these resources and motorhome parking tips, to help you get a great night's free sleep when you're on the road.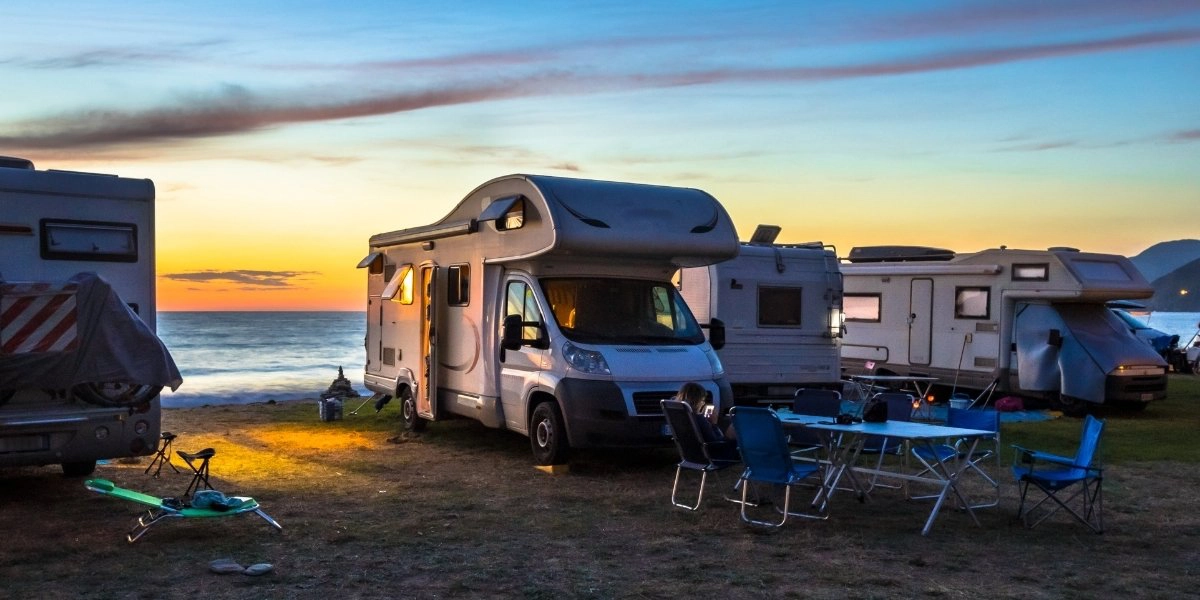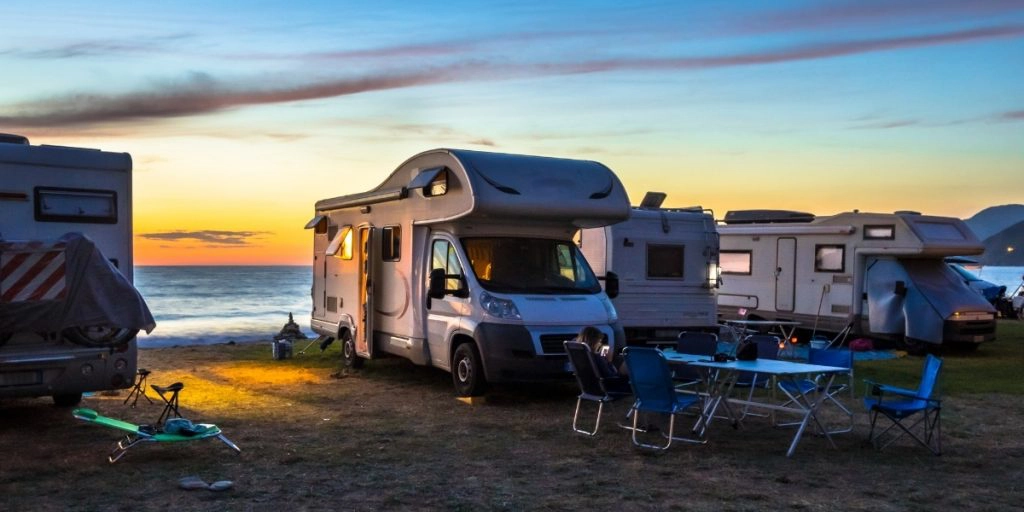 Is free camping the same as motorhome wild camping?
Free overnight parking is similar to wild camping. Most people see motorhome wild camping as happening in a remote spot without lots of other vans, whereas free overnight motorhome parking in UK and Europe is more about meeting a need for somewhere safe to sleep without it costing anything. But essentially, both are just somewhere to stop overnight in a motorhome. The great view is a bonus!
Where can you free camp in a motorhome?
Lots of places allow free overnight parking for one night. Motorhome parking in supermarkets is a favourite, Asda stores will often give you a note for the windscreen if you ask at customer services, and Tesco motorhome parking seems to be tolerated, but use one of the apps to check reviews first.
Lay-bys, parking lots, town centre municipal car parks, woodland and forest car parks, park and ride facilities, truck stops and patches of unused public lands are also popular options for motorhome & campervan parking overnight.
Not all these parking locations will be pretty and with great views, but if you're travelling on a budget and need a place to sleep, then free campervan parking in the quiet corner of a supermarket car park is much better than a noisy truck stop or dodgy motorway services (particularly in Europe – never, ever stay in one overnight).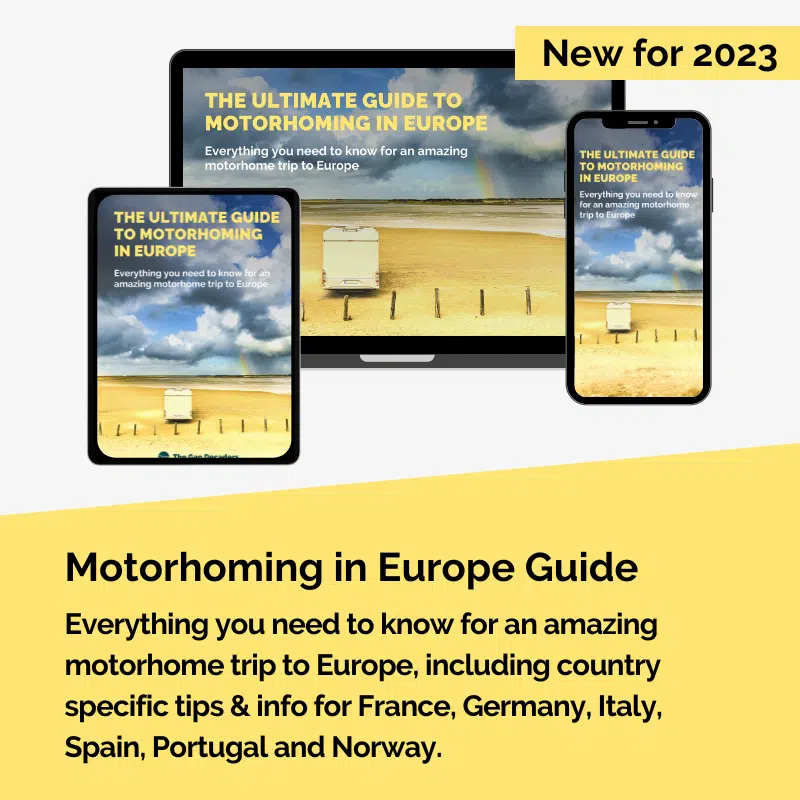 The Ultimate Guide to Motorhoming in Europe
If you're planning a motorhome trip to Europe for the first time, our guide has tips, advice and information to help you plan your European tour.
Don't struggle trying to plan your Europe trip, find out everything you need to know before you go + loads of motorhoming tips for when you arrive.
What about motorhome and campervan parking laws?
Every European country has its own laws on what is allowed if you're free camping in a motorhome, find out more here. There is always a risk that you might be moved on or receive a fine, especially in a national park or beach car park. Abide by the signage, be discreet and don't park on someone's private property and the chances are you won't have any problems.
Updated January 2021 – The region of Valencia in Spain and Portugal introduced strict laws in early 2021 regarding where motorhomes can free camp. You can find more information in our country specific motorhome touring guides.
Be an ambassador for the van life community and help these free places to remain an option for everyone else.
RELATED POST: Motorhome Wild Camping in UK & Europe – All You Need to Know
What about motorhome services?
Most free motorhome parking spots don't have any facilities, that's why they're free! In the UK, you can sometimes pay a small fee to a campsite for grey water disposal, toilet emptying and fresh water, or find one of the rare motorhome service points provided by the local authorities.
In Europe, service points for motorhomes and campervans are common and can be found at aires, supermarkets and garages or just outside towns and cities and some of them allow overnight parking too.
How do you find the best spots?
Before your next camping trip, download one of the apps listed below to help you find camping areas where you can park a camper for free. There are a number of apps, all of which have mapping and navigation services covering UK and Europe – they know where you are using GPS functionality and show you what's available in that area.
Most camping apps will show motorhome aires in France, Spain and other countries (which may or may not be free), campsites and wild camping spots. You'll also find motorhome waste disposal points listed as well as services where you can fill up with fresh water. Some even show where you can do laundry, places suitable for dogs and family-friendly parking where there are facilities, like play parks.
Each will have some images and reviews to help you make your choice and you can also leave your own reviews or updates, ensuring fellow motorhomes have real-time information about each spot.
What is a motorhome aire?
New motorhome owners often ask this. The word 'aire' is French and literally translates to area in English. Motorhome aires are designated areas for motorhomes, campervans and RV's (but not caravans) to stay overnight and the best are like free campsites! Aires can be found nearby towns and villages (not to be confused with motorway aires) and often provide services – a few in France even have a swimming pool! Some are free and some have to be paid for. Often they are provided by the local municipality, but there are also commercial aires operated by companies.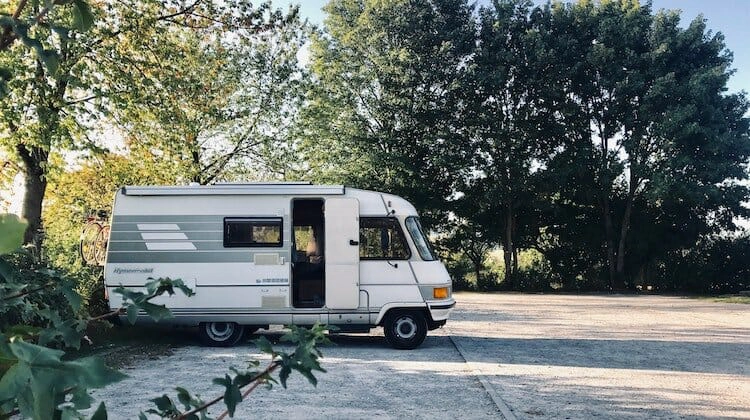 How to Find Free Motorhome Camping Europe & UK – The Top Sixteen Resources
Park4Night
A great free motorhome parking app listing places to stop from aires and camping sites to supermarket car parks, caravan parks, fields and lay-bys. You will also find motorhome services listed.
If you pay €9.99 per year or €2.29 per month you can use the Park4Night app offline, perfect for those out of the way places, and on multiple devices. It is also possible to install Park4Night on your Garmin, TomTom, iGo and Mappy sat navs for around €22 per device as in app purchases.
This is our go to motorhome free camping app for European road trips.
Campercontact
A similar concept, the Campercontact app is easy to navigate and has over 33,000 motorhome parking places, with new ones added regularly. It includes features such as the best spots in each country to provide you with inspiration and maybe route ideas. It costs £5.99 for the full off-line version annually which is great value for money.
Searchforsites
A huge database of all types of stopovers imaginable and over 100k members providing and updating information daily to help with your road trip planning. There is an app but they suggest using the website (which is optimised for mobile) for a better experience. Its free to use and it's also possible to download their data onto your Garmin or TomTom sat nav although there is a cost to this.
Camperstop.com
Similar in size and functionality to other apps but you need to buy the hard copy guide for €26.50 before you can get an annual subscription to the app for €5.49. You can also download data sets to your sat nav from €3.25. The website has a free handy trip planner which will show you stops around your route, useful if you like to plan in advance.
Campy
A relative new comer to the scene, both website and app are free of charge and Campy say they want to keep it that way. With clean functionality and the ability to search by cost per night, this is a great free option.
All the Aires
If you like a book, then All the Aires is the one to buy. The most popular cover France (north and south), Spain and Portugal, and Belgium, Luxembourg and the Netherlands and all include 1,000s of aires, many of them free. We use these books when we can't find what we want on Park4Night.
Reise Mobil Bord Atlas
Another book, this one covers over 6,400 stellplatz (like a French aire) in Germany, many of which are free of charge, although you may have to pay for services. The guide is in German, but fairly easy to understand because they use symbols for most things!
StayFree – The Van Life App
Another new comer, apparently developed in a van. The app is free to download and pretty intuitive to use but is reliant on community input and feedback so may take a while to grow in size.
It has an interesting feature that allows you to share your newly minted spot that no-one else knows about with friends only. So much for sharing is caring!
Brit Stops
A free campervan parking UK based scheme with sites far and wide which utilises pub car parks for motorhome overnight parking in England, Northern Ireland, Scotland and Wales. There is no fee to park overnight and no obligation but most people will have a drink or eat a meal in the pub.
Services are usually limited and you're unlikely to find waste water disposal facilities, although fresh water is often available. The book (there is no app) costs £28 plus postage but most of the stops can now be found on the apps listed above.
France Passion
Not quite free, but we had to include it because it's such great value! This is a fabulous scheme of wine growers, producers and farmers who provide free motorhome stopovers, usually in rural areas.
There is no obligation to purchase, although often the produce can be bought at a fraction of what you would pay in a shop. Arriving at a vineyard in the late afternoon summer sun and enjoying a tasting before dinner is one of motorhome life's pleasures!
You must buy the hardcopy guide, which also gives access to a members area on their website, also optimised for mobile usage. Some France Passion sites provide services although usually only fresh water and maybe an electric hook up, although more likely just a normal socket.
Recommended Reading
If you're off to France in your motorhome or campervan, chances are you'll be thinking about wild camping. Find out all you need to know about wild camping for motorhomes in France, finding the perfect spot and staying safe here.
Espana Discovery
Similar to the France Passion scheme, but in Spain. You must buy the guide and map to access each host, which may be a vineyard, olive oil producer or farm.
This scheme will get you away from the built-up coasts of Spain and into rural areas, where you'll find a more authentic vibe, along with fantastic local hospitality and gastronomic experiences.
Campervan Overnight Parking
This is a Facebook group with over 110k members. Join the group, post where you're going and what you're looking for and the recommendations from members for free overnight camping will come flooding in.
This is ideal if you have time to plan in advance and aren't looking for a stop at 8pm at night! This is the largest of the Facebook groups, but search for 'free overnight motorhome parking' and you'll find a dozen more.
FurgovW
Click the link and you'll find a quickly loaded simple map of wild camping spots and campsites shared by contributors across Europe.
The map can also be downloaded by GPS. Zoom in for detail and click the site you're interested in for more detail. images and costs. You do need mobile data to connect to this, unless you download to your GPS.
iOverlander
iOverlander is a world-wide app with a large database of campsites, wild camping and boondocking spots with info provided (although not always images) for each. The app also provides safety and other information from its contributors – click on Mexico for example, and you'll find federal checkpoints, well known bribe spots and dangerous towns highlighted.
This is free app with a serious amount of information included, well worth having, especially if you're heading outside of Europe.
Our European motorhome touring guides contain country specific information about driving, overnight stops, motorhome services, tips about getting there and when to visit and all the top motorhome destinations.
Motorhome Sleepy Spots
Another Facebook group with over 34k members. This group is "a place to swap camping and sleepy-spots places by counties and abroad". This is a busy group with 20 or so posts a day, so you can be sure the information is always current.
VanLifeLocation
An Instagram account and an app which share a symbiotic relationship. Check the cool and beautiful images on Insta and then find out where the image was taken on the app, which will also give you information and directions.
All the spots are free and situated in nature. More for wild campers than those looking for free parking.
Are you looking for more motorhome tips & tricks? Check out these top posts…
New Zealand is an absolute dream for campervan enthusiasts. The breathtaking landscapes, diverse wildlife, and incredibly friendly locals make it the perfect destination for your next campervan adventure. We'll will provide you with all the tips, tricks and insider knowledge to make your vanlife experience in New Zealand truly unforgettable. So, buckle up and get ready for an adventure of a lifetime!
With one of the best winter climates in Europe and friendly locals, Spain is a perfect country for a motorhome road trip. With the colourful traditions, good food and wine and fabulous architecture, you have all the ingredients for an amazing tour. We share all you need to know about touring Spain in a motorhome or campervan here.
Do you need a motorhome reversing camera? How do they work and how do you choose the right one for your motorhome? We'll answer all those questions in our comprehensive guide and help you find the best motorhome reversing camera for your needs.
Our van life gift guide is full of fun, creative and unique gifts for anyone who loves the van life. Whether you're looking for personlalised campervan gifts, funny campervan gifts or throughtful vanlife gifts for a loved one, you'll find the perfect something here.
We all love a motorhome sticker to pimp up our van, even if it's only to announce ourselves to the world! We've pulled together all our favourite van graphics and stickers that we've seen on our travels, which you can add to your motorhome!
When it comes to learning about life on the road, there's no better resource than hearing from other motorhomers and vanlifers. We've picked the best ten for you here!
Love it? Pin it!