Wondering where to find the best free overnight motorhome camping spots? We share all the resources and motorhome parking tips you need for a great night's free sleep when you're on the road.
Can you really camp for free in a motorhome?
Absolutely. In the UK and right across Europe there are places where motorhomes and camper vans can park for a few hours or stop overnight with absolutely no costs involved at all.  
Is this the same as wild camping?
It's similar, yes. Most people see motorhome wild camping as happening in a remote spot without lots of other vans, whereas free overnight motorhome parking in UK and Europe is more about meeting a need for somewhere safe to sleep without it costing anything. But essentially, both are just somewhere to stop overnight in a motorhome. The great viw is a bonus!
Where can you free camp in a motorhome?
Lots of places. Motorhome parking in supermarkets is a favourite, Asda will often give you a note for the windscreen if you ask in store and Tesco motorhome parking seems to be tolerated, but use one of the apps to check reviews first. Lay-bys, municipal car parks, woodland car parks, park and ride facilities and patches of unused ground are also popular options. They won't all be pretty but if you're travelling on a budget and need a place to sleep, then free campervan parking in the quiet corner of a supermarket car park is much better than a noisy truck stop or dodgy motorway services (particularly in Europe – never, ever stay in one overnight).
What about motorhome and campervan parking laws?
Every European country has its own laws on what is allowed if you're free camping in a motorhome, find out more here. There is always a risk that you might be moved on or receive a fine, especially in a national park or beach car park. Abide by the signage, be discreet and don't park on someone's private property and the chances are you won't have any problems.  
Anyone taking advantage of free campervan sites for overnight stays should leave no trace, take their rubbish and waste away with them and dispose of it correctly.  Be an ambassador for the motorhome community and help these free places to remain an option for everyone else.
Most free motorhome parking spots don't have any facilities, that's why they're free!  In the UK, you can sometimes pay a small fee to a campsite to empty your waste and toilet and fill with water, or find one of the rare motorhome service points provided by the local authorities.  In Europe, service points are common and can be found at aires, supermarkets and garages or just outside towns and cities. 
How do you find the best spots?
Use one of the apps listed below to help you find where to park a camper for free. There are a number of apps, all of which have mapping and navigation services covering UK and Europe – they know where you are using GPS functionality and show you what's available in that area.  Most apps will show aires (which may or may not be free), campsites and wild camping spots.  Each will have some images and reviews to help you make your choice and you can also leave your own reviews or updates, ensuring fellow motorhomes have real-time information about each spot.
How to Find Free Motorhome Camping Europe & UK - The Top Ten Resources
A great free motorhome parking app listing places to stop from aires and campsites to supermarket car parks, fields and lay-bys. You will also find motorhome services listed. If you pay £10 a year you can use the Park4Night app offline, perfect for those out of the way places.  It is also possible to install Park4Night on your Garmin, TomTom, iGo and Mappy sat navs for around €22 per device as in app purchases.
A similar concept, the Campercontact app is easy to navigate and has over 33,000 spots, with new ones added regularly.  It includes features such as the best spots in each country to provide you with inspiration and maybe route ideas. It costs £5.99 for the full off-line version annually which is great value for money.
A huge database of all types of stopovers imaginable and over 100k members providing and updating information daily. There is an app but they suggest using the website (which is optimised for mobile) for a better experience. Its free to use and it's also possible to download their data onto your Garmin or TomTom sat nav although there is a cost to this.    
Similar in size and functionality to other apps but you need to buy the hard copy guide for €26.50 before you can get an annual subscription to the app for €5.49.  You can also download data sets to your sat nav from €3.25.  The website has a free handy trip planner which will show you stops around your route, useful if you like to plan in advance.
A relative new comer to the scene, both website and app are free of charge and Campy say they want to keep it that way. With clean functionality and the ability to search by cost per night, this is a great free option.
Sign up for our six day beginners email series where we share all of our top tips to get you started!
Another new comer, apparently developed in a van. The app is free to download and pretty intuitive to use but is reliant on community input and feedback so may take a while to grow in size. It has an interesting feature that allows you to share your newly minted spot that no-one else knows about with friends only.  So much for sharing is caring!
A free campervan parking UK based scheme with sites far and wide which utilises pub car parks for motorhome overnight parking in England, Ireland, Scotland and Wales. There is no fee to park overnight and no obligation but most people will have a drink or eat a meal in the pub. Services are usually limited although fresh water is often available. The book (there is no app) costs £28 plus postage but most of the stops can now be found on the apps listed above.
A fabulous scheme of wine growers, producers and farmers who provide free motorhome stopovers, usually in rural areas. There is no obligation to purchase, although often the produce can be bought at a fraction of what you would pay in a shop. Arriving at a vineyard in the late afternoon summer sun and enjoying a tasting before dinner is one of motorhome life's pleasures! The hardcopy guide is €30, which also gives access to a members area on their website, which is also optimised for mobile usage. Some France Passion sites provide services although usually only fresh water and maybe an electric hook up, although more likely just a normal socket.
Campervan Overnight Parking Facebook
This is a Facebook group with over 110k members. Join the group, post where you're going and what you're looking for and the recommendations from members for free overnight camping will come flooding in. Ideal if you have time to plan in advance and aren't looking for a stop at 8pm at night! This is the largest of the Facebook groups, but search for 'free overnight motorhome parking' and you'll find a dozen more.
An Instagram account and an app which share a symbiotic relationship. Check the cool and beautiful images on Insta and then find out where the image was taken on the app, which will also give you information and directions.  All the spots are free and situated in nature. More for wild campers than those looking for free parking.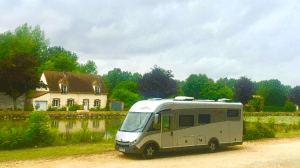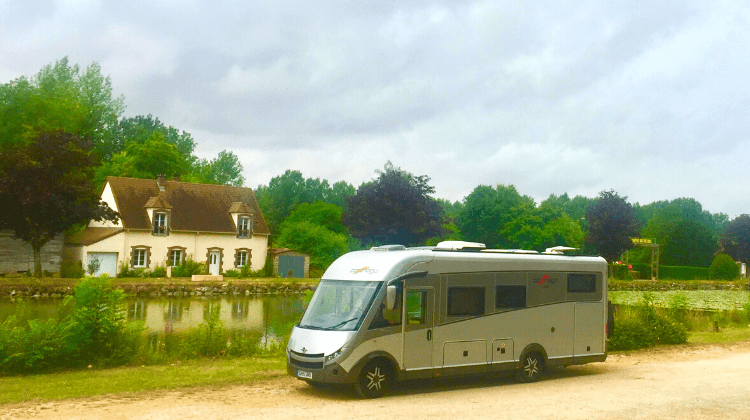 If you're off to France in your motorhome or campervan, chances are you'll be thinking about wild camping. Find out all you need to know about wild camping for motorhomes in France, finding the perfect spot and staying safe here.
Read More »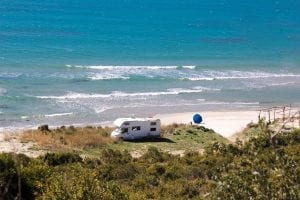 Do you want to wild camp in your motorhome?  Already wild camping in your motorhome?  Then read on for top tips and advice about how to wild camp in a motorhome and get off the beaten track like an expert!
Read More »
LOOKING FOR MORE MOTORHOME TIPS? CHECK OUT THESE TOP POSTS