This post may contain affiliate links, from which we earn an income.
North Coast 500 Motorhome Guide
This iconic Scottish motorhome road trip is a 516 mile route around the spectacular north coast of Scotland. We share highlights, ideas for activities and things to do along the route, the best NC500 campsites and travel tips to help you have your best ever Scottish trip.
North Coast 500 Motorhome Map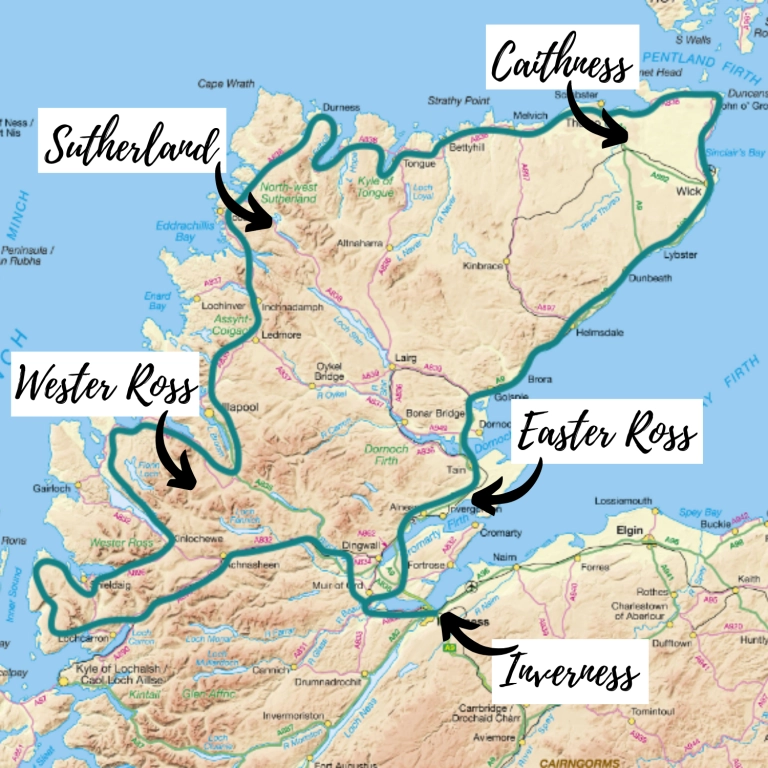 The North Coast 500 Motorhome Route
Starting and finishing in Inverness, the North Coast 500 route passes through remote and wild landscapes following the stunning coastline around Scotland. The NC500 route delivers dramatic roads with spectacular views and is one of the must do motorhome routes in the UK.
Use our guide and highlights to work out where to visit and what to see along the route, and pick out what interests you the most.
Lots of people ask us how long is needed, and the answer always depends on how long you have! The whole thing could be done in a couple of weeks (at a push) or you could choose a bit of it that appeals to you, take your time and stay safe on the road.
Inverness
Both the start and finish point of your North Coast 500 itinerary, Inverness is one of Scotland's seven cities and sits in the south of the Highlands, on the banks of the River Ness. Crowned by a fabulous castle and beautifully planted with flowers, Inverness is a thriving city with a rich variety of places to visit and things to do, both in the compact city itself and in the surrounding area.
Highlights
Follow the age old tradition of hunting the famous Loch Ness monster. Hire a boat and head out onto the water with a picnic and your camera. You might not see Nessie, but you'll enjoy stunning scenery, clear air and space to unwind.
Head for the atmospheric Inverness Old Town and Victorian Market for all your Scottish souvenirs!
Visit the haunting battlefield of Culloden, site of the final and bloody confrontation of the Jacobite rising, and defeat of Charles Stuart's army in 1745. You can find out more about this seminal time in the history of Scotland at the nearby Culloden Visitor Centre.
Admire the imposing, pink crenellated Inverness Castle, high on the banks of the River Ness. Just one of 67 Scottish castles in and around Inverness!
Take a hike up to Craig Phadrig, just above the city. Once the stronghold of Pictish kings, it offers lovely forest walks and magnificent views of the Moray Firth.
Fans of the book and tv show 'Outlander' can also visit filming sites and destinations in the region.
The Best Campsites in Inverness
Ardtower Caravan Park is in a beautiful setting, high above Inverness and close to Culloden. An award winning site with modern facilities and spacious hard-standing pitches, this is a great base from which to explore Inverness and the surrounding area.
The Inverness campsite of Bunchrew Caravan Park is on the edge of Beauly Firth and enjoys wonderful views over the water to Ben Wyvis and the hills beyond. Another great spot to explore from.
Situated on the banks of the Caledonian Canal, Torvean Caravan Park is located just over a mile from the centre of Inverness, perfect for those wanting to explore the city.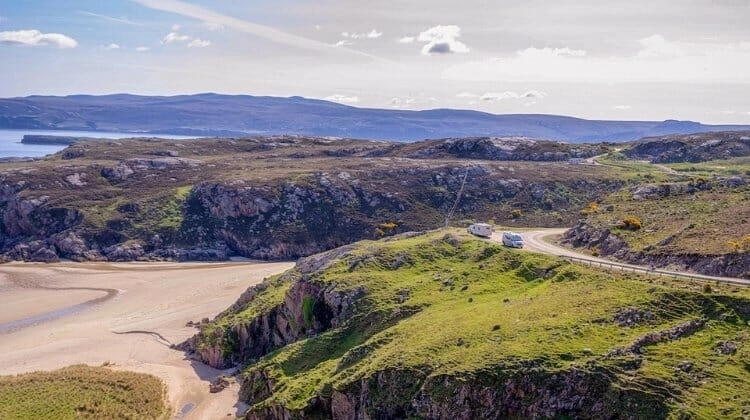 Easter Ross
A region full of history, Easter Ross is located north of Inverness and sea-bound by the Moray Firth to the east, the north-shore of the Cromarty Firth and the south Shore of the Dornoch Firth.
Lined with coastal villages offering fabulous views and plenty of sea life to watch out for, as well as Highland wilderness in the inland forestry areas, there's much to appreciate here. Don't rush through on your way north!
Highlights
Visit the Tarbat Discovery Centre in Portmahomack and the pretty seaboard villages of Shandwick, Balintore and Hilton to learn about The Picts, a wild people in late Iron Age Scotland who prevented the Romans from conquering all of Britain by holding their territory.
Take a tour at The Dalmore Whisky Distillery in Alness. Considered one of the best luxury whisky brands in the world, The Dalmore whiskies sell for thousands of pounds. Find out what the fuss is about with a tour, and maybe a wee dram (but only if you're not driving!)
Hike up to the huge Fyrish Monument for spectacular views across Cromarty Firth and the great hulk of Ben Wyvis mountain.
Visit the Touchstone Maze near Strathpeffer, made up of 81 different rock types from around Scotland and a great way to get an understanding of Scotland's complex geological map.
Walk up to the magical Black Rock Gorge, an impressive one mile long, 40 meter deep gash in the rocks created during the Ice Age by the River Glass rushing down to the Cromarty Firth. This is a stop for Harry Potter fans, the gorge was a filming location in 2004 for 'Harry Potter and the Goblet of Fire'.
The Best Campsites in Easter Ross
The very well located Black Rock Caravan Park, in the village of Evanton, is approximately a mile from the A9 North Coast 500 road. With excellent touring pitches and services, this makes a great stop on the way north.
Dornoch Caravan and Camping Site is a peaceful, family-owned campsite in the heart of the Scottish Highlands. Set amongst picturesque rural and coastal scenery, the east coast site enjoys expansive views of the beautiful Dornoch Firth.
Fortrose Bay Campsite is on the Black Isle, situated on a pebble beach with direct access to, and stunning views over, the Moray Firth. Take the twenty minute walk to Chanonry Point, a large natural sand bar that lies to the east of the campsite.
As well as a lighthouse, it's famous for being one of the best place to spot the UK's most northern colony of bottlenose dolphins, making this a great North Coast 500 camping spot.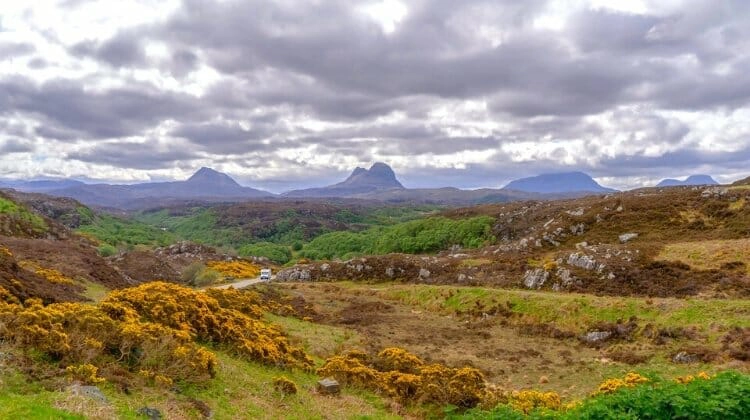 Caithness
Home to John O'Groats and Dunnet Head, the most northerly village and northerly point respectively, Caithness is right at the top of the UK. It is so far north that in favourable conditions, it's possible to see the Northern Lights from here.
The vast open landscape, also known as the flow country, is rich in the archaeology of ancient times, and the coastline features soaring sea-stacks and towering headlands, home to puffins and other sea birds.
Highlights
See the mysterious Hill O'Many Stanes, where 200 thin stones were laid out in a radiating pattern over 4,000 years ago …and no-one really knows why.
Enjoy the sea air and a five mile hike from John o'Groats to Duncansby Head, the most north-easterly point on the British mainland, and continue along the spectacular coastal path to see the two dramatic pointed sea stacks.
Visit the Castle of Mey, which was restored by The Queen Mother when she bought it in 1952 and saved it from abandonment. A fascinating glimpse into a castle that served as a holiday retreat for the royal family, and with wonderful gardens, this is a truly beautiful place.
Explore the various and fascinating brochs on the route. The broch is an imposing stone tower and ancient dwelling, built from as early as 500 B.C, found only in Scotland. Dunbeath Broch and Nybster Broch are both excellent examples and close to the Caithness Broch Centre, where you can learn more.
Take (another) bracing walk in the wild and untamed landscape of Dunnet Head, an RSPB nature reserve and the most northerly point in mainland Britain. If you're lucky, you might see puffins in this noisy sea-bird nature reserve, especially if you visit during the breeding season, from late spring to early summer.
The Best Campsites in Caithness
Stay at Dunnet Bay Caravan and Motorhome Club Site. You don't have to be a member to stay, although the cost is discounted if you are. One of the best north coast campsites, it's perfect for those that enjoy solitude, sublime views and long beach walks.
Murkle Caravan Park in the village of the same name is basic, but has all you need and is very welcoming to pets. With a lovely one mile beach walk from site, this is an ideal spot for a few days exploring in the local area.
A favourite NC500 camping spot is Windhaven Cafe, Camping and B&B, the most northerly campsite on the UK mainland. The cafe is also the most northerly cafe on the NC500! The site overlooks Brough Bay from its fabulous cliff-top location, where you can sit and view the seals from our seal viewing point.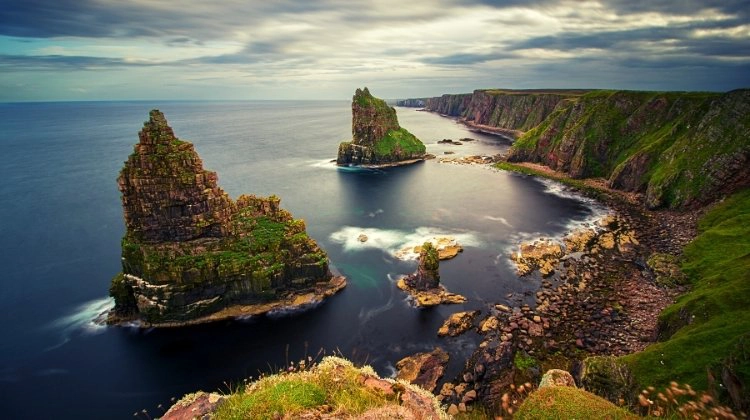 Sutherland
One of the last great wilderness' of Europe, a large chunk of the NC500 route passes through this raw and beautiful county.
With the sea always on your right, the coast on this part of the route is unspoilt and diverse, with huge sandy beaches and the rugged and aptly named Cape Wrath cliffs.
For many, us included, this is a favourite part of the route, for the spectacular scenery and its rich natural history.
Highlights
Spend a day in Dornoch, a beautiful historic town in the southeastern-most corner of Sutherland which overlooks the firth of the same name. The town is well worth a wee wander – as well as its 13th century cathedral, there is also the old jail and Dornoch Castle, which is a former bishop's palace.
Admire the lofty grace of Dunrobin Castle, historic home of the Earls and Dukes of Sutherland, which dates from around 1275.
Head into the cliffs at Smoo Cave, with one one of the largest entrances to any sea cave in Britain at 15m high, and complete with its own waterfall too.
Hike to Sandwood Bay Beach, for the incredible sight of the Am Buachaille sea stack, a remnant of when the Highlands and North America were connected, millions of years ago.
Visit the North West Highlands UNESCO Global Geopark, which contains geology and a landscape of world-class quality, significance and importance. It's a wonderful place to learn about the 3,000 million year old geological history of one of the most sparsely populated corners of Europe.
Explore Stoer Head, a few miles north of the picturesque village of Lochinver. You'll find beautiful views across islands and inland coves, as well as the striking white Stoer Lighthouse and the fabulous Old Man of Stoer, a 60m high Torridonian sandstone sea stack.
Achmelvich Beach is one of the area's most stunning beaches, with white sands and clear turquoise waters. It's a magnet for water-based activities such as windsurfing and water-skiing – if you carry an inflatable canoe or stand up paddle board, this is a great place to blow it up and get on the water. You may prefer to take the A894 main road from Ullapool and avoid the majority of the B869 from Kylesku to Lochinver as this can be a tricky route for large vehicles.
The Best Campsites in Sutherland
Stay at the stunning Clachtoll Beach Campsite right on the edge of Clachtoll Beach, which boasts crystal clear water and amazing snorkelling; we think it's one of the best campsites in Scotland. Check the roads and size of your vehicle before making your way there – coming the long way on the coastal B869 won't work if you're in a large motorhome.
The Shore Caravan Site at Achmelvich Bay may be a better option as you don't have to go quite so far along the B869. This is a really lovely site, right on the beach and with friendly and welcoming owners, one of our favourite North Coast 500 campsites.
Highly recommended for Durness camping is Sango Sands Oasis Campsite is located on cliff tops above stunning beaches with amazing sea views. With fantastic facilities, this is a site where you could easily spend a week whilst finding adventures in the local area.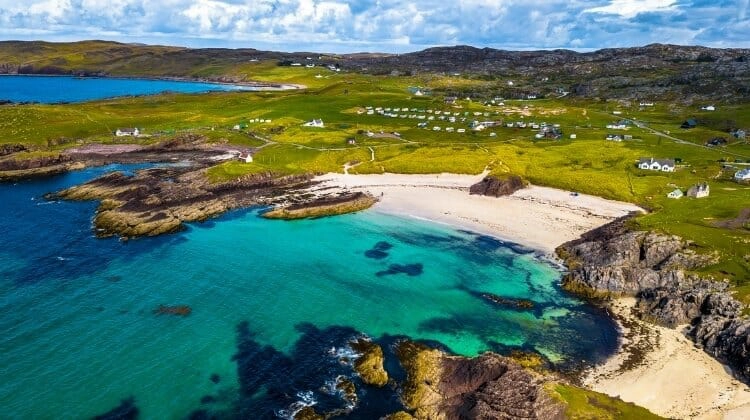 Wester Ross
Wester Ross is an area of breathtaking landscapes – think ancient glens, Caledonian forests, lofty mountain peaks and gorgeous beaches. With iconic roads and dramatic backdrops, driving through Wester Ross is an adventure and a highlight for many NC500 visitors. From bagging a Munro to whale watching, exploring castles and gorgeous gardens, there is plenty to keep you busy in this beautiful part of Scotland.
Highlights
Go whale watching from Gairloch, you might also see dolphins, porpoises and sharks, as well as seals, otters, puffins and perhaps even the white-tailed eagle. The best time to see whales on the west coast of Scotland is from mid June to late September.
Marvel at the Corrieshalloch Gorge, a deep chasm that cuts through a Highland wilderness rich in nature. Watch as the River Droma rushes over a series of waterfalls before the grand finale of the the huge 45 m Falls of Measach.
Visit the lush, tropical oasis of Inverewe Garden, perched high on a peninsula at the edge of Loch Ewe. This world-famous historic garden is one of Scotland's most popular botanical attractions and is surrounded by estates managed for conservation.
Visit the UNESCO Biosphere Beinn Eighe National Nature Reserve, and explore the woodlands, home to 350-year-old Scots Pines, remnants of the ancient Caledonian forest that once stood here.
Climb Beinn Eighe, one of the Torridon's best Munros (mountains over 914m), of which there are 37 on the NC500. The views of the Torridon Hills are simply stunning from the summit.
Drive the legendary Applecross Pass, one of the best and highest roads in Scotland. Bealach na Bà is a narrow slip of a road, with hairpin sharp bends and steep gradients and might not be suitable for your motorhome. Check out the official advise below, but if you still want to go ahead then do some research about the best times and hazards you should be aware of, especially if this is your first time driving this type of road. This motorhome seemed to manage it, but you should only attempt it if you're 100% comfortable with the risks
The Best Campsites in Wester Ross
Stay at Inverewe Gardens Poolewe Camping and Caravanning Club Site. Beautifully laid out, this tree-lined site has good facilities and incredible sunsets.
Kinlochewe Caravan Club Site is located at the foot of the rugged slopes of Beinn Eighe, at the end of a beautiful drive along Glen Docherty from Achnasheen. With excellent facilities, stop here for a few days to exmplore the Torridon Hills and local area.
Applecross Campsite is at the coast end of the pass as it snakes down to Applecross. After a long day of driving, it's a wonderful stop overlooking Applecross Bay, with fine views to Skye.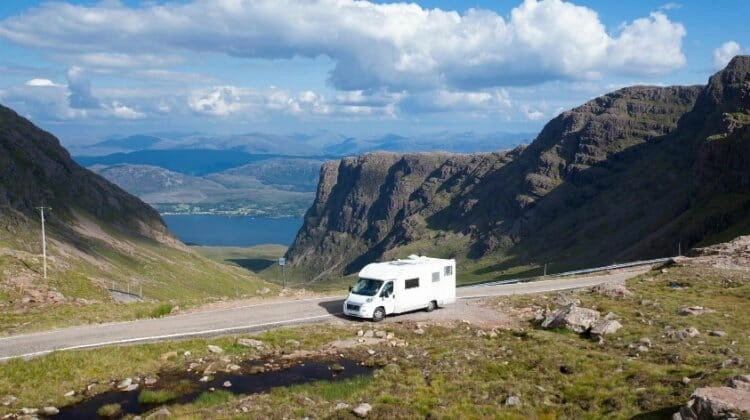 Frequently asked questions about taking a North Coast 500 motorhome tour
When should I tour the NC500 in my motorhome?
You can go at any time of the year, but you will need heating and some form of motorhome winterisation during the colder months. Expect it to rain whenever you visit, this is Scotland after all!
Spring – Late spring is a great time for planning a road trip to Scotland. The countryside comes alive with wild flowers and baby animals as the warmer weather beats back winter and summer visitors have yet to arrive. It will be cool though, especially at night, so you'll need some type of heating in your van.
Summer – With summer averages of around 20°c, this is one of the best times for touring Scotland in a motorhome. The downside is that popular routes, attractions and North Coast 500 motorhome stops (both campsites and popular wild camping spots) will be busy, so a road trip of Scotland in summer will require a little more planning and you may need to book your favourite North Coast 500 campsites in advance.
July and August are also the worst months for the infamous biting midges, especially if you're planning on visiting the west coast, where they are generally at their worst.
Autumn – A wonderful time for a motorhome camping trip to Scotland, the autumn colours are some of the most dramatic in the world and much of the tourist traffic will have departed, leaving the roads empty.
Winter – Plan trips to Scotland during the colder months for winter sporting opportunities, dramatic scenery and the possibility of seeing the Northern Lights, or 'Mirrie Dancers' as they are sometimes called in Scotland. As a rough guide there are an average of 15-20 snow days a year in the country, which can rise to over 100 snow days in the Scottish Highlands, so some roads may be closed.
Is there wild camping for motorhomes in Scotland?
There is motorhome wild camping in Scotland aplenty – use Park4Night to find the best NC500 wild camping spots (as well as campsites) and make sure you follow the rules. So many people ask us about wild camping on a North Coast 500 tour that we wrote a post about it!
Scotland is a hugely popular motorhome destination offering stunning landscapes, huge skies and fantastic roads and routes. If you prefer to wild camp in your motorhome, we've got all the information you need to do so safely and within the rules.
Can I hire a motorhome to do the NC500 route?
Yep, you can! If you're looking for NC500 Scotland motorhome hire, check out Spaceship Rentals. You can collect your motorhome in Edinburgh and be in Inverness within three hours. Spaceship rentals also offer North Coast 500 campervan hire, so whatever your road trip style, they've got you covered.
RELATED POST – Edinburgh One Day Itinerary – Map, Tips & Guide
Are any of the roads in the NC500 unsuitable for large vehicles?
Driving the North Coast 500 in a motorhome can be challenging in places and there are a few roads that you may want to miss out, and some which would be a real struggle in a larger motorhome. This is the official advice from the North Coast 500 website;
"If your motorhome or camper van is more than a standard VW T5 conversion (ie about 16-18ft in length), please take the alternative motorhome routes available. If you cannot accurately reverse your vehicle several hundred yards on a narrow single track road – you cannot safely drive over this road. Please do not attempt to drive the Bealach Na Ba (take the A832) or B869 Drumbeg Road (take the A894)."
This is following advice from several professional drivers who know the road and from local breakdown services. It only takes ONE person who is not used to driving a large vehicle to block the road completely to the detriment of other users, those that use the road for work, and importantly – emergency vehicles.
As well as the driving information detailed above, campervan and motorhome drivers should be consider the following:
You must feel comfortable reversing the vehicle correctly and safely as you may be required to do this on single track roads.
If you are travelling below the speed limit, please pull in to a layby or one of the passing places to allow traffic to safely pass you.
Do not travel in convoy, especially on small roads as this can lead to congestion. Always travel at least one passing place apart.
Anything else I need to know about motorhomes & the NC500?
These are our top eleven North Coast 500 tips:
Take your time. There is so much to see and do along the incredible 500 miles that it would be a shame to rush. You could manage it in seven days, but two or even three weeks will give you a real chance to explore and get to know this wonderful part of Scotland.
Whether you stop at NC500 campsites or wild camp, always follow the Scottish Outdoor Access Code, it helps to protect the fragile flora and fauna of this beautiful country.
From time to time, the local authorities place restrictions on the times that motorhomes can use the route. You should check in advance on the North Coast 500 official website.
Check ahead regularly to see what attractions might be off the North Coast 500 motorhome route map that you may want to detour too – this is where you'll find the real hidden gems and off the beaten track places, including awesome wild camping spots.
Make sure to stop and chat with other motorhomers about routes, restrictions and favourite places to visit – you'll find lots of North Coast 500 hidden gems like this!
Book campsites in advance in the summer months, or you may get to your destination and be disappointed.
Use a sat nav that you can configure for your motorhome if possible. This will help you avoid any difficult roads which may not be suitable for the size of your vehicle, or any roads that are closed due to poor weather.
However you decide to overnight, whether you're wild parking in your motorhome for lunch or using campsites along the North Coast 500, please dispose of any motorhome waste and rubbish properly and leave no trace of where you've been.
3g and 4g can be limited in many areas, so if you have important information, insurance documents or bookings, make sure they are downloaded before you leave Inverness.
Midges are a fact of life in Scotland, particularly on the west coast part of the NC 500 route. Their bites range from being mildly itchy to causing an allergic reaction, so best to avoid them on your motorhome holiday if at all possible.

Travel during the low season, November to February.
If you have them, make sure your fly screens are in use at all times.
Change into long sleeves and trousers before dusk and use a midge veil or hat.
Don't park or camp near stagnant water.
Head for windy places to overnight, but weigh up which is worst first!
Use an insect repellent such as Jungle Formula or Avon Skin So Soft.
Read our Ultimate Guide to Motorhoming and Campervanning in Scotland – it's packed with tips and details to help you get the most out of your tour and enjoy Scotland at it's best.
Are there other road trips in Scotland I can do in a motorhome?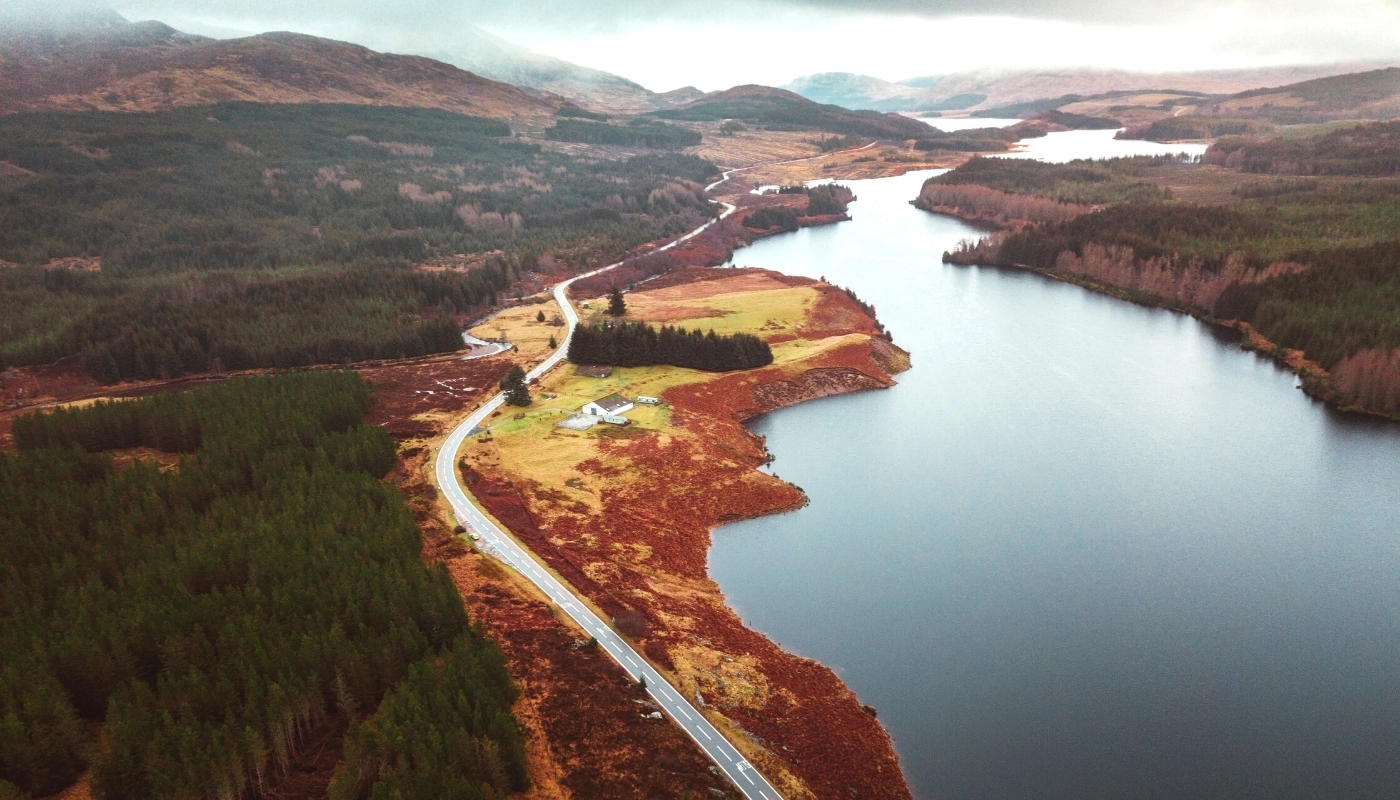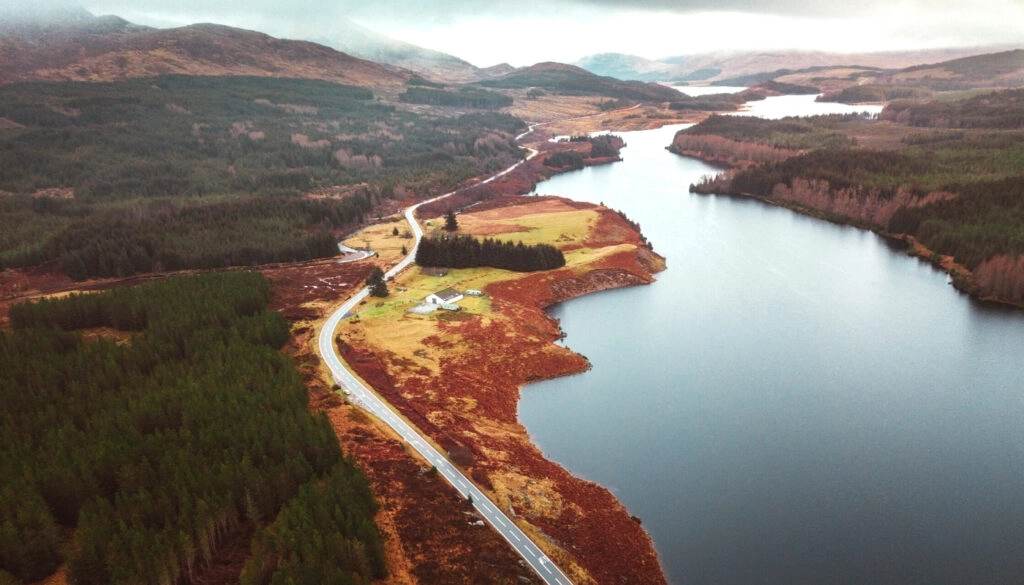 Scotland Motorhome Itinerary
Are you planning a motorhome trip to Scotland, but don't know where to start? We've got the perfect Scotland motorhome itinerary for you! Whether you're in a motorhome or campervan our 14 day Scotland itinerary will take you on an incredible road trip around the country. From beautiful loch-sides, to dramatic mountains and turquoise sea-shores, and with some of Scotland's most famous cities on route, this journey will share history, hospitality, breathtaking landscapes and exciting activities as your tour this special place.
Scotland is a place made for road trips. Sweeping roads wind their way through dramatic and moody landscapes, past historic castles, gentle lochs and wild seas. Ancient myths and rich history thread through Scotland's fabric, making the country a wonderfully diverse and fascinating place to visit. There are Scottish road trips to suit every itinerary, you can find six of the best of them here, in our Scotland road trip planner.
Are you looking for more UK travel inspiration? Check out these top posts…
Small but perfectly formed, the glorious country of Wales is a road trippers dream. With soaring mountains and valleys, miles of golden sands, craggy headlands and some incredible roads, head to Wales for an adventurous and eclectic road trip.
Love it? Pin it!