This post may contain affiliate links, from which we earn an income.
Wales Road Trip Planner
Small but perfectly formed, the glorious country of Wales is a road tripper's dream. With soaring mountains and valleys, miles of golden sands, craggy headlands and some incredible roads, head to Wales for an adventurous and eclectic road trip.
For those looking for a UK staycation, Wales makes a great destination on your doorstep. If you're coming from further afield, traveling to Wales is easy. Fly into Heathrow, pick up a hire car, or even a campervan, and drive from London to Wales along the M4 motorway to start your Wales road trip in less than half a day.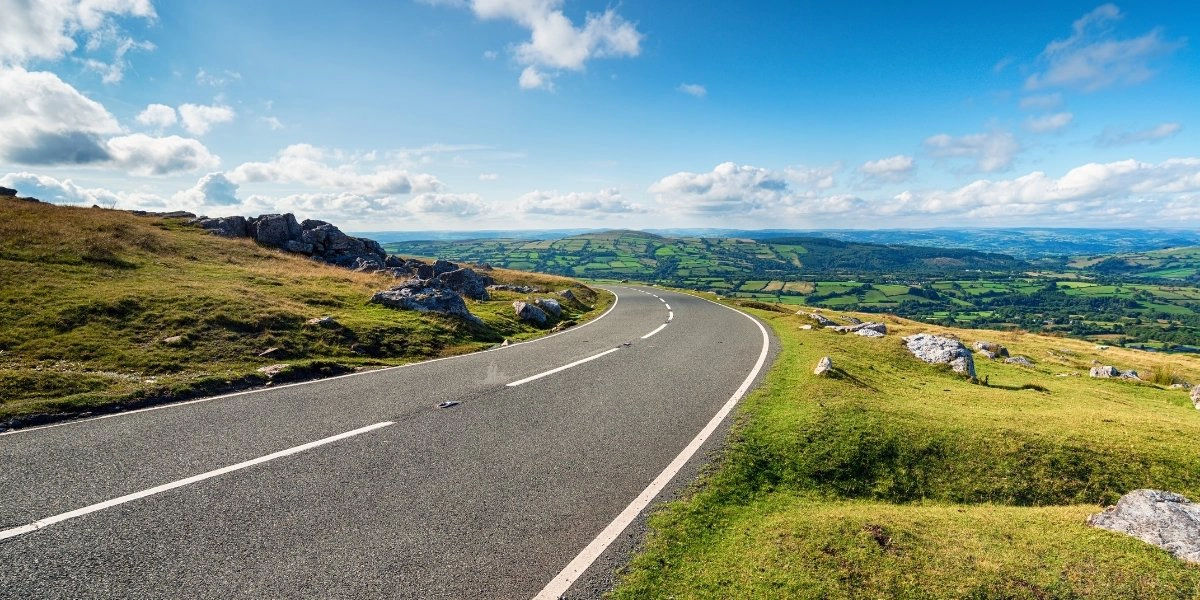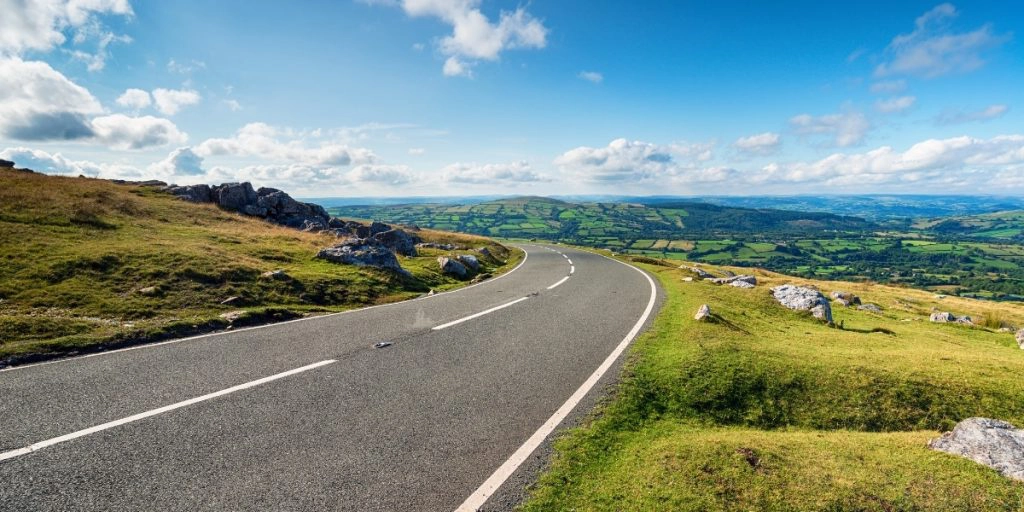 Getting to Wales
Fly into Cardiff, Bristol or Birmingham airports to start your Welsh road trip. We recommend booking through Skyscanner for live deals and the best prices.
You can hire a car at any of these airports with a car hire booker like Rentalcars.com who will provide the best deals from all the top car hire companies. How? Because they have such a large market share, they've got way more buying power than individuals and can negotiate much harder on price.
For a real adventure, hire a motorhome or campervan in Wales. We recommend Motorhome Republic, an aggregate booking site who pull together all the best deals from a number of rental agencies, to offer you a wide choice of options alongside an excellent English speaking expert motorhome Concierge Team.
Best Time to Take a Wales Road Trip
December to February
The winter months in Wales are generally cold and wet. It is likely to be cloudy in the mountains, leading to poor visibility, and there may well be snow. Although other visitors will be thin on the ground, this would be our least favorite time to road trip Wales!
March to May
Late spring is a wonderful time for visiting Wales, as the cold and wet retreats. Wildflowers appear, baby animals abound and life picks up a lively pace again. But, remember that Wales is so green because it rains, so always be prepared for a downpour, or a few drizzly days.
June to August
Summer brings sunshine to all of Wales, with Pembrokeshire getting the best of the warm Gulf Stream weather. This is the perfect time to road trip around Wales, especially for outdoor adventures such as hiking and coasteering.
September to November
Autumn is a fantastic time to visit Wales. The coasts will be quieter but still warm and the glorious colors of fall bring vibrancy to the countryside. Don't leave your trip to Wales too late, it will be cold and wet again by mid-October.
Is this your first time visiting the UK? Get all the information you need in our United Kingdom Travel Guide, including what to pack, the best time of year to go, getting there, and practical tips to help you have the best trip!
Wales Road Trip Route & Map
Snowdonia – Conwy – Anglesey – Caernarfon – Portmeirion – Coed y Brenin – Barmouth – Elan Valley – New Quay – Pembrokeshire – Gower Peninsula – Mumbles – Brecon Beacons – Hay-on-Wye
Wales in an extraordinary country of rugged coastlines, mountainous national parks, dark skies, and spectacular beaches.
Alongside the spectacular wild landscapes, you'll also find history, world-class attractions, and warm hospitality.
Whether you're an outdoor activity lover, a history buff, or a family on your annual holiday, you can explore the best of the country with our travel tips and Wales coastal road trip itinerary.
How to use this map – Use your fingers (or computer mouse) to zoom in and out. Click or touch the icons to get more info about a place, and click the arrow in the box top left to open the index. To add to your own Google Maps account, click the star next to the title of the map.
Snowdonia
Start your road trip itinerary in the spectacular Snowdonia National Park, or Parc Cenedlaethol Eryri in Welsh, in north Wales for drama, huge skies, and plenty of outdoor adventures.
Perfect as a base for a few days, Betws-y-Coed is a typical mountain town in a beautiful valley, full of companies offering outdoor adventures, shops selling outdoor gear, and pubs and restaurants full of hikers talking about the day's activities.
The town is a great base for outdoor sports such as climbing, hiking, abseiling, zip-lining, caving, and mountain biking. You'll also find natural beauty spots such as Conwy Falls, the Fairy Glen, and Swallow Falls to visit in the nearby area.
Test yourself by climbing to the peak of Snowdon, the highest mountain in England and Wales at 1,085m above sea level. Even relatively inexperienced hikes will be able to climb Snowden, just make sure you have the right hiking equipment and check the weather carefully before heading off.
If you still want to enjoy the views but don't fancy the hike, you can get the Snowdon Mountain Railway up from Llanberis station, almost to the summit at 1085m. From here you can walk the last 20m of elevation to the cairn and conquer Snowdon on foot!
Snowdonia National Park is also perfect for star-gazing and only the second area in Wales to be designated as an International Dark Sky Reserve. On a clear night in Snowdonia, you can see the Milky Way, all the major constellations, nebulas (bright clouds of gas and dust), and shooting stars.
Upmarket: Portmeirion Village & Castell Deudraeth – Booking.com | Agoda
Mid-Range: The Slate – Booking.com | Agoda
Budget: Hilton Garden Inn Snowdonia – Booking.com | Agoda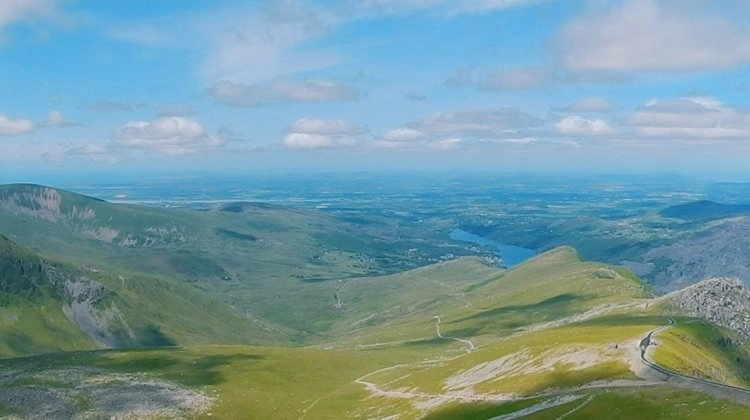 Make sure you have travel insurance you can trust when visiting Wales. We recommend True Traveller for their 5-star TrustPilot reviews, variety of cover options, best activities cover as standard, great prices, and excellent service.
Conwy
Head to the north coast of Wales to Conwy, to visit the fortified town and magnificent Conwy Castle, built by Edward I during his conquest of Wales in the 13th century. Now a UNESCO World Heritage Site, Conwy Castle dominates the skyline for miles around and has amazing views from the battlements.\
Upmarket: The Gallery at Bull Cottages – Booking.com | Agoda
Mid-Range: Gwynfryn – Booking.com | Agoda
Budget: Hilton Garden Inn Snowdonia – Booking.com | Agoda
Anglesey
From Conwy, follow the coast road past Bangor and over the iconic Menai suspension bridge to the beautiful Isle of Anglesey, home to some of the best beaches in Wales, and fantastic coastal hiking, and cycling paths.
Newborough beach is a favorite of many on Anglesey, backed by the tranquil Newborough Forest, where you might see red squirrels. Take a walk through the forest and dunes to the peninsula of Llanddwyn Island to see the fascinating lighthouse and pilot's cottages.
Upmarket: Sandy Mount House – Booking.com | Agoda
Mid-Range: Lastra Farm Hotel – Booking.com | Agoda
Budget: The Bold Arms Hotel – Booking.com | Agoda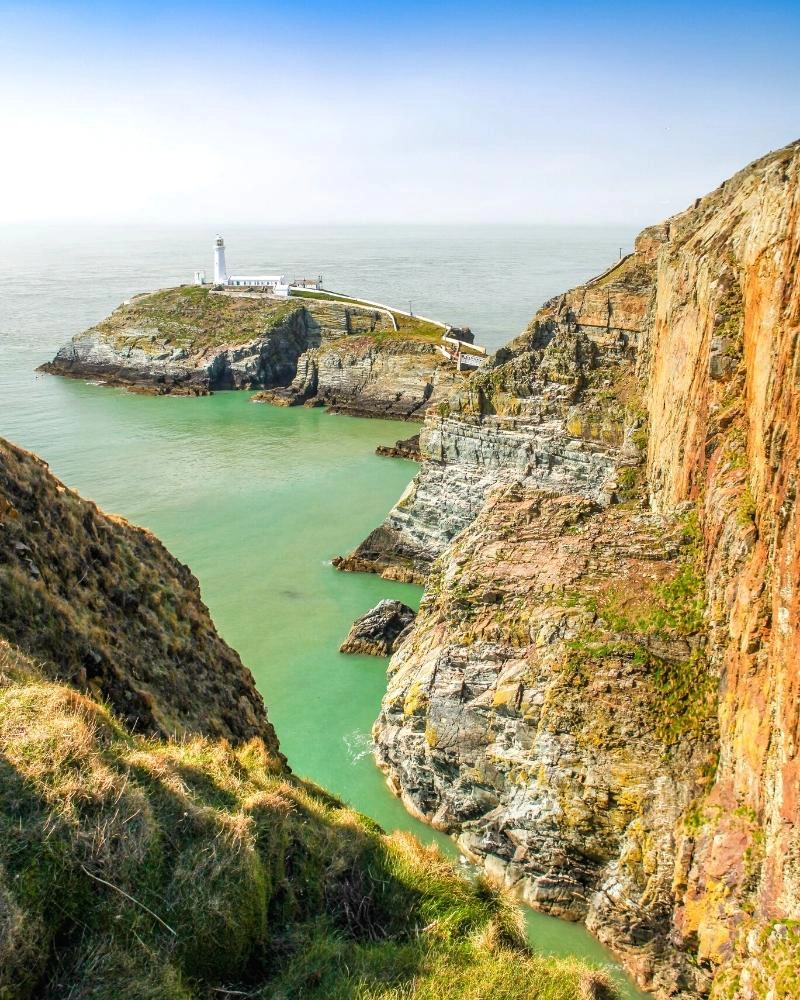 Caernarfon
As you leave Anglesey, you'll pass by Caernarfon on the road south. It's well worth stopping here to visit Caernarfon Castle, widely recognized as one of the greatest buildings of the Middle Ages, and the jewel in the crown of Edward's Iron Ring of Castles, a chain of fortifications and castles built in north Wales.
Mid-Range: The Celtic Royal Hotel – Booking.com | Agoda
Budget: Anglesey Arms – Booking.com | Agoda
Portmeirion
Designed by Sir Clough Williams-Ellis in the early 20th century, Portmeirion's colorful houses, ornamental garden, and iconic campanile are like nowhere else in the UK.
Considered by many to be one of the most beautiful places in Wales, Portmeirion is also known for Portmeirion Pottery (now made in Stoke-on-Trent) and its role in the 1960's cult tv show The Prisoner.
Look beyond the obvious though and enjoy local walks, tropical gardens, and interesting architecture.
You can also get to Porthmadog from Minffordd Station just a mile from Portmeirion. From there you can travel on the Welsh Highland Railway, the UK's longest heritage railway which runs for 25 miles from Porthmadog through the stunning Aberglaslyn Pass and the picture-perfect village of Beddgelert, past the foot of Snowdon and on to Caernarfon.
Upmarket: Portmeirion Village & Castell Deudraeth – Booking.com | Agoda
Mid-Range: Aberdunant Hall Country Hotel – Booking.com | Agoda
Budget: The Golden Fleece Inn – Booking.com | Agoda
RELATED POST – Europe Road Trip – 16 Incredible Routes
Coed y Brenin
Cyclists should make a stop at Coed y Brenin, the UK's first and largest dedicated mountain bike trail center, with miles of exceptional single-track for experienced and expert riders, but also great intermediate trails for all abilities.
You can hire bikes at Beics Brenin and start a trail from there, or visit the Ffowndri skills area and bike park to test your skills.
You'll also find hiking, geocaching trails, orienteering routes, and running tracks in the Coed y Brenin Forest Park, with even a half-marathon route if you're feeling really energetic!
Barmouth
Nestled between Snowdonia and the Mawddach estuary, Barmouth's location on the west coast has to be one of the most beautiful in Wales.
Steeped in a history rich with connections to the shipping and slate industries, this is a good old-fashioned seaside resort.
The town's beach, Abermaw, is west facing with a mixture of sand and some fine shingle and is ideal for sea swimming and watersports.
You'll also find a land train that runs along the promenade, traditional donkey rides, swing boats, and amusement arcades as well as lots of pubs and restaurants.
Mid-Range: The Tilman – Booking.com | Agoda
Budget: Tal Y Don Hotel – Booking.com | Agoda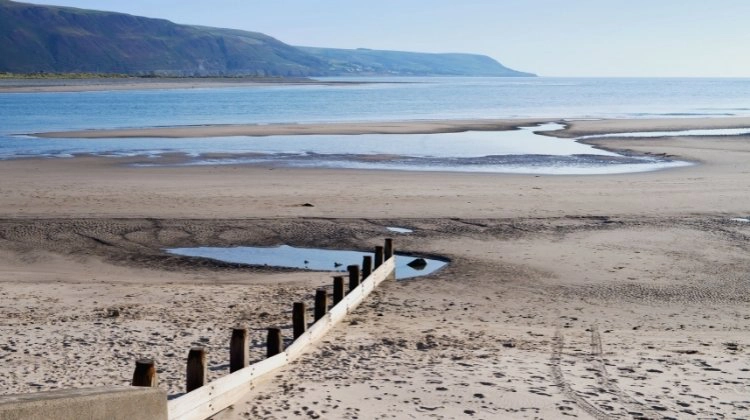 The Mach Loop
As you head south, check out the Mach Loop on the A487, a series of valleys notable for their use as low-level training areas for fast jet and propeller-driven aircraft.
With an average of two to five movements a day, you have a good chance of seeing some action.
Elan Valley
The Elan Valley is a stunning area rich with wildlife and nature in the heart of Mid Wales. Inhabited since the stone age, the rural valley is now famous for its spectacular dams and scenery – you should try and visit all of the six dams of the Elan Valley to really appreciate the history of these beautifully designed and engineered masterpieces.
Enjoy a hike or bike ride around one of the reservoirs of the valley or gain some height amongst the rocky crags and admire the breathtaking and peaceful landscape.
Over 80% of the valley is designated as a Site of Special Scientific Interest (SSSI), home to reservoirs, aqueducts, and wildlife. The area also has International Dark Sky Park status, meaning that there is very little light pollution. On clear nights you can see constellations, planets, and stars so clearly you feel you could reach out and touch them – perfect if you're camping or travelling in a motorhome.
Mid-Range: The Elan Valley Hotel – Booking.com | Agoda
Budget: Llanerch Inn – Booking.com | Agoda
RELATED POST – Motorhoming & Campervanning in Wales – Complete Guide
Castles in Wales
Wales is home to over 600 castles, more per square mile than anywhere else in the world. Some have been lived in continuously for over a thousand years, while others are romantic ruins. Many are native Welsh castles, built by Welsh royal dynasties, often in very beautiful places and you'll find lots along our suggested route.
These are some of our stand-out castles to visit along the way;
Dolwyddelan Castle in Conwy County is one of those romantic ruins – a stronghold built in the early 13th century by Llywelyn the Great, Prince of Gwynedd and Wales.
Remote and evocative, the 13th century ruins of Castell y Bere are strung along a jagged rocky outcrop in the Dysynni Valley at the foot of Cader Idris.
Medieval Pembroke Castle was originally the family seat of the Earldom of Pembroke. A Grade I listed building since 1951, it underwent major restoration during the early 20th century.
Shaped by conquest and conflict, Carew Castle is one of the most architecturally diverse castles in Wales and is set in stunning surroundings.
Another romantic ruin, Pennard Castle is dramatic and beautiful, and the views are glorious.
Cardiff Castle is a renovated medieval fortress and Victorian Gothic revival mansion dating from 1081, shortly after the Norman Conquest of England.
New Quay
Head south through coastal mid-wales to the vibrant seaside town of New Quay, following the Coastal Way (which makes up part of the Wales Way) along the length of Ceredigion Bay and stopping at the stunning Llanrhystud Beach on the way.
For something really adventurous, the Mid Wales Paragliding Centre is just outside Aberystwyth, on your route to New Quay. Stop off for a few days and learn to fly with their BHPA School.
New Quay is a pretty fishing town, popular with tourists for its picturesque harbor and sandy beach, and an ideal base for exploring the west Wales coastal area for a few days.
There is so much to do in this little corner of Wales, but you're mainly here for the sea. With every kind of water sport on offer and the Ceredigion Marine Heritage Coast offering wildlife and sea-birds aplenty, you'll find lots to pack in for a couple of days.
Start with a trip to one of the activity companies in the area, where you can organize (perhaps in advance) sailing, stand-up paddle, kayaking, and canoeing.
There are several spectacular beaches nearby, including the beautiful Llangrannog Beach, which is good for surfing.
You'll also find boat trips from New Quay harbor to see bottle-nose dolphins and seals in Cardigan Bay, and sea fishing trips – fresh BBQ'd mackerel for dinner maybe?
The famous Welsh poet, Dylan Thomas, lived in New Quay during World War 2 and it's widely believed to be the setting for one of his most well-known works 'Under Milk Wood'. You'll find lots of places in the town connected to him and his work.
Mid-Range: Rooms @ The Dolau Inn – Booking.com | Agoda
Budget: Penwig Hotel – Booking.com | Agoda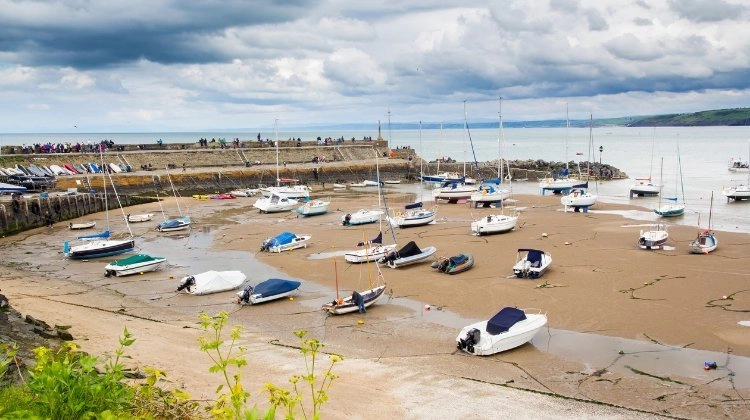 Are you planning a motorhome trip to Wales?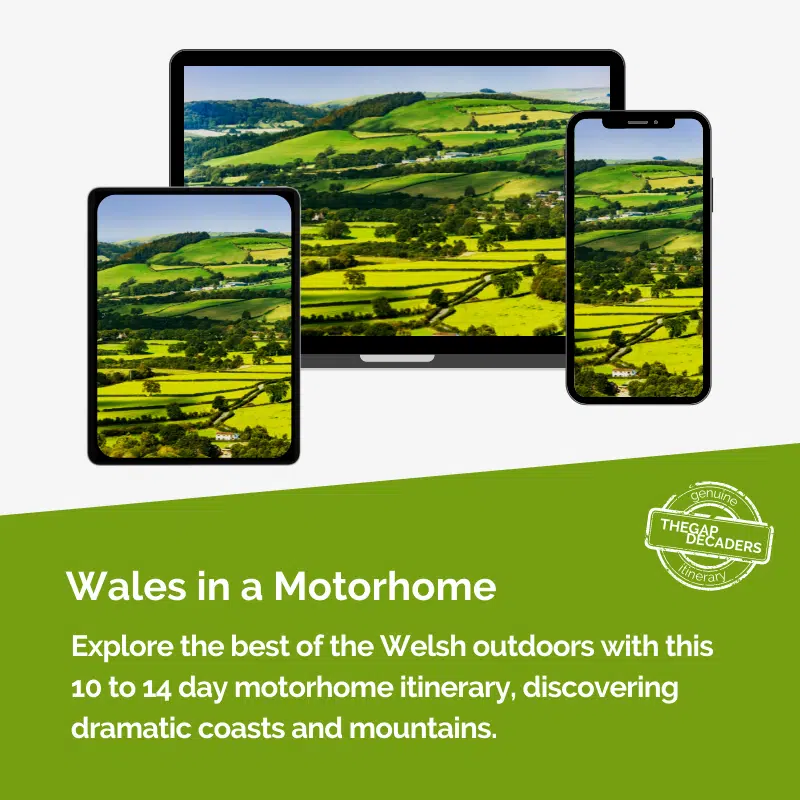 Grab our flexible 10-14 day Wales itinerary, packed with campsites, attractions, adventures, and insider tips.
Get up every morning knowing your day is planned with driving routes, campsites, attractions, and activities marked out for you on your interactive map.
Make the most of your holiday and let us do the planning for you!
Pembrokeshire
Famous for its rough cliffs, huge beaches and remote islands, the coast of Pembrokeshire offers limitless opportunities to enjoy the outdoors and is one of the most stunning places in the UK.
It's no surprise that National Geographic has voted the coastline the second best in the world.
Stop at beautiful Fishguard on the way south, famous for its role in the Battle of Fishguard. A military invasion of Great Britain by revolutionary France during the War of the First Coalition, the brief campaign in February 1797 is the most recent landing on British soil by a hostile foreign force and thus is often referred to as the "last invasion of mainland Britain".
This is also to the perfect place to try delicious Welsh Cakes, a traditional sweet treat that is a sort of cross between a biscuit, scone, and pancake but unlike any of them! The best place for a homemade Welsh Cake in Fishguard is Ffwrn on Main Street. Enjoy!
If you're looking for somewhere lively to spend a few days, then you'll find Fishguard a great choice. Right on the Pembrokeshire Coast path, with lots of bars, shops, and restaurants plus sailing, coasteering, and sea kayaking on offer, you'll find lots to keep you busy.
Upmarket: Grove of Narberth – Booking.com | Agoda
Mid-Range: Heywood Spa Hotel – Booking.com | Agoda
Budget: Llwyngwair Manor – Booking.com | Agoda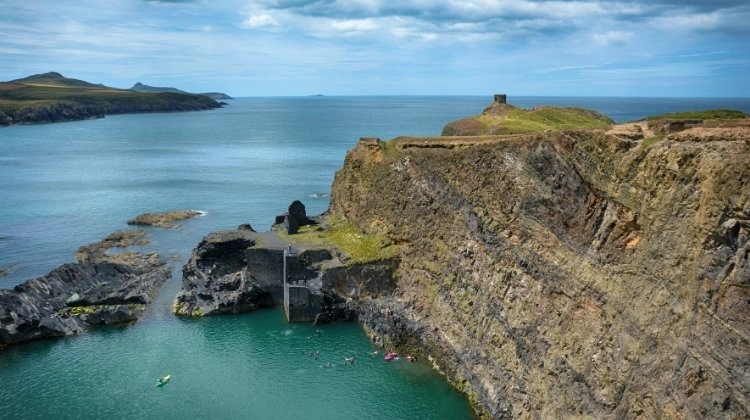 Pembrokeshire boasts that it invented coasteering, and it's an activity you must try. The sport of jumping from land to sea, cliff scrambling, and swimming between rocks will stretch you mentally and physically but give you hours of fun.
You can find a pace to suit you, there are guided expeditions and courses for beginners of all ages, some of which include marine biology education along the way.
The Pembrokeshire Coast National Park is an activity lovers paradise and as well as coasteering, you'll also find surfing, kayaking, paddle boarding, canyoning, climbing, coastal path hiking, and many more activities in this gorgeous corner of the country.
If you're looking for child-friendly activities, check out Pembrey Country Park, perfect for a family day of adventure.
Set in 500 acres of woodland and alongside eight miles of golden sands, there's a dry ski slope, toboggan ride, crazy golf, pitch and putt, train rides, adventure play area, nature trails …in fact, pretty much everything a family on holidays wants!
Sight-Seeing in Pembrokeshire
Pembrokeshire is also home to St Davids, the smallest city in the UK. With a historic cathedral, the UK's first pollen trail, multiple artist galleries, and St Non's Chapel, the city makes a great day trip.
Or check out Tenby, one of the prettiest seaside towns in Wales, steeped in history and surrounded by an imposing medieval stone wall. With several excellent sandy beaches, a colorful harbour, and narrow cobbled streets, this charming town is perfect for a relaxing day out with ice cream and fish and chips, in between sporting activities!
Finally, visiting the famous puffins of Skomer Island is a real must-do if you enjoy nature. A haven for migrant birds such as razorbills and guillemots, you may also see seals here, which come to molt in April, along with owls, buzzards, and peregrine falcons.
In the spring, wildflowers cover the island, making it a truly beautiful and fascinating place to visit.
The boat over to the island works on a first-come, first-served basis and numbers are limited. Tickets can be bought at Lockley Lodge visitor center just outside Marloes, make sure to get there early!
United Kingdom Road Trip Ideas
Gower Peninsula
Next up is the spectacular Gower Peninsula in south Wales, an Area of Outstanding Natural Beauty famous for its breathtaking coastline and 30 or so unspoiled beaches and coves.
Gower offers unrivaled coastal walking, including the gorgeous Rhossili Beach and Down (voted 'Best Beach Wales') and the dramatic Worm's Head, whose long ridged back rises straight from the sea, rearing up in a precipitous wall at the end of the promontory.
Some of the best beaches in Wales are on the Gower's coastline, with the most famous being Oxwich Bay beach in the south and the huge Whiteford beach to the north.
If you like your sand a little more secluded, try Brandy Cove beach, only accessible by a cliff path, or head for Three Cliffs bay, a spectacular shoreline of sand dunes, salt marsh, and limestone cliffs.
Surfers and kitesurfers should check out Llangennith beach or Broughton Bay beach, both popular spots with good facilities.
Mid-Range: LLwyn Country House – Booking.com | Agoda
Budget: The Ynyscedwyn Arms Hotel – Booking.com | Agoda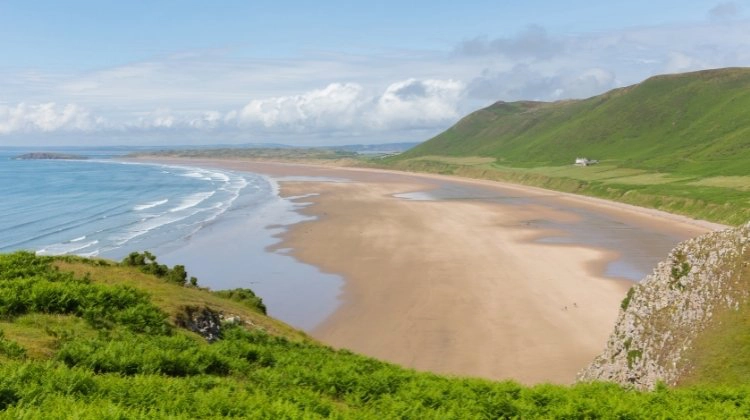 The Mumbles
At the eastern end of the peninsula and often referred to as "the gateway to Gower" is Mumbles, a traditional seaside town. Head here to walk along the bustling prom, where rollerbladers weave between pedestrians, and ice-cream parlours tempt.
As well as the usual water-based activities, you can also hire jet skis and take a speed-boat ride into Swansea Bay from the Mumbles, the headland on the western edge of the bay. Perfect if you've spent the last week or so hiking, cycling, and paddling under your own steam!
Upmarket: Norton House Hotel – Booking.com | Agoda
Mid-Range: Oyster House – Booking.com | Agoda
Budget: The Coast House – Booking.com | Agoda
Black Mountain Pass
If you have time, take a detour to the western edge of the Brecon Beacons for one of the best driving roads in Wales.
The epic Black Mountain Pass of Top Gear fame gives unrivaled views of the surrounding valleys and mountains, and enough hairpin bends and switchbacks to satisfy any dangerous road enthusiast.
The Black Mountain Pass is actually the South Wales road A4069 which climbs from Gwaun-Cae-Gurwen, between the breathtaking viewpoints of the twin humps of Pont Aber and Herbert's Pass, before arriving in Llandovery.
From here, you're can head southeast on the A40 to Sennybridge, and then south on the A470 into the heart of the Brecon Beacons National Park. Make sure to add Gwaun-Cae-Gurwen, Pont Aber, and Llandovery as via points in your sat nav, or you'll be routed on a more main road.
Be aware that sheep will cross the road indiscriminately and it is known that mobile speed cameras are sometimes hidden along the route in things like horse boxes or small trucks.
RELATED POST – Why We Think These Are The Best Driving Roads in Europe
Brecon Beacons
Undulating dramatically across the landscape, the Brecon Beacons National Park (Parc Cenedlaethol Bannau Brycheiniog) encompasses some of the most spectacular scenery in southern Wales.
Known simply as 'the Beacons' to hikers, these mountains are scattered with ridges and plateaus, glacial hollows which rise above forested valleys, hidden waterfalls, and gorgeous remote and empty landscapes.
There are many trails to choose from here, including the Cambrian Way, a long-distance hiking route from Cardiff to Snowdon through some of Wales' most mountainous and wild landscapes.
Pen Y Fan is a favorite, the route a challenging ten mile slog from the car park through forest and moorland to the steep ridge at the summit at 886m, where the views are superb.
But there is more hiking here than just Pen Y Fan. Sugar Loaf in Monmouthshire is stunning and the beautiful Brecon Beacons waterfall walk is a must-do.
Mid-Range: The Plough Inn – Booking.com | Agoda
Budget: The Belle Vue Through The Looking Glass – Booking.com | Agoda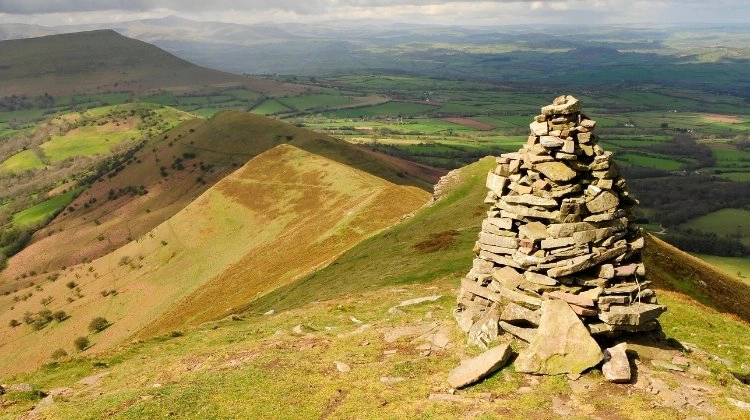 From the Brecon Beacons, you can head north into the beautiful and protected landscape of the Wye Valley and the literary town of Hay-on-Wye, or make your way south to the lively city of Cardiff.
Either of these provides excellent transport links back into England and your journey home.
Gospel Pass
But, we have one more small detour for you, if you like great driving roads!
In the Black Mountains at the eastern edge of the Brecon Beacons National Park is the Gospel Pass, the highest road in Wales at 549m. The pass is one of the most scenic drives in Wales with spectacular views and a few good hiking routes from the top.
Snaking along the narrow Vale of Ewyas the mostly single-track paved road rises steadily as you head north before dropping into the Wye Valley. To get to the pass, branch off the A465 five miles north of Abergavenny at Llanvihangel Crucorney.
Most of the valley is in Monmouthshire but the last few miles, including the pass itself, are in Powys. The ridge line to the east, extending south from Hay Bluff, marks the border between Wales and England.
This is not a route for the winter months or those in motorhomes or larger campervans.
RELATED POST – The 21 Best Motorhome Routes in the UK
Cardiff
The capital city of Wales, Cardiff is a unique blend of British culture, Welsh attributes, and Celtic personality.
Cardiff has a subtle charm that you learn through the independent stores, laneways of bars, medieval Cardiff Castle smack-bang in the center, and a diverse culinary scene.
There is a lot to explore here, including the Senedd Cymru (Welsh parliament) building in the lively Cardiff Bay area and nearby Barry Island, a bastion of Welsh seaside holidays and of course, the home of Gavin and Stacey!
Upmarket: Parador 44 – Booking.com | Agoda
Mid-Range: voco St. David's Cardiff, an IHG Hotel – Booking.com | Agoda
Budget: The Beverley by Innkeeper's Collection – Booking.com | Agoda
RELATED POST – One Day Cardiff Itinerary – Map, Tips & Guide
Hay-On-Wye
Hay-on-Wye is famous the world over for books and the annual Hay Festival of Literature and Arts.
Known as Hay by locals, this charming market town in Wales sits on the gently flowing river Wye in the beautiful Wye Valley and abuts the Wales-England border.
The pretty center is made up of skinny sloping lanes characterized by a shabby elegance that suits the quirky bookshops and antiques emporia that thrive here.
Mid-Range: The Kilverts Inn – Booking.com | Agoda
Budget: The Swan At Hay – Booking.com | Agoda
Wales Essentials
Here are the websites and services we personally use and recommend for traveling in the United Kingdom.
Information About Driving in Wales
Whether you're road-tripping in a car, camper, or motorbike, make sure you've got all your documents handy and your spare tire is in good condition. If your Wales road trip itinerary is longer than a few weeks, you may want to consider a vehicle service before you go, and breakdown cover is probably a good idea.
Drivers from non-EU countries may require an International Driving Permit. The general rule is that if your license is not in English, then an IDP will be required. Check with your hire company or embassy if you're in doubt.
You must have at least 3rd party insurance for your vehicle.
Your car must be considered roadworthy in the country in which it is registered.
Your headlights must be adapted for driving on the left if your vehicle is registered outside the UK.
Unlike France, the UK does not have laws that require you to carry certain equipment in your car, but that doesn't mean that you shouldn't. Being prepared in the event of an accident or a breakdown is invaluable. Ideally, you should carry a reflective jacket, a warning triangle, a first-aid kit, and a fire extinguisher.
If you're hiring a car, book well in advance and use a car hire booker like Rentalcars.com who will provide the best deals from all the top car hire companies. How? Because they have such a large market share, they've got way more buying power than individuals and can negotiate much harder on price.
Understand insurance options, mileage limits, and fuel policies before booking.
Check the car for damage on collection and make sure anything you spot is noted, and the same again when you drop it off.
Remember to drive on the left during your trip to Wales!
RELATED POST: Driving in Europe – Everything You Need to Know
Are you looking for more road trip itineraries? Check out these top posts…
One of the best ways to explore the beautiful country of Croatia is by taking a road trip, where you can drive along winding coastal roads, visit charming towns and villages, and discover off-the-beaten-path hidden gems. In this Croatia road trip guide, we'll share some of our favorite road trip routes and destinations in Croatia, along with tips for planning your own adventure on the open road. Get ready for an unforgettable journey through one…
Love it? Pin it!