This post may contain affiliate links, from which we earn an income.
Motorhome Washing Machines & Laundry – What Are the Options?
Motorhome life in the road means freedom to go where you choose, when you choose. But, the daily chores still need doing and if you spend more than a week or so in your motorhome, you'll need to manage the laundry.
There are a surprising number of options when it comes to how you manage your motorhome laundry, depending on how much space you have, how much you like doing laundry 😉 and how much you want to spend.
Hand Washing
The good old-fashioned choice, hand-washing can be done pretty much anywhere – all you need is a sink, bowl or bucket and a bit of hand-wash detergent.
Hand-washing is ideal for smalls and underwear, things that just need a freshen up and technical clothes made from quick-drying fabrics that don't need to be wrung out too much.
If you're in a hot country, chances are your washing will dry quickly, within a few hours, so this is also a good option if you're wild camping and either need to hang your washing in the shower (check out this great hack which will help with that) or only have it out for a short time.
Most campsites will have specific clothes washing sinks, often around the same place as the washing up sinks. You can tell which they are because the clothes washing sinks are deep and they have a scrubbing board to the side.
Many sites will also provide communal clothes lines near by for you to hang out your washing. Some sites don't allow washing lines on their pitches, make sure to check before you string one up.
We once got told off – yep, it was definitely a telling off – on a well known UK site for hanging our washing out!
Portable Clothes Washer
There are a few portable washer systems around which make doing small amounts of laundry a bit easier.
The basic principle is that you place the clothes in a bag which has an internal scrubbing board, allowing the clothes to be washed without you needing to get your hands wet and suffer the effects of washing detergent.
The best known and most popular of these is the Scrubba Wash Bag. The bag weighs just 145g and folds up really small. It has a flexible internal scrubber and twist valve, meaning you can wring the clothes when they're still in the bag. The bag can also be used as a dry bag when not in use as a wash bag, making it a perfect dual-use motorhome gadget.
You could use a regular dry bag or even a regular plastic bag, but having used a Scrubba when we toured on a motorbike, I don't think you'd get the same effects and you certainly wouldn't be able to wring the clothes out effectively.
The brand also makes a Scrubba Stealth Pack, which is designed like a rucksack and can double up as a portable shower – keeping you, and your undies clean!
Portable Washing Machines
If you're spending more than a few weeks in a motorhome or caravan, then it's worth considering a compact portable washing machine.
Camper washing machines come in all shapes and sizes, from mini twin tubs to collapsible buckets with a USB driven ultrasonic turbo washers and full-on twin tubs which can take a full load of washing.
There isn't such a thing as a 12v washing machine, but many of the portable 230v washing machines use between 250-300W (about a third of the usage of a kettle) so could be run using an inverter from solar power if you want to do your washing when you're wild camping.
Of course, if you're in an RV and space is not an issue, then a full-sized stacked washer dryer combo would be a luxury most of us can only dream of!
Using a Twin Tub Washing Machine
We currently use a twin tub style portable washing machine spin dryer as we have a large garage with space. Although we prefer to wild camp, every couple of weeks we'll check into a site to make the most of the EHU (a machine like this will drain your leisure batteries) and water and get the washing done.
It's always a full day, but we generally have a lot of fun and meet loads of new people who are curious about the small washing machine in our garage, and stop for a chat.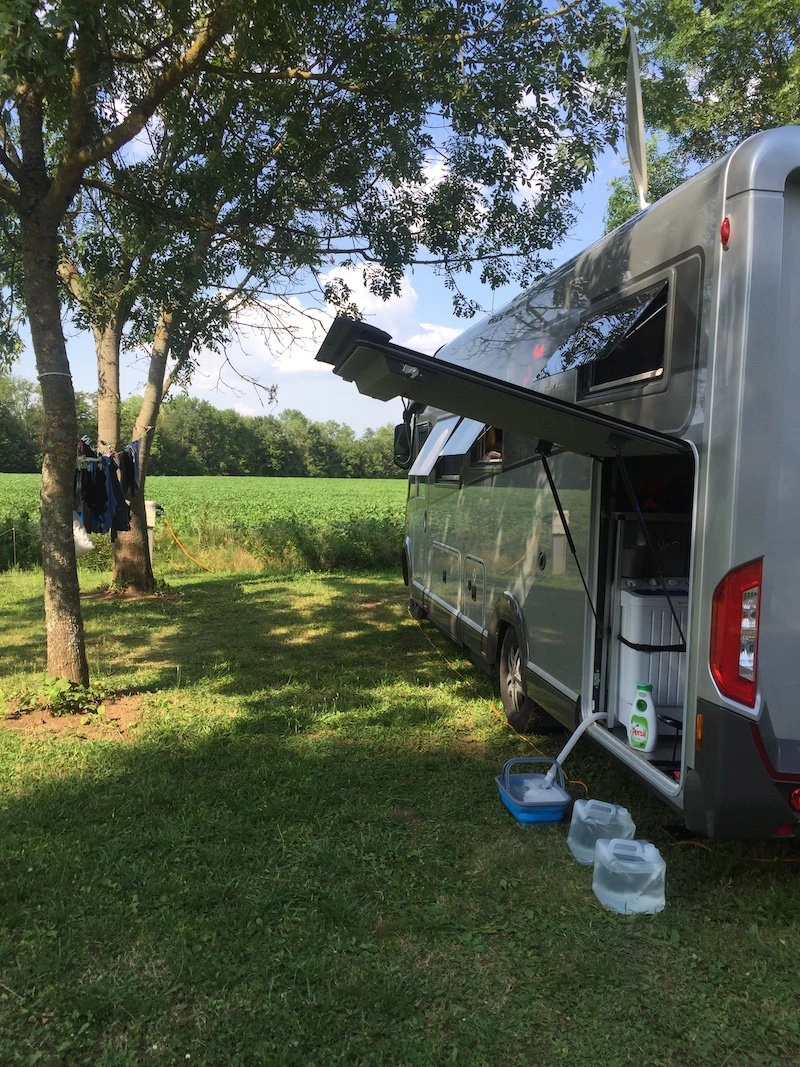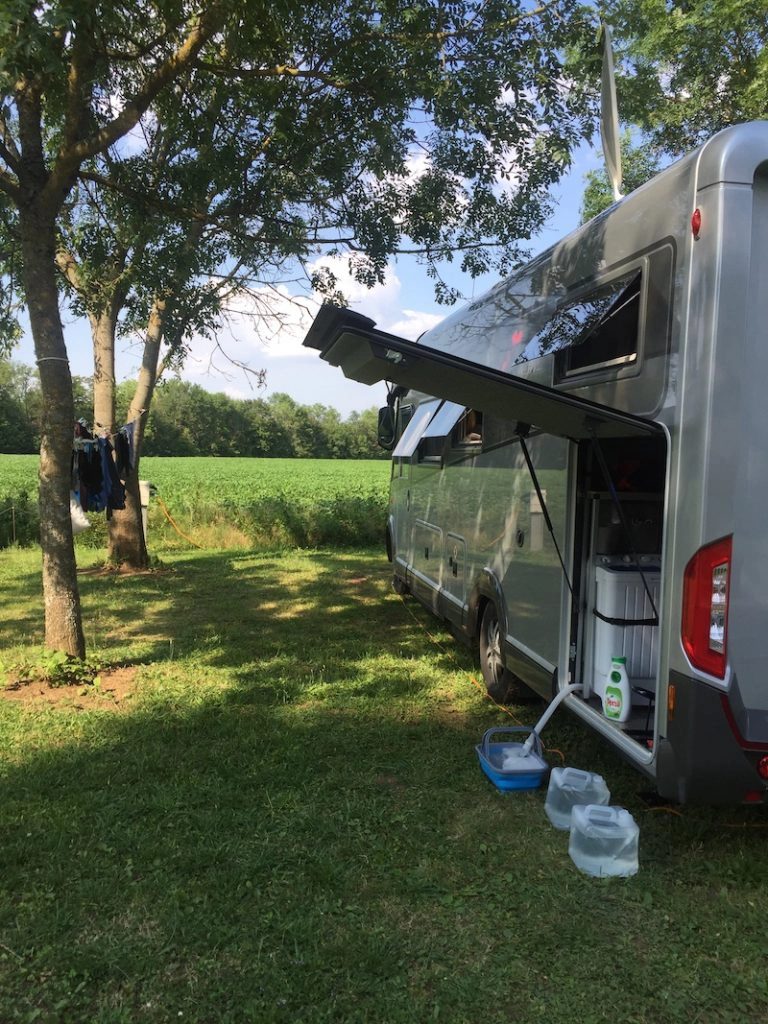 Sadly, it's not like a regular washing machine at home! The first round involves filling the washer with water (we generally use cold and find it sufficient, but you could heat up a couple of buckets of water in the sun), adding the detergent and then running a cycle for 12-15 minutes.
We found that to fill just above half way takes around 20 litres of water, which will manage a full capacity 4.6kg wash. This means fetching the water, or using what's in your tank, so ideally you need to be on a pitch with water close by.
The drain pipe is then unhooked and the dirty water drained (this bit can take a while if you're on a pitch without drainage). The clothes are removed and then the washer is filled again with clean water for the rinse, which takes around 4-6 minutes.
Drain again, then the clothes go into the spinner for a two minute spin cycle before everything is hung out. We can do two towels, a single set of motorhome bedding, or quite a good load of clothes each time. If you do a full wash like this, you have to split it into a couple of loads to spin, as the spin capacity is less.
Unless the site owner gives permission, don't chuck your used water in the bushes! In much of Europe, we've been told this is fine as there is no food debris in the waste water and the plants benefit from a soaking. This seems to be more of an issue in the UK, so make sure to ask first.
We've used our camper washer and dryer weekly for a couple of years, and it's still going strong. We reckon we've saved well over €1000 using our own motorhome washing machine, but it is definitely more time consuming than chucking your dirty laundry into a campsite or laundrette washing machine.
DIY Washing Machines
All of the above basically involve a container, detergent and some form of movement of the water, liquid and clothes.
As well as using a twin-tub, when we travel lighter we use a plastic box with a lid (which serves as storage in the garage most of the time) as a washing machine.
The water, detergent and clothes are added and then the box is set in the shower with the lid on, whilst we drive to our next destination. You need to be a bit careful about the box moving around and make sure you have one with a lid that won't come off if you take a corner a bit too fast!
This works ok, but you still need to get your hands wet to give the clothes a little scrub if required, and to drain and wring them before hanging out.
Campsite Laundry Facilities
All campsites will have some form of laundry facilities, usually offering industrial washing machines and tumble dryers.
This is a great option if you have large loads of washing like towels and bedding, or you prefer being able to leave your washing to itself whilst you do more interesting things!
In all our years of camping and motorhoming, we have left our washing in campsite laundries and never lost an item. Sometimes, when we go back to the machine, someone has taken the washing out so they can use the machine, but this is fairly common practice.
Leave your laundry bag in front of the machine, so that anyone emptying it has somewhere to put your washing. If you take someone else's laundry out of the machine, use the container they have left or place it somewhere clean.
If you're travelling long-term, using campsite washers and dryers is an expensive option, with a wash typically costing €6 on a European campsite. Most campsites use tokens which you buy at reception.
If you're a full-timer, that's a whopping €312 a year just on washing. Add a similar cost for drying, and your laundry spend could easily equal your annual motorhome insurance or a couple of new tyres for your camper.
Laundrettes
It's a laverie in France and a lavenderia in Spain, but essentially it's a place you can go to do your washing.
Common in Europe and becoming more popular in the UK, you'll find laundromat facilities in the car parks of supermarkets and garages, where a bank of machines is placed in what looks a little like a bike shed! The machines are usually large and super-efficient, meaning you can get lots done in just one load.
You do need to hang around whilst your washing is going through the motions – there's not usually anywhere to sit, or shelter if it rains. But, if you can park nearby and stick the kettle on in the van, then this is a great option for doing your clothes washing.
You can get a large load done without having to check into a campsite and the costs (around €7-8 for a wash and around €4-5 for a dry) make this a cost effective option.
You can find this type of laundrette on Park4Night, just look out for the purple circle with the hand.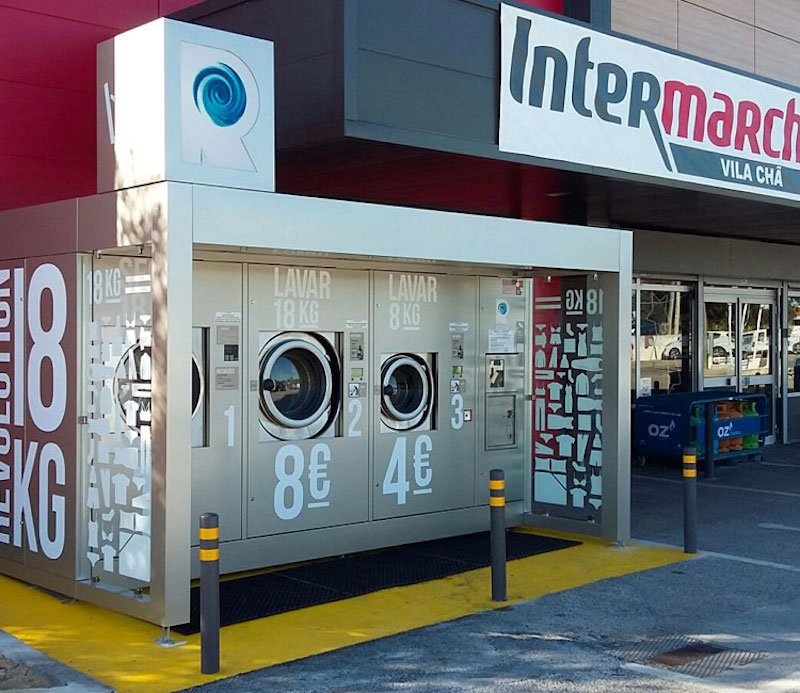 Drying Your Washing
There are lots of great products and gadgets out there to create a washing line. From a simple line strung between a couple of trees, to racks which hang from windows and specialist awning systems, there's something out there to suit your needs.
Where possible, try not to hang wet stuff in the motorhome, as this is highly likely to cause condensation. It's ok occasionally, but if you do it every day, eventually the interior fabric of your van will become damp, mouldy and maybe even start to smell.
If you do have to hang stuff inside, utilise the shower and ventilate as much as possible.
So now you know all the ways you can keep your clothes clean there's no need for turning your pants inside out or chucking them at the ceiling to see if they stick!
Happy motorhoming!
Are you looking for more motorhome tips & tricks? Check out these top posts
Being a first time motorhomer can be daunting, so we're sharing our top motorhome tips and hints for beginners so you can learn how to motorhome with confidence. This guide includes tips for new motorhome owners, practical motorhome advice and easy guides, top travel tips from years in a van and free downloadable checklists to get you motorhoming like a pro!
Love it? Pin it!