Everything You Need to Know About Motorhome Weights
After a recent shock at the weighbridge, we decided to do some research into motorhome weights, how they are calculated and what it all means.
The Police say they believe that around 75% of motorhome owners travel in their van over the maximum weight limit.
This is an astonishing figure when we should all know that as being over weight causes excessive wear on your vehicle and tyres, impacts on safe driving and can invalidate your motorhome insurance.
If you get caught, or have an accident, it can lead to points on your licence, fines and potentially a conviction for unsafe driving. Why take the risk? Read our easy motorhome weight guide and hit the road safely.
How Much Weight Can a Motorhome Carry?
The MAM is the maximum authorised mass, maximum laden weight or permissible laden mass of your motorhome and includes the weight of the motorhome, any extras you had fitted and everything you carry including people, water, fuel and supplies.
This is sometimes referred to as GVW (gross vehicle weight), MTPLM (permissible maximum weight, or even maximum technically permissible laden mass).
To understand your motorhome's MAM or maximum allowed weight check the owners handbook, vin plate (in the engine compartment) and the chassis plate (usually inside the cab door).
Just to make matters confusing, there is often more than one description for each weight category!
What is the MRO Weight of My Motorhome?
The MRO or MIRO (mass in running order) is the weight of the new motorhome as it leaves the factory with 90% full tanks of fuel and water and an average driver weight of 75kg, but before any other contents are added.
Be aware that some manufacturers change what constitutes the MRO; you need to clearly understand from your dealer what the MRO is, as quoted by the manufacturer.
You may struggle to find out this information for a used motorhome unless you have the original documentation; try checking with the manufacturer if this is the case.
How About Towing?
The GTW (gross train weight) is the maximum allowable combined MAM of your motorhome, plus the mass of the trailer and cargo in the trailer. In the example below, this means your laden trailer can weigh no more than 1,500kg.
This is a complex calculation by the manufacturer of your motorhome involving, amongst other things, the capacity of the driving axles and tyres and the ability of the chassis to withstand the load.
It is impossible to say what the average weight of a camper trailer might be; people in motorhomes tow cars, motorbikes, small camper trailers and large box trailers all of which vary in weight greatly. Your trailer should also have a weight plate showing details.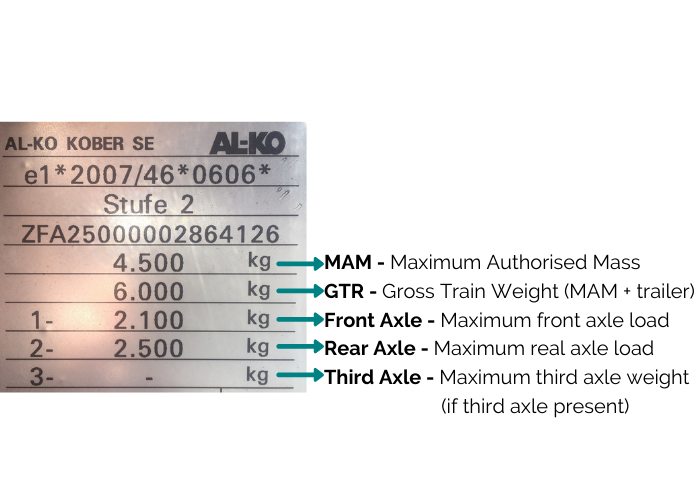 Motorhome Payload Explained
The payload is calculated by deducting the MRO from the MAM. So, a motorhome with an MAM of 3500kg and an MRO of 3000kg would have a payload of 500kg.
Information on Axle Weights
Also shown on the chassis plate are the maximum individual axle weights.  It is also important to understand these as many of us chuck the  heaviest items in the garage and add a cycle or scooter rack.  
This risks the rear axle loading being above the specific axle load weight, which can damage the chassis and cause handling and stabilisation issues; try and pack your gear evenly across the whole footprint of your motorhome. 
If you want to add a rack on the rear for bikes or a scooter, read this helpful guide to calculating axle weights.
Start your beginners journey to life on the road with exclusive checklists, free downloads, tips & more
How Much Payload Do I Need?
Let's take the popular Swift Bessacar 524 (2019) 4 berth motorhome. The MAM is 3500kg, a pretty average motorhome weight nowadays. 
The MRO is 3012kg, which includes standard equipment, the most basic engine, a standard awning as well as the driver, a gas bottle and 90% full fuel and water tanks.  
If you're interested in understanding which are the best payload motorhomes and campervans on the market (including motorhomes under 3,500kg and lightweight campers), use Facebook groups (ours is a good one!) to ask questions of owners and research MRO's and MAM's using manufacturers specifications.
Remember that all manufacturers use different specs when calculating MRO and the calculations regarding weight limits for touring caravans are very different, as they are essentially trailers and not vehicles in their own right. You can find more information here.
What does that leave us to take on our motorhome tour of Europe? 488kg of stuff to be exact, which looks like this…
The Essentials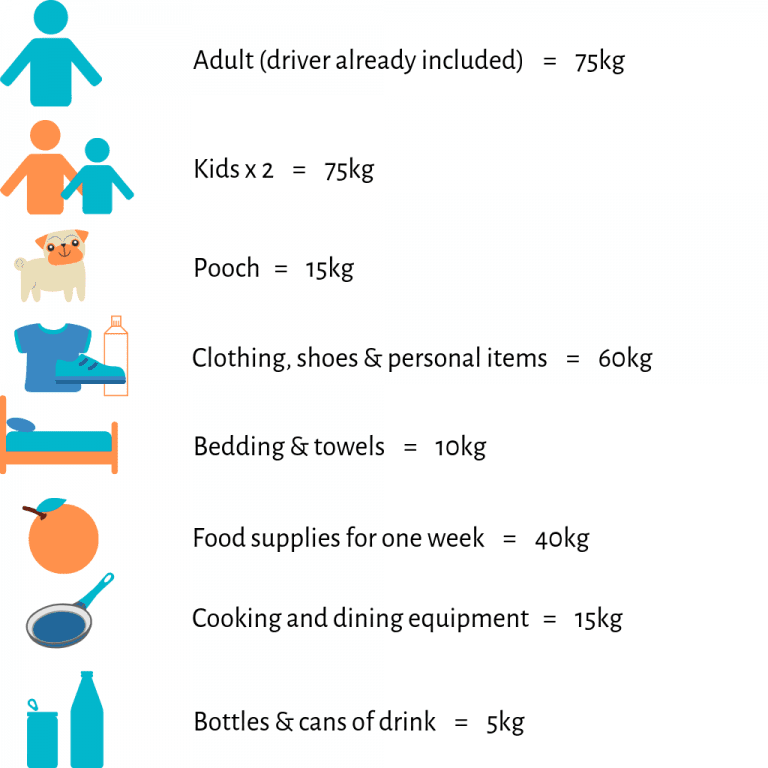 The Essentials Weight = 295kg
The Nice to Have's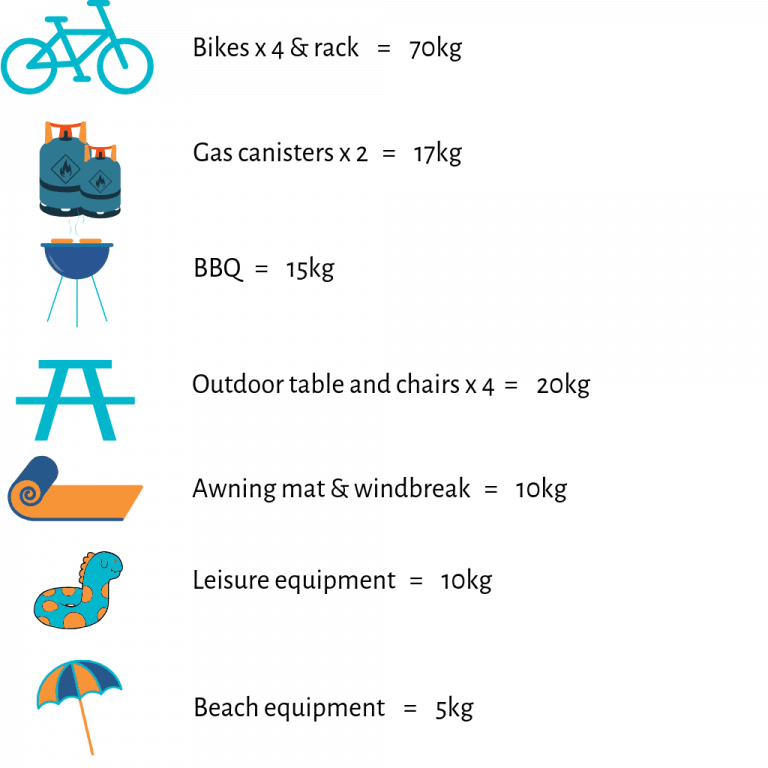 The Nice to Have's Weight = 147kg
Everything Else
Remember that this van only has an awning fitted as standard. Anything else such as air conditioning, satellite dish, spare wheel or microwave will add to the weight.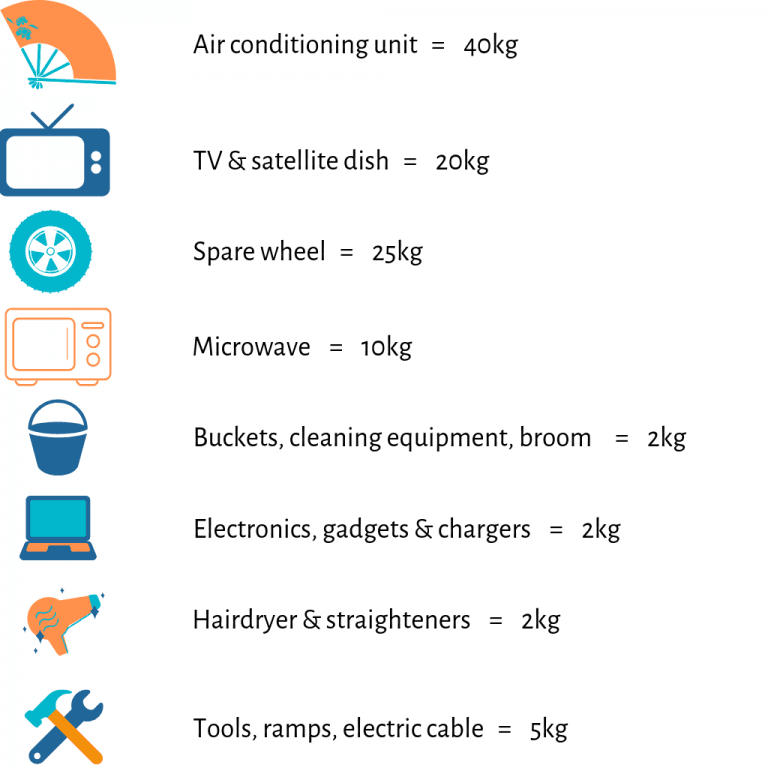 Everything Else Weight = 106kg
Total Weights
| | |
| --- | --- |
| The essentials | 295kg |
| The nice to have's | 147kg |
| Everything else | 106kg |
| Total | 548kg |
| Payload | 488kg |
| Overweight | 60kg |
Overweight?
Don't panic, here are some steps you can take to help reduce motorhome weights;
Don't load up with food and drink, buy it on arrival once you're there.
Bite the bullet and compromise; do you really need three pairs of heels and six handbags, especially if you're motorhome wild camping? Check our Essential Kit List for more guidance.
Travel with your water tank empty, filling on arrival.
Travel with your fuel tank half full and stop more often for fuel. Likewise your gas bottles.
Really think about those extras and what you need. Could you stream TV to a laptop instead of having a satellite dish fitted? How often will you use a/c if you're touring in the UK?  See our post about motorhome equipment and options here.
Consider re-plating or uprating your motorhome weight. Many 3.5 ton motorhomes are built on chassis which are able to carry more weight but are plated at 3500kg so that can be driven by anyone with a licence.  SV Tech provide this service and always receive great reviews.
To re-plate to over 3.5 ton you would need to take your Cat C Large Goods Vehicle (LGV) licence or have passed your test before 1st January 1997. This means you will have the Cat C1 entitlement on your driving licence, which allows you to drive a a vehicle between 3500kg and 7500kg.  
Where to Weigh My Motorhome?
Once you are happy that you are around the right weight, head of to your nearest public weighbridge and check (there may be a charge).
You can weigh the whole vehicle as well as just the front and rear axles if you want to be sure your gear is evenly distributed throughout and your motorhome weights are within the specified limits.
The weighbridge staff will give you a copy of the documentation and details of your motorhome weight before you leave. Good luck and enjoy your first motorhome trip!
Are you looking for more useful motorhome resources? Check out these top posts…
Deciding what to take on your motorhome road trip is hard; it can make or break a holiday. This essential motorhome packing list has all of the top things you need for a motorhome along with a packing list for you to print. Go on, get packing!  
Love it? Pin it!