Deciding what to take on your motorhome or campervan road trip is hard; it can make or break a holiday. This essential motorhome accessories list has all of the motorhome must haves, along with a handy motorhome packing list for you to print. Go on, get packing!
There are affiliate links in this post.  This means if you click on a link and make a purchase, we will, at no cost to you, earn a fee.
If this is your first motorhome trip, remember that you will have a weight which you campervan cannot exceed when packed. You can find out about this in our easy guide to motorhome weights, along with tips on how to pack a motorhome. 
If you're looking for motorhome equipment that's fitted to your van, check out this post for lots of information. For lots more motorhome tips for beginners, head here.
All the items in this post can be purchased from our Amazon accessory shop by clicking the link, often with next day delivery.  
Clothes including cold weather gear if you're away all year
Specialist clothes such as hiking or running gear if you're so inclined!
Shoes – we live in flip-flops and trainers but you may also need hiking boots and a water-sport shoe.
Personal toiletries including toothbrush. It is possible to have an electric toothbrush and charge through the inverter if you have one when you're not hooked up.
Towels – one for showering and another for swimming, microfibre if possible for quick drying.
Bedding – pillows, duvet and sheets.  You may need specialist sheets to fit your motorhome beds or try Duvalay  they are highly rated or you may prefer a sleeping bags.
Undies and swimmers – van essentials!
Little things you can't live without – we all have them!
First Aid Kit – you have to carry by law in your camper van but they are designed to manage RTA trauma. You also need painkillers, plasters, antiseptic cream and wipes, antihistamines, Diaralyte, Deet  suncream etc as well as any regular medication you take. Think about what you might need depending on where you're travelling to.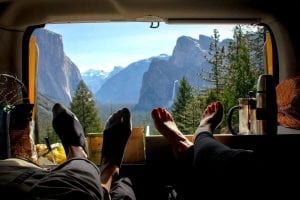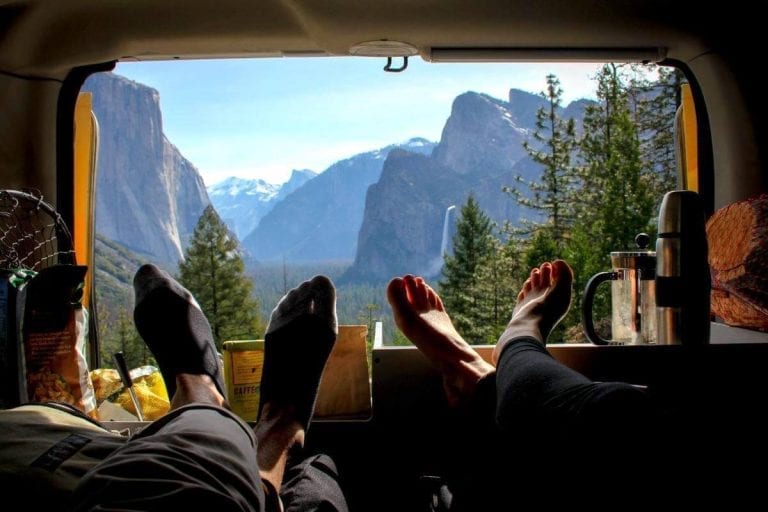 If you love motorhoming then you'll know that having the right kit makes all the difference. Check out our pick of the best and most useful motorhome gadgets tried and tested by us over 18 months of full-time motorhome life.
Read More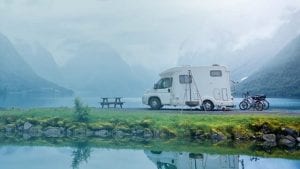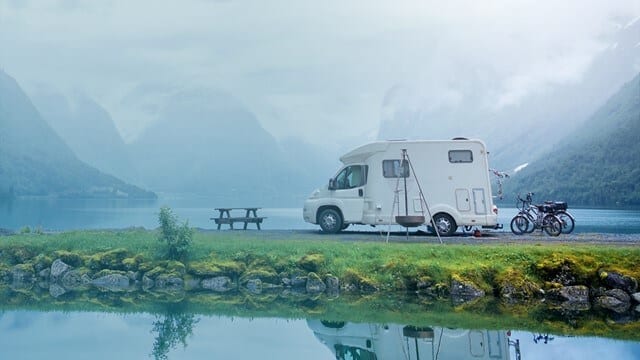 The motorhome equipment & options available to you when you buy a new or second-hand motorhome can be bewildering.  Just like choosing your motorhome, what equipment you need/choose will be determined by how you're going to use your motorhome.  Full-timers will probably want heating and a full bathroom set-up…if you're spending 2 – 4 weeks a year on holiday, you may want to spend the money on something else!
Read More
10L bucket for disposing of waste water, carrying washing up (some people use a large bags for life), and general cleaning jobs.  You can buy collapsible buckets like this one below.
Cleaning products and chemicals for your van, both inside and out.
Broom/Dustpan & Brush – a telescopic or foldable one combined with a pan is great and easier to store.
Clothes line – we have a variety for every situation. Lines with ratchets are great as you can tighten them, we also have a small elasticated one with hooks which works well on bushes and is just large enough for towel and swimmers.
Pegs and peg bag.
Portable washing machine – the best bit of kit in our view; saves a fortune, gives us purpose and everyone stops for a chat when you're doing the washing!  We have the one pictured below, but there are many smaller ones if space is an issue. Ideal if you're living in a motorhome, but maybe not an essential for two week holiday!
Tools – a selection of screwdrivers, spanners and pliers, a socket set, hammer plus a variety of fixings. Although if space is tight, you can of course buy anything you need wherever you travel to.
Tent pegs and mallet for your groundsheet, carpet and awning straps.
Levelling blocks or chocks, unless you are lucky enough to have air suspension and levellers.
Awning straps – never underestimate the power of the wind on awnings, especially if you are wild camping on cliff tops (ideally take it down if its that bad)!
Sign up for our six day beginners email series where we share all of our top tips to get you started!
Water carriers – one or two 10 litre carrier is ideal. Make sure that the fitting works with your tank opening and you can actually get the water in. This jerry can with a spout does a good job. Some people take a watering can!
Hose pipe and fittings – 20m should be enough, you can buy the fittings as you go, we have amassed a collection of four different screw on ones.  We use a flat food grade hose like the one in the photo, which uses minimal space but takes an age to fill our tank regardless of pressure. Most places will have hose, but we prefer to use our own, you never know where the provided one has been!
Waste hose – some motorhomes will take a hose fitted to the waste outlet, which is great if you're on a fully serviced pitch.  The outlet in every motorhome we've had has been different, so this probably requires a visit to your DIY shop to find the right parts.
Electrical cable and blue fittings – we suggest having a 25m cable, on some sites you can be a way from the nearest point.  You will also need a European 2 pin to main site socket plug (or sites where there is no mains three pin site socket), the one is the photo is ideal.
Carpet or Groundsheet, we use this Kampa woven plastic one shown below.
Doormat – to use if you're not putting out your carpet / groundsheet and don't want to track in mud/sand/dust/rain/snow etc!
Sterilising tablets – lots of brands on the market, some better than others, we recommend these.
Fresh water tank cleaner – we use this one. See our easy guide to motorhome toilets, waste and water to understand how to clean your tanks.
Toilet chemicals, if you use them.  
Disposable gloves and disinfectant for emptying and cleaning your loo – we also know someone who has a special pair of shorts just for toilet duties!
A selection of bungees and straps…I'm not sure why but Phil says they are required and I'm sure one day he'll prove me right.
Hand-held vacuum – not an essential but high on our campervan packing list!
Spare vehicle fuses and bulbs.
Spares of vehicle fuses and bulbs.
Sugru – this is amazing stuff, mouldable glue which turns into rubber and one of the best campervan accessories when something breaks!
Chairs and table – get the best you can afford if you're going to be spending a lot of time using them. Tables made of melamine are generally flimsy and we spent ages testing them out before we settled on this bamboo one from Outwell, shown below.  It's a bit heaver than we wanted but is still going strong after two years of full-timing and comes with a storage bag.
Awning lights or candle.
Windbreak – maybe not essential but lots of people use them for privacy. We like this Kampa Dometic one for it's sturdiness.
Privacy rooms – these effectively create walls for your awning and as well as privacy they provide extra dry space if you're remaining static for a few weeks.  They are heavy and bulky though, so make sure you have enough capacity before purchasing.
Kettle – the number one item on our essential motorhome kit list!  We use a stove top but 12v kettles are available, if you are intending to be mainly on site. You could use a pan if storage is an issue.  We also have a teapot, but this is probably an indulgence.
Saucepans – we use these motorhome cooking essentials, they have a removable handle and one size fits all lid, so they stack really well.
Cadac – our main method of cooking, this is stored in a side bin and used most days. There are lots of alternative methods of cooking including portable grills and all in one pots and devices which you can find our more about in Motorhome & Campervan Cooking Tips, Tricks and Equipment.
Washing up bowl – a collapsible one is ideal if you need to store when travelling.
Cutlery – because we wash up after each meal and do not dump the dirties in a dishwasher, we really only need two sets, but have four just in case we have visitors.
Tableware – as above really. We use recycled bamboo, which is really pretty. We do use cheap ceramic mugs from Ikea though, I can't drink my tea out of recycled bamboo!
Glasses – we use these stylish metal ones for everything, they are perfect for van life.
Knives and cooking utensils and gadgets – I think we all have preferred utensils and gadgets, we have nothing special, just what we would use at home.  The corkscrew is at the top of our campervan essentials list!
Flask – a must if you hike and like a sandwich with a cup of tea for lunch!
Go-Pro 7 – for recording all your adventures.  Read this informative review for everything you need to know.
DJI Mavic Air Drone – in our opinion, the best drone. See a review and all the details here.  If you don't want to spend this much, why not check out the best drones for under £300?
Camera – we're trying to get away fro using iPhones and love this Canon entry level camera which is easy to use and well put together. It also gets great reviews on Amazon.
TV stick or AV adaptor – if you don't want to use satellite tv.  Find out more about how to get tv in your motorhome here.
Remember that you may need extra motorhome insurance if you carry lots of gadgets on your road trips, which may not be covered on your home or vehicle insurance. If you do carry a lot of gadgets you might want to consider solar panels in your
motorhome electrical set-up.
Subscribe now to get regular tips & info about exciting new motorhome & campervan gadgets & accessories direct to your inbox
We have a Sevylor Colorado inflatable kayak which we use a lot in the summer.  Read our review of this fun and versatile kayak here and get tips if your a first time kayaker.  
We also have two Bluefin SUP boards which are very stable and easy to use but quite bulky. For alternatives, check out other quality and affordable paddle boards on the market.
Thule G2 Elite bike carrier – we looked at a lot of bike racks before settling on this, the most popular with motorhomers on the market. Read more about bicycles and motorhomes here.
Burley Flat Bed bike trailer – we take this everywhere; with the kayak, kite surfing gear and even inflated SUP's, what an awesome bit of kit and deserving of its place on our van life essentials list.
Thule bike cover – we use this one, it fits really well but we have found that all covers deteriorate within a year if used constantly.
Fiamma bike signage – this is a legal requirement for your bike rack in most EU countries.  This one fits into the pocket on the Thule bike  cover and is plastic; technically you need a metal one for Italy but we have spent months there using a plastic one.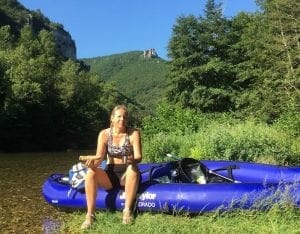 Beginners Inflatable Kayaking Guide
If you like a bit of adventure and love being on the water, then an inflatable kayak is for you.  If you're an inflatable kayak beginner you'll find advice on the best inflatable kayak, tips on planning your inflatable kayak paddle safely and how to manage the logistics of using an inflatable kayak.  
Read More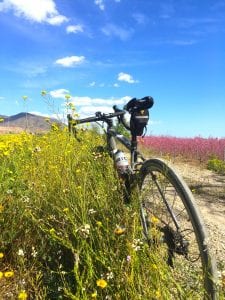 The Best Bike for Your Motorhome
If you're heading off on a motorhome tour, you may want another means of transport to get about once you're pitched up.   What is the best bike for your motorhome and needs?  Find out all the information you need to choose the best bike for your motorhome here.
Read More
Get Road Legal in Your Motorhome Kit
First Aid Kit – required to be carried in vehicles by law in all European countries
GB sticker on your van / EU number plates (currently required when you're heading off to tour Europe)
Head-light adaptors
Fire Extinguisher
CO2 Alarm
Smoke / heat alarm
Warning triangle
Yellow Vests
Breathalyser – required in France
Torch
Pepper Spray – bought in Germany, we carry two small cans
Safe – we have a campervan safe fitted, there are places in all vans where you can fit one, ideally on an inner wall.
Felt storage boxes are perfect for motorhomes, they don't rattle or scratch and can be lifted from high cupboards easily.
We carry a small selection of stationery which gets used all the time!
Command Tape –  this is awesome stuff and will not mark the interior of your van, great for hooks, pics and so on.
Maps and guide books (if you can spare the weight)
Games and cards – UNO is a must!! Check out these other games like Uno for a bit of variety.
Picnic blanket, sun shade and cool bag for those days at the beach.
Sewing kit – this one is the perfect size for motorhome travel.
Chargers and cables for phones and devices…a mutli-way charging plug is ideal as typically, motorhomes do not have many plug sockets.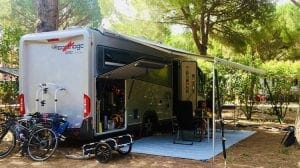 Going on your first motorhome or campervan trip with your brand new shiny van is a bit of a rite of passage. A shake out is a great idea to make sure things work, get to know your van and understand what kit you need to enjoy the motorhome lifestyle.
Read More
LOOKING FOR MORE MOTORHOME ACCESSORIES? CHECK OUT THESE TOP POSTS