This post may contain affiliate links, from which we earn an income.
Wales Campervan & Motorhome Travel – All You Need to Know
Small but beautifully formed, the lush and green country of Wales is a campervanners dream. With dramatic mountains and valleys, vast beaches and fabulous national parks, head to Wales for an adventurous and active motorhome road trip.
In this guide, you'll find lots of practical and helpful information about getting around Wales in a motorhome, and how to manage campervan and motorhome life there.
From tips about driving, where to stay overnight and wild camping, to motorhome services and a round-up of the best motorhome destinations, you'll find all the information you need for an amazing road trip in Wales.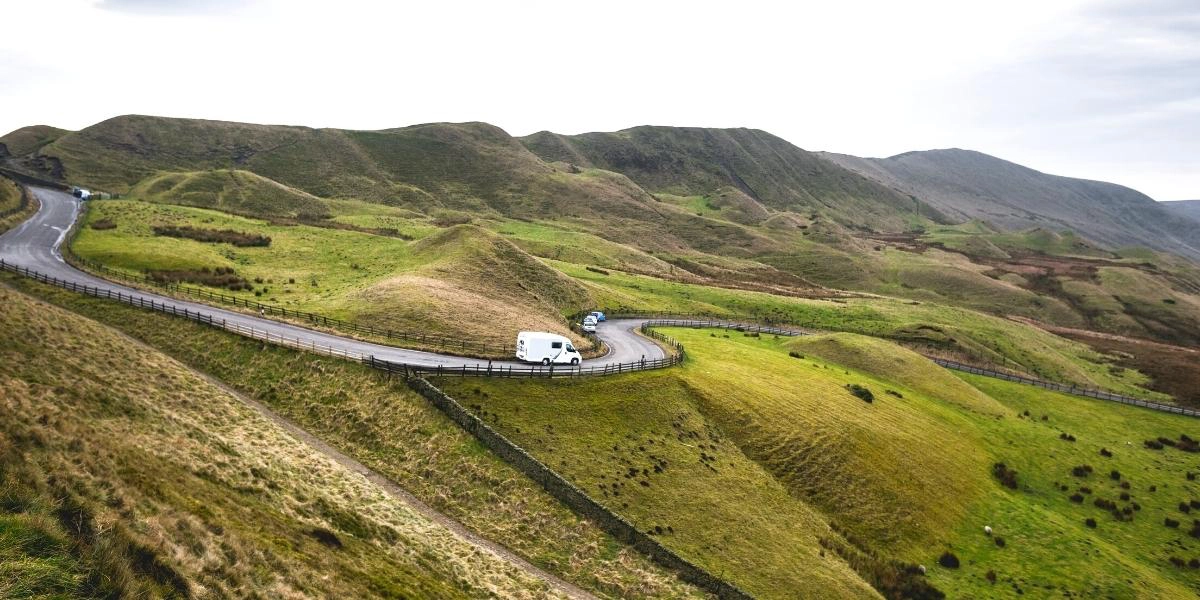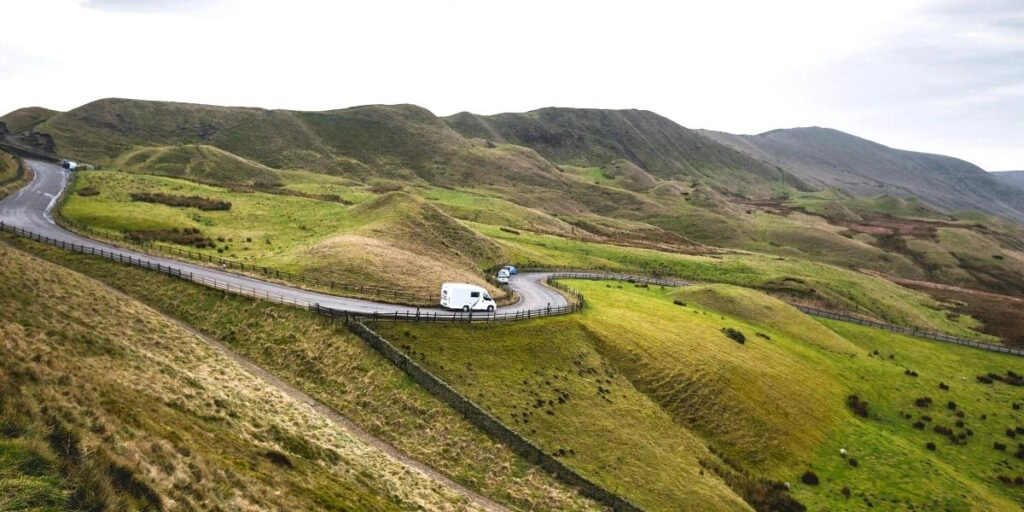 Motorhome Routes to Wales
Driving to Wales
To the west of England, Wales is easily accessible from much of the United Kingdom.
If your start point is the north of Wales, take the M56 which will take you almost to the border west of Chester. From here Snowdonia, Anglesey and the north Wales coast are within easy reach.
From Birmingham and the Midlands, use the M54 and A5 to pick up roads into beautiful central Wales.
To the south, the M50 will deliver you into the gorgeous Wye Valley on the Welsh borders, and the M4 and M48 will take you over the Prince of Wales and Severn bridges respectively.
England – Wales Border
There is no border between Wales and England – both countries are part of the United Kingdom and people move freely between them.
You don't need a passport to travel from England into Wales or vice versa, but visitors from overseas will want to carry the passport they used to enter the United Kingdom.
Is this your first time visiting the UK? Get all the information you need in our United Kingdom Travel Guide, including what to pack, the best time of year to go, getting there and practical tips to help you have the best trip!
Ferries to Wales from Ireland
Dublin to Holyhead
The route from Dublin to Holyhead at the northern tip of Anglesey is provided by both Irish Ferries and Stena Line, offering seven crossings a day between them.
This is a quick crossing of just three and a half hours, and a great option if you live on the island of Ireland and are heading to north Wales.
Rosslare to Pembroke & Fishguard
Irish Ferries sails to Pembroke in the south of Wales from Rosslare in the Republic of Ireland twice a day. Stena Line also offers a twice daily service to Fishguard from Rosslare, a bit further north along the Welsh coast.
From Rosslare the crossing takes five hours. If you're heading to Fishguard, you'll arrive in four hours and fifteen minutes. These are the best ferries if you're starting your motorhome trip in south Wales.
Motorhome & Campervan Hire in Wales
Flying and hiring a motorhome or campervan is a great way to tour Wales if you don't own one.
Our recommended Wales motorhome and campervan rental company is Motorhome Republic, who offer a large range of motorhomes and a convenient pickup location at Birmingham Airport, making round trips and one-way drop off from Wales really easy.
If you're planning to drive from England as part of a longer motorhome road trip, our recommended campervan hire company is Spaceship Rentals, who have a pick-up location close to London Heathrow Airport, perfect for those wanting a fly drive motorhome holiday.
Expect to pay around £100 per night for a fully equipped family motorhome and £70 plus a night for a campervan, with unlimited mileage and breakdown cover included.
Remember to bring the right plugs and chargers for your hired motorhome. The UK uses 230v with 50Hz frequency, and sockets use type G three pin plugs.
When to Visit Wales in a Motorhome
Winter
The winter months in Wales are typically cold and wet. It may well be cloudy in mountainous areas with poor visibility for driving. Although there won't be many other motorhomers and the roads and campsites will be quiet, this would be our least favourite time to take a campervan road trip in Wales!
Spring
Late spring, from May onwards, is a wonderful time for visiting Wales, as the cold and wet retreats, making way for warmer weather. Remember though that Wales is lush and green because it rains a lot, so always be prepared for drizzly days and showers.
Summer
Summer brings sunshine and warmth, with Pembrokeshire getting the best of the Gulf Stream weather. This is the perfect time to campervan travel around Wales, especially if you enjoy outdoor adventures such as hiking, coasteering and being on the water.
Autumn
Autumn is a fabulous time for a Wales road trip. The coasts will be warm but quieter and the glorious colours of fall bring the countryside alive. Don't leave it too late though, it will be wet and cold again by mid-October.
Are you planning a motorhome trip to Wales?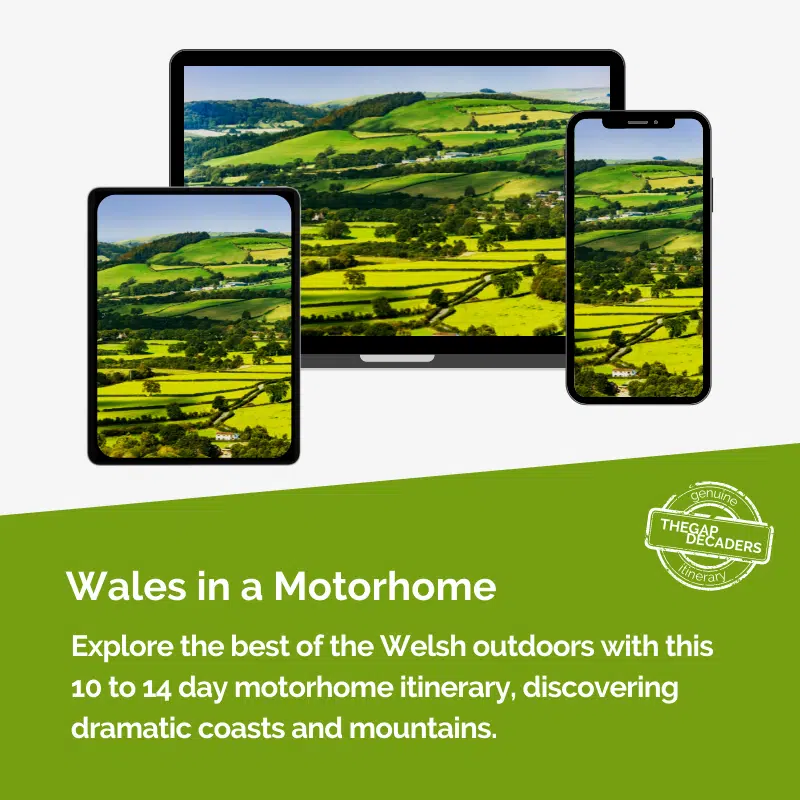 Grab our flexible 10-14 day Wales motorhome itinerary, packed with campsites, attractions, adventures and insider tips.
Get up every morning knowing your day is planned with driving routes, campsites, attractions and activities marked out for you on your interactive map.
Make the most of your holiday and let us do the planning for you!
---
Driving a Motorhome in Wales
Welsh roads vary from busy A roads and a tiny smattering of motorways, to narrow and remote mountain passes, which can be challenging for inexperienced motorhome drivers in larger vans. Follow the rules and our top tips for staying safe on the road.
Welsh Speed Limits for Motorhomes
Always observe the speed limited when travelling in Wales. In July the Senedd (Welsh Government) backed proposals for a 20mph default speed limit in residential areas, which the will be in force by April 2023.
Motorhomes & campervans < 3,050 kg
Built-up areas – 30 mph
Outside built-up areas & single carriageways – 60 mph
Dual carriageways- 70 mph
Motorway speed limits – 70 mph
Motorhomes & campervans > 3,050 kg
Built-up areas – 30 mph
Outside built-up areas & single carriageways – 50 mph
Dual carriageways- 60 mph
Motorway speed limits – 70 mph
Speed limits for vehicles towing a caravan or trailer
Built-up areas – 30 mph
Outside built-up areas & single carriageways – 50 mph
Dual carriageways- 60 mph
Motorway speed limits – 60 mph
Documents You Need to Travel & Drive in Wales
Your passport must be valid for the whole of your stay in the United Kingdom.
You may need a visa to enter the UK, depending on your nationality.
You must have at least 3rd party insurance for your motorhome or campervan. A green card is not required.
A European licence allows you to drive a motorhome up to 3,500kg in the United Kingdom. You may need a special licence to drive larger motorhomes – you can find out more here. Visitors from other countries may also need an International Driving Permit.
Breakdown cover documentation (not compulsory).
Vehicle registration documents (which must show your correct address).
Personal travel and medical insurance (we recommend True Traveller if you're travelling from the EU, and World Nomads for those travelling from the United States) and an EHIC if you're an EU citizen.
Vehicle Safety Equipment for Wales
Like the rest of the United Kingdom, it is not compulsory to carry any vehicle equipment in Wales, but this is what we think you need as a minimum;
Warning triangle.
Reflective jacket for driver and passengers.
Spare wheel and the tools to change a wheel, or a tyre repair kit.
First aid kit.
Spare bulbs and fuses.
Fire extinguisher.
UK Motorhome Travel Ideas
Tips for Motorhome Driving in Wales
Wales, like the rest of the United Kingdom, drives on the left.
There are some Welsh roads where the height of a bridge or the width of a road may restrict large motorhome access. Make sure you look out for and obey the road signs, and take an alternative route if necessary. For long journeys it is worth researching any restrictions beforehand or using a motorhome sat nav.
There may be no passing places on some roads so you need to be comfortable reversing you vehicle safely, as you may be required to do this on single track roads.
When driving in the Welsh countryside, expect to encounter slow moving traffic and animals like cows and sheep as they are herded along roads. There's no need to rush anywhere – just as well really!
Your headlights must be adapted for driving on the left if your vehicle is registered outside the UK.
It is illegal to use a hand-held mobile phone while driving in the UK. You must also have proper control while using hands-free.
There can be heavy penalties for those found to be above the legal blood/alcohol limit when driving. The legal limit is 50mg of alcohol in 100ml of blood.
There are no toll roads or toll bridges in Wales and no vignettes are required to use the roads here. The Severn Bridge and Prince of Wales Bridge had their tolls scrapped in 2018.
There are no low emissions zones or clean air zones in Wales, despite Cardiff having the worst pollution in the country, with NOx levels exceeding legal limits in some areas of the city.
Motorhome Parking in Wales
Parking a motorhome in Wales is no different from parking a car, other than the size issue. Follow our top tips to park legally in Wales when you're stopping nipping to the shop, stopping off for a coffee, or visiting a local attraction.
Always try and park in a designated parking bay, either in a car park or at the side of the road.
Some parking spaces will be free, while others will need to be paid for and some might have restrictions for what type of vehicle can park there or time limits – make sure to follow any signage.
A double yellow line – either painted on the road or on the kerb – means parking and waiting are not permitted at any time. In some cases, there might be seasonal restrictions, which will be indicated by signs at the roadside.
A single yellow line – either painted on the road or on the kerb – means no waiting, parking, loading or unloading at the times shown on the accompanying sign. The restrictions tend to be lifted during evenings and weekends, but check the sign before parking.
Some car-parks have height restrictions or signage forbidding parking by motorhomes and campervans. Use Park4Night to find suitable parking and abide by signage at all times.
When parking in rural areas, it is important not to cause any damage or create an obstruction;

don't block entrances to fields or buildings.
don't make it difficult for other people to use a road or track.
have regard for the safety of others.
Fuel in Wales
Fuel prices in Wales are similar to the rest of the UK. There are plenty of fuel stations in Wales, with the highest concentration along the coasts.
Motorhome & Campervan Service Points in Wales
There are not many motorhome service points without parking or overnight camping in Wales. Where these places do exist, they are almost all along the coasts. Use an app like Park4Night to identify aires with services, or stay in a campsite every few nights.
Many campsites will also let you dispose of grey waste, empty your toilet cassette and fill up with fresh water if you pay a small fee.
LPG & Bottled Gas
There are currently around 45 fuel stations in Wales where you can fill up a Gasit or Gaslow system with LPG (Autogas) from the pump. Plan in advance and use the myLPG app to identify one close to you, and check on the prices.
Calor Gas is Wales' largest supplier of bottled butane and propane gas. UK gas bottles are not interchangeable with European bottles, so you'll require a UK regulator if you're coming from overseas.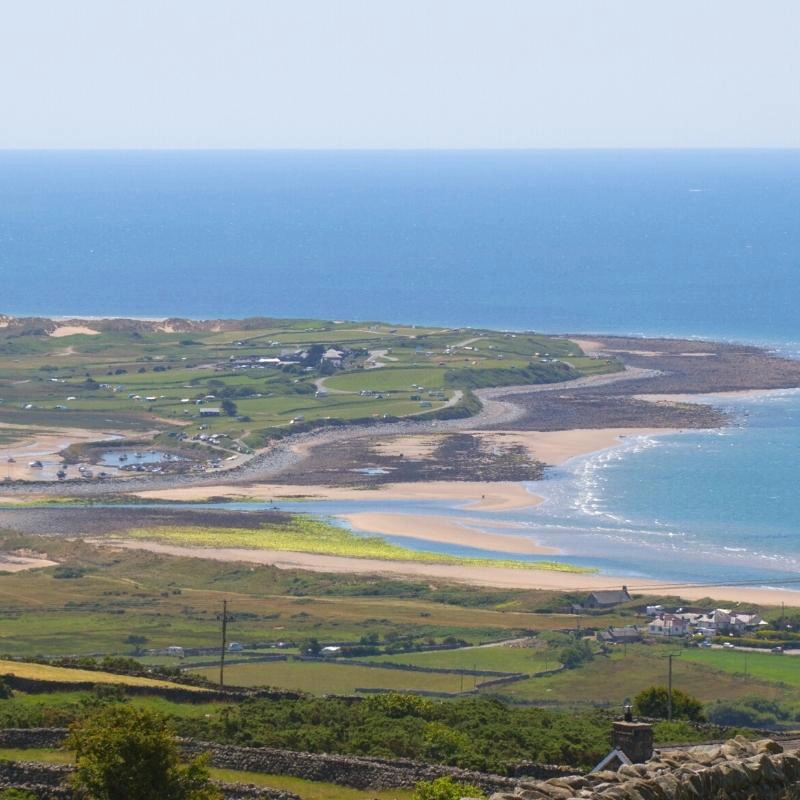 Can I use my mobile data away from home?
You can, but some people prefer to have a different internet device for thier motorhome. This works if you don't tend to use your mobile phone much for browsing the internet or streaming TV, unless you're away in your van. You might find you don't have enough data to manage like you do with your home broadband.
We have been using and recommend ConnectPlus for cloud sim connectivity in the UK and Europe. You can choose from unlimited data packs to just single days, depending on your needs. The device is no larger than a slimline smart phone, connects with up to ten devices, is charged easily with a USB and can be delivered within a few days of ordering. Use the code 'thegapdecaders' at checkout to get 50% off in the first month!

Motorhome & Campervan Overnight Stops in Wales
Aires in Wales
If you're used to motorhoming in France, Spain or Germany, motorhome aires are a common part of life.
In Wales, there are around 25 motorhome aires, with purpose-built motorhome services. Costs, including services, average around £15 a night.
Wild Camping in Wales
The regulations for motorhome wild camping in Wales are the same as for wild camping in the UK and Scotland, but wild camping in a campervan or motorhome in Wales is much less tolerated.
Since the pandemic, we've been contacted by readers who tell us that free campervan parking in Wales has become even harder due to local feelings around the large influx of motorhomes and campervans into what is essentially a very small country.
Wild camping, whether it's in a tent or a campervan, is prohibited in Wales unless you have the landowner's permission. Some landowners are happy to accommodate wild campers but you MUST ask first and then follow all our motorhome wild camping tips to wild camp safely without compromising the environment.
Overnight stays in any vehicle in Snowdonia National Park, Pembrokeshire Coast National Park and Brecon Beacons National Park car parks is not permitted and penalty charge notices are becoming more common. The National Park authorities are encouraging people to make use of Wales' large selection of designated campsites.
Use Park4Night or another similar campervan parking app to find the best wild camping spots in Wales. Also consider using the alternatives we have listed below to help Wales remain a gorgeous and tranquil motorhome destination.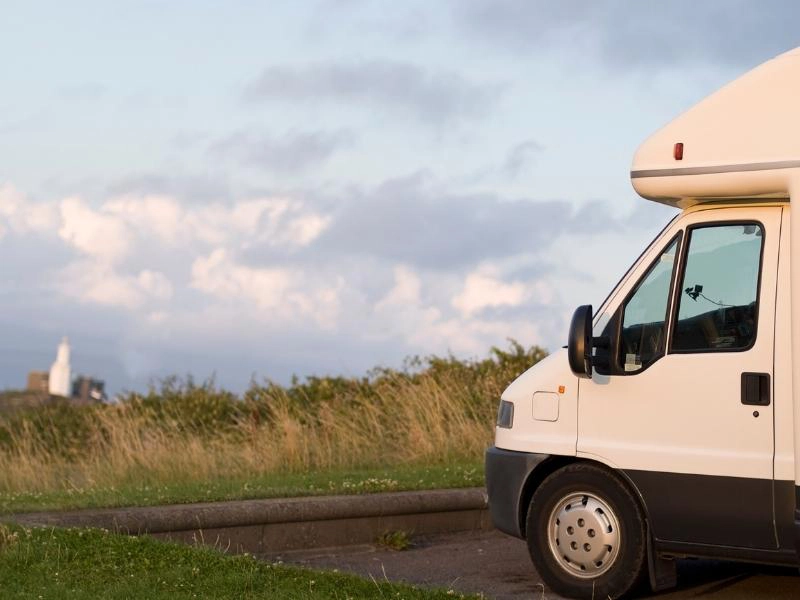 Alternatives to Motorhome Wild Camping in Wales
Almost Wild Campsites
Cool Camping has pulled together a great selection of almost wild campsites, twelve of which are in Wales.
These sites are a great compromise, offering that back-to-nature feel that we all crave, amongst fields and forests across the country, and if you're looking for motorhome sites in Wales by the sea, you'll definitely find a few here with stunning cliff top views.
Do check first if you're in a larger motorhome that they can accommodate your rig.
Brit Stops in Wales
You could also use Brit Stops to find free overnight camping in Wales. Pubs which belong to the Brit Stops scheme allow motorhomes and campervans to stay in their car park at no cost.
Some people have a drink or meal but this is not a requirement of the scheme. It's unlikely you will find services at many Brit Stops but you will find a typically warm Welsh welcome.
Motorhome Camping Wales
Campsites in Wales for motorhomes are friendly and usually of a good standard. If you're planning your Wales motorhome trip out of season, then consider the CampingCard ACSI scheme, which gets you 60% discount at campsites out of season – usually September to June. You'll save the initial cost within a few nights!
Many campsites in Wales offer great facilities like 16a electric hook up, a choice of hard standing or grass pitch and modern heated sanitary blocks. Most sites are dog friendly, just look out for the dogs welcome signage when booking. Expect motorhome sites in Wales to be very similar to campsites in the UK.
For a spot of glamping and luxury pitches with hot tubs, try Bargoed Farm in Aberaeron, Ceredigion. A family run working farm, this is our favourite campsites in south Wales when we fancy a bit of tlc!
Club Sites
Both the Caravan and Motorhome Club and the Camping and Caravanning Club have a good network of camping sites in Wales. You don't need to be a member to book and stay at these sites, but members do get discounts, so joining one, or both, of the clubs is worth it if you like campsites stays.
If you want to stay on member exclusive Certified locations (CL) or Certified sites (CS), then you do need to be a member. These campsites in Wales are much smaller, usually with no more than five available spaces allowed at any given time, and have a more rural and back to basics feel.
Top Wales Motorhome Destinations
Snowdonia
Head for Snowdonia, or Parc Cenedlaethol Eryri in Welsh, in the county of Gwynedd in north Wales for dramatic mountains, fabulous views and outdoor adventure.
Perfect as a base for a few days, Betws-y-Coed is a typical mountain town in a beautiful valley, and a great base for outdoor sports such as climbing, hiking, abseiling, zip-lining, caving and mountain biking. Check out the local beauty spots such as Conwy Falls, the Fairy Glen and Swallow Falls in the nearby area for a more relaxed day out.
If you prefer to be away from the hustle and bustle, stay at Llyn Gwynant Campsite. Nestled in the peaceful Nant Gwynant valley, it's a perfect place for nature lovers and one the best motorhome sites in north Wales, with many of the classic Snowdon hikes starting nearby.
If you want to get to the summit of Snowdon without hiking, you can get the Snowdon Mountain Railway up from Llanberis station, almost to the summit at 1085m. From here its a short walk to the cairn, so you can conquer Snowdon on foot! Motorhomes can park in the station car park here.
Snowdonia National Park is only the second area in Wales (the other being the Elan Valley in mid Wales) to be designated as an International Dark Sky Reserve. Perfect for star gazing, on a clear night you can see the all the major constellations and even the Milky Way.
Pembrokeshire
Voted the second best in the world by National Geographic, the coast of Pembrokeshire offers limitless opportunities to enjoy the outdoors, and is one of the best places to go in a campervan in Wales, famous for its rough cliffs, huge beaches and remote islands.
The Pembrokeshire Coast National Park is amazing for outdoor activities, and as well as coasteering, which they say they say they invented! You'll also find surfing, kayaking, paddle boarding, canyoning, climbing, fantastic hiking along the Pembrokeshire coastal path and in the Preseli Hills, and many more activities in this gorgeous corner of the country.
There are lots of small, family run sites in Wales, offering a friendly welcome and simple facilities, and Pembrokeshire is no exception. One of our favourites is Celtic Camping, near the tiny Welsh city of St Davids and the stunning Abereiddy Bay. There's no swimming pool here, but the infamous Blue Lagoon is just a two mile walk away, better than a pool any day of the week!
Gower Peninsula
The breathtaking Gower Peninsula in south Wales is an Area of Outstanding Natural Beauty and famous for its beautiful coastline, unspoilt beaches and coves.
Gower offers unrivalled coastal walking, including the dramatic Worm's Head and gorgeous Rhossili Beach and Down.
Some of the best beaches in Wales are on Gower's coastline, with the popular Oxwich Bay beach in the south and the vast Whiteford beach to the north. If you prefer a more secluded spot, try Brandy Cove beach, only accessible by a cliff path, or head for Three Cliffs bay, a spectacular shoreline of sand dunes, salt marsh and limestone cliffs.
RELATED POST – One Day Cardiff Itinerary – Map, Tips & Guide
Brecon Beacons
Rolling dramatically across the landscape, the Brecon Beacons National Park, or Parc Cenedlaethol Bannau Brycheiniog in Welsh, encompasses some of the most spectacular scenery in southern Wales.
Known as 'the Beacons' to hikers, these mountains are lined with glacial rock formations which rise above forested valleys, hidden waterfalls and remote and empty landscapes.
Pen-y-Fan is a favourite hike, the route a challenging ten mile slog through forest and moorland to the steep ridge at the summit at 886m, where the views are superb. Other great Welsh hikes include Sugar Loaf (park here, not suitable for larger motorhomes) in Monmouthshire and the beautiful Brecon Beacons four waterfalls walk (park here).
Stay at Grawen Caravan and Camping Park, in the heart of the Brecon Beacons, ideal for Pen-y-Fan and lots of other hikes. We think its one of the best Brecon campsites for both location and family welcome.
Resources for Motorhome Travel in Wales
Are you looking for more motorhome touring guides? Check out these top posts…
Scotland is a wild and beautiful part of the United Kingdom, blessed with stunning coastlines, rugged mountains and crystal clear lochs. Touring Scotland in a motorhome is perfect for adventure seekers and history lovers alike, with activities and attractions to suit all tastes. Find out everything you need to know here.
Love it? Pin it!