This post may contain affiliate links, from which we earn an income.
Scotland Motorhome & Campervan Travel – All You Need to Know
Scotland is a wild and beautiful part of the United Kingdom, blessed with stunning coastlines, rugged mountains and crystal clear lochs. Touring Scotland in a motorhome is perfect for adventure seekers and history lovers alike, with activities and attractions to suit all tastes.
In this guide, you'll find lots of practical and helpful information about getting around Scotland in a motorhome, and how to manage campervan and motorhome life there.
From tips about driving, where to stay overnight and wild camping, to motorhome services and a round-up of the best motorhome destinations, you'll find all the information you need for an amazing road trip in Scotland.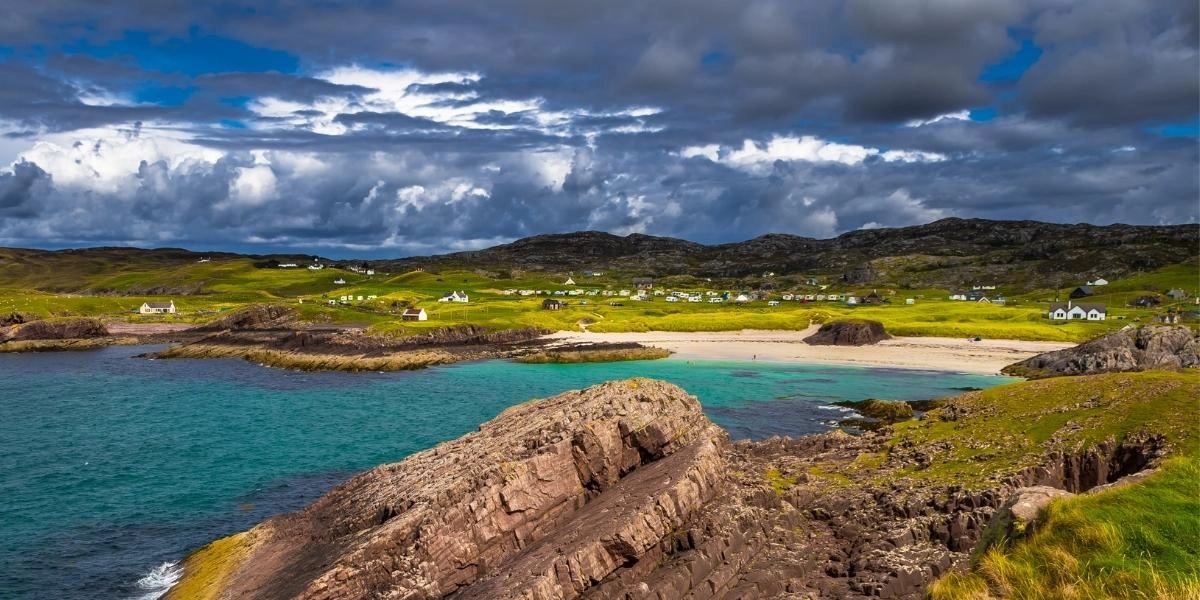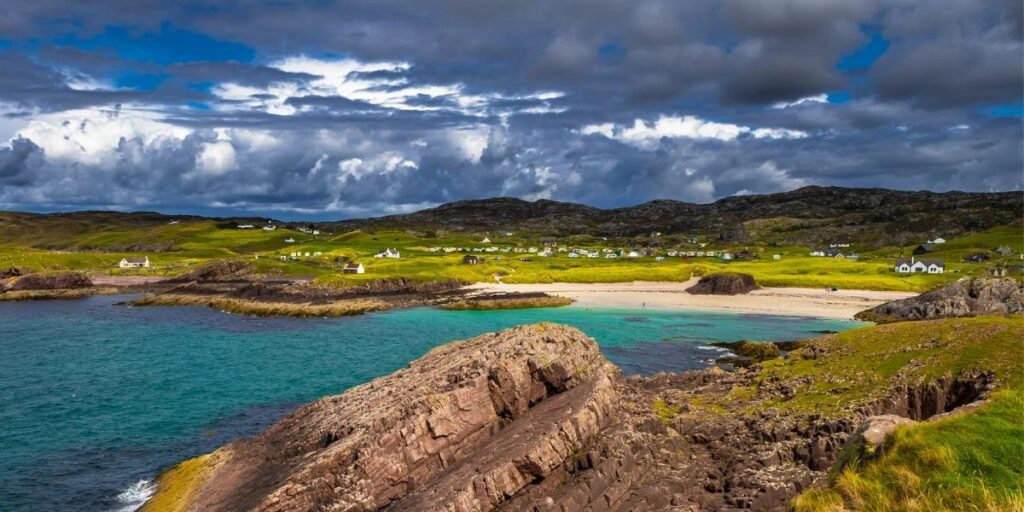 Motorhome Routes to Scotland
Driving to Scotland
If you're driving to Scotland, just head north from England or Wales and you'll get there!
If you live in the Wales of the west of England, then the M5 and then M6 will take you all the way to Gretna on the border – from here Scotland is very accessible. This route is always busy at weekends and peak times, especially around Birmingham and Manchester – pick your drive times with this in mind.
Those that live in the east of the country should head up the A1 then A1(M) to Newcastle before picking up the A68 north to Edinburgh. This is another busy route, but does not pass too close to any major cities, so tends to have better traffic flow.
Don't forget that Scotland is a huge country. Once you arrive at the border, it will take a further eight to nine hours in a motorhome to get to the northern most point of Scotland and mainland United Kingdom at Dunnet Head (yep, it's NOT John O'Groats!).
England – Scotland Border
There is no border between Scotland and England – both countries are part of the United Kingdom and people move freely between them.
You don't need a passport to travel from England into Scotland or vice versa, but visitors from overseas will want to carry the passport they used to enter the United Kingdom.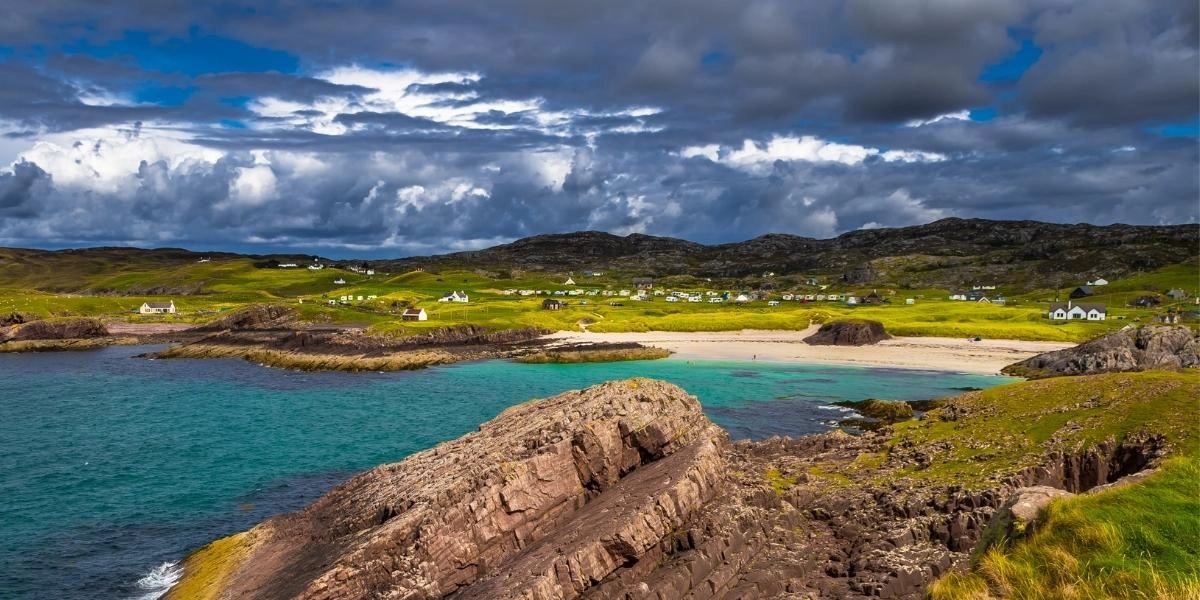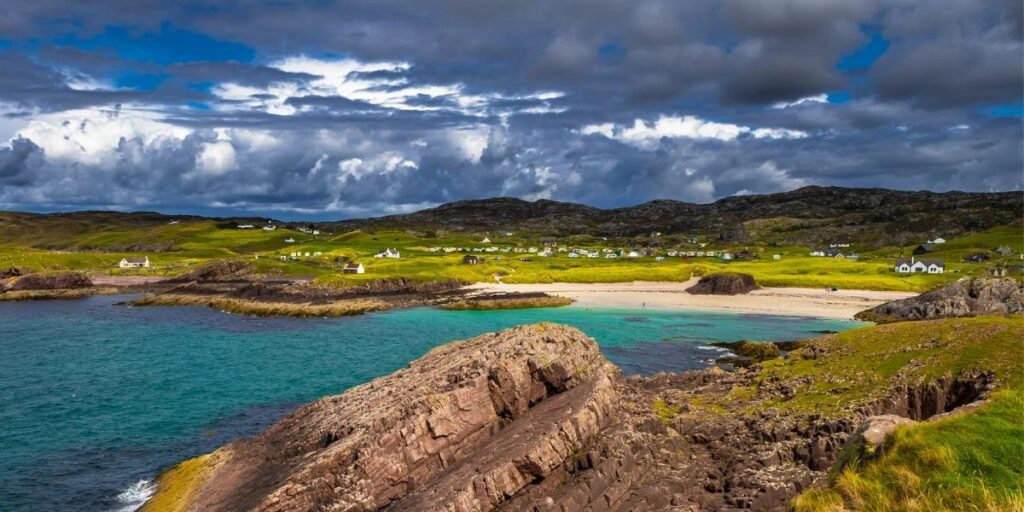 Ferries to Scotland
The are two Ireland to Scotland crossings if you're planning on visiting from the island of Ireland – another fantastic motorhome destination.
Belfast to Cairnryan, operated by Stena Lines, crosses six times and day and takes just two and a quarter hours on their 'Superfast' ships.
Larne (north of Belfast) to Cairnryan, operated by P&O, takes around two hours and also operates six times a day.
Crossings from Stranraer to Northern Ireland stopped in 2012 due to the need for a deep water port required for the larger more efficient ferries coming into service.
Is this your first time visiting the UK? Get all the information you need in our United Kingdom Travel Guide, including what to pack, the best time of year to go, getting there and practical tips to help you have the best trip!
Motorhome & Campervan Hire Scotland
Flying and hiring a motorhome or campervan is a great way to tour Scotland if you don't own one.
Our recommended Scotland motorhome and campervan rental company is Spaceship Rentals, who offer a large range of motorhomes and a pickup location just ten minutes from Edinburgh Airport, making round trips and one-way drop off really easy.
If you're planning to drive up from England as part of a longer motorhome road trip, our recommended Scotland campervan hire company is Motorhome Republic, who have pick-up locations across the UK including Heathrow Airport, perfect for those wanting a fly drive motorhome holiday.
Expect to pay around £120 per night for a fully equipped seven berth family motorhome and £70 to £90 a night for a campervan, with unlimited mileage and breakdown cover included.
Remember to bring the right plugs and chargers for your hired motorhome. The UK uses 230v with 50Hz frequency, and sockets use type G three pin plugs.
When to Visit Scotland in a Motorhome
Scotland's weather is generally moderate but changeable. The topography of Scotland varies greatly and you'll notice differences in the climate as you cross the Highway Boundary Fault heading north, between Highland and Lowland weather.
The Atlantic Ocean, which fringes the coastline of western and northern Scotland and its islands, also influences the temperate maritime climate of the country.
Spring
Late spring is a fantastic time for Scotland campervan travel. From May onwards the countryside comes alive with baby animals and wild flowers as the warmer weather beats back the cold of winter. The Highlands come alive as the skies lighten and the last sprinklings of snow on the mountain tops disappear.
Summer
With summer averages of around 20°c, this is one of the best times for touring Scotland – think long days, wild swimming on Skye and lounging on the incredible beaches of the north coast.
The downside is that popular motorhome routes like the North Coast 500, and campsites along those routes will be busy, so a visit to Scotland in summer may require a little more advance planning.
Scotland travel in July and August will bring the best of the weather but it is also midge season. Midges are at their worst on the west coast and can spoil any outdoor holiday if you're not properly prepared. Fitted fly screens on motorhome windows and doors, long sleeves and midge repellent spray are a must, and a hat with a net may also be required if it's a bad year.
Autumn
A wonderful time for campervan holidays in Scotland, the autumn colours are some of the most dramatic in the world. The North Atlantic Drift, often called the Gulf Stream, can keep the west coast of Scotland warm well into the fall.
Autumn is also deer rutting season, with lots of opportunities around the Highlands to see this fantastic display.
Winter
Plan a motorhome road trip to Scotland during the colder months for winter sports opportunities, dramatic scenery and the possibility of seeing the Aurora Borealis, or 'Mirrie Dancers' as they are sometimes called in Scotland.
Are you planning a motorhome trip to Scotland?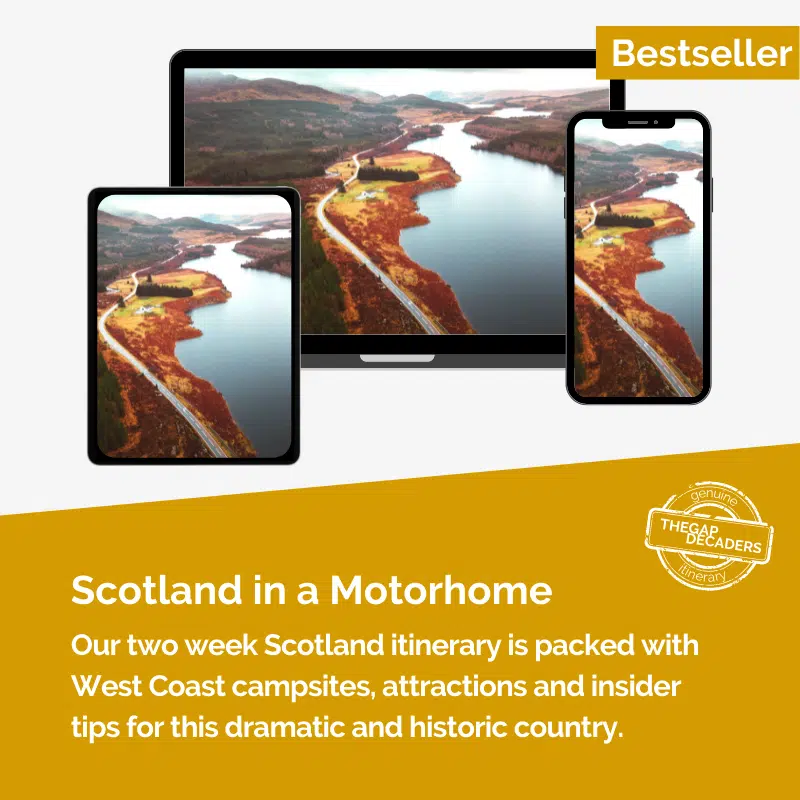 Grab our two week Scotland itinerary, packed with campsites, attractions and insider tips.
Get up every morning knowing your day is planned with driving routes, campsites and attractions marked out for you on your interactive map.
Make the most of your holiday and let us do the planning for you!
---
Driving a Motorhome in Scotland
Scottish roads vary from busy motorways to narrow and twisting mountain passes, which can be challenging for larger vehicles or inexperienced motorhome drivers. Follow the rules and our top tips for staying safe on the road.
Scottish Speed Limits for Motorhomes
Always observe the speed limits when travelling Scotland.
Motorhomes < 3,050 kg
Built-up areas – 30 mph
Outside built-up areas & single carriageways – 60 mph
Dual carriageways- 70 mph
Motorway speed limits – 70 mph
Motorhomes > 3,050 kg
Built-up areas – 30 mph
Outside built-up areas & single carriageways – 50 mph
Dual carriageways- 60 mph
Motorway speed limits – 70 mph
Speed limits for vehicles towing a caravan or trailer
Built-up areas – 30 mph
Outside built-up areas & single carriageways – 50 mph
Dual carriageways- 60 mph
Motorway speed limits – 60 mph
Documents You Need to Travel & Drive in Scotland
Your passport must be valid for the whole of your stay in the United Kingdom.
You may need a visa to enter the UK, depending on your nationality.
You must have at least 3rd party insurance for your motorhome or campervan. A green card is not required.
A European licence allows you to drive a motorhome up to 3,500kg in the United Kingdom. You may need a special licence to drive larger motorhomes – you can find out more here. Visitors from other countries may also need an International Driving Permit.
Breakdown cover documentation (not compulsory).
Vehicle registration documents (which must show your correct address).
Personal travel and medical insurance (we recommend True Traveller if you're travelling from the EU, and World Nomads for those travelling from the United States) and an EHIC if you're an EU citizen.
Vehicle Safety Equipment for Scotland
Like the rest of the UK, it is not compulsory to carry any vehicle equipment in Scotland, but this is what we think you need;
Warning triangle.
Reflective jacket.
Spare wheel and the tools to change a wheel, or a tyre repair kit.
First aid kit.
Spare bulbs and fuses.
Fire extinguisher.
Tips for Motorhome Driving in Scotland
Scotland, like the rest of the United Kingdom, drives on the left.
There are some Scottish roads where the height of a bridge or the width of a road will restrict motorhome access. You will need to observe the signs before you approach such areas and in some cases take an alternative route. For long journeys it is worth researching such road limitations beforehand or by using a motorhome sat nav.
There may be no passing places on some roads so you must feel comfortable reversing the vehicle correctly and safely, as you may be required to do this on single track roads.
If you are travelling below the speed limit, pull in to a lay-by or one of the passing places to allow other traffic to safely pass you.
Do not travel in convoy, especially on small roads as this can lead to congestion. Always travel at least one passing place apart.
When driving in the countryside, expect slow moving agricultural vehicles and animals like sheep and cows being herded along roads. Take the slow road and enjoy the spectacle!
Roundabouts are common in Scotland. Give way to vehicles from your right, and turn left on entering the roundabout.
Your headlights must be adapted for driving on the left if your vehicle is registered outside the UK.
It is illegal to use a hand-held mobile phone while driving. You must also have proper control while using hands-free.
Driving under the influence of alcohol is taken very seriously in Scotland and there can be heavy penalties for those found to be above the legal blood/alcohol limit. The legal limit is 50mg of alcohol in 100ml of blood.
There are no toll roads or toll bridges in Scotland and no vignettes are required to use the roads here.
Low Emission Zones
Low Emission Zones will be introduced across Aberdeen, Dundee, Edinburgh and Glasgow between February 2022 and May 2022. You can find out more here.
Motorhome Parking in Scotland
Finding a parking space in Scotland can be hard enough, especially for a motorhome! Follow our top tips to park legally when you're stopping off for a coffee, popping to the supermarket or visiting an attraction.
Always try and park in a designated parking bay, either in a car park or at the side of the road.
Car-parks are marked by a large white 'P' on a blue background, usually alongside the parking area and on directional signage.
Some spaces will be free, while others will need to be paid for and some might have restrictions for what type of vehicle can park there or time limits – make sure to follow any signage.
A double yellow line – either painted on the road or on the kerb – means parking and waiting are not permitted at any time. In some cases, there might be seasonal restrictions, which will be indicated by signs at the roadside.
A single yellow line – either painted on the road or on the kerb – means no waiting, parking, loading or unloading at the times shown on the accompanying sign. The restrictions tend to be lifted during evenings and weekends, but check the sign before parking.
In 2022, Scotland is preparing to pass a law that will prohibit parking on pavements.
Some car-parks have height restrictions or signage forbidding parking by motorhomes. Use Park4Night to find suitable parking and abide by signage at all times.
When parking in rural areas, it is important not to cause any damage or create an obstruction;

don't block entrances to fields or buildings.
don't make it difficult for other people to use a road or track.
have regard for the safety of others.
try not to damage the verge.
use a car park if one is nearby.
Fuel in Scotland
Fuel prices in Scotland are similar to the rest of the UK. There are over 11,000 petrol stations in Scotland, with the highest concentration along the coasts.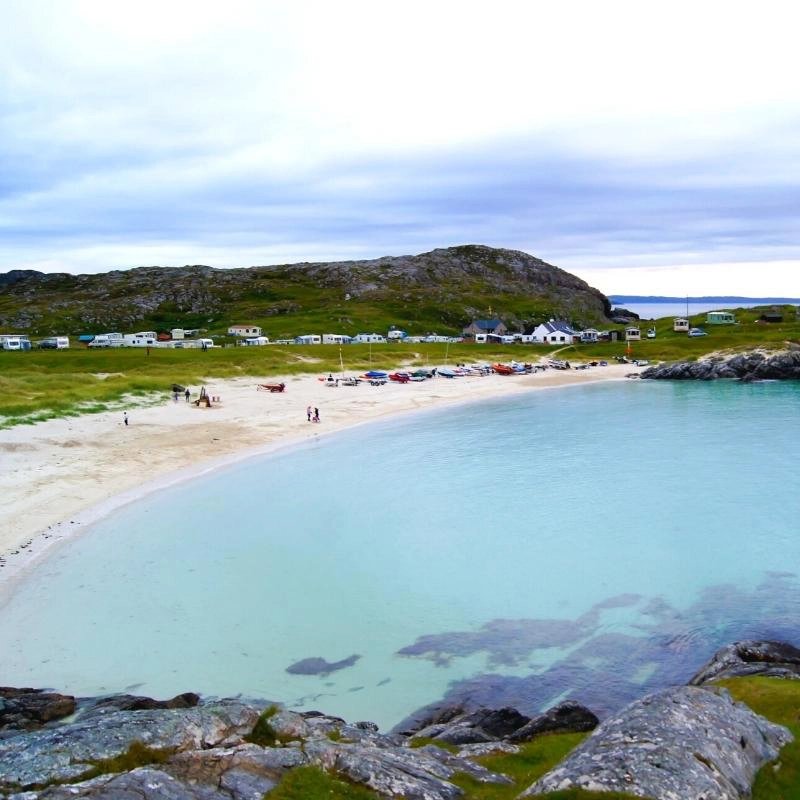 Motorhoming in Scotland in Winter
If you're planning on motorhoming in Scotland in winter, make sure you're prepared. You'll need your motorhome or campervan to be winterised, with some form of heating.
It is a wonderful time to visit Scotland, with stunning scenery and the opportunity to spot the Northern Lights. On average Scotland has 15-20 snow days a year and you're likely to see plenty of the white stuff in the Highlands between November and February.
Main roads will be clear but some smaller mountain passes and rural roads may not be – check before setting off each day and make sure you carry a shovel, spare food and warm clothing just in case. Snow chains and winter tyres are not compulsory but will make your trip much easier and safer if there is snow or ice on the roads.
Motorhome & Campervan Service Points in Scotland
There are not many motorhome service points in Scotland. Use an app like Park4Night to identify aires with services, or stay in a campsite every few nights.
Many campsites will also let you fill up with fresh water, dispose of grey waste and empty your toilet cassette if you pay a small fee.
LPG & Bottled Gas
There are around 50 fuel stations in Scotland where you can fill up a Gaslow or Gasit system with LPG from the pump. Use the myLPG app to identify one close to you, and check on the prices. The most northerly filling point is in Ullapool on the wast coast.
Calor Gas is Scotland's leading supplier of bottled propane and butane gas. United Kingdom gas bottles are not interchangeable with European bottles, so you'll require a UK regulator if you're coming from overseas.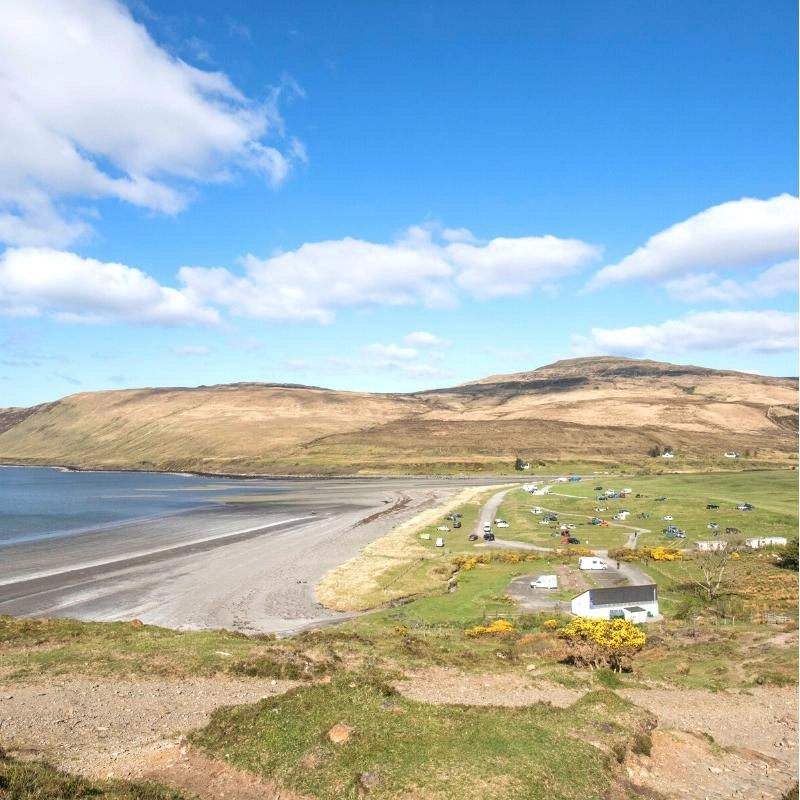 Can I use my mobile data away from home?
You can, but some people prefer to have a different internet device for thier motorhome. This works if you don't tend to use your mobile phone much for browsing the internet or streaming TV, unless you're away in your van. You might find you don't have enough data to manage like you do with your home broadband.
We have been using and recommend ConnectPlus for cloud sim connectivity in the UK and Europe. You can choose from unlimited data packs to just single days, depending on your needs. The device is no larger than a slimline smart phone, connects with up to ten devices, is charged easily with a USB and can be delivered within a few days of ordering. Use the code 'thegapdecaders' at checkout to get 50% off in the first month!

Motorhome Stops & Overnight Camping in Scotland
Aires in Scotland
If you're used to motorhoming in France, Spain or Germany, motorhome aires de camping are a common part of life.
In Scotland, there are around 30 motorhome aires, with purpose-built motorhome services. Expect to pay around £15 a night.
Wild Camping in Scotland for Motorhomes & Campervans
Motorhomes wild camping in Scotland has become a thorny subject of late, with motorhomers and campervanners in Scotland misunderstanding the laws, or choosing to ignore them and park anywhere they can.
The situation has been further exacerbated by the pandemic and increased numbers of people taking a staycation in Scotland or hiring a motorhome or campervan to tour the country.
Whilst wild camping is legal within the Scottish Outdoor Access Code, access rights do not cover vehicles.
New motorhomers don't always understand the rules regarding wild camping and proper disposal of waste and the leave no trace principles we abide by. Locals have become, understandably, frustrated by toilet waste and grey waster being dumped improperly and people parking motorhomes and camper vans in places where their activities are damaging to the local flora and fauna.
Use Park4Night or another similar motorhome parking app to find the best wild camping spots and consider using the alternatives we have listed below to help Scotland remain a beautiful motorhome destination.
Read this post to find out more and what you can do to wild camp legally and safely in Scotland.
Scotland is a hugely popular motorhome destination offering stunning landscapes, huge skies and fantastic roads and routes. If you prefer to wild camp in your motorhome, we've got all the information you need to do so safely and within the rules.
Alternatives to Motorhome Wild Camping in Scotland
Stay the Night Trial
In 2021, Forestry and Land Scotland trialled a scheme for motorhomes and campervans called Stay the Night. The scheme allowed camping in designated forest car parks and was an overwhelming success.
Forestry and Land Scotland have confirmed the scheme will run in 2023 from 1st April to 31st October at participating sites.
Wild Camping in Scotland's National Parks
Many of the national parks in Scotland have non-commercial overnight camping sites which cost as little as £3 per night to stay at in a motorhome… not quite wild campervanning but pretty close!
You have the added benefit of knowing the environment in these areas is being looked after, as well as being able to empty your waste and fill up with fresh water. You can research these online, but to get you started check out the informal sites in the Loch Lomond and Trossachs National park here.
Brit Stops in Scotland
You could also use Brit Stops to find free overnight parking in Scotland. Pubs which belong to the Brit Stops scheme allow motorhomes to stay in their car park at no cost. Some people have a drink or meal but this is not a requirement of the scheme. It's unlikely you will find services at many Brit Stops but you will find a warm welcome.
Motorhome Campsites in Scotland
Campsites in Scotland for motorhomes are friendly and usually of a good standard. Many take CampingCard ACSI, meaning you can save over 60% at campsites out of season, a must for motorhoming in Scotland.
Many campsites in Scotland offer pet friendly environments with good facilities like 16a electric hook up, modern sanitary facilities and site wide wifi. Expect camping spots in Scotland to be very similar to those in the UK.
Club Sites
Both the Caravan and Motorhome Club and the Camping and Caravanning Club have a good network of holiday parks and sites across Scotland. You don't need to be a member to book and stay at these sites, but members do get discounts, so joining is worth exploring.
If you want to stay on member exclusive CL (Certified location) or CS (Certified sites) campsites, then you do need to be a member. These sites are much smaller, usually with no more than five units allowed at any given time, and have a more rural and back to basics feel.
Top Scottish Motorhome Destinations
North Coast 500
The most iconic road trip of all and Scotland's answer to Route 66, the North Coast 500 is an epic journey around the raw and wild Highlands of Scotland, delivering incredible Scottish landmarks and dramatic roads with spectacular views. It is one of the must do motorhome routes in the UK.
Starting and finishing in Inverness, this campervan Scotland route route passes through remote and wild landscapes following the stunning coastline around northern Scotland. You can find the perfect NC500 itinerary with map, recommended campsites and highlights here.
The NC500 is also the route from which to take your motorhome on the Northlink Ferry from Scrabster to Stromness on the Orkney Islands and then from Kirkwall to Lerwick on the Shetland Islands. You can also take a day trip from John O'Groats to Orkney if taking your motorhome is too much!
North East 250
The North East 250 is the perfect campervan tour of Scotland for lovers of gorgeous coastlines, bog mountains and Scottish whisky.
Designed to be joined from Aberdeen, you can go either way round the route and wend your way through the dramatic countryside and towns of Speyside, Royal Deeside, the Cairngorms National Park, the east coast and the Moray Firth coast. This route also picks up most of the major attractions from the Deeside Tourist Route.
South West Coastal 300
The South West Coastal 300 is a road trip for history buffs and nature lovers alike. Stunning coastlines, dramatic moorlands and rolling hills of lush forests will have you falling in love with the gentle charms of this part of Scotland.
This is a well located road trip in Scotland for those driving north from the rest of the UK and can be joined at Lockerbie, within a 20 minute drive of the Scottish border.
The Argyll Coastal Route & Loch Ness
The official Argyll Coastal Route ends in Fort William, but our itinerary takes in the magnificent Glenfinnan to the west and the iconic A82 to the east.
From sea shores, lochs and mountain, this ultimate west coast of Scotland road trip is for those that want to get under the skin of Scotland to feel its fascinating history amongst the incredible landscapes.
Isle of Skye
This Skye road trip has to be one of the most picturesque in Scotland, with jagged mountains, heather carpeted moors and myths and legends aplenty.
Skye has to be one of the busiest places in Scotland in summer, so go out of season or head out of the main tourist areas of Portree, Trotternish and Dunvegan to find solitude and space.
Borders Historic Route
Starting in Scotland's historic capital city of Edinburgh, the Borders Historic Route will take you through the lush and hilly countryside of the lowland Scottish Borders and through charming villages to famous Gretna Green.
This is a perfect road trip if you want to visit Edinburgh and explore Scotland as part of your trip.
RELATED POST – Edinburgh One Day Itinerary – Map, Tips & Guide
Heart 200
A new Scottish road trip is Heart 200, a two hundred mile plus drive around the centre of Scotland. This route offers the best of all the other routes combined as you travel through Scotland's iconic, ever changing landscapes.
Chuck in the historic cities of Perth and Stirling, and you've got a road trip that is perfect for first time visitors to Scotland, or those that want to see the best of this wonderful country.
Kintyre 66
Another newcomer to the Scottish road trip scene is Kintyre 66, or K66, as its becoming known. If you've ever watched Paul McCartney and Wings video of the song 'Mull of Kintyre' and been inspired by the landscape, then this trip is for you.
A short route, this could easily be tagged onto the SW Coastal 300 or the Argyll Coastal route.
Outer Hebrides
Consisting of the isles of Lewis, Harris, Uist, Barra and St Kilda, this interconnected group of islands is a great place to motorhome.
Blessed with mountains, moors and Caribbean-like white sandy beaches, these beautiful islands host the very best of Gaelic culture, wildlife, cuisine and arts with things to do and see for everyone.
Famous Filming Locations
From Bond to Potter and lots in between, Scotland has many iconic filming locations to visit. These are our favourites;
Bridge of Orchy
On the legendary A82 road, you'll drive a section of the infamous Skyfall road from the Bond film of the same name. This is one of the most dramatic and scenic drives in Scotland. Time for a photo opportunity!
Glenfinnan Viaduct
Made famous by the Harry Potter films, the Glenfinnan railway viaduct has carried trains on the West Highland Line since 1897. You can see the Jacobite steam train cross the viaduct daily.
Lallybroch
From the books and tv series Outlander, Lallybroch, or Broch Tuarach, was Jamie Fraser's ancestral home. In real life, this atmospheric building is Midhope Castle in Abercorn, on the south coast of the Firth of Forth.
Resources for Motorhome Travel in Scotland
Are you looking for more motorhome touring guides? Check out these top posts…
A motorhome tour of Germany offers incredible adventures. From the stunning Alps, the Black Forest with it's gorgeous romantic road, to medieval cities, fairytale castles and magical Christmas markets this surprising and interesting country is a must-see road trip destination for campervans and motorhomes.
Love it? Pin it!