This post may contain affiliate links, from which we earn an income.
Motorhome Travel in Winter
Travelling and living in a motorhome in winter can be really special – think a cosy van, snuggly blanket and hot chocolate from your whistling kettle, along with clear crisp winter sun days and blissfully quiet campsites. To really enjoy winter in a motorhome, you need to prepare your motorhome for winter. We'll show you how!
If you're planning on motorhome travel to anywhere but the southern climes of Europe in winter, safety and warmth will be your key considerations. You'll need to make sure you have hot water and heating of some sort, and ideally your motorhome will need to be winterised before you start motorhome winter camping.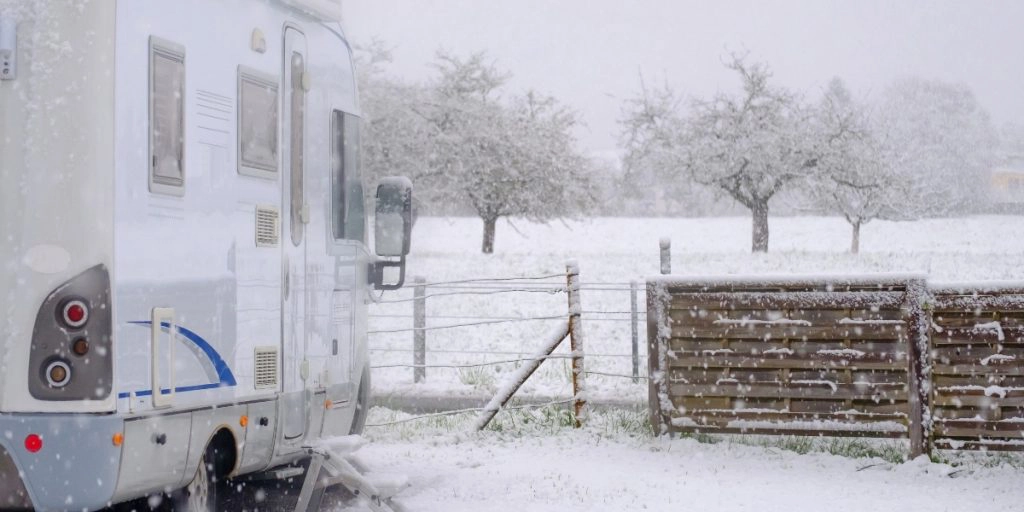 Definition of a Winterised Motorhome
The definition of a winterised motorhome is as varied as the number of motorhome manufacturers! The best winterised motorhomes have all the pipes and water tanks inside the van, usually within a double insulated floor.
Some winter proof motorhomes use electrical heating elements, lagging and 'silver bubbles' to wrap and coat their vulnerable parts and use thermal insulation within walls, ceiling and floor.
Many manufacturers offer 'motorhome winter packs' which add some or all of these elements to the van. It is also possible to retro-fit heated blankets and lagging for tanks and pipes. There is no single best motorhome for winter use, but in general, German manufactured motorhomes can be fully winterised to a high standard and this sometimes will come as standard when buying a new motorhome, especially if you choose a model with a double floor.
Winterisation serves two purposes. It stops your fresh water and waste pipes and tanks from freezing in cold weather and it makes your motorhome more thermally efficient, meaning it will retain heat and stay warmer for longer, keeping you cosy in your home on wheels.
Types of Motorhome Heating
Most modern motorhomes have some type of heating fitted.
Wet Heating – this type of thermostatically controlled heating is where pipes run behind the furniture in your motorhome and act like radiators. The boiler also heats your hot water, making it the most efficient option. The boiler is usually powered by gas, electricity or diesel. Sometimes you can use a combination of both to heat your motorhome more quickly. This type of system is the most expensive option to have fitted and is difficult to fit retrospectively.
Blown Air – this is a type of thermostatically controlled fan heating, either from a ceiling unit (which may also deliver air conditioning in summer) or and under seat mounted unit. It will heat up the air inside your motorhome almost instantly and can be run from electricity, gas or diesel making it a versatile option.
Stand Alone – this could be a plug-in oil filed radiator, a fan heater or a portable gas heater. These do a great job in smaller spaces, like keeping a campervan warm – this is a helpful guide to the best campervan heaters.
Exchange Heater – fitted as part of a wider wet or blown air heating system, heat from the engine is extracted and exchanged into heat for your heating and hot water. Switch on 30 minutes before arrival for a toasty motorhome and enough hot water for a shower, without dipping into your gas supply.
Motorhome Winter Driving Essentials
If you're driving in winter, some European countries require you to have snow chains and swap your summer tyres for winter ones. Check the country by country requirements here. Don't be tempted to economise in this area, the right motorhome winter tyres and snow chains will keep you safe when you're winter touring – and you usually get what you pay for.
These best-selling Pewag snow chains come in a range of sizes to fit most vehicles and are made in Austria, where they know a bit about snow.
Traction mats help whenever the ground gets wet with rain, snow or melting ice and your wheels are spinning. They can also act as a stabiliser for your levelling ramps and stop your wheels spinning as you drive on – we love a dual purpose motorhome gadget!
A heavy duty snow shovel is a must for clearing paths and space around your wheels, or just clearing snow from parking places and manoeuvring areas.
Driving in winter throws up lots of muck and grit onto your windscreen. Use a screen wash that gives at least -45° protection for extreme cold. And ….make sure your wiper blades are in reasonable nick going into the winter.
Managing Water & Waste
If your motorhome has a double floor or has been winterised, or you have an onboard fresh water tank and are using heating in the van, then it's unlikely your fresh water supply will freeze. If you're worried about your water system freezing, keep a few bottles of water in the motorhome just in case.
Filling up can be a pain when you're winter camping, especially if you're on a pitch and have to fetch water in freezing temperatures. The best solution for winter water filling is to use a jerry can type of vessel which won't slosh icy water everywhere and can be emptied into your tank with a spout, like these.
In zero temperatures, you're better leaving your drain tap open (unless you're in a car park) and emptying your waste water into a bucket. It's much easier to deal with frozen grey waste than a frozen pipe!
Motorhome Winter Essentials for Comfort
If you don't have heating fitted in your motorhome, try an oil filled radiator, ideal for heating a camper in winter (as long as you have EHU). This motorhome winter heater is unlikely to trip the site EHU and can safely be left on all night.
You absolutely need a thermal cover for your windscreen, and ideally the bonnet too. It's amazing how much heat is lost through the windscreen and cab.
Unless you've got an amazing solar set-up, you'll probably need a generator if you're planning on wild camping. This 800w model weighs just 9kg and will charge your 12v leisure battery as well.
A multi-purpose USB heated blanket can be used as a shawl during the day and blanket over your sleeping bag at night. USB charging means you can use it with both 12v and when hooked up.
Alternatively, get your thermals on to keep your core temperature up.
Or, how about a good old-fashioned hot water bottle for keeping warm in bed?
A carbon monoxide alarm is a must to keep everyone safe when you're using gas appliances in your campervan or motorhome. A dual alarm will alert you to smoke as well. You should have one of these whether you use your motorhome year round or not.
Good bedding means you can turn off the heating overnight, saving energy (and money) and still enjoy a warm nights sleep. A 13.5 tog quilt is great, a 15 tog is even better!
Hopefully you already have that essential piece of motorhome kit, a torch? A head torch is even better for those night-time trips to the facilities…you don't need to find somewhere to put it down and then forget it. This one will even keep your head warm.
Motorhome Winter Storage Essentials
If your motorhome is going into storage for the winter months, you'll need to take some steps to ensure your van stays dry and ready for your next trip in the spring. Our motorhome storage tips checklist will help you take the right steps and show you how to lay up a motorhome for winter. If you're already a subscriber, go here to download it today.
Consider motorhome axle stands or wheel cradles to stop your wheels from ovalizing. Make sure whatever you choose is suitable for the weight of your van.
If you're storing your motorhome outside, a breathable protective cover will save the exterior from weather and sun damage. An overwintering fluid like Fenwicks 601C Overwintering Cleaner will also give some degree of protection.
Some people like to use a small portable heater to keep their motorhome interior free of damp, others use moisture absorbing crystals. Methods like this are most suitable for when you're storing a motorhome on your drive or close by, and can check on a regular basis that everything is ok. It's unlikely your motorhome insurance would cover you for any damage caused in these circumstances.
A vacuum packing system will help you save space in your home when you remove your bedding, cushions and towels for storage.
Top Ten Tips for Motorhomes in Winter
Don't be put off by the weather – just make sure you're prepared and know what to expect, especially if you're winter camping in Europe.
Make sure your fridge vent covers are in place. They will help to stop water ingress if its snows and make sure your fridge works as efficiently as possible if the outside temperature is less than around 8°c. If your vehicle is in storage, they will help prevent damp and insects from entering your motorhome.
Ensure you have the correct amount of antifreeze in your engine's cooling system. Antifreeze lowers the freezing point and helps to protect your motorhome from damage to radiators and other components.
If you have wet heating, check whether you need to top up the heating fluid (a type of antifreeze) in the system. Most manufacturers will have their own heating fluid or recommend one. This is helpful explanation from Alde, who make the most well known wet heating systems and water heaters for motorhomes.
Even though it may be freezing outside, always have a roof-light or window open just a crack to allow for ventilation. The colder it is outside and the warmer you are inside, the more condensation will form as the cold outside air meets the warm inside air on your internal surfaces. You can find out more about managing condensation and how to prevent it in this helpful post.
Even if you have fitted carpets for your motorhome, buy a couple of small, thick rugs for your seating area to help keep your feet warm in the evening
Carry a low wattage 12v hairdryer for emergency thawing of water pipes should the worst happen.
Try and plan meals which you cook in your motorhome oven (if you have one). Not only will you have a delicious warm dinner, but the oven will also help to heat the motorhome – especially if you leave the door open for a time after cooking.
Most motorhomes don't have full window curtains, just blinds. If you're living in a motorhome full time over winter, consider adding thermally lined curtains – if you're not a sewer, use an iron on tape and affix them with stick on velcro.
Make space in your fridge and keep your beer and wine outside – mother nature will take care of the rest!
Are you looking for more motorhome tips & tricks? Check out these top posts…
Our van life gift guide is full of fun, creative and unique gifts for anyone who loves the van life. Whether you're looking for personlalised campervan gifts, funny campervan gifts or throughtful vanlife gifts for a loved one, you'll find the perfect something here.
Love it? Pin it!