This post may contain affiliate links, from which we earn an income.
Portugal EasyCamp Review
What better way is there to discover a country than meeting the locals, exploring the landscape and enjoying delicious local produce made with tradition and love? Enter Portugal EasyCamp, the innovative farm stay scheme for motorhomes and campervans, which ticks all those boxes and then some.
We had been hearing a lot about Portugal EasyCamp on various motorhome forums and social media, so decided to check out their network of quintas, vineyards and artisan farms for ourselves.
After several years of dashing around Europe, trying to pack in as much as possible, we have finally discovered the joys of slow travel.
The idea of meandering round rural Portugal at a leisurely pace, tasting wines and local foods, and meeting real people, passionate about their products and country sounded pretty inviting.
We were hosted by Portugal EasyCamp and would like to thank them and their hosts for making us feel so welcome. As always, all views are our own.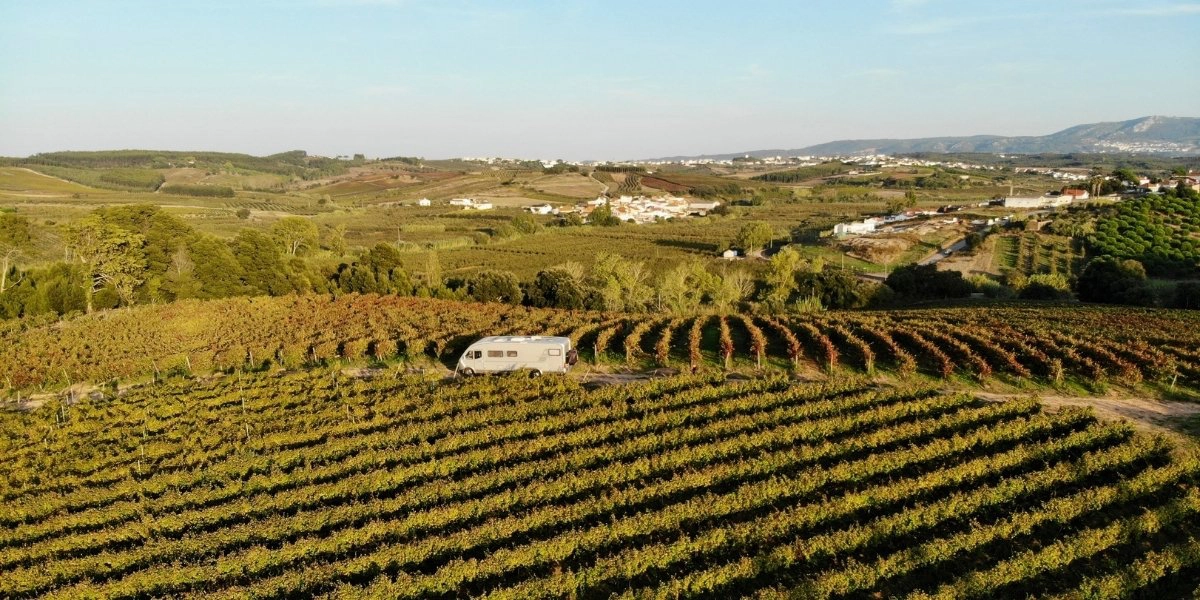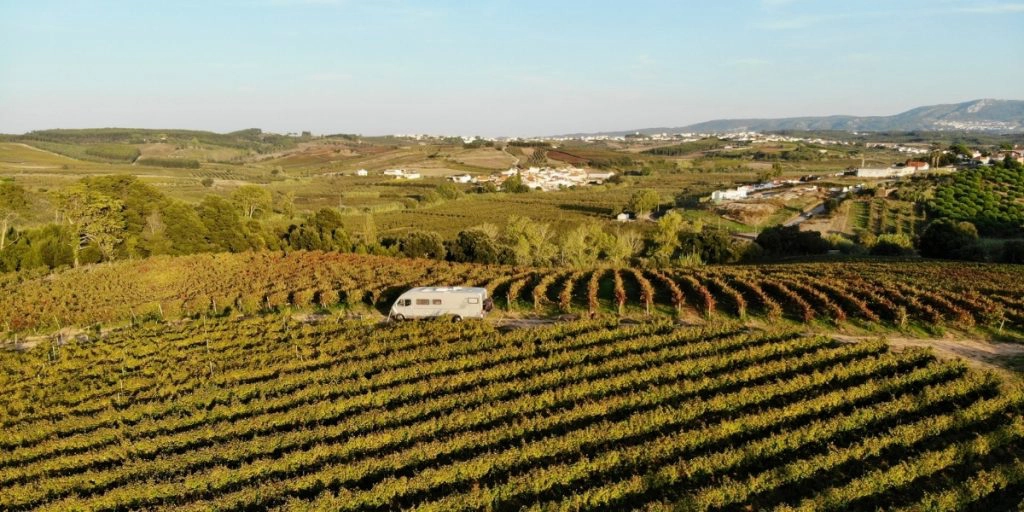 What is Portugal EasyCamp?
In the motorhome and campervan world, there can't been many people who haven't heard of France Passion. Portugal EasyCamp is a similar concept, but totally different at the same time. If you take all the great elements of France Passion and then remove all the worst elements, you have Portugal EasyCamp.
Just like France Passion, Portugal EasyCamp helps small and artisan producers of rural Portugal to reach previously hidden markets in a sustainable way, and drives greater awareness of regional brands and products and food traditions amongst tourists.
The difference comes in the delivery of the offer. It is free to stay in all Portugal EasyCamp's locations, but to receive the invite you must first purchase online, via the beautiful Portugal EasyCamp website, a sample of whatever the producer makes – be it wine, olive oil, honey or some other delicious Portuguese offering.  
Is this your first time visiting Portugal? Get all the information you need in our Portugal Travel Guide, including what to pack, the best time of year to go, getting there and practical tips to help you have the best trip!
How Does it Work?
It's a simple process – identify your chosen overnight stay using the interactive online map on the Portugal EasyCamp website, book online and pay the cost of the products (typically around €15 ).
On arrival head to the shop or Reception to collect your product pack, before being shown to your overnight spot where you're welcome to stay for 24 hours.
If you want to take a tour of the winery, or enjoy a tasting you can arrange that on arrival.
Why Portugal EasyCamp is Different
Developed by a couple passionate about camping and motorhoming, Teresa and Bruno are entrepreneurs who set out to solve a problem – how do we showcase the best and most diverse of Portugal for motorhome travellers in the country, whilst providing a place for them to stay?
Portugal EasyCamp started with just a handful of sites in November 2019 and now includes 48 vineyards, quintas, farms and artisan producers from the very northern tip of Portugal, through the Douro to the Alentejo and everything in between. Teresa and Bruno hope to have 120 stops added by the end of 2021.
Because the scheme requires a booking in advance and a financial commitment, you'll notice some differences with other farm stay schemes.
Your place is assured and you'll receive a wonderful welcome by the host who will be expecting you.
You'll receive your products so there's no awkwardness about whether you should try or buy something.
And you'll know that wherever you stay, thought will have gone into giving you the best possible experience. You'll even find information about what to do and see in the area on the website.
Some places are happy to share their wi-fi and water, and a few have electricity, but it's unlikely you'll find any other services, so you do need to be completely self-sufficient.
Our Thoughts on Portugal EasyCamp
We've been on the road in Europe for several years now and have tried various farm stay schemes in France and Spain. We are not averse to roughing it and enjoy wild camping – we split our time between that, aires and overnight schemes.
Occasionally we'll head to a campsite to chill out, stay put for a few nights and do some washing.
We loved Portugal EasyCamp for the simple booking process and knowing that we wouldn't be arriving at a dive, where we had to park round the back by the bins!
Everywhere we stayed offered us parking options – at one quinta we spend the night literally surrounded by vines, in another we parked next to a small chapel in the vineyard where the founders (and parents of the current owner) were married. All the places we stayed were clean and well cared for.
But more than anything, we loved meeting the individuals who work on the vineyards and farms, all of which are family owned. Passion for product, region and country is crafted into wine, olive oil, honey and cheese made with decades (if not centuries) of family knowledge and skill.
The opportunity to gain insight into everyday life in rural Portugal, shared by genuine people with a real desire to connect and understand, was a privilege.
How did we feel about the cost? We liked the up front nature of the scheme – pay and you know your spot is yours. There's none of that difficulty we've all experienced with other schemes of feeling obliged to purchase – we still have two tins of Foie Gras in the motorhome cupboard waiting for the perfect Christmas gift recipient!
You'll get genuine value for money, buying directly from the producer, and know you're helping small businesses to survive and thrive, more important now than ever.
Where We Stayed
Soito Wines, Dão Valley
The beautiful Soito Wines quinta is run by José and Sandra Soares. Their first foray into winemaking, the past seven years have delivered a stunning modern winery and a large handful of medals. Enjoying a glass of Touriga Nacional (Portugal's most prized red wine grape) with José and Sandra, before wandering back to our motorhome, parked in a level, cobbled and secure area behind the main house, was a perfect start to our trip.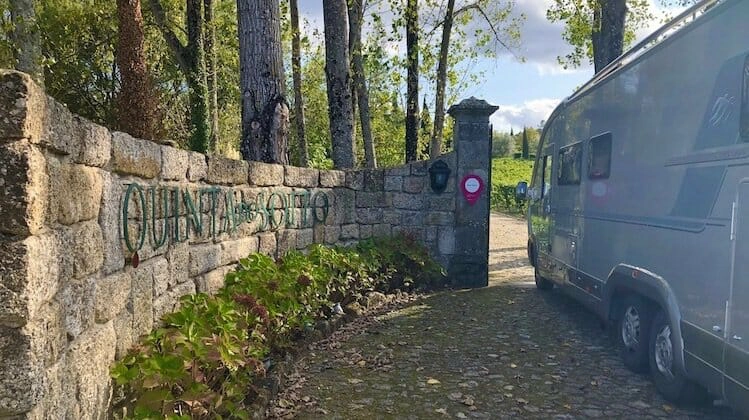 Caminhos Cruzados, Dão Valley
The Caminhos Cruzados winery is truly stunning, architecturally designed to blend in with, and complement, the surroundings. With a fantastic tasting room complete with log burning stove for winter visiting, three level parking spots around the vineyards for you to choose from and even a donkey to visit, your 24 hours here will pass too quickly.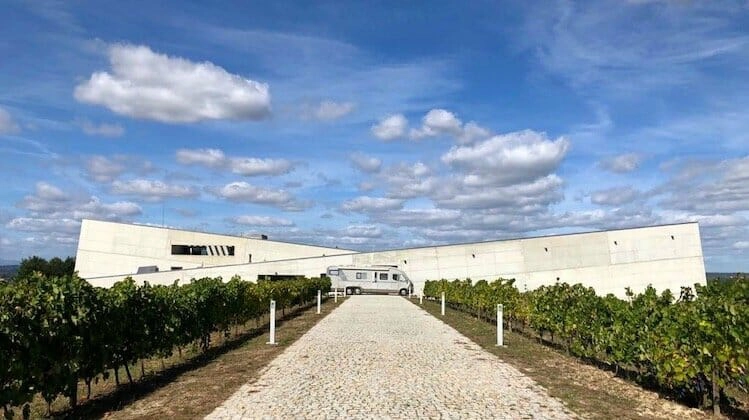 Quinta do Escudial, Dão Valley
This small quinta, run by José Silva, will sneak up on you and take you by surprise. Quinta do Escudial is unassuming, with a simple shed housing the wine making equipment, the stories of the family history and land echo the ancient process of Portuguese wine making. Enjoying a glass of crisp un-oaked Encruzado (the white grape of the Dão) with José was a highlight of our trip. This is also a perfect place from which to visit Covão dos Conchos, the mesmerising hole in the lake in the Serra da Estrela.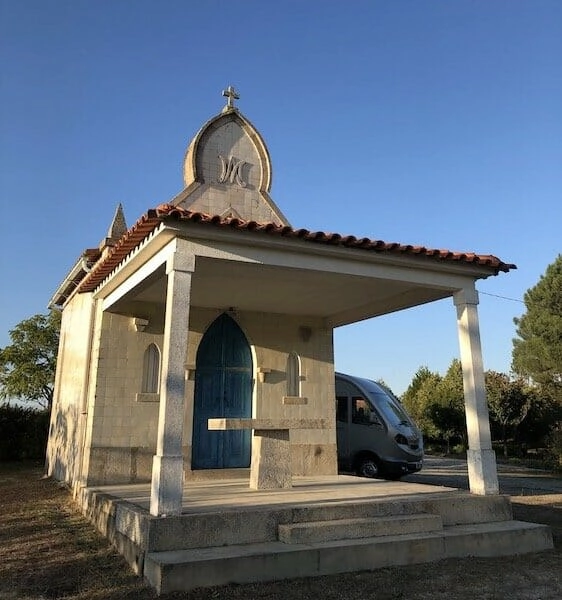 Quinta do Sanguinhal, Óbidos
The largest quinta we visited, the vines here were spectacular – just changing colour as summer gave way to autumn. Started in the 19th century, the buildings of Quinta do Sanguinhal are beautiful and the copper still, used today to produce grappa, is fascinating. With over 100 hectares, there are six parking places to choose from – we spent the night star-gazing in the middle of the vines!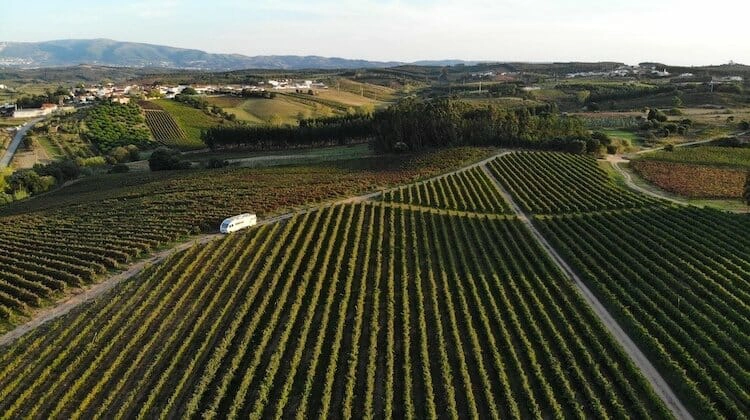 Quinta da Almiara, Lisbon
We loved Quinta da Almiara for the mix of old and traditional buildings with new and contemporary architecture. Still visited and toured every day by the founder, this quinta is now managed by the second and third generations of the family. Deep and fruity wines (perfect for drinking with the local sheep's cheese) are produced in small quantities from the gently rolling hillsides in this gorgeous part of Portugal near Lisbon, which we fell in love with.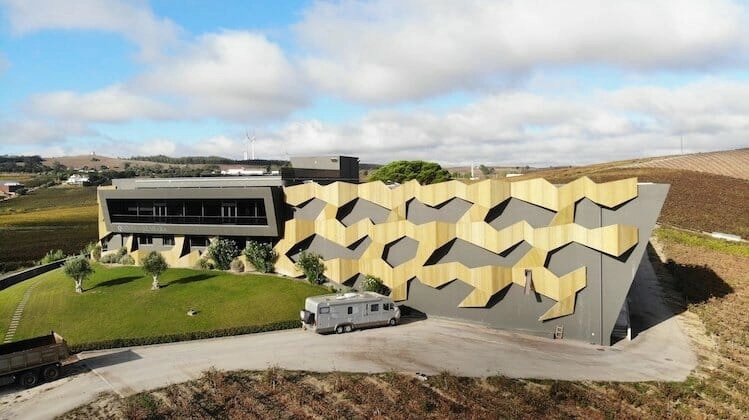 Herdade da Ajuda, Alentejo Valley
The wines of the Alentejo are famous, and rightly so. Mixed amongst the vines in this prime agricultural region are patches of cork, holm oak and citrus trees, along with sheep getting fat on local grass. We spent a wonderful hour with Alberto, the winemaker at Herdade da Ajuda, who talked us through the process of winemaking at the herdade. It had rained whilst we enjoying a tasting and we decided not to park in the vines, but on the level hard-standing behind the winery. which offered us protection from the fierce overnight wind.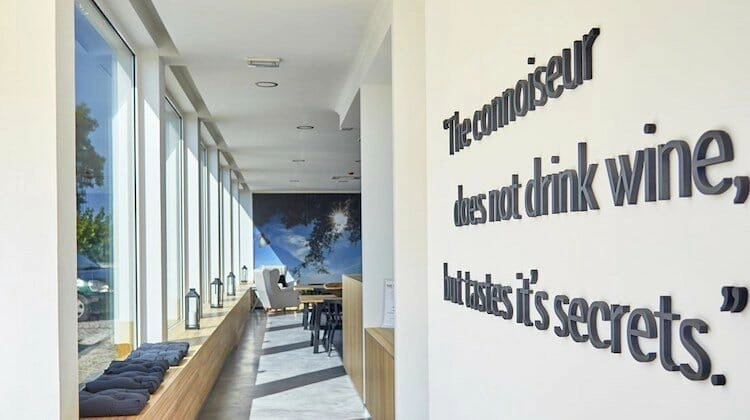 Herdade do Rocim, Alentejo Valley
We found another spectacular and contemporary building at Herdade do Rocim, with far reaching views across the gently rolling landscape and huge skies. Our tasting here was excellent, with not only wines from the surrounding soil, but delicious peppery olive oil produced on the farm too, served with fresh, warm bread. We parked in their level and empty car park, surrounded by olive trees and absolute peace.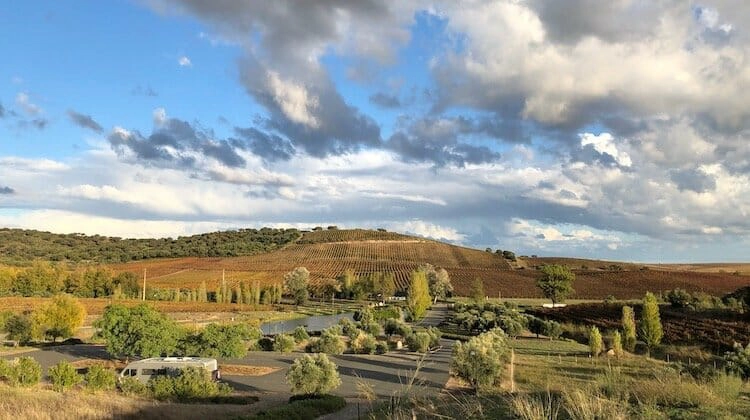 FitaPreta, Alentejo Valley
FitaPreta was a really special experience. There's a palpable sense of history here as you enter down the long driveway to the 700 year old estate, close to the lively town of Evora. The classical honeyed building is beautiful, but no more so than the cork clad ultra-contemporary winery which is barely visible, it blends into the landscape so well. Wine tasting with Alexandra Maçanita, part-owner and wife of the winemaker was a joy, with each wine described in detail and all served with the prettiest deli board we've ever seen. We could easily have spent several nights here in our perfect spot, surrounded by centuries old history, ancient trees and vines.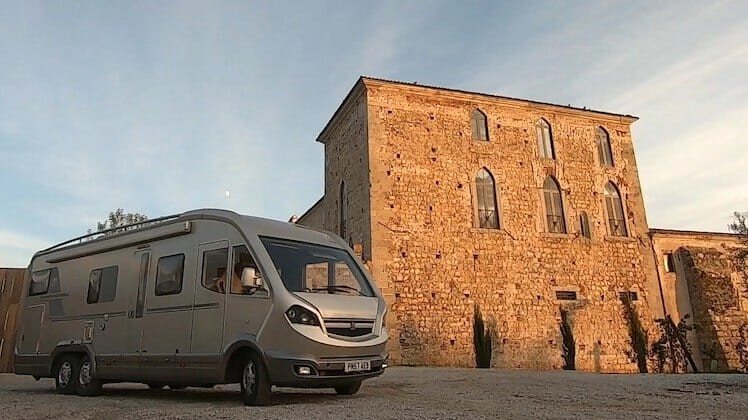 Are you looking for more motorhome touring guides? Check out these top posts…
New Zealand is an absolute dream for campervan enthusiasts. The breathtaking landscapes, diverse wildlife, and incredibly friendly locals make it the perfect destination for your next campervan adventure. We'll will provide you with all the tips, tricks and insider knowledge to make your vanlife experience in New Zealand truly unforgettable. So, buckle up and get ready for an adventure of a lifetime!
Love it? Pin it!