This post may contain affiliate links, from which we earn an income.
Motorhome & Campervan Travel in New Zealand
Oh boy, are you in for a treat! New Zealand is an absolute dream for campervan enthusiasts. The breathtaking landscapes, diverse wildlife, and incredibly friendly locals make it the perfect destination for your next campervan adventure.
We've been on the road in our van for over four years and teamed up with expert road tripper, campervanner, and New Zealand aficionado Niels, to write this ultimate guide to campervanning in New Zealand. With our combined knowledge of van life and New Zealand as a destination, this guide is the only one you need.
Whether you're a first-timer or a seasoned pro, we will provide you with all the road trip tips, tricks, and insider knowledge to make your vanlife experience in New Zealand truly unforgettable. So, buckle up and get ready for an adventure of a lifetime!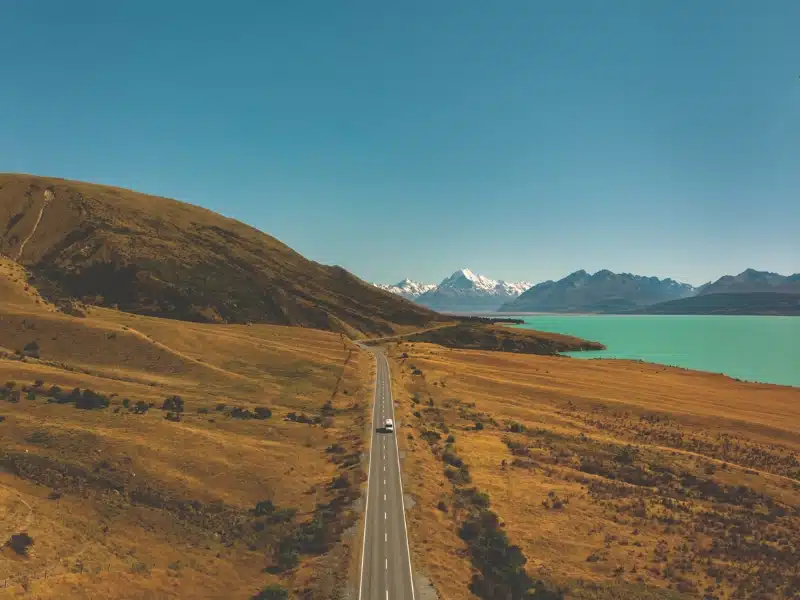 Why Should You Campervan in New Zealand?
New Zealand is a well-developed country with a great public transport system which includes buses, coaches, rideshare, and trains, as well as many day trip options from its major cities. You may wonder why you would want to travel New Zealand by campervan when all this exists.
If you want to get under the skin of the country and experience the true New Zealand, you need to get off the beaten path a little. Sure, go and see all the big-hitting tourist attractions, but even if you go it alone for a week, you'll experience so much more of authentic New Zealand.
Seeing the country from a campervan is way more adventurous than any other style of travel. Get into the epic landscapes and incredible views, and wake up and explore before the day-trippers and tourist crowds arrive.
Managing your own road trip itinerary and not being beholden to a driver or other passengers gives you the freedom to explore at your own pace. Enjoying a lie-in, getting up and going at the crack of dawn, or just moseying around looking at interesting stuff as you find it, makes campervanning in New Zealand a smart choice.
Traveling New Zealand in a campervan is also a great way to experience the country as a digital nomad with a working holiday visa, offering a cheap place to sleep and the means to travel around the country as you work.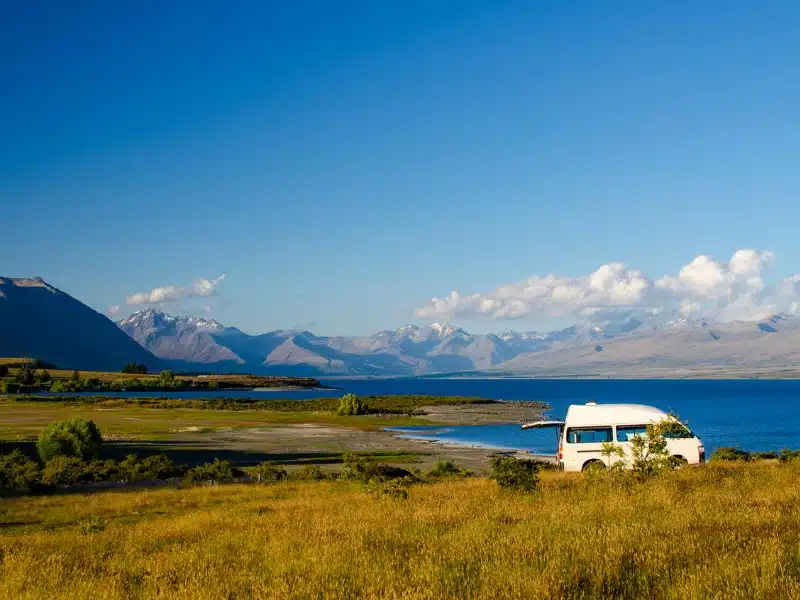 Fly & Hire a Campervan or Motorhome in New Zealand
Most people looking to experience New Zealand by motorhome or campervan will fly into the country and hire a vehicle.
Depending on your campervan road trip plans, the largest international airports in New Zealand are Auckland Airport, best for a North Island itinerary, and Christchurch Airport, best for a South Island itinerary.
We recommend booking your flights to New Zealand through Skyscanner for live deals and the best prices.
If you plan on visiting both islands on your New Zealand campervan trip, you'll need to take your campervan on a ferry across the Cook Strait, the body of water between the North Island and the South Island of New Zealand. The ferries travel between Wellington, at the bottom of the North Island, and Picton, at the top of the South Island. It's often cheaper to book the ferry through your campervan hire company, so factor this into your rental budget.
Before researching our top campervan rental companies to work out which one is best for you, think about the following;
Location: Have a rough idea of your planned route and itinerary, so you can be sure there are pick-up and drop-off depots in those locations. Are there premium location fees? If you are ending your trip in a different location than the pick-up location, are there any one-way fees? A round trip with the same pick-up and drop-off point is the best way to save money on rental costs.
Cost: The price of New Zealand campervan hire changes by season, so make sure to compare apples with apples. Also, look at what's included like equipment, number of drivers and sat navs, as well as the level of insurance offered.
Vehicle: Do you really need a six-berth motorhome when it's just the two of you? Seriously though, make sure you have enough room for comfort, but not so much that it's going to bust the budget. Also, if you're planning to freedom camp (wild camping in Europe and boondocking in the US), you need a certified self-contained campervan. You will not be allowed to camp overnight on public land if you do not have the self-contained sticker.
Customer Service: The level of service can make or break a trip, especially if something goes wrong. Check out the rental company reviews on TrustPilot or Rankers, or use a New Zealand travel forum on Facebook.
Campervan & Motorhome Hire New Zealand
These are our recommended New Zealand campervan rental companies;
Epic Campers – provide small but fully equipped 2-berth campervans, with full self-contained certification. Available in Auckland and Christchurch.
Travellers Autobarn – offering a choice of 2-5 berth campers, with depots in Christchurch and Auckland.
Wendekreisen Travel – choose from a fleet of 17 vehicles with great inclusions from Auckland and Christchurch.
Jucy – keen on price, but their vans are green and purple! If that doesn't bother you, they can be collected from Auckland, Christchurch, and Queenstown.
Mad Campers – we love these guys for their mad challenge! Get a real Kiwi experience and upload photos to your social media of you completing nine challenges (like waterfall swimming and eating fish and chips on the beach) and you'll get 5% off your campervan rental.
Rankers NZ – operates as a campervan rentals aggregator, finding the top quotes from many different campervan rental companies.
For New Zealand motorhome hire – best if you're traveling with a family or need more room – check out Motorhome Republic, who have over ten pick-up and drop-off locations in New Zealand, meaning you can plan a one-way drop-off, or access the bit of New Zealand you really want to see on your motorhome holiday.
You need to be over 21 and have a license in English (or an International Driving Permit) to hire a campervan in New Zealand.
When to Visit New Zealand in a Campervan
As a general rule, whatever the time of year, the North Island enjoys milder temperatures and the South Island sees more unpredictable and usually colder weather.
It's the summer high season in New Zealand from December to February so the weather will be kind! Kiwis are on vacation so booking your campervan hire vehicle well ahead is required.
The off-seasons of autumn and spring are one of the best times to visit New Zealand in terms of weather and campervan rental availability. Vehicle prices are generally quite low and the weather is very mild, especially between March and April.
From May to September, it's winter in New Zealand, and the prices of motorhomes at this time of year are as low as they go. There are far fewer people on the roads or in the campsites, and you may see snow and minus temperatures, depending on where you travel.
There is no "best" time to visit New Zealand, although we think the shoulder seasons of spring and fall offer a great compromise between cost, availability, crowd levels, and the availability of attractions and activities.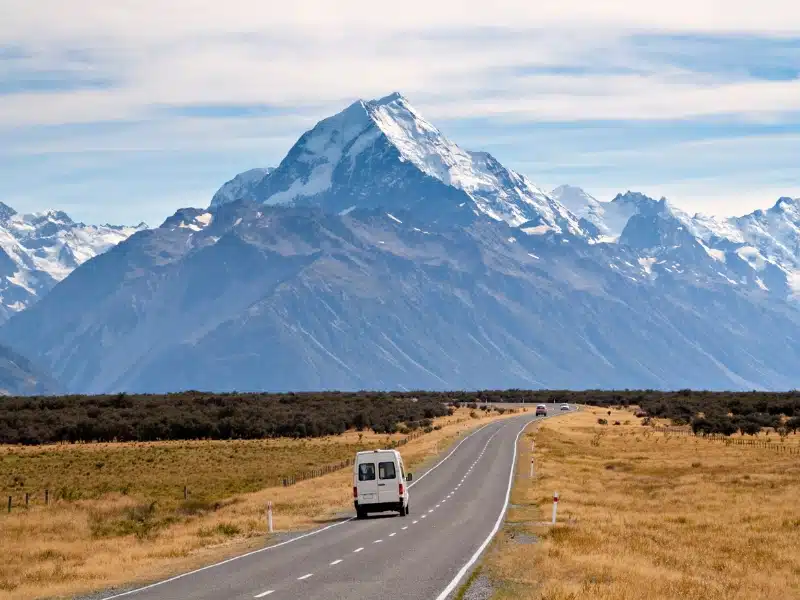 How Long Do You Need?
Anything less than two weeks will feel extremely rushed, especially if you have to get to New Zealand on a long-haul flight. If you use your annual two week holiday, you'll be four to five days in before you can catch your breath and start to enjoy your trip.
A month means you'll have time to get there and come down from the flight, tour both islands and see all the big attractions. Six weeks would give you time to properly relax and spend more time getting to know a few special places.
Driving a Motorhome in New Zealand
New Zealand Rules of the Road
Before you hit the New Zealand roads in your hire vehicle, make sure you understand the basic rules of the road!
New Zealanders drive on the left, just like in the UK, and overtake on the right.
The blood alcohol limit for drivers in New Zealand is 0.05% for those aged 20 and over, and zero for those under 20.
Seat belts and appropriate child restraints for all passengers are mandatory, even in motorhomes.
Speed limits are generally set at 100 kilometers per hour on anything deemed an open road and 50 kph on urban and suburban roads. There are variations within these two defaults, and these should be clearly posted in round white signs with red borders.
Drivers can use a mobile phone to make a call while driving only if it is an emergency situation and unsafe or impracticable to stop the vehicle to make the call.
Vehicles turning must give way to vehicles continuing straight.
Vehicles turning right into a side street must give way to those turning left into the same street.
Vehicles on a roundabout or traffic circle have right of way over those entering.
New Zealand Driving Tips
New Zealand's roads are mainly well-developed and in good condition, but the nature of the landscapes means that driving a large vehicle in New Zealand can sometimes be tricky.
Mountain ranges in the central North and South Islands are often traversed on winding roads, making it necessary to slow down and concentrate.
Keep an eye out for speed limits – even the major highways pass through small towns along the route. You'll often see welcome signs (haere mai in Maori), which usually coincide with the speed limit changing to 50kph.
In rural areas of New Zealand, you may come across unsealed gravel roads. To stay safe, slow down, brake gently, and ensure you are not kicking up a dust cloud that will impair your visibility or that of other road users. Some rental companies will have rules around whether you are permitted to take the vehicle on unsealed roads, so check this before you depart.
Some railway crossings in remote areas don't have active warning indicators. All are signposted, but you'll occasionally see some without bells or lights. Slow down when approaching uncontrolled railway crossings and prepare to stop.
Many of New Zealand's main highways have one-lane bridges. Only traffic from one side can drive across at a time. The NZ Transport Agency (Waka Kotahi) clearly outlines how one-lane bridges in New Zealand work – basically the largest arrow on the sign has right of way!
Wildlife on the road is another concern, along with livestock. At night, watch for possums in particular. During the day, you may come across farm animals being herded on the road, and you'll be expected to give way.
Make sure you have travel insurance you can trust when visiting New Zealand. We recommend True Traveller for their 5-star TrustPilot reviews, variety of cover options, best activities cover as standard, great prices, and excellent service.
Toll Roads in New Zealand
The Transport Agency operates three toll roads – the Takitimu Drive Toll Road (formerly Route K), the Tauranga
Eastern Link Toll Road and the Northern Gateway Toll Road, all on the North Island.
There are no toll booths, but sensors and cameras located in the gantry detect your vehicle approaching and take a photo of your front and rear registration plates.
This information is used to assign the correct toll price and you should pay using the online service within five days of using the toll road.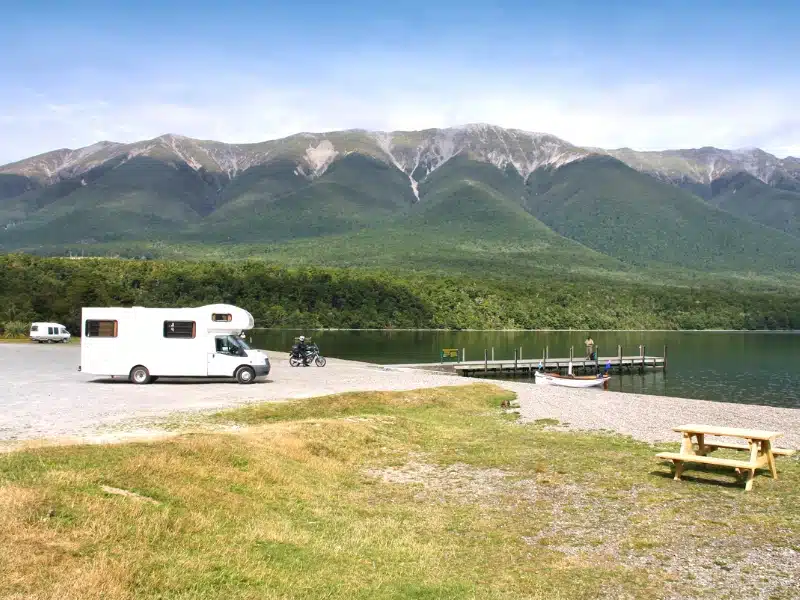 Motorhome & Campervan Services in New Zealand
Dump stations for motorhomes and campervans in New Zealand are plentiful and signed using the blue dump station symbol. Many public dump stations are located at petrol stations, and you'll also find them in campsites and more popular spots.
Use the Camping NZ or CamperMate apps to find dump stations wherever you are in the country.
At the dump station, you can fill up with fresh drinking water, and empty your toilet waste (black waste) and your grey waste (sink and shower waste). Make sure to empty black waste first, meaning your grey waste will help move things along, as it were!
Toilet cassettes are emptied in the same way into the sewer, but there is usually a grey waste pipe provided, which you hook up to the pipe and place into the hole, before opening the tank.
In New Zealand, there are no specific chemical toilet or Elsan points, like in the UK and Europe. Instead, black and grey water goes into the same sewer system.
Please don't empty your black or grey waste anywhere other than a designated dump station. Leaving human waste in the wild can lead to contaminated water supplies and diseases. i-site visitor centers provide detailed information on waste management.
If you don't have a self-contained vehicle, please don't use the bush, waterways, or side of the road as a loo. There are toilets at all designated camping grounds and many public toilets throughout the country – most of these are located in the center of villages, towns, and cities.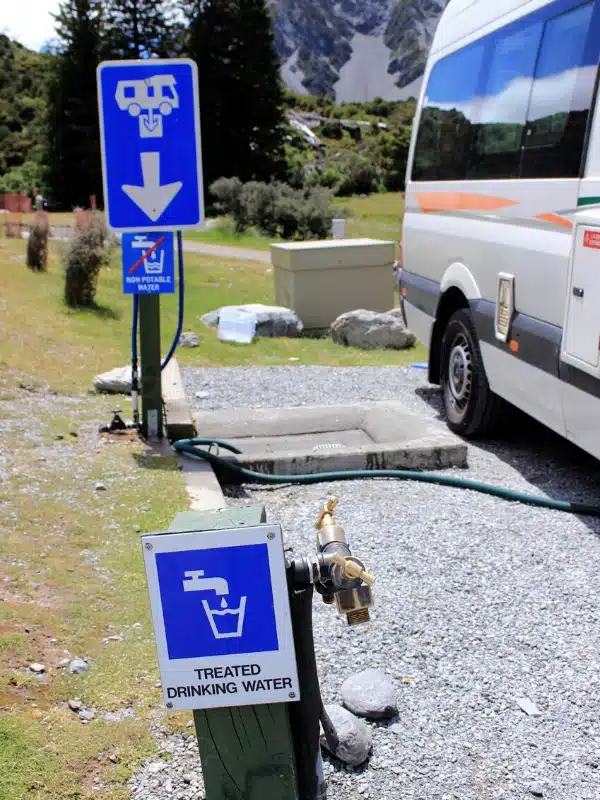 Motorhome Stopovers in New Zealand
When it comes to camping in New Zealand, the options are endless! Whether you're looking for a cozy campsite with all the amenities, or a more rugged, off-grid adventure, there's something for everyone. With all these options available, it's no wonder that New Zealand is a campervanner's paradise.
With so many breathtaking landscapes and natural wonders to explore, the hardest part will be deciding where to set up camp!
Use the Camping NZ by Rankers or CamperMate apps to find campsites and freedom camping spots.
Freedom Camping
One of the most exciting aspects of campervanning in New Zealand is the opportunity to freedom camp. Freedom camping means to camp overnight in a public area other than at a managed campsite, as enshrined in the Freedom Camping Act 2011.
Across New Zealand, only self-contained vehicles are allowed to freedom camp or camp off-grid. Each region may have its own unique regulations as well, such as designated free campsites, time limits, and fees. The Department of Conservation and i-site visitor centers provide detailed information on free camping.
The regulations are in place to protect the environment and ensure that everyone can continue to enjoy the beautiful landscapes of New Zealand for many years to come. And following them is not just an obligation, it is also a way to contribute to the preservation of the country's natural beauty.
It's also important to be aware of other regulations that may apply to your specific area or in national parks, such as fire bans or restrictions on the use of generators. Campfires are usually prohibited during fire season and some areas may have restrictions on the use of generators at certain times of the day, so make sure to check before lighting up.
Imagine, sitting around a campfire under the stars, roasting marshmallows and telling stories, it's a perfect ending to a perfect day!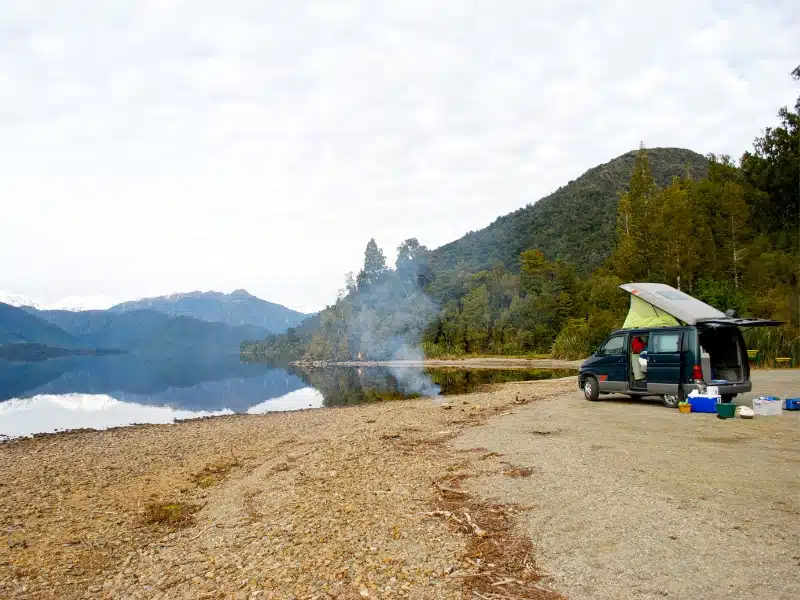 Campsites in New Zealand
New Zealand campsites range from basic campgrounds to luxury holiday parks, with amenities such as showers, toilets, and even WiFi. Many are also located near popular tourist destinations, making it easy to explore the area and experience all it has to offer.
The Department of Conservation runs over 200 DOC sites around New Zealand. Some are free and have basic facilities (like long-drop pit toilets) meaning you don't have to be self-contained to stay. Others are chargeable with a wider range of facilities such as flush toilets, tap water, kitchens, hot showers, rubbish collection, and road access for all types of vehicles.
A Campsite Pass gives you access to DOC conservation campsites around New Zealand, including bookable and non-bookable campsites.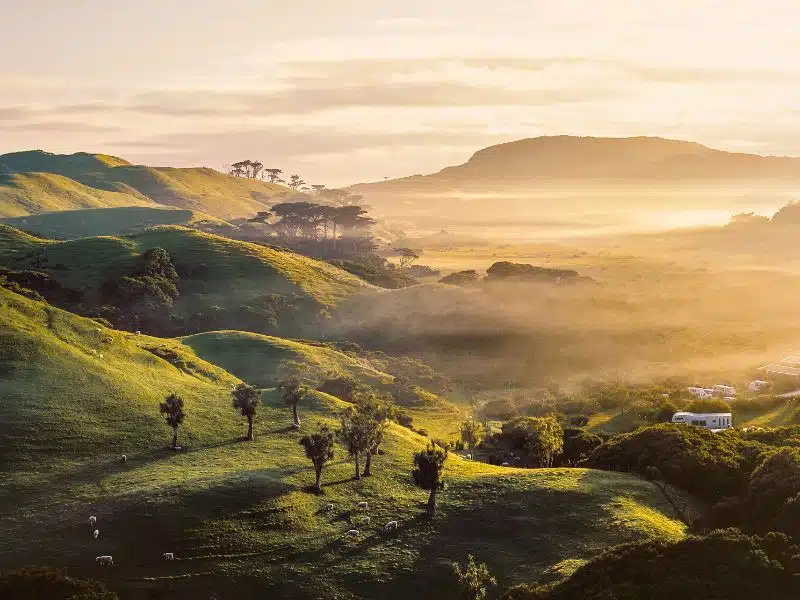 Top New Zealand Campervan Destinations
North Island
Coromandel Peninsula
The Coromandel Peninsula, known for its pristine beaches, misty forests, and laid-back vibe, is one of New Zealand's most popular campervan destinations.
With fantastic hiking and biking trails to explore, and the Whenuakura Wildlife Sanctuary and Karangahake Gorge to discover there is lots to keep you busy here.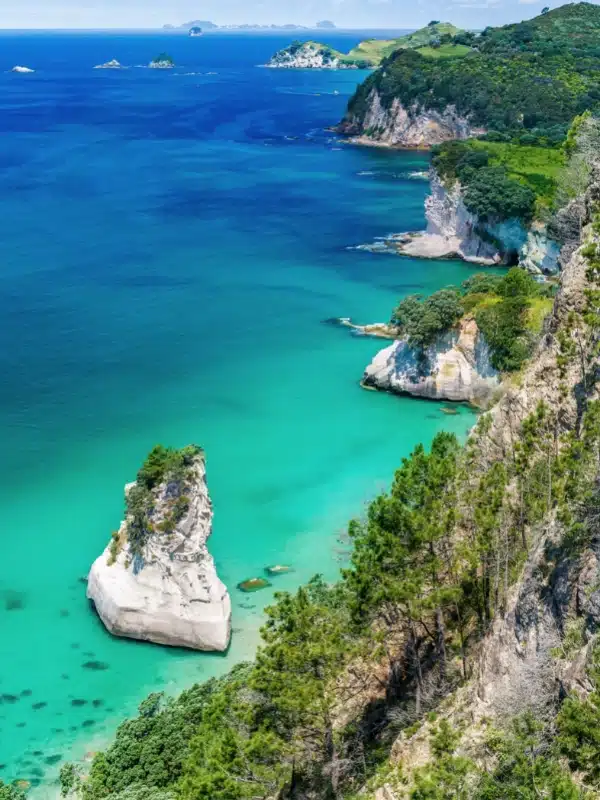 Russell
Russell is a small seaside town in the Bay of Islands that was a whaler's port in the 19th century, full of pretty waterside cafés and white clapboard houses with English cottage-style gardens.
The campsite at Russell is on a hill, a five minute walk from the old town. Premium spaces have panoramic views across the bay to the town of Paihia just across the water. Well worth the ferry trip over, Paiha is a bustling town with great restaurants and a resident pod of dolphins which you may see from the boat.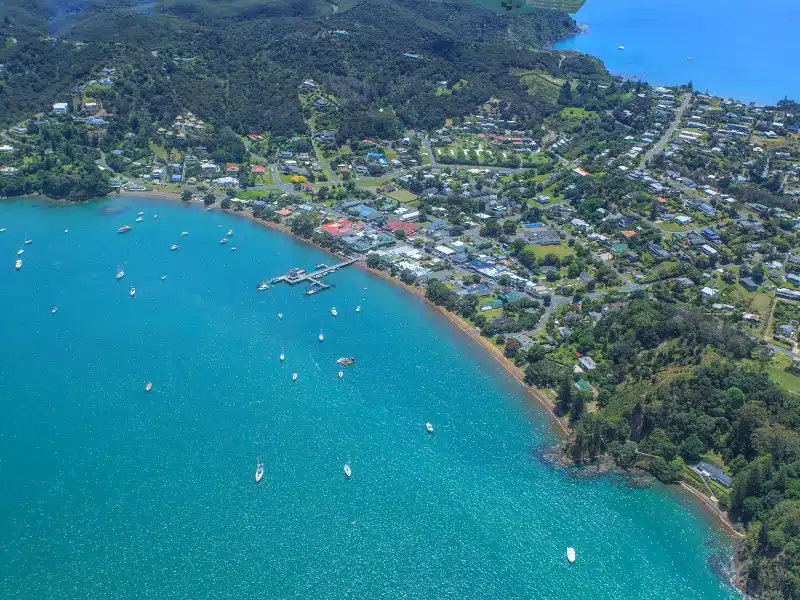 Tongariro National Park
This area is a mecca for visitors to New Zealand, and its cluster of volcanoes is immensely sacred to the local Maori, the Tuwharetoa.
There is a great campsite here run by New Zealand's Department of Conservation in the heart of the national park, set in a quiet area of native bush, which makes an excellent base to explore using the walking and cycling trails from the site.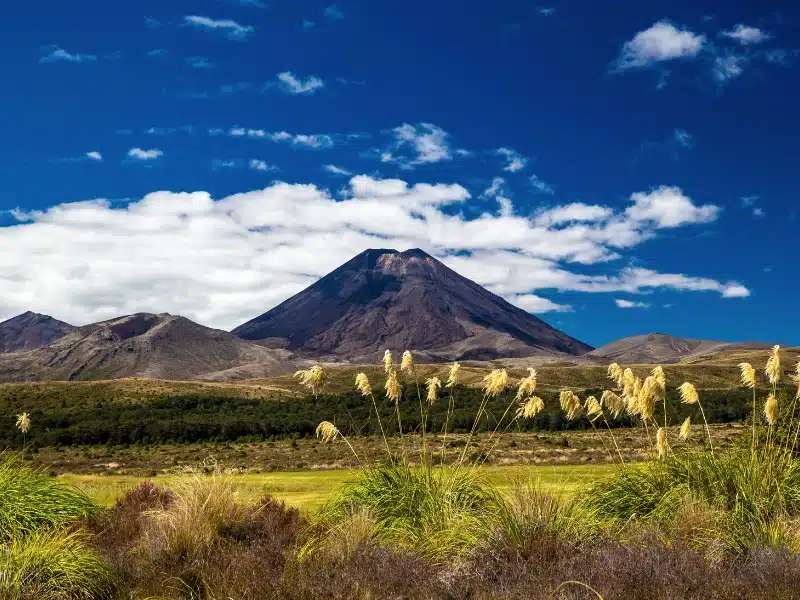 Thermal Explorer Highway
One of the most popular New Zealand North Island driving routes is the Thermal Explorer Highway. The route links Auckland with Hawke's Bay and takes in plenty of natural wonders, along with rich Maori culture, and great food and wine.
Along this route, the North Island's volcanic zone puts on a spectacular geological show, with steaming vents, bubbling mud, and spurting geysers, against a backdrop of lakes, mountains, and picture-perfect pastures.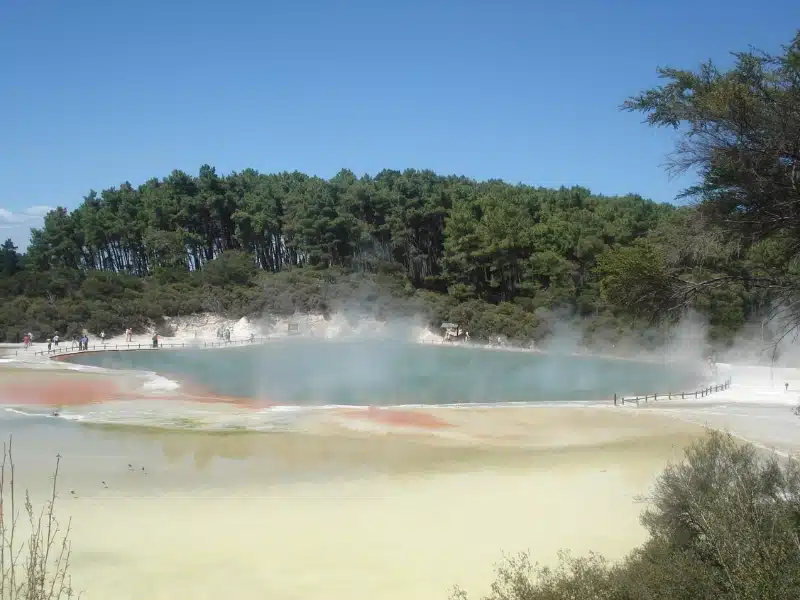 Campervan New Zealand Books
South Island
Kaikoura
First stop, Kaikoura! This coastal town is known for its rich marine life, making it one of the best places in the world to go whale-watching. Imagine getting up close and personal with these gentle giants as they gracefully swim in the waters. It's an experience you'll never forget! The best season for whale watching in Kaikoura is from June through August.
But not only is Kaikoura a top destination for its whale-watching opportunities, but it's also a leader in marine mammal conservation and research.
Many of the tour operators in the area are dedicated to promoting sustainable whale-watching practices and educating visitors on the importance of protecting these incredible creatures.
By choosing a responsible tour operator, not only will you have an unforgettable experience, but you'll also be supporting important conservation efforts.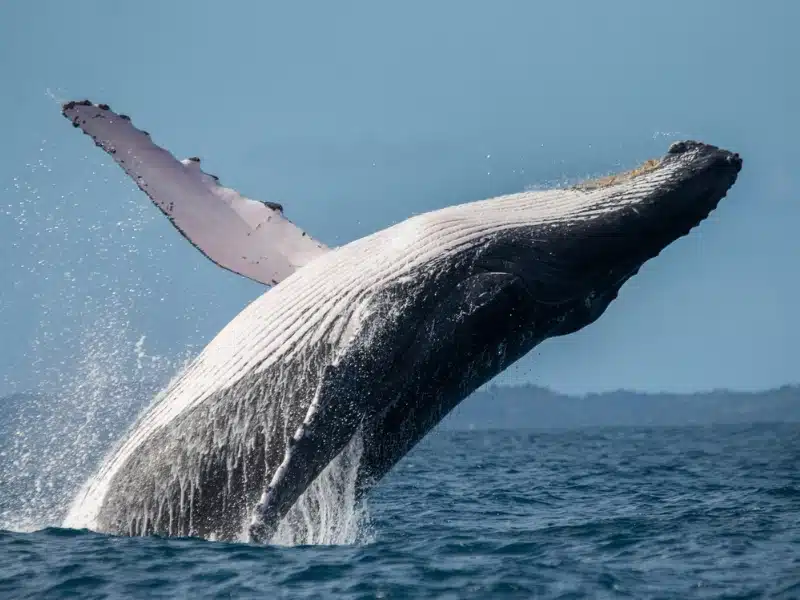 Aoraki Mount Cook National Park
When it comes to the great outdoors, Aoraki Mount Cook National Park takes the cake! This breathtaking park offers a wealth of opportunities for those who love to explore and challenge themselves.
From hiking and skiing to mountaineering and more, this is the perfect spot for adrenaline junkies and nature enthusiasts alike and is one of the most popular spots on any New Zealand South Island road trip.
With 19 peaks soaring over 3,000 meters, Aoraki Mount Cook National Park is a true mecca for alpinists from all corners of the globe.
If you're feeling extra adventurous, why not hop on a helicopter tour for a bird's-eye view of the park? You'll be able to snap some incredible photos and take in the beauty of the park from a whole new angle.
Queenstown
Next up, we've got Queenstown – the adventure capital of New Zealand! This place is a thrill-seeker's paradise, with bungee jumping, skydiving, and jet boating just the tip of the iceberg.
You can also take a scenic gondola ride to the top of the mountain for breathtaking views over the city and surrounding landscape, or base yourself here and explore by taking day trips from Queenstown – you might enjoy time away from the driving!
Whether you're an adrenaline junkie or just looking to take in some breathtaking views, Queenstown is a must-visit New Zealand destination.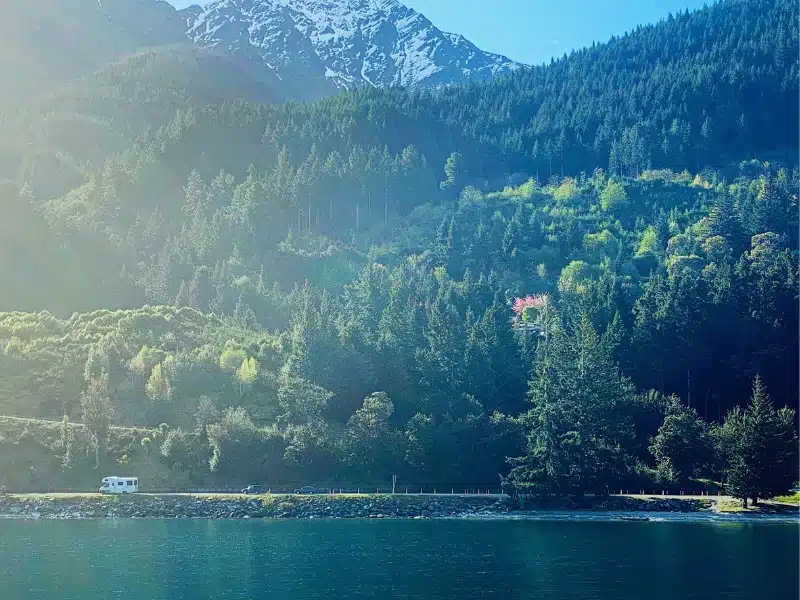 Milford Sound
Last but certainly not least, we've got Milford Sound – one of the most iconic and awe-inspiring destinations in all of New Zealand. This stunning sound is famous for its towering peaks, cascading waterfalls, and breathtaking marine life.
Take a boat tour for a leisurely and scenic voyage through the sound or go kayaking for a more hands-on and intimate experience.
Either way, you'll be surrounded by stunning beauty and awe-inspiring natural wonders, making Milford Sound a must-see destination on your campervanning journey through New Zealand.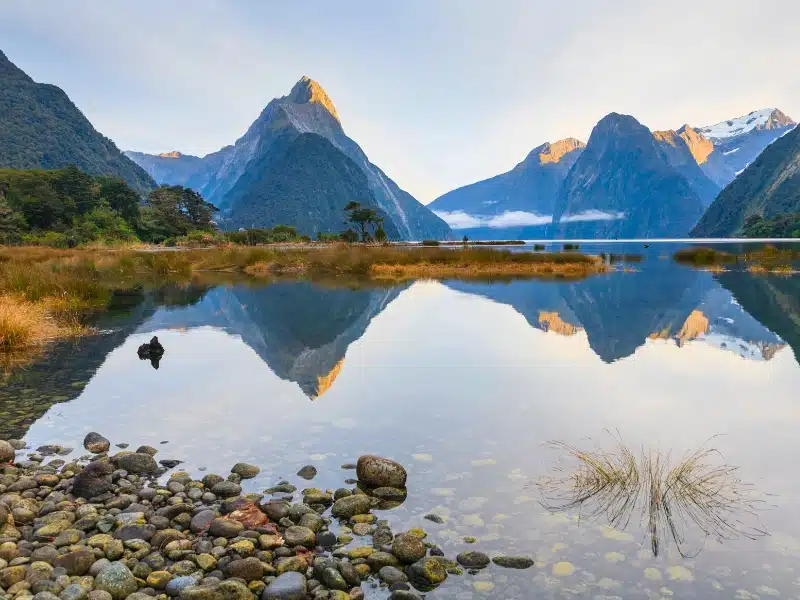 Looking for more motorhome touring guides? Check out these top posts…
Norway is one of the most beautiful countries we have ever visited and a real bucket list destination. If you love adventure and raw nature, then Norway is for you! Our essential guide to visiting Norway in a motorhome will provide you with all the information you need…what are you waiting for?
Love it? Pin it!