This post may contain affiliate links, from which we earn an income.
Best Road Trip in Switzerland from Zurich
Our ultimate Switzerland road trip takes you along a breathtakingly scenic route, exploring beautiful cities, incredible natural scenery, and UNESCO World Heritage sites. This Switzerland itinerary is the perfect adventure for those who love to explore.
From discovering charming lakeside towns and the dramatic Swiss Alps to tackling some of Switzerland's most famous driving roads, you can also take time to stop and visit local wineries, discover adrenaline sports, and sample delicious Swiss cuisine on this road trip through Switzerland.
In this Switzerland road trip planner, we share travel tips, the best route between towns and cities, things to do and see along the way, and hotel recommendations to help you plan your perfect Swiss itinerary.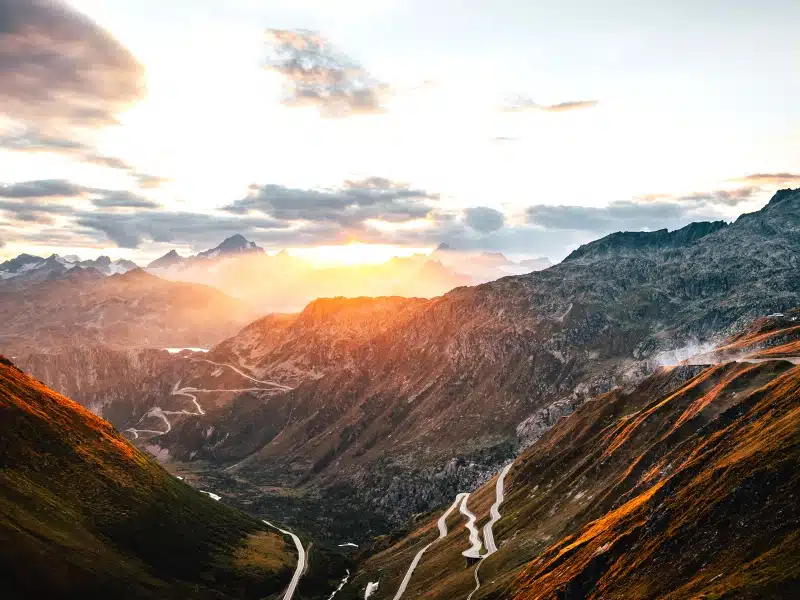 Where is Switzerland?
Switzerland is a small mountainous country located in central Europe, most famous for the Dufourspitze, the second-highest mountain in the Alps, deliciously creamy Swizz chocolate, secretive Swiss banks, and Heidi, Switzerland's most well-known literary character.
This landlocked country is home to 451 mountains and is about the size of New Jersey and is sandwiched between France and Italy, and also bordered by Austria, Germany, and Liechtenstein, which lend a cosmopolitan culture and outlook to the country.
Switzerland is not a member of the European Union or European Economic Area but it is part of the Schengen Area, meaning any time spent touring Switzerland by car counts toward your 90 in 180 days allowance.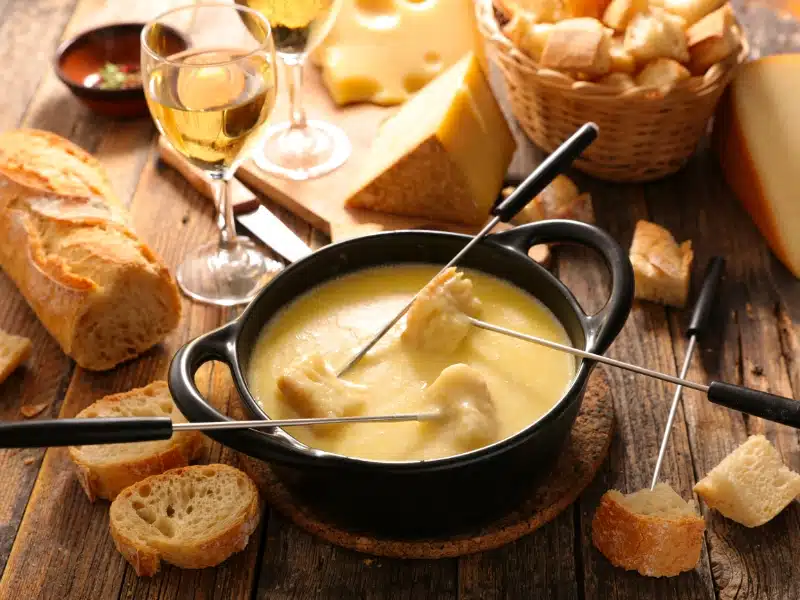 Getting to Switzerland
Whether you're taking a road trip to Switzerland in a car, motorcycle, or campervan, self-driving is absolutely the best way to explore this spectacular European country.
You can stop whenever you want, try new activities, visit places you see along the route, and have the freedom to change plans at the last minute.
Fly into Zurich Airport to start your Switzerland road trip. With direct flights from America, Europe, and the UK, we recommend booking through Skyscanner for live deals and the best prices.
Are you planning to rent a car in Switzerland? As one of the largest car hire aggregator companies in the world, we recommend Rentalcars.com because they have massive purchasing power which enables them to secure the best car rental prices, which benefits you when you're planning a road trip.
For a real adventure, hire a motorhome or campervan in Switzerland. We recommend Motorhome Republic, an aggregate booking site who pull together all the best deals from a number of rental agencies, to offer you a wide choice of options alongside an excellent English speaking expert motorhome Concierge Team.
Traveling in Switzerland by Car
The Swiss make it easy to see their breathtakingly beautiful country, with great roads and a well-managed and maintained network of trains, boats, and cable cars. It's surprisingly easy to see the mountains and gain real elevation without being a super-fit hiker – everywhere you go, there are mechanical means to help you enjoy the peaks.
Although this is a Swiss Alps road trip guide, you will definitely be using trains, cable cars, and boats to see some of the top sights and attractions. If you prefer to arrange your own trips, a virtual Swiss Travel Pass offers unlimited travel on all Swiss trains, buses, and boats and discounted or free admission to many Swiss attractions including museums and mountains.
An alternative is the Swiss Half Fare Card which gets you 50% discounted tickets on standard fares for trains, buses, boats, and cable cars in Switzerland, for one month. This is not a virtual card, however, and you're still required to physically purchase your tickets.
RELATED POST: Driving in the Alps: Top Tips & Best Routes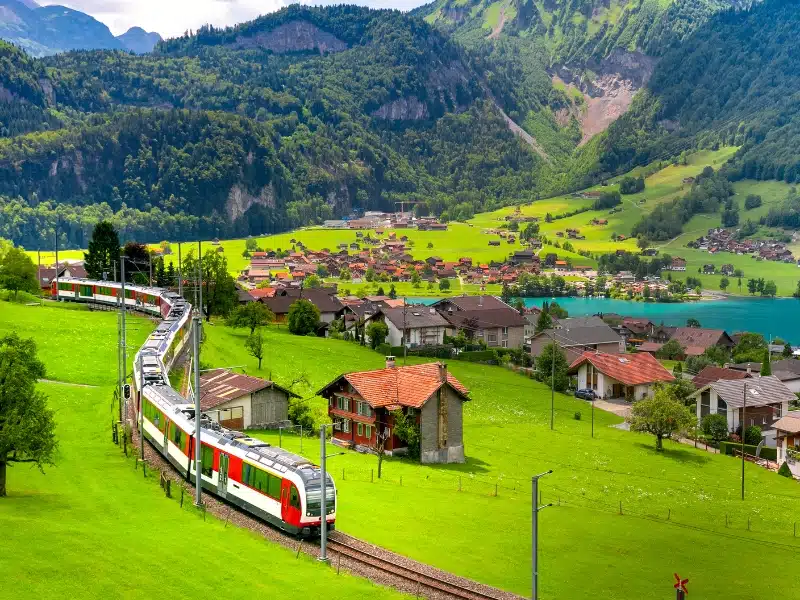 Road Trip Switzerland: Best Time to Go
March to May
Spring is a wonderful time to visit Switzerland, with temperatures warming up across the country. Blooming wildflowers, vibrant greenery in the mountains and cows heading out to pasture mean spring is a fantastic time to experience Switzerland by car. You'll find the roads and cities less crowded, and most attractions will be open.
June to August
In summer, Switzerland enjoys beautiful weather and the prospect of water sports, mountain hiking, and dining al fresco. This is when locals and visitors alike head to the lake shores and mountains, meaning heavier crowds and more traffic.
September to November
Autumn is a fantastic time for a Swiss road trip. The grapes and crops are being harvested, food festivals celebrate the bounty of the land, and you might enjoy an Indian summer, with the fall colors of the vines aflame.
December to February
The winter months in Switzerland can be very cold, but most people come to Switzerland during the months of December to March for winter sports like skiing and snowboarding. It's not the best time for a road trip, as the spectacular mountain passes will be closed and roads can be challenging to drive.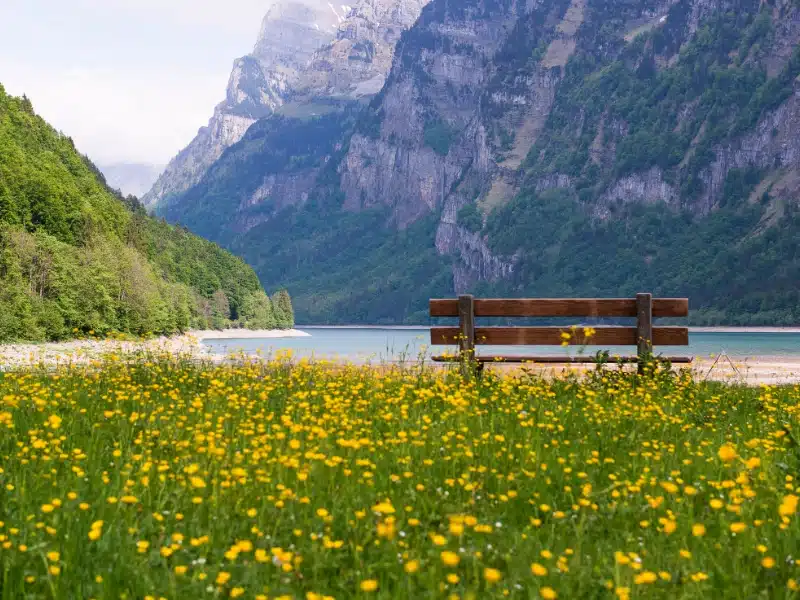 Make sure you have travel insurance you can trust when visiting Switzerland. We recommend True Traveller for their 5-star TrustPilot reviews, variety of cover options, best activities cover as standard, great prices, and excellent service.
Switzerland Road Trip Map & Route
We recommend completing a circular route during your road trip around Switzerland, starting and ending in Zurich. Zurich, the global capital of banking and finance, is home to Switzerland's largest international airport.
Our two week Switzerland road trip will take you on a spectacular, circular drive through Switzerland's iconic landscapes, covering roughly 1000km south across western Switzerland to Geneva before heading east towards Zermatt and eventually back north to Zurich.
Starting in Zurich, your first stop will be Bern, found within the curves of the Aare river. Bern is the capital city of Switzerland and is known for its 12th century architecture that forms the old town or Alstadt. Your visit to Bern would be incomplete without exploring Lake Brienz, just north of the Alps, which offers breathtaking mountain views.
After your trip to Bern, begin traveling south to Lausanne, Geneva, and Montreux, visiting Lac Léman en route.
The following stretch of your trip will provide unrivaled views of Les Diablerets as you head towards Zermatt where you will be met with the iconic Matterhorn, a mountain in the Swiss Alps.
At this point, your road trip will begin taking you north. Drive towards Interlaken, Lauterbrunnen, and Grindelwald where we recommend stopping at the famous Victoria Jungfrau Grand Hotel located in the mountains of Bernese Oberland, the perfect place to celebrate a special occasion.
As you leave Grindelwald, make sure you save time for the Furka Pass as you head to Lucerne. Our Swiss road trip itinerary will continue north to our initial starting point, the city of Zurich.
Zurich – Bern – Lausanne – Geneva – Montreux – Nendaz – Zermatt – Interlaken – Lauterbrunnen – Grindelwald – Furka Pass – Lucerne – Zurich
How to use this map – Use your fingers (or computer mouse) to zoom in and out. Click or touch the icons to get more info about a place, and click the arrow in the box top left to open the index. To add to your own Google Maps account, click the star next to the title of the map.
Switzerland Road Trip Itinerary
Zurich
Flying into Zurich and renting a car is the easiest way to kickstart your Switzerland road trip. Get our one day Zurich itinerary complete with map, recommendations & Zurich travel tips to help plan your trip to this stylish and cultured Swiss city.
Zurich's old town is full of cobbled streets with cozy bars, traditional Swiss restaurants, and art museums. It is also home to some of Zurich's famous Romanesque churches. You can indulge in fabulous shopping on the Bahnhofstrasse with its luxury boutiques, visit Lindenhof Hill with its fantastic views of the city, and sample the famous Lindt chocolate.
If you prefer to have your day organized for you, check out this popular and highly rated private tour with a local guide and get to know the beautiful city of Zurich with a professional guide who will show you the city's hidden gems and also help you experience this popular destination like a real local.
In the evening, head for Seebad Enge, one of Lake Zurich's swimming pools, which turns into a lively bar at night. Stop here for a cold beer and a homemade grilled snack to start your evening off the right way, before heading to Oepfelchammer. A mainstay of Zurich dining since 1801, Oepfelchammer is the place to go if you want traditional Swiss food made with regional and seasonal produce.
Upmarket: Marktgasse Hotel – Booking.com | Agoda
Mid-Range: Placid Hotel Design & Lifestyle – Booking.com | Agoda
Budget: Meininger Hotel – Booking.com | Agoda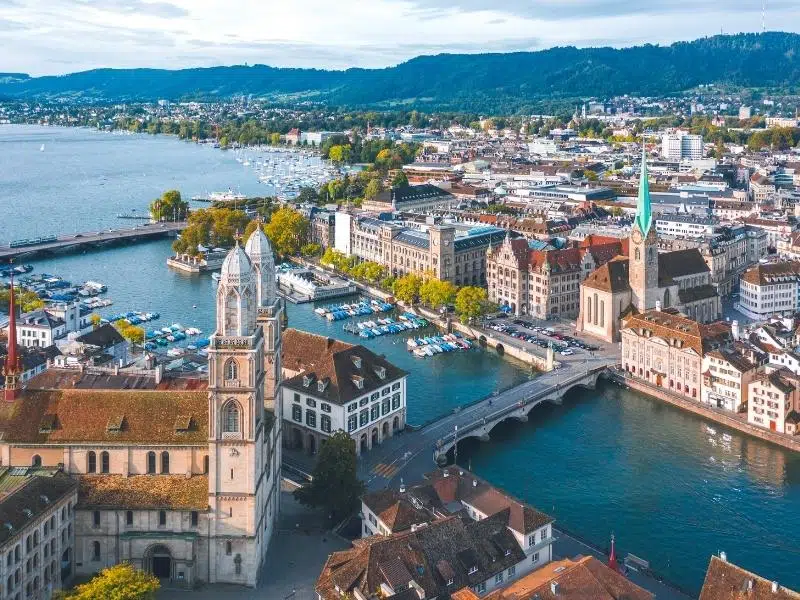 Rhine Falls Side Trip
Just under an hour away from Zurich in Schaffhausen are the Rhine Falls, the largest waterfall in Europe with a width measuring 150m (492ft) and a height of 23m (75ft). Over 600,000 liters of water per second plunge over the falls in the summer.
There is an elevator to take you up from Laufen Castle to the viewing platforms for a breathtaking view of the falls. A boat ride to the falls basin is also on offer, and well worth the time. Across the river is a huge rope park, so you can glide from tree to tree and admire the falls from every angle.
If you prefer not to drive, there are lots of day trips to the Rhine Falls from Zurich, but we think this highly recommended Rhine Falls day trip from Zurich is the best. Your driver will take you through a scenic landscape of charming villages to visit the Rhine Falls, you'll cross the river to the Belvedere Trail viewing platform for incredible views, and learn about the medieval history of Stein am Rhein.
Bern
Driving from Zurich to Bern is a scenic journey that takes approximately an hour and 20 minutes, depending on traffic conditions. From Zurich, you will head towards the Swiss Alps, passing through picturesque villages along the way.
Travel Tip: We would highly recommend taking a detour on your drive from Zurich to Bern to visit the UNESCO Biosphäre Entlebuch. This Swiss national park is a biosphere reserve that encompasses approximately 39,000 hectares and is an incredible expanse of the untouched Swiss landscape.
Bern, the capital of Switzerland, is renowned for its well-preserved old town, a UNESCO World Heritage Site, its historic clock tower, the Zytglogge, which is one of the city's most recognizable landmarks, and the Bear Pits, or Bärengraben, where bears have been housed since 1513 and have come to symbolize the city.
Bern has a variety of unique experiences to offer and the best way to see the city is with our recommended guided walking tour where you'll have the opportunity to admire Bern's fountains, towers, quaint streets, and arcades as you learn about the city's 800 years of history from a local guide.
Upmarket: Stay KooooK Bern City – Booking.com | Agoda
Mid-Range: Los Lorentes Hotel Bern City – Booking.com | Agoda
Budget: Bern Backpackers Hotel Glocke – Booking.com | Agoda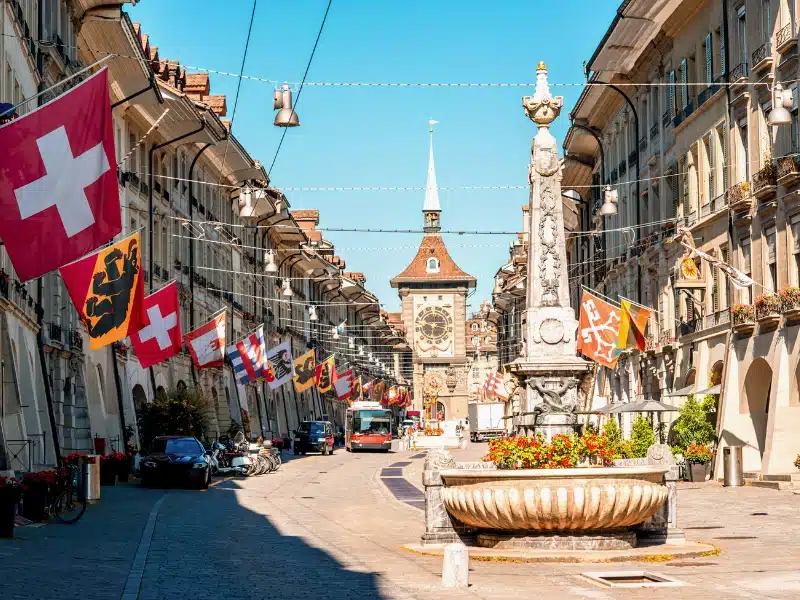 Lausanne
As you leave Bern and head towards Lausanne, you will be surrounded by the Swiss Alps, offering breathtaking views of the country's mountainous natural beauty. However, as you draw closer to Lausanne, the scenery will change from mountains and rolling hills to the shores of Lake Geneva, also known as Lac Leman, where the city of Lausanne is located.
Lausanne is home to a number of historic churches, including the Cathedral of Notre Dame, as well as several museums and art galleries, including the Olympic Museum, a must-visit for sports fans.
Lausanne is a foodie's paradise. Be sure to sample some of the local specialties, such as fondue, raclette, and rosti, while enjoying the stunning views of Lake Geneva.
Travel Tip: From Lausanne, you can take a day trip to Glacier 3000, an alpine experience near Les Diablerets. A 15 minute cable car journey will give you 360-degree views of the Swiss mountains. Once at the summit, you will enjoy spectacular views of Lac Leman. The Glacier 3000 Peak Walk, the only bridge in the world connecting two summits, provides daring visitors with panoramic views of the alpine landscape.
Upmarket: Hotel Angleterre & Résidence – Booking.com | Agoda
Mid-Range: Moxy Lausanne City – Booking.com | Agoda
Budget: Hôtel du Marché – Booking.com | Agoda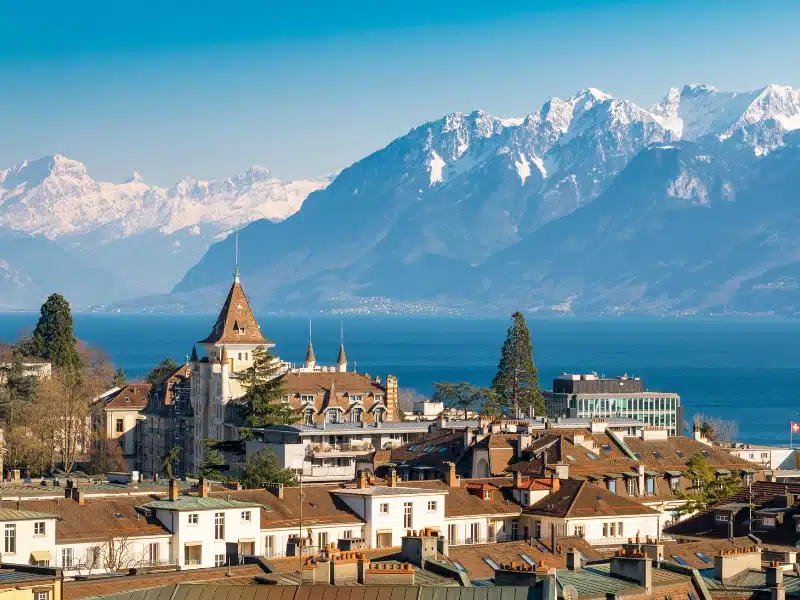 Other Nearby Road Trips
Geneva
Driving from Lausanne to Geneva takes approximately 45 minutes and takes you along the shores of Lake Geneva, offering stunning views of the lake and the surrounding mountains. Geneva is also the place where our Switzerland road trip route crosses with the Grand Tour of Switzerland route, which takes in five alpine passes, twelve UNESCO World Heritage sites, and 22 lakes.
Travel Tips: There are many mountain peaks along this route. If you love walking, why not consider stretching your legs and exploring the areas surrounding La Dôle, Le Noirmont, or Crêt de la Neige?
As you approach Geneva, you will be greeted by the city's modern skyline, punctuated by the iconic Jet d'Eau, a 140-meter-high fountain located in the heart of the city.
Geneva is renowned for its rich history, beautiful parks and gardens, and world-class museums, including the Museum of the International Red Cross and Red Crescent. We would highly recommend a Lake Geneva cruise to enjoy scenic views of the Swiss and French Alps, as well as Geneva's landmarks, from the waters of Lake Geneva.
Upmarket: Hôtel Longemalle – Booking.com | Agoda
Mid-Range: Hotel Mon Repos – Booking.com | Agoda
Budget: Meininger Hotel Genève – Booking.com | Agoda
Montreux
Driving from Geneva to Montreux will take you further along the shores of Lake Geneva and through the picturesque Swiss countryside. The mild climate of Montreux, with a backdrop of the Swiss Alps, makes it a popular destination for both locals and tourists
Montreux is home to a number of cultural and historical landmarks, including the Château de Chillon, a medieval castle located on a small island in the lake. The city is also renowned for the Montreaux Jazz Festival, which takes place every summer and attracts music lovers from all over the world, and as the home of Charlie Chaplin and his family at Manoir de Ban in Corsier-sur-Vevey for 25 years.
Travel Tip: The Lavaux Vineyard Terraces are a UNESCO World Heritage Site located a 20-minute drive from Montreux. They feature miles of vineyards along the hillsides of Lake Geneva and are a must-see for wine lovers.
Upmarket: Grand Hotel Suisse Majestic – Booking.com | Agoda
Mid-Range: La Rouvenaz – Booking.com | Agoda
Budget: Bon Port – Booking.com | Agoda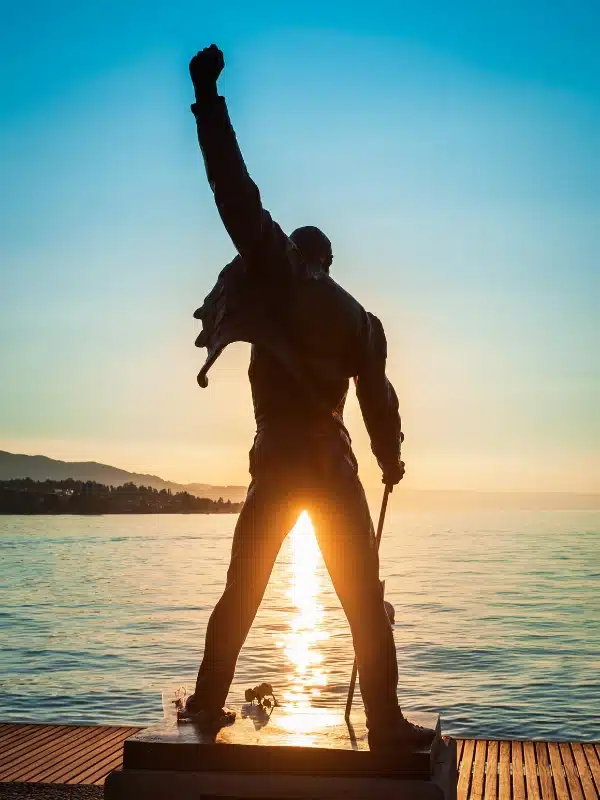 Nendaz
It's worth making a stop at Nendaz, at the foot of Mount Tracouet. You won't be surprised to learn that there is a traditional cable car up the mountain, helping you to enjoy the incredible landscape which surrounds you.
If you're passing Nendaz in summer you may be lucky enough to experience the Swiss Alphorn Festival. This annual festival held in late July celebrates a work of Swiss tradition and history. The alphorn is a longhorn (around 11 feet) made of wood, historically used as a means of communication, and now used in Swiss folk music.
During the festival, alpenhorn blowers from the entire world descend for the official alphorn blowing competition, a trachten parade featuring folk costumes, concerts, folklore events, village balls, and an alphorn concert which involves a band with over 150 alphorn players! This really is a spectacle and very worth seeing.
Upmarket: Nendaz 4 Vallées & Spa – Booking.com | Agoda
Mid-Range: Le Cret Haute Nendaz – Booking.com | Agoda
Budget: Gîte de Planchouet – Booking.com | Agoda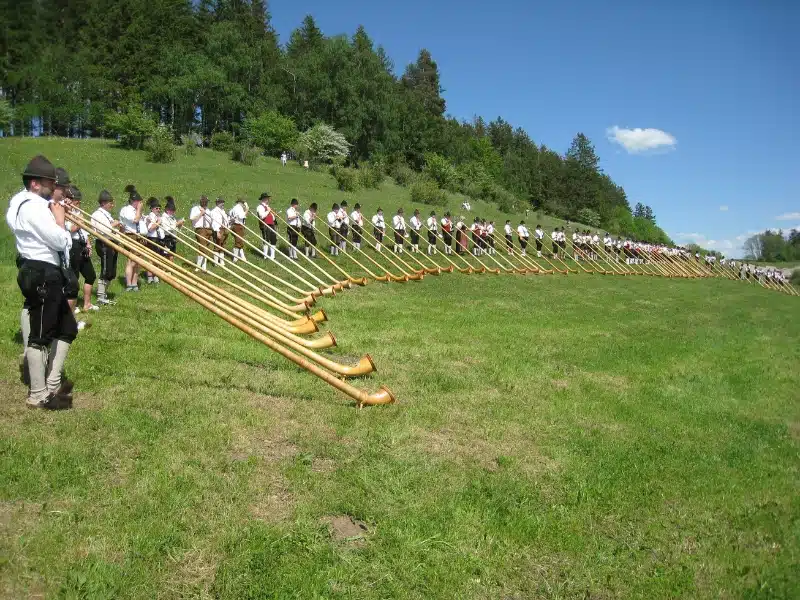 Zermatt
The drive from Montreux to Zermatt will be one of the longest legs of your trip! However, driving this incredible route will be an unforgettable experience as you further explore the beauty of the Swiss Alps.
As you approach Zermatt, you will be surrounded by towering, mountain peaks offering a glimpse into the heart of the Swiss wilderness. Zermatt is one of Switzerland's most famous mountain resorts and is renowned for its ski slopes and breathtaking views of the Matterhorn, one of the most iconic peaks in the Swiss Alps.
Did you know that Zermatt is car free? You have to leave your car at one of the parking facilities in nearby Täsch. From there, Zermatt is 12 minutes awy by train, or you can grab a taxi direct to your hotel.
Definitely set aside time to hike in the Matterhorn Valley! We recommend the stunning five lakes hike, which passes the unique lakes of the Stellisee, Grindjisee, Grünsee, Moosjisee, and Leisee, the latter of which is good for swimming. This is a moderately easy walk and you can reach the trailhead by taking the Sunnegga funicular from Zermatt, and then the gondola to Blauherd.
As well as hiking, Zermatt offers a range of other outdoor activities. With over 360km of ski slopes, Zermatt is one of the largest ski areas in the Swiss Alps and offers skiing, snowboarding, and snowshoeing options for all levels.
A number of restaurants in Zermatt, such as Restaurant Zum See and The Cambrian, offer mountain views alongside locally sourced ingredients and traditional Swiss dishes.
Travel Tip: No trip to Zermatt is complete without a trip up the Matterhorn, which is one of the highest summits in the Alps at 4,478 meters above sea level. Take the Matterhorn Glacier Paradise Cable Car or the Gornergrat Bahn Cogwheel Train to the top for panoramic views of the Swiss Alps and the Matterhorn.
RELATED POST: Most Beautiful Places In Switzerland That You Must Visit!
Upmarket: Hotel Schweizerhof Zermatt – Booking.com | Agoda
Mid-Range: Le Mirabeau Hotel & Spa – Booking.com | Agoda
Budget: Hotel Bahnhof – Booking.com | Agoda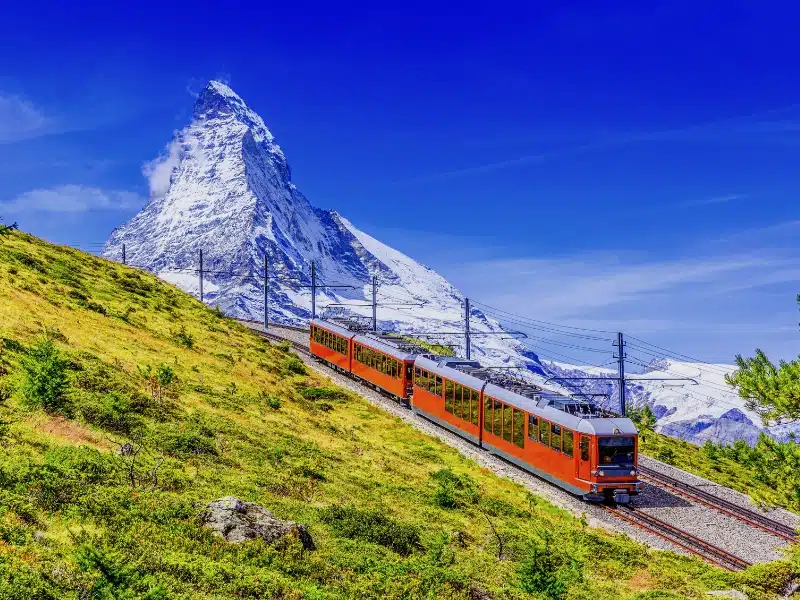 Interlaken
The drive from Zermatt to Interlaken takes you south through the towering peaks of the Swiss Alps. On route, you will pass the Weisshorngruppe. This mountain range is dominated by the Weisshorn peak, which reaches a height of 4,506 above sea level and provides a spectacular backdrop for your road trip.
There are lots of things to do in Interlaken and you can take in the cultural attractions, such as museums, churches, and traditional Swiss architecture.
Interlaken is also a popular destination for adventure sports enthusiasts, Interlaken offers a range of activities such as tandem paragliding, bungee jumping, and white-water rafting on the nearby Lütschine river.
Bordering Interlaken are Lake Thun and Lake Brienz. You can enjoy a range of activities on the emerald waters of these lakes. Lake Brienz offers jet boat tours and kayaking experiences while Lake Thun is home to the St Beatus Caves; a cave system featuring lit pathways through tunnels and chambers.
Travel Tip: While in Interlaken, take the time to visit the Harder Kulm viewpoint. With an altitude of 1,322 meters, this high vantage point allows visitors to enjoy unrivaled views of Interlaken and Unterseen.
Upmarket: Lindner Grand Hotel Beau Rivage – Booking.com | Agoda
Mid-Range: Hotel Chalet Swiss – Booking.com | Agoda
Budget: Walters Hostel Interlaken – Booking.com | Agoda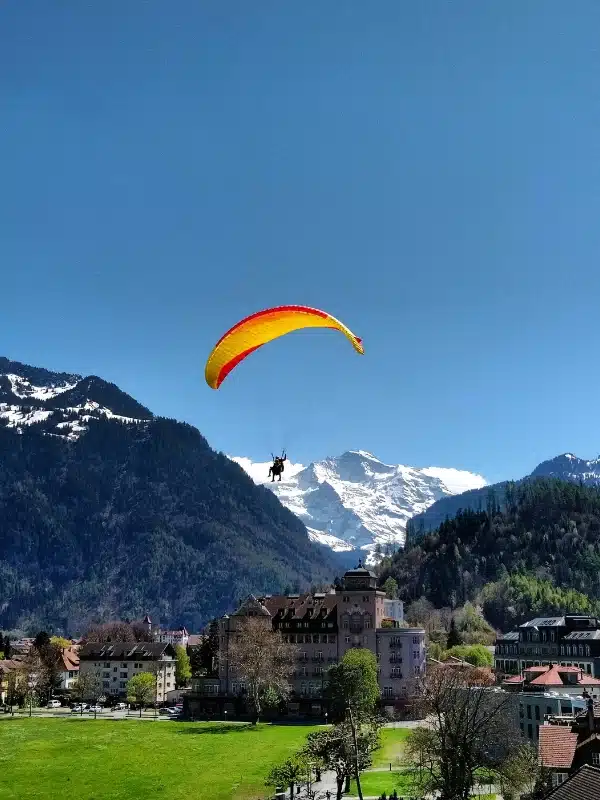 Jungfraujoch Side Trip
The Jungfraujoch is a topographical saddle connecting two major 4,000m+ mountains of the Bernese Alps – the Jungfrau and the Mönch. It lies at an elevation of 3,463 meters above sea level and is directly overlooked by the rocky prominence of the Sphinx, and the incredible Sphinx Observatory.
The Jungfraujoch Railway is the highest in Europe and trains leave Kleine Scheidegg railway station regularly throughout the year for the "top of Europe". Once there, you can experience breathtaking views of the snow-capped Jungfrau-Aletsch region from the Sphinx Observation Deck and the Glacier Plateau, before hitting the snow park for snow tubing, sledding, and zip lining.
In the Ice Palace are intricately detailed ice carvings and sculptures of animals such as bears, penguins, and eagles, and you'll also be able to learn about the history of the railway here. Just to top off your visit, nearby is Lindt Swiss Chocolate Heaven!
With over one million visitors a year, it's best to book your Jungfraujoch tickets well in advance. With our recommended round trip to the top of Europe package, you get your train tickets, plus entry to all the Jungfaujoch experiences except the snow park. These tickets are on a buy now, pay later basis, so you can always cancel at no cost if your plans change.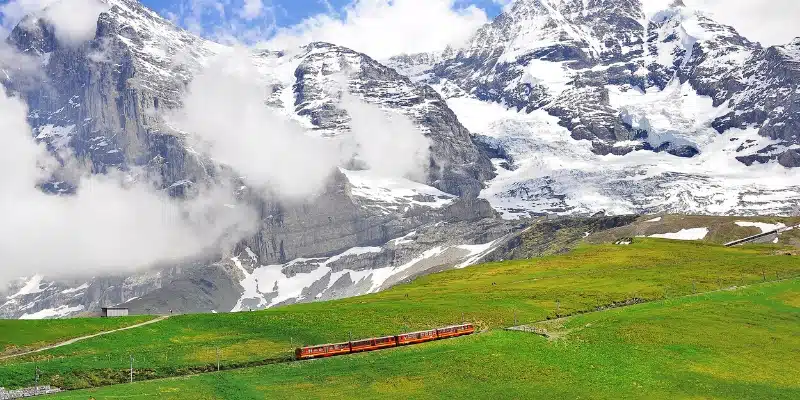 Lauterbrunnen
Driving for twenty minutes will take you from Interlaken to Lauterbrunnen. Lauterbrunnen is known for its 72 waterfalls, including the famous 300-meter-high Staubbach Falls, and the nearby Trümmelbach Falls, which gush through mountain crevices past viewing platforms.
Hiking, paragliding, rock climbing, and canyoning are all popular ways to experience what Lauterbrunnen has to offer. For a truly unique experience, consider viewing the landscape and the Bernese Alps from a hot air balloon.
Travel Tip: Lauterbrunnen and Mürren served as filming locations for the James Bond movie On Her Majesty's Secret Service in 1969. From Stechelberg, get the Schilthorn cable cars to Bond World and the Birg Station at 2,970 meters. Once there, test your nerves on the Skyline Walk overlooking a vertical wall and tackle the Thrill Walk along a 200-meter cliff pathway, before walking the remaining distance to the iconic 007 Piz Gloria restaurant, which revolves to reveal a breathtaking 360-degree view of the Eiger, Mönch, and Jungfrau peaks.
Upmarket: Hotel Silberhorn – Booking.com | Agoda
Mid-Range: Hotel Schützen Lauterbrunnen – Booking.com | Agoda
Budget: Valley Hostel – Booking.com | Agoda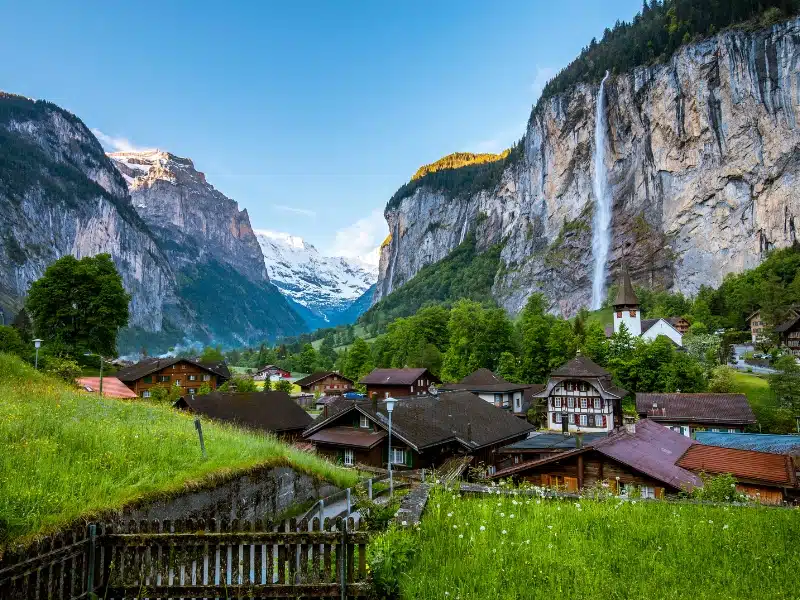 Grindelwald
The drive from Lauterbrunnen to Grindelwald takes approximately 30 minutes, depending on road conditions, passing traditional Swiss mountain chalets. These include Sulwald Stübli, a restaurant with mountain views that we highly suggest grabbing lunch in.
Grindelwald is surrounded by towering peaks including the famous Eiger mountain. The challenging hike along the Eiger Trail offers breathtaking views of this iconic mountain peak.
For a much easier walk, head to the First Cliff Walk at the summit of the First mountain at 2200m above sea level, a quick ride from the village on the Grindelwald Firstbahn cable car. The walk itself is along a metal walkway and a single-rope hanging bridge constructed along a cliff. At the end of the walkway, there is a spectacular observation platform that stretches out 45 meters above the mountains below.
We suggest experiencing the Grindelwald-Männlichen Cableway while in Grindelwald. This cable car ride offers panoramic views of the surrounding mountains and valleys, including the famous peaks of the Eiger and Wetterhorn.
Travel Tip: For an out-of-this-world experience, visit Grindelwald Glacier Canyon, an underground labyrinth carved out by the 250 million-year-old Grindelwald Glacier.
Upmarket: Bergwelt Grindelwald Alpine Resort – Booking.com | Agoda
Mid-Range: Sunstar Hotel & Spa – Booking.com | Agoda
Budget: Grindelwald Youth Hostel – Booking.com | Agoda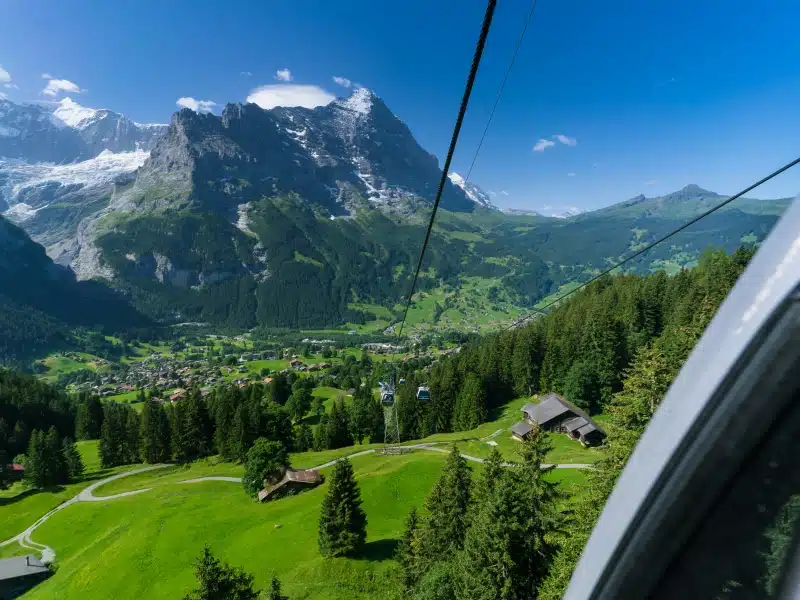 Furka Pass
To reach the Furka Pass, just over an hour from Grindelwald, you'll first have to cross the Grimsel Pass, meaning you'll bag two of Switzerland's best driving roads in a day. These high-altitude mountain passes in the Swiss Alps are famous for their incredible scenic drives.
Remember, you will need to time your travel dates correctly to experience this world-renowned drive! The Grimsel and Furka Pass are only open between June and October due to travel conditions and snow on the roads, and will appear closed on our interactive map if you're planning your route outside of the summer season.
When the road is closed you can transport your rental car by train in the Furka Base Tunnel, connecting Realp and Oberwald.
Travel Tip: The Furka Pass is located in a protected natural area, so be sure to follow Leave No Trace principles. Additionally, the road up the Furka Pass is steep, narrow, and winding, so it's important to drive with caution, especially if you're not used to mountain driving.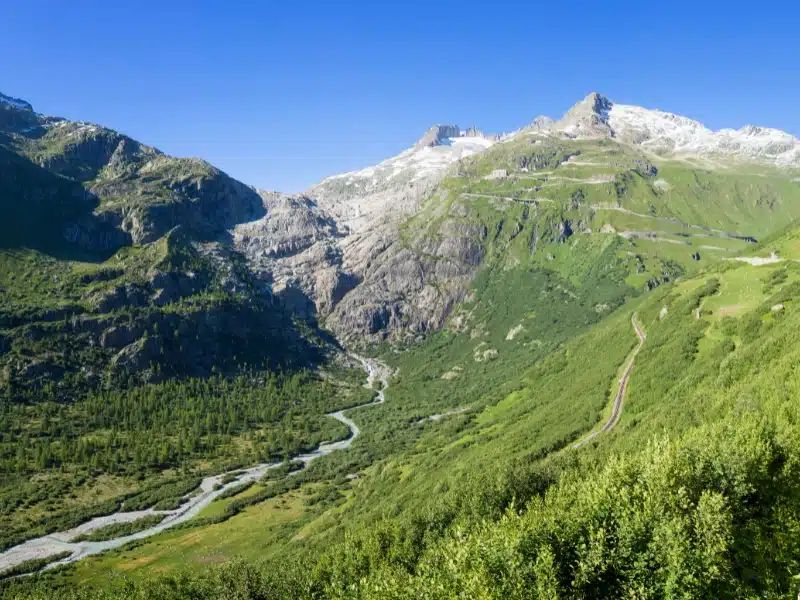 Lugano Side Trip
This is more of an optional extra than a side trip! On the other side of the Furka Pass, you have the option to head north on Route 2 to Lucerne, or south to Lugano, a good hour's drive away. You'll want a few days spare for this Lugano side trip!
Lugano is in an Italian-speaking region and has a distinctive Swiss-Mediterranean mix of cultures which are reflected in its architecture and cuisine. The city stands on the shore of beautiful Lake Lugano, surrounded by mountains, including Monte San Salvatore, and is full of lively squares, lakeside walks, fun shopping streets, and colorful parks.
To tick another country off your list, hop on a boat from the downtown pier of Lugano Centrale to either Porlezza or Ponte Tresa, both of which are in Italy.
Lucerne
The charming city of Lucerne is surrounded by rolling hills, forests, and lakes, showcasing the beauty of the Swiss countryside. A trip to Lucerne is incomplete without exploring Lake Lucerne. We would recommend experiencing the lake on a boat tour, by kayaking or paddleboarding.
While in Lucerne, we would recommend taking a Lucerne city tour to see the Chapel Bridge, the Lion Monument, and Lucerne's historic old town. While visiting this city, you can also take a brilliant Lake Lucerne and Mount Pilatus trip, known as the golden round trip, which takes you on a boat, cogwheel railway, aerial cableway, and finally a gondola offering panoramic views of the surrounding mountains and the city itself.
Driving from Lucerne to Zurich takes approximately 1 hour and 15 minutes and is the final travel day on your ultimate Switzerland road trip.
Upmarket: Grand Hotel National Luzern – Booking.com | Agoda
Mid-Range: Waldstätterhof Swiss Quality Hotel – Booking.com | Agoda
Budget: Anstatthotel Horw – Booking.com | Agoda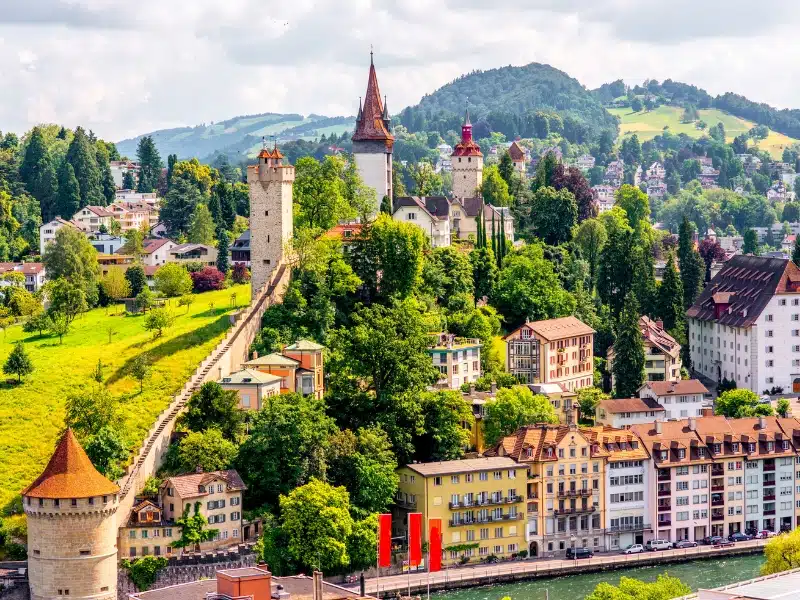 Mount Titlis Side Trip
A half-hour scenic drive from Lucerne to Engelberg will take you to an unmissable Swiss experience. The Titlis Glacier, found atop Mount Titlis is reached on the Rotair revolving cable car from Engelberg – yep, a rotating cable car!
You can also experience an unforgettable adventure on the Ice Flyer chairlift, step inside a glacier cave and cross the Titlis cliff walk bridge suspended high over the Swiss Alps.
If you prefer not to drive, this highly rated half day tour from Lucerne will transport you to Engelberg and include all the experiences Mount Titlis has to offer.
A road trip through Switzerland is filled with natural beauty, cultural richness, and adventure. From the rolling hills and pristine lakes surrounding Zurich, Bern, and Lucerne, to the stunning alpine landscapes of Zermatt, Interlaken, and Grindelwald, Switzerland offers a wealth of scenic vistas and outdoor activities.
Along the way, you can explore charming old towns, visit UNESCO world heritage sites, sample delicious Swiss cuisine, and relax in some of Europe's most beautiful and serene natural settings.
Switzerland Road Trip Resources
Here are the websites and services we personally use and recommend for traveling in Switzerland.
Tips for Driving in Switzerland
Travelling in Switzerland by car is a pleasure. The roads in Switzerland are well maintained and the drivers are courteous and measured. The engineering of the mountain passes and complex tunnels and bridges that ribbon across the landscape is a real marvel.
Whether you're traveling in your own vehicle or flying in and renting a car, you need to follow these rules when you drive and travel in Switzerland;
You must have at least three months remaining on your passport (issued in the past ten years) at your intended date of departure from Switzerland.
You must have at least 3rd party insurance for your vehicle when you road trip in Switzerland.
Citizens of non-EU third countries may require an IDP, you can check here.
It is compulsory to carry a warning triangle inside the car, not in the boot.
If you wear glasses you must carry a spare pair.
You will require a Swiss motorway vignette or toll sticker if you want to use the autobahn. It's almost impossible to avoid doing so, and it's easy to buy a sticker online, at the border or at a service station just inside the country. If you're renting a car, the vignette will be included.
If you're planning a winter road trip to Switzerland, you should carry snow chains. Road signs will let you know when you need to put them on the car.
In Switzerland, motorists drive on the right and overtake on the left. Unless otherwise indicated, the vehicle coming from the right has priority at intersections.
Drivers approaching roundabouts must give way to all traffic already on them unless otherwise indicated by signs.
If you have a GPS navigation system that shows you where any speed cameras are, you must deactivate this function. Carrying or using radar detection equipment is illegal when driving through Switzerland.
You may only use a mobile phone whilst driving with a hands-free device.
RELATED POST: Driving in Europe – Everything You Need to Know
Are you looking for more road trip inspiration? Check out these top posts…
One of the best ways to explore the beautiful country of Croatia is by taking a road trip, where you can drive along winding coastal roads, visit charming towns and villages, and discover off-the-beaten-path hidden gems. In this Croatia road trip guide, we'll share some of our favorite road trip routes and destinations in Croatia, along with tips for planning your own adventure on the open road. Get ready for an unforgettable journey through one…
Love it? Pin it!