This post may contain affiliate links, from which we earn an income.
An Austrian Road Trip from Vienna
Embarking on a scenic Austria road trip is the ultimate way to discover Europe's most picturesque cities and towns. As you travel through Austria, you will encounter the majestic Austrian Alps, culturally rich cities, unforgettable outdoor experiences, and breathtaking lake and mountain views.
This Austria itinerary takes you through some of Europe's most stunning natural scenery, charming historic towns, and bustling modern cities. You'll also find plenty of opportunities for outdoor activities within alpine mountain ranges and national parks, cultural experiences at UNESCO World Heritage sites, and culinary delights.
In this Austria road trip planner, we share travel tips, the best route between towns and cities, things to do and see along the way, and hotel recommendations to help you plan your perfect road trip through Austria.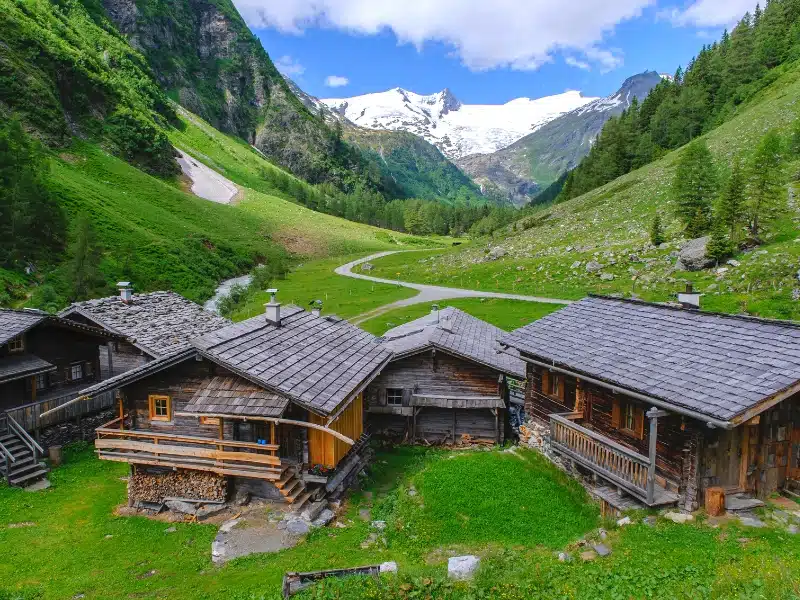 Where is Austria?
Austria is a small landlocked mountainous country located in east central Europe, most famous for gemutlichkeit which describes the Austrian's characteristic way of enjoying life, its castles and palaces, and the Grossglockner peak, Austria's highest mountain at 3,798 meters above sea level.
The Republic of Austria is a federation of nine states, one of which is the capital Vienna, the most populous city and state. Austria is bordered by Germany to the northwest, the Czech Republic to the north, Slovakia to the northeast, Hungary to the east, Slovenia and Italy to the south, and Switzerland and Liechtenstein to the west, all of which lend a cosmopolitan culture and outlook to the country.
Is this your first time visiting Austria? Get all the information you need in our Austria Travel Guide, including what to pack, the best time of year to go, getting there, and practical tips to help you have the best trip!
Getting to Austria
Whether you're taking a road trip to Austria in a car, motorcycle, or campervan, self-driving is absolutely the best way to explore this spectacular European country.
You can stop whenever you want, try new activities, visit places you see along the route, and have the freedom to change plans at the last minute.
Fly into Vienna International Airport to start your roadtrip in Austria. With direct flights from America, Europe, and the UK, we recommend booking through Skyscanner for live deals and the best prices.
Are you planning to rent a car in Austria? As one of the largest car hire aggregator companies in the world, we recommend Rentalcars.com because they have massive purchasing power which enables them to secure the best car rental prices, which benefits you when you're planning a roadtrip in Austria.
For a real adventure, hire a motorhome or campervan in Austria. We recommend Motorhome Republic, an aggregate booking site who pull together all the best deals from a number of rental agencies, to offer you a wide choice of options alongside an excellent English speaking expert motorhome Concierge Team.
Best Time for an Austrian Road Trip
March to May
Spring is a fantastic time to visit Austria, with temperatures warming up across the country. Blooming wildflowers, vibrant greenery in the mountains, and cows heading out to pasture mean spring is a fantastic time to experience Austria by car. You'll find the roads and cities less crowded, and most attractions will be open.
June to August
In summer, Austria enjoys beautiful weather and the prospect of outdoor adventures and extreme activities. This is when locals and visitors alike head to the mountains and lakes, meaning heavier crowds and more traffic.
September to November
Autumn is a fantastic time for an Austria trip. The grapes and crops are being harvested, food festivals celebrate the bounty of the land, and you might enjoy an Indian summer, with the fall colors of the vines aflame.
December to February
The winter months in Austria can be very cold, but most people come to Austria during the months of December to March for winter sports like skiing and snowboarding. It's not the best time for a road trip, as the spectacular mountain passes will be closed and roads can be challenging to drive.
RELATED POST: Driving in the Alps: Top Tips & Best Routes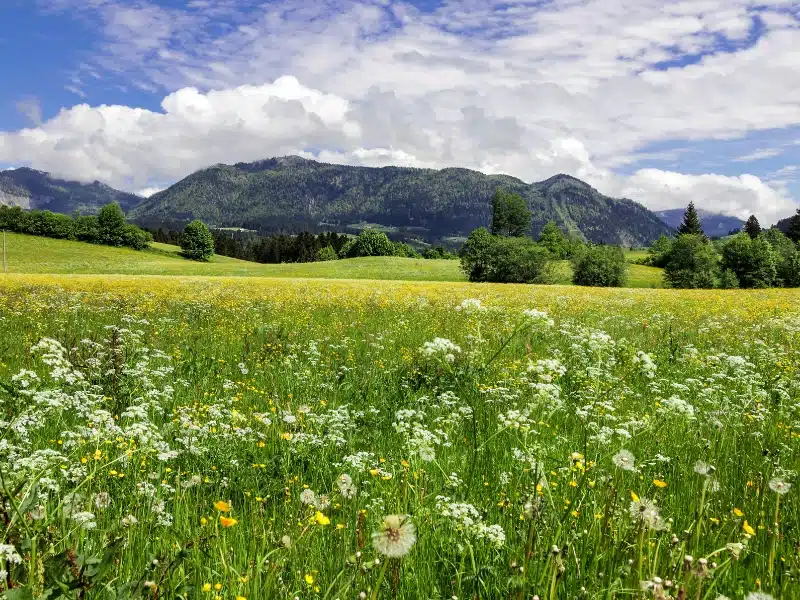 Make sure you have travel insurance you can trust when visiting Austria. We recommend True Traveller for their 5-star TrustPilot reviews, variety of cover options, best activities cover as standard, great prices, and excellent service.
Austria Road Trip Map & Route
We recommend starting your two week Austrian road trip in Vienna and concluding the itinerary in Innsbruck. Our two week Austria road trip itinerary travels from the east to the west of Austria and is roughly 615km from start to finish.
As you leave Vienna, beautiful and quaint Austrian towns and villages will greet you as you travel south toward the foodie city of Graz, the next major stop on your Austrian itinerary. From here, its north to Hallstatt, a small, alpine village situated on the western shores of Hallstätter See, also known as Hallstatt Lake, that offers iconic views and outdoor experiences.
Next up is Salzburg, the birthplace of Mozart and a UNESCO World Heritage Site. We recommend leaving enough time in your itinerary to explore the Baroque architecture of the city and visit the Salzburg Fortress for stunning panoramic views. From Salzburg, head to Zell am See, a charming mountain town surrounded by the unforgettable mountain peaks of the Alps.
Your journey will continue on to Mayrhofen, a popular skiing destination known for its vibrant nightlife, unrivaled winter sports, and stunning alpine scenery.
Finally, finish your Austria road trip in Innsbruck, the capital of the Tyrol region. The city is surrounded by breathtaking mountains and is home to several impressive landmarks. Innsbruck is the perfect place to end your road trip and reflect on the stunning beauty of Austria.
Vienna – Graz – Hallstatt – Salzburg – Zell am See – Mayrhofen – Innsbruck
How to use this map – Use your fingers (or computer mouse) to zoom in and out. Click or touch the icons to get more info about a place, and click the arrow in the box top left to open the index. To add to your own Google Maps account, click the star next to the title of the map.
Austria Road Trip Itinerary
Vienna
Allow at least 3 days in Vienna (Wien in German, the official language of Austria) to discover the city's rich history and cultural heritage. If you're hiring a car, you should arrange to pick it up after you've explored Vienna – you definitely don't need a vehicle in this city!
There are countless things to see and do in romantic Vienna, from visiting the Schönbrunn Palace, a formal imperial residence and a UNESCO World Heritage Site, to St. Stephen's Cathedral, a Gothic cathedral that represents one of Vienna's most recognizable landmarks. You must take the 343 steps to the top of the cathedral for breathtaking (literally!) views over Vienna from the south tower.
Other tourist attractions include the Hofburg Palace, Belvedere Palace, home to Klimt's Kiss, the fabulous Naschmarkt food market, and the Vienna State Opera, one of the world's most famous opera houses offering daily performances of classical operas and ballets. The Vienna hop-on hop-off sightseeing bus tour is a great way to see key attractions in the city.
Travel Tip: Vienna is famous for its coffee culture. Traditional coffeehouses are recognized for their interior and atmosphere. Coffees and pastries are served on small, marble-topped tables with Thonet chairs tucked into alcoves. Try the historic Café Central and we promise an authentic experience of Vienna's coffee culture.
RELATED POST: Best Cities in Austria for an Amazing Visit!
Upmarket: Palais Hansen Kempinski Vienna – Booking.com | Agoda
Mid-Range: Jaz in the City Vienna – Booking.com | Agoda
Budget: H+ Hotel Wien – Booking.com | Agoda
Wachau Valley Side Trip
Roughly an hour northwest of Vienna is the Wachau Valley, a UNESCO World Heritage Site that is home to rolling hills of grapes vines and apricot trees. A day tour from Vienna to the Wachau Valley is the ideal way to experience this world-renowned area.
If you don't want to drive, this highly rated Wachau day trip from Vienna takes you on a bus and boat tour of the Wachau and Danube valleys, to the Benedictine Abbey of Melk and the old city of Krems in the heart of the Wachau wine-growing region. Your guide will share Austria's imperial history as you cruise the famous Blue Danube on its route past picturesque villages and steep vineyards.
Graz
The drive from Vienna to Graz mostly takes the E59, S6, and S35 highways, and will take a couple of hours. It's worth taking the slight detour to Semmering, famous for the UNESCO Semmering Railway, and Bruck an der Mur, one of the oldest cities in Austria.
Graz doesn't make it onto a lot of Austrian road trip itineraries because its understated charm and lack of bright lights reputation mean people don't make the effort to drive south.
But we love Graz for its fantastic foodie scene, strong architecture (no surprise that Graz is a UNESCO City of Design), and off-the-beaten-path vibe.
In Austria's heartland of Styria, known as the "belly of Austria", Graz's food offer is legendary – think fried chicken, smoky bacon jam called verhackert, cold cuts, locally made beer and wine, and of course, chocolate.
Alongside the cuisine, this Habsburg city delivers palaces and castles, a UNESCO old town, and colorful squares like Hauptplatz in abundance. Don't miss Schlossberg and its medieval clock tower called Uhrturm, and the man-made island of Murinsel in the Mur river, constructed to mark Graz being the European Capital of Culture in 2003.
Upmarket: Kai 36 – Hotel zwischen Fels und Fluss – Booking.com | Agoda
Mid-Range: Aiola Living Graz – Booking.com | Agoda
Budget: Zur Steirerstub'n – Booking.com | Agoda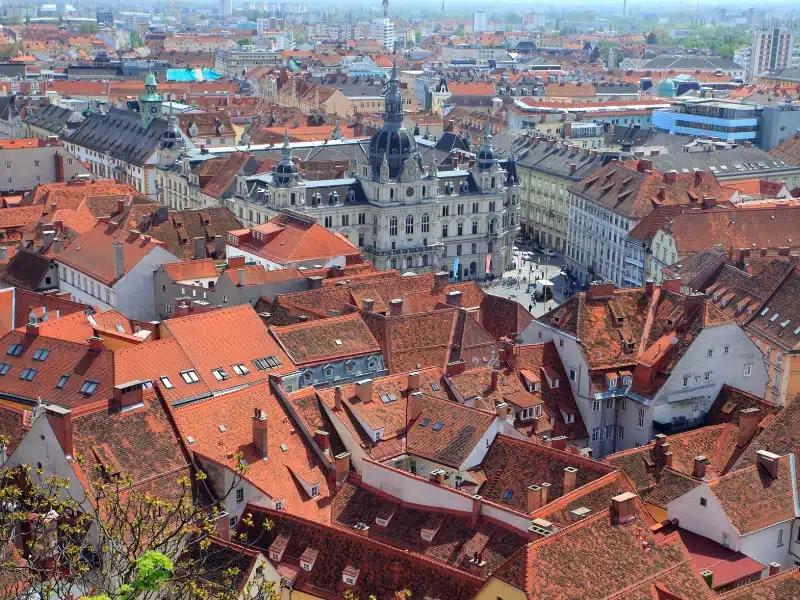 South Styrian Wine Road Side Trip
The South Styrian Wine Road is a round trip route that runs for 44km between Ehrenhausen, a 45 minute drive from Graz via Leutschach. The route follows mile after mile of vineyards, picturesque villages, wine taverns called buschenschank, and family-owned hotels and inns, and is well worth a few days of your time if you're a wine lover.
South Styria is predominantly a white-wine-growing region, with the dry Sauvignon Blanc, Chardonnay, and Pinot Blanc being the most famous Styrian wines. Visiting a winery, and tasting their wines in situ as you learn about how they're made is a fantastic experience, and not to be missed in this beautiful part of Austria.
Hallstatt
The drive from Graz to Hallstatt will be the longest stint of your Austria road trip! At 176 kilometers, with a drive time of around two and a half hours, this part of your road trip passes through the picturesque landscape of Styria and the foothills of the Alps.
Hallstatt, a small picturesque town located in the Salzkammergut region of Austria, is a popular tourist destination for its natural beauty, which allowed it to become a UNESCO World Heritage Site in 1997.
We loved the Hallstatt World Heritage Skywalk, which reaches 1,148 feet and extends over the edge of a mountain, providing unforgettable views of the Hallstätter See. The Salzbergbahn funicular will carry you from the valley station of Salzwelten Hallstatt to the Skywalk.
If you're up for an adventure, we think one of the best ways of experiencing the Skywalk is at sunrise when the light is perfect and there are way fewer people around! We highly recommend a dawn hike up Salzberg mountain to enjoy the incredible views from the Skywalk, with a pro photographer by your side.
Hallstatt is also known for its production of salt which dates back to prehistoric times. The Hallstatt Salt Mine is the world's oldest salt mine and has been in operation since 4000 BC, and a guided tour through the underground tunnels to learn about the history of salt mining in the region is a must.
No trip to Hallstatt is complete without a stroll along the waterfront, to take in the stunning views of the lake and the surrounding mountains. Enjoy fresh fish from the lake itself at restaurants like Schirmbar Hallstatt situated along the water.
Travel Tip: From Hallstatt, we suggest taking a day trip to the Dachstein Ice Cave. You can take a cable car to the giant ice cave to enjoy a guided tour. Remember to wear warm clothing as the caves rarely reach above 4 degrees!
Upmarket: Seehotel Grüner Baum – Booking.com | Agoda
Mid-Range: Fenix Hall Boutique Hotel Hallstatt – Booking.com | Agoda
Budget: Pension Leprich Bad Goisern – Booking.com | Agoda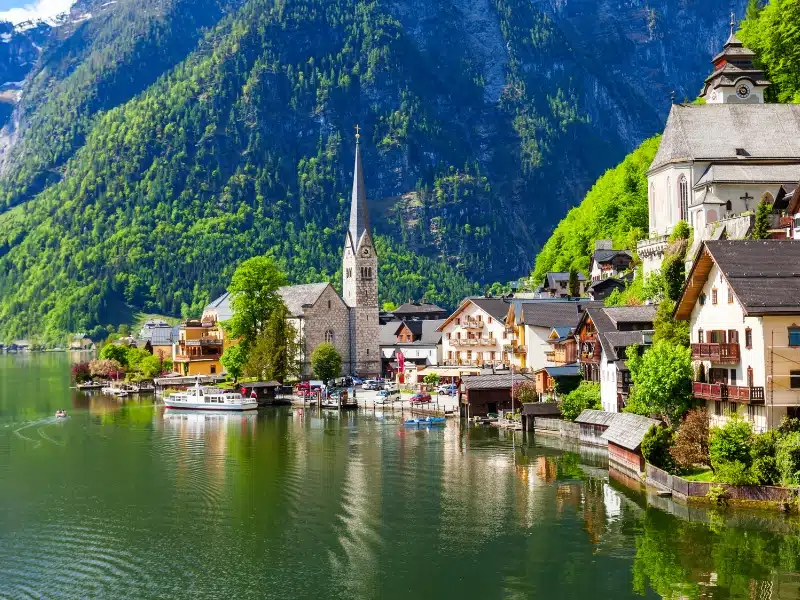 Salzburg
The next stop on your Austria itinerary is Salzburg. Driving from Hallstatt to Salzburg will take just over an hour as you cover 75 kilometers of the beautiful Austrian countryside.
This section of your drive will take you through the Salzkammergut region of Austria, which is dotted with lakes and mountains. Along the way, there are several towns and villages worth stopping at, including St. Wolfgang im Salzkammergut, a picturesque town located on the shores of Wolfgangsee. As well as swimming in the lake, you can enjoy the historic St. Wolfgang Church and the famous Romantik Hotel Im Weissen Rössl am Wolfgangsee – in English, the White Horse Inn!
Salzburg, a city that borders Germany, is the birthplace of Mozart and a UNESCO World Heritage Site. This city is well-known for its Baroque architecture, music culture, and stunning landscapes.
While in Salzburg, we highly recommend taking the funicular up to the historic Hohensalzburg Fortress to enjoy panoramic views over the city. Additionally, experiencing a Mozart concert at Mirabell Palace is a must, even if you don't consider yourself a classical music fan.
Salzburg Cathedral, featuring a magnificent organ, Mozart's Birthplace, and Getreidegasse are also popular tourist spots.
During your stay in Salzburg, why not enjoy a food tour to enjoy traditional Austrian dishes like schnitzel and strudel as you explore the old town with a licensed Salzburg guide to show you the way?
Travel Tip: Want to practice your do-ray-me-fa-so-la-ti-do lyrics? One of the best things to do in Salzburg is the original Sound of Music tour. You get to visit the filming locations of the classic musical while learning about the history and culture of Salzburg. Book well in advance though, this one sells out quickly!
Upmarket: Hotel Sacher Salzburg – Booking.com | Agoda
Mid-Range: Altstadthotel Wolf-Dietrich – Booking.com | Agoda
Budget: Urban Stay Salzburg City – Booking.com | Agoda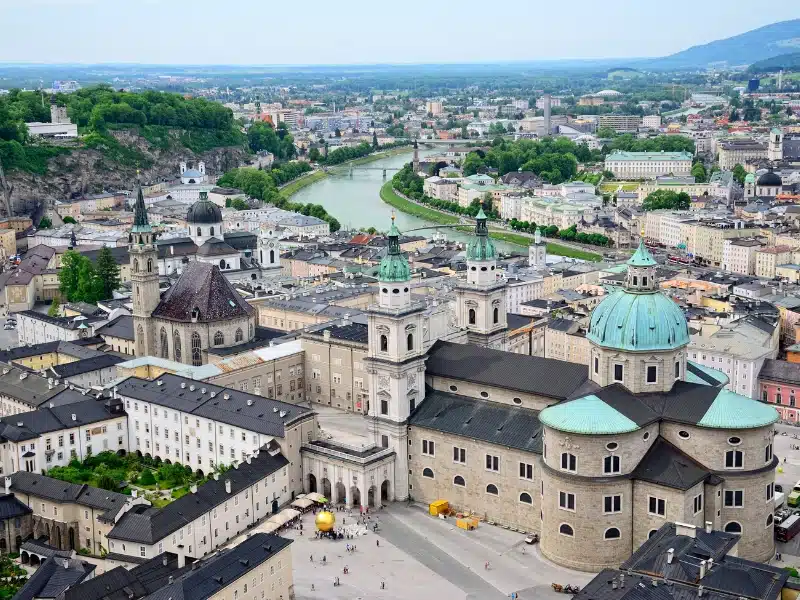 Other Nearby Road Trips
Zell am See
The drive from Salzburg to Zell am See is a scenic 80 kilometers, passing through the Salzach Valley and the foothills of the Alps. Along the way, there are several towns and villages worth stopping at, including the incredible Hohenwerfen, a medieval fortress located in the Salzach Valley, offering stunning views of the surrounding mountains, and the picturesque village of Werfenweng.
Werfenweng is a charming alpine village known for its stunning natural beauty. If you stop here make sure to enjoy the local cultural attractions like the historic St. Sebastian Church.
Zell am See is a picturesque town located in the Austrian Alps making it a popular destination for outdoor enthusiasts and nature lovers. With numerous ski resorts in the area, it is the perfect place to try your hand at skiing or snowboarding, if you road trip Austria in winter.
Following a trip down the slopes, we recommend warming up by trying local cuisine like goulash and dumplings. If a summer visit is more your thing, you can still experience the stunning alpine landscape by hiking or biking along one of the many trails located in this region.
A stroll through the old town, to experience the historic architecture of Zell am See, is a must. End a relaxing day with a boat ride on Lake Zell where you can enjoy views of the surrounding mountains.
The Kitzsteinhorn Glacier (where you can still ski in summer) and Schmittenhöhe Mountain are both accessible by cable car from Zell am See. Taking a trip up to this glacier or mountain peak will allow you to enjoy the breathtaking views of the alpine peaks that Austria is famous for.
Upmarket: Grand Hotel Zell am See – Booking.com | Agoda
Mid-Range: Romantikhotel Zell am See – Booking.com | Agoda
Budget: Gästehaus Karl Haffner – Booking.com | Agoda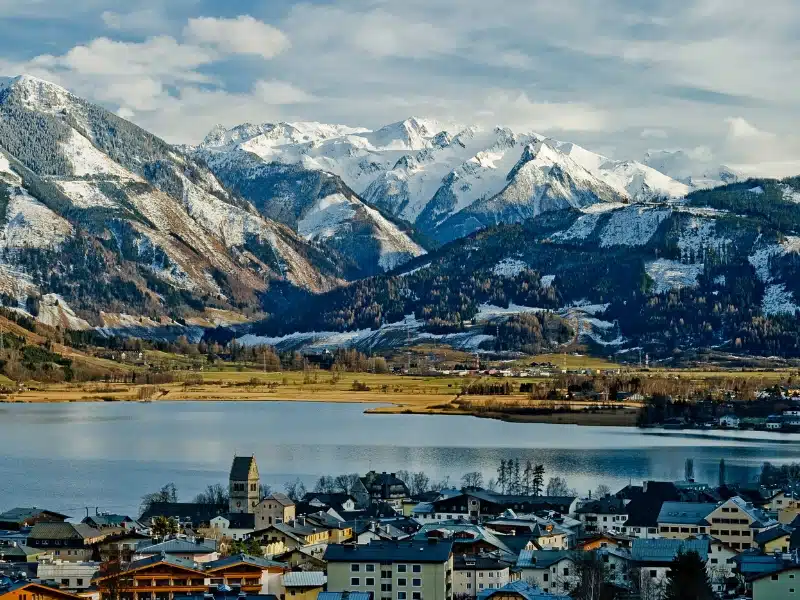 Grossglockner High Alpine Road Side Trip
During the months of May to early October, the Grossgockner pass will be open. As one of the best driving roads in Europe, we highly recommend you take a short detour south to drive this legendary road.
The Grossglockner High Alpine Road is actually route 107 which connects Bruck with Heiligenblut via the Fuscher Törl at 2,428m and the Hochtor Pass at 2,504m. The high road is 47.8km long and has 36 turns which snake between glorious alpine pastures, rocky terrain, and wildflower meadows.
Allow a couple of hours to drive this spectacular road, and then pick up the 108 north at Lienz to return to your original route. This fabulous alpine trip will add two to three hours to your day's driving, but we promise it's worth it!
Travel Tip: The road is not open 24/7 even in summer. From early May to May 31st, the road opens between 6am to 8pm daily. From 1st June to 31st August, its open from 5.30am to 9pm, and from 1st September its 6am to 7.30pm. There is also a toll charge of €40 per car.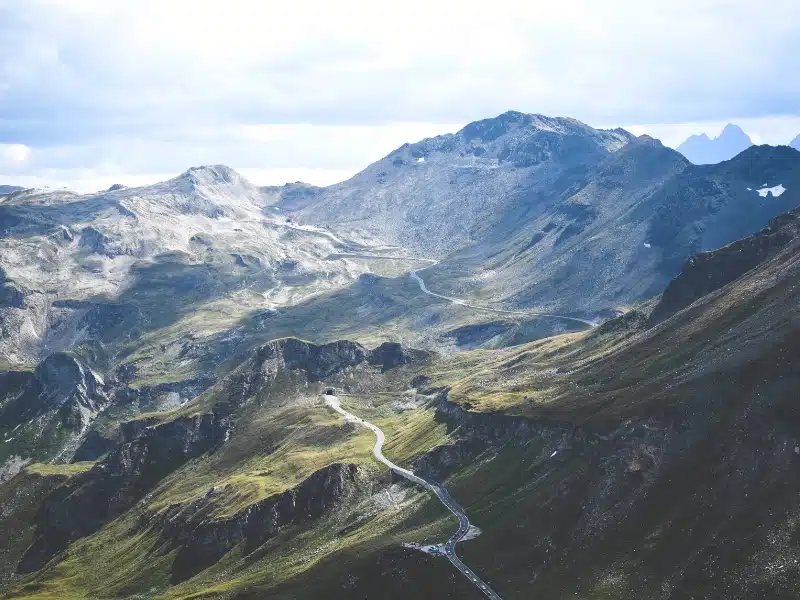 Mayrhofen
The drive from Zell am See to Mayrhofen takes you through the Austrian Alps from the Salzburg region into Austria's historic Tyrol region. You'll pass through several picturesque towns and villages, including Kitzbühel and Wörgl. Along the way, there are also several opportunities to stop and take in the views, including at the Gerlos Pass in the Hohe Tauern National Park.
The Hohe Tauern National Park is the largest mountain range in the Austrian Alps, offering stunning natural beauty and a range of outdoor activities. With towering peaks, glaciers, and picturesque valleys, the Hohe Tauern is a must-visit destination on your Austria itinerary.
Mayrhofen is a beautiful alpine village located in the Zillertal Valley of Austria. Here, you can ski on the Hintertux Glacier, visit the Zillertal Alps Nature Park, or take a scenic cable car ride up to the Ahorn Plateau. The Ahornbahn cable car, which takes you to the top of Ahorn Mountain, reveals unparalleled views of the Zillertal Alps.
Additionally, the nearby Penkenbahn cable car, which takes you to the top of Penken Mountain, offers beautiful views of the surrounding area. In the winter, Penken mountain is the perfect spot for skiing and snowboarding while, in the summer, tourists can enjoy hiking and biking.
If cable cars aren't your thing, the Zillertal steam train is another way to enjoy scenic views of the Zillertal Valley. Taking one and a half hours, the 119-year-old Zillertalbahn railway is an unmissable experience through the river Ziller valley.
Travel Tip: 12km north of Mayrhofen is Zillertal, a small town that comes alive in the fall every year when the September Almabtrieb (cattle drive) takes place. Almabtrieb is the homecoming of the cows, festooned with flowers and head-dress, from the high pastures where the herds have spent the summer.
It is a much-loved tradition and an important part of the Alpine farming calendar, and well worth planning a visit around.
Upmarket: DasPosthotel Zell am Zimmer – Booking.com | Agoda
Mid-Range: Der Siegeler B&B – Booking.com | Agoda
Budget: das Cityhouse – Booking.com | Agoda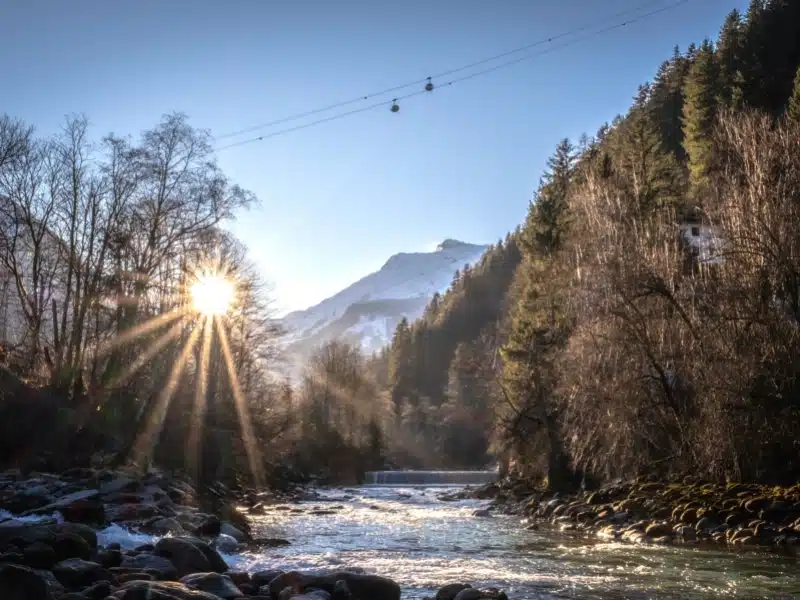 Innsbruck
The drive time from Mayrhofen to Innsbruck is approximately one hour and covers 70 kilometers. We recommend visiting both Fügen and Jenbach along this driving route. Both of these charming towns are known for their stunning mountain scenery and historic architecture.
Innsbruck is the capital city of the Tyrol region in western Austria and is known for its alpine scenery, rich history, and culture. A stroll through Innsbruck's historic old town to admire the architecture and enjoy the cafes is the perfect way to start your time in the city.
While visiting Innsbruck, you will be able to visit a range of historic landmarks. These include the Golden Roof, a balcony with a roof covered in over 2,500 gilded copper tiles; Hofburg, a historic palace complex that once housed the Habsburgs; the iconic Bergisel ski jump, and the Imperial Palace, built in the 15th century.
From Innsbruck in summer, you can take the Nordkette cable car up to the top of the Nordkette mountain range and enjoy the stunning panoramic views of the city and the surrounding alpine landscape. At the summit, you can enjoy an unforgettable dining experience at the Seegrube restaurant.
Finish off your Austrian road trip by delving into Austrian culture. The Tyrolean Folk Art Museum is an educational experience exploring the history and culture of the Tyrol region and its traditional art and crafts.
Tyrol also has a unique cuisine and experiencing dishes like Tiroler gröstl, a delicious bacon, onion, potato, and egg fry-up, and kaiserschmarrn, a sweet pancake served with apple sauce, is something you should definitely do in Innsbruck.
Travel Tip: From Innsbruck, continue your trip further west to Hoch-Imst and enjoy a unique experience aboard the Alpine Coaster, a summer toboggan run that travels 3,535m along the steepest tracks in the Alps!
To return to Vienna from Innsbruck will add six hours of driving time to your itinerary if you take the 'quick' rote back on the E45 and E60 autobahns. Alternatively, fly out of Innsbruck Airport to London Gatwick, Frankfurt Airport, or Amsterdam Airport Schipol, for an easy connection to pretty much anywhere in the world.
Upmarket: Altstadthotel Weißes Kreuz – Booking.com | Agoda
Mid-Range: Hotel Grauer Bär – Booking.com | Agoda
Budget: Meininger Hotel Innsbruck Zentrum – Booking.com | Agoda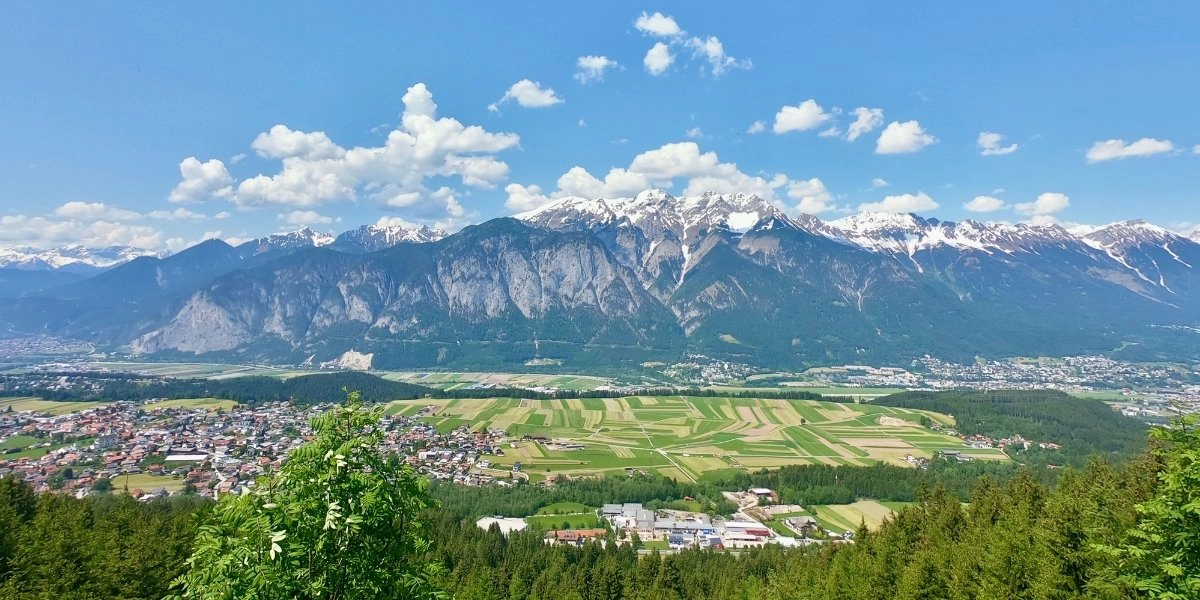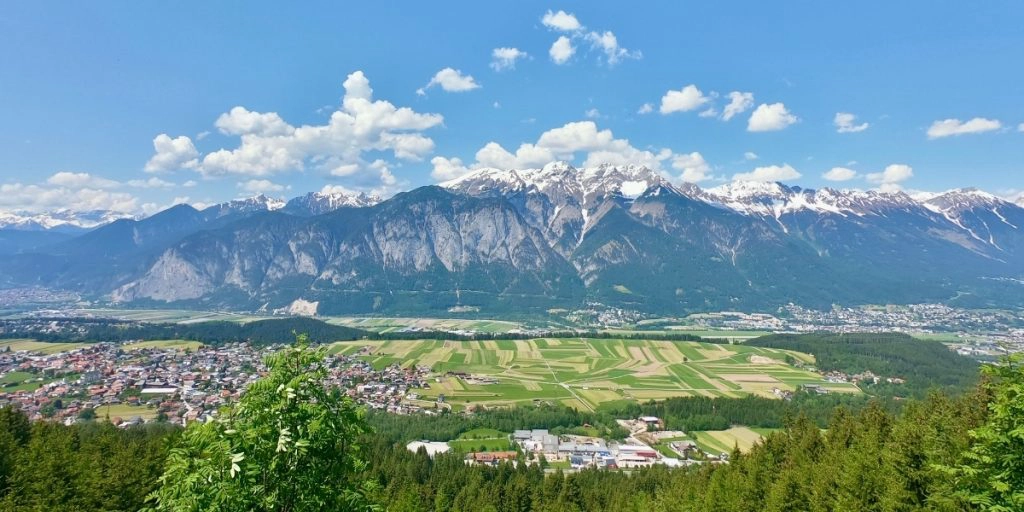 Austria Road Trip Resources
Here are the websites and services we personally use and recommend for traveling in Austria.
Tips for Driving in Austria
The roads in Austria are well maintained and the drivers are courteous and measured. However, the Austrian roads are some of the narrowest in Europe and navigating this winding drive may be challenging for nervous drivers.
Whether you're traveling in your own vehicle or flying in and renting a car, you need to follow these rules when you drive and travel in Austria;
You must have at least three months remaining on your passport (issued in the past ten years) at your intended date of departure from Austria.
You must have at least 3rd party insurance for your vehicle when you road trip in Austria.
Citizens of non-EU third countries may require an IDP, you can check here.
Motorists are also required by law to carry the following items when driving in Austria: reflective jackets for driver and passengers; a warning triangle and a first aid box.
All vehicles must pay a toll called a mautvignette to use the autobahns in Austria. Vehicles are required to display a toll sticker in the windscreen, which is available from border points and fuel stations, or you can buy a digital vignette online here. Rental cars will have the vignette already included and on display in the vehicle.
If you're planning a winter road trip to Austria between November 15 and March 15, carrying snow chains in your vehicle is mandatory. Check with your car rental company if these are provided.
In Austria, motorists drive on the right and overtake on the left. As a general rule, priority must be given to vehicles coming from the right unless indicated
Radar detectors that interfere with police equipment are prohibited in Austria, although sat nav systems that indicate where fixed speed cameras are located are permitted.
Dashboard cameras are prohibited in Austria.
You may only use a mobile phone whilst driving with a hands-free device.
RELATED POST: Driving in Europe – Everything You Need to Know
Are you looking for more road trip inspiration? Check out these top posts…
One of the best ways to explore the beautiful country of Croatia is by taking a road trip, where you can drive along winding coastal roads, visit charming towns and villages, and discover off-the-beaten-path hidden gems. In this Croatia road trip guide, we'll share some of our favorite road trip routes and destinations in Croatia, along with tips for planning your own adventure on the open road. Get ready for an unforgettable journey through one…
Love it? Pin it!