This post may contain affiliate links, from which we earn an income.
Driving Germany's Romantic Road
The Romantic Road is a popular tourist route in southern Germany that takes you through some of the most picturesque landscapes and charming old towns in Bavaria and is a great way to experience the region's most famous landmarks.
The Romantische Straße route takes you across the beautiful landscapes of southern Germany, passing through rolling hills, green pastures, and picturesque lakes. Along the way, visitors can enjoy hiking, biking, and other outdoor activities, as well as sampling the local food and wine and visiting Bavaria's famous fairytale castles.
Our Romantic Road travel guide includes an interactive map with route, highlights, and plenty of tips to help you plan an amazing road trip along this famous road in Germany.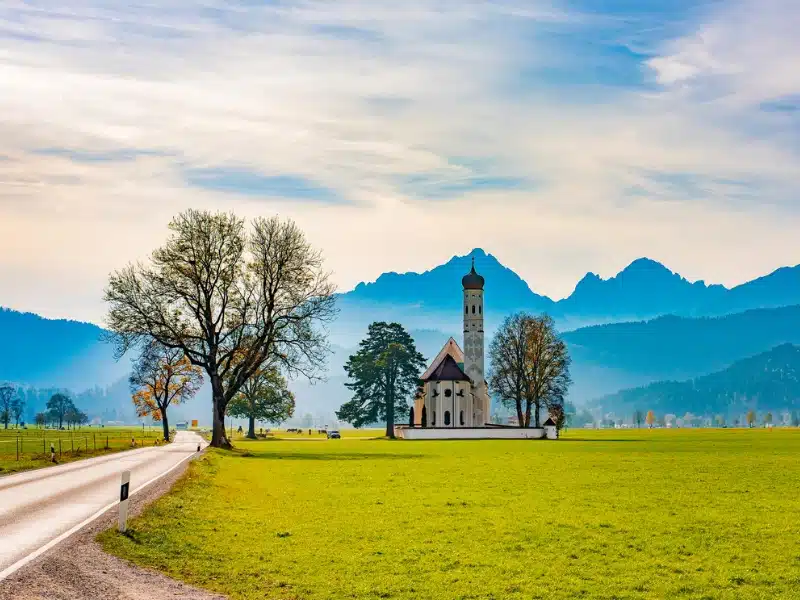 What is the Romantic Road in Germany?
The Romantic Road, in German Romantische Straße, is a marketed themed route designed in the 1950s to increase visitor numbers and tourist-related jobs in southern Germany – decades before Scotland's North Coast 500 was even thought of!
The route spans 460km / 285 miles across Bavaria and Baden-Württemberg, starting in Würzburg and ending in Füssen, and links a number of picturesque towns, churches, and castles. With a medieval history as an important trade route, today's Romantic Road is blessed with scenery, architecture, and culture that characterizes Germany.
Even though the romantoc element of the road refers to an historic vision of Germany and Bavaria, the route really is a romantic tour of Germany, and really suited to couples who enjoy historic architecture, fine wine, beautiful scenery and the odd castle or two!
With about five million overnight stays, four to five times that number of day visitors, and around 15,000 tourist jobs generated by the route, it is an economically important southern German travel destination.
Is this your first time visiting Germany? Get all the information you need in our Germany Travel Guide, including what to pack, the best time of year to go, getting there, and practical tips to help you have the best trip!
Getting There
The Romantic Road officially starts in Würzburg, although you could do the route in reverse and start at Füssen.
To start in Würzburg, fly into Frankfurt Am Main International Airport, a two hour drive from Würzburg.
To start in Füssen, fly into Munich Franz Josef Strauß International Airport. From Munich, it will take you about two hours to drive to Füssen, through the beautiful landscape of Upper Bavaria.
With direct flights from America, Europe, and the UK to Munich, we recommend booking through Skyscanner for live deals and the best prices.
How to Travel the Romantic Road
Self-Drive
Whether you're in a car, motorcycle, campervan, or motorhome, self-driving is absolutely the best way to explore the German Romantic Road, meaning you can stop whenever you want, try new activities, visit places you see along the route and have the freedom to change plans at the last minute.
Are you planning to rent a car in Germany? As one of the largest car hire aggregator companies in the world, we recommend Rentalcars.com because they have massive purchasing power which enables them to secure the best rental prices, which benefits you when you're planning a road trip.
For a real adventure, hire a motorhome or campervan in Germany. We recommend Motorhome Republic, an aggregate booking site who pull together all the best deals from a number of rental agencies, to offer you a wide choice of options alongside an excellent English speaking expert motorhome Concierge Team. Use the Park4Night app to find overnight spots and campsites, and sleep on a high mountain pass, next to a beautiful lake, or in a wildflower meadow.
How about driving from the UK to Germany for an incredible road trip? Get all the info you need in our driving from the UK to Germany guide.
Romantic Road Public Transport
Bavaria has a fantastic public transport system which is modern, well-run and reliable. Trains and buses can be combined using day tickets which allow as much travel as you like in the region.
The Romantic Road coach connects Frankfurt's main station and Karlsplatz in Munich with Würzburg, Rothenburg ob der Tauber, Dinkelsbühl, Augsburg, Füssen, and many of the other towns and villages along the route a few times a week during summer.
Germany's high-speed ICE trains stop at the cities of Würzburg, Donauwörth, and Augsburg, and there are connecting regional train stations at many stops along the route.
Use the Deutsche Bahn website to look for trains between popular towns on the route, and get the Bayern-Ticket, which allows travel on local trains, transport associations, and almost all regular buses in Bavaria.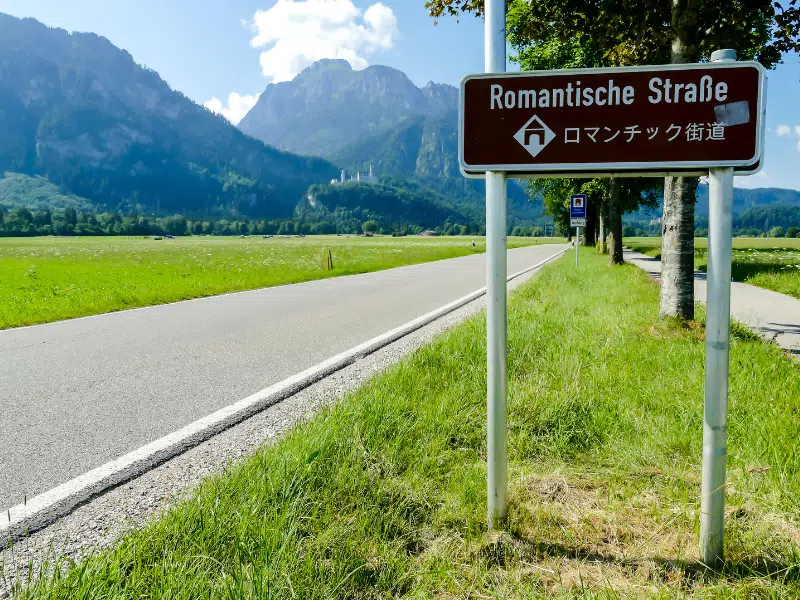 Romantic Road Tours
There isn't a single guided tour that covers the whole road from end to end. However, there are lots of day trips from Munich and Frankfurt to the most scenic and interesting parts of the road, which are well worth doing if you're short of time. These are our pick of the top recommended Romantic Road day trips.
Romantic Road Map & Route
The Romantic Road is a well-signposted route, making it easy to follow and navigate within a rental car. The route runs for 460km / 285 miles, and although it can be driven in either direction, we would recommend driving the Romantic Road north to south, from Würzburg to Füssen.
Our five day Romantic Road itinerary starts in Würzburg, a city known for its beautiful Baroque architecture and rich cultural heritage. From there, the route takes you to 29 official stops including the picturesque small towns of Rothenburg ob der Tauber, Dinkelsbühl, and the once-free imperial city of Augsburg.
Each of these towns offers a glimpse into Germany's medieval past, with well-preserved architecture, UNESCO World Heritage Sites, and charming streets that transport visitors back in time.
The final stop on our Romantic Road route is the town of Füssen. This charming old town is situated on the banks of the Lech River and is home to a number of historic landmarks and attractions. From Füssen you can experience three fairytale castles, before concluding your road trip along the Romantische Straße.
Würzburg – Wertheim – Tauberbischofsheim – Lauda-Königshofen – Bad Mergentheim – Weikersheim – Röttingen – Creglingen – Rothenburg ob der Tauber – Schillingsfürst – Feuchtwangen – Dinkelsbühl – Wallerstein – Nördlingen – Harburg – Donauwörth – Rain – Augsburg – Friedberg – Landsberg am Lech – Hohenfurch – Schongau – Peiting – Rottenbuch – Wildsteig – Steingaden – Halblech – Schwangau – Füssen
How to use this map – Use your fingers (or computer mouse) to zoom in and out. Click or touch the icons to get more info about a place, and click the arrow in the box top left to open the index. To add to your own Google Maps account, click the star next to the title of the map.
Romantic Road Highlights
Würzburg
Würzburg is a beautiful city located at the start of the Romantic Road in the state of Bavaria in southern Germany. Known for its rich history, culture, and architecture, Würzburg makes the perfect start to your road trip along the romantische straße.
There are many popular tourist attractions in Würzburg's city center. The Würzburg Residence, a UNESCO World Heritage Site, is a magnificent palace that was built in the 18th century and is widely considered one of the most important Baroque buildings in Europe.
Other tourist destinations include the medieval Marienberg Fortress, which overlooks the city center; the Old Main Bridge, also known as Alte Mainbrücke, which is lined with colorful houses and is a great spot for taking pictures; Würzburg Cathedral, a beautiful Gothic cathedral that dates back to the 13th century; the Juliuspromenade which runs along the river Main; and the Court Gardens located at the Würzburg Residence.
We would recommend taking a boat tour along the River Main, as a unique way to experience Würzburg. This allows you to discover the city from a different perspective and to see some of the beautiful old towns located along the waterway.
Surrounding Würzburg is Franconian wine country, a world-renowned wine region famous for its white wines, including Silvaner, Bacchus, and Müller-Thurgau. Head for the Bürgerspital Winery or Staatlicher Hofkeller in town, for a tasting and perhaps a spot of shopping!
Upmarket: DAS v EVERT Hotel – Booking.com | Agoda
Mid-Range: Hotel Melchior Park – Booking.com | Agoda
Budget: Moxy Wuerzburg – Booking.com | Agoda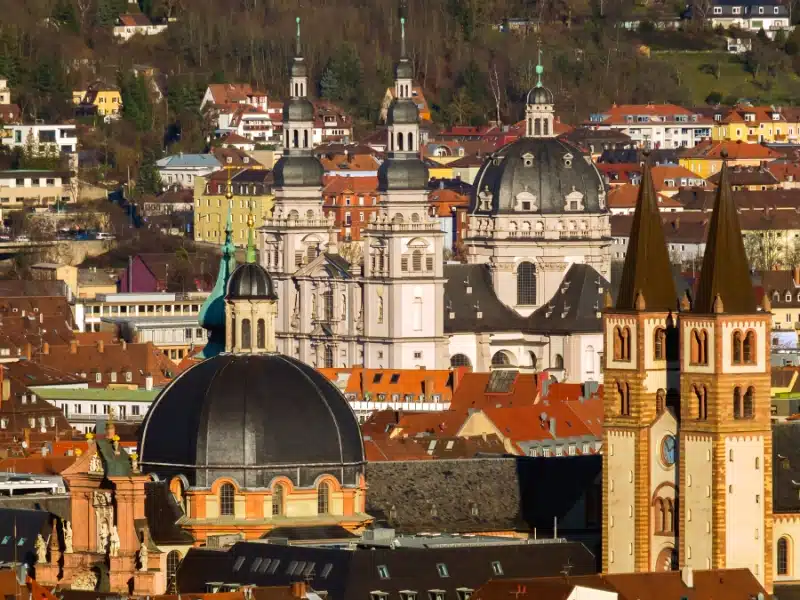 Rothenburg ob der Tauber
Heading south from Würzburg, Rothenburg is a short 45 minute drive. This stretch of your romantic road trip takes you through the beautiful Tauber Valley and includes several popular stops.
The small town of Creglingen, home to the famous Herrgotts Church, and Bad Mergentheim, home to the beautiful Renaissance-style palace of the Teutonic Order and its old town are both must-sees along this part of the route.
Rothenburg ob der Tauber is a medieval walled town located in the Franconia region of Germany. Known for its well-preserved medieval architecture and rich history, it is a popular destination on the Romantic Road for tourists and history enthusiasts from around the world.
One of the most famous landmarks in Rothenburg is the historic town wall which encircles the old town and provides visitors with stunning views of the surrounding countryside. Visitors can walk or cycle along the wall and visit the various towers and gates that are open to the public.
Another must-see attraction in Rothenburg is St. Jakob's Church. This beautiful Gothic church is known for its intricate carvings and beautiful stained glass windows. Visitors can climb the 57 meters up the church tower for panoramic views of the town.
This recommended night watchman tour in Rothenburg is a popular way to learn about the stories and legends of the town and a uniquely entertaining way to gain insight into southern Germany's culture.
Upmarket: Romantik Hotel Markusturm – Booking.com | Agoda
Mid-Range: Villa Mittermeier, Hotellerie & Restaurant – Booking.com | Agoda
Budget: Pension "das Lädle" – Booking.com | Agoda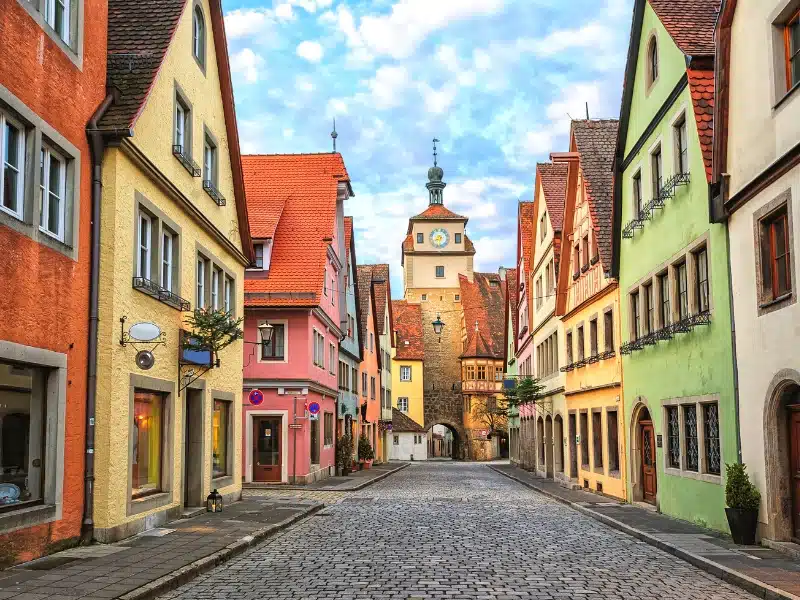 Augsburg
The distance between Rothenburg and Augsburg is approximately 200km taking an estimated drive time of around two hours, depending on traffic conditions.
Along the way, you will pass the popular stop of Dinkelsbühl, a medieval town known for its beautiful architecture and the sweet treat schneeball or snowball, a delicious deep-fried short-crust pastry also known as a storchennest or stork's nest.
Augsburg, which was a free imperial city from 1276 to 1803, is one of the oldest cities in Germany, founded by the Romans in 15 BCE, and the architecture in Augsburg is not to be missed.
The beautiful, Gothic Augsburg Cathedral dates back to the 13th century and is one of the most important religious buildings in the region. The cathedral is known for its intricate stone carvings and beautiful stained glass windows, which are sure to impress visitors of all ages.
Augsburg's town hall, known as the Rathaus, is another highlight due to its beautiful Renaissance architecture that dates back to the 16th century. The highlight of the interior is the Golden Hall, a ceremonial hall that features six portals, wall frescos, and splendid coffered ceilings, all of which are literally covered in gold.
One of Augsburg's most famous landmarks is the Fuggerei. This is the world's oldest social housing project, founded in 1516 by the wealthy merchant Jakob Fugger. The project consists of a small city within the city, with narrow streets, small houses, and gardens. It is a unique look into the history of housing and gives visitors a glimpse into how the lower class used to live in Germany.
Augsburg also boasts a UNESCO World Heritage Site in its water management system which comprises numerous canals and water towers dating back to the 15th century.
The vibrant cultural scene in Augsburg can be experienced within a number of the city's theaters, concert halls, and music venues. We'd recommend catching a play at the Augsburg Theater or attending a concert at the Augsburg Congress Hall.
To see the best that Augsburg has to offer, take this highly-rated walking tour through the main city sites. The tour explores the multiple UNESCO World Heritage Sites found within Augsburg, and comes with skip-the-line tickets allowing you to enjoy the main sites without the wait!
Upmarket: Hotel Maximilian's – Booking.com | Agoda
Mid-Range: City Hotel Ost am Kö – Booking.com | Agoda
Budget: Leonardo Hotel Augsburg – Booking.com | Agoda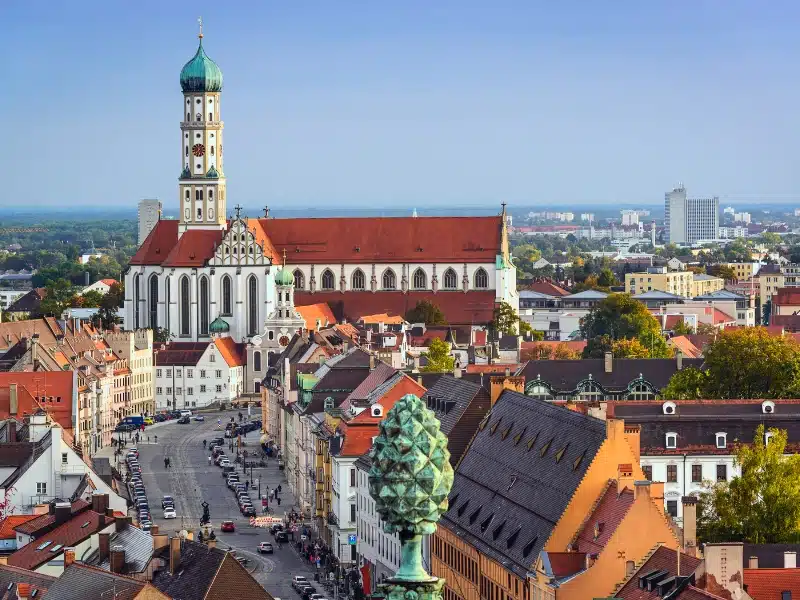 Germany Travel Ideas
Take a Side Trip to Munich
The drive from Augsburg to Munich is one of the shortest on this itinerary, making the city a perfect Romantic Road side trip destination. Opting to take a slightly longer route between Augsburg and Munich allows you to pass Ammersee Lake, where you should stop at Seehaus Schreyegg for refined local cuisine and a beer garden with unrivaled views.
Arriving in Munich, you can experience the city's highlights including the Marienplatz, Hofbräuhaus, the Residenz, Nymphenburg Palace, and the Englischer Garten.
Marienplatz is the city's main square and is home to the iconic Glockenspiel, a clock tower that features a mechanical performance of jousting knights and dancing peasants. The square is also surrounded by many historic buildings, including the New Town Hall and the Old Town Hall.
Just under twenty minutes from Marienplatz, is Munich's Englischer Garten. This is one of the largest public parks in Europe and is a great place to relax and enjoy nature. The park features many walking paths, gardens, and the famous Chinese Tower beer garden!
Nymphenburg Palace, located on the outskirts of the city, is a breathtaking building built in the 17th century. We recommend booking tickets for a classical concert held within the palace, where the Munich Philharmonic plays music by the famous composer Mozart, who performed here himself when he was just seven years of age! This experience will become a highlight on your road trip along the Romantic Road.
Finally, no visit to Munich is complete without a visit to Hofbräuhaus, the most famous beer hall in the world. The hall is over 400 years old and serves traditional Bavarian food and beer. We would recommend opting for a three-hour beer hall and breweries tour to discover why Munich is the beer capital of the world.
Fancy a day exploring Munich? Get our one day Munich itinerary complete with map, recommendations & Munich travel tips to help plan your trip to this beautiful & vibrant Bavarian city.
Füssen
Driving to Füssen takes roughly two hours from Munich and 1.5 hours from Augsburg, heading southwest through the small towns and incredible scenery of Upper Bavaria.
Füssen is a small town known for its picturesque landscapes, situated on the banks of the Lech River and surrounded by the beautiful mountains of the Allgäu region, and its rich history.
One of the most famous landmarks in Füssen is the Hohes Schloss. This fairytale castle dates back to the 13th century and is considered one of the most important castles in the region.
The castle is open to the public and visitors can explore the various rooms and halls, including the throne room and the chapel. Visitors can also enjoy breathtaking views of the town and the surrounding mountains from the castle's towers.
Situated just a ten-minute drive from Hohes Schloss, are Hohenschwangau Castle and Neuschwanstein Castle. These two fairytale castles make the perfect, final destination on your road trip along the Romantic Road.
The incomparable Neuschwanstein Castle was constructed by King Ludwig II, more commonly known as Mad King Ludwig, within the depths of Pöllat Gorge in the Bavarian Alps.
The King was inspired by the Neo-Gothic architecture of his childhood residence Hohenschwangau Castle, another tourist destination along the Romantic Road. This inspiration, determining the design of Neuschwanstein Castle in 1868, earnt him the title of Märchenkönig, the fairytale king.
Neuschwanstein Castle is one of Germany's most popular tourist destinations and attracts millions of visitors each year. We would definitely recommend booking this Neuschwanstein Castle skip-the-line ticket + guide, to learn about the history and architecture of the building, as well as the life of the king who built the castle that inspired Walt Disney.
Located on an opposite crag to Neuschwanstein, Hohenschwangau Castle is more lived-in and historic, offering an excellent look at Ludwig's life, but with fewer crowds.
Originally built in the 12th century, Schloss Hohenschwangau was ruined by Napoleon in 1743. The Bavarian Crown Prince, later King Maximilian II, father of King Ludwig II, bought the castle and began rebuilding according to the original plans, and today you see it as it looked in 1836. It was here that Ludwig grew up, in surroundings inspired by romantic legends of chivalry and knighthood.
Another must-see attraction in Füssen is St. Mang's Basilica. This stunning Gothic church is one of the most important religious buildings in the region. The basilica is known for its intricate carvings and beautiful frescoes, and visitors can also climb the church tower for panoramic views of the town.
Just outside town, you'll find the iconic St. Coloman Church. Although access to the interior is limited, it's popular with photographers for its dramatic Alps backdrop and beautiful Baroque exterior.
Füssen is known for its incredible landscapes and natural surroundings. Enjoy the surrounding Allgäu region by taking a hike or a bike ride in the mountains. There are many trails from Füssen rated from easy, through moderate to expert level, making this a perfect spot for visitors of any hiking level to experience the Allgäu region. If you enjoy spending time outdoors, why not travel just outside of town to Forggensee lake? It is a popular spot for swimming, boating, and other water activities.
Did you know that Füssen is where the Romantic Road meets the other famous southern German route, the Deutsche Alpenstrasse? The route crosses Germany from west to east and takes in over 25 alpine lakes, as well as mountain passes and spectacular scenery. You can find the full Deutsche Alpenstrasse route, with a map and itinerary in our guide.
Upmarket: Hotel Sonne – Booking.com | Agoda
Mid-Range: Villa Fantasia Budget Boutique Hotel – Booking.com | Agoda
Budget: Hotel Restaurant Alatsee – Booking.com | Agoda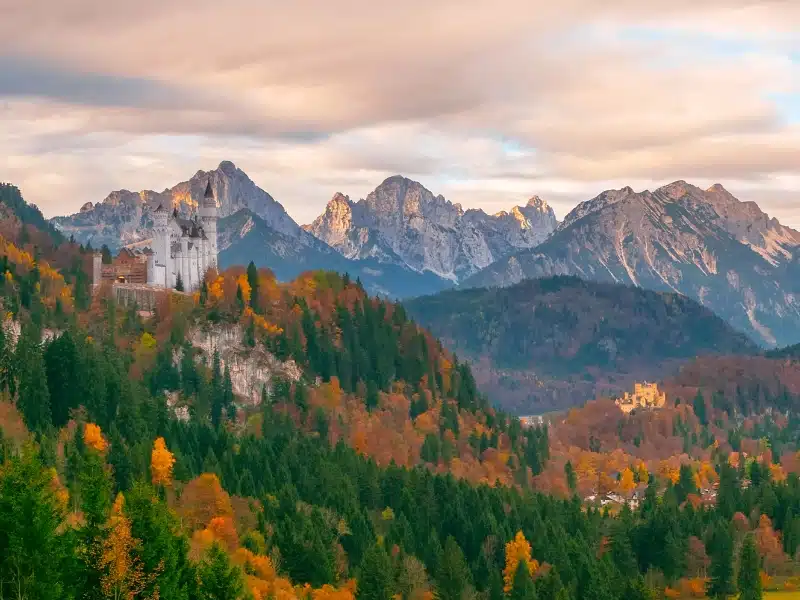 Romantic Road Frequently Asked Questions
Why is it called the Romantic Road?
No one knows for sure where Germany's Romantic Road got its name. The route is not romantic in the modern-day sense and it's not a European hot spot for proposals or weddings.
But, all along its 285 miles, the breathtaking countryside, colorful villages full of half-timbered houses and cobbled streets, wildflower-carpeted meadows, and rolling vineyards provide an idealized view of reality and a romantic attitude to the past.
When is the best time to visit the Romantic Road?
Although the weather is warmest through the summer months, with temperatures hitting the mid-twenties, the Romantic Road is best visited outside of the summer months.
In spring, wildflowers will carpet the fields and meadows along the route, and in fall, the vibrant colors of the vines are aflame, and the autumn bounty is celebrated.
Munich's Oktoberfest takes place as autumn turns to winter, and is a true celebration of everything Bavarian and beer!
In winter, Germany's famous Christmas markets are held, often under a light dusting of snow. The best Christmas markets on the Romantic Road take place in Würzburg, Rothenburg, Nordlingen, and Augsburg, where you'll find traditional crafts, food treats, and delicious gluhwein, the mulled wine of Germany.
If you don't mind cooler weather, completing your road trip during the low and shoulder seasons will add more experiences to your southern Germany itinerary, and the roads, hotels, and towns will also be quieter.
How long does it take to do the Romantic Road?
The Romantic Road is roughly 460km / 285 miles long and takes, according to Google Maps, takes just 4 to 5 hours to drive. But this is a simple equation of miles divided by speed and doesn't take into account the towns, villages, and attractions along the route that you'll want to stop and see.
To truly enjoy the incredible landscape, medieval towns, and fairytale castles along the way, we recommend that you take four to five days to explore and enjoy the drive.
If you can manage seven days, then you'll be able to stop and enjoy activities and tours, and fully discover one of Europe's best road trips.
Is the Romantic Road a dangerous road?
Although the route features on the dangerousroads.org website, the roads that make up the route are all fully sealed and very well maintained, as you would expect in Germany.
The route is not one road but a series of Bavarian roads which link to create the route, and there are stretches of cobbled streets and narrow village roads. There may also be areas where traffic volume is high, around popular attractions and towns like Rothenberg.
However, for the most part, the route crosses rolling countryside and flat plains, making it one of the least dangerous roads we've ever driven!
Make sure you have travel insurance you can trust when visiting Germany. We recommend True Traveller for their 5-star TrustPilot reviews, variety of cover options, best activities cover as standard, great prices, and excellent service.
Where does the Romantic Road start?
As we already mentioned, the route can start in Würzburg to the north, or Füssen to the south.
If you start in Würzburg, the first stop is the Würzburg Residenz Residence Palace. From there take routes 3, 19, and 18 south to Tauberbischofsheim, the next stop en route.
From Füssen, take route 17 east to Schwangau to explore Ludwig's castles, before heading towards Steingaden and then east to Wildsteig.
German Road Trip Resources
Here are the websites and services we personally use and recommend for traveling in Germany.
Tips for Driving in Germany
The roads in Germany are well maintained, the autobahns are toll-free and there are excellent regional and minor roads with great services for drivers, making Germany a fantastic place to road trip.
Contrary to popular belief though, there are speed limits on the autobahn, and many sections have limits between 120km/h (75mph) and 110km/h (68mph) or lower, especially in urban areas.
Whether you're traveling in your own vehicle or flying in and renting a car, you need to follow these rules when you drive and travel in Germany;
You must have at least three months remaining on your passport (issued in the past ten years) at your intended date of departure from Germany.
You must have at least 3rd party insurance for your vehicle.
Citizens of non-EU third countries may require an IDP, you can check here.
It is compulsory to carry a warning triangle, reflective jacket (for the driver and all passengers), spare wheel, and the tools to change a wheel or a tire repair kit.
If you wear glasses you must carry a spare pair.
You should carry a first aid kit, but this is only compulsory for four-wheeled vehicles registered in Germany).
Germany introduced regulations in 2010 requiring all passenger cars and motorbikes to be fitted with winter or all-season tires in wintry conditions.
RELATED POST: Driving in Europe – Everything You Need to Know
Looking for more road trip inspiration? Check out these top posts…
One of the best ways to explore the beautiful country of Croatia is by taking a road trip, where you can drive along winding coastal roads, visit charming towns and villages, and discover off-the-beaten-path hidden gems. In this Croatia road trip guide, we'll share some of our favorite road trip routes and destinations in Croatia, along with tips for planning your own adventure on the open road. Get ready for an unforgettable journey through one…
Love it? Pin it!