This post may contain affiliate links, from which we earn an income.
Ultimate Northern Italy Road Trip from Milan to Rome
A northern Italy road trip is a great way to experience the diversity and beauty of Italy's regions, cultures, and history. As you travel south through Italy, you will experience picturesque lakes, artistic and historical cities, the beautiful Mediterranean coast, and UNESCO sites tucked away in small Italian towns.
A north Italian road trip offers a wealth of experiences! From exploring charming lakeside towns and the beautiful Italian countryside to admiring the region's famous art and architecture, you can also take time to stop and visit local wineries, and sample delicious Italian cuisine on this road trip through northern Italy.
We've spent months exploring Italy and in this northern Italy road trip planner we share travel tips, the best routes between towns and cities, things to do and see along the way, and hotel recommendations to help you plan your perfect Italian itinerary.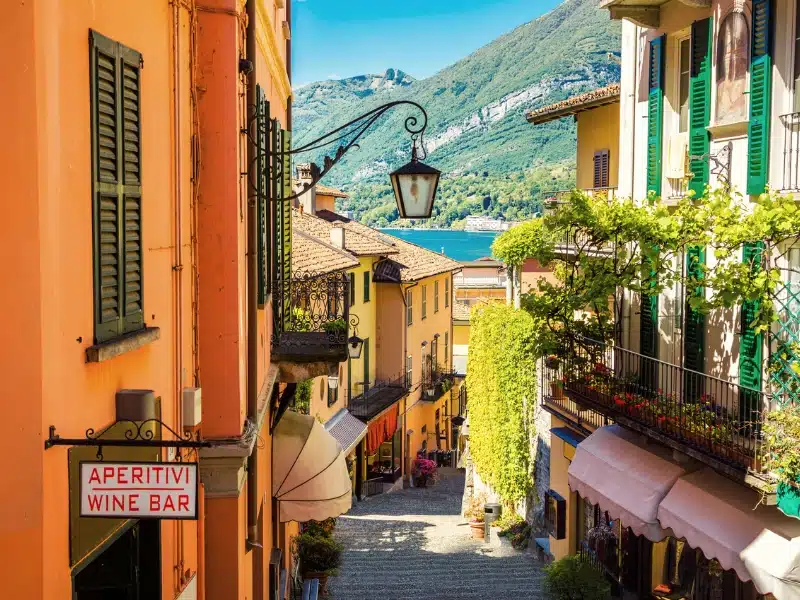 Where is Northern Italy?
Northern Italy, or in Italian Nord Italia, is an area that stretches from the southern Alps south to the Po valley, and from the northernmost coast of the Tyrrhenian Sea across to the coast of the Adriatic Sea on the northeastern side of Italy. The area consists of eight administrative regions: Aosta Valley, Piedmont, Liguria, Lombardy, Emilia-Romagna, Veneto, Friuli-Venezia Giulia, and Trentino-Alto Adige.
Technically and geographically speaking, that is! But we've decided to also include the regions of Tuscany and Lazio, to add even more experiences and diversity to this northern Italy road trip.
The landscape of northern Italy is made up of fertile rolling hills, the flatlands of the vast Po River, deep mountain lakes, and the dramatic peaks of the Dolomites, making the region one of the best for Italian road trips.
Is this your first time visiting Italy? Get all the information you need in our Italy Travel Guide, including what to pack, the best time of year to go, getting there, and practical tips to help you have the best trip!
Getting to Northern Italy
Whether you're taking a road trip to northern Italy in a car, motorcycle, or campervan, self-driving is absolutely the best way to explore this spectacular region of Italy.
You can stop whenever you want, try new activities, visit places you see along the route and have the freedom to change plans at the last minute.
Fly into Milan Malpensa Airport to start your north Italy road trip. With direct flights from America, Europe, and the UK, we recommend booking through Skyscanner for live deals and the best prices.
Are you planning to rent a car in Italy? As one of the largest car hire aggregator companies in the world, we recommend Rentalcars.com because they have massive purchasing power which enables them to secure the best car rental prices, which benefits you when you're planning a road trip.
For a real adventure, hire a motorhome or campervan in Italy. We recommend Motorhome Republic, an aggregate booking site who pull together all the best deals from a number of rental agencies, to offer you a wide choice of options alongside an excellent English speaking expert motorhome Concierge Team.
Travel Tip: Non-EU visitors planning to rent a vehicle car in Italy may require an international driving permit (IDP) as well as their driving license. You can find out if you need an IDP here.
Driving in Italy
Lots of people will tell you that renting a car in Italy is madness, that driving through Italy is dangerous and the roads are dreadful.
Don't let your fears about driving in this beautiful country put you off taking a road trip through northern Italy. Take your time as you drive Tuscany and be prepared for the differences in driving styles from back home. Follow our driving in Italy tips to stay safe and stress-free!
Make sure you have travel insurance you can trust when visiting Italy. We recommend True Traveller for their 5-star TrustPilot reviews, variety of cover options, best activities cover as standard, great prices, and excellent service.
Best Time to Take a Road Trip in Northern Italy
March to May
Spring is a wonderful time to visit the northern part of Italy, with temperatures warming up across the country. Blooming wildflowers, vibrant greenery in the mountains and the outdoor cafés opening up mean spring is a fantastic time to experience Italy by car. You'll find the roads and cities less crowded, and most attractions will be open.
June to August
In summer, the north of Italy enjoys beautiful weather, stunning coastlines, and the prospect of swimming and dining al fresco. However, the roads, cities, and attractions will be at their busiest and it can get really hot, especially in the lowlands.
September to November
Autumn is a fantastic time for northern Italy road trips. The grapes and crops are being harvested, food festivals celebrate the bounty of the land, and you might enjoy an Indian summer, with the fall colors of the vine aflame.
December to February
The winter months in northern Italy can be very cold and wet. But, the big attraction of a northern Italy trip in winter is that there is no one else around, although some attractions may well be closed. If you travel from late January through February, you'll get a taste of northern Italy's loud and colorful carnivals, the most famous being the flamboyant Carnival of Venice.
Northern Italy Road Trip Map & Route
This two week northern Italy itinerary is best started in Milan and ended in Rome. These cities are easily accessible and span the largest portion of northern Italy, and driving from Milan to Rome is an exciting and scenic journey through some of Italy's most beautiful and historical regions.
We've even added a couple of side trips, which help you to see more of Italy as you drive between destinations!
Starting in Milan, your first stop should be Lake Como, known for its picturesque towns, elegant villas, and beautiful views of the surrounding mountains. When you head to this area of Italy, the towns of Bellagio and Varenna are must-see destinations, with their charming streets, picturesque harbors, and beautiful gardens.
After your trip north from Milan to Lake Como, you can begin journeying south, via Lake Garda, to explore the cities of Verona, Venice, and Bologna.
On your northern Italian road trip, it is worth finding the time to explore the west coast and Cinque Terre, and the city of Pisa, famous for its Leaning Tower.
Continuing further south into the Italian region of Tuscany, you will pass through the city of Florence and smaller towns including San Gimignano and Siena, all of which are rich in history.
Finally, our north of Italy road trip ends in Rome, the Eternal City. Rome is one of the most visited cities in the world and it is easy to see why!
Top Tip: The northern Italian road trip is simplest when following the Italian motorways, which connect the vast majority of this route. However, we would recommend seeking out local SS roads which offer a more scenic experience.
Milan – Lake Como – Verona – Venice – Bologna – Cinque Terre – Pisa – Florence – San Gimignano – Siena – Rome
How to use this map – Use your fingers (or computer mouse) to zoom in and out. Click or touch the icons to get more info about a place, and click the arrow in the box top left to open the index. To add to your own Google Maps account, click the star next to the title of the map.
Northern Italy Road Trip Itinerary
Milan
Milan, known as the fashion capital of Italy, is an incredible blend of old and new. The most iconic site in Milan is its Il Duomo di Milano. From the outside, the Cathedral of Milan provides an incredible example of Gothic architecture. By booking a tour of the cathedral, you will receive panoramic views of the city from the cathedral's rooftop terrace.
Following closely in terms of importance is the UNESCO World Heritage Site of Santa Maria delle Grazie, where you can see The Last Supper, the unrivaled masterpiece painted between 1495 and 1497 by Leonardo da Vinci, whose work ushered in a new era in the history of art.
Another must-see site is the Galleria Vittorio Emanuele II, one of the world's oldest shopping malls, which is perfect for those interested in luxury brands.
If you have an extra day in Milan, take a day trip to Turin, Italy's first capital. With diverse architecture and a well-preserved historic center, the city is best known for the Turin Shroud, housed in the Duomo de Torino. Make sure to look out for the Campanaria Duomo di Torino, the only flying equestrian bronze statue in the world!
Travel Tip: Milan is split into distinct districts. The Navigli district, known for its picturesque canals, is perfect if you're looking for bustling nightlife and late-night shopping, while the Brera district is Milan's artistic neighborhood, home to art galleries and museums, such as the Pinacoteca di Brera.
Upmarket: Portrait Milano – Lungarno Collection – Booking.com | Agoda
Mid-Range: Aparthotel Meneghino – Booking.com | Agoda
Budget: 21 House of Stories Città Studi – Booking.com | Agoda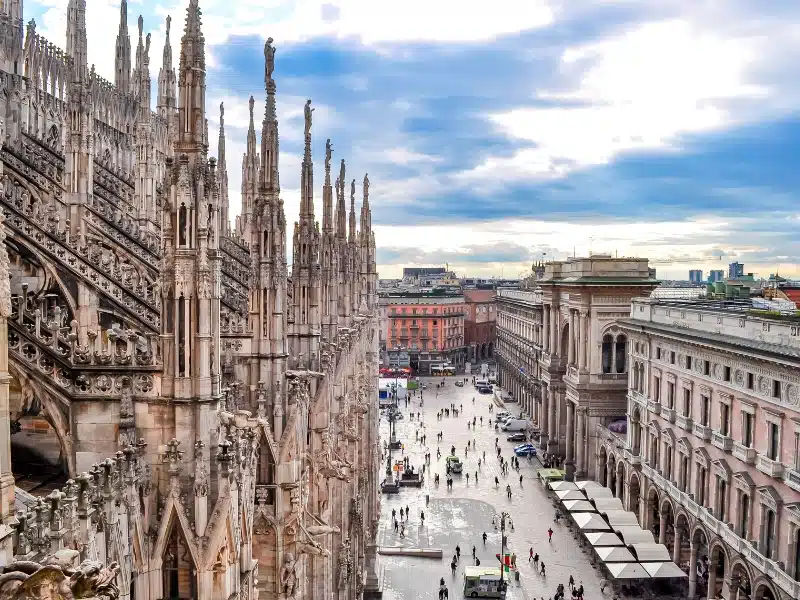 Lake Como
The drive from Milan to Lake Como is a relatively short journey of around an hour, depending on traffic conditions and the route you choose to take. Once you reach Como, you can take the SS340 and SS639 roads to get to the towns around the lake.
Visitors to Lake Como can either enjoy the relaxing atmosphere and incredible scenery or fill their days with a variety of activities. Cruise on a boat tour around the lake, enjoy a wine tasting in the Damaso region, explore the lake by kayak or discover the hiking trails in the surrounding mountains.
The towns of Como, Bellagio, Menaggio, Varenna, and Tremezzo are worth visiting. Bellagio, referred to as the Pearl of Lake Como, is famous for its elegant, lakeside villas, as are Tremezzo, Menaggio, and Varenna.
Como is the largest town on the lake and is home to the Cathedral of Como, which dates back to the 14th century, and the Broletto, a medieval town hall. You can easily catch ferries between the lakeside towns and experience incredible views of Lake Como from its waters.
Travel Tip: Brunate, a small town next to Como, is home to a cable car that, for a few euros, will take you high above Como's city center and give you spectacular views of the surrounding Alps.
Upmarket: Villa Lario Resort Mandello – Booking.com | Agoda
Mid-Range: Casa Olea Hotel – Booking.com | Agoda
Budget: Residence Caffè Maya – Booking.com | Agoda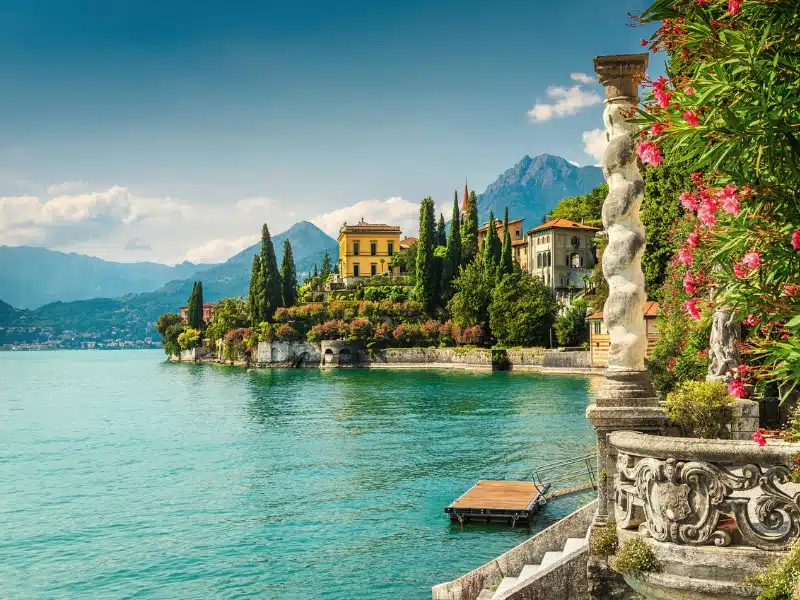 Verona
The driving time between Lake Como and Verona takes around 2-3 hours along the SS36, which connects Como to Lecco and then to Verona. You will pass the picturesque towns of Brescia, Desenzano del Garda, and Peschiera del Garda on the shores of Lake Garda. If you have time to stop, Lake Garda is blessed with spectacular views of the Italian Alps.
Travel Tip: The cable car from Malcesine up Mount Baldo, on the edge of Lake Garda, is a must-see attraction. It travels 580 meters, turning 360 degrees, to give draw-dropping views of the Italian alps.
Verona's Roman Arena is one of the best-preserved Roman amphitheaters in the world and a UNESCO World Heritage Site. Why not take a tour of the Arena di Verona and learn about its incredible history? Our recommended Verona arena guided tour includes skip-the-line tickets so you can make the most of your time in the city.
Alternatively, Verona offers a once-in-a-lifetime experience of enjoying a live opera performance within the amphitheater walls. Listening to Aida, Carmen, Il Barbiere di Siviglia, Rigoletto or La Traviata in the world's largest amphitheater is an experience not to be missed!
A trip to Verona wouldn't be complete without a visit to the Piazza delle Erbe and the Piazza dei Signori, charming squares in the heart of the city, the Castelvecchio, a 14th-century fortress that houses the Castelvecchio Museum, and the famous balcony of Juliet's House, the alleged home of Romeo and Juliet's heroine.
Upmarket: Due Torri Hotel – Booking.com | Agoda
Mid-Range: Hotel Accademia – Booking.com | Agoda
Budget: Leonardo Hotel Verona – Booking.com | Agoda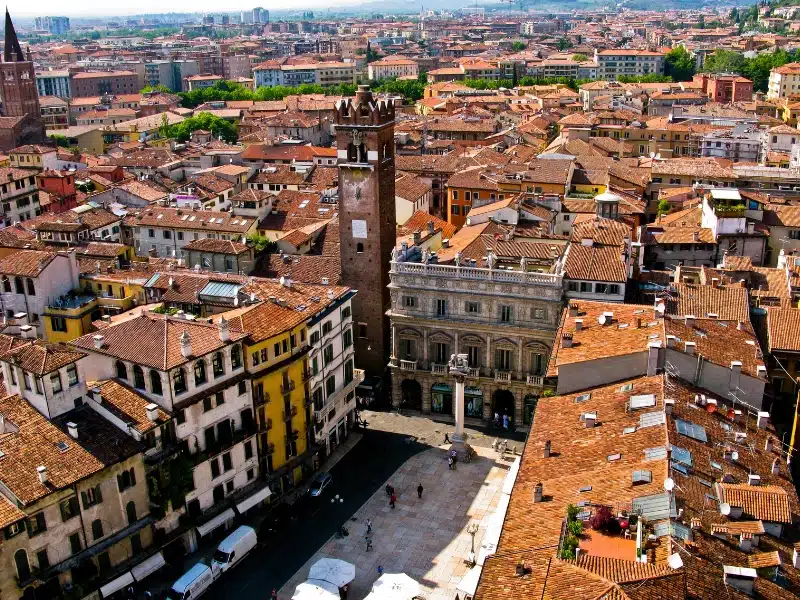 Italian Travel Ideas
Venice
The drive from Verona to Venice is most enjoyable along the SS11. The drive will take you through the Veneto region, where you can see the charming town of Padua, known for its historic center and the Scrovegni Chapel.
With 14 million annual visitors, a day trip to Venice will be the busiest stop on your trip. Make sure to take a gondola ride along the Grand Canal, the main waterway in Venice, and admire the city's beautiful architecture.
Travel Tip: A gondola ride will set you back €80 before sunset and €100 after sunset; it is definitely worth budgeting for this iconic experience!
Other top tourist destinations within Venice include St. Mark's Basilica, a stunning Byzantine church, the Rialto Bridge, a beautiful stone bridge over the Grand Canal that offers views of the city, and the Piazza San Marco, the main square of Venice filled with lively cafes.
Travel Tip: No cars can enter Venice. As you arrive, head for Garage San Marco (you can reserve a space online in advance) in Piazzale Roma. From here you can walk or catch a water bus to Venice's historic center. Booking a private water taxi into the city offers unrivaled views as you head into Venice, and it absolutely the best way to arrive!
RELATED POST: One Day in Venice – Itinerary, Map, Tips & Guide
Upmarket: Sina Centurian Palace – Booking.com | Agoda
Mid-Range: Palazzo Veneziano – Booking.com | Agoda
Budget: Hotel Saturnia & International – Booking.com | Agoda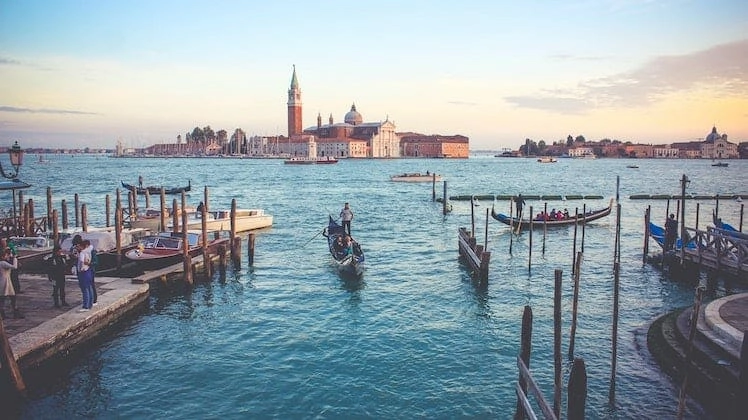 Bologna
Taking the SS309 and SS16 from Venice to Bologna will take you through the picturesque countryside of the Veneto and Emilia-Romagna regions. This route will offer spectacular views of small towns including Ferrara, known for its historic center, and Rovigo, situated on the Adigetto River.
Known as 'la Rossa, la Grassa e la Dotta', meaning the red, the fat, and the learned, Bologna has so much to see and do. Red is in reference to the terracotta red rooftops of the historic center, fat refers to the delicious food and produce found in Bologna and the wider Emilia-Romagna region, and learned refers to Bologna University, founded in 1088, AND one of the most ancient and prestigious universities in the world.
Once you reach Bologna, the city of towers, you will be able to admire the beautiful architecture, art, and food that the city has to offer. Make sure to look out for the porticoes of Bologna, which UNESCO listed in 2021, and the two towers, the famous symbol of Bologna.
You can take a tour of the nearby Lamborghini and Ferrari Museums, visit the Sanctuary of the Madonna di San Luca, or take this highly-rated secret traditional food tour and experience the delights of the local cuisine.
Travel Tip: If you're on a budget or prefer to manage your own time, grab our free self-guided Bologna food tour and experience the best of Emilia-Romagna's food. With suggestions for a DIY lunch in Bologna's oldest osteria and information about the best delicatessens and wine bars, as well as tips about where to see authentic Italian pasta being made, this self-guided tour is a must for gastronomes!
Upmarket: Grand Hotel Majestic gia' Baglioni – Booking.com | Agoda
Mid-Range: PHI Hotel "Al Cappello Rosso" – Booking.com | Agoda
Budget: The Social Hub Bologna – Booking.com | Agoda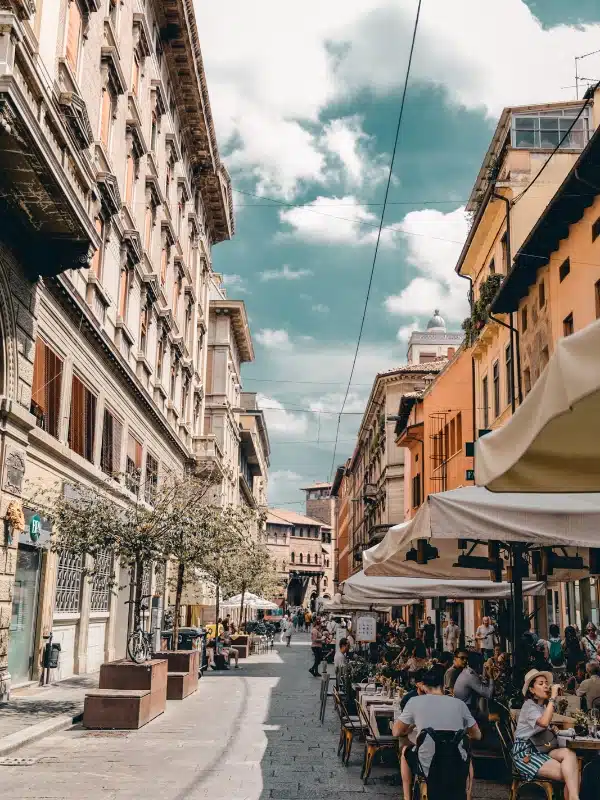 Bologna Side Trips
These are the perfect side trips for foodies, and are literally off the road between Bologna and Cinque Terre!
First up is Modena, home to Balsamic Vinegar DOP or aceto balsamico, a delicious syrupy and intensely flavored vinegar made from grape must, and aged in wooden barrels. Balsamic vinegar is a quintessential Italian ingredient and must be produced exclusively in either Modena or Reggio Emilia to qualify for the highly prized protected designation of origin status. Find out more when you take this tour of an authentic balsamic producer and get to taste their vinegar with local foods.
Neat, head to Parma, home to Prosciutto di Parma DOP, uncooked, unsmoked, and dry-cured ham. Parma ham pairs wonderfully with Emilia-Romagna's other famous food, Parmigiano Reggiano or parmesan cheese, also of protected origin. See how both are made and sample each with local wine on this highly-rated guided food tour.
Cinque Terre
Cinque Terre is a UNESCO World Heritage Site, containing the five charming towns of Riomaggiore, Manarola, Corniglia, Vernazza, and Monterosso al Mare, all stacked on the rugged cliffs of the Liguria coast.
Three unique ways to experience the unique national park of Cinque Terre are its hiking trails, which link the villages, relaxing with a boat tour to see the Cinque Terre from the water, and trying the locally caught seafood! Nessun Dorma in Manarola offers delicious seafood with views of spectacular Mediterranean sunsets.
Top Tip: If you decide to stay in Cinque Terre, head for delightful Monterosso al Mare, the largest of the Cinque Terre towns. Parking in the five villages is very restricted – we suggest parking your car at Park Centro Stazione's secure underground parking garage at the La Spezia Centrale train station and getting the Cinque Terre express train or passenger ferry to Monterosso.
Upmarket: Sesta Terra – Booking.com | Agoda
Mid-Range: Ca' D'Andrean – Booking.com | Agoda
Budget: La Taverna del Metallo Rooms – Booking.com | Agoda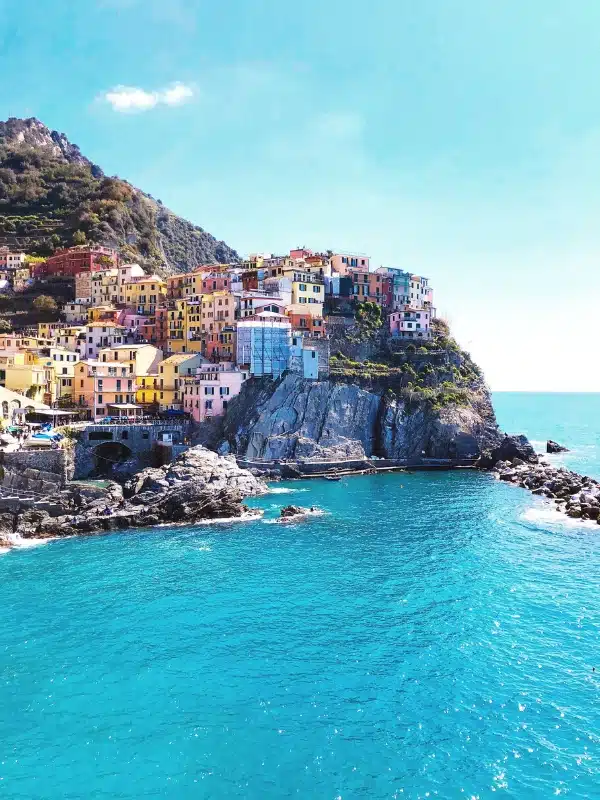 Pisa
The SS1 and SS326 connect Cinque Terre and Pisa in roughly an hour and a half. The SS1 will take you through coastal towns including Forte dei Marmi which provides incredible views of the Apuan Alps, or you can take the short detour to visit the Rennaisance-era city of Lucca.
A trip to Pisa wouldn't be complete without visiting the Leaning Tower, a UNESCO World Heritage Site. Climb to the top of the Leaning Tower for unmatched views across Pisa. If heights aren't your thing, capture the iconic photo supporting the Leaning Tower in your own two hands!
Other notable landmarks in Pisa include the Cathedral of Pisa, the Baptistery, and the Camposanto Monumentale.
A visit to Pisa would not be complete without a visit to the Ristorante Trattoria da Mario. Just a five minute walk from the Leaning Tower of Pisa, this highly regarded hidden gem serves an array of traditional Tuscan food and wine.
Upmarket: Palazzo Cini – Booking.com | Agoda
Mid-Range: Hotel Di Stefano – Booking.com | Agoda
Budget: Hotel La Pace – Booking.com | Agoda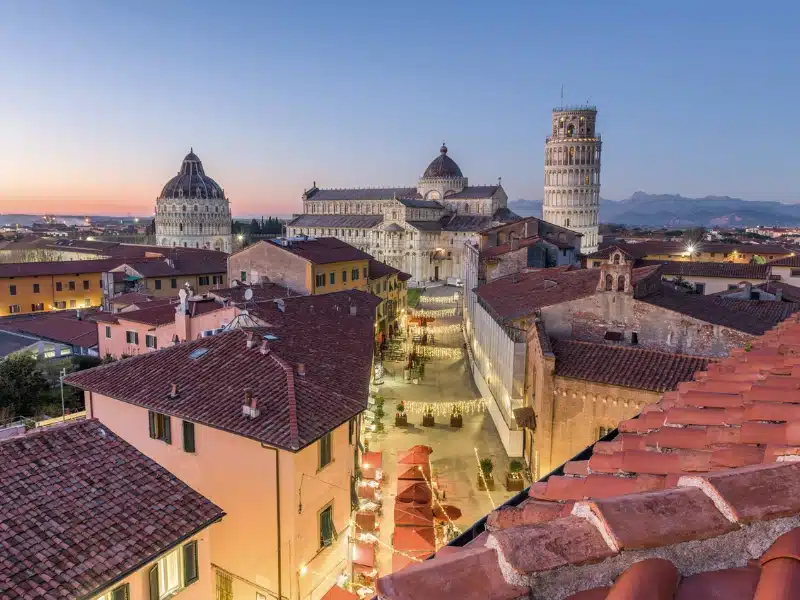 Florence
The drive from Pisa to Florence takes roughly 1 hour, depending on the traffic conditions. For a scenic drive through the Tuscan countryside, take the SS67 and visit the small town of San Miniato, known for its truffles, the hunting of which is on the UNESCO Intangible Cultural Heritage list.
Once you reach Florence, you can visit famous landmarks including the Cathedral of Santa Maria del Fiore, known for its beautiful dome, the Uffizi Gallery, one of the most famous art museums in the world, and Ponte Vecchio, the medieval bridge over the Arno river.
A trip to Tuscany isn't complete without a visit to a local winery. Surrounding Florence is the Chianti region, famous for its full-bodied red wines, olive oils, and meats. Take a tour of this area from Florence and experience rolling hills, historic stone castles, and iconic cypress trees.
RELATED POST: One Day in Florence – Itinerary, Map, Tips & Guide
Upmarket: Hotel Spadai – Booking.com | Agoda
Mid-Range: Soprarno Suites – Booking.com | Agoda
Budget: Hotel Perseo – Booking.com | Agoda
San Gimignano
The trip from Florence to San Gimignano is roughly 60km, taking just over an hour to travel south. We recommend taking a detour to the Azienda Agricola Montefioralle Winery, a small, family-run winery serving Chianti Classico paired with Tuscan food. This incredible vineyard offers spectacular views of green, rolling hills synonymous with Italy's Tuscan region.
San Gimignano is a small town known for its medieval architecture, including its 14 towers that have made it a UNESCO World Heritage Site. We recommend stretching your legs and using the local hiking trails to enjoy panoramic views of this Italian region. Alternatively, relax and explore the town's many shops and restaurants.
A vineyard wine tasting and lunch in the heart of Tuscany is on everyone's bucket list. San Gimignano, with its excellent wineries, is the perfect spot for this experience. In fact, San Gimignano has its own famous white wine, Vernaccia di San Gimignano, which has been produced in the area since the 14th century.
RELATED POST: Tuscany Road Trip: Itinerary, Map & Tips
Upmarket: Agriturismo Mormoraia – Booking.com | Agoda
Mid-Range: Hotel Bel Soggiorno – Booking.com | Agoda
Budget: Relais Cappuccina – Booking.com | Agoda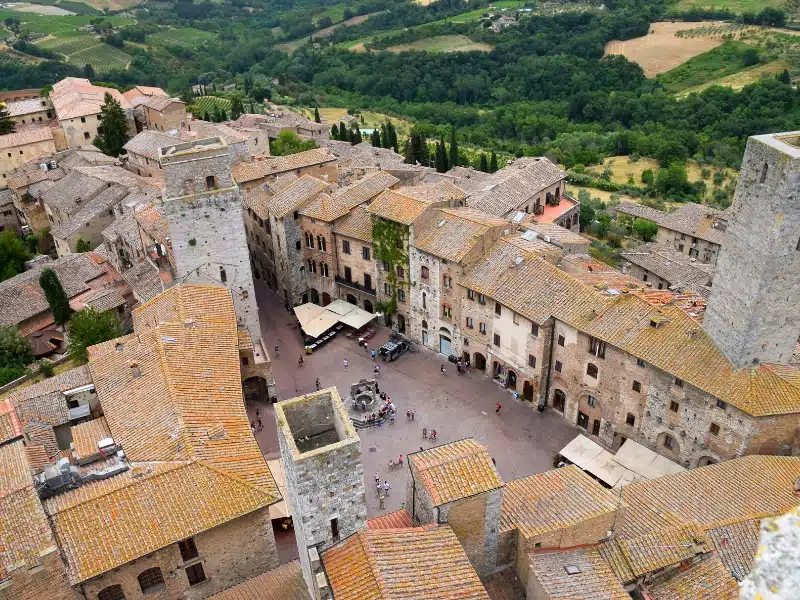 Siena
The short drive from San Gimignano to Siena will take you through attractive towns including Monteriggioni, famous for its medieval walls that give stunning views across Tuscany.
Siena is a beautifully preserved historic city at the height of Tuscany. Its historic center is a UNESCO World Heritage Site, famous for the Palio horse race that takes place around the Piazza del Campo twice a year in July.
The city also boasts the magnificent Cathedral of Siena, a gothic masterpiece with intricate marble floor mosaics, the Torre del Mangia, a tower offering panoramic views of the city, the Basilica of San Domenico, the Museo Civico, and the Palazzo Comunale.
Top Tip: Make sure to stop for lunch at one of the many lively restaurants lining the streets around the main square and sample delicious ribollita, a traditional Tuscan soup made with vegetables and bread.
Upmarket: Palazzetto Rosso – Art Hotel – Booking.com | Agoda
Mid-Range: Hotel Athena – Booking.com | Agoda
Budget: Hotel Palazzo di Valli – Booking.com | Agoda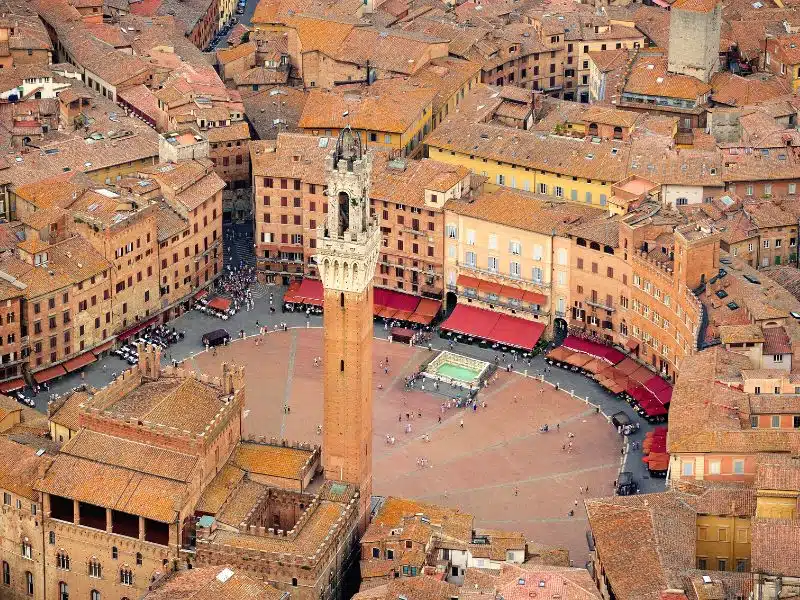 Siena Side Trips
As you head south through the wonderful landscape of Tuscany, there are a few places you may want to stop and enjoy.
The first is the hill village of Montepulciano, famous for the classic, rustic wine of the same name, and a masterpiece of ancient city walls, cobbled streets, charming piazzas, restaurants, and craft shops that can easily draw you in for a deliciously pleasant afternoon and evening. The town is also one of the best spots on this itinerary for a wine-tasting tour of a local vineyard, to understand the history and process of making wine in Italy.
From Montepulciano, take a detour east on the scenic SP146 to San Quirico d'Orcia, through the iconic Val d'Orcia, one of Europe's best driving routes. This journey will take you through vineyards and olive groves, and you'll pass row upon row of majestic cypress trees lining the roads and on the skyline, and you might even spot the famous house from the film 'Gladiator', some of which was filmed in Tuscany.
Rome
The final stop on our northern Italian road trip is Italy's capital city, Rome. The drive from Siena to Rome takes over two and a half hours and can be particularly busy due to traffic during the summer. Once you arrive in Rome, we suggest parking your rental car in a parking garage, or dropping it off at the airport and exploring the main attractions on foot.
Rome's world-famous landmarks include the Colosseum, the Pantheon, and the Trevi Fountain. The Vatican City, the smallest country in the world, is also located within Rome and is home to the Pope and priceless artworks and architecture, including St. Peter's Basilica and the Sistine Chapel.
Other popular attractions include the Spanish Steps, the Piazza Navona, and the Roman Forum. As the Italian capital, unsurprisingly the city offers a wide variety of delicious Italian cuisine, from pizza and pasta to gelato and wine!
RELATED POST: Rome in a Day – Itinerary, Map, Tips & Guide
Upmarket: Casa Fabbrini – Booking.com | Agoda
Mid-Range: Tree Charme Augusto Luxury Suites – Booking.com | Agoda
Budget: Viminale View Hotel – Booking.com | Agoda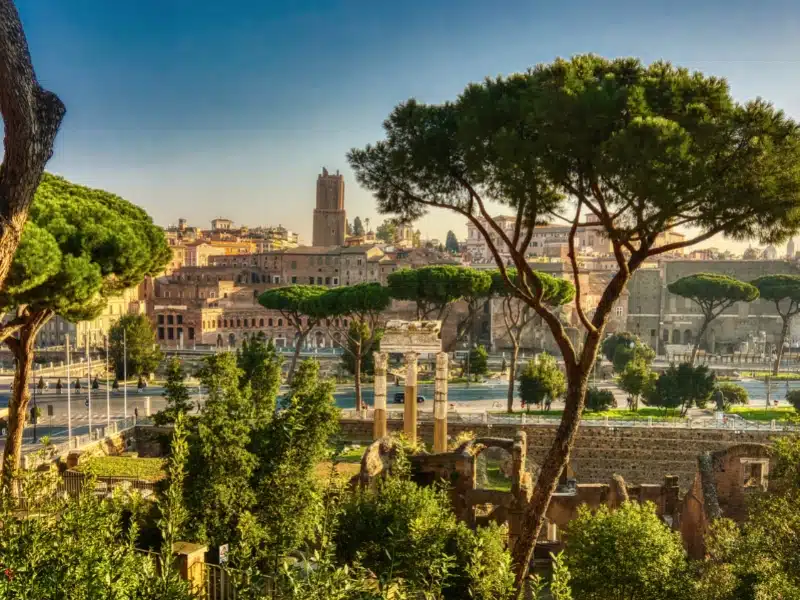 A northern Italian road trip, from Milan to Rome, offers a spectacular route to experience the diverse culture and history of Italy, making it one of the best road trips in Europe. Along the way, you can visit some of Italy's most iconic cities, including Milan, Florence, and Rome.
You can take in the beautiful countryside, indulge in delicious Italian cuisine and wines, and explore the many museums, art galleries, and UNESCO world heritage sites that the region has to offer.
Overall, a northern Italian road trip will be an unforgettable adventure that you will cherish for a lifetime!
Northern Italy Road Trip Resources
Here are the websites and services we personally use and recommend for traveling in Italy.
Are you looking for more road trip inspiration? Check out these top posts…
Amongst the beautiful landscapes of Spain, in the mountainous interior and along the gorgeous coasts, you'll find fascinating history, vibrant culture, and incredible cuisine. One of the best ways to experience Spain is by taking a road trip. We base ourselves in Spain when not traveling and have explored much of the country on four wheels and two! Whether you want historic cities, gorgeous landscapes, beaches and sun, or something a bit different, our detailed…
Love it? Pin it!