This post may contain affiliate links, from which we earn an income.
Your Guide to Planning the Ultimate Road Trip
If you're new to the awesomeness of road tripping, you're in the right place! Jump in to our comprehensive guide to planning the ultimate road trip.
Learn how to plan, budget and organise your trip with our detailed road trip planning guide. By using our top tried and tested road trip tips, planning methods and checklists, you'll be able to plan a roadtrip of a lifetime!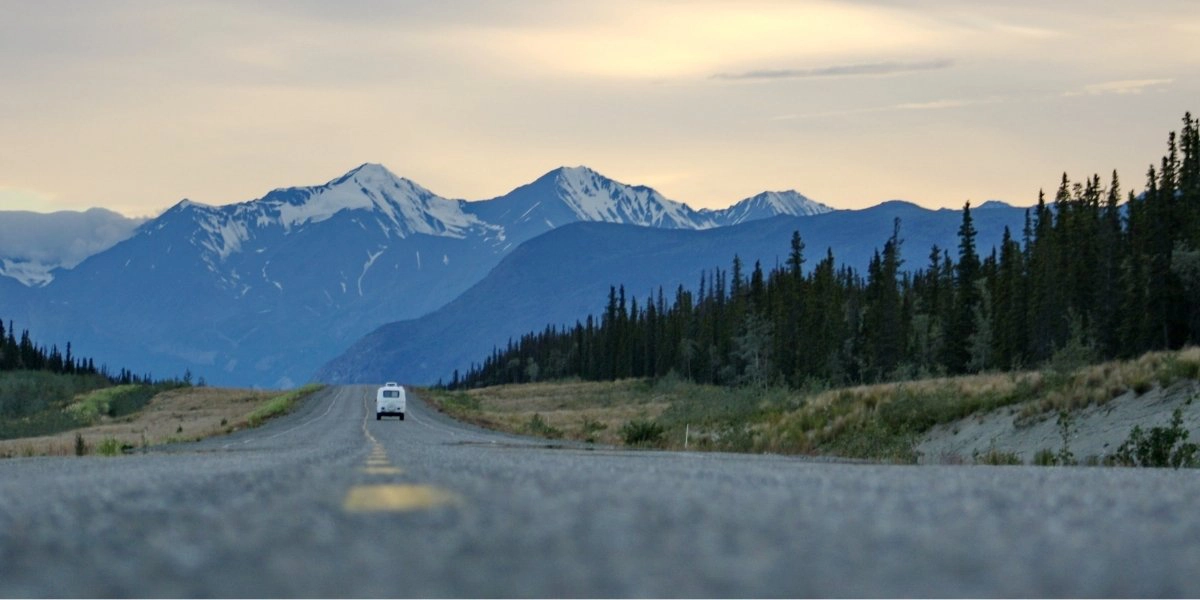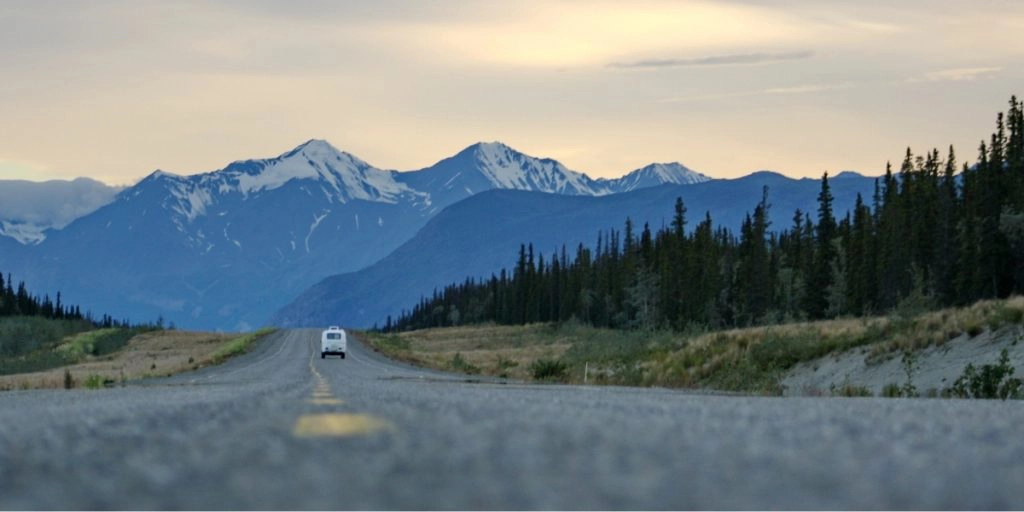 What Type of Road Tripper Are You?
Road trippers come in all shapes and forms! Some road trippers travel for the joy of the journey and lure of the open road. Others use the route as a way of seeing lots of attractions on one trip, spending a short time in each place.
All road trips have one thing in common – a route which includes several destinations, none of which is more important than the others.
When you're planning your first road trip, there are lots of things to think about and different elements of the trip to bring together. The following sections will take you through every aspect of the process until you have the perfect road trip planned and organised!
Use our free road trip planner, the ultimate guide to help you keep track of your decisions as you work through our step by step planning process.
If you're planning a trip by car to a single destination, then you can find lots of driving and travel tips and information on our Road Trip Resources page to help you get there safely.
RELATED POST: 113 Road Trip Quotes to Inspire Your Next Trip
Planning the Route
Some people think that this bit should come last, but if you use the tools we recommend, and follow our four stage process, you can start by building your skeleton route and add to it as you go along.
It helps to do it this way round, as right away you can assess things like driving time, costs and how many overnight stops are required – enabling you to make big changes at the start of the process if you need to.
There is always going to be a pay-off between distance, drive time, places you want to go and budget. Some compromise may be necessary so you're not spending all day behind the wheel – unless you LOVE driving of course!
When you start planning your route, it's important to think about how it will all piece together. These are some things to think about before taking step one;
RELATED POST: 19 Helpful Long Distance Driving Tips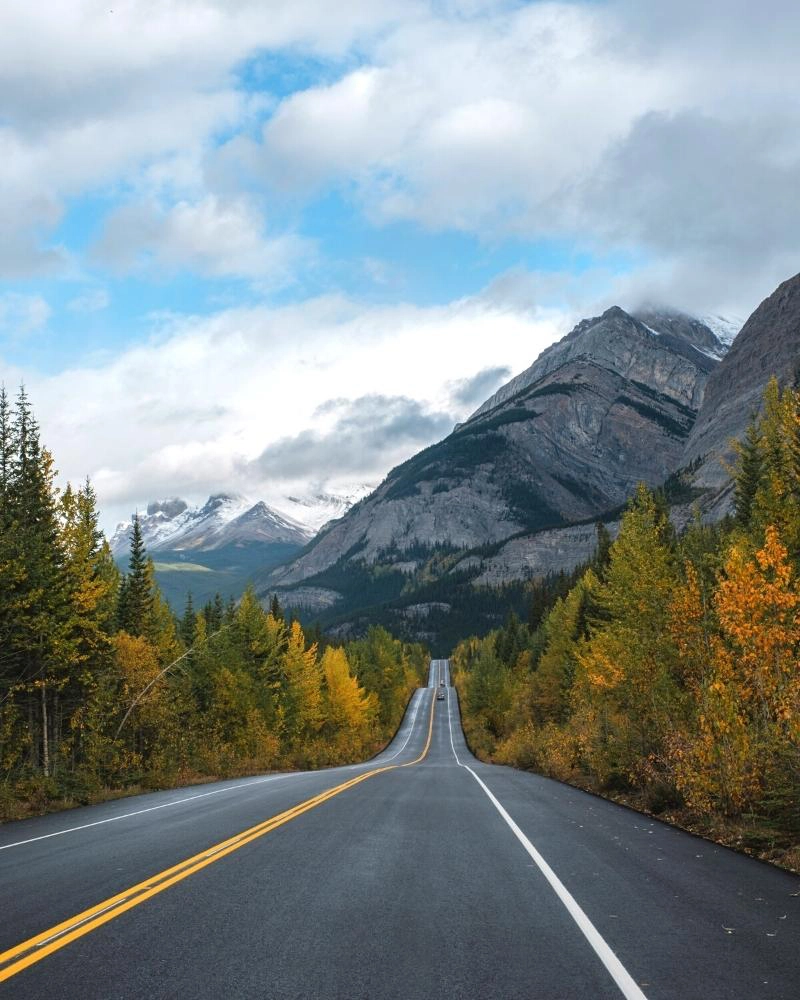 Step One – Anchor Dates & Places
Agree your 'anchor' dates and places. This may be a particular city you want to visit, a mountain to climb, a boat you need to catch, a special restaurant you want to try or an attraction you have dated tickets for – you get the idea.
You should always have two anchor places and dates – your start and finish points!
At this stage, add your main anchor points to your Google My Map, which is our recommended route planning tool. You can find instructions on how to use Google My Maps below in the green box. Using Google My Maps will help your route to take shape and give you a really visual way of seeing the journey with your anchor places along the way.
If you're planning a great American road trip and you prefer something a little more tailored, check out Roadtrippers Plus, a road trip planning app which can be used to build long road trips and lets you collaborate with friends.
Now you can see the whole route laid out against a large scale backdrop, does the route make sense or are you zig-zagging around, wasting time and fuel?
What does the total driving time and mileage look like? Is this realistic for the time frame you have for your road trip?
Remember to add around 25% onto the stated drive time in Google Maps. This allows for regular breaks and traffic build up during busy times.
If this makes any single day's drive too long, just add an additional stop or shuffle stops a little to add time on days where there is less driving and lose it on long stretch days.
You can also identify the places that are maybe a bit out of the way and those that can be visited in a day, or as you drive along the route.
Use our road trip planner to help you keep track of everything.
Step Two – Add the Finer Detail
Now that you have an idea of your route, pick up a travel guide book, check out our destinations or use the internet to research where you want to go and what you want to see on your road trip.
Add these new ideas to your Google My Map using the steps above and start to see how it looks in detail. Ideally you want clusters along the route, but you can easily see the outliers using this method, and decide whether the detour is worth making.
Short hops give you time to travel in the morning and enjoy your destination in the afternoon. Remember to factor in time for both. By now, your route is almost complete.
One thing to remember – leave some fudge factor so that if you fall in love with somewhere you can stay longer.
After all, experiencing new places and things is what it's all about!
Step Three – Save & Share Your Route
Your Google My Map is automatically saved and will be available on all your synced devices which are logged into your Google account.
To share your map with someone else, click the share button and Google will share your map by email with a contact or you can copy a link to text.
Plan a Road Trip with Google Maps
You can use the Google Maps app or website to create a map which includes drive times and mileage between each stop, and as a trip total. This map can be used to navigate as you drive. You can only add up to ten stops per map and cannot save the route, although you can save places of interest in a list.
You can use Google My Maps to create and plan a road trip with multiple stops, which you can save and share. This map is not navigable though and does not include mileage or drive time, but you can add as many destinations as you wish, and even categorise them with different icons to help with planning.
We use My Maps to create our road trip routes, but check each leg of the route on Google Maps to ensure we're not spending too long behind the wheel each day.
Get Google My Maps
You need to have a Google account to use My Maps – you can open one from any Google home page.
Android
Download the Google My Maps app.
Tap the large + sign.
Follow the 'Create a Map' instructions below.
Iphone & Ipad
You cannot create a new map on iPhone or iPad – you will need a computer to do this via the Goole Maps website.
You can view your My Maps using the Google Maps app on your iPhone or iPad clicking the three stacked lines on the top left of the screen, then selecting 'your places', and then 'maps'.
Laptop or Desktop Computer
Open Google Maps in a browser and click the three stacked buttons on the top left of the page.
Select 'Your Places' and then 'Maps'.
Click 'Create Map' at the bottom left of the screen.
Follow the instructions below.
Create a Map
Click the 'legend' tab on the top left of the screen and use the three dots to rename your map.
Click the 'untitled layer' to give your first layer a name – this could be 'destinations', 'places of interest' etc. Create a second layer by clicking the 'add layer' icon above, to separate things like hotels from destinations.
Using the search bar, type in your chosen destination or drop a pin (hold your finger or click your mouse on the place in the map and a pin will appear).
A section will appear on the screen with details of the place.
Click 'add to map' – at this stage you can also edit and add information about the place if you wish and change the icon to help you organise your attractions.
Continue to input your anchor places in this way.
As you input, check back with Google Maps that the drive time and mileage between each stop works for you. Note this on your driving route planner.
Once they are all inputted, including your first and last destinations, under the search bar, click the arrow button to add directions.
A new layer will open in the side bar and you can then start typing in the names of the destinations you added to the map.
Type them in in the order in which you'll be visiting and My Maps will create the route.
Your map is automatically saved when you leave the app or site.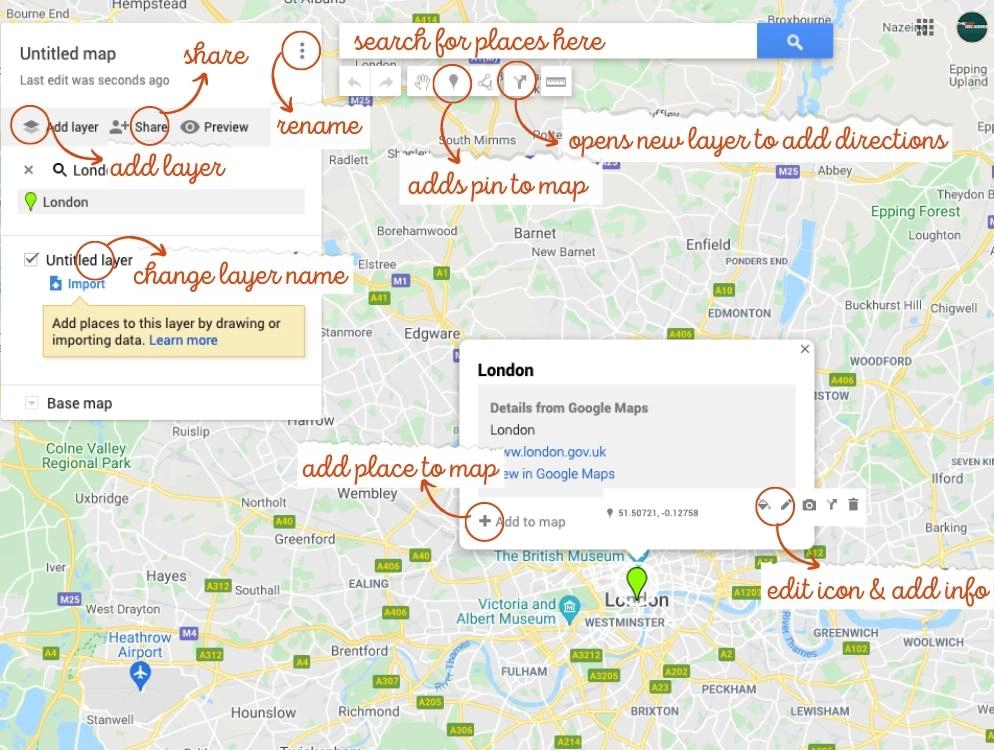 Routes & Destinations
Road Trip Itineraries
If you can't decide on a road trip route, or you're looking for road trip ideas, then use one of our ready-made incredible road trip itineraries or hit up your favourite travel blogs for inspiration.
Whether you're a sun worshipper, city visitor or mountain lover you'll find a road trip planner that's right for you.
Our Favourite Travel Guides
Your Road Trip Budget
This can be a tricky exercise, with lots of circling back, as you don't know how much you need to spend until you start planning, and until you start planning you may not know how much things cost.
You'll probably have a total figure in mind for the duration of your trip, which is to include everything. We find an easy way to manage this is to deduct your one-off costs from the total amount, and divide what is left between the number of days you will be on the road, to give you a per day budget.
Trip planning apps like TravelSpend are a great way of setting and managing a road trip daily budget.
Budget Trip Planning Tips
RELATED POST: Road Trip on a Budget: 36 Tips to Save Money in Europe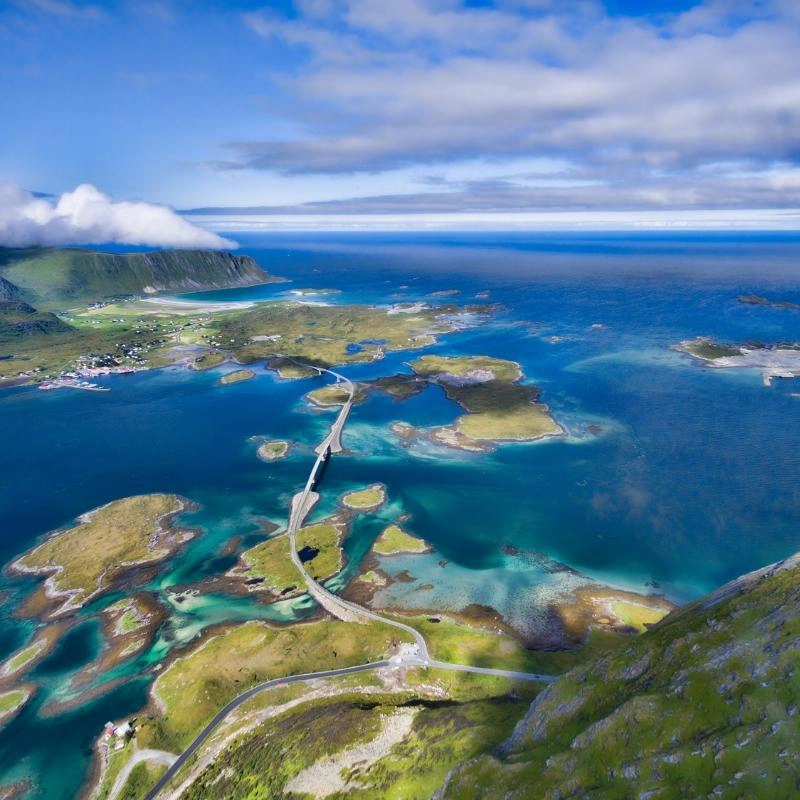 Booking Your Road Trip
Now you've got an idea of where you're going, where you want to stop along the way and what attractions you want to visit, it's time to start bringing all that to life.
It means hitting the internet, researching and booking. If you want to fly by the seat of your pants out of season, then you may find that booking isn't always necessary – but, if this is your annual holiday or a special trip, then booking in advance is a definitely a good idea.
Hire a Car or Take Your Own?
Hiring a car means saving drive time and precious holiday days over the length of your road trip. You'll also have peace of mind of a new car which will have breakdown cover and be prepared and suitable for the country in which you'll be driving.
But, it's expensive if you have a car at home and you'll have to get a flight to wherever you're going.
Check out the prices and balance out the costs, then weigh up the time saved before you make a decision.
Order of Booking
It may sound obvious, but book the bigger stuff first before committing to things like hotels, tours and attractions.
Flight/Ferry >> Rental Car >> Accommodation >> Tours and attractions >> Insurance
Organising Your Bookings
Use a road trip planner app like TripIt to manage your bookings and itinerary. Otherwise, simply save the confirmation emails you'll receive when you make an online booking into an email folder. This makes them easily accessible on your phone, even when mobile or cell service is patchy.
You could also print these out if you like to have a hard copy.
Road Trip Booking Resources We Use
Cozycozy is a metasearch engine that takes all possible accommodation types and offers from 100+ and brings them all to one place.
With over 9,600 campsites across Europe and UK, Eurocampings has the most comprehensive choice whether you're in a motorhome, car with a tent or looking for self-catering pod style accommodation. If you're planning on using campsites, check out ACSI for great out of season discounts.
RELATED POST: The Best Campsites in Europe – For Campers, By Campers
As one of the largest car hire aggregator companies in the world, Rentalcars.com has massive purchasing power which enables them to secure the best rental prices.
With the most comprehensive routes and timetables across hundreds of ferry companies, if you want to sail somewhere, Direct Ferries are the best option.
Our favourite insurer, True Traveller will cover you if you've already left home and aren't so worried about where you've been living for the past six months. If you're looking for cover for longer than a few weeks, we can highly recommend.
Visagov specialises in processing the world's most complicated travel visas and will help you cross borders and get to you chosen destination.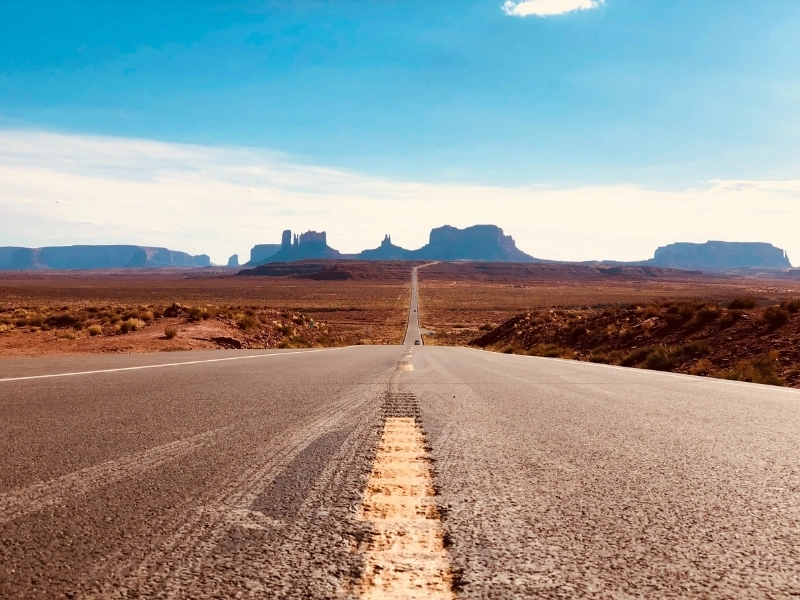 Getting Ready
The looking forward is sometimes the most exciting bit, but it's easy to forget all the things you need to do in preparation for a trip.
Get Our Road Trip Printables
Use our free road trip packing list and road trip check list to help you remember what you need to take for your trip and what things you need to sort out before you leave.
THE ULTIMATE ROAD TRIP CHECKLISTS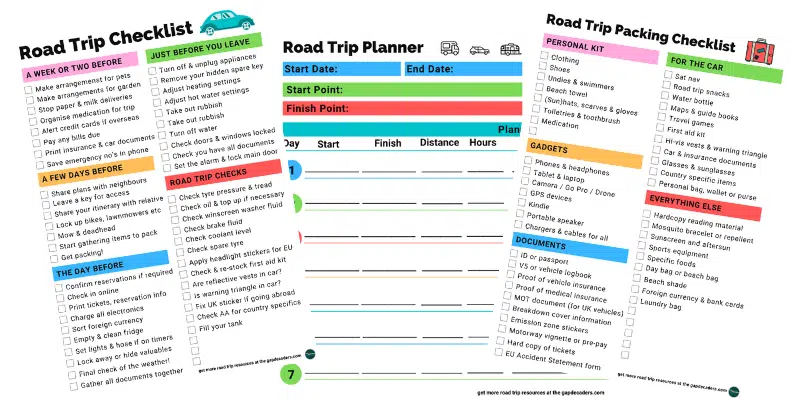 Vehicle Preparation
If you're heading off for more than a week or so, especially if you're heading to another country, making sure that your car is prepared for the trip is important, and will save you stress, time and potentially money during your trip.
Have a service or check the following yourself before you set off;
RELATED POST: Driving in Europe – Everything You Need to Know
Safety Equipment
Make sure you have the right kit in your car for whichever country you are visiting. The United Kingdom and Republic of Ireland have no legal requirements for you to carry any safety equipment, but most other European countries do.
Check here for the requirements of each country, and wherever you go, you should have what we think is essential road trip equipment;
Find out everything you need to know about SIM cards for long-term travel in Europe, including portable WiFi devices, eSIM cards, local SIM cards and monthly contracts which don't have a data cap!
Documentation
It's boring, but the right documentation keeps you legal and saves time if there is an emergency or accident.
Packing the Car
Depending on your stops and length of trip, you may want to pack a small overnight bag, into which you can decant items from a larger suitcase or bag.
This saves having to lug a large bag into your accommodation every night and creates a sort of wardrobe in your boot!
Use a parcel shelf or blanket to cover up your belongings when you park.
It goes without saying that you should take all your valuables into your accommodation every night – if your car gets stolen or broken into, at least you'll still have your passport and anything that's worth lots of money or has sentimental value.
There are some road trip essentials you will want in the car with you. We always have the following up front;
RELATED POST: The Best Road Trip Gadgets For An Easy Trip
Driving in Other Countries
It can be really daunting if you've never driven in another country before. There are some rules which are common to most countries, but you should check specific driving rules before you depart.
You now have enough information to actually get going! Check the weather before you leave, make sure you've ticked everything off on our packing list and road trip checklist, lock your front door and head for the hills!
Are you looking for more road trip resources? Check out these top posts…
Are you planning an adventure or road trip in Norway but don't want to fly? With a lots of different driving routes from UK to Norway, it's easy to take your own car or campervan to this stunning country. We help you decide which is the best route so you can arrive refreshed and ready to go!
Love it? Pin it!