This post may contain affiliate links, from which we earn an income.
Driving from Lisbon to Portugal provides a perfect opportunity to discover history, cuisine and the rugged Atlantic coast of the oldest country in Europe.
Heading to the Portuguese open road in a car, campervan or motorcycle offers a chance to explore places to visit between Lisbon and Porto and towns that are lesser known than the two heavyweights, yet will show you a more authentic view of Portugal.
One of our favorite European countries, we're going to share with you the best scenic drive from Lisbon to Porto, including things to do and see along the way, side trips, hotel recommendations and Portuguese travel tips to help you plan your perfect road trip through Portugal.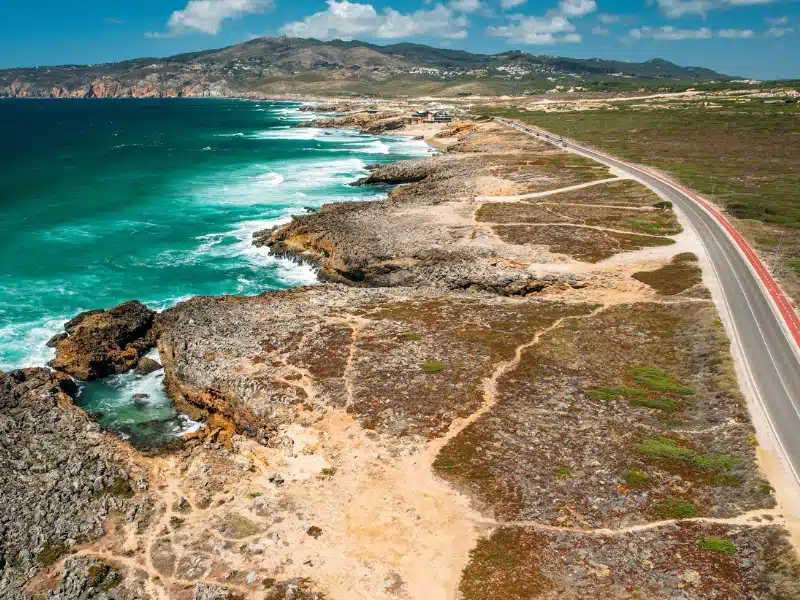 Getting to Portugal
Whether you're taking a road trip to Portugal in a car, motorcycle, or campervan, self-driving is absolutely the best way to explore this spectacular European country.
You can stop whenever you want, try new activities, visit places you see along the route, and have the freedom to change plans at the last minute.
Fly into Lisbon International Airport to start your roadtrip in Portugal. With direct flights from America, Europe, and the UK, we recommend booking through Skyscanner for live deals and the best prices.
Are you planning to rent a car in Portugal? As one of the largest car hire aggregator companies in the world, we recommend Rentalcars.com because they have massive purchasing power which enables them to secure the best car rental prices, which benefits you when you're planning a roadtrip in Portugal.
For a real adventure, hire a motorhome or campervan in Portugal. We recommend Motorhome Republic, an aggregate booking site who pull together all the best deals from a number of rental agencies, to offer you a wide choice of options alongside an excellent English speaking expert motorhome Concierge Team. Find out everything you need with our to know with our campervanning in Portugal guide.
If you're driving to Portugal from the UK or Europe, get our driving to Portugal guide, packed with info about the best routes and costs, things to see on the way and Portugal driving tips.
Make sure you check out the Portugal road trip resources at the end of this post for important information about toll roads in Portugal!
Best Time to Take a Portuguese Road Trip
December to February
The winter months in Portugal vary greatly by region. North of Lisbon, temperatures hover in the mid-teens, rain can be frequent and you may see snow north of Porto. Lots of cafés, restaurants and attractions will be closed, so this wouldn't be our favorite time to visit.
March to May
Spring is a wonderful time to road trip Portugal, with temperatures warming up across the country. Markets increase in size, restaurants start preparing different dishes and the countryside is carpeted with wildflowers and grapevines unfurling their leaves. You'll still find the roads and cities less crowded, and most attractions and places to eat will be open.
June to August
June and July enjoy perfect temperatures for camping and outdoor activities. August will be the busiest time on the roads and coasts as schools across Europe finish for summer and families take their annual trip to Portugal.
September to November
Autumn is a fantastic time to explore Portugal. The coasts will be quieter but still warm, the grape harvest takes place and the glorious colors of fall bring vibrancy to the countryside.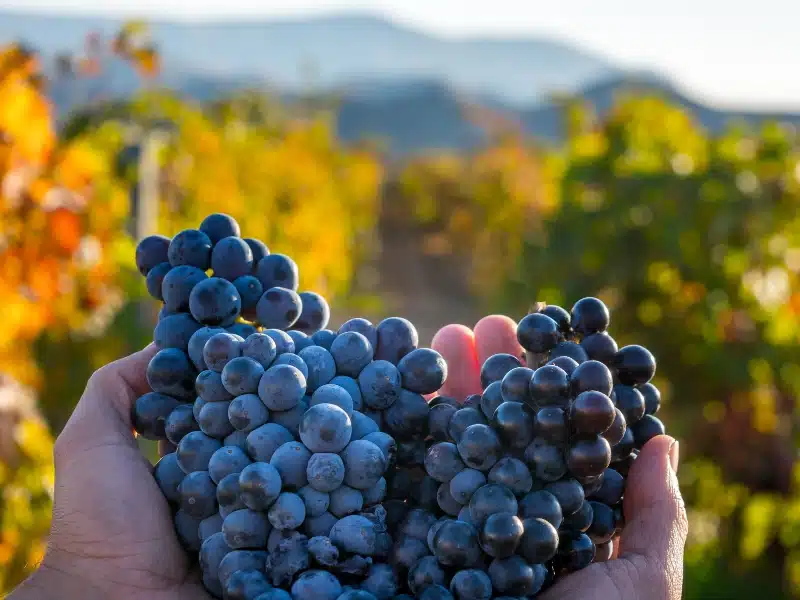 Is this your first time visiting Portugal? Get all the information you need in our Portugal Travel Guide, including what to pack, the best time of year to go, getting there, and practical tips to help you have the best trip!
Lisbon to Porto Map & Route
Google Maps calculates the Lisbon to Porto drive time as just over 3 hours. However, as the Portuguese people believe, there is value in taking things slow and with this ten day Lisbon to Porto itinerary you'll be meandering from one destination to the next, and seeing all the best bits on the way.
Dipping your toes into pristine sand, marveling at the huge waves that make this coastline so iconic, admiring the Baroque architecture, trying Portugal's world-famous wine, and sampling freshly caught seafood at local family-owned fish restaurants will be top amongst a long list of Portuguese experiences on this Lisbon to Porto road trip.
Lisbon – Cascais – Sintra – Cabo de Roca – Torres Vedras – Peniche – Óbidos – Nazare – Fatima – Tomar – Coimbra – Figueira da Foz – Aveiro – Ovar – Porto
How to use this map – Use your fingers (or computer mouse) to zoom in and out. Click or touch the icons to get more info about a place, and click the arrow in the box top left to open the index. To add to your own Google Maps account, click the star next to the title of the map.
Lisbon to Porto Itinerary
Day 1: Lisbon
The country's vibrant and lively capital, Lisbon is one of the most picturesque cities in all of Europe. With stunning architecture from numerous time periods, lively cobbled streets connected by stairs, lifts, trams, and funiculars, and a setting right on the Rio Tejo, Lisbon is a perfect destination to start a road trip.
Lisbon city centre is full of 18th century delights, elegant and open to the sea. Much of the Baixa, the lower town, was rebuilt after the earthquake of 1755, and the city center is full of open plazas, wide streets, and fascinating architecture.
For shopping, visit Avenida de Liberdade in the Baixa district. For Fado, folk singing renowned for its expressive and profoundly melancholic character, and good grilled sardines, many visit the Alfama district.
Lisbon's Chiado area has lots of museums and galleries to visit and, like the Bairro Alto district, comes alive at night due to its array of eclectic bars and coffee shops.
Lisbon's hop on hop off bus is a great way to see the city in a hurry or try this highly rated history, stories, and lifestyle walking tour to see the best of Lisbon and discover as you go!
One day in Lisbon is long enough to see the main highlights, and if you're flying in we suggest picking up your hire car after you've explored Lisbon – you definitely don't need a car in this city!
Upmarket: The One Palacio da Anunciada – Booking.com | Agoda
Mid-Range: Altis Avenida Hotel – Booking.com | Agoda
Budget: Browns Boutique Hotel – Booking.com | Agoda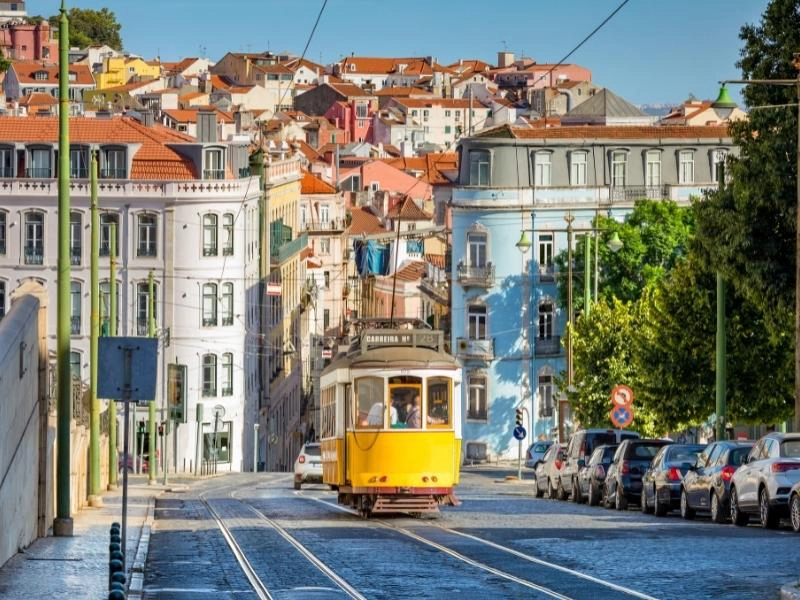 Make sure you have travel insurance you can trust when visiting Portugal. We recommend True Traveller for their 5-star TrustPilot reviews, variety of cover options, best activities cover as standard, great prices, and excellent service.
Day 2: Cascais
En route to Cascais, stop at the iconic Pastéis de Belém for a pastel de nata (a delicious custard tart in crisp, flaky pastry). This bakery is always busy, so you might have to wait in line, but it is well worth it!
Cascais used to be a humble fishing village on the Estoril Coast. Nowadays, it is one of Lisbon's premier holiday destinations and a playground for those with a generous budget. Many of Portugal's elite flock to Cascais since it offers safety and exclusivity. Even Portugal's president resides here during the summer months.
The old town is charming, with multi-color buildings, and patterned stone streets. It offers boutiques, bars, and gourmet restaurants to entertain anyone, from solo travelers to families. Sites to see are the unique coastal feature Boca do Inferno or the Condes de Castro Guimarães museum.
Outdoor activities include surfing, kitesurfing, boat rides, or sailing. For a round of golf, visit the creative result of Arthur Hills, Oitavos Dunes Natural Links Golf course, or Penha Longa Resort.
For locally caught seafood and authentic Portuguese tapas head to Mercado da Vila, a fish and produce market with a handful of really good restaurants – it's where the locals go to eat out. Or try stylish Casa de Guia, a collection of eateries, bars, and boutiques set by the sea around a historic mansion.
Upmarket: The Albatroz Hotel – Booking.com | Agoda
Mid-Range: Villa Cascais Boutique Hotel – Booking.com | Agoda
Budget: Kasa 23 Cascais – Booking.com | Agoda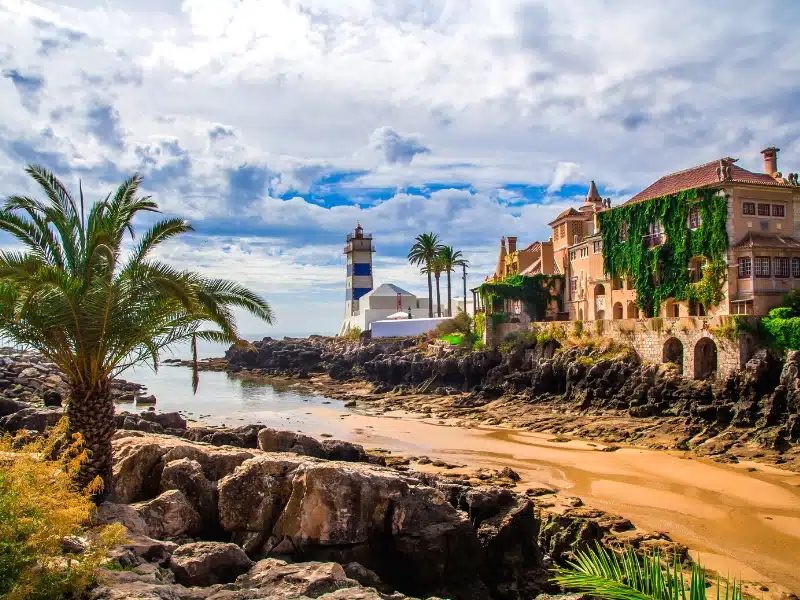 Sintra and Cabo de Roca Side Trip
Although both destinations are next on your driving itinerary, if you're enjoying Cascais and want to reduce time behind the wheel, it's easy to see Sintra and Cabo de Roca on an organized day trip from Cascais.
Head to colorful Sintra and dramatic Cabo de Roca in a private tuk-tuk! Your driver will show you a couple of top spots in Cascais including the windswept Praia do Guincho, before whisking you up the hill to see the royal palaces and historic quintas of Sintra. Having ticked one of Portugal's most Instagrammable places off your bucket list, it's time to feel the wind in your hair and head to the most westerly point of Europe, Cabo de Roca.
If tuk-tuk travel doesn't appeal to you, this popular tour of Sintra and Cabo de Roca leaves Cascais in an air-conditioned vehicle and includes a guided tour of Pena Palace with skip-the-line tickets.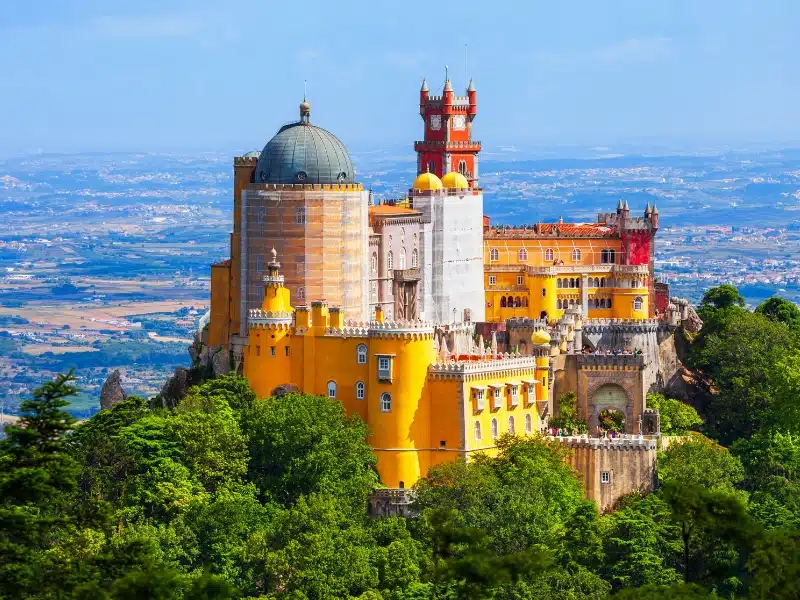 Day 3: Sintra
About 10 miles north of Cascais is the town of Sintra. It is known for the UNESCO World Heritage Site, Pena Palace, which adorns almost every postcard and travel guide that mentions Sintra. It is easily recognizable by its prominent hilltop location in the Sintra-Cascais National Park and striking red, yellow, and blue facades.
Other architectural marvels to admire are the Quinta da Regaleira (with its famous and much-photographed Initiation Well), Castelo dos Mouros (Castle of the Moors), the Sintra National Palace with its distinctive Moorish chimneys, and the Parque e Palácio de Monserrate (Monserrate park and palace).
Sintra is one of Portugal's most popular tourist destinations, and we highly recommend booking your attraction and activity tickets in Sintra well in advance so you're not disappointed on the day.
If you're craving the pride of Portugal, dry salted cod fish known as Bacalhau, head to Bacalhau na Vila for lunch. A Praça offers a vegetarian and vegan menu and accommodates other dietary requirements like gluten-free options.
Upmarket: Sintra Marmoris Palace – Booking.com | Agoda
Mid-Range: Chalet Saudade – Booking.com | Agoda
Budget: Casa da Pendoa – Booking.com | Agoda
Day 4: Sintra to Peniche
Cabo de Roca
From Sintra, take the short drive to Cabo de Roca where huge waves pounding windswept cliffs herald the most westerly point of mainland Europe.
People once thought this was the end of the world, in the days before Portugal's explorers set out to find the new world across the Atlantic. It is the end of Europe though – at least, one end of it!
The Cape itself is not much to write home about, but the views across the ocean are pretty mesmerizing. The colorful red and white lighthouse is not as picturesque as some but completed in 1772, it's one of the oldest lighthouses along the Portuguese coast. There lighthouse has open days, you can find out more at the Núcleo Museológico da Direção de Faróis website​.
By far the best reason to visit Cabo de Roca are the cliff paths that lead to fantastic rock formations and secret coves, perfect for sun-worshippers. To the south, there's the pebble beach of Praia do Louriçal, and to the north, there's the sandy Praia da Ursa. Be careful when walking down the trails, and make sure you have adequate shoes for hiking as the ground can be slippy underfoot, and steep in places.
From Cabo de Roca, head slightly inland to Colares and pick up the N247 which after a few miles swings back to the coast for an amazing drive past some of Portugal's best beaches, including Praia da Foz do Lizandro and Praia de São Julião, and the resort town of Ericeira.
Torres Vedras
En route to Torres Vedras, there are two stops worth considering. The first, about 3.5 miles from Sintra, is the stunning Fervença waterfall. Less than a mile from the waterfall is the Museu do Ar Pêro Pinheiro (aviation museum), which boasts an impressive collection of air crafts.
Torres Vedras might not immediately come to mind as a tourist destination in Portugal, but it offers visitors a bit of everything. Enjoy snacking on grape jam from the region or some Pastel de Feijão de Torres Vedras (bean pastries) made from white beans, almonds, egg yolk, sugar, and water.
Go for a wine tasting at Adegamãe or Quinta da Almiara, or visit some of the town's many Napoleonic war fortresses and castles, like Castelo de Torres Vedras, Olheiros' Fort, and Forte de São Vicente.
Peniche
Peniche is one of Portugal's largest traditional fishing ports and is known for its beaches, especially Praia dos Supertubos, for its great surf.
Like Torres Vedras (and so many other towns across Portugal), Peniche has its fair share of exquisite churches and fortresses. The most famous one is the São João Baptista fort, located on the island of Berlenga Grande, reachable by ferry or catamaran.
Once on the island, as well as exploring the fortress, you can discover the crystal-clear waters that are teeming with sea life and secret caves, from a paddleboard or kayak.
Besides beaches, a walk around the old town will show you what Peniche is also known for, bobbin lacework. This art form dates back to the early 17th century when women perfected the craft while their husbands were at sea.
For dinner, go to A Sardinha for (yes, you guessed it) sardines and other traditional seafood, like octopus dishes. Hardy carnivores should opt for Tribeca.
Upmarket: MH Peniche – Booking.com | Agoda
Mid-Range: The Salty Pelican Yoga and Surf Retreat – Booking.com | Agoda
Budget: KateKero – Booking.com | Agoda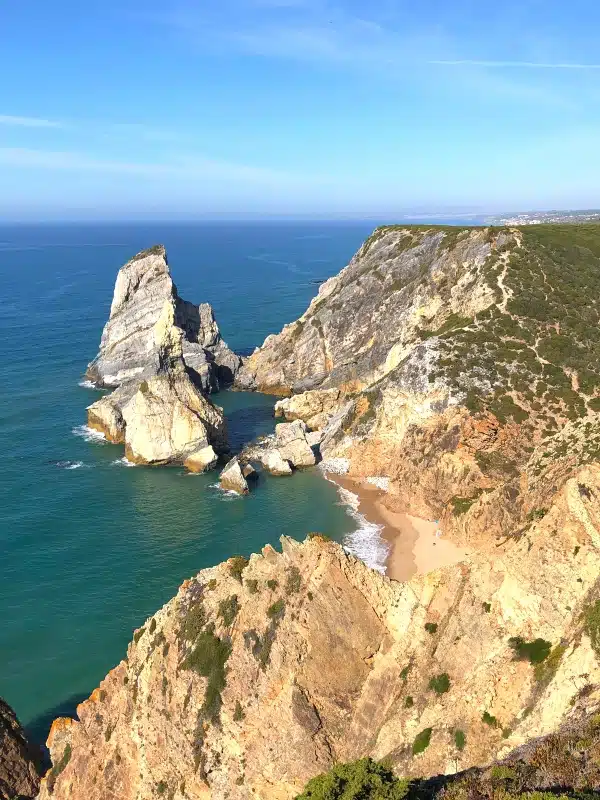 Other Portugal Travel Ideas
Day 5: Peniche to Nazaré
The fifth day of the road trip offers the colossal waves of Nazaré, the spiritual atmosphere of Fatima, and the charming architecture and eateries in Tomar.
Óbidos
Óbidos is a picture-perfect historic walled town between Lisbon and Porto. Known as 'the wedding city', so beautiful was Óbidos that it became the traditional bridal gift from the kings of Portugal to their queens. It's a must-visit on any road trip around Portugal.
The town has a medieval feel, with a small castle, narrow cobbled streets, crooked buildings, and high ramparts, which can be climbed for amazing views. Most of what remains is not original, as Óbidos was pretty much razed in the catastrophic Lisbon earthquake of 1755.
To avoid the Lisbon day trip coaches in summer, get off the beaten path to the cute and incredibly photogenic side streets and winding stairs that connect the different levels of the town. There you'll find whitewashed houses, colorful bougainvillea which carpets the walls, and splashes of bright yellow and blue painted buildings.
If you have time, pop into Foz do Arelho on your route north. The incredible beach, which wraps around the Lagoa de Óbidos, faces both the Atlantic and lagoon and is a favorite with kite surfers and paddleboarders alike. There are a couple of good waterside restaurants and cafés, which make a perfect lunch spot.
Nazaré
Ask almost any seasoned surfer where to go for the best waves in Portugal, and they will most likely say Nazaré. The gigantic waves that appear here are created by the Nazaré Canyon, an undersea geomorphological phenomenon. This submarine canyon is the largest in Europe, stretching over 100 miles along the coast.
The highest wave ever surfed in Nazaré at Praia do Norte was 86 feet or 26.21 meters in October 2020, by German surfer Sebastian Steudtner. The world record still stands today. Oh, and we were there, watching from the Forte de São Miguel Arcanjo!
For breathtaking views of the town and its coastline, take a trip up the Nazaré Funicular that departs every 15 minutes, or make your way up the cliff to the observation deck of Miradouro do Suberco.
Other notable sites are the Igreja de Nossa Senhora da Nazare, the Santuário de Nossa Senhora da Nazaré (sanctuary housing the image of Our Lady of Nazaré), and the traditional municipal market, where you can buy the freshest fish, and locally grown fruit and vegetables.
Upmarket: Hotel Praia – Booking.com | Agoda
Mid-Range: Hotel Miramar Sul – Booking.com | Agoda
Budget: Quinta Amarela – Booking.com | Agoda
Day 6: Nazaré to Coimbra
Today has the longest stretch of driving, with the route between Tomar to Coimbra taking around an hour if you take the A13 autoestrada or freeway. You'll end the day in Coimbra and spend two nights here, to make the most of your time in Portugal's medieval capital city.
Fatima
Whether you are Catholic or not, Fatima is a must-do on your journey to Porto. This pilgrimage site is less than 40 miles east of Nazaré and is worth a visit, even if you are not religious.
To get to Fatima from Nazare, take the IC9 road to stop at Grutas da Moeda (Coin Caves) to see a spectacular network of limestone caves discovered in 1971.
Fatima, or more specifically, the location of the Chapel of Apparitions, marks where the Virgin Mary allegedly appeared to three young children in 1917 with a message. The message, among other things, was a call to constant prayer and revealed 'Fatima's secret.'
Fatima attracts millions of visitors yearly and has even hosted the Pope on more than one occasion. Many people travel from far to Fatima in need of spiritual replenishment or with the hope of miraculous physical healing.
Ensure to visit the magnificent Basilica of Our Lady of the Rosary and the Sanctuary of Our Lady of Fátima on site, one of the world's largest Catholic pilgrimage sites.
Enjoy some local cuisine at Restaurante A Grelha or A Cave for lunch, but ensure to book ahead.
Tomar
About half an hour's drive inland is the beautiful town of Tomar, once the seat of the order of the Knights Templar, a Catholic military order closely tied to the Crusades, established in 1119. One of the most wealthy and popular military orders in Western Christianity, the Knights Templar wielded immense power until their demise in the 16th century when they became unable to secure their holdings in the Holy Land.
Tomar's UNESCO World Heritage Site, Convent of Christ, is a must-see. Take note of the detailed representations on the Renaissance portal, the Manueline-style window in the chapter room, and the architectural features of the main cloister. Other architecture erected to serve the convent and worth seeing is the Aqueduto dos Pegões (aqueducts).
Take a walk through the Seven Hills National Forest along the Nabão river that runs through town or visit the Museu dos Fósforos (Matchbox Museum) for something different.
Coimbra
En route to Coimbra, take a slight detour to Lousã, which holds five of the 27 'schist villages' in Portugal, based on the region's schist stone used to build the houses. It is a small village, but its charm is worth the stop.
Coimbra
Upmarket: Hotel Quinta das Lagrimas Small Luxury Hotels – Booking.com | Agoda
Mid-Range: Sapientia Boutique Hotel – Booking.com | Agoda
Budget: Pharmacia GuestHouse – Booking.com | Agoda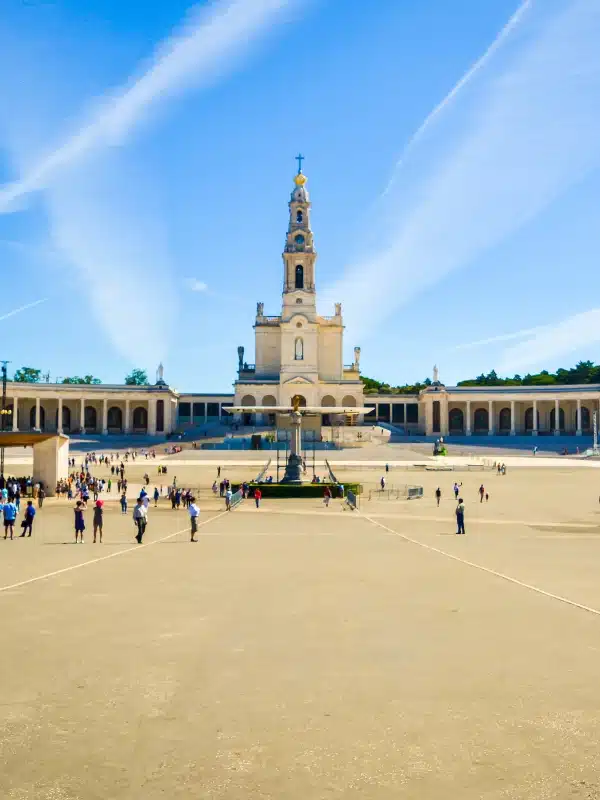 Day 7: Coimbra
Portugal's capital before Lisbon, Coimbra sits on the banks of the wide Mondego River and is an intriguing mix of the old and the new: it has a rich past shown in its Moorish forts and Gothic buildings, as well as a young and vibrant nightlife.
Coimbra is also home to the oldest university in the country, built over the 13th, 16th, 17th, and 18th centuries, and best known for the world-famous Biblioteca Joanina, both of which are UNESCO World Heritage Sites.
To fully appreciate the institute's history, we recommend this Coimbra University walking tour, where you will visit the Royal Palace, St. Michel's Chapel, and the library with a knowledgeable English-speaking guide.
The Moorish historic center is stacked above the river bank and has a majestic cathedral, Sé Velha de Coimbra, with lots of atmospheric alleys and squares to explore. Coimbra is known for live music, including the haunting Fado and guitarra, the Portuguese guitar, which you can hear in many of the bars and restaurants in the old town.
A family-friendly attraction is the Portugal dos Pequenitos park, which consists of eight child-sized scale models of Coimbra and Portugal's most famous monuments and other global landmarks. Other activities include strolling through Coimbra's gorgeous botanical gardens or the Parque Manuel Braga.
The lively Praça da República, the town square and a popular hangout place for locals and tourists alike, is a good spot for a coffee, but we preferred the narrow streets around the old cathedral for traditional Portuguese food and live music.
For the best, authentic Fado and delicious snacks head for Diligência Bar on the tiny Rua Nova in the old quarter or book our recommended live fado show with port wine tasting.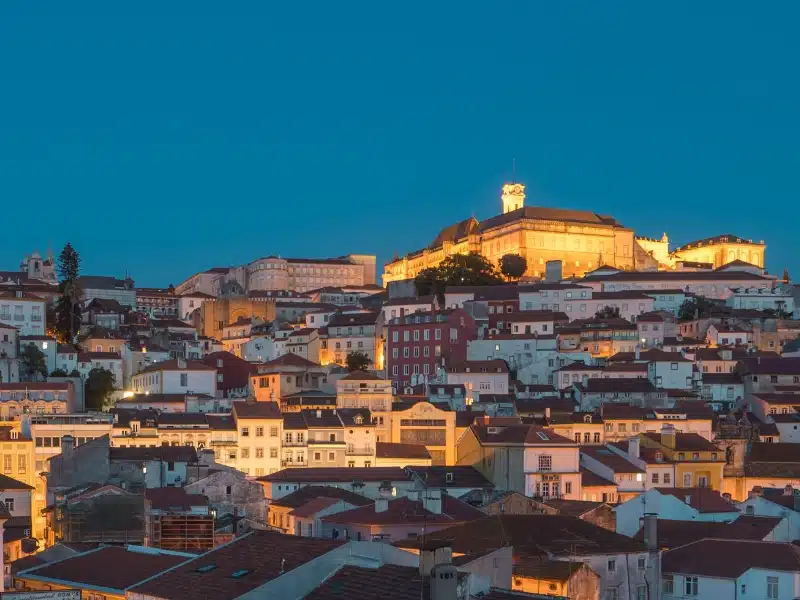 Day 8: Coimbra to Aviero
Figueira da Foz
About 35 miles back towards the coast is Figueira da Foz, a seaside resort with a mild climate and large, busy beaches. It is known for good surf, gambling, and the Figueira da Foz International Film Festival. The town has also seen an influx of foreigners making it their permanent home over the last decade.
Noteworthy sites to visit are the Palacio Sotto Maior, the Salt Museum, and the Montemor-o-Velho Castle. For those that like to try their hand and their luck, Figueira da Foz has the biggest casino on the Iberian Peninsula.
Have a traditional Portuguese lunch at Muralha Chafarica (with sea views), a burger lunch at the Santa Catarina fortress, or try something different by visiting the local market, Mercado Engenheiro Silva, for some local snacks.
Aveiro
On the edge of a huge coastal lagoon, Aveiro is a handsome and energetic town. Sometimes called the Venice of Portugal, it is home to a small network of picturesque canals, which you can explore by colorful moliceiros, Portugal's answer to the gondola.
Grab a free BUGA bike and take in the Art Nouveau buildings on the main street, then get off the beaten track for hidden architectural treasures. The specialty seafood here is eel, served in a casserole or marinated. You'll also see big barrels of ovos moles (soft eggs), a type of sweet made of eggs and sugar, that was invented in the 19th century and are symbolic of the city.
Do not miss visiting the Museu do Aveiro, Museu Marítimo de Ílhavo, and Museu Histórico da Vista Alegre. Other places to admire are the visually stunning train station and Costa Nova, the oceanfront village with multicolored facades.
After a long day, relax and dine at Canastra Do Fidalgo or Restaurante Dóri, which has views of the canal.
Upmarket: Melia Ria Hotel and Spa – Booking.com | Agoda
Mid-Range: Hotel Moliceiro – Booking.com | Agoda
Budget: Hotel Afonso V – Booking.com | Agoda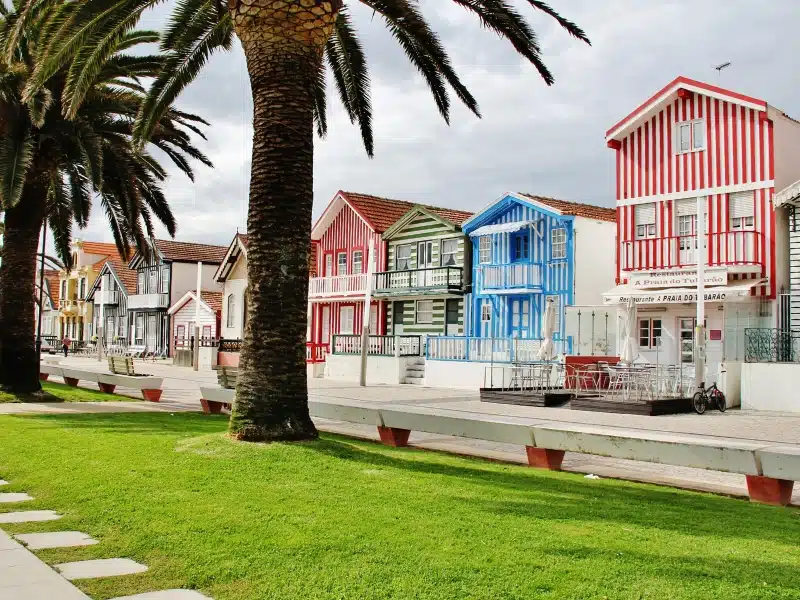 Passadiços do Paiva Side Trip
If you have an extra day in your itinerary, head inland from Ovar to the fabulous Paiva Walkways and Arouca 516 Footbridge, one of northern Portugal's most popular attractions.
The Passadiços do Paiva are a series of wooden walkways suspended from, and built along, the banks of the river Paiva, which allow you to follow the stunning river from Espiunca to Arouca, or vice versa. The walkway is 8.7km each way, with a punishing 600 steps to be climbed (or descended) at Arouca
In the Arouca Geopark is the Arouca 516 pedestrian suspension bridge, which claims to be the second longest in the world, measuring 516 meters in length and suspended 175 meters above the Paiva river. The bridge links two hills with granite cliff faces – we saw it being built when we were last there and it sure is huge!
There are buses and taxis at each end if you want to hike one way. It costs just €1 to use the passadicos, which you can pay on the day, or you can buy tickets online in advance.
This side trip will add three hours of driving time to your itinerary, but if you take the M505 and N225 north from Arouca, you'll meet the legendary N222 at Castelo de Paiva and follow it, and the Douro river, all the way to Porto. What a great way to tick off two of Portugal's must-dos!
Day 9: Aveiro to Porto
The fourth and final day of the road trip takes you through Ovar to end up in the fascinating city of Porto.
Ovar
Ovar is about 26 miles from Aveiro and is a good halfway stop to Porto to stretch your legs.
Ovar's beaches, like Beach Torrão do Lameiro and Praia do Furadouro, boast Blue Flag status, having met international standards relating to safety, amenities, water quality, and environmental management. In 2013, the town also opened its Buçaquinho Environmental Park. The park is ideal for leisure and outdoor activities, like walking or jogging.
Ovar has the nickname the 'tile capital,' since it is known for its brilliantly aesthetic ceramic tiles or azulejos. Tiled facades on buildings can be seen all over Portugal but are incredibly artistic in Ovar.
Sites to see are the seven 18th century Rococo capelas (chapels) scattered across Ovar. In order, the chapels listed form a sacred route that represents the Passion of Christ:
Capela do Passo do Pretório (Interior da Igreja Matriz)
Capela do Passo da Queda (Rua Alexandre Herculano)
Capela do Passo do Encontro (Rua Alexandre Herculano)
Capela do Passo do Cirineu (Rua Cândido dos Reis)
Capela do Passo da Verónica (Praça da República)
Capela do Passo das Filhas de Jerusalém (Largo Mouzinho de Albuquerque)
Capela do Calvário (Largo dos Combatente)
The Portuguese love their cakes and pastries. Try the local specialty, Pão de Ló, a light and fluffy sponge cake for a treat and perfect for a morning snack or tea time.
Porto
Rising from the banks of the mighty Douro river, Porto is an intimate city that packs a real punch. Charismatic, cool, and with a lively cafe and bar scene, enjoy the laid-back vibe as you wander, discover and taste all the delights the city has to offer.
Arriving in Porto by lunchtime is perfect for checking into your accommodation and heading out for a bite. Plan to stay for the morning tomorrow, giving you a full 24 hours to explore, with our one day in Porto itinerary.
For lunch, there are a plethora of options from which to choose. For arguably the best Francesinha sandwich, go to Santiagos in Rua de Passos Manuel. Head to Guindalense for drinks and food to join a more local crowd. It is a self-serve bar with great views and delicious grilled chorizo and Bifanas (pork sandwiches).
After lunch, go shopping in Rua Santa Catarina, which hosts international outlets, or take a walk down to the Ribeira. On the riverfront, you can marvel at the iconic Ponte Dom Luís I bridge, take a Douro six bridges cruise, or enjoy the live music and souvenir vendors that sell anything from cork handbags to tablecloths.
Vila Nova da Gaia is on the other side of the river and is home to all the port houses. Go for a tour and port wine tasting at any of the big labels, like Taylor's, Graham's, Cálem, or Ferreira, the oldest port wine producer in Porto still in Portuguese hands.
Other places to visit in Porto are the Sé do Porto (Porto Cathedral), Palácio da Bolsa, Igreja do Carmo, the São Bento train station which is famous for its beautifully tiled interior, and the Clérigos Tower. A Porto history walking tour is a good way to see all the top attractions, or catch the Porto hop on hop off bus to see the sights to save your legs!
If you are a fan of the Harry Potter books or movies, you will be interested in a few other landmarks around Porto:
Majestic Café in Rua Santa Catarina: Apparently, J.K. Rowling had lunch here while she was living in Porto for a few months and scribbled notes for the first Harry Potter book on a napkin.
Livraria Lello: A bookstore with a magnificent wooden staircase, said to have been the inspiration behind the revolving staircases of Hogwarts.
Fonte dos Leões (Fountain of the Lions): Some say J.K. Rowling found inspiration from the fountain's lion statues for the Gryffindor House's emblem.
For a spectacular degustation dinner (10 courses), you must experience Chama, but make sure to book ahead. To experience a favorite spot among locals, head to Restaurante Maria Rita.
At the end of your Lisbon to Porto road trip, you can dash down the A1 in just over three hours, head north to the delights of Guimaraes, Braga, and Ponte de Lima and the delicious Vinho Verde wines of the Minho valley, or fly out of Porto Airport, which has departures to much of Europe.
Upmarket: Torel Palace Porto – Booking.com | Agoda
Mid-Range: Oca Flores Hotel Boutique – Booking.com | Agoda
Budget: Porta Nobre – Booking.com | Agoda
Douro Valley Side Trip
The Douro Valley is known for its breathtaking landscapes that produce some of the best port wines and olive oil in Portugal and has a deep and historical connection with Porto.
You can tour the Douro valley by boat, by bike, or by car, with route N222 providing a spectacular route all the way to the Spanish border. If you tag this Douro drive onto your road trip, you'll want to visit Lamego, known for the monumental Baroque shrine of Nossa Senhora dos Remédios at the top of a spectacular staircase which pilgrims still climb, and the pretty town of Pinhão, as well as a few vineyards of course!
If you're all driven out, leave your car in Porto and take this highly rated Douro Valley boat tour with wine tasting and traditional lunch when you'll visit one of the most gorgeous landscapes in Europe!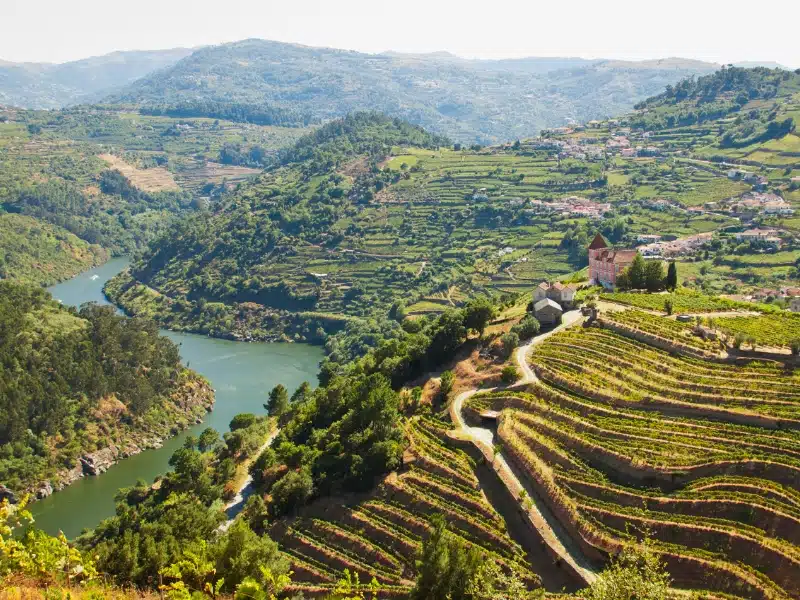 Portugal Road Trip Resources
Here are the websites and services we personally use and recommend for traveling in Portugal.
Information About Driving in Portugal
Portuguese roads around cities and major towns are generally well maintained although this is not always the case in rural areas.
Drivers in Portugal have a bad reputation, not always fairly so, although the proper use of roundabouts and indicators seems to elude most! Our Portugal driving and travel tips will help you stay safe on your road trip.
You must have at least three months remaining on your passport (issued in the past ten years) at your intended date of departure from France.
You must have at least 3rd party insurance for your vehicle.
Citizens of non-EU third countries may require an International Driving Permit for driving in Europe. You can check whether you need an IDP here.
You must carry photographic proof of ID and a reflective jacket (for the driver and all passengers) when traveling Portugal by road.
It is recommended that you carry a warning triangle.
It is forbidden to use a dash cam or radar detector in Portugal.
You will see Portuguese drivers using mobile phones at the wheel frequently but this is actually illegal, despite appearances to the contrary.
If you are driving in a large town or city, then 'helpers' will wave you to spaces or car parks in the hopes of getting a tip but you do not have to tip them unless you feel it's deserved. When you are hot and stressed and trying to park, having someone waving at you and 'helping' is not always that helpful!
Portugal has one low emission zone (LEZ) in Lisbon, which was introduced in the inner city center in 2011. In 2012, a large area was added to the LEZ, which now comprises two sub-zones and currently covers 33% of the whole city. Click here for more information.
Toll Roads in Portugal
Toll roads in Portugal are complicated! There are a number of different companies requiring different systems, with options to pay electronically or pre-pay. It is often not possible to pay as you go. This site provides a good explanation of them all.
Having spent quite a bit of time touring in Portugal, we think the temporary Via Verde device is the best option if you're driving your own vehicle in Portugal. This is an electronic device you can order online in advance. It's valid throughout the Portuguese highways network, highways with electronic-only tolls and designated lanes on traditional tolls.
If you're in a rental car, tolls can be paid in person with cash or a credit card at a local post office or at a registered Payshop. You won't be able to pay for them until 48 hours have passed, and you'll then have just five days to pay.
On the other hand you can ask for your hire care to come fitted with a transponder, which means you can pay the hire car company at the end of your trip.
Where possible though, avoid the tolls and take the scenic route when driving around Portugal, you'll have a much better experience!
RELATED POST: Driving in Europe – Everything You Need to Know
Are you looking for more road trip ideas? Check out these top posts…
One of the best ways to explore the beautiful country of Croatia is by taking a road trip, where you can drive along winding coastal roads, visit charming towns and villages, and discover off-the-beaten-path hidden gems. In this Croatia road trip guide, we'll share some of our favorite road trip routes and destinations in Croatia, along with tips for planning your own adventure on the open road. Get ready for an unforgettable journey through one…
Love it? Pin it!