This post may contain affiliate links, from which we earn an income.
What to Do in One Day in Porto
Rising from the banks of the mighty Douro river, Porto is an intimate city that packs a real punch. Charismatic, cool and with a lively cafe and bar scene, enjoy the laid-back vibe as you wander, discover and taste all the delights the city has to offer with our one day Porto itinerary.
In this Porto travel guide, you'll find a complete itinerary of all the most important must see Porto attractions, with an interactive map, organised to make the best use of your time.
We also share recommendations for central places to stay, ideas about where to eat local food, and tips about how to make the most of your 24 hours in Porto.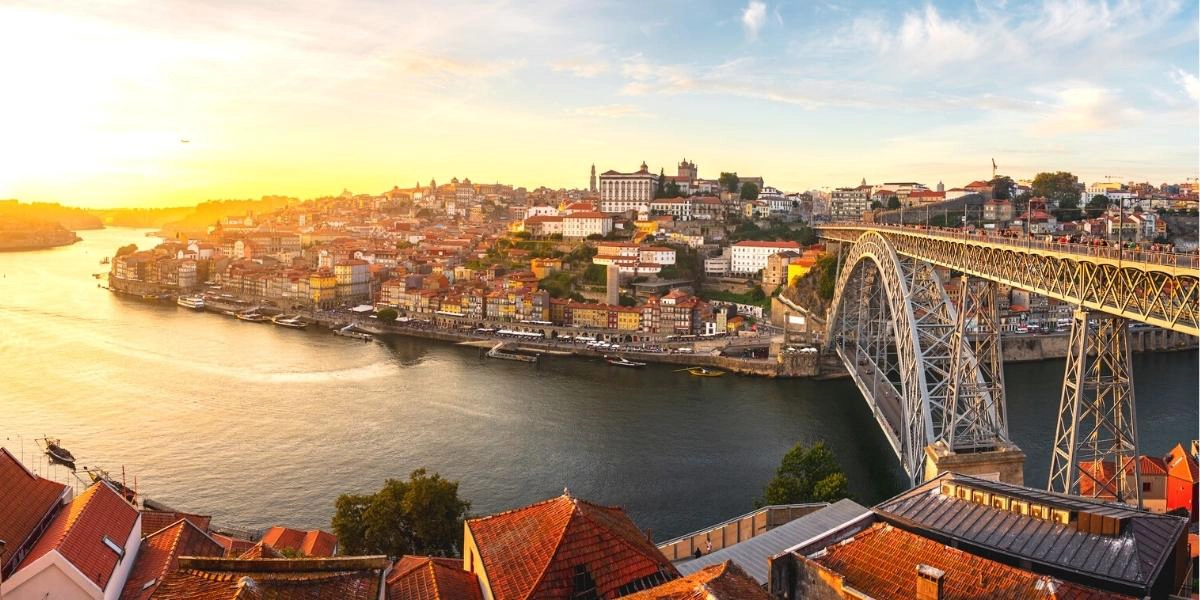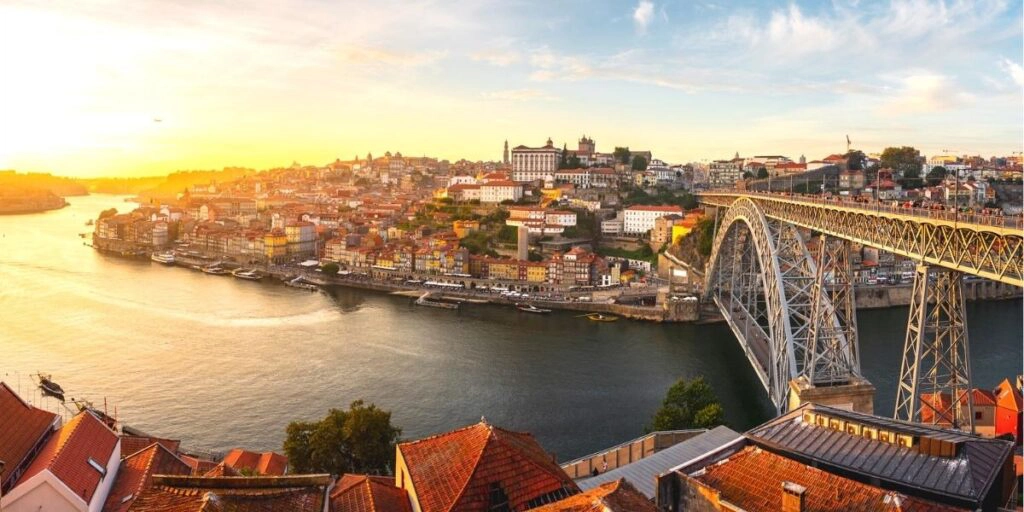 When to Visit Porto
Porto is a coastal city in the north of Portugal and enjoys hot summers, pleasantly warm spring and autumn months and mild, wet winters.
The best time to visit Porto is late spring or early autumn. There will be fewer visitors and better deals on travel and accommodation, but the weather will still be lovely with warm sunshine and little rain.
Is this your first time visiting Portugal? Get all the information you need in our Portugal Travel Guide, including what to pack, the best time of year to go, getting there and practical tips to help you have the best trip!
Porto Trip Resources
Flying
Fly into Francisco Sá Carneiro International Airport
Driving
Drive in from Europe or hire a car in Portugal
Travel Insurance
Medical costs, delays and lost luggage
Getting to Porto
Flying
When flying to Porto you will arrive at Francisco Sá Carneiro International Airport, which is located around 13km north of the city. The best way to get to the city from the airport is by Metro. You will need to take the E line (purple) which will take you to Trindade the main metro station in Porto, the trains leave every 20-30 mins, dependent on the day & time, and takes about 27 mins.
You will need to buy an Andante Card from one of the ticket machines at the airport for 50c, you then add your journey to this card, you can use this card for your entire stay and top it up at the ticket machines at any metro station. Once tickets have been loaded to your Andante card you need to validate them before you get on the train, your ticket will last for one hour once validated, if you change lines at any point in your journey you will need to validate your ticket again, do not validate on your way out.
You can also take a bus to the city, Get Bus leaves every hour on the hour and takes 25mins to Campanha Bus Station, which is a little bit out of the centre, so you will then need to take another bus or metro to your required destination.
You can also book a private transfer from the airport with Klook directly to your accommodation in the city. Klook works with a large range of local operators to bring the the best options and prices for your transfer.
Where to Stay in Porto
Luxury: Torel Palace Porto – Booking.com | Agoda
Mid-Range: Oca Flores Boutique Hotel – Booking.com | Agoda
Budget: Porta Nobre – Exclusive Living Hotel – Booking.com | Agoda
Hostel: The Passenger Hostel – Booking.com | Agoda
Things to See & Do in Porto
Is One Day Enough in Porto?
We think so! Follow our one day in Porto itinerary around this very walkable city and you'll find all of the major attractions are within easy reach of the city centre. Be prepared for aching calves if you're not used to hills.
If you want to have your Porto one day itinerary organised for you by a tour guide or find a Porto walking tour, then check out these highly rated Porto tours.
If you fall in love with Porto ad want to explore further, try this three day Porto itinerary.
Day Trips to Porto from Lisbon
If you want to see Porto in a day but are staying in Lisbon, then get the train or take a Lisbon day trip to Porto. You can take a high speed train from Lisbon to Porto, arriving in around three hours.
Trains from Lisbon to Porto start around 8am and the last Porto to Lisbon train leaves at around 8pm, so you'll have plenty of time to enjoy the city and visit all the Porto must see attractions. Expect to pay around €25 each way.
An organised day trip to Porto from Lisbon is another great way to see the city, with the added bonus of a guide to show you to all the best things to do in Porto. Check out these private Porto tours for the best options.
RELATED POST: Driving from Lisbon to Porto: Itinerary, Route & Tips
Interactive Map of Your Porto Itinerary
How to use this map – Use your fingers (or computer mouse) to zoom in and out. Click or touch the icons to get more info about a place, and click the arrow in the box top left to open the index. To add to your own Google Maps account, click the star next to the title of the map.
Morning
Climb the Arrabida Bridge
In 1963, the Arrábida Bridge was the largest concrete arch bridge in the world. Since 2016, the concrete arch bridge is the only one in Europe open to visitors.
Start your day early and take a unique opportunity to climb a national monument and building that has been closed to the public for 53 years. With a guide and all the safety equipment provided, climbing this iconic bridge is actually pretty easy – we think it's one of the best things to do in Porto.
You will need to arrange a taxi, public transport or even a tuk-tuk to get to the bridge from the city center, unless you're up for a good 50 minute walk to start your day. Book here and make sure to take a camera, the views are incredible!
TOP TIP: If you're planning on these types of activities, you will need travel insurance which covers you for high risk sports. We recommend True Traveller, who offer this type of cover as standard.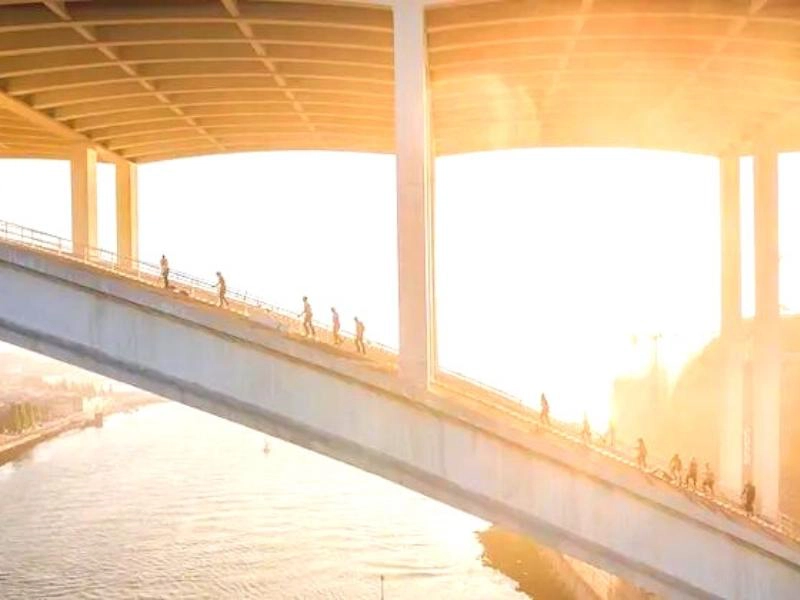 Visit the Cathedral of Porto
At the highest point of the city is Porto Cathedral, or Sé do Porto. Predominantly Baroque in style, with a Romanesque facade and nave and the cloister and one of the chapels being Gothic, it is the most important religious edifice in the city and has been declared a National Monument.
The construction of the Cathedral began during the twelfth century, but it was rebuilt and renovated numerous times throughout the centuries. This explains why the Cathedral is a mix of architectural styles. The cathedral is free to enter.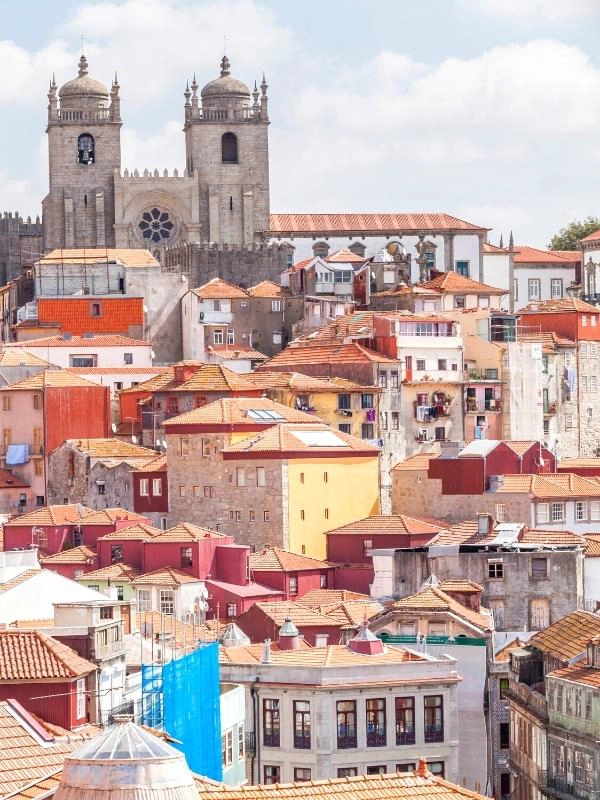 Climb the Clerigos Tower
Across town and downhill from the cathedral, the Clérigos Tower is the tallest campanile, or bell tower, in Portugal. Standing 76m tall, this iconic Porto tower has a fantastic view of the city and river.
Climb the 200 or so steps for a really breathtaking (and breathless) view from the tower's observation deck over Porto.
This is also a great place to take photos of the cityscape. Book your skip the line tickets in advance, queues on the day are often long.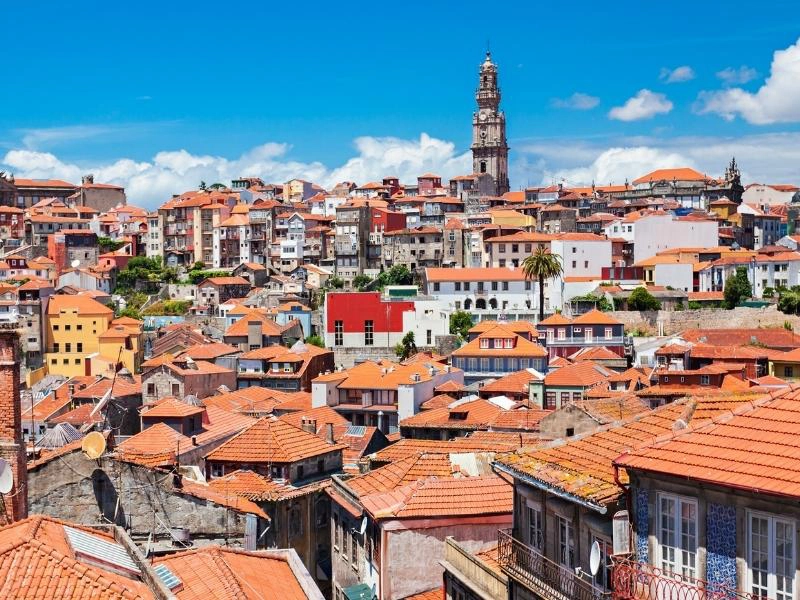 Buy a Book at Livraria Lello (or not!)
Livraria Lello is one of the oldest and most beautiful bookshops in the world and reportedly inspired JK Rowling when she was writing the Harry Potter novels.
This magnificent building and bookshop on Rua das Carmelitas has been spoiled by the 4,000 visitors a day eager to get that instagram shot, huge queues and a fee to enter. What if you just want to buy a book?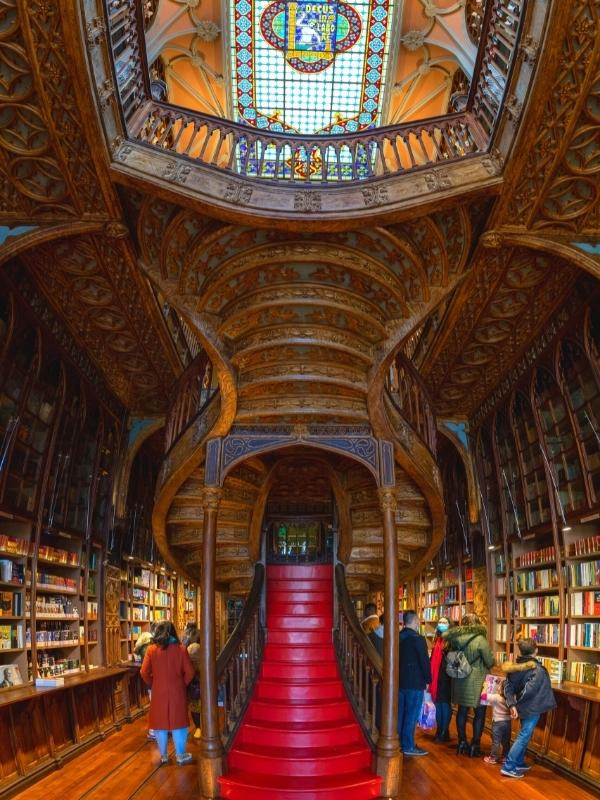 Admire the Tiles at the Sao Bento Station
The azulejos (tiles) at the São Bento train station are are a must see in Porto and really beautiful.
Just south of Porto's most grandiose thoroughfare, Avenida dos Aliados, São Bento station is a stunning French Beaux-Arts structure which was built in 1900. It's easy to pop in on your way past and marvel at this beautiful railway station.
The walls of the ticket hall are lined with 20,000 magnificent antique blue and white hand-painted ceramic tiles depicting Portugal's history, from royalty to wars and everything in between. The tiles were laid over a period of 11 years, between 1905 and 1916, by artist Jorge Colaço.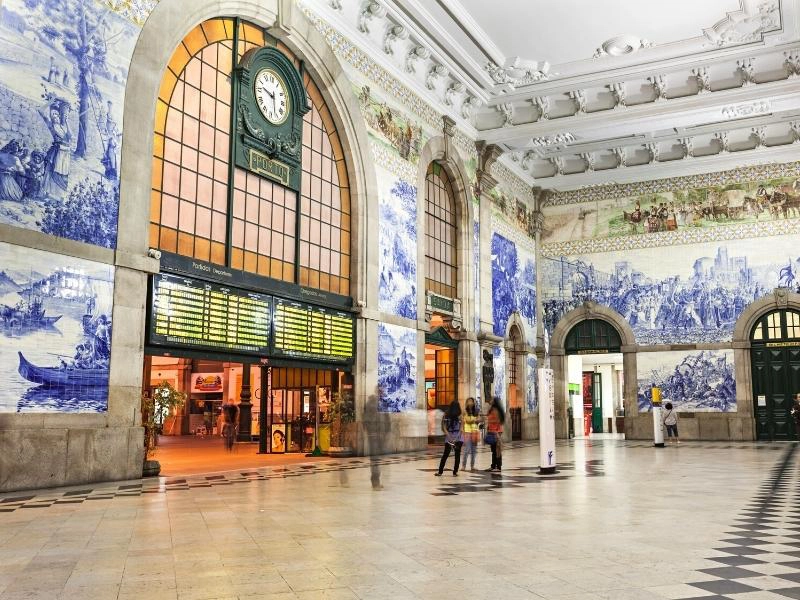 Eat Pastéis de Nata in the Old Town
These delicious custard tarts are a staple of cafe life in Porto, in fact anywhere in Portugal. If you don't think you're a custard tart sort of person, try one in Porto and be converted.
These little beauties will cost you around €1 each. Have one with a coffee at the Majestic Cafe, one of the most beautiful and romantic spots in Porto, which you will no doubt come across when wandering the historic heart of the atmospheric old town.
TOP TIP: Pasteis de Nata are best eaten warm, straight from the oven with the pastry crispy and the rich custard filling bubbling and caramelised on top.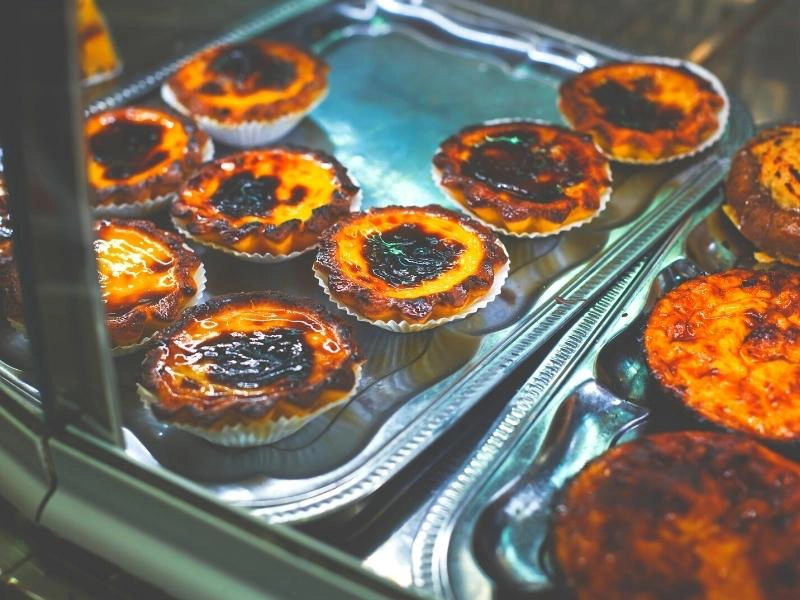 Afternoon
Cross the Pont Luis I Bridge & Take the Cable Car
The iconic Pont Luis I Bridge is a top tourist attraction in Porto and a crazy busy pedestrian thoroughfare on both its levels, the lower of which carries vehicles across the river.
The double-decked metal arch Dom Luis bridge is a real feat of engineering and spans 172m. When constructed in 1880 it was the longest of its type in the world and is now a UNESCO World Heritage Site.
The bridge takes you from the Porto side of the Douro river into Vila Nova de Gaia, where you will find port lodges and bars and restaurants cheek by jowl along the river front. This is one of the best places to visit in Porto, it's lively, vibrant and fun.
Head up the steps from the Ribeira (or take the lift) to cross the top section of the bridge, then take the Teleferico de Gaia (cable car) down to the port lodges on the other side…..or cross at the bottom of the bridge and do the reverse coming back.
Either way, it's a great experience, the views over Porto are stunning, and the bridge is a real hub of activity.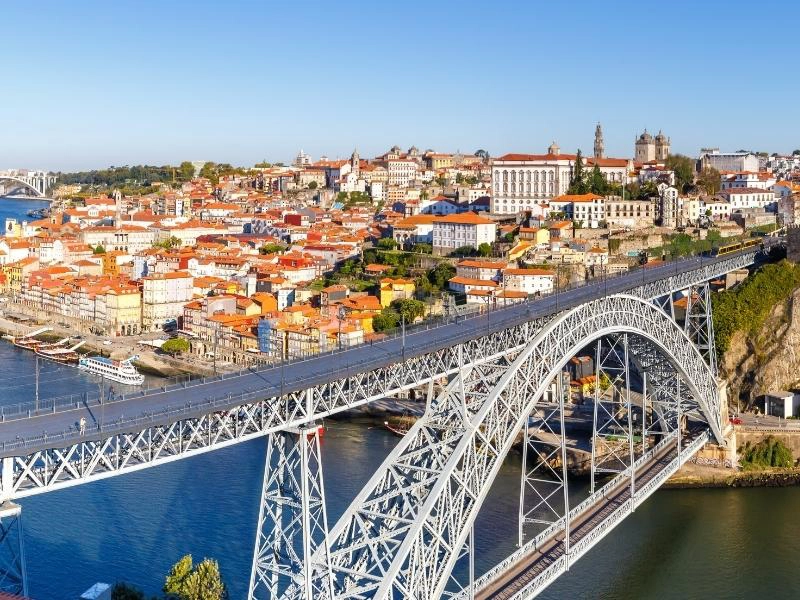 Take a Port Wine Tour
A highlight and one of the top things to do in Porto is a tour of a port wine lodge with a port wine tasting included. These historic lodges, found on the banks of the Douro in Vila Nova de Gaia, were storage and despatch warehouses for port wine, produced in the gorgeous Douro valley to the east of Porto.
There are many names you will recognise such as Taylors and Sandemans, all of whom have bars along the river front as you come down from the bridge.
The port wine cellars are fascinating buildings in themselves and smell wonderful. Many of them have not been renovated since being built in the 17th century – you can admire their architecture and unique style, whilst dodging the holes in the roof!
There are lots of tours on offer, from a whole day to just an hour. The best tours will take you to a number of different houses with tastings included, alongside guidance from local port experts.
If port is not your thing, you can take a wine tour from Porto into the Douro Valley to one of the many wineries there.
Stroll Along the Cais de Ribeira
On the opposite bank of the Douro to the port lodges, the Ribeira is the place to promenade in Porto. Here you will find restaurants and bars to suit every taste and budget, with a a focus on seafood.
The national dish of salt cod is loved by the Portuguese and has to be tried, although it is an acquired taste. You can easily while away an afternoon or evening here, people watching and soaking up the happy and lively atmosphere.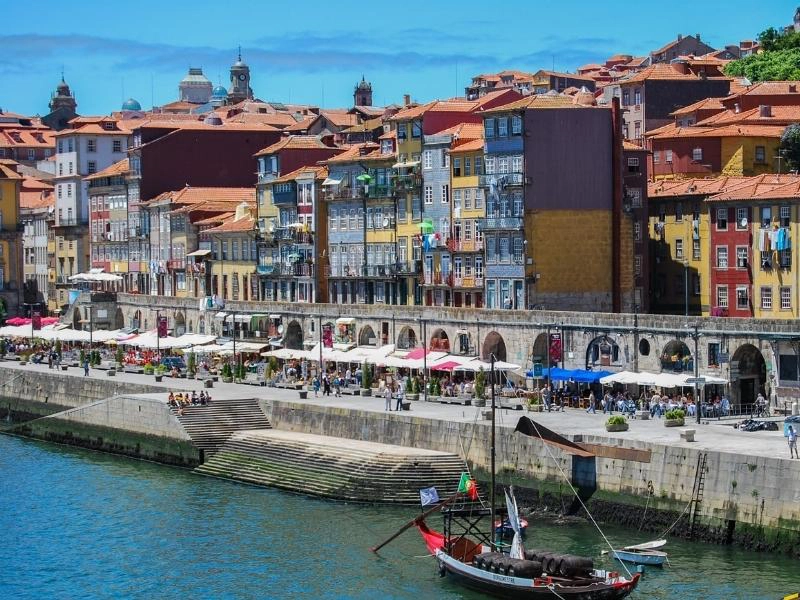 Other Portuguese Travel Ideas
Evening
Take a Douro River Cruise
Cruise under all of Porto's iconic bridges and enjoy unique views of Porto and Villa Nova de Gaia from the tranquil waters of the Douro River. This highly rated tour follows in the footsteps of port merchants on a classic 'Six Bridges' cruise of Porto, along the route of the old "Rabello Boats" that served Porto and Vila Nova de Gaia.
Listen to Fado
Fado is the expressive melancholic music of Portugal which is played in pubs and cafes across the country and has World Heritage status.
Usually played on one or two string guitars or violas and accompanied by singing full of heartfelt emotion, the music is slow and invokes feelings of longing and sadness.
Fado is not truly a part of Porto's heritage though, and you'll have a better experience in Lisbon or Coimbra. If you can only visit Porto and really want to hear fado, head for Casa de Guitarra, a shop which specialises in stringed instruments for traditional Portuguese music, to listen to the music with a glass of local port.
TOP TIP: You can hear fado played live (and free) by street bands, especially along the Ribeira and along the river front in Vila Nova de Gaia – you may find a ten minute stint is enough to satisfy your curiosity.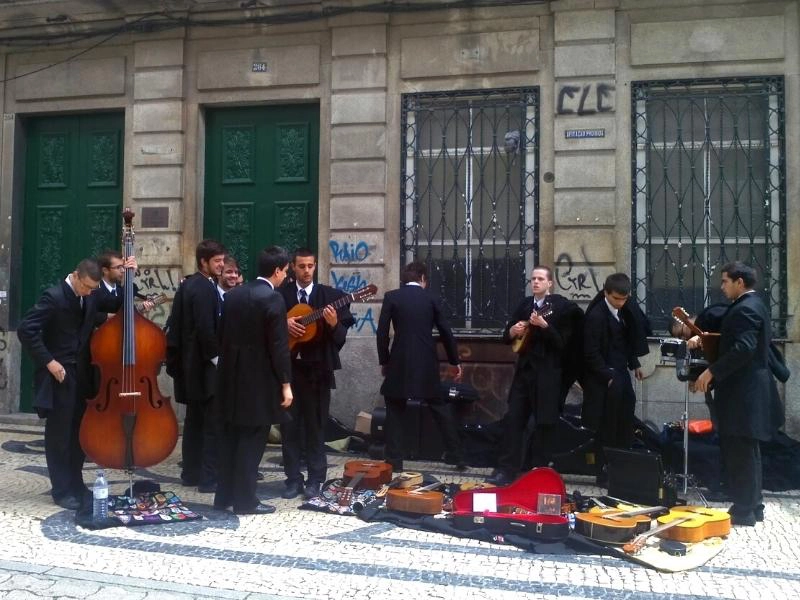 Where to Eat in Porto
Cervejaria Gazela
Head to Cerevejaria Gazela on your way to the Pont Luis bridge to sample cachorrinho, Portugal's take on a hot-dog crossed with a toasted sandwich. Thin crusty bread is filled with fresh sausage, grilled, brushed with a spicy piri piri sauce then cut into bite-sized pieces.
At the Gazela Brewery, they are famed for their version, which you can enjoy with a fino (tap beer) and fries.
They also serve the famous francesinha, a meat-fest of a sandwich covered in melted cheese and spicy sauce.
Touted as a national dish, and with Porto restaurants all stating with conviction that they make the best francesinha in town, there is a reason this one hasn't taken off outside of Portugal!
Taberna dos Mercadores
You'll find Taberna dos Mercadores down a narrow alley just off the busy streets of the Ribeira district. Serving traditional Portuguese and classic regional dishes alongside wines from the Douro and Alentejo regions in a contemporary and cool space,
Their speciality is the açorda de marisco, a stew of stale bread, garlic, vinegar, coriander, eggs and seafood, which is absolutely delicious.
You'll need to book in advance as the restaurant only seats 20.
Top Five Porto Travel Tips
The hop on hop off Porto bus has limited options in this compact and pedestrian city. Much of what you will want to see is not accessible to the bus and there are huge lengths of the journey without commentary, but it may be a good way to get around if you're staying a little longer.
Consider a Porto Card which will give you discounts on public transport, free museum entry and 50% of a port wine tour. Work out exactly what you want to see before buying though – follow our one day itinerary and this card won't save you much.
If you're planning on visiting Porto over the Festival of São João (the city's patron saint), held on the 23rd June every year, it will be expensive and accommodation will get booked up quickly, so make sure you plan well in advance.
You may see Porto being referred to Oporto online. This is actually incorrect and comes from a mispronunciation started by the British eons ago. Just so you know…
If you do decide to get a taxi in Porto, drivers in the city are notorious for negotiating a price and not using their meter. This inevitably means you'll be ripped off. Find a driver whose happy to use the meter as intended.
More Than One Day in Porto?
If you want to visit Porto in two days or have an extra half a day in Porto, there are lots of other attractions you can add to your itinerary.
Igreja de Sao Fransisco
Visit the Igreja de São Francisco (or Monument Church of St Francis) located in the historic centre and the most prominent Gothic monument in Porto, noted for its stunning Baroque inner decoration.
Hang out in Foz do Douro
Hire a tuk-tuk or e-bike and head along the north bank of the river to the Foz do Douro district and Felgueiras Lighthouse. Promenade along Avenida do Brasil, past the sandy beaches and rocky shoreline to the 17th century Fort of Saint Francis Xavier, built as a deterrent to French, Dutch and British corsairs who pillaged the lands and stole Portuguese boats.
Take a Douro Valley Tour
Take a Douro Valley tour. The Douro Valley is known for its breathtaking landscapes that produce some of the best port wines and olive oil in Portugal. You can tour the Douro valley by boat, by bike or by car. Check out these top Douro valley tours from Porto for ideas and inspiration.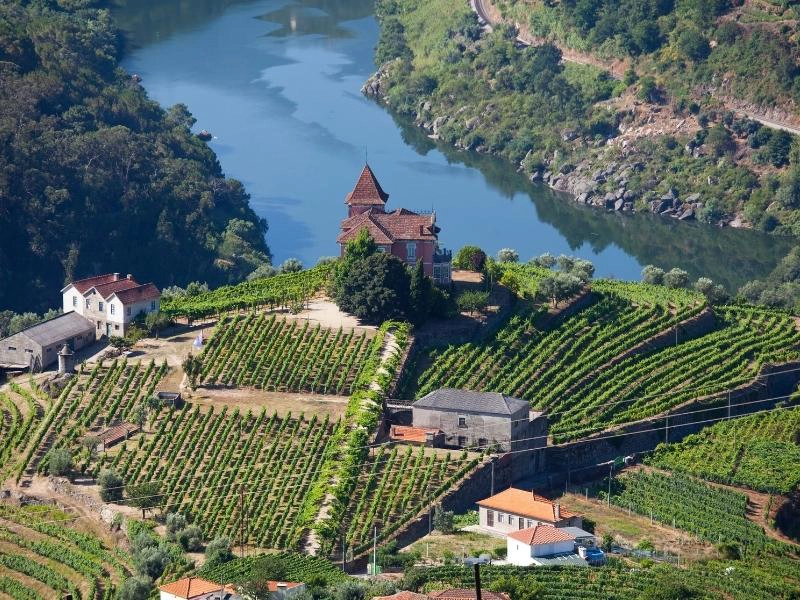 Fátima and Coimbra Full Day Tour from Porto
If you take one day trip from Porto, take this highly rated and well organized day trip from Porto to Coimbra and Fatima.
Explore the Shrine of Fatima to experience one of Portugal's most important pilgrimage sites, with the option to attend a mass at the sanctuary. This then hour tour also goes to the beautiful historic city of Coimbra, home to one of Europe's oldest universities.
With a professional guide to offer insights, an organized tour is the perfect opportunity to see more of Spain in less time!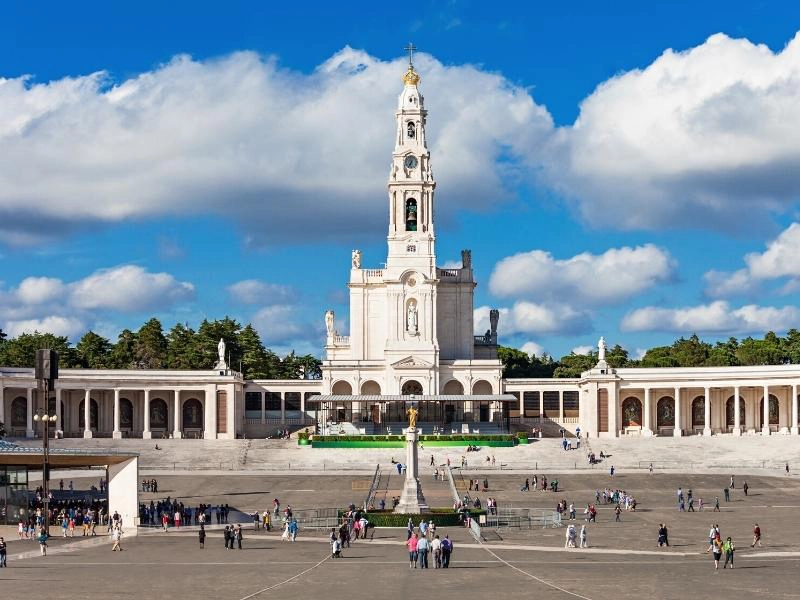 Are you looking for more one day city itineraries? Check out these top posts…
Amsterdam is a city packed with eclectic culture and life. There is a little bit of everything, be it architecture, cuisine, history or nature. In our Amsterdam travel guide, we'll share an itinerary for a day in Amsterdam, highlighting the top attractions and hidden gems that you won't want to miss. You'll find information, tips, and recommendations for visiting Amsterdam, with an interactive map, organized to make the best use of your one day in…
Love it? Pin it!