This post may contain affiliate links, from which we earn an income.
Thinking of Buying a Motorhome or Campervan?
Choosing a motorhome or campervan is one of the biggest buying decisions you'll ever make. You'll soon find that buying a motorhome for the first time can be daunting as you try and negotiate the confusing maze of layouts, manufacturers and specifications.
Read our motorhome buyers guide to make sure that when you choose a motorhome or van, it's the perfect motorhome for you!
Things to Consider When Buying a Motorhome or Campervan
Ok, so you've checked off all the pros and cons of owning a motorhome and have chosen the motorhome lifestyle. The first thing you need to do is consider the following TWELVE questions;
Is the motorhome for an annual holiday?
Is it for more regular trips away?
Are you planning on full-timing?
Will you be using the motorhome in the UK or in Europe? Or further afield?
Will you be a summer or winter motorhomer? Or both?
Are you a solo traveller, a family or couple?
Are you happy being outside even when its raining or do you prefer your home comforts?
Are you a wild camper at heart or do you prefer the stability of being on a site?
Which is more important? The road trip or the being there?
Are you buying new or looking for a used motorhome?
Do you have a C1 license to drive a motorhome over 3,500kg?
What is your budget? Think carefully about your price range and do some research to make sure your expectations are realistic.
These twelve motorhome questions will help you narrow down the type of motorhome that's best for you and your needs and help you buy the right motorhome first time round.
If you want to see all our motorhome buying tips and advice in one place, plus lots of extra info and support you won't find here, check out our ebook. With over 50 pages packed with helpful knowledge and first hand advice about how to buy a used motorhome, you'll save way more than you spend!
---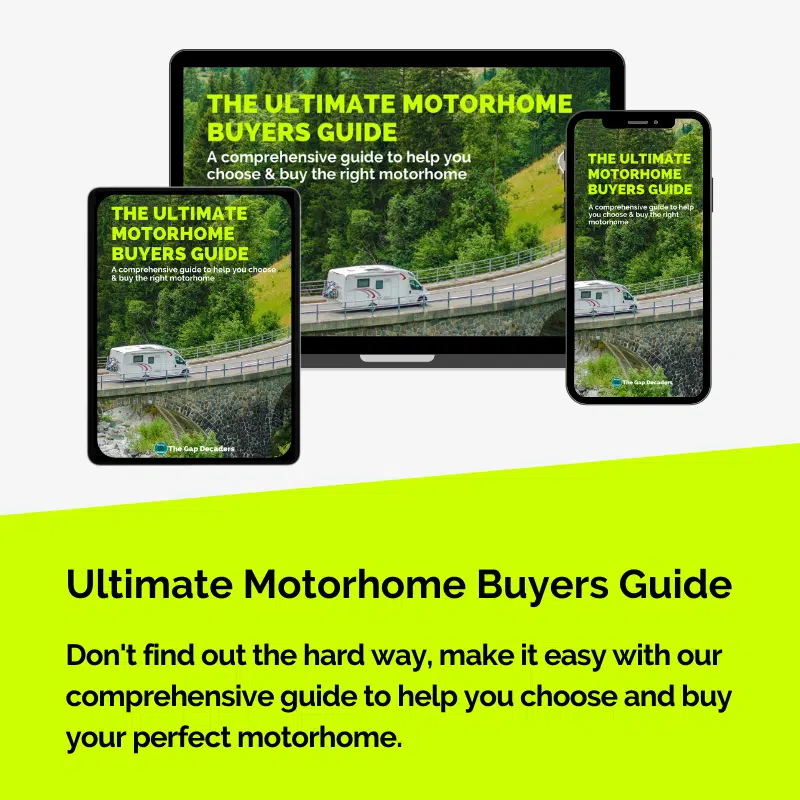 The Ultimate Motorhome Buyers Guide Ebook
If you want to see all our motorhome buying tips and advice in one place, plus lots of extra info and support you won't find here, check out our ebook. With over 50 pages packed with helpful knowledge and first hand advice, you'll save way more than you spend!
---

Types of Motorhome & Campervan Explained
A camper van or pop up camper are essentially panel vans that have been converted to accommodate living space, often based on the Fiat, Ford Transit or Volkswagen.
My sons see this as a way cooler vehicle than a motorhome! It is this type of vehicle (bought or self-built) that inspires millions of #vanlife images on Instagram, although they don't always portray the reality of living in a van! If you are interested in a self-build panel van conversion then check out this post about the cost of campervan conversions.
A motorhome, often called a recreational vehicle (RV) in the States and a camping-car in Europe, is traditionally a coach-built vehicle that offers a caravan-type living area built onto a base vehicle chassis.
The term 'coach built' (or class c motorhomes in America) simply means the coach builder, the motorhome manufacturer, takes the chassis of a suitable vehicle and coach builds the living area onto it.
The difference between a low-profile motorhome and an over-cab motorhome is at the front. An over-cab motorhome features a bulbous front that hangs over the cab while a low profile does not.
There are a number of advantages of choosing coach built motorhomes over a panel van conversion. For a start, the square body shape allows for better use of the interior space, while the construction of the side and floor panels allows for better insulation.
BUT a campervan offers more flexibility in terms of where and how you travel because of it's smaller size and being easier to park. It could also be used as a day or commuting vehicle and therefore save on the cost of also owing a car.
Recommended Reading
Buying a leisure vehicle is a big deal. Motorhomes and campervans cost a lot of money and if you're a first-time buyer, making the right decision can be tough. In this article, we look at the differences between motorhomes and campervans and give you some tips and hints to help you make the right choice.
Is motorhome ownership for me? Should I buy a campervan? We'll take an honest look at the pros and cons of owning a motorhome in UK and Europe, so you can decide whether motorhome or campervan ownership is right for you.
Camper Vans
What's the best campervan to buy? It will depend on how you intend to use the campervan and how you like to travel. There are many different types on the market so start with a clear idea of what you want and need when choosing a campervan.
Many new campervans come with all the gear that motorhomes have and are very innovative in their design. Older campervans are great to personalise and can seem very romantic, but they won't have the design and gadgets that make life easier in the best camper vans and are probably not suited to longer trips.
VW camper vans and the like make great dual vehicles for the school run and everyday use and are ideal for a weekend or week long trip, but any longer and you may start to feel cramped (although you can fit a family of five in to a VW camper van – who knew?).
Buying a campervan with a long wheel base will help compensate for lack of space, one of the disadvantages of campervan life. If you're looking for a family campervan or touring and want to live outdoors (and who doesn't?) then a large campervan might be a good solution, if you get the right model and configuration.
Campervans can seem expensive when compared to motorhomes; this is because it's less time consuming to purpose-build the habitation area of a motorhome onto a chassis than it is to convert a panel van. If you're thinking of buying a VW campervan as appose to any other make, you will pay a premium, when in reality the functionality and specification are much the same as other makes.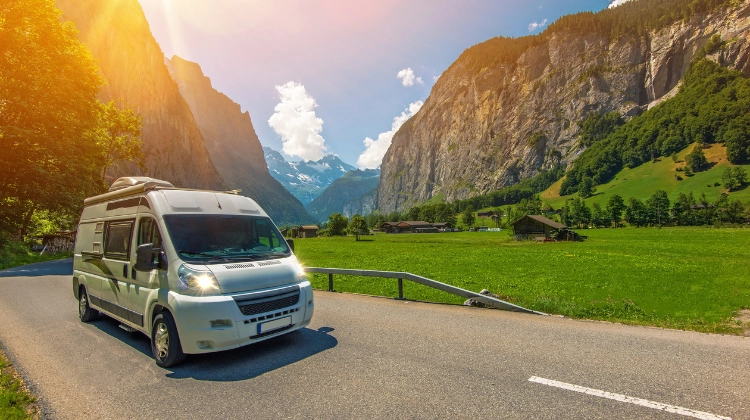 Low Profile Motorhomes
Low-profile motorhomes vary in length from around 5.5 metres to over 8m. Widths also vary from around 2.1 metres to up to 2.49m, so opt for a slimline model – under 2.25m wide – if you intend to explore narrow rural roads.
The sleek design of a low-profile makes it more aerodynamic and so offers better fuel economy. Low-profile models tend to be lighter than over-cabs, too, meaning that they are better suited to a licence-friendly 3,500kg weight limited chassis. You can read more about motorhome weights here.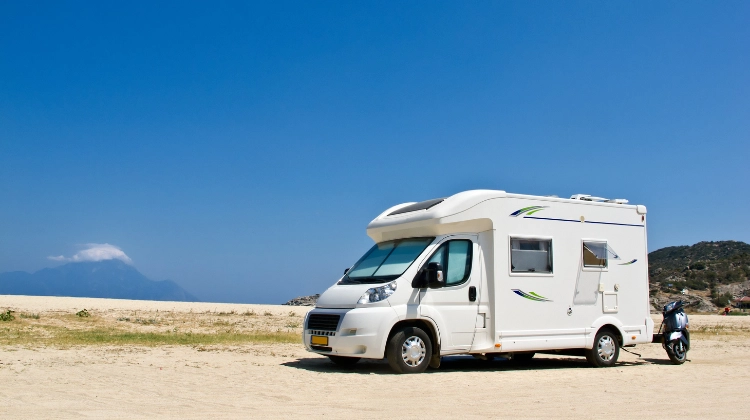 Over-Cab Motorhomes
The obvious attraction of an over-cab motorhome is the permanent double bed space over the driver and passenger seats. While headroom can be tight for adults and ladders might be off-putting, this space makes a great den and sleeping quarters for children.
Unlike a drop-down bed in a low-profile, it leaves the lounge area undisturbed, so mum and dad can chill, too. You will though lose the seating provided by the driver and passenger seats as these will not be accessible from the habitation area.
Unsurprisingly, over-cabs are popular with young families, but with overall heights often stretching over 3 metres, these vehicles are not aerodynamic. Opt for a modern 150bhp engine at least, or if you can afford it something with a bit more oomph!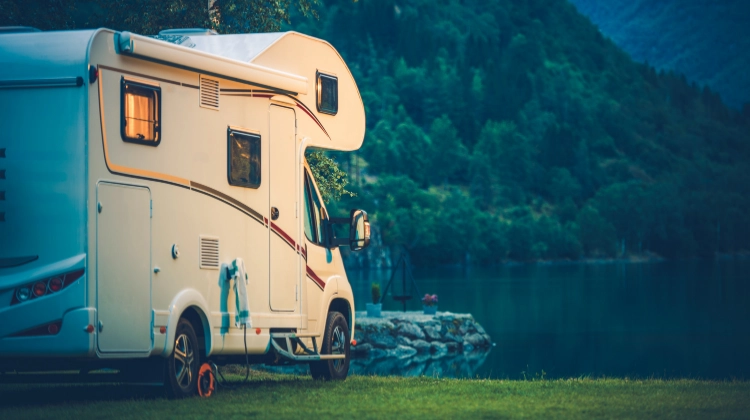 A Class Motorhomes
The ultimate in luxury motorhomes, an A-class start with a chassis-cowl, which has no external bodywork from the base vehicle, although the dashboard will still be familiar, and all the exterior bodywork is manufactured by the motorhome company. Our American friends would call this an 'integral' motorhome.
The advantages are obvious. More space in the cab, usually a drop-down bed that lowers over the cab seats (without interrupting the lounge, as in a low-profile) and fully insulated bodywork right up to the windscreen.
The panoramic view is great when driving, although the impression of extra width can be a little daunting at first. Bus-type (top-hung) mirrors found on A classes are useful when manoeuvring too.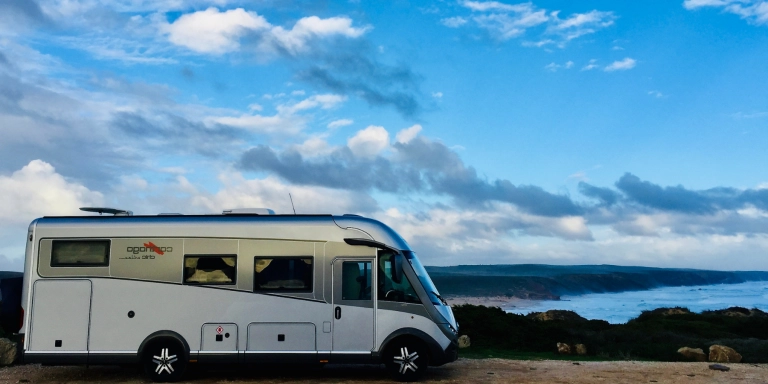 Other Types of Leisure Vehicles
There are many other types of leisure vehicle, not specifically classed as motorhomes, but also worth considering;
RV – an American recreational vehicle, available as imported vehicles in the UK. RV's are styled differently to motorhomes, and tend to be way larger and more expensive to run. Used RVs do not tend to hold their value as well as used motorhomes in the UK as their market for re-sale is much smaller.
Fifth Wheel – a large RV like caravan but without an engine and attached to a pick up by a hitch and towed like a truck trailer. Fifth wheels should not to be confused with travel trailers, which are pulled by their tow bars.
Demountable – small unit without wheels that is mounted onto the rear or a pick-up truck or flat bed. Different to a 5th wheel in that the unit itself does not have wheels. Living in a small camper like this may be challenging for any longer than a few weeks!

How Much Does it All Cost?
Motorhome travel is not cheap. You can spend anything from a few thousand pounds to over £100k to buy a campervan or motorhome. The best new motorhomes in the luxury market can cost upwards of £250k!
Some food for thought before you buy a motorhome;
Make and country of manufacture make a difference i.e. German brands are more costly than UK manufactured models but are recognised as having a superior build quality and will stay fresh for years and 100,000 miles and upwards if looked after.
The best motorhome brands will hold their value in the second-hand market.
A good German or French used motorhome will cost a half to two thirds more than a standard new UK motorhome.
Thinking about buying a used motorhome privately or through a dealership? Read about the differences here.
Is it cheaper buying a motorhome in UK or buying a motorhome in Europe? Buying a motorhome in France of Germany may get you a lower price, but beware of the exchange rate and typically high mileage on foreign vehicles.
What about motorhome insurance? Anything over £60k in value will push up the price significantly, as will full-timing. You can reduce costs by joining clubs, for example the Camping and Caravan Club motorhome insurance will be cheaper if you are a member. Campervan insurance is generally more affordable.
Don't forget about road tax, which is calculated in the weight and class of the motorhome.
You may also need to pay for motorhome storage if your drive isn't large enough or your motorhome is particularly valuable.
Thinking of motorhome finance? Then calculate in interest rates as well, they can be high.
Want top motorhome buyers resources, advice & tips to make your journey to motorhome ownership stress-free & easy?
When's the Best Time to Buy a Motorhome?
People often ask us when they should buy a motorhome. If you are buying a new motorhome or looking for the latest motorhomes, start talking with your motorhome dealer in October or November the year before you want your new van and expect a 6-8 month wait. You may also be able to pick up a pre-specified model on special offer after the Caravan, Camping & Motorhome Show at the NEC in February.
Buying privately or looking to part exchange? The best month to buy a used motorhome is October/November; people start to sell as the season comes to an end. Look on the internet and you'll find second hand motorhomes for sale all year round, although you may not find a big selection of the best used motorhomes outside of the traditional selling periods
Motorhome Weights
All motorhomes have a quoted maximum weight, as well as a mass in running order figure. The first is the maximum the vehicle can weigh and still be legal on the road – this includes the weight of the motorhome with all your holiday kit and passengers on board.
Just to confuse us, there's more than one term for this: GVW (gross vehicle weight), MAW (maximum authorised weight), maximum authorised mass (MAM), and maximum total permitted laden mass (MTPLM). Read our easy guide motorhome weight guide for more information.
Recommended Reading
After a recent shock at the weighbridge, we decided to do some research into motorhome weights, how they are calculated and what it all means. Get our easy motorhome weight guide and hit the road safely.
Are you worried about how much stuff you need to carry in your motorhome? Have you been to the weighbridge and realised that your motorhome weight exceeds its maximum authorised mass? We've got lots of tips to help you manage your motorhome payload and stay safe on the road.
Motorhome Payload
MRO (mass in running order) or unladen weight is the weight of the motorhome before it has been loaded with all your holiday gear, water and fuel – the manufacturer should be able to tell you this MRO.
The payload is calculated by deducting the MRO from the MAM, the maximum authorised mass figure. So, a motorhome with an MRO of 3,000kg and a MAM of 3,500kg would have a payload of 500kg.
However, people, awnings, satellite TV systems, even engine and transmission upgrades will eat into the payload figure. Then there's all your camping kit, like tools, clothes, food and drink. Think carefully about this when choosing your motorhome. Our easy guide explains how to calculate your payload simply.
Recommended Reading
The motorhome equipment & options available to you when you buy a new or second-hand motorhome can be bewildering. Just like choosing your motorhome, what equipment you need/choose will be determined by how you're going to use your motorhome.
Being a first time motorhomer can be daunting, so we're sharing our top motorhome tips and hints for beginners so you can learn how to motorhome with confidence. This guide includes tips for new motorhome owners, practical motorhome advice and easy guides, top travel tips from years in a van and free downloadable checklists to get you motorhoming like a pro!
Motorhome Driving Licence Requirements
This depends how old you are! The type of driving licence you have will affect the maximum weight and type of motorhome you're able to drive.
If you passed your car driving test on or after January 1, 1997, you are limited to driving a vehicle of no more than 3,500kg maximum weight. If you passed your test before that date you don't have to worry about weights so much, you can drive a vehicle that weighs up to 7,500kg.
However, once you reach the age of 70, you will only be licensed to drive vehicles up to 3,500kg unless you apply to the DVLA to keep your entitlement (and undergo regular medical checks). Do this and you can retain your 7.5-tonne entitlement in three-year chunks, repeating the application process after the end of each.
Motorhome Layouts Explained
Aside from the type and size of motorhome best suited to your needs and driving capabilities, choosing the best motorhome layout is one of the most important decisions you need to make. Think of it as you would when buying a house; how much space do you need in each area?
Berths and Beds
Berths and beds are often the defining factor when choosing a motorhome layout. How many people will need to sleep and / or travel in your motorhome? Do you want a double, twin or French bed (where a corner is cut away to accommodate a shower or loo)? This is less of an issue in a campervan where the choice is pretty minimal.
If you are looking for a large garage, then a fixed twin will be the best configuration as they can be sited higher to allow for garage space underneath. Many have steps to help you get in and an infill to make one large double bed.
Some layouts don't have a fixed sleeping area and require you to make up your bed every night…it's novel at first but quickly becomes a pain!
A fixed bed means you don't need to do this. Traverse beds mean you sleep side to side i.e head to one side, feet to the other and if you have to get up in the night, one of you has to climb over the other. Again, not ideal if you need an old people's pee every night and you're away for months on end!
If you go for a two berth, consider what happens if one of you is sick; we have been in this position and been so grateful for the extra drop-down bed. Make sure whichever bed you choose is long enough, sound obvious, but you don't want to have to put your feet into the shower enclosure every night!
Travel seats for all occupants also need to be considered. We'd recommend crash-tested three-point seat belts for all. If you need six seatbelts, then two will be in the cab and the other four will have to be located in the lounge, meaning that the lounge is likely to have to consist of an L shape with two belted seats facing the rear and two facing to the side.
If you only need two or four seatbelts, your lounge choice is much more flexible. Bizarrely, some motorhomes have more beds than seat-belts, so this is worth checking as well.
Kitchen & Dining
When it comes to the kitchen, ask what you will really need. If full-timing this is likely to be more than you would require for a two week holiday. Preparation space is usually at a premium, so look for clever solutions like pull-out worktops and sink covers which will give you more room.
Campervans sometimes have kitchen spaces which extend outside and so require the main door to be open when cooking.
Consider how many people need to sit at the table at meal-times or will you be aiming to eat outside? If you have swivel seats, this will provide you with more dining capacity.
All motorhomes come with a fridge or fridge freezer combo (although unlike a home freezer, motorhome freezers are only designed to store already frozen food). This will run from your 12v battery when travelling and either gas or electric when on EHU.
Fridges generally do not run from your leisure battery as they would drain it in a few hours. You can read more about motorhome electrics here.
Recommended Reading
Are you confused about motorhome electrics? How do motorhomes work? What is the difference between mains electricity and batteries? What does a solar panel and inverter do and do I need a generator? And how do I get power without EHU? Don't be confused, this easy guide to your motorhome electrical systems explains it all.
Going on your first motorhome or campervan trip with your brand new shiny van is a bit of a rite of passage. A shake out is a great idea to make sure things work, get to know your van and understand what kit you need to enjoy the motorhome lifestyle.
Bathroom
With bathrooms, what are you likely to use? Just a portable toilet for midnight emergencies, or are you going to need a complete bathroom with fixed cassette toilet, basin and separate shower?
Most campsites have excellent facilities these days so, unless you plan to wild camp, do you really need an all-singing all-dancing bathroom?
Try doing a Google search for 'motorhome floor plans' to get an idea of what is available and what you like. The questions we asked at the start of the article should help you puzzle all of this out when it comes to the crunch and you have to choose a motorhome layout.
Motorhome Finder Service
If you're buying a used motorhome for the first time and still feel daunted by the choice of makes and models and just don't know where to start, consider our unique motorhome finder service.
Try Before You Buy!
Before you even think about choosing, let alone buying anything, take the following steps;
If at all possible, rent a motorhome for a weekend, even better for a week or two if you can manage it. Understand how the space works and what's important to and for you. If you are thinking of taking this initial step, check out our complete guide to hiring a motorhome first.
Visit loads of showrooms, second hand dealers and shows. Stand, sit and lie down in every motorhome you enter even if it doesn't interest you. There may be elements of this one and that one, that combined would make the right motorhome choice.
Test drive a motorhome in the same category that you are thinking of buying. Are you comfortable driving such a large vehicle?
Once inside, close the door and move around. Imagine it's raining, where do you hang your wet coats and put your wet shoes? How confining does it feel with the door shut? Could you live with that for a rainy week away?
When you're in each motorhome, actively look around to understand what extras and options are being displayed. If you wanted an oven, say, where would it go? How about that TV you fancy, would it protrude into the space? Can you watch it from the most comfy spot?
If you are intending to carry a scooter or e-bikes in your garage, make absolutely sure that it/they will fit, that the garage floor is strong enough and you have enough weight allowance in your rear axle and overall.
Look closely at storage, including the garage. Take measurements if necessary to ensure that everything you want to take will fit in, remembering the weight limit and distribution of kit of course.
Buying Used Motorhomes
As tempting as it may be, do not commit the first time you have viewed a particular motor home. Yes, you may well be in love but go home, sleep on it and ask all the questions you need to feel comfortable, particularly around service history, outstanding finance (get an HPI check to put your mind at rest) and reasons for sale.
This is a massive and expensive purchase, getting it right first time is by far the best way to buy a motorhome.
If you are searching for used motorhomes on eBay, Facebook and other online sites where private individuals can advertise a motorhome for sale, make sure you are fully aware of the types of scams in operation.
Never, ever part with any money until you have seen the motorhome or campervan, and are 100% satisfied about the sellers credentials and legitimacy. Use online forums to ask about dealers and the best place to buy a used motorhome, from people who have actually used the service.
If you're buying from a private seller, ask to view the motorhome at the property where it's registered. If the motorhome is in a storage space and cannot be driven, then ask to meet the seller at the registered address of the motorhome to ascertain that they do actually live there.
A genuine seller will not mind this and want you to be reassured. Avoid meeting in a car park or lay-by for example, this is not a good sign and could mean you're viewing a stolen van.
You should arrange for an independent damp and habitation check when buying a used motorhome – the Approved Workshops scheme offer this service at a reasonable cost. The damp check will check for any signs of water ingress and use a meter to assess areas of the van for damp.
Once there is damp, it can be very costly to fix and repair the subsequent damage. A habitation check will make sure that all the safety critical elements and gas systems are working as they should.
Make sure you get a thorough handover on collection. Ask the seller to take you through the manual and show you how everything works. You'll need to understand the control panel, how things like a solar panel and inverter work and any retro-fitted items.
We have a switch on our twelve year old motorhome and two years in, we still have no idea what it does!
If you're wondering what else to look for when buying a motorhome, use our buying a used motorhome checklist to help you on the day you view. It's got a comprehensive list of everything you should be looking at, what checks to complete plus a handy list of important points to remember and questions to ask when buying a motorhome.
Good luck with your buying your motorhome. Here's to a long and happy journey!
Are you looking for more motorhome advice and tips? Check out these top posts…
New Zealand is an absolute dream for campervan enthusiasts. The breathtaking landscapes, diverse wildlife, and incredibly friendly locals make it the perfect destination for your next campervan adventure. We'll will provide you with all the tips, tricks and insider knowledge to make your vanlife experience in New Zealand truly unforgettable. So, buckle up and get ready for an adventure of a lifetime!
Love it? Pin it!