This post may contain affiliate links, from which we earn an income.
Taking Your First Motorhome Trip
Going on your first motorhome or campervan trip with your brand new shiny van is a bit of a rite of passage. A shake out is a great idea to make sure things work, get to know your van and understand what kit you need to enjoy the motorhome lifestyle.
As with most things, plans don't always go according to plan and motorhomes don't always do what they're supposed to! That's why your first trip should ideally be to a campsite close to home, so that if anything goes wrong it's easier to manage.
In our guide to taking your first motorhome trip, we've pulled together all our top tips and tricks, which we've learnt over five years of living on the road – we hope the info we share means you don't make all the mistakes we did when starting out!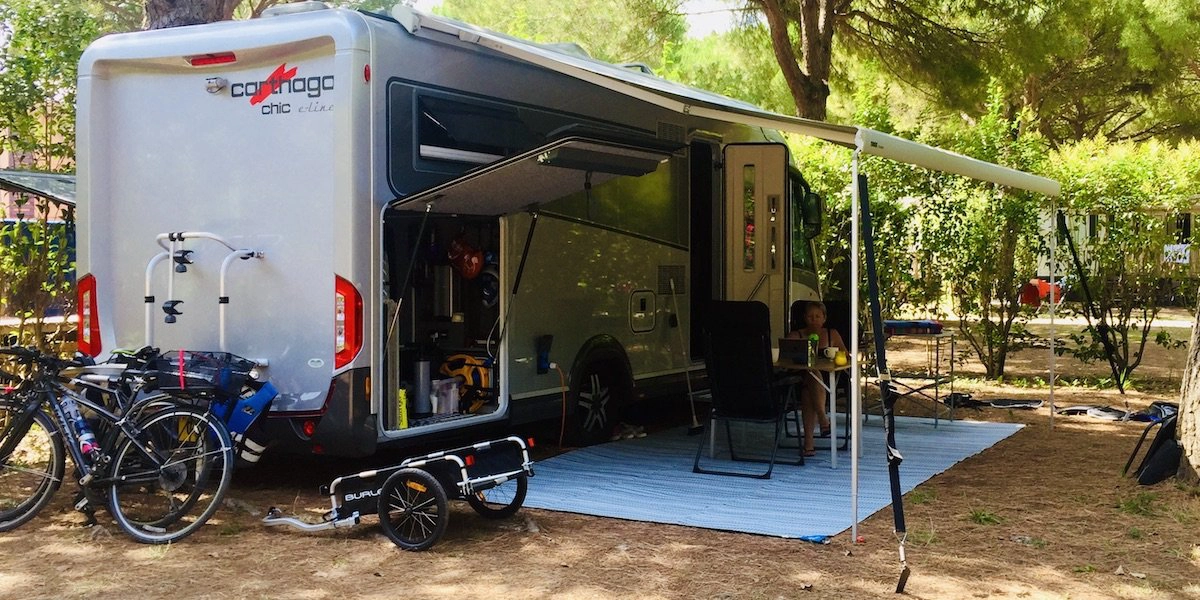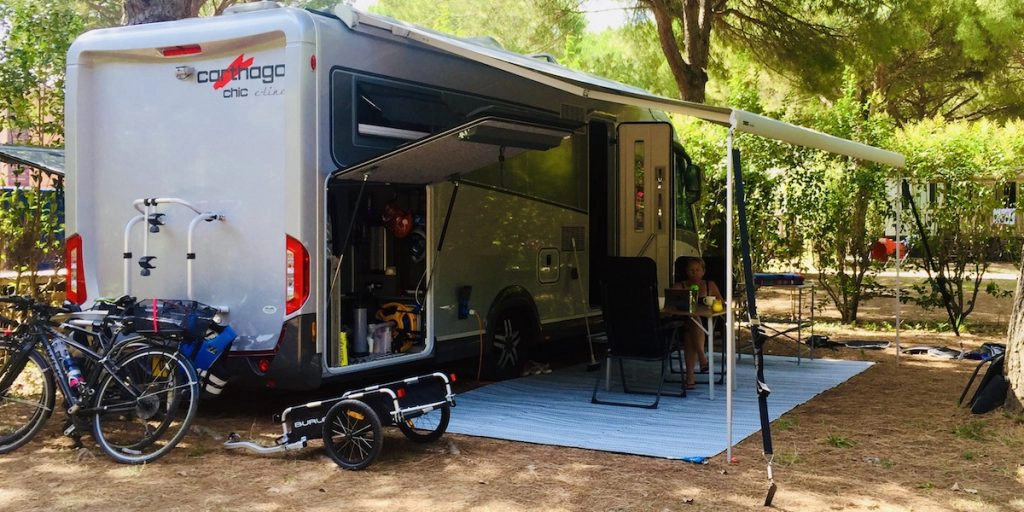 Motorhome Basics
The absolute basics you need before you go motorhoming and campervanning are a driving licence (make sure its appropriate for the fully laden weight of the motorhome), an MOT if your new to you motorhome is over three years old, road tax and motorhome insurance.
It may sound obvious, but we recently supported someone who'd bought a used motorhome but didn't have the licence requirements to drive it as it was over 3,500kg, as they hadn't done any research before buying.
Before you set off, make sure you know your motorhome dimensions, especially the height. Write them down somewhere that you can easily see them when driving. This helps if you see a sign for a low bridge for example – you can quickly refer to your note to ensure you have enough clearance. Alternatively, get a motorhome sat nav!
Finding a Campsite
You may be aware of, or have stayed at places close to your home before. If you join the clubs like The Caravan and Motorhome Club or The Camping and Caravanning Club, they also have well-maintained and equipped motorhome club sites around the UK. Otherwise use a motorhome app like Park4Night to search for the best motorhome sites near you.
Book a pitch with EHU (electric hook up) so you can test your lights and sockets. You may be able to get a pitch with fresh water and waste services, but these are not common in the UK and tend to be a bit more expensive.
Some sites have one service point for fresh and waste water and others provide points around the site. Make sure the pitch is large enough for you to be able to get out your awning, if you have one. If you are in a particularly large motorhome, check with the site that they can accommodate your rig before you arrive.
If you're making your first motorhome trip in Europe, then use Eurocampings to find sites and get the ACSI CampingCard to take advantage of discounted low season rates.
How to Pack a Motorhome
Don't pack your motorhome or campervan like you're heading off to the Amazon for a month! You may well end up over weight and won't need most of it.
Be clever about your storage and spread your kit around as well, so that you evenly distribute the weight. This is even more important when you are fully laden for your first big trip, so its best to get into the habit now.
At this stage, although it may be all you want to do, don't go to the shops and drop a fortune on special motorhome extras. Work out what you need first and what you can take from home.
There are a few things you need for travelling in a motorhome, which you should have for your first trip. If you don't use these motorhome accessories on this trip you definitely will at some point in the future.
Make sure you have a first aid kit, even a basic one and don't forget the loo roll, not all sites supply it and you may wish to have a choice between using the motorhome toilet and the site ones.
If you have quick drying towels at home, choose those to take rather than heavy, fluffier ones, and remember a washing line to dry them on. You don't need specialist motorhome bedding at this stage – a sleeping bag or duvet from home will do.
Your usual pots, pans and kitchen utensils will do for this first outing.
Once you've survived your first trip, use our essential motorhome equipment list and motorhome packing list to plan what you need and maybe take a trip to one of the motorhome shows to see what new motorhome must-haves you can treat yourself to!
---
Motorhome Essentials For Your First Trip
---
Things to Do & Think About Before You Leave Home
If you're a member of Facebook, check whether the manufacturer of your motorhome has a group you can join. These groups are invaluable for finding previously asked questions and answers and helping to diagnose new problems.
Download our selection of free motorhome apps to help with motorhome ideas, planning, researching, things to do in a motorhome when its raining and having fun!
Check that your home insurance covers you for being away from home overnight, unfortunately not all do.
Make sure you have the manufacturers manual with you. Used motorhomes don't always come with a manual but you may be able to contact the manufacturer for one or download it online.
Ideally, plug in your fridge 24 hours before you intend to travel. Remember to switch to 12v for the journey.
If you are intending to use gas for your hot water and heating (much more efficient and effective than EHU), make sure your gas bottle(s) are full.
Check all the roof lights and windows are closed before travel.
Check that everything is packed away and secured and that cupboards and doors (including your fridge door) are closed properly and latched.
Put the toilet seat lid down.
Make sure equipment in your garage is secured. The back end of the motorhome is where most movement occurs and stuff rolling around can cause a lot of damage.
If you have a bike rack fitted and are taking cycles with you, make sure they are loaded correctly and secured.
Check your tyre pressure at the nearest garage.
If there is a weigh bridge close by, now is a good time to check your motorhomes weight. Although you will not be fully packed, you'll get an idea of how much more you can take.
Start your beginners journey to life on the road with exclusive checklists, free downloads, tips & more
Arriving on Site
Pitching up for the first time can be daunting. Campervan, caravan and motorhome owners are a nosy lot and you will find people having a good look at the new arrivals. It's a pretty sure thing though, that if you ask for help, they'll be there in a flash.
Don't be afraid to ask if you're feeling a bit confused or overwhelmed, fellow motorhomers are the best source of expert advice you can find.
On arrival, you'll be given the details of your pitch at reception. If you want to fill your fresh water tank, now is the time to do so, before you get settled, unless you're lucky enough to be on a pitch with fresh water.
Make your way to your pitch and work out where the sun is, so you can park accordingly – there is no 'correct' way but some people prefer evening sun and others the sunrise.
It can nerve-wracking parking a large vehicle, especially if you need to reverse, but keep calm when parking your camper and ask for help if you need it. This is where a reversing camera is invaluable!
Check whether you are level. Some people use a small spirit level, or you can use an app or just do it by eye and feel. It really depends on how un-level you are and what you can sleep with. Campsites for motorhomes often have level hard-standing, which can be a better option, particularly if the ground and surrounding land is wet.
If you're using chocks for the first time, there is a bit of an art to doing so and now is the perfect time to practice. In our two years on the road, we have only ever carried two chocks, which has usually been sufficient.
Occasionally, we have had to use a bit of wood or stone lying around, but it's a rarity. Assess front to back and side to side to determine where you need the chocks and drive or reverse on depending on the space your'e in.
For example, if you're down at the front and left side, you may only need one chock under the front left wheel or you may need a chock at the rear but placed further away from the wheel so there is less lift at this corner. This is just one of those things that only practice makes perfect!
---
Site Etiquette
Follow the site rules around silent times and be respectful of others around you, be good neighbours.
Be friendly …motorhomers and caravaners love a good chat. Sharing knowledge and tips with your campsite neighbours is the best way to learn!
Dispose of your waste correctly and recycle as much as you can.
Don't dispose of grey waste on your pitch unless into a soil pipe, it smells and will attract vermin and bugs.
Don't hog the tap that's designed to service more than one pitch.
Don't leave engines and generators running for any longer than you have to, ideally not at all.
Make sure your kids and pets don't disturb others.
Try and park your vehicle in a way that gives your neighbours privacy.
Don't get up too early and trundle your toilet cassette around the site waking up the inhabitants of every motorhome you pass!
---
Our Best Motorhome Trips & Destinations
Setting Up Your Motorhome at the Campsite
Putting on the kettle and playing house is my favourite part of the day!
Plug into the mains socket and turn your fridge to EHU. Ideally, you plug into your motorhome first and then plug the cable into the mains. Remember not to coil any spare cable tightly as this is a fire hazard. Instead, lay it loosely on the ground, by your motorhome electric socket.
Turn on your gas at the cylinder and in the van, if you turned it off there before travelling.
Turn on your master water pump and lighting switches.
Depending on your preference, turn on your hot water so that you always have some, and if it's winter set your heating thermostat.
If you have swivel seats (sometimes called captains chairs) turn them. Some motorhomes have curtains and some have blinds and its really personal preference about whether you close them or not. On hot days your windscreen will get a lot of solar gain, making the inside of your van really warm. Closing or partially closing your blinds keeps the motorhome cool and gives a bit of privacy as well.
If the weather's nice, get your windows and roof-lights open. Even in the worst weather we always leave one roof light open on the first setting to help prevent damp and condensation.
Unpack your bits and pieces and make your van feel homely.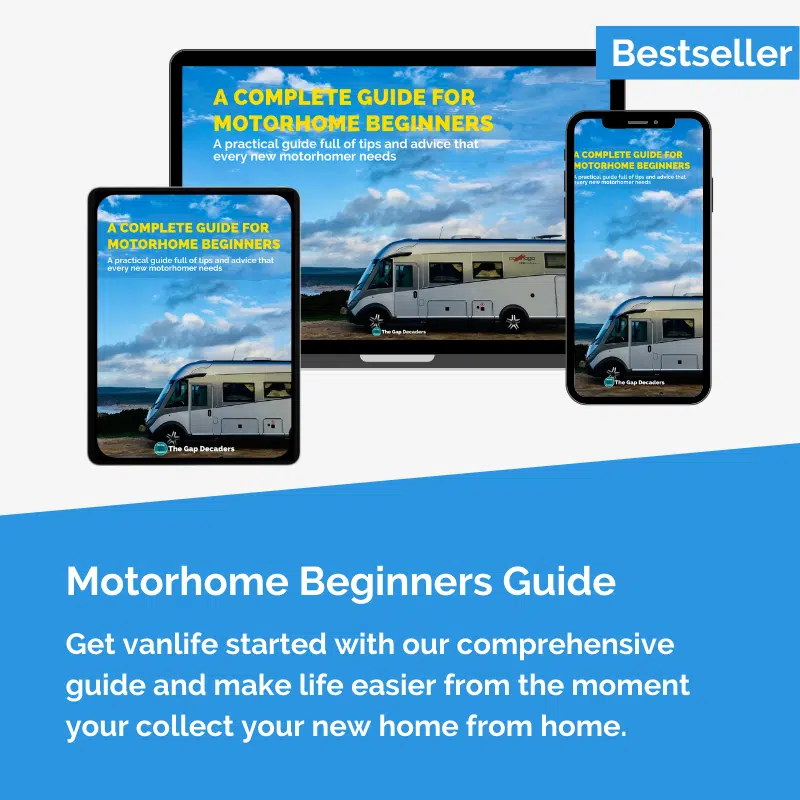 If you want to see all our motorhome beginners tips and advice in one place, plus lots of extra info and support you won't find on the website, check out our ultimate motorhome guide for beginners ebook.
With over 70+ pages packed with helpful knowledge, first hand advice and motorhome basics, this is the ebook every new motorhomer needs in their van.
How Do Motorhomes Work?
Awnings & Privacy Rooms
This is the perfect time to test your awning. Some awnings are electric but the vast majority wind out. The awning has a slotted hole, usually at the rear end of the housing. There will be a winding pole (often in two parts) which you fix together and one end is designed to fit the slotted hole, it can only fit one way.
Use the handle to twist the pole and your awning will start to slide out. Once it is low enough, release the legs which are tucked into the front edge of the awning housing and pull them down. They are adjustable on a spring basis and as the awning is fully extended you can make them taller or shorter. Tilt your awning slightly so that any rain water will run off.
If it's at all breezy or you're going to leave the awning out overnight, you must use awning straps. Your awning acts like a kite in wind and can be ripped from the side of your van in only moderate winds and they're expensive to replace.
Most awnings can also have side and front panels to make them into privacy or safari rooms. These do take up quite a lot of storage space and are complicated to erect and dismantle, so only really suitable if you are spending more than a few days on a site, but ideal if you need more room when travelling as a family.
Gas
Motorhomes use gas (LPG – liquid propane gas, but just to be contrary, it can actually be butane or propane or a mix of the two depending on where you are) to cool fridges when EHU is not available. They also use gas for cooking, heating and hot water.
Most motorhome heating and hot water systems can also run on electric or a mix of the two, but it is less effective and in winter, it will take much longer for your motorhome to warm up. In some European campsites, the power will not be enough to operate your boiler effectively and you will be constantly tripping the switch at the campsite socket, not ideal if you're touring in January!
Gas is a super-efficient fuel and not very expensive, particularly on the continent. Your motorhome will have a gas locker where your bottle(s) are stored and connected to your motorhome supply system, feeding gas to your hob, oven, fridge, boiler and external gas point if you have one.
Refillable gas systems look very similar to normal bottles but do not need to be exchanged, they are refilled at the LPG pump at the fuel station through a filling nozzle fitted (usually) in the gas locker door, or in the case of Safefill bottles, directly from the pump.
If you are travelling in Europe, the systems come with a set of adaptors meaning you can fill in any European country and not have to carry different fittings and regulators for your UK supplied bottles or carry empty bottles around that cannot be exchanged.
The cost of filling at the pump compared to exchanging bottles is around 70% cheaper, but you do have to pay the upfront cost of the cylinders and fitting which in our view, is a worthwhile investment.
RELATED POST: Motorhome Glossary – A-Z of Terms & What They Mean
Water & Waste
If your pitch has fresh water, you can fill easily whenever you need to with a hose pipe. We recommend at least a 30m pipe so you can also access water near to, but not on, your pitch. If the site has one service point, then you either have to drive the motorhome there when you need water, or use a manual collection method.
Many people carry a large watering can for this purpose or you can buy a water carrier, but they can be difficult to empty into your tank. You may see the odd touring caravan or trailer with a holding barrel by the fresh water inlet, filling from a tap and pumping into the van. Motorhome water tanks don't work in the same way as caravan water tanks and this system is not usually or easily possible with a motorhome.
Grey water waste (everything but black water, which is your toilet waste) is collected in an underslung waste tank, usually around the same size as your fresh water tank. Your motorhome may have a control panel where an indicator will tell you how much waste water you're carrying.
All sites provide a drive over grid, where you position your outlet pipe over the grid and drop your grey waste by opening a lever – open slowly or you'll get splashed! You will get to know your van after a while, some need to be on a slight incline to empty fully. Be considerate and sluice down the grey waste area after dropping your tank, the water can be quite smelly.
If there is a waste point on your pitch, it will be a soil pipe with a cap on; remove the cap and feed a hose from your outlet pipe into the soil pipe and open the lever. We have found that often these points don't work well or have not been designed correctly, in that they are higher than the rest of the pitch and so your waste water sits in the pipe. Depending on your motorhomes outlet pipe arrangements, you may need to buy a specific length of hose or pipe to make this work.
The other method is to leave your lever open and position a bucket under your outlet pipe and dispose of the waste manually on a regular basis. Do not dispose of this waste on your pitch unless it is into the soil pipe, take it to the correct grey waste point. How often you need to do this depends on whether you choose to wash-up and shower in your motorhome or use site facilities.
Recommended Reading
In a motorhome, there's no plumbing to take everything away, or fill everything up again. Your motorhome waste and water has to be managed on an almost daily basis. This easy guide to motorhome waste and water systems explains everything you need to know.
The Dreaded Motorhome Toilet!
All sites provide a chemical toilet emptying point, usually behind or close to the site sanitary facilities. Emptying the motorhome cassette toilet tends to be a morning ritual for many, so expect a queue if you go early.
Some toilet systems have a light to tell you when the cassette is getting full. Don't wait for the light to turn red, I write from bitter experience! This post has full information and a video on the correct way to empty your loo.
Occasionally, the toilet emptying point is in the same place as the grey water and fresh water services. If you're not using your own fresh water hose, make sure that the supplied fresh water hose is not being used to clean out toilet cassettes before you stick it in your tank and contaminate your whole water system.
Motorhome Electrics
If you are hooked up, your 240v sockets (as you have at home) will be working, your fridge will be running from the sites electric and your leisure battery will be charging. In the UK, it's likely that the site electric will be 16amp, meaning you can use a hairdryer, toaster and so on as normal.
In Europe, lots of sites only provide 6 or 10amps, meaning this equipment may struggle if the site is busy or at certain times of the day. If you are intending to spend time in Europe on sites, you may want to look at low voltage electrical equipment before your trip.
Now is a good time to test that your leisure battery (and solar panel if you have one fitted) is doing its job. Unplug your motorhome and turn the fridge to gas (it sounds extravagant but the fridge works very efficiently on gas and uses very little).
Check that your tv works and that the water pump operates as it should. Any other fitted electrics such as a step, satellite dish, roof lights or drop down bed should also work. If you have any 12v appliances test them in your 12v sockets which you may need adapters for, depending on the make and age of your van. This forum thread explains the differences.
If you have a solar panel fitted, somewhere in your motorhome will be a regulator that makes sure the ebb and flow of charge is kept at the right level. There should be a light indicating the panel is charging the leisure battery, sometimes called 'bulk', which tends to happen in the morning as the battery is being newly charged from overnight depletion.
'Absorption' is the next phase as your battery reaches it's fully charged capacity. When on 'float', your solar panel is generating a trickle charge. All these stages are normal and mean your regulator is operating as it should. Don't panic if none of these lights show after dark, your solar panel does not generate any power unless the sun is shining!
Assuming your motorhome electrical system is operating as it should, then you could go off and do a bit of wild camping, but read this post first to understand the finer detail and how the electrical system works without EHU.
Recommended Reading
If you're struggling with condensation in your campervan our motorhome, find out what you can do to prevent and resolve the problem.
Being a first time motorhomer can be daunting, so we're sharing our top motorhome tips and hints for beginners so you can learn how to motorhome with confidence. This guide includes tips for new motorhome owners, practical motorhome advice and easy guides, top travel tips from years in a van and free downloadable checklists to get you motorhoming like a pro!
---
Top Tips from Our Readers
Check lists. That way you can enjoy your time away without worrying you've forgotten things. As well as the packing checklist (app based) I have a drive off check list. Takes a minute to run through and then of we go. Don't worry or fret if things go wrong. They will now and again. Nothing is perfect. You" laugh about it a few months later – Bob
Always have your passenger's assistance (outside) when reversing regardless of whether or not you have a reversing camera. Best advice we ever got and happy to say no broken taillights or dents because of it – Louise
First trip ever, keep it short and close to home, especially if in a new camper – Jimmy
If you want to arrive relaxed double the driving time Google maps suggest. Or better: half the distance per driving day – Juergen
Promise your significant other that what is said on tour, stays on tour. That you only said it in the heat of the moment & yes you can drive and no your not a bumbling oaf – Nick
Do not overpack – Frenchy Le Van
Stick the vital statistics H W L and Weight somewhere visible on the dashboard. If not sure of a road / access … don't do it! – Katherine
Test everything and get to know your new 2nd home – Derek
---
What to Do If Something Goes Wrong
Motorhomes can be fickle and things do sometimes go wrong. That's why you need to have this first trip shake-out so that if something does happen, you can get home and get it sorted.
Before you panic, take the following steps;
Get out the manual and check you are pressing the right buttons and doing everything as you should.
Check this post about our 20 most frequently asked motorhome questions – you may just find the answer there.
Turning things off and on often works and checking the fuse should be high on the list if it's an electrical issue, and you know how to do so.
Google is a great tool and there are a number of active motor home forums here and on Facebook that can provide help. When using forums, provide as much information as you can about the problem, what steps you have taken and the make and model of your van. You won't get much help with a motorhome question like "my fridge isn't working, what do I do?"
Ask fellow motorhomers on the site, particularly if you can identify someone with the same motorhome; all models have their own little quirks.
If it's a new motorhome or used and bought from a dealership, give them a call to see if they can assist over the phone.
Depending on the issue, you may be able to continue your trip and sort the problem out once you get home.
Want top motorhome buyers resources, advice & tips to make your journey to motorhome ownership stress-free & easy?
After Your Trip
So now you know the basics of how to motorhome. All trips have to end sometime, but hopefully you'll have learnt a bit about your van, how to live in a motorhome and any motorhome downsides you may not have thought about before. If this trip has really whet your appetite and you're thinking about selling up and living in a motorhome, check out this post.
There are a few things to do when you get home;
If you're not planning another motorhome holiday within the next couple of weeks you should empty your water tank to stop the build up of any bacteria.
Remove bedding and towels and prop up cushions and mattresses to ensure a flow of air around them.
Empty your fridge and prop the door open to stop any smells.
Turn off your gas at the cylinder and turn off your heating and hot water.
Remove all your valuables and close your windows, blinds and roof lights.
If you are over-wintering your motorhome or leaving it in storage for any longer than a month or so, head to our resources page and download the helpful over-wintering checklist.
Are you looking for more practical motorhome advice and tips? Check out these top posts…
Our van life gift guide is full of fun, creative and unique gifts for anyone who loves the van life. Whether you're looking for personlalised campervan gifts, funny campervan gifts or throughtful vanlife gifts for a loved one, you'll find the perfect something here.
New Zealand is an absolute dream for campervan enthusiasts. The breathtaking landscapes, diverse wildlife, and incredibly friendly locals make it the perfect destination for your next campervan adventure. We'll will provide you with all the tips, tricks and insider knowledge to make your vanlife experience in New Zealand truly unforgettable. So, buckle up and get ready for an adventure of a lifetime!
With one of the best winter climates in Europe and friendly locals, Spain is a perfect country for a motorhome road trip. With the colourful traditions, good food and wine and fabulous architecture, you have all the ingredients for an amazing tour. We share all you need to know about touring Spain in a motorhome or campervan here.
Do you need a motorhome reversing camera? How do they work and how do you choose the right one for your motorhome? We'll answer all those questions in our comprehensive guide and help you find the best motorhome reversing camera for your needs.
We all love a motorhome sticker to pimp up our van, even if it's only to announce ourselves to the world! We've pulled together all our favourite van graphics and stickers that we've seen on our travels, which you can add to your motorhome!
When it comes to learning about life on the road, there's no better resource than hearing from other motorhomers and vanlifers. We've picked the best ten for you here!
Love it? Pin it!