This post may contain affiliate links, from which we earn an income.
Motorhome & Campervan Holidays in the UK
What better way to travel in the United Kingdom than in a motorhome or campervan? Forget the big cities and make for the great British countryside, unlike anywhere else in the world. Head to all the amazing places to visit in the UK, in the comfort and safety of your home on wheels, following these motorhome routes.
Whether you own your own motorhome or are looking at first time campervan rental for a fantastic UK staycation, Great Britain and Northern Ireland are full of incredible places to visit and touring the UK by motorhome is a great way to see them all.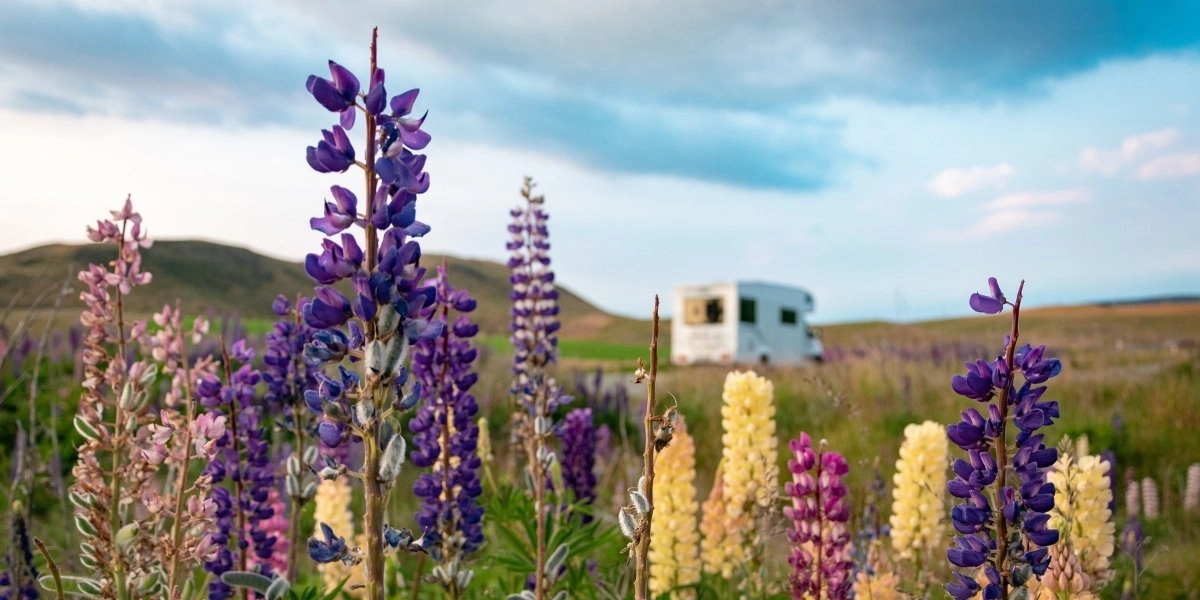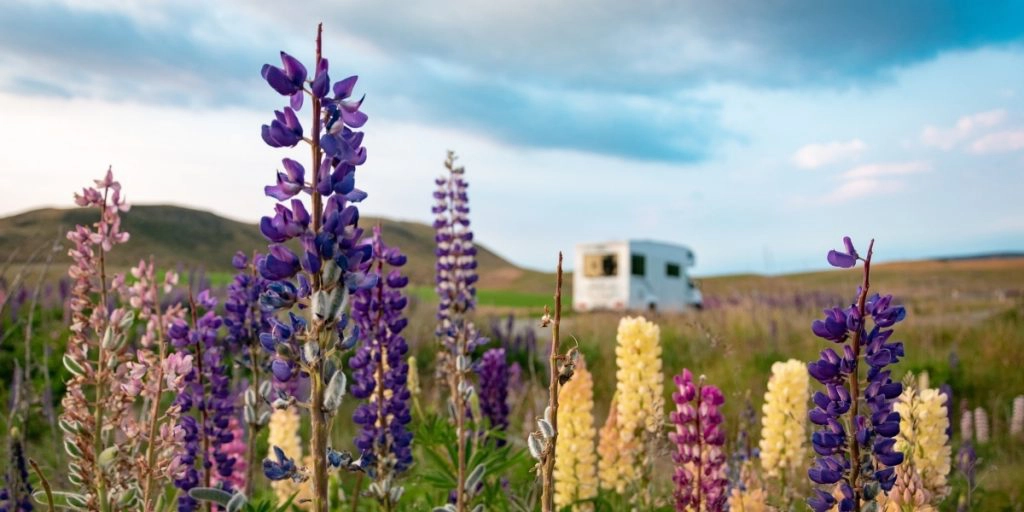 Motorhome Tours UK Map
From the hidden coves and glorious weather of Cornwall to the drama and mountains of Scotland, the UK has all the elements needed for a great motorhome holiday – we can't guarantee you great weather, but we know you'll have a lot of fun!
Use our popular motorhome route planner for the UK to help plan your road trip itinerary. Whether you're looking for motorhome holiday ideas, motorhome tour routes in the UK or just how to holiday in a motorhome, you'll find what you need here, in our choice of the best motorhome and campervan routes in UK.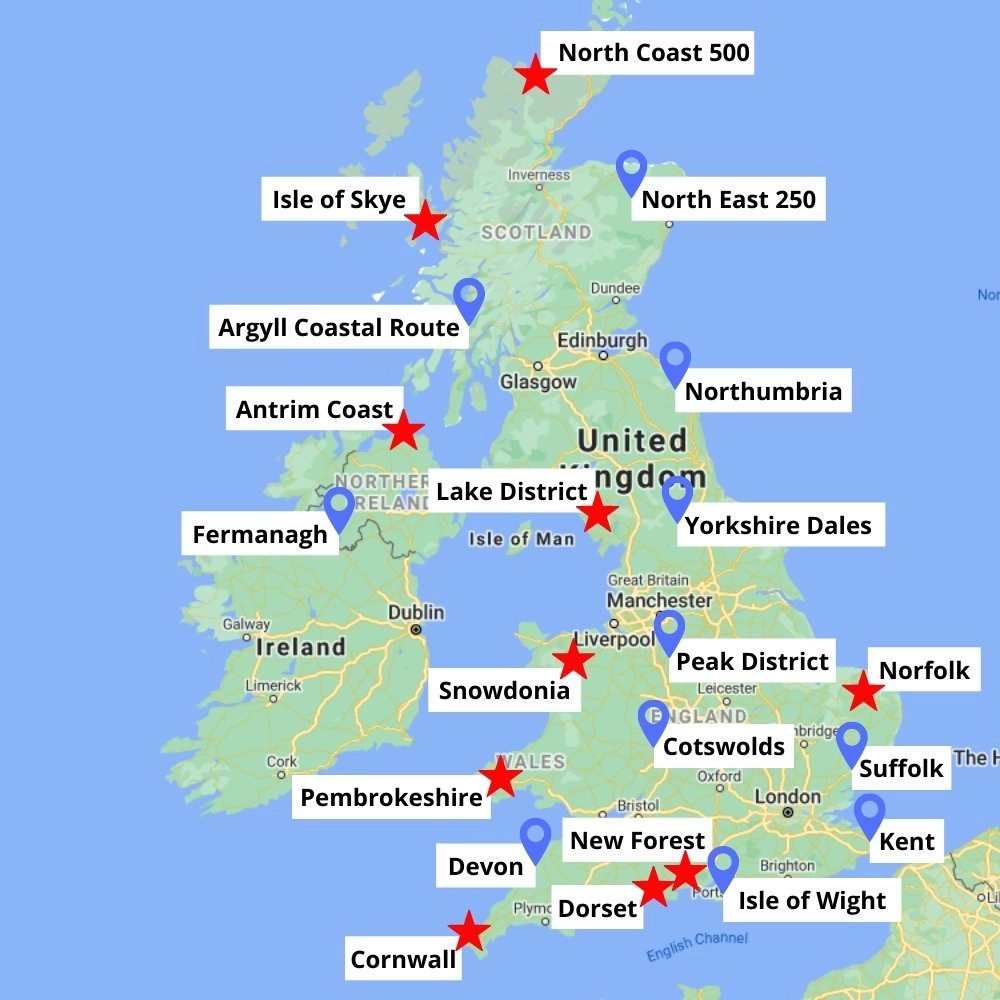 UK Motorhome Holiday Destinations
Cornwall, England
This glorious part of the UK has some of the best beaches and campsites the country has to offer. Along with quaint sea-side towns, beautiful landscapes and some great Cornish attractions, this is one of our favourite amazing places in Britain and has all the makings of a great motorhome trip in the UK.
The drive down the M5 or A303 can be unpleasant, especially at the weekends when everyone seems to go on holiday. Try and head down mid-week and break up the journey if you can before you get to the A30, the main arterial road through the county.
Visit the Eden Project on the way, a fantastic stop and not to be missed when you're passing so close by. Cornwall has lots of narrow lanes and many towns and villages are unsuitable for large motorhome traffic, be mindful of this when travelling and route planning.
Highlights & Where to Stay
The Camel Estuary
With trendy Rock on one side of the estuary and pretty Padstow on the other, this is a fantastic destination. Try your hand at surfing in Rock or just have fun in the waves on a body board. Eat amazing fish in Padstow and enjoy strolling the harbour and town.
Stay at the popular Padstow Touring Park for great facilities and fantastic views. It's within walking distance, or a short bike ride, of Padstow and an excellent base for exploring the area. This is one of the most popular places to go in the UK, so holiday there out of season if you can. If not, book your pitch early!
St Ives
The quintessential Cornish holiday town, St Ives is blessed with a couple of fantastic beaches and a vibrant atmosphere. With shops, bars and restaurants open into the evening and several world renowned galleries, St Ives has a cosmopolitan feel.
It can get busy here in the high season, visit before UK schools break up if you possibly can.
Stay at the simple and family run Ayr Holiday Park which has a coastal path down to Porthmoer beach (where I've spent many happy hours as a child and adult with a body board!) and from there into St Ives itself, or check out Campsites.co.uk, a great place to find motorhome parks in the UK.
Porthcurno & Around
Visit the end of the peninsula on your Cornwall road trip for amazing coves and beaches. Porthcurno is one of my all-time favourite beaches, overlooked by the spectacular and must-see Minack Theatre.
Explore Sennen Cove and the tin mines at Botallack, for a taste of Cornish history and head east for charming Mousehole (pronounced Mouzle), one of Cornwall's hidden gems (as much as anything in this part of the world can be!).
Pretty Penzance and the splendid St. Michael's Mount, accessible on foot when the tide is out, are all within a few miles if each other and well worth a visit.
Stay at Trevedra Farm Campsite for a back to nature feel, great beach access and a warm welcome for motorhome travellers from the farm owners.
RELATED POST: Cornwall Road Trip: The Best Itinerary, Map & Tips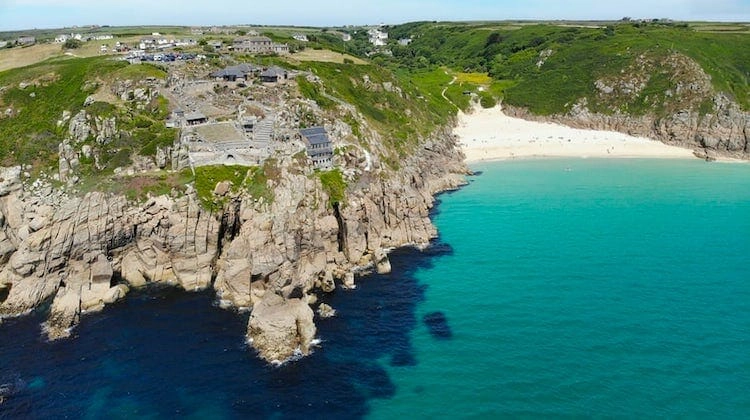 Is this your first time visiting the UK? Get all the information you need in our United Kingdom Travel Guide, including what to pack, the best time of year to go, getting there and practical tips to help you have the best trip!
Snowdonia & Anglesey, Wales
Head for spectacular Snowdonia in north Wales for drama, huge skies and outdoor adventures.
Cross the iconic Menai suspension bridge in your campervan, to reach the Isle of Anglesey. Home to some of the best beaches in Wales, fantastic coastal hiking and cycling paths and with a good dose of remoteness, this is one of the best travel routes in the UK to escape the hustle and bustle of urban life.
The A5 is easily accessible from the M6 and brings you right into the buzzy climbing town of Betws-y-Coed, on the edge of one of the UK's best national parks and the gateway to Snowdonia. From there, its a hop and a skip on to Anglesey.
Highlights & Where to Stay
Snowdonia National Park
Test yourself by climbing to the peak of Snowden, the highest mountain in England and Wales, some 1,085m above sea level. If you still want to enjoy the views but don't fancy the hike, take the train up and hike down!
Stay at Bryn Gloch Caravan and Camping Park, surrounded by nature and right at the foot of Snowden itself.
Newborough Beach & Llanddwyn Island
Newborough beach is our favourite beach on Anglesey, backed by the tranquil Newborough Forest, where you might see red squirrels.
Take a walk through the forest and dunes and out to the peninsula of Llanddwyn Island to see the fascinating pilots cottages and lighthouse. Newborough is a great start point to head off around the coast in a campervan!
Stay on the grassy meadow of Awelfryn Caravan Park, a mile away from the beach after a good walk through Newborough Forest.
Betws-y-Coed
Set in a beautiful valley, Betws-y-Coed is a typical mountain town, full of shops selling outdoor gear and companies offering outdoor adventures. Pubs are full of climbers talking about the day's exploits and adventures.
The town is a great base for outdoor sports and activities such as climbing, hiking, abseiling, zip-lining and mountain biking. You'll also find natural beauty spots such as Fairy Glen and Swallow Falls to visit on your much needed rest days.
Stay at the Riverside Touring Park for excellent customer service, five star facilities and easy access to Betws-y-Coed itself.
UK Motorhome Itineraries
The Lake District, England
This rugged and scenic national park in Cumbria has something for everyone. Head for the busy towns of Ambleside and Keswick or find remoteness by one of the sixteen beautiful bodies of water and tarns in this stunning part of the UK.
The Lake District lies to the west of the M6 and is easily accessible to motorhomes but be prepared for some narrow and twisting country lanes which may be congested in summer once you come off the main A roads.
There are some spectacular mountain passes but they are not all suitable for large vehicles and you should check this prior to your trip, or go in a camper van! Otherwise head for the the stunning Peak District, which is motorhome friendly and perhaps a road a little less travelled.
Highlights & Where to Stay
Ullswater
The second largest lake, Ullswater is nestled amongst some of the best fells the Lake District has to offer and is home to the stunning Aira Force waterfall, an easy Lake District walk.
With water sports, hiking and Lake District wild swimming amongst the lush green landscape (the setting of Wordsworth's 'Daffodils' poem) on your doorstep, this is a perfect spot for motorhomers and campervanners to enjoy nature and outdoor activity and some of the best Lake District hikes.
Stay at the family owned and run Gillside Farm at the foot of Helvellyn and close to the pretty village of Glenridding for excellent access to the surrounding fells and Ullswater itself.
Keswick
Keswick is a busy market town with a mining history which lies between the imposing Skiddaw mountains and the natural beauty of Derwentwater.
Take a cruise on the lake and head up to the prehistoric Castelrigg stone circle, literally surrounded by fells and sky in every direction.
There's also lots of great hiking in the area, including many easy trails like Catbells, which also has the added benefit of incredible views of the surrounding mountains and lakes.
Stay at Derwentwater Camping and Caravanning Club Site, one of the best sites for motorhomes in the Lake District. You don't have to be a member to stay, although the cost is discounted if you are. This friendly and popular site is a few minutes walk from Keswick and Derwentwater.
Wild Camping in the Lake District for motorhomes is possible in the more off-the-beaten-track parts, but around the lakes and towns it is likely you will be moved on pretty quickly, especially in summer.
Honister Slate Mine
At the southern end of Derwentwater is the valley of Borrowdale, leading to the Honister Pass and the home of the Honister Slate Mine, the last working slate mine in Europe.
The mine has a visitor centre which provides underground guided mine tours and a range of adventure activities including a Via Ferrata (by ropes) course which is not for the faint hearted!
The Honister pass is not suitable for large motorhomes and has a width restriction of 6'6″, although it is possible to get the bus there from Keswick.
Stay at Chapel House Farm Campsite in the Borrowdale Valley, surrounded by rolling hills and rushing streams to lull you to sleep at night.
RELATED POST: Motorhomers Choice – Top 10 Motorhome Campsites UK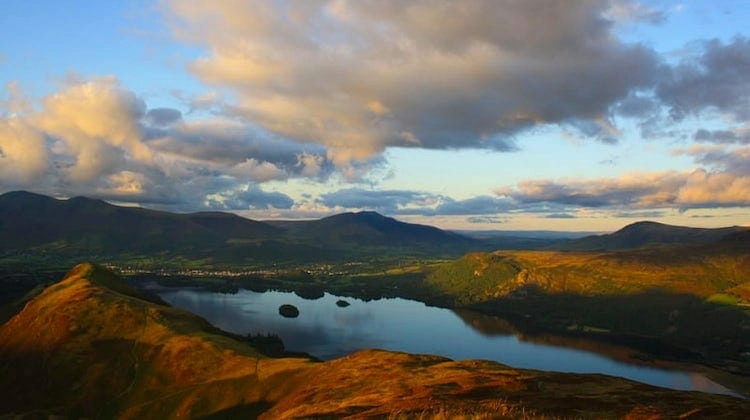 The North Coast 500, Scotland
This iconic Scottish motorhome route had to make the list! The NC500 is a 516 mile spectacular route around the north coast of Scotland, starting and ending at Inverness Castle and passing through some of the most beautiful places in Scotland.
Tackle the whole route, for which you'll need at least several weeks, or do a bit of it. Whichever, you'll find incredible landscapes, legendary Scottish hospitality and the thrill of the open road.
This is surely one of the best motorhome routes in the UK and one of the best driving roads in Scotland.
RELATED POST: How to Take a North Coast 500 Motorhome Trip
Highlights & Where to Stay
Inverness
Both the start and finish point of your motorhome holiday in Scotland, this cultured and ancient cathedral city is full of history and interest. Go monster hunting on Loch Ness, take a trip to the haunting battlefield at Culloden and visit Inverness Castle.
Fans of the book and tv show 'Outlander' can also visit bucket-list destinations in this region.
Stay at Bunchrew Caravan Park on the edge of Beauly Firth, in twenty acres of mature woodland and advertised as being free from midges, pretty unusual for motorhome holidays in Scotland!
Sutherland
One of the last great wilderness' of Europe, a large chunk of the NC500 passes through this raw and beautiful county. With the sea always on your right, the coast of this part of the route is unspoilt and diverse, from huge sandy beaches to the rugged and aptly named Cape Wrath cliffs.
Stay at the stunning Clachtoll Beach Campsite right on the edge of the beach, which boasts crystal clear water and amazing snorkelling; we think it's one of the best campervan sites in Scotland.
There is a lot of Scottish wild camping for motorhomes in this part of the UK, Scotland seems to be more tolerant than other areas. Use Park4Night to find a great spot with a fabulous view and follow our wild camping tips for the best experience.
Caithness
Home to John O'Groats and Dunnet Head, the most northerly village and northerly point respectively, Caithness is right at the top of the UK! It is so far north that in favourable conditions, it's possible to see the northern lights from here.
The coastline here features soaring sea-stacks and towering headlands, home to puffins and other sea birds.
Stay at Dunnet Bay Caravan and Motorhome Club Site. You don't have to be a member to stay, although the cost is discounted if you are. This is a site for those that enjoy solitude, sublime views and long beach walks.
The New Forest, England
This historic forest in Hampshire, planted in 1079 by William the Conquerer, retains a strong sense of history and tradition.
Home to New Forest wild ponies, roaming pigs, Highland cattle and deer, this haven for wildlife offers peace and tranquility to all who visit.
The forest is particularly special in autumn, when the crowds have gone and the colours are spectacular.
The forest is also a hub for outdoor activity, including water sports, cycling and hiking, you can find the top New Forest outdoor activities here.
Easily accessible via the M3 and M27, the main roads through the forest are all suitable for large motorhomes and there are lots of designated car parks and places to stop for lunch or a walk.
You cannot wild camp in the New Forest, there are active rangers who move on all vehicles at dusk.
For a longer road trip, add Dorset and the incredible Jurassic Coast to your itinerary.
RELATED POST: Top 16 New Forest Outdoor Activities
Highlights & Where to Stay
Brockenhurst
A charming village to the south of the forest and and an excellent base for cycling and walking. With a few good pubs in the village and a seriously good takeaway fish and chip shop, this is a great place from which to explore.
You can hire bikes in the village or bring you own; download this helpful map for routes.
Stay at Hollands Wood Campsite run by Camping in the Forest, who offer some of the best motorhome sites across the forest. Within walking distance of the village, this mainly wooded site is on the edge of the open forest.
New Forest Water Park
At the western edge of the forest, the New Forest Water Park offers wakeboarding and a giant inflatable aqua park, the best fun you can have in a wet-suit! Try your hand at wakeboarding, kayaking and stand up paddle before running the gauntlet on the aqua park course…its a lot, lot harder than it looks!
Stay at the Red Shoot Camping Park a few miles away and on the edge of the open forest. Situated behind the highly rated Red Shoot Inn, this is a friendly and family run site.
Lymington
Not technically in the New Forest, but right on the south-western edge, Lymington is a charming and bustling market town. With a busy harbour and easy access to the Solent, this is a haven for sailors.
From your base in Lymington, take a trip to Hurst Castle, built by Henry VIII and situated in a shingle spit stretching towards the Isle of Wight. On hot days, take a dip in the seawater swimming baths on the edge of Lymington town.
Stay at the tranquil retreat of Harry's Field and enjoy their camping philosophy, complete with roaming deer, ponies and donkeys. A stay in a campervan here is good for the soul!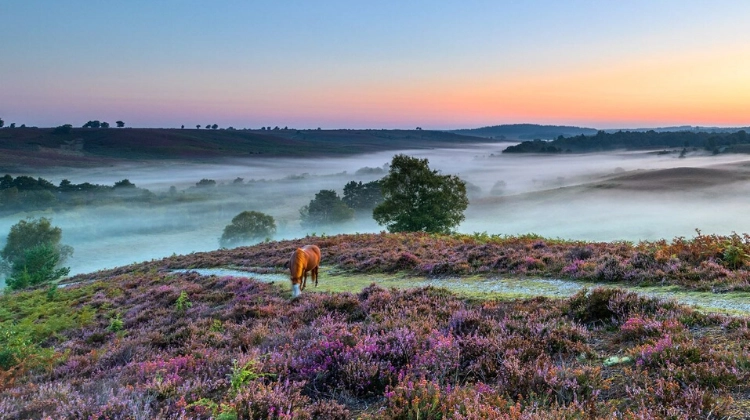 ---
UK Motorhome Trip Essentials
---
The Antrim Coast, Northern Ireland
The gorgeous and unspoilt Causeway Coastal Route is a part of the UK that may require a ferry crossing if you don't live there. But, it is a motorhome coastal road trip in the UK that's worth making the effort for.
From the breathtaking natural beauty of the Giant's Causeway to the huge Benone Beach, the coastline is studded with Game of Thrones locations and pretty seaside towns.
End your trip in Londonderry, a city that has overcome a difficult past to become a popular tourist destination in its own right, and if you have time, pop over the border into the Republic of Ireland and drive the dramatic Wild Atlantic Way down the west coast of Ireland.
We suggest getting the boat to the busy and fun city of Dublin before heading north, it's not in the UK but if you're crossing the water you might as well make the most of it! From Dublin, Belfast makes a natural stop on the road north – if you only do one thing in Belfast, visit the Titanic Quarter.
If you're short on time though, depart from Stranraer to Larne, for the quickest route north once you arrive in Northern Ireland, unless you live there of course!
RELATED POST: Causeway Coastal Route: The Best Road Trip In Ireland?
Highlights & Where to Stay
The Giants Causeway & Around
Forged by volcanic nature some 50 to 60 million years ago, these 40,000 columns of basalt spilling into the wild North Atlantic have to be seen to be believed.
This UNESCO World Heritage Site is one of Northern Ireland's best historic landmarks and an awe-inspiring place that really gets you thinking about man's insignificance in the grand scheme of things.
Climb the Shepherd's Steps and hike along the clifftop trail for an aerial view of the dramatic causeway coast or take the road less travelled on an active five-mile hike along the stunning cliff-top path.
Don't forget to visit the cute harbour at Ballintoy (also a Game of Thrones location) but be mindful that there is very limited parking and you may struggle to turn in a larger rig. Just along the coast, the Carrick-a-Rede rope bridge will test your head for heights!
Stay At Craig House Campsite, situated in an area of Irish outstanding natural beauty with magnificent sea views.
Portstewart & Portrush
Literally next to each other, both are pretty sea-side, bucket and spade type towns. With souvenir shops, restaurants and bars, Portrush is livelier and has a night club and amusements.
Portstewart has a lovely, laid-back feel and has some interesting boutique shops along the prom.
Both have great beaches and excellent golf courses. Take your pick depending on what you enjoy! If you like motorbikes, head here in May for the infamous North West 200.
Stay at Juniper Hill Holiday Park for access to both towns along the Port Path or catch the bus that stops right outside.
Benone Beach
A favourite of surfers, this huge beach stretches from Castlerock in the east to Magilligan point in the west. From here you can visit the Mussenden Temple on the headland and the demesne at Downhill.
The mighty Binevenagh mountain sits to the south and is excellent for hiking, with stunning views of the coast and Donegal from the summit.
Stay at the Golden Sands and don't forget to pop in to the Sea Shed Cafe for amazing Spanish hot chocolate and home made cake right on the beach!
Norfolk, England
One of the most beautiful areas of east England, Norfolk enjoys an incredible and unspoilt heritage coastline, traditional seaside towns like Cromer, and the famous Norfolk Broads, where you will find huge skies and tranquility, even in the height of summer.
A national park and a haven for wildlife and birds, the Broads are a nature lovers paradise and can be explored on foot or by boat.
The roads to Norfolk don't go anywhere else, one of the reasons the county has remained a peaceful holiday destination. Take the A11 or A47 to Norwich, right in the heart of Norfolk.
Highlights & Where to Stay
Norwich
The historic city of Norwich is a hidden gem and a must-visit if you're in Norfolk. Considered the UK's best preserved medieval city, you'll find a Norman cathedral with the second highest spire in England, a vibrant bar and restaurant scene and the Norwich Lanes, a tangle of pedestrian street full of interesting shops and independent boutiques.
Stay at the simple and relaxed Whitlingham Broad Campsite just outside the city, an easy fifteen minute bike ride away. If you want to enjoy the broad, then you can hire kayaks and canoes a few minutes away for the campsite.
For a fabulous day out just ten miles away, visit BeWILDerwood, a magical adventure park that's perfect for children, and the big kid in all of us!
Blakeney
This quaint coastal village lies in an area of outstanding natural beauty. The nature reserve is a fantastic spacious landscape with salt marshes, sand and shingle spit, sand dunes and horizons stretching far out to sea.
Practice your crabbing skills on the harbour or take a trip out to Blakeney Point to to see the Common and Grey seals that breed here in winter.
Stay at the natural paradise of Highland Creek Camp Site which is surrounded by salt marshes, woodlands, mud creeks and beaches.
Sandringham
The royal estate at Sandringham is set in beautiful woodlands perfect for walking. Visit the house, gardens and transport museum before heading to see the St Mary Magdalene church where the Queen attends services when she is staying at Sandringham.
There are often events here too, such as farmers markets and craft fairs, check the Sandringham Estate website for details and dates.
Stay at the Sandringham Camping and Caravanning Club Site, set amongst woodland and with the royal estate on the doorstep.
Helpful Motorhoming Resources
Are you planning a motorhome holiday in the UK? Whether you want to explore the south west, the Lake District or Scotland in your motorhome, we've got all the best campsites for motorhomes – all recommended by fellow motorhomers, who know what makes a motorhome campsite great.
Dorset, England
The beautiful county of Dorset boasts a UNESCO World Heritage Site coastline, pretty villages and towns and some great bucket and spade resorts.
The cliffs of the 95 mile long Jurassic Coast contain millions of fossils and interesting rock formations and there is even a forest of fossilised trees.
With Bournemouth, Swanage and Weymouth providing good old fashioned sea-side entertainment, there's a lot to recommend Dorset, making it one of the best campervan trips you can take.
Dorset is very accessible by taking the M3 and M27 from London before picking up the A31 into the county.
Highlights & Where to Stay
Lulworth Cove and Durdle Door
Lulworth Cove is an almost perfect circle and considered one of the best examples in Europe of marine erosion.
Whatever the reason for Lulworth Cove, it really is a beautiful spot and perfect for kayaking and stand up paddling. Stop at the Boat Shed Cafe for a relaxed lunch before hitting the pebble beach.
There are many fantastic coastal walks in Dorset, with the walk from Lulworth Cove to Durdle Door being one of the best, and taking around 45 minutes.
Durdle Door is a natural limestone arch in the sea, caused by millions of years of erosion. On hot days, the kids swim out here and climb up, before jumping off with glee. Durdle Door is backed by a truly beautiful beach with imposing limestone cliffs that the Jurassic coast is famous for, and for us, is one of the best scenic places in England.
Stay at Durdle Door Holiday Park for incredible sea views and easy access to both Durdle Door and Lulworth Cove beaches.
Chesil Beach & Around
The iconic Chesil Beach is an eighteen mile long shingle barrier beach made up of 180 billion pebbles and stretching from West Bay to Portland.
This wild and natural place seems made of sea and sky and being here clears your head and fills your soul.
Head for Abbotsbury Gardens for one of the best views of Chesil Beach from above, stretching miles in either direction and then pop in to see the mute swan colony at the swannery.
If you've got energy left after all that, head south to the iconic Portland Bill lighthouse at the tip of Portland, for more dramatic sea scapes.
Stay at East Fleet Touring Park for its stunning location overlooking Chesil Beach and the sea beyond.
Swanage & Around
A quintessential English sea-side resort, Swanage was a hit with the Victorians when sea bathing became fashionable.
With a safe sandy beach, steam train, nearby Corfe Castle, great wreck diving and Durlston Country Park there's a great deal to keep you entertained.
Throw in a bag of newspaper-wrapped fish and chips and you've got the perfect motorhome holiday destination!
Stay at the friendly and welcoming Ulwell Cottage Holiday Park for easy access to Swanage and its pretty surroundings.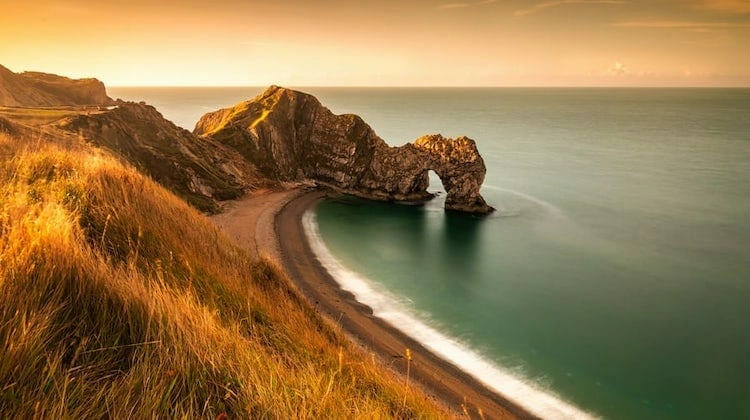 Pembrokeshire, Wales
Famous for its glorious beaches, cliffs, islands and wildlife, the stunning coast of Pembrokeshire offers infinite opportunities to enjoy the outdoors and is one of the most beautiful places in the UK.
From the Victorian sea-side town of Tenby to the puffins of Skomer Island, Pembrokeshire has something to suit everyone planning a Welsh road trip, nature lovers and outdoor adventurers alike.
Take the M4 west until you pick up the A40 which will take you into the heart of this beautiful and eclectic county. Why not take in the prime walking country of the Cotswolds or the awe-inspiring Brecon Beacons on the way?
RELATED POST: Motorhoming & Campervanning in Wales – Complete Guide
Highlights & Where to Stay
Coasteering
Pembrokeshire is perfect for a Welsh motorhome trip and boasts that it invented coasteering, so how could we leave it off our list? The sport of cliff scrambling, jumping from land to sea and swimming between rocks will stretch you physically and mentally and give you hours of fun!
You can find a pace to suit you, there are courses and guided expeditions for beginners of all ages, some of which include marine biology education along the way!
Stay at Pencarnan Farm Camping and Caravan Park, just up the road from St Davids, a coasteering hub, and with access to the gorgeous sandy Porthsele beach, safe for swimming and kayaking.
Skomer Island
The wild island of Skomer is a haven for migrant birds such as puffins, guillemots and razorbills.
You may also see seals here, which come to moult in April, along with owls, peregrine falcons and buzzards. In the spring, wild flowers carpet the island, making it a truly beautiful and fascinating place to visit.
Tickets are on a first come, first served basis and numbers are limited so make sure you get to Lockley Lodge visitor centre early!
Stay at the family run West Hook Farm Camping, with simple facilities and superb sea views, and just up the road from Lockley Lodge.
Tenby
Tenby is one of the most iconic seaside towns in Wales, steeped in ancient history and surrounded by an imposing medieval stone wall.
With several great sandy beaches, a pretty and colourful harbour and narrow cobbled streets with a fantastic selection of gift shops, independent boutiques, cafes and pubs, this charming and lively town is perfect for a day out.
If you base yourself here, you're within striking distance of two of the best castles in Wales, Pembroke and Carew, both well worth a visit.
Stay at Meadow Farm, with fantastic panoramic views and easy access to Tenby, the coastal path and local beaches.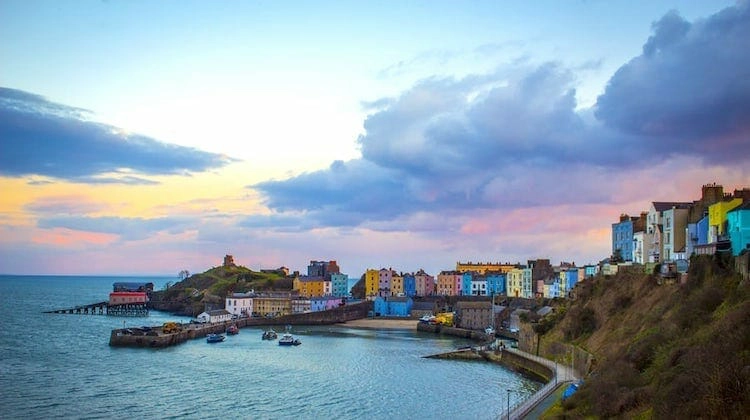 Isle of Skye, Scotland
The Isle of Skye is Scotland's second largest island, a 50 mile long stretch of heather covered moors, rugged mountains, clear sparkling lochs and dramatic sea cliffs.
This incredible landscape is the main draw, but there is plenty to do when the mist descends, including castles, museums and craft studios, as well as the odd pub or two!
Come here for real solitude and remoteness, some of the best hiking in the UK, and to breath the bracing air and remind yourself of why van life is good!
The driving route to Skye is spectacular. There are two main routes from Stirling, we would suggest the most southerly, taking the A84 north and skirting the Trossachs to your west before heading through Glencoe and Fort William, both worthy of a visit.
Take the road bridge at Kyle of Lochalsh or do it the traditional way on a ferry from Mallaig. The Isle of Skye makes for a good 7 day motorhome itinerary in Scotland.
RELATED POST: The Ultimate Guide to Motorhoming & Campervanning in Scotland
Highlights & Where to Stay
Dunvegan Castle
In a beautiful position at the edge of Loch Dunvegan, Skye's most famous historic building, Dunvegan Castle is the seat of the chief of Clan MacLeod and has been so for over 800 years.
The castle itself is fascinating and the formal gardens make a fantastic contrast to the stark beauty of the surrounding landscape. It's a busy tourist attraction though, and best visited outside of the peak months of July and August.
Stay at Kinloch Campsite, with a superb waterfront location and access to the local village of Dunvegan itself.
The Sleat Peninsula
Commonly referred to as 'the garden of Skye', the Sleat peninsula is home to lush gardens, dense forests and mountains surrounded by beautiful beaches and sparking seas.
This eclectic corner of Skye not only has nature on its doorstep, it also has some of the best restaurants on the island and of course, a whisky distillery!
Stay at Camping Skye, well situated for the whole island and opened in 2018 with modern facilities in a peaceful woodland setting.
The Trotternish Peninsula
Trotternish is the most northerly peninsula and enjoys Skye's most striking and dramatic landscapes. As you drive north your attention will be captured by The Storr.
This 719m summit rises above the east-facing cliffs that run down the centre of the peninsula. Sitting at the foot of these cliffs is a 50m high tooth of rock, the Old Man of Storr.
The Old Man is part of a distinctive rocky outcrop that lies below the cliffs and a fascinating sight.
Head for The Quiraing for some fantastic hiking and to see the best of these ancient landscapes in this remote and stunning part of the island.
Stay at Torvaig Caravan and Camp Site for amazing views of the Cuillin mountain range from your camper van, and easy access to Portree.
Wild camping on Skye in a motorhome is possible if you are discreet, the Trotternish peninsula is remote and a good place to find a quiet spot.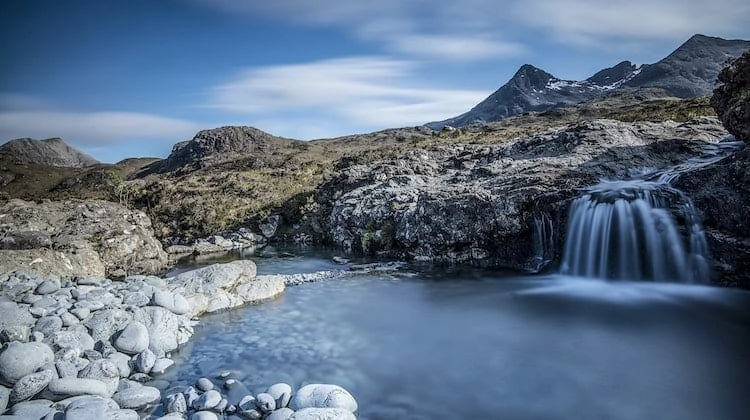 UK Motorhome Holiday Ideas
If you're looking for more UK motorhome holiday inspiration, then check out these ideas of places to explore in your home on wheels.
North East 250, Scotland
The North East 250 is the perfect seven day motorhome tour of Scotland for lovers of mountains, coastlines and whisky.
Wend your way through the dramatic countryside and towns of Speyside, Royal Deeside, Cairngorms, the east coast and the Moray Firth coast, stopping to enjoy fantastic hiking, distillery tours and spectacular views.
Argyll Coastal Route
One of the most stunning motorhome holidays in Scotland, the Argyll Coastal Route will take you from stunning loch-sides to sea shores and mountain tops.
The ultimate west coast of Scotland road trip is for seafood gourmets, sunset lovers and those that want to get under the skin of Scotland, and feel it's turbulent history in the air and glens of the incredible landscapes.
Starting in Glasgow and finishing in Inverness allows you to make the most of this linear route as you cross the Highland Boundary Fault and enjoy the gentle lowlands giving way to the dramatic and wild highlands.
Northumbria, England
This gorgeous and unspoilt area of north east England is perfect for a motorhome holiday.
With huge empty beaches and pretty villages strung along the coast, Northumberland is a great place for a motorhome trip if you're looking to get away from it all.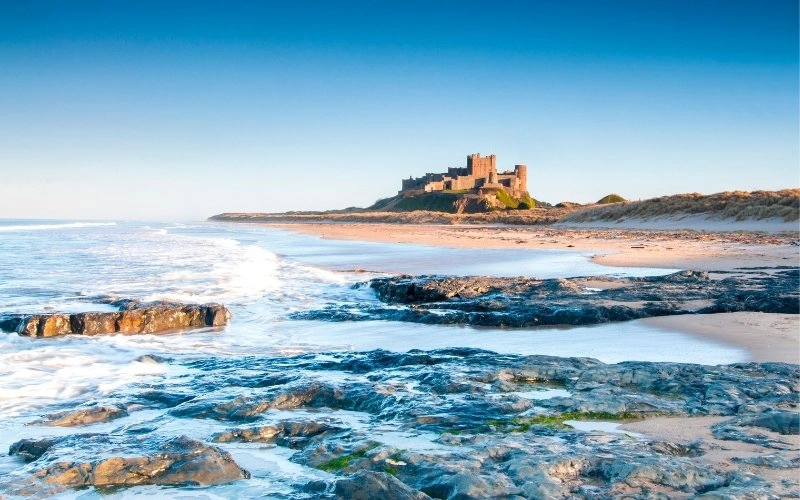 County Fermanagh, Northern Ireland
The least populated of Northern Ireland's six counties (and I have no idea why!), Fermanagh is dominated by lakes and waterways.
Lough Erne spreads over 80km long between the Upper Lough to the south of Enniskillen, and the Lower Lough to the north and are connected by the River Erne, which begins its journey in Ireland.
The jewel in Northern Ireland's crown, Fermanagh is a great region for exploring with your campervan, enjoying water sports, hiking and nature. You're also on the doorstep of Ireland, a wonderful country in which to take a motorhome or campervan holiday.
The Yorkshire Dales
In 'God's own country' of Yorkshire, the roads snake between patchwork fields, glacial valleys, flat-topped hills and rocky outcrops. Every so often you'll come across a picture perfect village with a quaint pub and windswept hiking trails nearby.
There's lots of history here too, in land that was once host to the War of the Roses, the bloody struggle between the royal houses of York and Lancaster.
Skirting the couty of Lancashire, the Yorkshire Dales National Park a mecca for tour buses which cause major headaches both on the roads and in car-parks at the most popular spots. Avoid the summer months if you possibly can, or head into the North York Moors for the coast and wider roads!
The Peak District
Sitting pretty between the cities of Manchester and Sheffield is the wonderful Peak District.
Straddling the Pennines lie pretty stone villages, grand stately homes and rocky outcrops in every direction, but no peaks, despite the name.
To the north, the Dark Peak area is dominated by exposed moorland and gritstone 'edges', while to the south, the White Peak is made up of rolling limestone dales.
The diverse and soaring landscapes of the Peak District mean some seriously good drives, making for a great motorhome road trip.
The Cotswolds
The perfectly English Cotswolds are set in the lush rolling countryside of south west England.
Sprinkled with honeyed stone villages set around duck ponds and greens, the winding country lanes are lined with stone walls and hedgerows.
The region is recognised as an Area of Outstanding Natural Beauty and offers close encounters with wildlife, and birdwatching opportunities at the Slimbridge Wetland Centre.
If you prefer a bit more activity, paddle boarding, kayaking and archery are all available at the Cotswold Water Park, and there are lots of great cycling and hiking routes in the area.
If you're in a large motorhome, check your planned route as some roads here are narrow and you may struggle to negotiate them safely.
Suffolk
Suffolk is one of the six counties of East Anglia, and is blessed with picturesque villages, fabulous churches and lavish Tudor houses.
To the west are the picture-postcard villages of Lavenham and Long Melford. Further north, historic Bury St Edmunds has a great market town atmosphere, while the appealing coastal resorts of Aldeburgh and Southwold overflow with charm and a laid back holiday pace.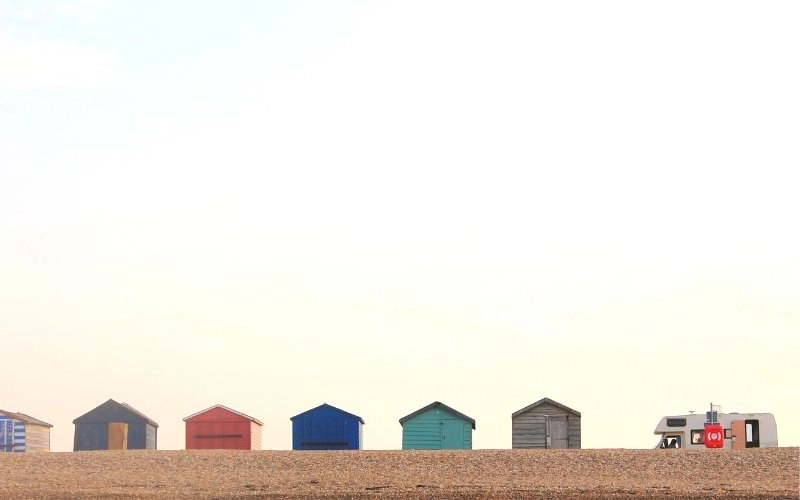 Devon
Devon's beach-fringed landscape is studded with lively cities, historic homes and the wild moors or Exmoor National Park. Perfect for exploring by motorhome or campervan, you'll find lots to do along the Atlantic Highway, especially if you're travelling as a family.
From the historic cities of Exeter and Plymouth to the varied coastlines and abundance of AONBs, the popular English Riviera is packed with attractions.
Kent
The south east England county of Kent really is the garden of England, even though it's on the doorstep of London. Much of it's border is coastal, and within this you'll find a beautiful landscape of rolling hills, fertile farmland and country estates.
Some of the best beaches near London are in the county, as well as orchards bursting with fruit, including the world-renowned Kent hops.
At its heart is ancient Canterbury, and it's historic cathedral. You'll also find beautiful coastal stretches, home to sea-side towns and villages, from traditional Broadstairs to hispter Whitstable and everything in between.
Isle of Wight
The Isle of Wight is getting a bit of a reputation as a cool place to visit, and we can see why.
For decades this island anchored off Portsmouth was a magnet for family holidays, and it still has a lot of bucket and spade appeal.
But now the Isle of Wight Festival draws party lovers for live music, freshly caught seafood and cool camping.
Cowes Week also offers live music, parties and champagne for a week every year when the famous Cowes sailing regatta takes place.
Head here one one of the ferries from Southampton or Lymington for a week in your motorhome – and if you prefer not to party, you'll still enjoy the gorgeous climate, outdoor activities and the islands stunning shoreline.
Are you looking for more motorhome touring guides? Check out these top posts…
New Zealand is an absolute dream for campervan enthusiasts. The breathtaking landscapes, diverse wildlife, and incredibly friendly locals make it the perfect destination for your next campervan adventure. We'll will provide you with all the tips, tricks and insider knowledge to make your vanlife experience in New Zealand truly unforgettable. So, buckle up and get ready for an adventure of a lifetime!
A truly beautiful country, Norway is a real bucket list destination. If you love adventure and raw nature, then campervanning in Norway is for you. We've spent months motorhoming in Norway and our advice and tips for campervanning in Norway come from our own lived experience. We cover driving, budgeting, where to stay overnight and off-grid and wild camping, to motorhome and camper van services and a round-up of the best motorhome destinations. In fact, you'll find all the…
Portugal is a perfect motorhome and campervan destination. This tiny country in western Europe packs one hell of a punch; wild coastlines, beautiful natural parks, lively buzzing cities and exquisite wines and one of the hardest languages in Europe to learn! In this Portugal campervan guide, we share our own lived experience and travel tips about driving, where to stay overnight and wild camping, motorhome services and a round-up of the best motorhome and campervan…
Taking a motorhome to Italy is an experience not to be missed. This gorgeous country, full of beautiful light, fabulous food and landscapes straight from a film set, will not disappoint. We've spent months touring Italy by motorhome and in this guide, you'll find lots of practical and helpful information about getting around Italy in a motorhome. From tips about driving, where to stay overnight and wild camping, to motorhome services and a round-up of…
With one of the best winter climates in Europe and friendly locals, Spain is a perfect country for a motorhome road trip. We've spent over 18 months travelling in a motorhome in Spain, and in this campervanning and motorhoming guide you'll find lots of practical and helpful information. From tips about driving, where to stay overnight and wild camping, to motorhome services and a round-up of the best motorhome destinations, you'll find all the information…
A motorhome tour of Germany offers incredible adventures. From the stunning Alps, the Black Forest with it's gorgeous romantic road, to medieval cities, fairytale castles and magical Christmas markets this surprising and interesting country is a must-see road trip destination for campervans and motorhomes.
Love it? Pin It!