This post may contain affiliate links, from which we earn an income.
Campervanning & Motorhoming Germany
A motorhome tour of Germany offers incredible adventures. From the stunning Alps, and the Black Forest with its gorgeous romantic road, to medieval cities, fairytale castles and magical Christmas markets, this surprising and interesting country is a must-see road trip destination for campervans and motorhomes.
Whether you're planning a motorhome route through Europe with Germany as just one destination, or a longer tour, the country is a popular one with Brit motorhomers.
Germany's ease of access, fantastic driving roads and unexpectedly beautiful landscapes and cities make the country perfect for motorhome travel. Bypass the central industrial belt and head for the Black Forest and Bavaria, or go north for the beautiful islands and tranquillity of Germany's only coast.
We've spent months touring in Germany and our advice and tips for motorhoming in Germany cover driving, budgeting, where to stay overnight and off-grid and wild camping to motorhome and camper van services and a round-up of the best motorhome destinations. In fact, you'll find all the information you need for an amazing road trip in Germany.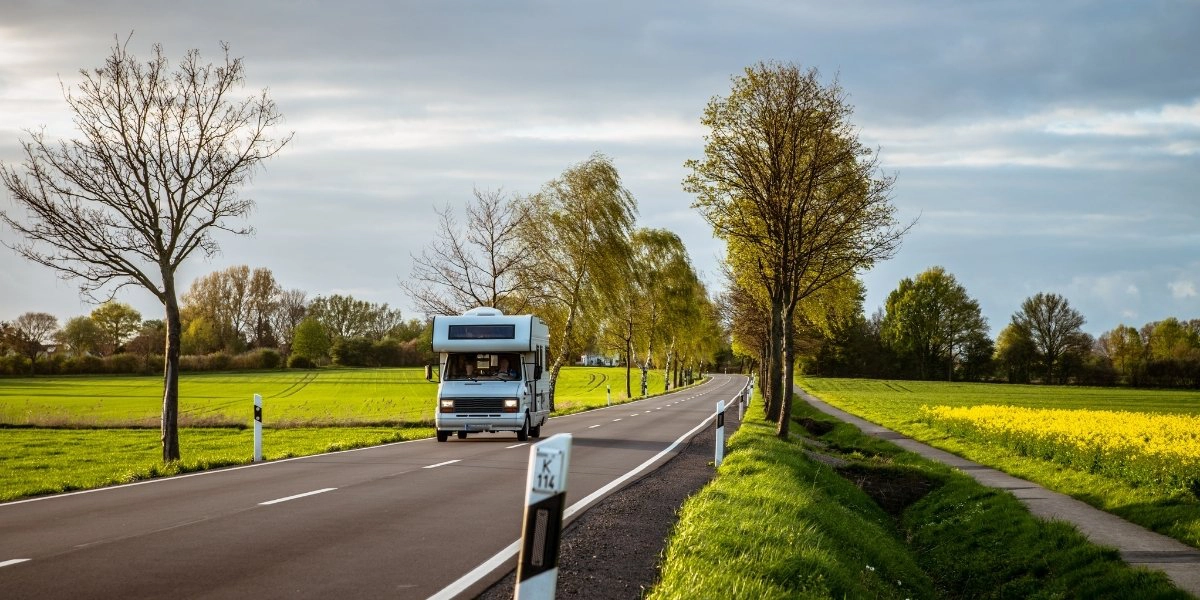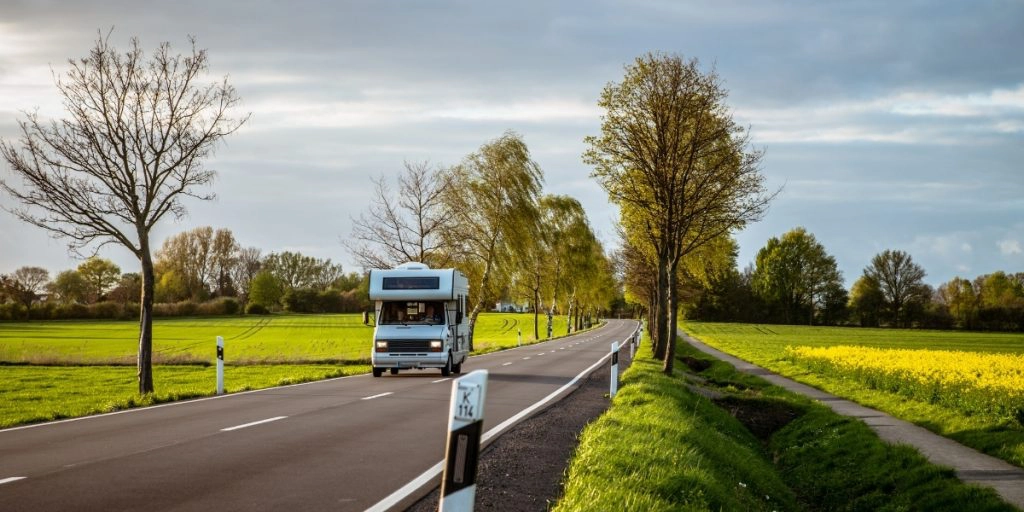 German Motorhome Routes
Crossing the Channel
There are a number of ways of taking your motorhome or camper to Germany from the United Kingdom.
The Dover-Calais ferry takes around one hour and 30 minutes to cross, loading can be time-consuming but you'll have time on the boat for a meal and be able to rest from driving.
Folkestone-Calais is the most frequent channel crossing. As with the ferries, the queue can be horrendous in peak season and at peak times. This is a good crossing if you're travelling with pets or are happy not to leave your van.
Check out the slightly more obscure campervan travel routes which are a little longer but often cheaper and with more special offers to tempt you away from the more well-known routes. Try departing from Newhaven for example, or arriving at Dieppe or Le Havre, although this has you further away from the German border, so you may lose any savings in fuel.
More expensive and quite a bit longer than the Dover-Calais route, the crossings from Harwich, Hull and Newcastle to the Netherlands may prove to be cost-effective for your motorhome road trip, but only if you don't live in the southeast of England.
The Stena Line Harwich-Hook of Holland route operates daily at 9am, with the crossing taking around seven hours.
If you cross from Hull to Rotterdam with P&O, their daily crossing departs at 20.30pm and takes around eleven hours, meaning you arrive refreshed and ready for a full day's drive.
The DFDS Newcastle to Amsterdam crossing is also overnight, but takes nearly 16 hours and is a bit more expensive, although ideal for those starting their German motorhome tour in the north of the UK.
We recommend finding the best deals and crossings with Direct Ferries, who make it easier to compare timings, routes and costs in one place.
Getting to Germany
Once you're on the continent, there are a number of driving routes to Germany, depending on your destination.
From Calais
From Calais, the quickest routes are the E42 and E411 via Luxembourg, crossing the border near Trier and the E40 and E42 routes via Brussels. Both will take around five hours and are cost-effective from a toll point of view.
A longer, but more scenic (and more expensive) route, takes you through France on the A26 and A4 via Reims and Metz. From here you can pick up one of the many autobahn routes in Germany, or maybe take the slow road and enjoy the countryside.
From the Netherlands
From the Dutch ports, it's an easy two hour drive to the German border west of Dusseldorf, although once into Germany, this route does mean negotiating the busy road network around the industrial and built-up cities of the Rhine, before you can continue your onward journey.
Fly & Hire a Motorhome or Campervan
Flying and hiring a motorhome is the best way to tour Germany if you don't own one. Our recommended German campervan hire company is Indie Campers, who have depots in Berlin, Cologne, Essen, Frankfurt, Munich, Leipzig, Hamburg, Hannover, Stuttgart and many other major German cities – perfect starting points to see all the best bits as you road trip Germany.
If you're unsure about whether you should rent a motorhome or campervan, check out Rent Easy, who have 15 pick-up locations and a large choice of motorhomes and campervans to compare.
For Germany motorhome rentals – best if you're travelling with a family or need more room – check out Motorhome Republic Germany, who have over 50 motorhome hire pick-up and drop-off locations in Germany, meaning you can plan a one-way drop-off, or access the bit of Germany you want to see really easily.
You could also look at Auto Europe who act as an aggregator site for other motorhome rental companies and may be able to get you a better deal on motorhome rentals.
You can also hire a motorhome in the UK and drive it across to Germany and beyond. Most hire companies allow their motorhome rentals to be taken overseas, including our recommended hirer, Spaceship Rentals. With a depot in London, top-notch customer service and all the equipment you need for an easy holiday, Spaceship offers the best deals for Europe.
Motorhome Germany & Brexit
Although the UK left the EU at the beginning of 2020, because the pandemic came swiftly on its heels, many of us are still realising the repercussions and getting used to how it affects travelling in a motorhome. You can find out all the detail you need in our guide to motorhoming in Europe after Brexit. In the meantime, here are a few frequently asked questions and answers;
Do I need a visa for Europe?
Nothing changes with your passport, but from 2024, the EU will introduce the ETIAS (European Travel Information and Authorisation System), which will be an additional entry requirement for visa-exempt travellers and will involve the traveller registering their details online before travelling, mainly for security purposes.
How long can I stay in Europe?
UK citizens can only stay in the Schengen Area (a zone in Europe where countries have no internal borders and allow the free and unrestricted movement of people) for 90 days in every 180 days in the Schengen Area.
The 90 in 180 day rule works on a rolling basis and it can be difficult to work out whether you are within the rules or not, especially if you have visited the Schengen area on several occasions in the preceding 180 days.
What food can I take in my motorhome to Germany?
The European Commission says the following;
Travellers are not allowed to bring in meat, milk or their products.
There is an exemption for powdered infant milk, infant food, and special foods or special pet feed required for medical reasons if weighing less than 2kg and provided that:

such products do not require refrigeration before opening.
that they are packaged proprietary brand products for direct sale to the final consumer, and
the packaging is unbroken unless in current use.
For fishery products (including fish and certain shellfish such as prawns, lobsters, dead mussels and dead oysters), travellers are allowed to bring in up to 20kg or the weight of one fish if this is higher.
For other animal products, such as honey, live oysters, live mussels and snails, travellers are allowed to bring in up to 2kg.
Can I use my mobile data in Germany?
It very much depends on who your mobile phone contract is with and when you started the contract. All UK providers now limit data usage in the EU in some way or another, and it's best to check with your provider to make sure you don't run up a big bill. You can find lots of information in our guide to the best SIM cards in Europe, especially if you're planning to be away for more than a few weeks.
We have been using and recommend ConnectPlus for cloud sim connectivity in the UK and Europe. You can choose from unlimited data packs to just single days, depending on your needs. The device is no larger than a slimline smart phone, connects with up to ten devices, is charged easily with a USB and can be delivered within a few days of ordering. Use the code 'thegapdecaders' at checkout to get 50% off in the first month!

Can I take a pet to Germany in my motorhome?
Yes, you can take dogs, cats and ferrets to Germany. You'll need to book a pet-friendly cabin or kennels on the ferry or travel via the tunnel. Your pet will need a microchip, a valid rabies vaccination and an animal health certificate (AHC).
It can take some time to get all the documents together and the vaccines organised, so make sure you start the process well in advance. You can find out more about travelling with pets on the Gov.UK website.
More motorhoming in Germany travel advice and guides;
When to Visit Germany in a Motorhome
December to February
Germany can get very cold in winter, especially in the north and east, and of course in Bavaria. The more adventurous will be happy to visit for the amazing Christmas markets and dustings of snow creating a fairy tale landscape.
The Germans are also good with the snow, and their roads and services continue as normal. You'll need heating in your van and winter tyres to tour at this time of year.
March to May
Spring is a wonderful time to visit Germany, with temperatures warming up across the country. Markets increase in size, restaurants start preparing different dishes and the countryside is glorious. You'll still find the roads and cities less crowded, and campsites will start to open in April.
June to August
Summer will give you the best weather, snow-free hiking, and long days – but the roads and sites will be much busier. June and July are the busiest months and campsites may need to be booked in advance, but the temperatures are perfect for motorhoming and outdoor activities.
September to November
Autumn is a fantastic time to visit Germany, especially the wine-producing regions. If you're lucky, you'll enjoy an Indian summer amongst the grape harvest and changing colours of the fall countryside.
Are you planning a motorhome trip to Germany?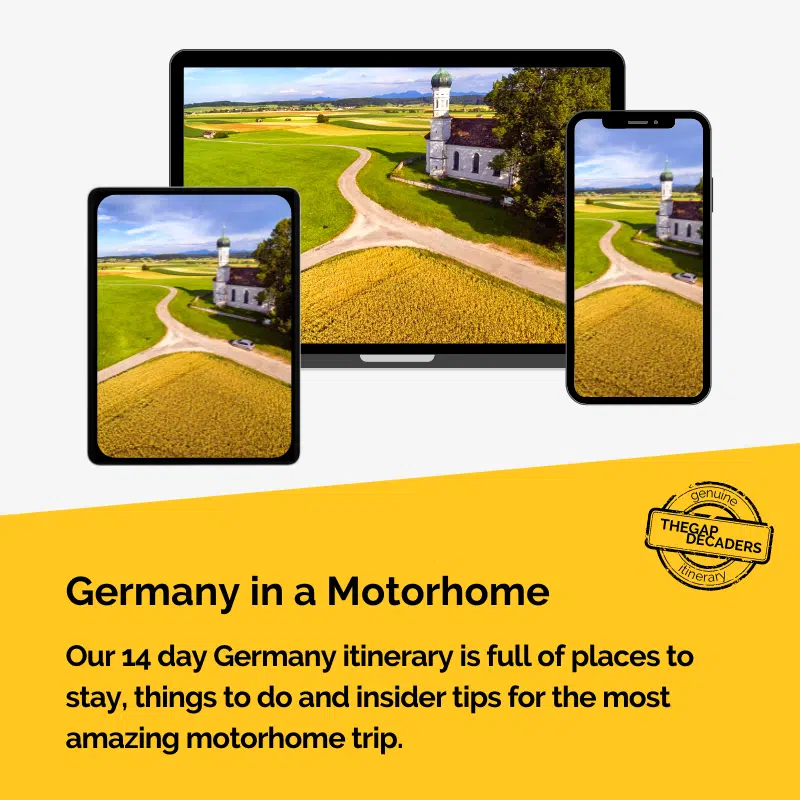 Grab our 14 day Germany motorhome itinerary, packed with campsites, stellplatz, attractions and insider tips.
Get up every morning knowing your day is planned with driving routes, overnight stops and attractions marked out for you on your interactive map.
Make the most of your holiday and let us do the planning for you!
---
Driving a Motorhome in Germany
German drivers are confident and assured and generally drive very well, although fast. The roads are well maintained and without speed limits on much of the autobahn network.
German campervans are popular (Germany is, after all, the home of Hymer and VW) and regularly seen, you will often receive the obligatory wave from fellow van lifers, motorhomers and even caravan towers!
Is this your first time visiting Germany? Get all the information you need in our Germany Travel Guide, including what to pack, the best time of year to go, getting there and practical tips to help you have the best trip!
German Speed Limits for Motorhomes
Always observe the speed limits when campervanning in Europe. There are speed cameras just as in the UK, and the Spanish (and other EU) authorities have been known to pursue Brits for non-payment of fines. This has not changed since Brexit as the information-sharing agreement with the DVLA continues.
Motorhomes < 3,500 kg
In urban areas: 50 km/h
Main roads: 100 km/h
Motorways and autobahns: 130 km/h (recomennded)
Motorhomes > 3,500 kg
In urban areas: 50 km/h
Main roads: 80 km/h
Motorways and autobahns: 80 km/h
Documents You Need to Travel & Drive in Germany
You must have at least three months remaining on your passport (issued in the past ten years) at your intended date of departure from Germany.
You must have at least 3rd party insurance for your vehicle. Update August 2021 – you no longer require a green card to prove you have vehicle insurance cover when travelling in Europe.
Your UK licence allows you to drive in all EU countries. If you only have a paper driving licence or a licence issued in Gibraltar, Guernsey, Jersey or the Isle of Man then you will need an International Driving Permit.
Breakdown cover documentation (not compulsory).
Vehicle V5 logbook (which must show your correct address).
Trailer certification if you are towing.
Personal travel and medical insurance (we recommend True Traveller), EHIC or GHIC card (not compulsory).
Animal Health Certificate if you're travelling with a pet.
Make sure you have travel insurance you can trust when motorhoming Germany. We recommend True Traveller for their 5-star TrustPilot reviews, variety of cover options, best activities cover as standard, great prices and excellent service.
Vehicle Safety Equipment for Germany
Warning triangle
Reflective jacket (for the driver and all passengers).
Spare wheel and the tools to change a wheel, or a tyre repair kit.
If you wear glasses you must carry a spare pair.
First aid kit (only compulsory for four-wheeled vehicles registered in Germany).
Spare bulbs and fuses (not compulsory).
Fire extinguisher (not compulsory).
Headlight beam converters (unless you can adjust yours automatically).
From 28th September 2021, you will have to display a UK sticker on the rear of your vehicle, instead of a GB sticker, unless you have a new style UK numberplate which displays the Union Jack flag.
You may carry a load, such as bikes on a rack, extending by up to 10% of the length of the vehicle to the rear. The load must be indicated by an aluminium panel with diagonal red and white stripes, manufactured to ECE70 standard.
Germany introduced regulations in 2010 requiring all passenger cars and motorbikes to be fitted with winter or all-season tyres in wintry conditions.
Driving a Motorhome in Germany Tips
The Germans drive on the right.
The UK Department for Transport advises that A-frames are not legal for use by UK motorhomers abroad. In practice, this could mean towing your car while it's fixed to a trailer, although there is ambiguity around this and differing advice can be found on the internet.
Loads mustn't exceed 11.5 tonnes at the driving axle and 10 tonnes at a single axle.
Campervans or motorhomes and cars with caravans or trailers are not allowed to exceed 18.75m in total length, 4m in height and 2.55m in width.
You may carry bikes on the rear of your motorhome as long as they do not obscure your numberplate, GB sticker or lights.
Even though speed is not limited on 70% of the autobahn network, the roads are often so full that a de facto speed limit has been established. The main cause is stop-and-go traffic or congestion around towns, so don't expect to be barrelling down the German autobahn at 200kph on your motorhome trip!
Check your mirrors frequently; if a German driver wishes to overtake you or let you know they are coming up fast behind you, they will flash their lights and indicators to show their intent.
If you see hazard lights up ahead on the autobahn, this means there is a traffic jam. Slow down and activate your hazard lights also, if the person behind you is travelling at high speed they will appreciate this courtesy and be able to stop in time.
If you have a GPS navigation system that shows you where any fixed-speed cameras are, you must deactivate this function. It's illegal to carry or use any radar detection equipment when driving through Germany.
All vehicles turning right have to give priority to bikes (on their inside) going straight on.
The German police are able to hand out on-the-spot fines of up to €55 to motorists who have been caught violating traffic regulations. The motorist must pay the fine during the following week or legal proceedings could commence.
If you have an accident you'll need to complete the EU Accident Statement, which you can find here to download if your insurer hasn't provided one. Stop safely and use your hazard lights and warning triangle to alert other drivers. Exchange details (a translate app comes in handy here) and take lots of photos to add to your form when you submit it to the insurers. If the other party won't give details or there has been an injury, you should call the police on 112.
German Motorway Tolls
There are no tolls to pay on the motorways here, making autobahn routes through Germany a really cost-effective way to access Italy and most easterly parts of Europe.
If you are travelling in a massive motorhome camper that is over 7,500kg, like an RV, overland truck or converted lorry, then we believe that you are exempt from the tolls placed on lorries over this weight.
The toll-collect.de website states the following;
Vehicles that do not fall under the legal definition of a vehicle subject to toll (according to § 1 Paragraph 1 Clause 2 of the German Federal Trunk Road Toll Act (BFStrMG))
a) are neither structurally intended for road haulage (e.g. self-propelled working machines)
b) nor used for commercial road haulage or own-account transport operations for charged or business-related transportation of goods (in accordance with Section 1 of the German Road Haulage Act (GüKG)).
Toll exemption only results when both requirements are fulfilled. Otherwise, registration as a toll-exempt vehicle is not possible.
Registering your vehicle as toll exempt is not obligatory, although it may allow you to avoid unnecessary checks.
Low Emission Zones in Germany
There are currently 58 umweltzonen or low emission zones in more than 70 cities and built-up areas in Germany.
You need an umweltplakette (sticker) on the windscreen which shows the level of your vehicle's emissions to drive into these areas in your campervan or motorhome.
You must be able to evidence that the vehicle meets the Euro 4 standards for a green sticker, by providing copies of the V5C for newer vehicles (manufactured after January 2006), or a Certificate of Conformity provided by the manufacturer. A yellow sticker only allows you to enter the LEZ of Neu-Ulm in Bavaria and, from 2021 red stickered vehicles are not permitted into any LEZ.
Head to the Umwelt-Plakette.de website for more information and to get your sticker – you will need to do this at least six weeks before departure to give it time to be processed and arrive in the post.
Do you want to wild camp in your motorhome? Are you feeling a bit nervous about wild camping for the first time? Then read on for all our top tips and practical advice about how to wild camp in a motorhome and get off the beaten track like an expert!
Do you want to explore Europe in your motorhome or campervan? There is enough culture, nature and diversity to last a lifetime. Taking a motorhome across Europe seems like an awesome idea, especially with our ultimate guide to help you work it all out!
Motorhome Services in Germany
Motorhome services are generally widely available across the country. Some garages and supermarkets will have potable fresh water and a place for grey water, and in southern Germany there is often drinking water available by the side of the road – although you'll need a water thief type fitting like this to connect a hose pipe.
You'll often see the typical pictogram sign by the side of the road pointing you to a service point, this may be a dedicated area, within an aire or a built-in box-type service like those you see in France.
Use an app like Park4Night to locate motorhome and campervan services.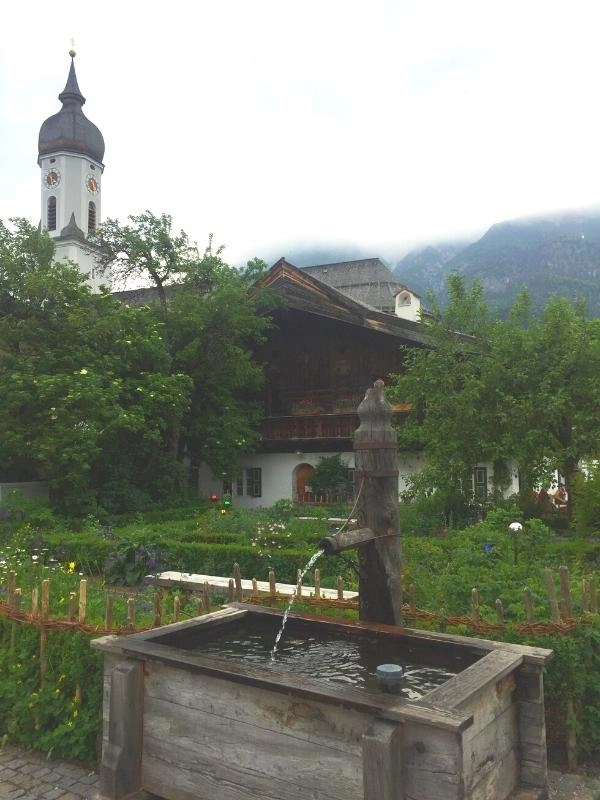 LPG & Bottled Gas
LPG (called GPL in most European countries) for refillable systems is available in many garages, use the myLPG app to search near where you are.
Gas bottles are also widely available, with propane generally being more popular because of the climate (propane is better than butane for cold climates as it burns at lower temperatures).
For German gas bottles, you will need a different regulator, available from most DIY or camping shops.
Fuel
Most garages will require you to pay electronically for fuel at the pump, usually you can adjust the instructions to English. Super 95 is Regular Unleaded, Super Plus 98 is Premium Unleaded and Diesel is Diesel.
Motorhome Stopovers in Germany
Stellplatz & Aires Germany
Aires in Germany are called stellplatz. Not all stellplatz offer a service point, their primary objective is to provide somewhere to sleep.
Some are free, but where they are not, they'll always cost much less than a campsite. It's normal to pay for additional services, such as showers and electricity, if they are provided. If you use a stellplatz there will usually be a set of rules displayed.
If there are no rules displayed, follow the usual courtesies regarding noise, waste, washing and so on. Many stellplatz will only allow you to stay for a minimum period. If this is not displayed, then you should stay no longer than 2-3 nights.
There are over 3,600 stellplatz so the chances are there will be one for every place to visit in Germany and they're common on the outskirts of cities, making visiting easy.
Use the Reise Mobil Bord Atlas, stellplatz.info or Park4Night to find stellplatz stops by region and map. Also, check out our top motorhome apps for the best apps for finding motorhome stopovers across Europe.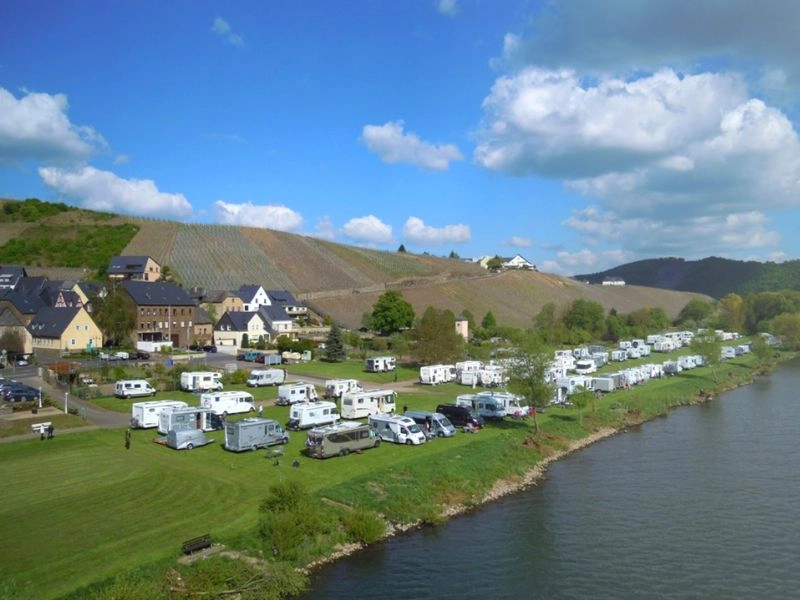 Rastätte
A Rastätte (rest stop) is a motorway services or parking area on the autobahn or main road. In addition to parking, there is usually a restaurant, toilet facilities (often chargeable) and a fuel station, and parking is free of charge.
There might be basic security like a floodlight and CCTV, but the area is not fenced or guarded in any way. You are also likely to find a lot of trucks stopping in rastättes, often moving on during the night, which can be noisy.
We would not recommend staying at a rastätte unless you really have no choice – they are noisy and we don't consider sleeping in them a safe option.
Autohof
A good alternative to rastättes are Autohof, a network of privately run service stations. Autohöfe are not directly accessible from the autobahn, but are often close to an exit and are usually signposted from the autobahn. You can also find autohöfe on most major highways.
Autohöfe are open 24 hours a day and allow overnight stays for trucks and motorhomes, and a growing number also offer sanitary stations for campers and even electric hookup. Their parking areas are fenced and guarded with CCTV.
Autohöfe do charge a fee for motorhome parking, but this is sometimes refunded when buying something in their shops, restaurants or petrol stations.
Use Autohof Guide or Park4Night to find autohöfe near you.
Wild Camping in Germany for Motorhomes
Overnight parking in Germany in a motorhome is permitted.
This means you must not place anything outside your vehicle, or you will be 'camping' and this is illegal.
Use Park4Night or other free motorhome apps to find good spots and always follow the tips and guidance about wild camping in general, which you can find here.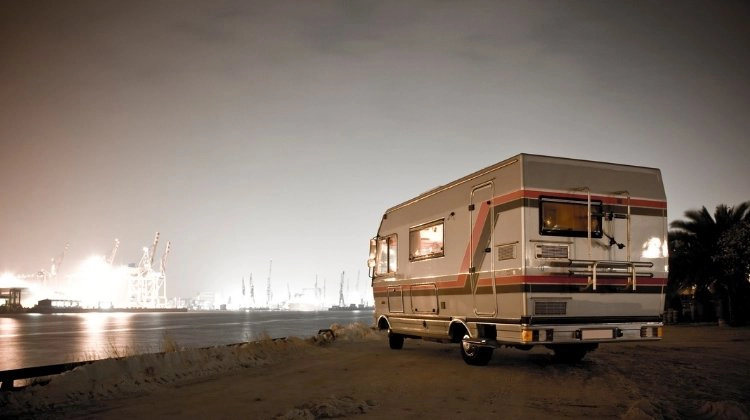 Motorhome Campsites in Germany
If you are looking to stay on a site, book with EuroCampings who have over 1,100 member sites in Germany.
Usually, the standard is very high, with modern and clean sanitary facilities and well-managed restaurants and site shops, although this is also reflected in the cost.
With CampingCard ACSI you can save up to 60% on the cost of a German campsite out of peak season, making the card really great value for money.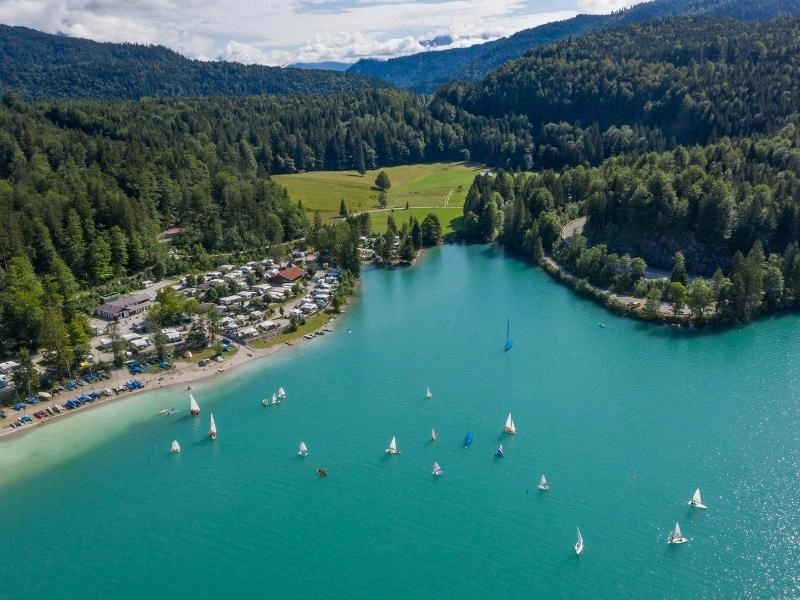 Landvergnügen
Similar to the France Passion scheme, Landvergnügen helps you get off the beaten path into rural Germany and discover over 1,100 idyllic places in nature where you can stay in a campervan or motorhome on a farm.
You must buy the book and vignette to be able to use the scheme and handy app.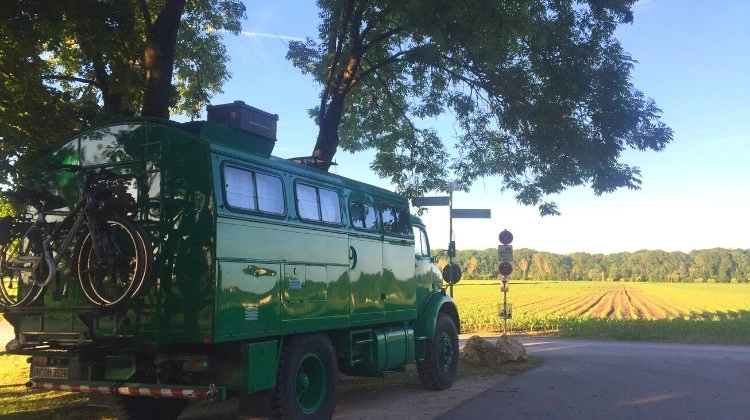 WinzerAtlas
Another such scheme is WinzerAtlas or Wine Growers Atlas.
Billed as a connoisseurs scheme, WinzerAtlas covers over 200 winemakers and taverns in the wine-growing regions of Germany, Austria and Alsace.
You'll also find lots of information about wine, grape varieties by region and things to see and do near each stopover.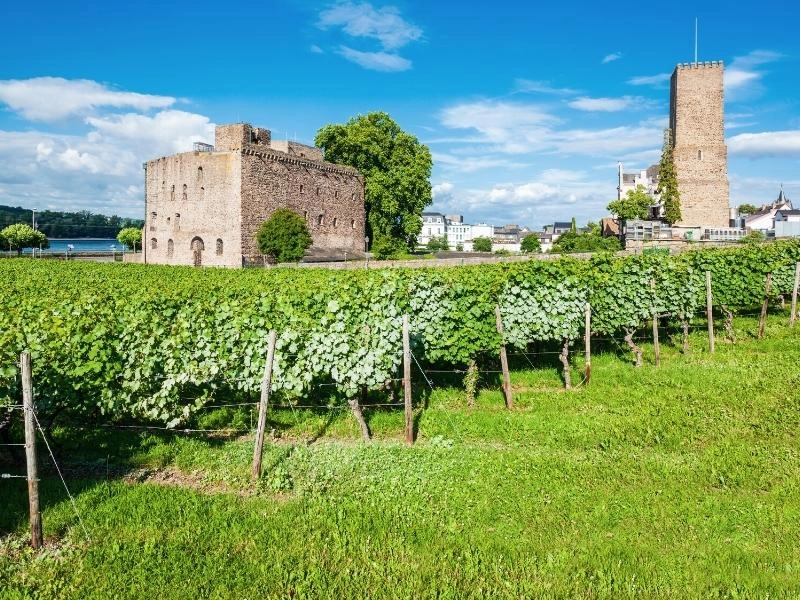 German Motorhome Routes & Destinations
From Calais, you can be across the German border in around five to six hours. These are some of our favourite regions to explore when we're travelling in our motorhome in Germany.
Baden-Wurttemberg
Home to the spectacular Black Forest, Baden-Wurttemberg actually has so much more to offer. It is also home to the charming historic university town of Heidelberg, the famous spa town of Baden-Baden and the Black Forest Ridgeway – a must-do road in a motorhome!
Located in the southwest of Germany, the region is packed with beautiful nature, as the Black Forest region gives way to the lovely Lake Constance (the Bodensee) and the lush Swabian Mountains. There are lots of great outdoor activities in the region, with watersports on the many lakes, hiking, and mountain biking.
There are also lots of quaint Black Forest villages, which are full of cuckoo clocks and their makers, settings of Grimm's fairytales and of course, the famous Black Forest Gateau and Kirsch Schnapps, or sour cherry brandy.
Other cities of note are Stuttgart, Freiburg, and Konstanz, and tucked away amongst the glorious scenery are lots of impressive and atmospheric castles just waiting to be explored.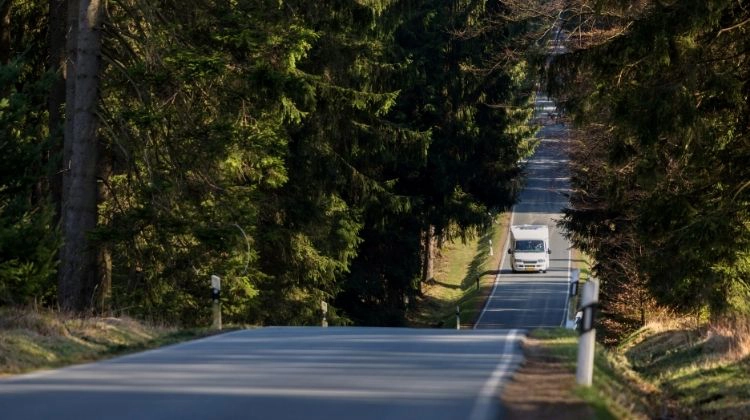 Bavaria
A motorhome tour of Bavaria is a firm favourite with many German road trippers. Bavaria is a wealthy region and home to stunning city architecture, interesting historical monuments, towering mountains, and of course, the world-famous Oktoberfest. The region boasts a rich folk culture and for many, the stereotypical image of Germany comes from Bavaria's unique traditions and cultural heritage – think lederhosen and beer steins!
The largest region in Germany, Bavaria is set in the south and is home to charming cities such as Augsburg, Bamberg, and Regensburg, the Zugspitze – known as the 'top of Germany' and the delightful Chiemsee, which offers fantastic swimming and sailing.
The gorgeous Romantic Road or Romantiche Strasse is one of the best motorhome routes in Germany, and stops off at imposing castles and medieval villages as you go, as well as the fairytale Neuschwanstein Castle, the daddy of them all!
The infamous German Alpine Road or Deutsche Alpenstrasse also starts its 550km drive from Lake Constance (Bodensee) at Lindau, climbing to Schönau on Lake Königssee and following the mighty Alps from west to east. The route is peppered with castles, fairytale villages and monasteries, and of course, the most stupendous views.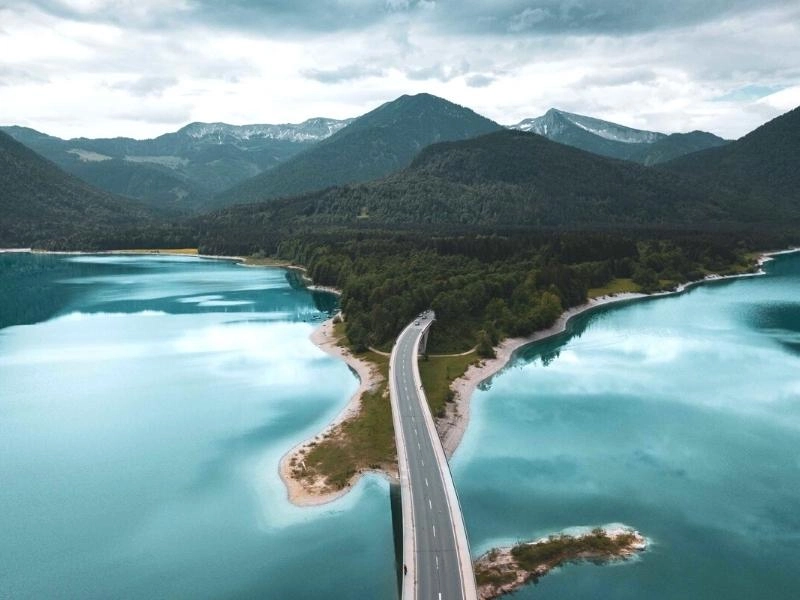 Brandenburg
Surrounding Berlin and bordering Poland to the east of the country, the Brandenburg region is the historic heart of Prussia.
Full of beautiful forests, lakes, and rambling countryside, Brandenburg is delightfully underpopulated in comparison with other parts of Germany, and perfect for motorhome touring. Nestled amongst the picturesque landscape you'll find pretty villages and towns waiting to be discovered.
Of particular note is the Spreewald, a biosphere reserve with forested areas, cycle paths and wetlands which are crossed by canals fed by the Spree River. Potsdam, with its magnificent palaces and parks is also a must-see, and the whole region is dotted with castles and palaces to visit in your motorhome.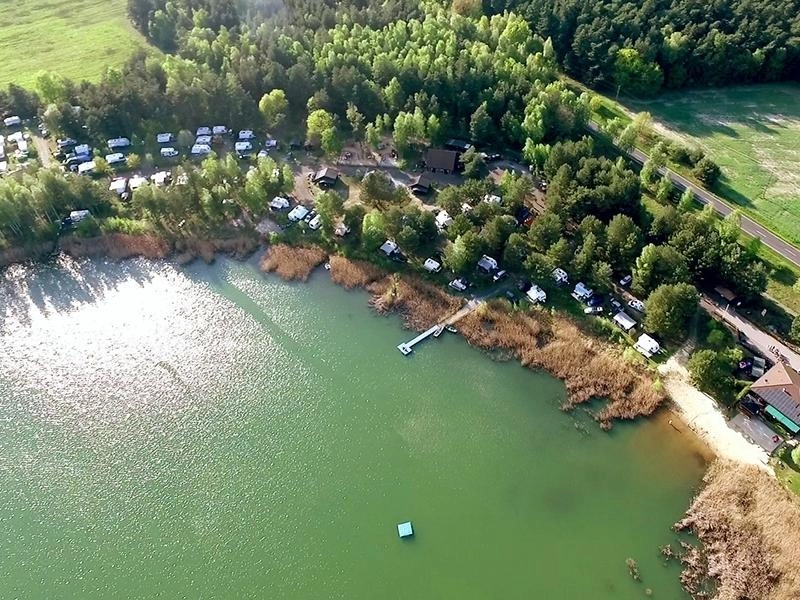 Hesse
Located in the centre of Germany, Hesse is full of stunning nature, with 40% of the region covered in forest, and the rivers Main and Rhine running through it. There are lots of great outdoor activities to choose from, with hiking, mountain biking, and boat trips on offer.
The Rhine-Main area in the southwest of Hesse is peppered with charming towns and villages, with the Rheinsteig and Bergstasse routes particularly worth exploring, as they take you through some breathtaking countryside and lovely vineyards, home to many WinzerAtlas stopovers.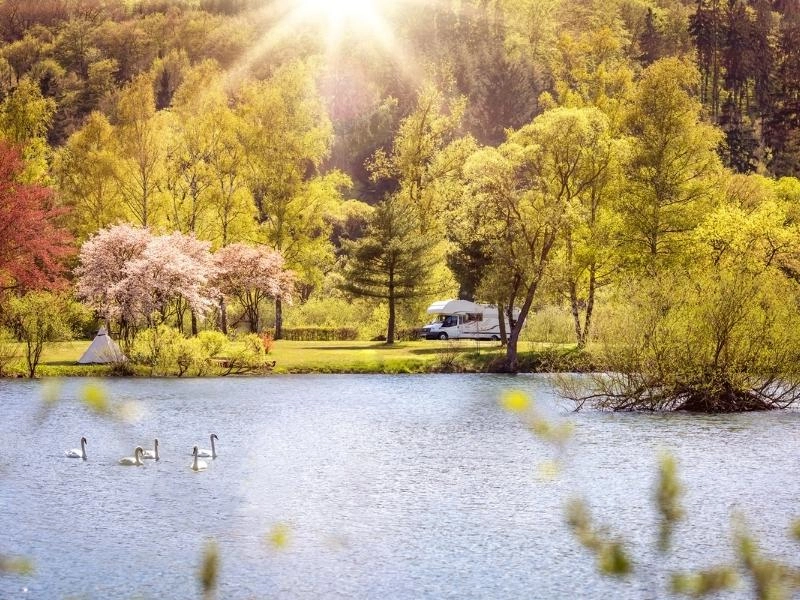 Lower Saxony
The most northwestern region in Germany and a natural addition to any motorhome tour of the Netherlands and Belgium, Lower Saxony is home to diverse landscapes including plains, meadows and farmland, and the rivers Elbe and Weser. The North Sea coastline and the scenic East Frisian Islands make it one of the country's most popular holiday destinations.
Among all the natural scenery, the region is also home to some interesting cities and towns, such as Hanover, Celle, and Luneburg. Two of its main population centres – Bremen and Hamburg – are now considered regions in their own right.
Lower Saxony really does have a wide range of things to see and do. You can go hiking through the beautiful hills of the Elm Lappwald, swimming in the Wadden Sea and visit the medieval towns of Hildesheim and Gottingen.
Can't decide? Our guides might help…
Mecklenburg-Vorpommern
Mecklenburg-Western Pomerania (as the region is known in English) consists of the most northeasterly part of Germany, which is home to the wild and hauntingly beautiful Baltic Sea coastline.
As it is the least populated region in the country, there is lots of unspoilt nature, with lovely islands, lakes, forests, rugged cliffs, and picturesque beaches dotting the coastline – it makes a perfect motorhome destination if you like to be off the beaten path.
The main draws are the beautiful beaches and seaside towns, such as Rostock, Stralsund and Wismar – but there is a lot of history to be found here too. Visiting the castle at Schwerin is a must-do, as is taking a trip to Rugen, Germany's largest island – you'll have to leave the van behind though!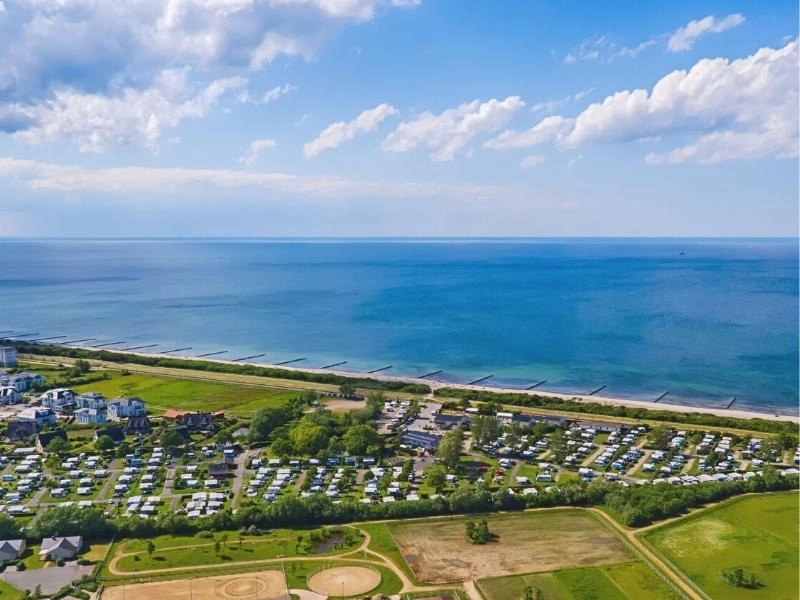 North Rhine-Westphalia
North Rhine-Westphalia is the most populated region in Germany with over 17 million inhabitants. The western state is home to some of Germany's largest and most visited cities, such as Dortmund, Dusseldorf and Koln, and makes up Germany's busy industrial belt.
While most people come for its wealth of historical and cultural city sights, the region also boasts the wonderful Teutoburg Forest and the Eifel Mountains, as well as lots of pretty waterways and Germany's longest cycle highway, the Rheinradweg – it is possible to escape the traffic and people here if you get off the beaten track a little.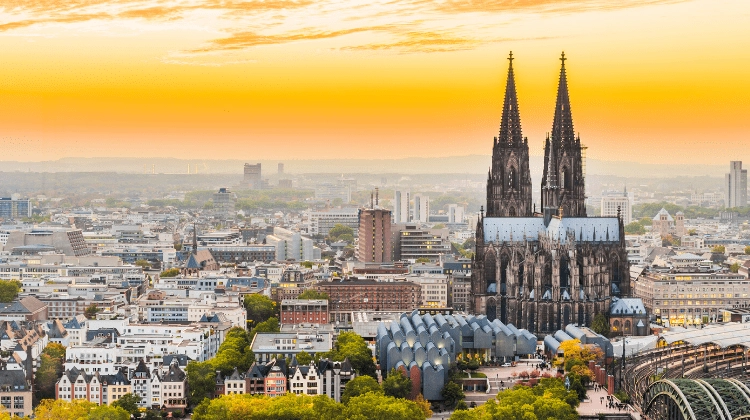 Rhineland-Palatinate
In the west of the country bordering Belgium and Luxembourg is Rhineland-Palatinate. The region is carpeted with rolling hills, sweeping valleys and vineyards, and the Rhine and Mosel rivers snake through the gentle landscape. This region makes a great motorhome trip from the UK if you only have a week or 10 days to spare.
The countryside is very picturesque and amongst the stunning scenery are elegant castles and historic towns such as Mainz and Koblenz. The Palatinate Forest alone is home to over 50 castles and crumbling ruins.
As the region is best known for its wines, taking a trip along the German Wine Route in your motorhome is a must. As well as sampling delicious local wines and admiring the natural beauty of the region, you can also go hiking and cycling through the scenic countryside.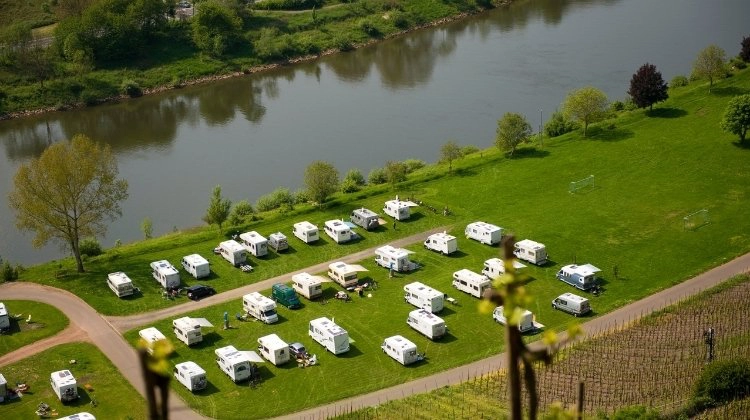 Saxony
Lying in the east of the country bordering both Poland and Czechia, Saxony is home to Leipzig and Dresden, two of eastern Germany's most important cities.
Away from these two must-visit cities, Saxony is blessed with breathtaking scenery. Picturesque valleys and hills give way to crystal clear lakes and waterways, while in the southeast, the Ore Mountains dominate the skyline.
In addition to its beautiful nature, there are many castles, monasteries and historic towns for you to explore.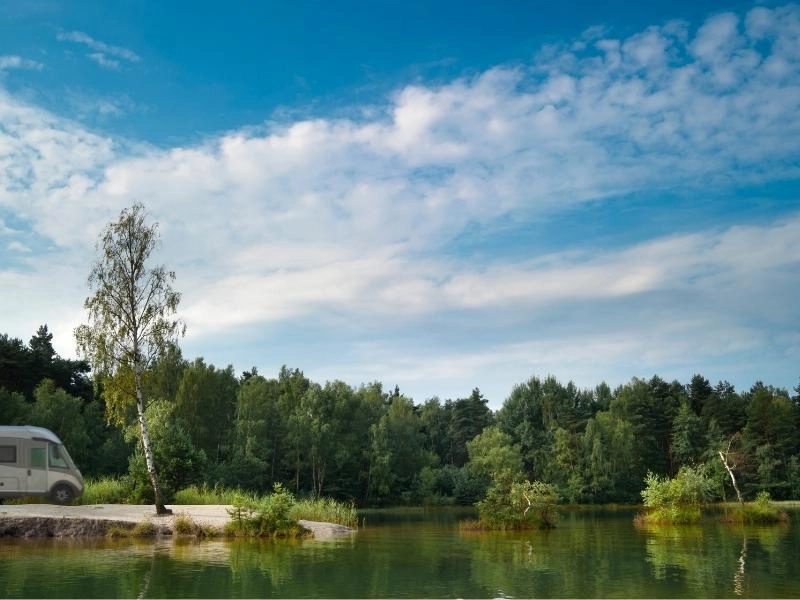 Saxony-Anhalt
Packed with historical and cultural sights and fascinating medieval towns and cities because of its central location in the heart of the former German Empire, Saxony-Anhalt is a wonderful region for a motorhome road trip.
While the three major cities of Magdeburg, Dessau, and Halle are worth visiting for their museums, monuments, and historical sights, further afield you'll come across some hidden gems such as Merseburg and Naumburg.
Although the fascinating medieval towns and cities will dominate your trip, there is lots of nature to get lost in. The Elbe-Radweg is one of the most popular cycling routes in Europe, while Brocken Mountain and Bode Canyon are an outdoor lover's paradise.
Schleswig-Holstein
The northernmost region in Germany, Schleswig-Holstein borders brooding Denmark. One side of its gorgeous coastline is home to the North Sea, while the other lies next to the Baltic Sea.
Due to its proximity to Scandinavia, the region and its many cities and towns have their own distinct look and feel, with Kiel and the Hanseatic city of Lubeck being good examples of this hybrid Nordic-German atmosphere.
With many beautiful beaches, the region is a popular holiday destination amongst Germans, with the seaside towns of Gromitz and Sankt Peter-Ording seeing huge numbers of visitors every summer.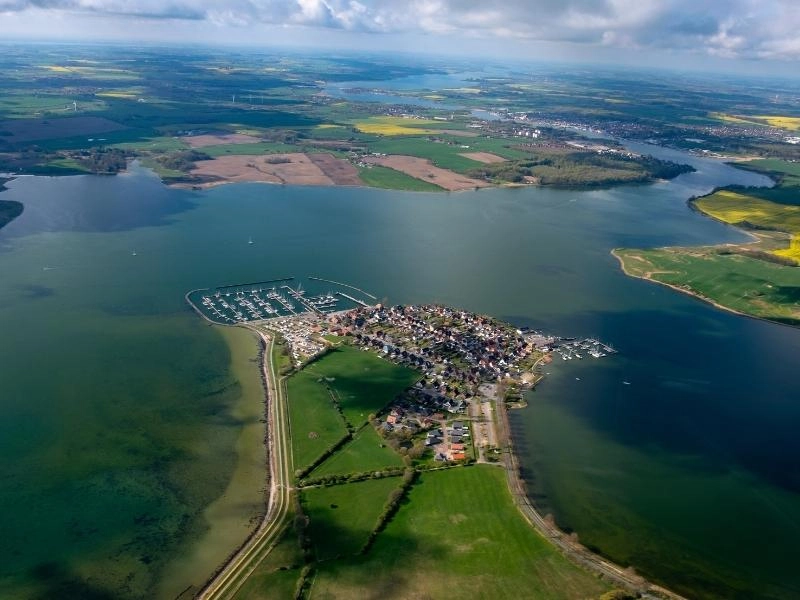 Thuringia
Slap-bang in the centre of Germany, Thuringia is often overlooked by holidaymakers. For those in the know, the wonderful forests, mountains, and historic cities pull them back year after year.
The four most important places to visit are Erfurt, Eisenach, Gera, and Gotha. Each of these richly historic cities has its own fascinating story, monuments, and museums for you to delve into.
Tucked away amongst its vast forests are some beautiful towns and cities, such as Weimar and Rudolstadt, which is home to the largest folk festival in the country. Offering the perfect combination of history, culture, and nature, Thuringia is an off-the-beaten-path destination that will introduce you to the authentic side of Germany when you visit in your motorhome.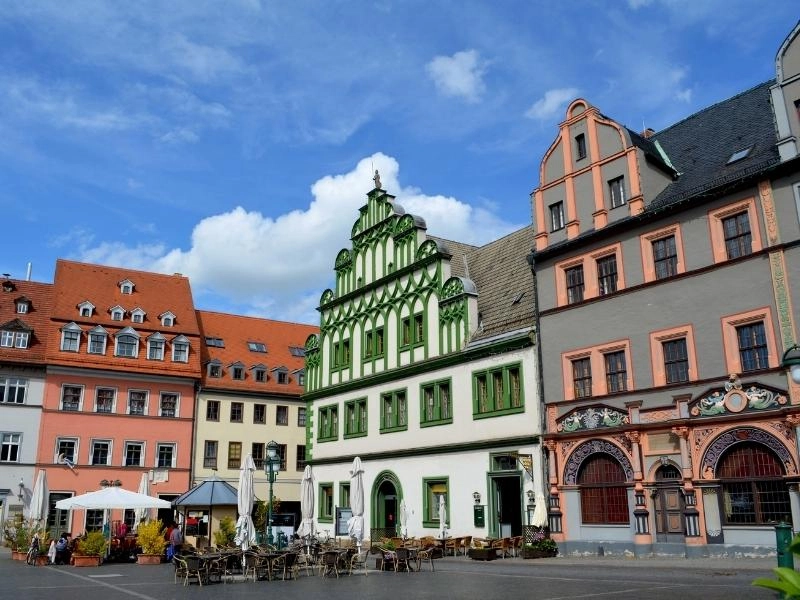 German Life
Culture
Germans place a high priority on structure, privacy and punctuality. The German people embrace the values of thriftiness and hard work. Life in Germany is well organised and Germans are usually very compliant with the rules. Although this may sound constraining, it means that everything works as it should; life is peaceful, the environment clean and you know what to expect when to expect it and how to deal with it!
If you stay in a small rural town or village, you may come across strange rules; no hanging your washing out or vacuuming on Sundays, and no loud music between noon and 3pm on any day, for example. If you are motorhome wild camping rurally, make sure you know the local rules. German people are not known for holding back when you have done something 'wrong'!
In Germany, it is considered rude to stand too close to another person; one to two metres would be a good distance. This unwritten rule applies to people you know and also strangers, for example when you are queuing in a shop. Do not gesticulate too much when talking, this invades personal space even more!
Public transport in Germany will be on time, every time. Do not allow yourself to run late or you will miss your bus or train. Oh, and once you're on public transport, any conversation louder than a whisper will earn you stern looks, tutting and shaking of the head!
German people rarely admit fault, even jokingly, and don't usually hand out compliments. This attitude may seem unfriendly, but there is a keen sense of community and social conscience in Germany; self-containment is just part of their culture. Take the time to make contact and chat with locals and you will be rewarded with friendly, kind and helpful interactions.
Jaywalking (crossing the road where there is no crossing or where the lights are not green) is illegal in Germany and whilst unlikely, you may get fined if caught.
Shops and many bars and restaurants do not open on Sundays, even in tourist destinations. If you need a pint of milk or a loaf of bread on Sundays, the only places where you will find a grocery shop open are train stations, airports and petrol station forecourts.
Despite Germany being a first-world developed country and at the forefront of the banking world, cash is king here. Lots of smaller places still don't accept credit cards, especially if you are travelling rurally in Germany in your motorhome. Visit the cashpoint regularly.
If you go to any type of beer festival, you will be charged a pfand (from pfenig, the equivalent of a cent prior to the euro currency). This is the deposit for the glass, which will not be returned until you give the glass back; if you are at a typical beer festival goes this will mean a huge collection of glasses!
Germany is very open about their war history and younger people especially, are happy to discuss how it has affected their recent history. However, using the Nazi salute, shouting "heil Hitler" and displaying the swastika or other symbols of the Third Reich is a criminal offence, punishable by up to five years in prison.
Do not be disrespectful at concentration camps or Jewish memorials by taking selfies or climbing on memorial stones or buildings. Such places should be visited if possible; they do not always make for the most comfortable of tourist attractions but nevertheless, the holocaust and its victims should not be forgotten.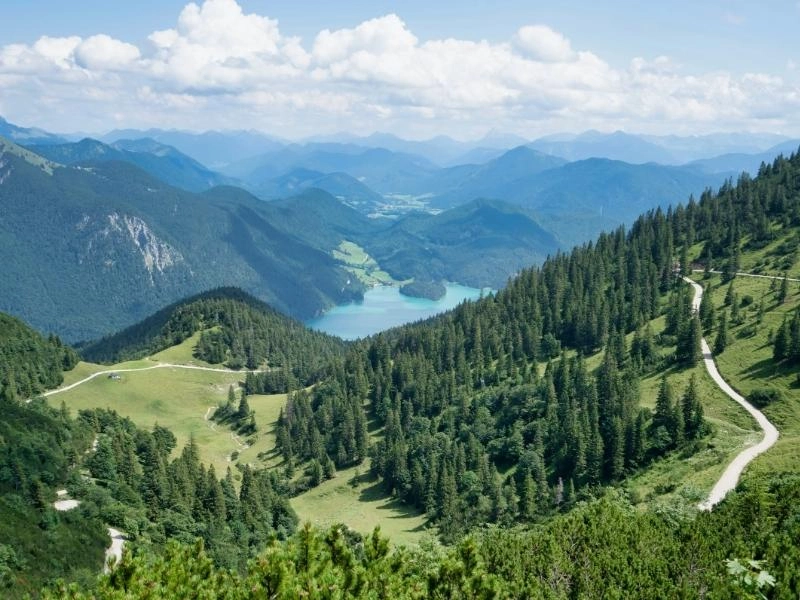 Food & Eating Out in Germany
Germans love rich, hearty food. Pork is the most commonly eaten meat and any type of wurste (sausage), of which there are over 1500, is extremely popular. Beer is the most popular alcoholic beverage, with brandy and schnapps following closely.
Beer is taken very seriously. Germany is known as the birthplace of a number of beer varieties, including Pilsner, Weizenbier (wheat beer) and Alt. These beers are crafted according to Reinheitsgebot, or the "Purity Law," a 16th-century Bavarian law that decreed that beer could only be brewed from barley, hops and water.
When visiting a restaurant or bar, don't wait to sit, order or pay! Germans are efficient and like to get things done, so find a seat and don't linger over the menu too long. Asking the waiter to return several times whilst you chat is considered rude and a waste of everyone's time.
Don't ask for tap water, this is considered stingy and a bit weird. Mineral wasser (sparkling water) or stilles wasser (still water) should be ordered instead.
German meal times tend to mirror the UK, with mittagessen (lunch) being between noon and 2pm and abendessen (dinner) being taken between 6 and 9pm.
If the food and service has been good, then you should tip somewhere between 5 and 15%. If the restaurant does take credit cards (not all do), it is easier to leave the tip in cash otherwise you have to tell the server the amount (awkward!) and tips taken this way do not always end up in the right pockets.
If you are looking for fast food when touring Germany, other than McDonalds et al, find a schnellimbiss (quick snack) for a bratwurst mit pommes or sausage and chips. Be sure to have the chips with mayo, not ketchup, as is the local way.
Germany's favourite fast food, the döner kebab, is a flatbread filled with grilled meat, onions, tomatoes, salad and various sauces. The meat can be lamb, beef or poultry or pork. There are over 16,000 kebab restaurants in Germany, and altogether they sell 30 döner kebabs a second. The döner arrived in Germany from Turkey at the beginning of the 1970s and has become a staple over the years.
Try sauerkraut (pickled cabbage). Yes, I know the name doesn't do it any favours, but it really is delicious …who knew cabbage could taste so good?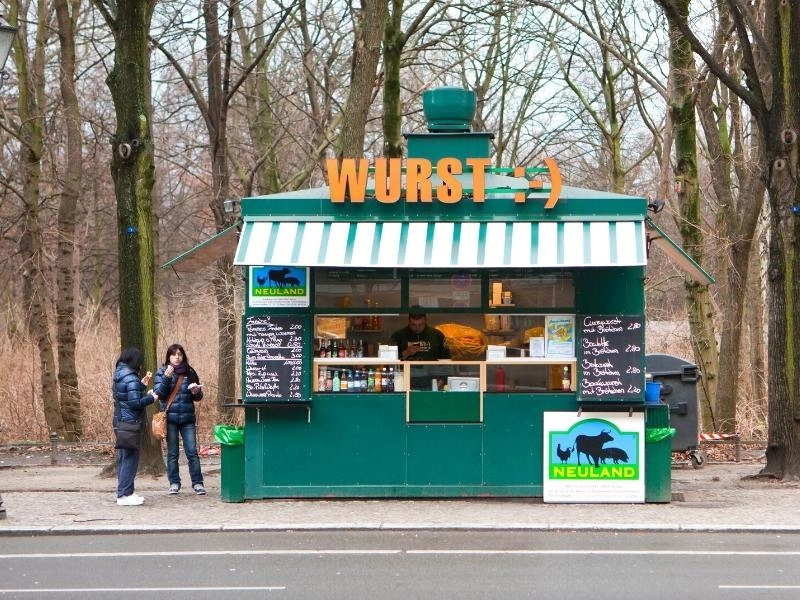 Germany Motorhome Resources
Are you looking for more motorhome touring guides? Check out these top posts…
New Zealand is an absolute dream for campervan enthusiasts. The breathtaking landscapes, diverse wildlife, and incredibly friendly locals make it the perfect destination for your next campervan adventure. We'll will provide you with all the tips, tricks and insider knowledge to make your vanlife experience in New Zealand truly unforgettable. So, buckle up and get ready for an adventure of a lifetime!
Love it? Pin it!