This post may contain affiliate links, from which we earn an income.
The Fairy Tale Road Germany follows the Brothers Grimm and their fairytales through central and northern Germany's charming medieval towns, past magical castles, bewitching forests, and scenic landscapes.
The German fairytale route is centered on the Brothers Grimm, and visits towns they lived and worked in as well as places linked to the fairy tales that they wrote, bringing Rapunzel, the Pied Piper, Snow White, and a huge cast of other characters to life.
We traveled the Deutsche Märchenstrasse and loved the historic destinations, legends, and myths associated with the route. Our fairytale road travel guide includes an interactive map with the route, highlights, answers to your frequently asked questions, and plenty of tips to help you plan an amazing road trip along this famous road in Germany.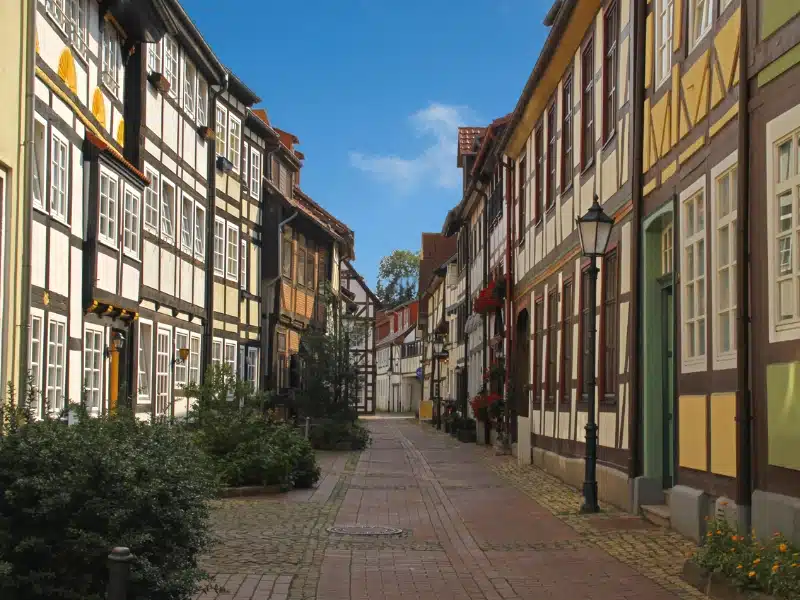 What is the German Fairy Tale Route?
The German Fairy Tale Road or Deutsche Märchenstraße is a German national tourist route originally established in 1975 when representatives of more than 30 towns and communities between the Main river and the North Sea came up with a plan to help boost tourism.
With a length of 370 miles / 600km, the route starts in the Hesse town of Hanau in central Germany and finishes in the Free Hanseatic City of Bremen in the north.
Attractions along the route are focused around the brothers Wilhelm and Jacob Grimm, including locations where they lived and worked at various stages in their life, as well as regions, towns, and cities which are linked to the collection of fairy tales the Brothers Grimm wrote in 1812, known today as Grimm's Fairy Tales. In 2005, this collection was added to the UNESCO World Heritage Document List.
The Verein Deutsche Märchenstraße society, based in the city of Kassel, is responsible for the route, which is marked by road signs depicting a stylized heart-shaped body and head of a princess wearing a crown.
Is this your first time visiting Germany? Get all the information you need in our Germany Travel Guide, including what to pack, the best time of year to go, getting there, and practical tips to help you have the best trip!
Getting to the Fairy Tale Road in Germany
The Fairy Tale Road officially starts in Hanau, an easy 30km drive from Frankfurt. You can of course do the route in reverse and start in Bremen, heading south.
To start in Hanau, fly into Frankfurt International Airport, and to start in Bremen fly into Hamburg International Airport.
With direct flights into both airports from America, Europe, the Middle East, and the United Kingdom, we recommend booking through Skyscanner for live deals and the best prices.
It's also an easy drive from the UK to the start of the Fairytale Road, find out more in our driving from the UK to Germany guide.
Fancy a day exploring Hamburg? Get our one day Hamburg itinerary complete with map, recommendations and Hamburg travel tips to help plan your trip to this historic German city.
How to Travel the Fairy Tale Road
Self-Drive
Whether you're in a car, motorcycle, campervan, or motorhome, self-driving is absolutely the best way to explore this fantastic German route, meaning you can stop whenever you want, try new activities, visit places you see along the way and have the freedom to change plans at the last minute.
Are you planning to rent a car in Germany? As one of the largest car hire aggregator companies in the world, we recommend Rentalcars.com because they have massive purchasing power which enables them to secure the best rental prices, which benefits you when you're planning a cheap road trip.
For a real adventure, hire a motorhome or campervan in Germany. We recommend Motorhome Republic, an aggregate booking site who pull together all the best deals from a number of rental agencies, to offer you a wide choice of options alongside an excellent English speaking expert motorhome Concierge Team.
Use the Park4Night app to find overnight spots and campsites along the route, and sleep next to a beautiful lake, or in a wildflower meadow.
Public Transport on the Fairy Tale Road
Germany has a fantastic public transport system which is modern, well-run and reliable. Trains and buses can be combined using day tickets which allow as much travel as you like in each region.
Because the route passes through the states of Hesse and Lower Saxony, and Germany's bus system is managed on a state-by-state basis, planning may take a little while. It is possible to do the Germany fairy tale route by train and bus, but you may need to allow more time and stops along the way.
Use the Deutsche Bahn and RMV websites to look for trains and buses between popular towns on the route in Hesse, using the Hessenticket. Use Moovit to organize bus and train travel in Bremen and Lower Saxony.
Make sure you have travel insurance you can trust when visiting Germany. We recommend True Traveller for their 5-star TrustPilot reviews, variety of cover options, best activities cover as standard, great prices, and excellent service.
Fairy Tale Road Germany Map & Route
Our 5 day Fairy Tale Route itinerary travels through five places that were important in the lives of the famous brothers, and more than fifty places celebrating fairy tales and legends, including towns, villages, and nature parks, as it winds its way through rural Germany to Bremen.
Hanau – Steinau an der Straße – Alsfeld – Marburg – Bad Wildungen – Fritzlar – Hessisch Lichtenau – Kassel – Hofgeismar – Hannoversch Münden – Göttingen – Trendelburg – Hameln – Bad Oeynhausen – Bremen – Buxtehude
How to use this map – Use your fingers (or computer mouse) to zoom in and out. Click or touch the icons to get more info about a place, and click the arrow in the box top left to open the index. To add to your own Google Maps account, click the star next to the title of the map.
Day 1: Hanau to Marburg
Hanau is the birthplace of Jacob and Wilhelm Grimm, born in 1785 and 1786 respectively, and is an apt destination as the official start point of this fairytale journey.
Day 1 of this itinerary has you driving from Hanau to Alsfeld and staying in Marburg for the night. A fairy tale reference you can expect on the first day, besides the Brothers Grimm, is Little Red Riding Hood.
Hanau
Once in Hanau, your first stop should be the Marketplatz – town or market square – to see the bronze statue of the Brothers Grimm built in 1896, which sits in front of Hanau Rathaus, or town hall. There are local markets in the square if you are there on a Wednesday or Saturday, but the architecture is mostly modern and not very exciting.
However, just a seven minute walk north of the square is the stunning red and white medieval Goldsmiths' House, which once served as the town hall. Sadly, it is amongst only 2% of the Altstadt here which survived WWII bombings.
Follow up with a visit to the beautiful Wilhelmsbad Park, where the castle ruins feign decay, but hide a princely residence where time has stood still, and the Hessian Doll and Toy Museum or Hessisches Puppen- und Spielzeugmuseum which presents world history in miniature scale.
If you are traveling with children, the GrimmsMärchenReich opened in 2019, is a must-do. This hands-on museum in Philippsruhe Castle takes young visitors on a magical tour through seven interactive fairy tale worlds.
Hanau is also the home of the annual summer Brothers Grimm Festival with live performances of the fairy tales, including musicals and family plays.
Steinau an der Straße
Take route 66 to Steinau an der Straße, where the Brothers Grimm lived until they were 12 and 13. You can visit the Musuem House of the Brothers Grimm in what was their childhood home on Brueder-Grimm-Street, and see the Fairytale Fountain or Märchenbrunnen in the center of the marketplace, which depicts many scenes from Grimm's Fairy Tales.
Alsfeld
Alsfeld dates to 1069 and is associated with the Little Red Riding Hood fairy tale of a girl who visits her grandmother only to be met with a wolf pretending to be her granny after having eaten her. The Brothers Grimm took inspiration from the local attire of the Schwalmland women, the traditional headscarf, for the Little Red Riding Hood cape.
The town boasts over 400 half timbered houses and buildings, including the town hall in the market square. Visit the Alsfeld Fairy Tale House and the Regional Alsfeld Museum for more references to Little Red Riding Hood and other fairy tales.
Suusiis Burger and Ristorante Pizzeria Da Franco make good lunch spots.
Marburg
Marburg is about a 40 minute drive from Alsfeld. The most well-known attraction is the 11th century Marburg Castle, first built as a fort. The castle is on a hilltop that gives visitors stunning vistas of the area and now serves as a museum.
Visit the breathtaking Saint Elizabeth Church, built in honor of Saint Elizabeth of Hungary, also known as St. Elizabeth of Thuringia. Patron saint of bakers, nursing homes, brides, and beggars, the church is her last resting place and home of her tomb.
Afterward, head to the scenic botanical gardens, just a 10 minute drive from the church.
Some of the best restaurants in Marburg for dinner include Restaurant OLIVA Mediterran or Taverna Korfu.
Upmarket: VILA VITA Rosenpark – Booking.com | Agoda
Mid-Range: Stadthotel Marburg – Booking.com | Agoda
Budget: Elisabeth Apartments – Booking.com | Agoda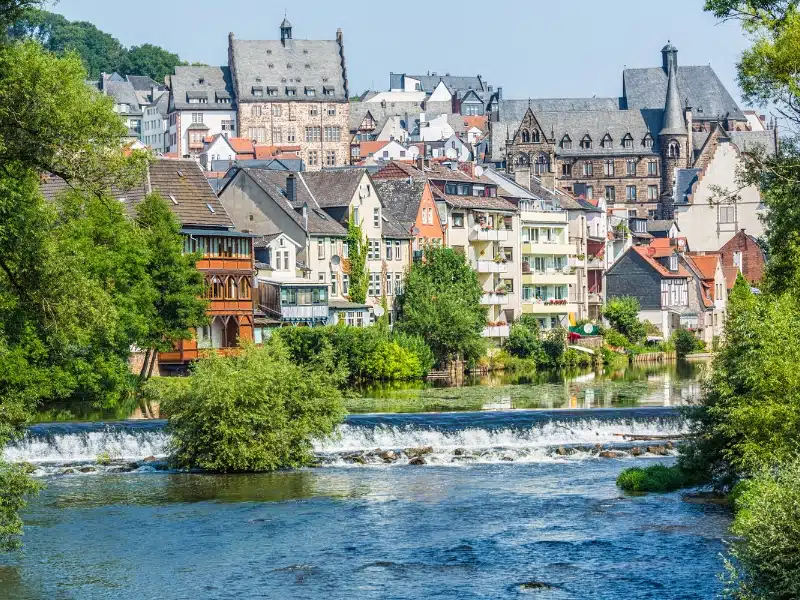 Day 2: Marburg to Kassel
The second day on the fairy tale road trip takes you through Bad Wildungen, Fritzlar, and Hessisch Lichtenau, and ends the day in Kassel. Fairy tale references include Snow White and the Seven Dwarfs and Mother Hulda/Holle.
Bad Wildungen
A traditional spa town, Bad Wildungen is home to the distinctive Friedrichstein Palace, which initially served as a castle and is now a museum. This palace inspired the Brothers Grimm story of Sneewittchen or Snow White.
In the 16th century, Count Philipp IV lived in the castle with his daughter, Margaretha von Waldeck. She died young, it is thought from being poisoned, just like Snow White, who died from taking a bite of a poisoned apple in the fairy tale.
Margaretha's brother founded the mining village of Bergfreiheit located in the middle of nearby Kellerwald Forest, which you might recognize as the workplace of the Seven Dwarfs in the story.
Snow White and the Seven Dwarfs was the first of the Brother's Grimm tales become an animated musical fantasy film produced by Walt Disney Productions in 1937, and was the first full-length traditionally animated feature film ever produced.
Fritzlar
A small town on the Germany fairy tale road, Fritzlar has a storied history. The town has a medieval center ringed by a wall with numerous watch towers, and at 125 feet / 38 meters high, the Grey Tower is the highest remaining urban defense tower in Germany.
Many houses around the market square date from the 15th to 17th centuries and have been carefully maintained or restored, and the Domplatz is home to the imposing Romanesque-Gothic Church of St. Peter, built between the 12th-14th centuries.
Hessisch Lichtenau
Hessisch Lichtenau is about 50 minutes from Bad Wildungen, and boasts magnificent architecture, an half-timber framed houses and the 17th century town hall adorn Hessisch Lichtenau's town center.
The town hall hosts the Frau Holle Museum, where you can learn about Frau Holle, also known as Mother Hulda, and her four four different worlds: the fairytale world, the physical world, the underworld and the herbal world.
Mother Hulda is also the subject of another well-known fairy tale that tells the story of her beautiful, hard-working stepdaughter and her lazy and unattractive biological daughter, whom Mother Hulda loves more.
The stepdaughter jumps down a well after a fallen spindle and returns covered with gold beacuse she helps people in the fantasy world she finds, whereas Mother Hulda's real daughter only returns covered with tar that never comes off because she refuses to help. The moral of the story being that hard work always pays off.
Before heading to Kassel, make a stop at Altes Rathaus Hessisch Lichtenau (Ratskeller) or Das Kaff for lunch.
Kassel
Heading north, spend the rest of the day in Kassel, regarded as the capital of the fairy tale route. The Brothers Grimm studied and lived in Kassel for over 30 years, making a visit to the Grimmwelt Museum to view their work and lifetime achievements a must-do on this itinerary.
It is here that the brothers became librarians for the King of Westphalia, Jermaine Bonaparte (youngest brother of Napoleon Bonaparte) and compiled most of their fairy tales and folklore stories. Jacob Grimm wrote in 1860 that "the Kassel years were the happiest of our lives," and you can see why when you visit this beautiful town.
Outside the city center is the UNESCO World Cultural and Natural Heritage Bergpark Wilhelmshöhe – Europe's most extensive hillside park at approximately 560 hectares and home to Löwenburg Castle, Wilhelmshöhe Palace, and a fine tropical 19th century glasshouse.
At the highest point of the park is the vast Hercules monument, topped with a copper statue of Hercules himself. Walk the punishing 520 steps to get up close to the monument and enjoy a breathtaking view. You'll be pleased to know there's a café at the top!
If you happen to be in the park during the summer on a Wednesday or Sunday, stay for the fantastic water feature display in the afternoon and evenings.
Kassel has many things to see and do. If half a day is not enough, take a whole day here or spend a few hours the next morning to make your way around town to take in the sites and shop for fairy tale memorabilia and German souvenirs.
Kassel boasts several top-class restaurants, including Osteria, Voit, and Alte Wache.
Upmarket: FischerS – Kurparkhotel Bad Wilhelmshöhe – Booking.com | Agoda
Mid-Range: Hotel Elfbuchen – Booking.com | Agoda
Budget: pentahotel Kassel – Booking.com | Agoda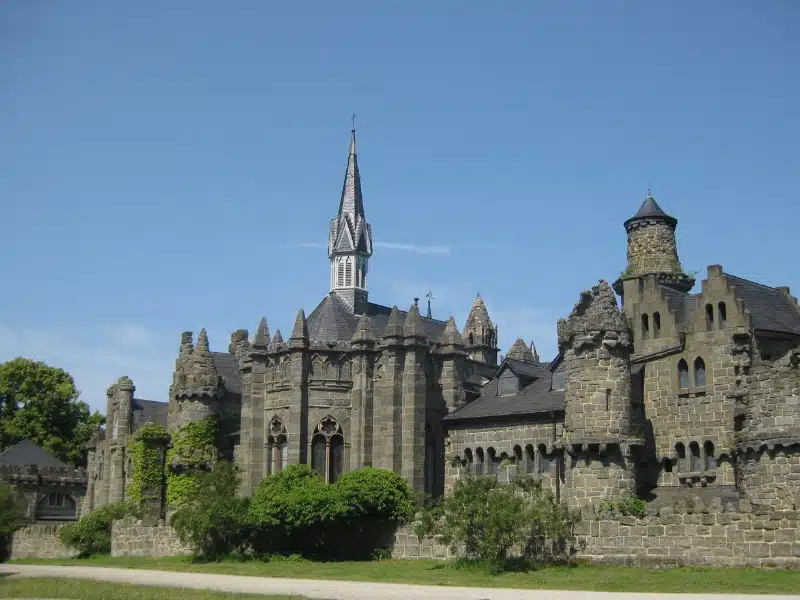 Day 3: Kassel to Göttingen
The third day on the fairy tale road trip lets you discover Hofgeismar, Hannoversch Müden, and Göttingen. Fairy tale references include Sleeping Beauty and the Goose Girl.
Hofgeismar
Hofgeismar is known for Sababurg Dörnröschenschloss or Sleeping Beauty's Castle, set in the Reinhardswald Nature Park. The tale of Sleeping Beauty is about a princess cursed by an evil fairy who put her to sleep for 100 years only to be awakened by her Prince Charming.
This magical German castle is over 650 years old and now serves as a hotel and museum. You can meet Sleeping Beauty and her prince at Sababurg Castle on Saturdays and Sundays at 2pm between April and October, and experience a live fairy tale performance in the former open-air knight's hall.
As you take a wander around town, see if you can spot the Topfermarkt-Brunnen (pottery market fountain) and the Würfelspiel (dice game) statues.
Hannoversch Münden
Hann. Münden (short for Hannoversch Münden) is about 18 miles from Hofgeismar and a good stop en route to Göttingen. It is famous for its picturesque half-timbered houses, some over 600 years old, and is on the Deutsche Fachwerkstraße or German Half-Timber Framed Road.
The Bursfelde Abbey, established in 1093, and the historic Weser Renaissance town hall are also worth seeing. For panoramic views of the town, make your way up the 25 meter high Tillyschanze tower.
Afterward, treat yourself to lunch at Ratsbrauhaus or the stylish Flux restaurant for a Michelin-star experience.
Göttingen
Göttingen is the place where the Brothers Grimm taught as professors. Stroll through the university's botanical gardens, founded in 1736, and then cross the street to walk the 250-year-old town walls that surround the city center.
Ensure to pass by the iconic Gänseliesel, the Goose Girl fountain statue, based on the Grimm fairy tale about a courtier who steals a princess at birth and uses her real daughter as a replacement. The courtier then raises the princess as a goose girl until the evil plot is exposed and the courtier suffers a grisly end.
The Goose Girl may well be the most kissed sculpture in the world! People used to think kissing her brought good luck. Over time, the tradition has changed and now the University of Göttingen doctorates are encouraged to climb the fountain and kiss the Goose Girl after graduation, a custom in place since 1901.
Other places to visit are the town hall, just behind the Goose Girl statue, the fascinating Wiechert'sche Erdbebenwarte Science Museum and fully functional seismological measuring station, and the majestic Saint Jacobi Church.
Dine at Zum Szultenburger or Timberjacks Göttingen for a fabulous steak dinner.
Upmarket: Hardenberg BurgHotel – Booking.com | Agoda
Mid-Range: Romantik Hotel Gebhards – Booking.com | Agoda
Budget: Adesso Hotel Göttingen – Booking.com | Agoda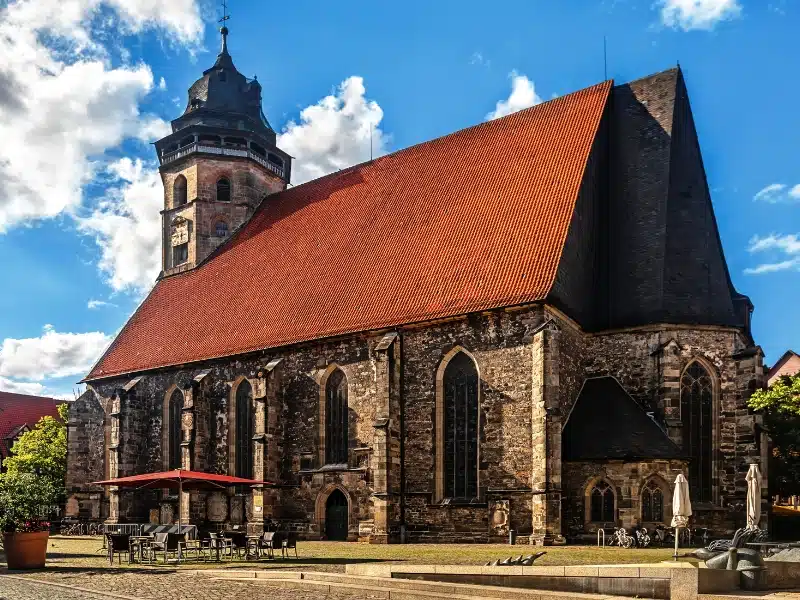 More Germany Travel Ideas
Day 4: Göttingen to Hameln
The fourth day on the fairy tale road trip explores Trendelburg and Hameln. Fairy tale references include Rapunzel and the Pied Piper.
Trendelburg
Trendelburg is about 28 miles / 45km from Göttingen. If you are a history or architecture enthusiast, stop at Adelebsen Castle en route to Trendelburg. Burg Adelebsen is a well-preserved medieval castle, later converted into a palace, on a sandstone cliff above the Schwülme river about 10 miles / 16km west of Göttingen.
The most visited tourist site in Trendelburg is Trendelburg's Castle, better known as Rapunzel's Castle. The castle was erected in the 13th century and included the tower which inspired the fairy tale of the princess Rapunzel who was locked up and let her long hair down from the window to allow her beloved to climb up.
The site now hosts the lavish Hotel Burg Trendelburg and a restaurant, but tourists can still access the castle tower to get great views of the town below. It is gorgeous at night with the lights on, plus fewer tourists are around if you prefer a quieter visit.
Outdoor activities in Trendelburg include hiking through Urwald Sababurg or opting for the Weser Skywalk and Hanoverian Cliffs, which is slightly less demanding and offers scenic landscape vistas.
After a long morning, enjoy lunch at the Gasthaus Brandner or Hessischer Hof.
Hameln
Hameln (sometimes called Hamelin) is the home of the Pied Piper, the boy who led all the town rats to the river with his magic pipe, where they drowned. When the citizens refuse to pay for the rat catcher's services as promised, he retaliated by using his instrument's magical power on their children, leading them away. Bungelosenstrasse, or the street without drums, is believed to be the last place that the children were seen. Ever since, music or dancing is not allowed on this street.
References to the tale are evident around town and include:
Two fountain statutes of the Pied Piper of Hameln.
A stained-glass window of the Pied Piper in the Market Church.
The Pied Piper's House in the Osterstrasse.
The 26 x 42-foot Pied Piper Relief at the gate to the Buergergarten.
A 29-foot-high rat monument along the river called the 'Dancing Weser Rat.'
You can also see many bronze rats around town in the form of rat-stones. If you follow these on the cobbled streets, they take you on a trail that passes these notable tourist sights.
You can also visit the Pied Piper's House or Rattenfängerhaus on Osterstraße Street. If you pass through Hamelin during the summer months, you can see live fairy tale performances in the town square.
Other sites to see in Hameln are the wedding house next to the Nicolaikirche, the Bürgerhus on Kupferschmiedestraße, a magnificent half-timbered building built in 1560, and the Stiftsherrenhaus and Leisthaus, with their richly decorated facades, as well as several churches that date back to the 11th and 13th centuries, and the Hameln Museum.
If you want to get away from the crowds and see rows of colorful and beautifully preserved medieval buildings, head for the Alte Marktstraße and surrounding streets.
Go for dinner at Gaststatte Reichsadler, the oldest pub in Hameln, or treat yourself at Schultheiss 52.
Upmarket: Schlosshotel Münchhausen – Booking.com | Agoda
Mid-Range: Klüt Hotel – Booking.com | Agoda
Budget: Hotel zur Börse – Booking.com | Agoda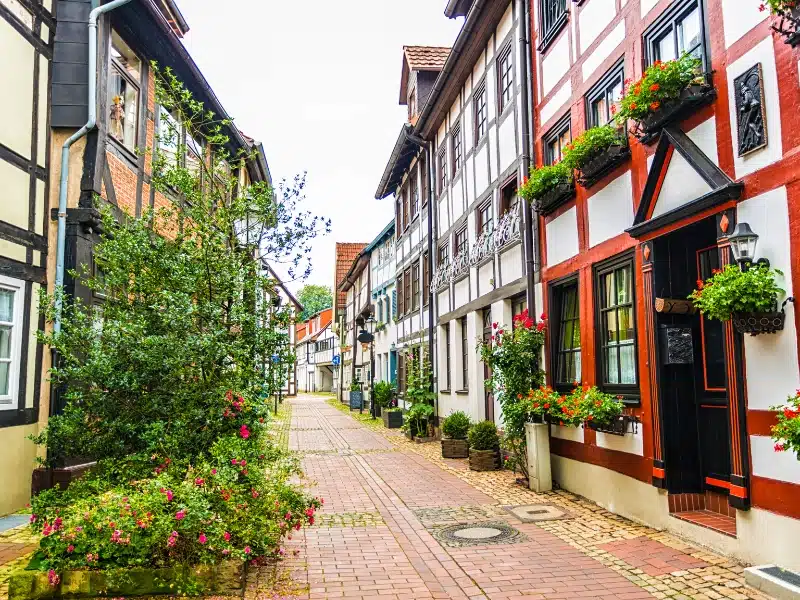 Day 5: Hameln to Bremen
The fifth day on the fairy tale road trip takes you through Bad Oeynhausen to end in Bremen. Fairy tale references include the Town Musicians of Bremen.
Bad Oeynhausen
About 45 minutes from Hameln, stop at Bad Oeynhausen. The town is home to the Fairy Tale and Weser Legends Museum, open Wednesdays to Sundays.
Bad Oeynhausen has two national parks where you can enjoy a stroll: Kurpark and Sielpark. There is also Aqua Magica Park, created in celebration of the healing power of water.
Grab a coffee at Bäckerei Hensel before continuing to Bremen.
Bremen
Bremen is just under two hours drive from Bad Oeynhausen. If you want to stop somewhere to rest, do so in Hannover, a large and historic city with many attractions and things to do.
Bremen is the smallest city in Germany by population. Yet, it offers visitors more sites and activities than any other stop on this itinerary, potentially making it an entire day trip.
The city's pride and joy are the Town Musicians of Bremen. As the tale goes, four aging domestic animals – a donkey, a dog, a cat, and a rooster – are neglected and mistreated by their former masters and decide to run away and become town musicians in the city of Bremen.
The animals never actually arrive in Bremen town, as they succeed in scaring off a band of robbers and capturing their swag, before moving into their own home. The four characters are seen all over town, from statues and sculpted adornments on the façade of shops to painted murals.
The most famous statue of them all is a bronze statue by Gerhard Marcks, erected in 1953 on the corner of the Bremer Rathaus. replicas of this famous stature can also be seen in front of each of the five German veterinary schools and in the Lynden Sculpture Garden, located in Milwaukee, Wisconsin.
Visit the 11th-century Saint Petri Dom Bremen cathedral, where you can make your way up the bell tower for panoramic city views. Stroll through the Martplatz to see the beautiful town hall, and if you pass through in October or December, you might even catch the Freimarkt Fair or Christmas market.
Go to Schnoorviertel, Bremen's oldest district, for lunch, as it offers an array of bars, restaurants, and cafes to satisfy any craving. Kleiner Olymp, established in 1965, has amazing onion soup and fish dishes.
Afterward, stop by Konditorei Café im Schnoor to indulge in a few local treats, which also make great gifts!
Upmarket: Parkhotel Bremen – Booking.com | Agoda
Mid-Range: H+ Hotel Bremen – Booking.com | Agoda
Budget: B&B Hotel Bremen-Altstadt – Booking.com | Agoda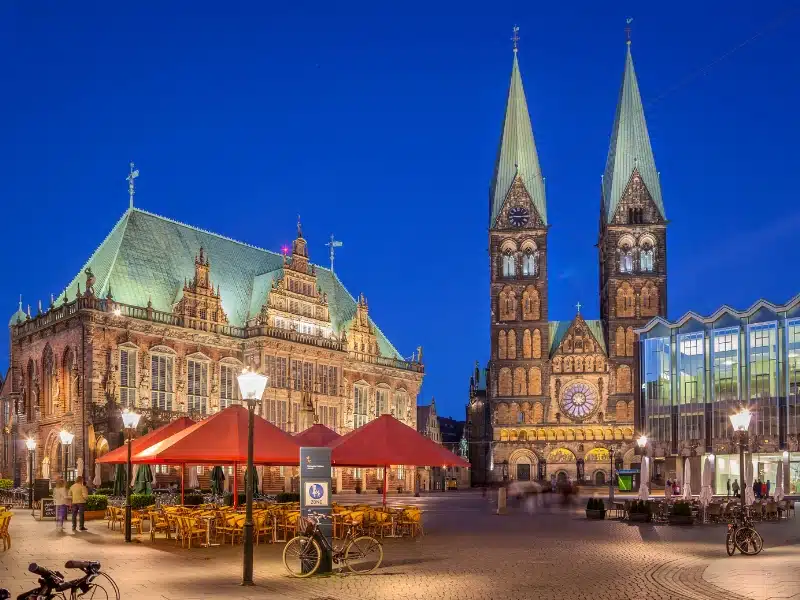 Day 6: Buxtehude
An optional side trip, which works well if you plan to fly out of Hamburg, Buxtehude is an hours drive northeast of Bremen.
Sometimes called the 'fairytale capital of the world' the brother's tale of The Hare and the Hedgehog is set in the town. In the familiar fable, the hare makes fun of the hedgehog's crooked legs, so the hedgehog challenges the hare to a race.
As the race begins, the hedgehog runs a few steps in the field, but at the end of a furrow his wife, who looks very much like her husband, calls out to the hare "Ick bün all hier!" or "I'm already here!". The hare cannot understand the defeat and demands revenge. He conducts 73 more runs with the same result and on the 74th race he collapses exhausted and dies.
Buxtehude's old town is charming, with a legacy belonging to a rich Hanseatic past. Buxtehude retains the houses and canals of that time. Head for the Fleth Canal in the center and spend an hour wandering the narrow cobbled streets and admiring the historic architecture.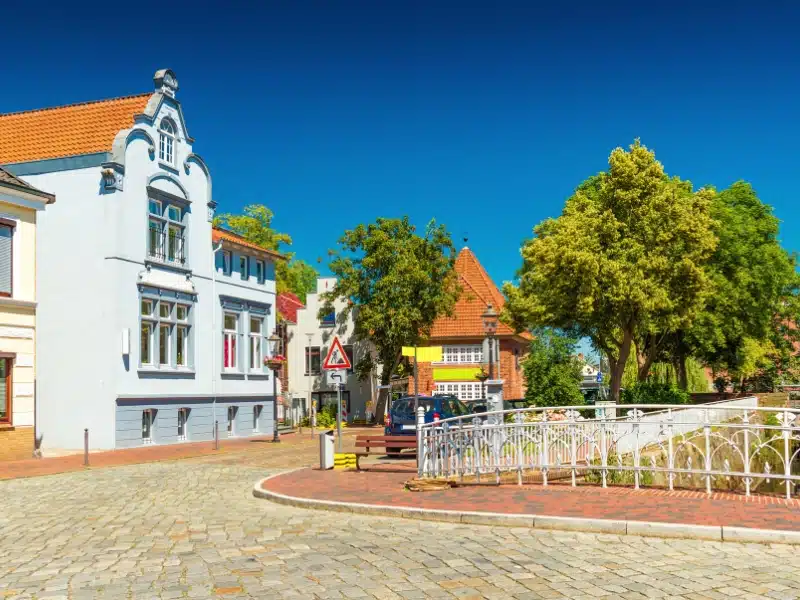 Fairy Tale Road FAQs
When is the best time to drive the Fairy Tale Road in Germany?
The fairy tale road is ideally visited between May-September, as this is the best time to catch the live fairy tale performances which take place in towns along the route.
December to February
Germany can get very cold in winter, especially in the north, but the more adventurous will be happy to visit for the amazing Christmas markets along the route, and dustings of snow which just add to the fairy tale landscape.
March to May
Spring is a wonderful time to visit Germany, with temperatures warming up across the country. Markets increase in size, restaurants start preparing different dishes and the countryside is glorious. You'll find the roads and cities less crowded, and campsites will start to open in April.
June to August
Summer will give you the best weather and longest days – but the roads and towns will be much busier, and flights, accommodation, and activities more expensive.
September to November
Autumn is a fantastic time to visit Germany, with the warmth of the summer sun lingering, and the harvests meaning fantastic markets and local, seasonal produce on restaurant menus.
How long does it take for the German Fairy Tale Road?
The fairytale road is roughly 370 miles / 600km long and takes, according to Google Maps, just 8 to 9 hours to drive. But this is a simple equation of miles divided by speed and doesn't take into account the topography of the road and its twisting route as it meanders through small villages and along narrow rural roads.
To truly enjoy the incredible route, which includes national parks, historic towns and villages, and many points of interest, we recommend 5 to 7 days.
If you can manage 10 days or even two weeks, then you'll be able to stop and enjoy activities and tours, and fully discover one of Germany's best road trips.
Where does the German Fairy Tale Road start and finish?
The German Fairy Tale Route begins in Hanau, the birthplace of the Brothers Grimm. The official starting point is the bronze monument to Jacob and Wilhelm on Neustädter Marktplatz.
The German Fairy Tale Route officially finishes at the Town Musicians of Bremen statue, on the corner of Bremer Rathaus facing Schoppensteel in Bremen.
German Road Trip Resources
Here are the websites and services we personally use and recommend for traveling in Germany.
Tips for Driving in Germany
The roads in Germany are well maintained, the autobahns are toll-free and there are excellent regional and minor roads with great services for drivers, making Germany a fantastic place to road trip.
Contrary to popular belief though, there are speed limits on the autobahn, and many sections have limits between 120km/h (75mph) and 110km/h (68mph) or lower, especially in urban areas.
Whether you're traveling in your own vehicle or flying in and renting a car, you need to follow these rules when you drive and travel in Germany;
You must have at least three months remaining on your passport (issued in the past ten years) at your intended date of departure from Germany.
You must have at least 3rd party insurance for your vehicle.
Citizens of non-EU third countries may require an IDP, you can check here.
It is compulsory to carry a warning triangle, reflective jacket (for the driver and all passengers), spare wheel, and the tools to change a wheel or a tire repair kit.
If you wear glasses you must carry a spare pair.
You should carry a first aid kit, but this is only compulsory for four-wheeled vehicles registered in Germany.
Germany introduced regulations in 2010 requiring all passenger cars and motorbikes to be fitted with winter or all-season tires in wintry conditions.
RELATED POST: Driving in Europe – Everything You Need to Know
Looking for more road trip inspiration? Check out these top posts…
One of the best ways to explore the beautiful country of Croatia is by taking a road trip, where you can drive along winding coastal roads, visit charming towns and villages, and discover off-the-beaten-path hidden gems. In this Croatia road trip guide, we'll share some of our favorite road trip routes and destinations in Croatia, along with tips for planning your own adventure on the open road. Get ready for an unforgettable journey through one…
Love it? Pin it!