This post may contain affiliate links, from which we earn an income.
Planning a holiday in Germany and considering driving there from the UK? As Germany boasts beautiful landscapes, historical sites, and bustling cities just a few hours' drive from Calais, taking the road less traveled can add an extra element of adventure and discovery to your holiday.
We've spent the last four years full-time traveling in Europe and have driven to Germany from the UK more times than we can remember! In this driving from UK to Germany guide, we're sharing the best routes, costs, and tips to help you have the best trip to Germany.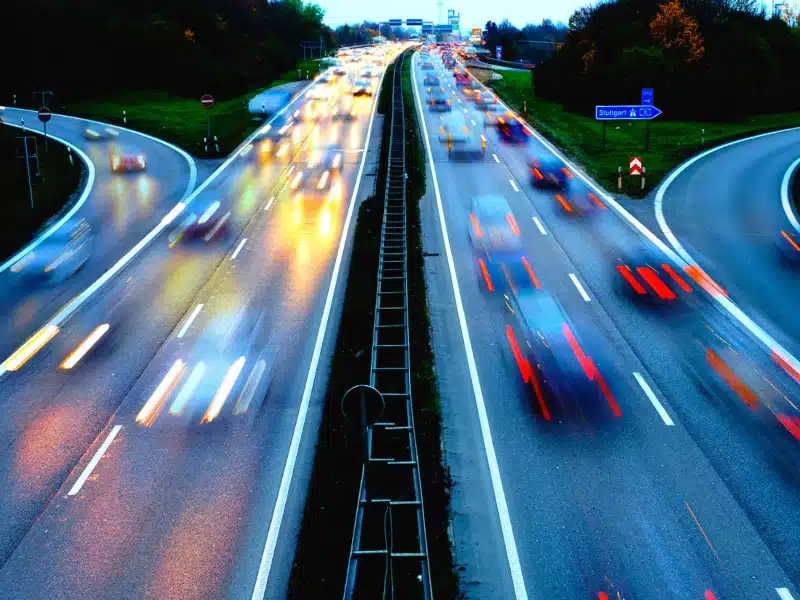 Germany Route Planner
Whether you're driving from UK to Germany by car or motorhome, or riding a motorbike, proper planning and preparation will help your road trip from the United Kingdom to Germany go well, so you can arrive relaxed and unstressed.
Be ready to take in the picturesque countryside, history-rich landmarks, and vibrant German cities, all while enjoying the flexibility and freedom that driving affords.
Crossing the English Channel
There are a number of ferry routes to Germany from UK;
The Dover-Calais ferry takes around one hour and 30 minutes to cross, loading can be time-consuming but you'll have time on the boat for a meal and be able to rest from driving.
The Eurotunnel from Folkestone-Calais is the most frequent channel crossing. As with the ferries, the Channel Tunnel queue can be horrendous in peak season and at peak times. This is a good option if you're traveling with pets or are happy not to leave your vehicle.
Check out the slightly more obscure routes which are a little longer but often cheaper and with more special offers to tempt you away from the more well-known routes. Try departing from Newhaven for example, or arriving at Dieppe or Le Havre, although this has you further away from the German border, so you may lose any savings in fuel.
More expensive and quite a bit longer than the Dover-Calais route, the crossings from Harwich, Hull, and Newcastle to the Netherlands may prove to be cost-effective for your German road trip, but only if you don't live in the southeast of England.

The Stena Line Harwich-Hook of Holland route operates daily at 9am, with the crossing taking around seven hours.
If you cross from Hull to Rotterdam with P&O, their daily crossing departs at 20.30pm and takes around eleven hours, meaning you arrive refreshed and ready for a full day's drive the following morning.
We recommend finding the best deals and crossings with Direct Ferries, who make it easier to compare timings, routes and costs in one place.
Getting to Germany
Once you're on the continent, there are a number of routes to Germany, depending on your destination. All route statistics and costs are based on driving a 2.5l diesel car from the port of entry. Find your own personalized costs with Via Michelin here.
The Brussels Route
The most cost-effective and fastest way from Calais to Germany by car is the A16, E40, and E42 route via Brussels, crossing into Germany near Winterspelt.
Places to see along the route include the fabulous city of Bruges, known as the 'Venice of the North', the foodie city of Brussels, Belgium's lively capital, the medieval Wallonia city of Liège, and the wide open spaces of the Parc Naturel Hautes Fagnes-Eifel.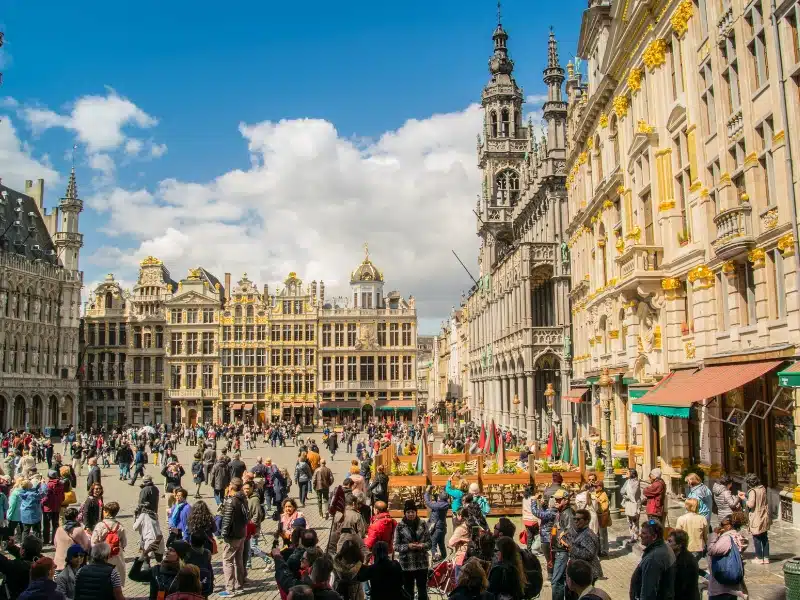 The Luxembourg Route
From Calais, the second fastest route is the A25, E42, and E411 through Luxembourg, crossing the German border at Langsur near Trier.
Places on the route to see include the moving Menin Gate at Ypres, one of four memorials to the missing of World War I in Belgian Flanders, the pretty city of Lille with its Flemish influences and historic center, and the characteristic Belgian city of Charleroi.
Further along the route is the small European country of Luxembourg, home to the Ardennes forest, the rocky gorges of the Mullerthal, and the Moselle River valley. Its capital, Luxembourg City, is famed for its fortified medieval old town perched on sheer cliffs which dominate the skyline.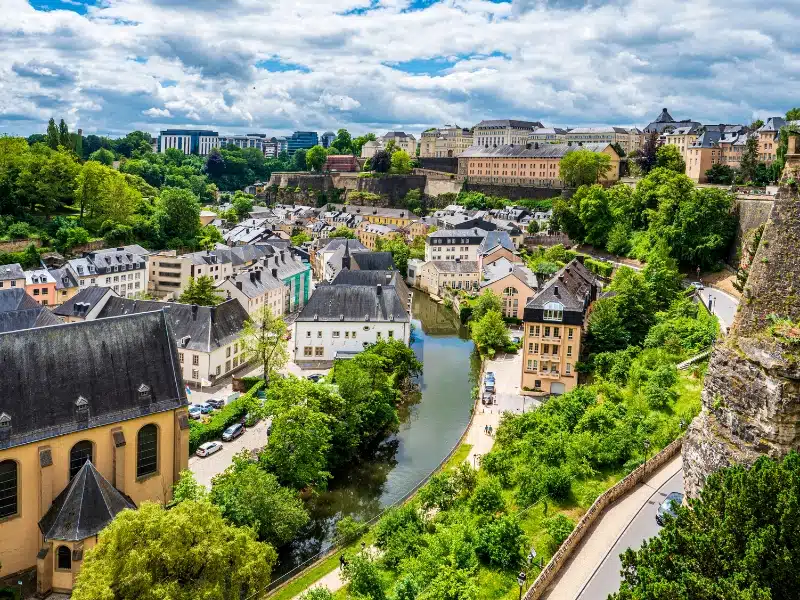 The Scenic Route
A longer, more scenic, and more expensive route from Calais takes you through France on the A26 and A4 via Reims and Metz, crossing the French border into Germany at Saarbrücken.
Places to see as you travel include the WWI battlefields of Hauts-de France and the delightful Champagne region of Grand Est and its royal capital city of Reims. You can also explore the vine-covered slopes of the Moselle Valley between Metz and Nancy, and the gardens and leafy promenades of Metz itself.
For the best experience, allow more time, set your sat nav to avoid the motorways and you'll find yourself driving through rolling countryside dotted with vineyards, medieval French towns and villages full of half-timbered houses and splendid cathedrals, and in summer, fields of sunflowers.
If you take this route, you will need a Certificats qualité de l'air, known as a Crit'Air sticker, which allows you to enter the low-emission zone in Reims. You can find out more about Urban Access Regulations in Reims here.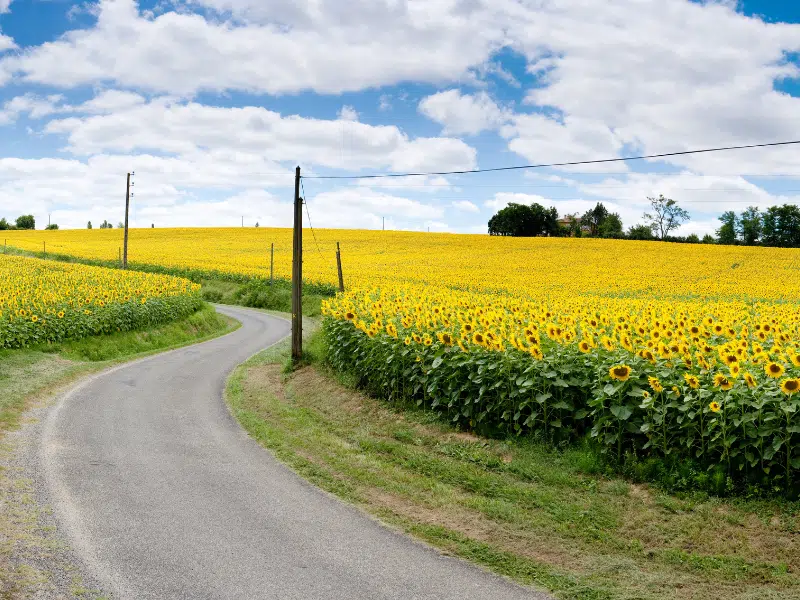 The Netherlands Route
From Rotterdam, it's an easy two hour drive to the German border west of Dusseldorf, although once into Germany this route does mean negotiating the busy road network around the industrial and built-up cities of the Rhine before you can continue your onward journey.
Places to see on the route include the hip up-and-coming city of Rotterdam, known for its bold and modern architecture, Arnhem, the site of the infamous WW2 Battle of Arnhem, and the Roman and Hanseatic city of Nijmegen.
Doing this route from Amsterdam will add 6km to your journey, and from the Hook of Holland, add 27km to your drive.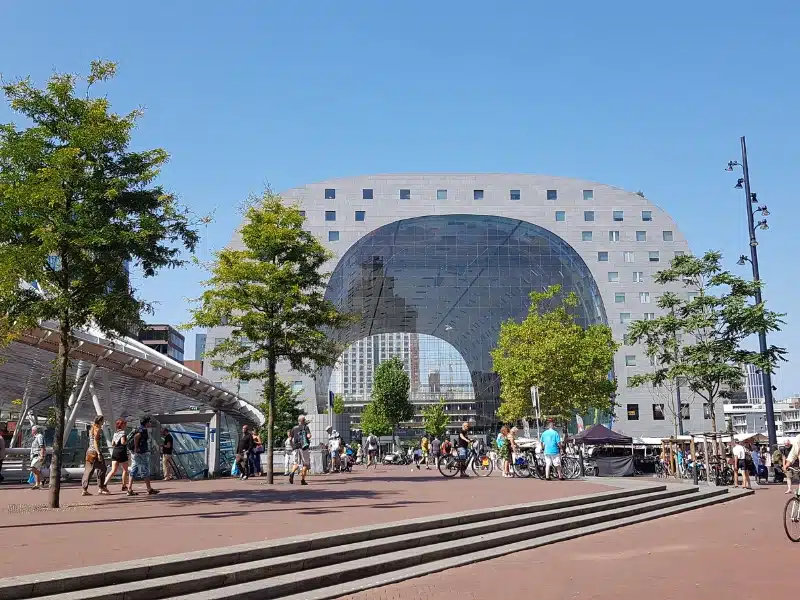 Is this your first time visiting Germany? Get all the information you need in our Germany Travel Guide, including what to pack, the best time of year to go, getting there, and practical tips to help you have the best trip!
Travelling to Germany After Brexit
Although the UK left the EU at the beginning of 2020, because the pandemic came swiftly on its heels, many of us are still getting used to how it affects traveling in Europe. Here are a few frequently asked questions and answers;
Do I need a visa for Europe?
Nothing changes with your passport, but from 2024, the EU will introduce the ETIAS (European Travel Information and Authorisation System), which will be an additional entry requirement for visa-exempt travelers and will involve the traveler registering their details online before traveling, mainly for security purposes.
How long can I stay in Europe?
UK citizens can only stay in the Schengen Area (a zone in Europe where countries have no internal borders and allow the free and unrestricted movement of people) for 90 days in every 180 days in the Schengen Area.
The 90 in 180 day rule works on a rolling basis and it can be difficult to work out whether you are within the rules or not, especially if you have visited the Schengen area on several occasions in the preceding 180 days. Use the Schengen calculator to work out your allowance.
What food can I take in my vehicle to Germany?
The European Commission says the following;
Travelers are not allowed to bring in meat, milk, or their products.
There is an exemption for powdered infant milk, infant food, and special foods or special pet feed required for medical reasons if weighing less than 2kg and provided that:

such products do not require refrigeration before opening.
that they are packaged proprietary brand products for direct sale to the final consumer, and
the packaging is unbroken unless in current use.
For fishery products (including fish and certain shellfish such as prawns, lobsters, dead mussels, and dead oysters), travelers are allowed to bring in up to 20kg or the weight of one fish if this is higher.
For other animal products, such as honey, live oysters, live mussels, and snails, travelers are allowed to bring in up to 2kg.
Can I use my mobile data in Germany?
It very much depends on who your mobile phone contract is with and when you started the contract. All UK providers now limit data usage in the EU in some way or another, and it's best to check with your provider to make sure you don't run up a big bill.
You can find lots of information in our guide to the best SIM cards in Europe, especially if you're planning to be away for more than a few weeks.
Can I take a pet to Germany in my vehicle?
Yes, you can take dogs, cats, and ferrets to Germany. You'll need to book a pet-friendly cabin or kennels on the ferry or travel via the tunnel.
Your pet will need a microchip, a valid rabies vaccination and an animal health certificate (AHC) if your pet is registered in the UK, and a pet passport if your pet is registered in the EU.
It can take some time to get all the documents together and the vaccines organized, so make sure you start the process well in advance. You can find out more about traveling with pets on the Gov.UK website.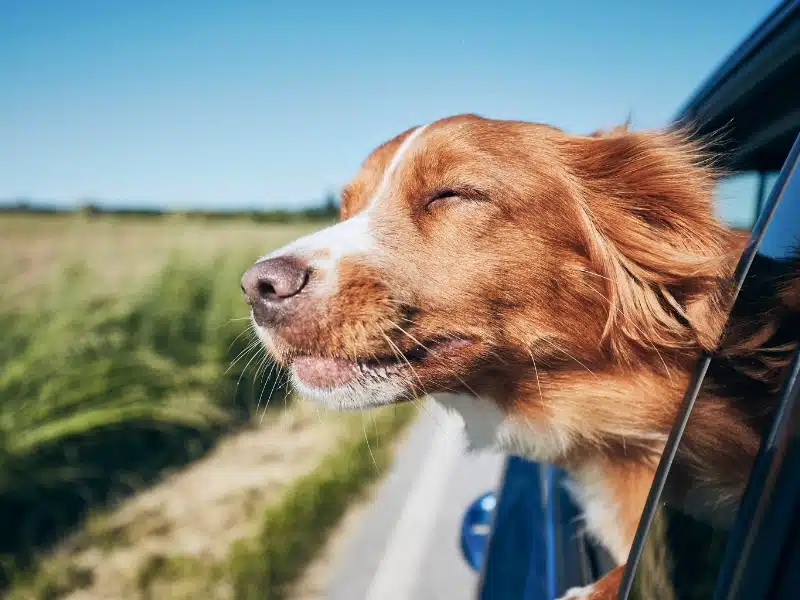 Documents and Insurance
Passport
When traveling to Germany your passport must be;
issued less than 10 years before the date you enter the country (check the 'date of issue')
valid for at least 3 months after the day you plan to leave (check the 'expiry date')
UK Driving Licence & International Driving Permit
While traveling in Germany, a full, valid driving license is required.
It's a good idea to check if an International Driving Permit (IDP) is required as well. An IDP is not a compulsory document for UK drivers in Germany but may be required for citizens of other non-EU third countries. You can check whether you need an IDP for Germany here.
Vehicle Insurance & Green Card
Having at least 3rd party car insurance is mandatory when driving in Germany. It is crucial to check your insurance policy to ensure it covers you when driving abroad. If not, you may need to purchase an extension or a separate policy for your European road trip.
A green card is not required where the country in which your vehicle is registered is a member of the green card scheme – this includes the United Kingdom and all EU countries.
Breakdown Cover & Travel Insurance
European breakdown cover is highly recommended when driving from the UK to Germany. This cover provides roadside assistance and vehicle recovery if you experience a breakdown or an accident during your journey.
Even if you have an EHIC or GHIC card, you'll also want a comprehensive travel insurance policy. Carefully check the policy details to make sure they cover all your activities and belongings while you're away from home.
Make sure you have travel insurance you can trust when visiting Germany. We recommend True Traveller for their 5-star TrustPilot reviews, variety of cover options, best activities cover as standard, great prices, and excellent service.
Preparing Your Vehicle
Required Equipment
Before embarking on your journey from the UK to Germany, ensure that your vehicle is equipped with the necessary items. It is compulsory to carry the following when driving in Germany:
Warning triangle.
Reflective jacket (for the driver and all passengers).
Spare wheel and the tools to change a wheel or a tire repair kit.
It's also a good idea to carry a fire extinguisher and first aid kit which may come in handy in case of emergencies.
UK Stickers & Headlamp Beam Deflectors
When driving on German roads, you must display a UK sticker (GB stickers are no longer allowed) with the Union flag on the rear of your vehicle. This will help inform other drivers and the traffic police about the origin of your vehicle.
If your car is right-hand drive, make sure to fit headlamp beam deflectors to your vehicle's headlights, or switch them electronically, as this will prevent the beam from dazzling other road users when driving on the right side of the road.
Winter Tyres
When planning a road trip to Germany, especially during the winter months, it's essential to consider the type of tires on your car.
Germany has specific winter tire regulations that require all vehicles, including motorhomes, towing caravans and motorbikes to be equipped with suitable tires for the weather conditions. Failure to comply with these regulations can result in fines and delays and will make you unsafe in snowy or icy conditions.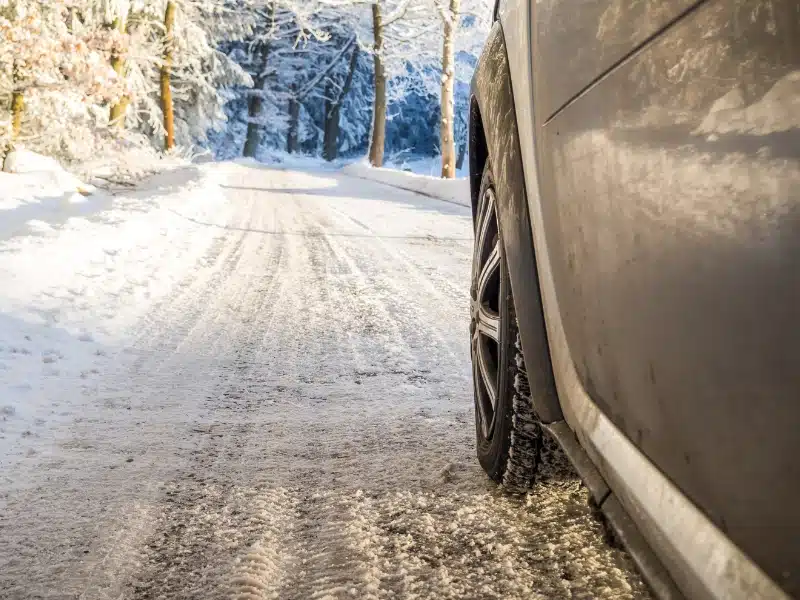 Germany Driving Tips
When planning a drive from the UK to Germany or other EU countries, it's important to familiarise oneself with the local driving rules and regulations.
Differences in Driving Rules and Etiquette
Driving in Germany may be quite different from driving in the UK, so it's essential to understand these differences to ensure a safe and enjoyable trip. Some key differences include:
Driving on the right side of the road, rather than the left as in the UK.
Overtaking is done on the left side, unlike in the UK where it's done on the right.
Roundabouts follow a clockwise direction in Germany, whereas they are counter-clockwise in the UK.
Vehicles on a roundabout have right of way unless signs indicate they don't.
Traffic coming from the right takes priority at all crossroads and junctions.
Speed Limits and the Autobahn
Germany is known for its autobahn, a high-speed motorway network where some sections don't have a speed limit.
It's important to know that whilst there are no enforced speed limits on certain parts of the autobahn, a recommended speed limit of 130 km/h (80 mph) is advised in those areas for safety reasons.
Make sure to observe and follow signage where there are speed limits, for example in urban or built-up areas.
For those driving outside the Autobahn, the following speed limits apply:
Urban areas: 50 km/h (31 mph)
Non-urban roads: 100 km/h (62 mph)
Other Driving Rules in Germany
Children under 12 years old or under 1.5m tall need to use an approved child seat.
Any use of a mobile phone, such as making and receiving calls without a hands-free kit, rejecting a call, texting and reading news, searching for data online, or using maps, is forbidden when driving a vehicle in Germany.
If you have a GPS navigation system that shows you where any fixed-speed cameras are, you must deactivate this function. It's illegal to carry or use any radar detection equipment when driving through Germany.
You must wear a crash helmet if you're riding a moped or motorcycle. Motorcycles on the road must have their passing lights on at all times, even in daylight
The maximum level of alcohol in the blood for private drivers is 0.05%. For newly qualified drivers with less than two years' experience and young drivers aged under 21, the limit is 0%.
Tolls in Germany
There are no general tolls for cars, motorhomes, and motorbikes in Germany making autobahn routes through the country a really cost-effective way to access Austria, Italy, and most easterly parts of Europe.
If you are traveling in a massive motorhome camper that is over 7,500kg, like an RV, overland truck, or converted lorry, then we believe that you are exempt from the tolls placed on lorries over this weight. You can find out more in our guide to motorhoming in Germany.
Low Emission Zones in Germany
There are currently 58 umweltzonen or low-emission zones in more than 70 cities and built-up areas in Germany.
You need an umweltplakette (sticker) on the windscreen which shows the level of your vehicle's emissions to drive into these areas in your vehicle.
You must be able to evidence that the vehicle meets the Euro 4 standards for a green sticker, by providing copies of the V5C for newer vehicles (manufactured after January 2006), or a Certificate of Conformity provided by the manufacturer.
A yellow sticker only allows you to enter the LEZ of Neu-Ulm in Bavaria and, from 2021 red stickered vehicles are not permitted into any LEZ.
Electric vehicles also require an umweltplakette, which is blue and called an e-sticker. In many German cities, there are advantages for electric vehicles which include the use of bus lanes and free parking.
Head to the Umwelt-Plakette.de website for more information and to get your sticker – you will need to do this at least six weeks before departure to give it time to be processed and arrive in the post. Currently, there are no digital options to replace the physical sticker.
If you hire a vehicle in or close to a German low-emission zone, it will almost always have an emissions sticker. If in doubt or if you hire from a place with no low-emission zone in the vicinity, check with your car hire company.
RELATED POST: Driving in Europe – Everything You Need to Know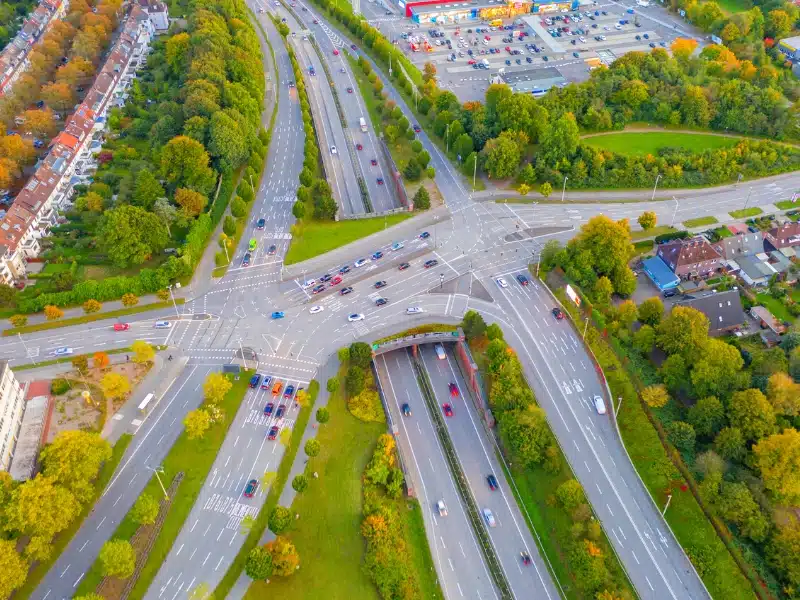 Destinations in Germany
Germany offers a diverse range of holiday experiences, from bustling cities rich in history and culture to picturesque landscapes and charming small towns. When driving from the UK to Germany, there are a few destinations that stand out as popular choices for travellers.
One such destination is Cologne, a city known for its stunning Gothic architecture and vibrant arts scene. Only a few hours' drive from Calais, visitors can marvel at the impressive Cologne Cathedral or stroll along the Rhine River promenade.
Düsseldorf, another popular stop, offers a blend of historic charm and modern innovation. With its sophisticated shopping streets and art galleries, it's a haven for culture enthusiasts and fashion-conscious visitors alike.
For travelers seeking a more laid-back experience, Heidelberg is a favorite among history buffs. Famous for its stunning Castle and Old Town, it can be reached in under seven hours from Calais by car. The town's picturesque location along the Neckar River makes it perfect for leisurely strolls, while its charming market square offers an array of shops and eateries.
Germany is also famous for its breathtaking countryside, making it an ideal destination for outdoor enthusiasts and road trippers. The picturesque Black Forest and the fairytale-like Romantic Road are must-visits, showcasing Germany's idyllic landscapes and charming villages.
No matter what type of holiday or German road trip you're looking for, driving from the UK to Germany offers an unforgettable journey through some of Europe's most captivating destinations. Just remember to pack your sense of adventure and enjoy the open road!
Can't decide? Check out these German travel ideas…
Are you looking for more incredible road trips? Check out these top posts…
Armenia, a small yet captivating country nestled in the Caucasus offers a wealth of picturesque landscapes, ancient monasteries, and a deep-rooted cultural heritage. An itinerary through Armenia promises to deliver unforgettable experiences, making the most of the country's fascinating landmarks and vibrant cities. We spent a month exploring this tiny country that packs a real punch in terms of adventure and raw nature. In this Armenia travel guide, we'll share the perfect Armenia itinerary, insider tips, must-see destinations, and practical advice to help you plan your own epic adventure.
Love it? Pin it!