This post may contain affiliate links, from which we earn an income.
The beautiful region of Normandy in northwest France is famous for its impressive white cliffs, historic castles and abbeys, connection to the D-Day landings, and delicious local produce like Camembert cheese, Calvados, and cider.
As you visit the charming towns and villages and pass through the picturesque rolling countryside Normandy will enchant you with its rich history, rural character, and breathtaking sites, which include some of France's top visitor attractions.
We've spent years touring and road tripping in France, and love Normandy for its eclectic nature. Get all the information you need in our Normandy road trip planner, including routes, attractions, places to visit, and lots of tips, to help you plan the perfect 7 day trip around Normandy.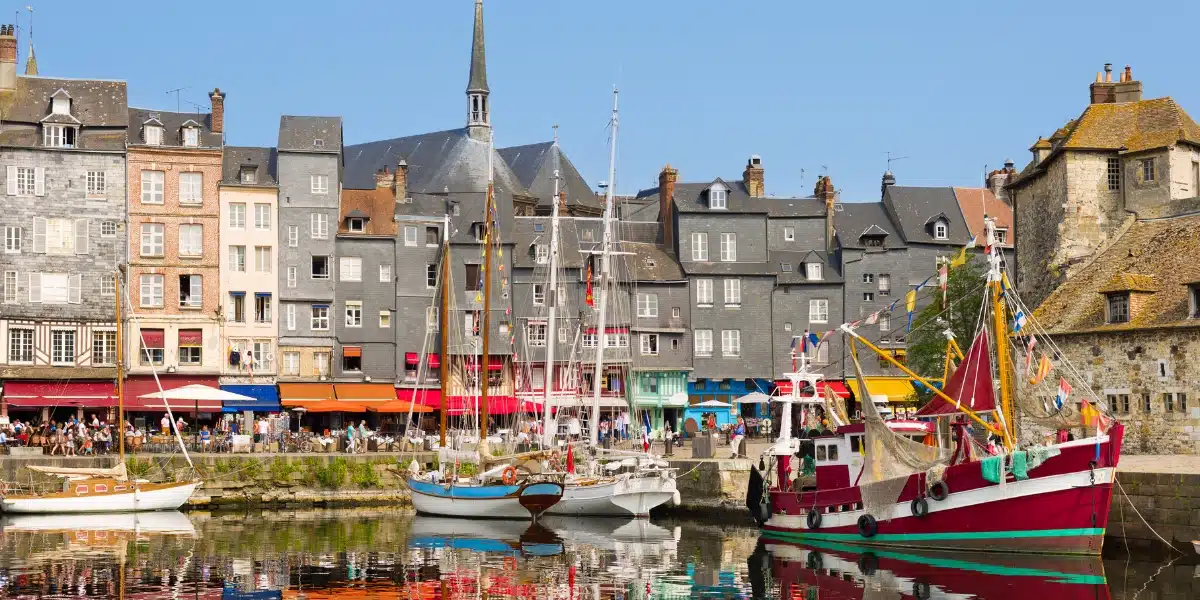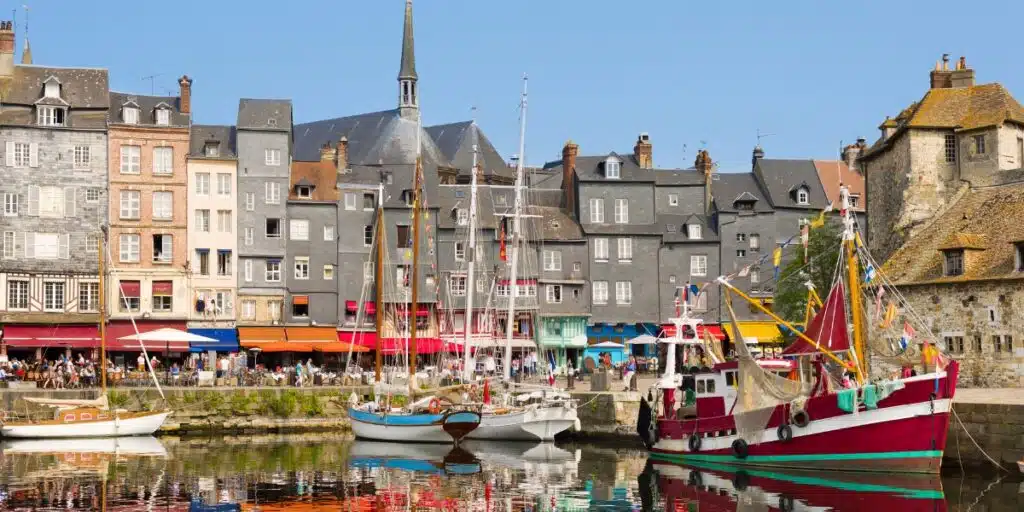 Where is Normandy?
Normandy or Normandie in French is a geographical and cultural region in northern France, its borders consistent with the historical Duchy of Normandy.
Bordered to the north by the English Channel, to the east by Hauts de France and to the west by Brittany. To the south is Ile de France, where Paris is located. The neighbouring regions of Centre Val de Loire and Pays de la Loire are both home of the gorgeous Loire Valley.
Normandy itself comprises mainland Normandy and insular Normandy, which is mostly made up of the British Channel Islands.
Normandy was formed in 2016 by merging the two former administrative regions of Haute-Normandie and Basse-Normandie and is made up of the departments of Calvados, Eure, Manche, Orne, and Seine-Maritime.
Is this your first time visiting France? Get all the information you need in our France Travel Guide, including what to pack, the best time of year to go, getting there and practical tips to help you have the best trip!
Getting There
Whether you're driving to France in a car, motorcycle, or campervan from the UK or Europe, or picking up a hire car, self-driving is absolutely the best way to explore this fantastic northern France road trip route.
You can stop whenever you want, try new activities, visit places you see along the route, and have the freedom to change plans at the last minute.
The capital city of France makes the perfect start point for your road trip and driving from Paris to Normandy will take a relaxed 1.5 hours. Why not spend a day in Paris for an incredible start for your road trip to Normandy?
Fly into one of Paris' three main airports, Charles de Gaulle, Orly and Beauvais. With direct flights from America, Europe, the Middle East and the UK, we recommend booking through Skyscanner for live deals and the best prices.
Are you planning to rent a car in France? As one of the largest car hire aggregator companies in the world, we recommend Rentalcars.com because they have massive purchasing power which enables them to secure the best car rental prices, which benefits you when you're planning a road trip.
For a real adventure, hire a motorhome or campervan in France. We recommend Motorhome Republic, an aggregate booking site who pull together all the best deals from a number of rental agencies, to offer you a wide choice of options alongside an excellent English speaking expert motorhome Concierge Team. Use the Park4Night app to find overnight spots and campsites along the route.
Best Time for Visiting Normandy
March to May
Spring is a beautiful time to visit Normandy, with temperatures warming up across the region. Food markets increase in size, restaurants start preparing different dishes and the countryside is glorious. You'll still find the roads and cities less crowded, and most attractions will be open.
June to August
June, July and August are the busiest months for road trips in Normandy. With perfect temperatures for camping and outdoor activities, July is probably the best month, as schools have yet to break up across Europe and the family rush to the coasts has not yet started.
August brings the French annual holidays when many businesses close for the duration. If you're planning on road tripping in the north of France, you'll have perfect holiday weather, but the coasts and beaches will be busy.
September to November
Autumn is a fantastic time for a Normandie road trip. The coast will be quieter but if you're lucky, you'll enjoy an Indian summer amongst the fruit harvest and the changing colors of the fall countryside.
December to February
The winter months in Normandy can be very cold and rain is quite common at this time of year. But, the roads and cities will be quiet and less crowded, although not all attractions will be open.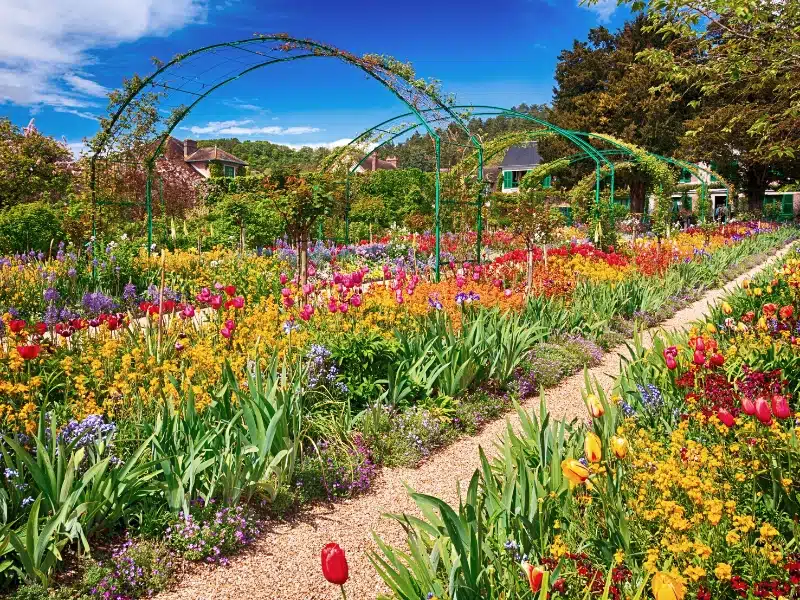 Road Trip Normandy Map & Route
This one week road trip around Normandy hits all the highlights, with famous gardens, World War II sites and D Day landing beaches, picturesque ports, and historic buildings on the itinerary.
You'll also visit the three most iconic Normandy attractions of Rouen Cathedral, the Bayeux Tapestry, and Mont-Saint-Michel, making this a once-in-a-lifetime experience.
This Normandy itinerary will easily stretch to two weeks if you prefer to slow travel and take in more sights as you go – just spend longer in your favorite places and check the interactive map for attractions and landmarks nearby.
Evreux – Giverny – Rouen – Dieppe – Fécamp – Étretat – Le Havre – Honfleur – Deauville – Falaise – Caen – Bayeux – Saint-Lô – Mont-Saint-Michel
How to use this map – Use your fingers (or computer mouse) to zoom in and out. Click or touch the icons to get more info about a place, and click the arrow in the box top left to open the index. To add to your own Google Maps account, click the star next to the title of the map.
Normandy Road Trip Itinerary
Day 1: Evreux to Rouen
Evreux
Evreux is a beautiful city situated just two hours east of Paris – it will take around 1.5 hours of driving time from the major Paris airports. Wherever you come from, it is best to get on the road as quickly as possible to arrive in Evreux early since the rest of the day holds plenty of activities.
Once in Evreux, visit the Cathédrale Notre-Dame d'Évreux or Cathedral of Our Lady of Evreux. This magnificent Gothic-style cathedral was built in the 10th century and still has intricate carvings and impressive stained-glass windows.
The Museum of Art, History, and Archaeology is a stone's throw from the cathedral. It houses a collection of art and artifacts from the Neolithic period to the modern era.
A museum that will delight those with a sweet tooth is the Chocolatrium Michel Cluizel. You can tour the facilities and learn about the chocolate-making process, unique flavors, and the story behind the family business.
Go for a quick lunch afterward at Planete Mars or Le Petit Bruit de l'oeuf Dur.
Giverny
On your way to Rouen, take a slight detour and visit Claude Monet's house in Giverny. Monet's images of Normandy including the poppy fields, distinctive poplar trees, rural haystacks, and the extraordinary coast are regarded by art historians as revolutionary.
In Normandy Monet first began painting outdoors, en plein air, and his Normandy paintings embodied a new and modern vision that rewarded Monet with a place in art history as the preeminent master of Impressionism, and one of his early paintings, Impression: Sunrise of the harbor at Le Havre, gave the movement its name.
The painter's house features color filled gardens, and a pond filled with water lilies, which inspired his most famous works. The site has an art museum dedicated to the Impressionist painter and you can see inside the house where he lived and worked.
Take this highly recommended skip-the-line guided tour of Monet's house and gardens for insight into the life of the painter and information about the planting and gardens from a local guide, or consider an organised Giverny day trip from Paris, when you'll have a guide with you to share history and tips.
Rouen
Continue north on the A13 for an hour until you reach Rouen. If you were inspired by your visit to Monet's house and museum, you would appreciate seeing the spectacular 12th century Rouen Cathedral – a subject Monet often used in his paintings.
The Cathédrale Notre-Dame de Rouen is famous for its three towers, each in a different style. The cathedral, built and rebuilt over a period of more than eight hundred years, has features from Early Gothic to late Flamboyant and Renaissance architecture.
It is believed that Rollo, the famous Viking who became Count of Rouen and the first ruler of Normandy, is buried in the cathedral and his tomb is on display inside.
If you want more on the art front, visit the Musée des Beaux-Arts. It is home to an impressive collection of paintings, sculptures, and decorative arts from the Middle Ages to the 20th century. Another notable museum is the Joan of Arc Museum.
The artistic theme continues as you walk through Rouen's streets, filled with street art, colorful murals, and graffiti. The old town also has many charming narrow streets lined with half-timbered buildings dating back to the Middle Ages.
While in the center, enjoy dinner at Simone or Tandem.
Upmarket: Hôtel de Bourgtheroulde Autograph Collection – Booking.com | Agoda
Mid-Range: Hotel Litteraire Gustave Flaubert – Booking.com | Agoda
Budget: Le Vieux Carré – Booking.com | Agoda
Make sure you have travel insurance you can trust when visiting France. We recommend True Traveller for their 5-star TrustPilot reviews, variety of cover options, best activities cover as standard, great prices, and excellent service.
Day 2: Rouen to Fécamp
Dieppe
Dieppe is a picturesque coastal town 40 miles north of Rouen. If you are up for an outdoor adventure, stop at Arb'aventure en route to Dieppe. This amusement park has zip wires, ladders, nets, and bridges – all set up between tall trees.
In Dieppe, visit the 19 August 1942 Memorial, which pays tribute to the Dieppe Raid of World War II, when over 6,050 infantry, predominantly Canadian, supported by a regiment of tanks, were put ashore from a naval force operating under the protection of the Royal Air Force.
The allied raid suffered heavy losses and was ultimately unsuccessful as aerial and naval support was insufficient to capture and hold the port for a short period, to test the feasibility of a landing, and gather intelligence.
Less than 10 minutes walk will bring you to the historic Château de Dieppe, which also contains the Dieppe Museum. The castle was erected in the 14th century and offers visitors spectacular city and sea views.
If you are traveling through Dieppe on a Saturday, explore the bustling Dieppe Market, which features a range of delicious local produce, fresh seafood and local cheese, and Normandy crafts.
Afterward, walk along the pebbly beach or hike along the cliffs for panoramic views of the area.
Dieppe is known for its fresh seafood, such as mussels, oysters, and sea bass. Try some at La Musardiere or Le Turbot.
Fécamp
Fécamp is a charming port town known for its fishing industry and the Benedictine liqueur. You can learn more about the former at the Les Pêseries Musée de Fécamp.
Visit the Gothic-style Palais Bénédictine. This stunning palace serves as a museum and a distillery for the famous Benedictine liqueur, a herbal drink made of 27 different plants and spices. You can tour the facilities here and learn about this world-famous spirit's history and making.
Afterward, go to the 11th century Abbaye de la Trinité. The interior is a must-see and includes the Tabernacle of the Precious Blood, the sculpture of the Dormition of the Virgin, and Renaissance gates enclosing the chapels around the choir.
If you have time to spare, take the 8 minute drive to Cap Fagnet for the most spectacular views of the Alabaster Coast and the English Channel.
In Fécamp city center, dine at Restaurant La Plage (ensure to book ahead) or Le Rex.
Upmarket: Les Pins de César La Campagne d'Etretat Saint-Jouin-Bruneval – Booking.com | Agoda
Mid-Range: B&B A La Maison Blanche – Booking.com | Agoda
Budget: Hotel Vent d'Ouest – Booking.com | Agoda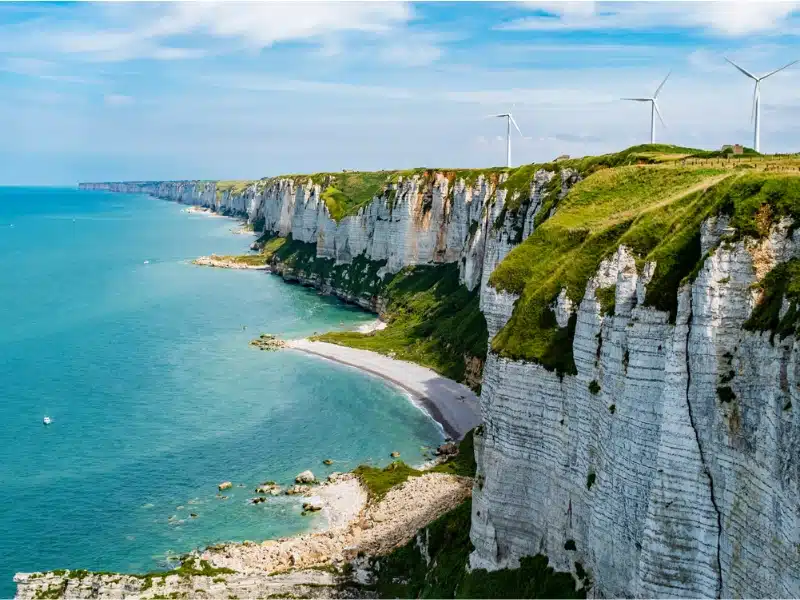 Day 3: Fécamp to Le Havre
Étretat
Only 10 miles from Fécamp is Étretat, a small town known for its scenic white cliffs, pebble beaches, and three extraordinary natural rock arches. Named Porte d'Aval, Porte d'Amont, and Manneporte, the rock arches were painted by Claude Monet in 20 different views after he spent a month in the fishing village in February 1883.
Hike up one of the many walking trails for the best coastal views. Make your way down the cliffs to explore the beach, the perfect place to spend a few hours swimming, kayaking, or sunbathing.
Further up the coast, visit the Chapelle Notre-Dame-de-la-Garde. This stunning chapel sits on a nearby hillside and provides incredible panoramic views of the town and the sea. The chapel is also an important site for pilgrims.
Go to the Étretat Museum of Art and History, home to a collection of art and exhibits showcasing the town's rich history, or visit the avant-garde Les Jardins d'Etretat for incredible views of the coast alongside an intriguing mix of classical and neo-futuristic gardening and landscaping.
Follow this up with lunch, ideally at Le Romain D'Etretat where they have great pizzas or La Marie Antoinette for fresh seafood.
Le Havre
Once in Le Havre head to St. Joseph's Church for stunning town and ocean views. This extraordinary church with its impressive dimensions and trans-Atlantic vibe makes it one of Normandy's most remarkable architectural achievements of the 20th century. Afterward, stroll along the Le Havre beach.
Explore the MuMa (Museum of Modern Art André Malraux), which houses an impressive collection of French Impressionist and post-Impressionist artworks, including masterpieces by Claude Monet and Edgar Degas.
Take a four minute drive outside the city center to see the Natural History Museum. It is situated in a 16th century church and has a rich collection of natural history exhibits and taxidermized animals.
Before dinner, stroll through the beautifully landscaped Jardin Japonais, or Japanese Park, inspired by Japanese aesthetics and botanical art forms.
Dine at Au Vin sur la planchet or Le Bouche A Oreille for a Michelin-star experience.
Upmarket: Hilton Garden Inn Le Havre Centre – Booking.com | Agoda
Mid-Range: Odalys City Le Havre Centre Gare – Booking.com | Agoda
Budget: Hotel de Charme La Bonne Adresse – Booking.com | Agoda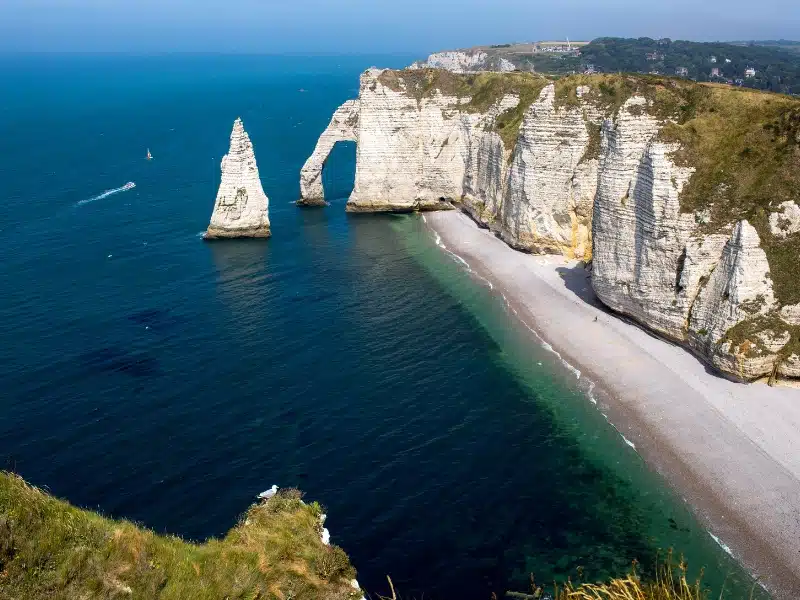 Other France Travel Ideas
Day 4: Le Havre to Falaise
Honfleur
Make the half-hour trip to Honfleur, crossing the magnificent Pont de Normandie bridge. Honfleur, one of our favorite cities in France, boasts a picturesque harbor, charming streets, and several historical monuments. 
Start by exploring Honfleur's old port. Walk along the quays and admire the colorful buildings and boats. A short walk from the port are several must-see landmarks, including the Lavoir rue de la Foulerie Museum, 15th century Église Sainte Catherine Catholic Church, and 17th century greniers à sel or salt halls.
Visit the Eugene-Boudin Museum. This museum is dedicated to the works of the famous Impressionist painter Eugène Boudin, offering an excellent collection of paintings of Honfleur and the Normandy coast.
Have dinner at the lovely L'art Du Bistrot or Mamie Louise for the best burgers in town.
Deauville
About 11 miles from Honfleur is Deauville, a fashionable seaside resort town that forms part of the popular Côte Fleurie or Flowery Coast.
Make the most of the afternoon sun by visiting Deauville Beach, one of the most beautiful sandy beaches on the Normandy coast, and walk along the famous wooden boardwalk called Les Planches.
On this scenic promenade, you can see beach cabins decorated with the names of famous actors and actresses who attended the Deauville American Film Festival.
Before driving to Falaise, pick up some regional products at Deauville Market in Place de Morny, such as cheese, charcuterie, fruits, and vegetables.
Foodies will love this full day Normandy food tour where you'll get to taste French Camembert, hard cider, and Calvados, the delicious Normandy apple brandy known as Normandy's liquid gold whilst driving and walking through the villages of the Pays d'Auge area.
Falaise
Take the D511 road and drive to the picturesque Falaise via Lisieux. Stop in Lisieux to stretch your legs and see the breathtaking Lisieux Cathedral.
Once in Falaise, visit the Musée des Automates de Falaise or Museum of the Automaton. This unique museum includes over 200 moving mechanical exhibitions, mainly from the 19th century, depicting everyday life scenes and fairy tales.
In the heart of Falaise, you can see the stunning 11th century Church of Saint-Gervais and Saint-Protais. Walk around the rest of the old town to explore the cobbled streets and the charming half-timbered houses, shops, and restaurants.
Be sure to try some local cider and cheese at the Falaise Market if you happen to be in town on a Saturday.
Dine at Restaurant Le Vauquelin or La Renaissance.
Upmarket: Le Manoir du Ribardon, Neuvy-au-Houlme – Booking.com | Agoda
Mid-Range: Les Prémontrés – Booking.com | Agoda
Budget: ibis Falaise Coeur de Normandie – Booking.com | Agoda
Day 5: Falaise to Bayeux
Caen
Caen is a beautiful city located 24 miles north of Falaise. It is famous for its historical sites, museums, and picturesque surroundings.
Arguably the most famous landmark in Caen is the Memorial Museum. This museum is dedicated to World War II and offers visitors a comprehensive exhibition about the D-Day landing on Normandy's beaches, code named Utah, Omaha, Gold, Juno and Sword for the invasion. The museum also includes a cinema showing a 20 minute documentary about the war in Europe.
In the town center, there are many beautiful structures to explore. The following are all within short walking distance from each other:
Caen Castle: An 11th century fortress built by William the Conqueror.
Abbaye aux Hommes: A beautiful Romanesque abbey founded by William the Conqueror, now serving as the town hall and a political library.
St Peter's Catholic Church: A stunning 13th century church with an impressive facade and spire.
Stroll along the Canal de Caen a la Mer, the waterway which links Caen to the sea, or around the Vaugueux neighborhood, one of the city's oldest and most picturesque areas, to admire the half-timbered houses, narrow streets, and charming restaurants.
Enjoy lunch at Mooky's or Boeuf and Cow, which overlooks St Peter's Catholic Church.
Bayeux
Bayeux is a charming town packed with history, culture, and beautiful scenery. Start your exploration by visiting the Bayeux Museum to see the famous Bayeux Tapestry, one of medieval Europe's oldest and most important artifacts.
This world-famous 11th century masterpiece tells the epic story of William, Duke of Normandy, who became King of England after a decisive win at the Battle of Hastings when his Norman-French army were victorious against the English army under the Anglo-Saxon King Harold Godwinson, who was shot through the eye by an arrow and then cut down by a sword.
Thus began the Norman Conquest of England and William the Conquerer, a descendent of the Viking Rollo, was crowned in Westminster Abbey on Christmas Day of 1066. Over the next 34 generations, it is possible to trace a direct line from William I to King Charles III, the monarch of the United Kingdom today.
Visit the beautiful Notre Dame de Bayeux Cathedral, a unique example of Norman Gothic architecture in France. One of its standout features is the monumental 11th century nave.
Learn more about history at the Battle of Normandy Museum through historical artifacts and displays.
Before dinner, stroll through Bayeux's medieval old town to explore all the narrow, winding streets, half-timbered houses, and charming, flower-filled courtyards.
For a really special experience, take a Normandy D-Day tour by vintage motorbike sidecar from Bayeux and visit the Longues-sur-mer coastal battery, Omaha Beach, Gold Beach located between Port-en-Bessin on the west and La Rivière on the east. High cliffs at the western end of the zone and Arromanches.
Enjoy local food at Le Volet qui Penche with lovely views, or treat yourself to a Michelin-star experience at L'Angle Saint Laurent. Start your meal with famous Camembert cheese or a glass of local cider.
Upmarket: Villa Lara Hotel – Booking.com | Agoda
Mid-Range: Domaine de Bayeux – Booking.com | Agoda
Budget: ibis budget Bayeux – Booking.com | Agoda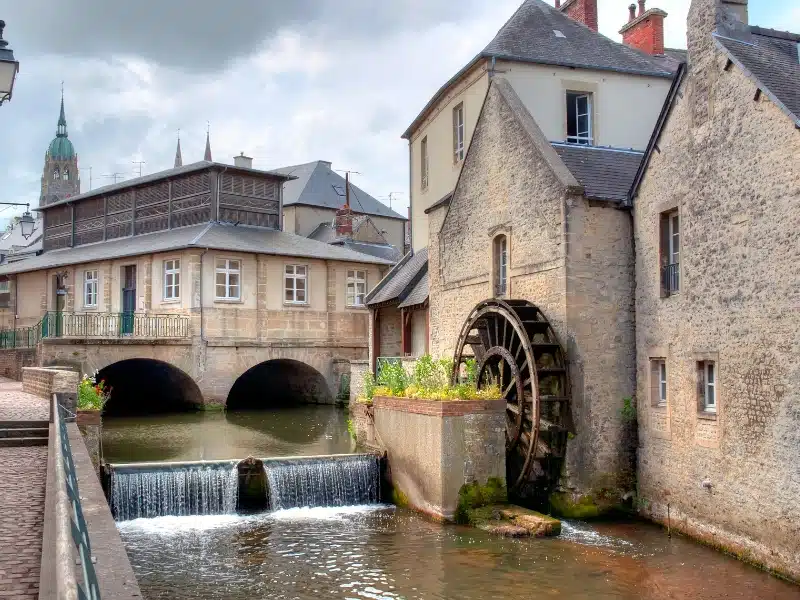 Do you love getting off-the-beaten path? Our secret France guide has ideas for exploring the road less traveled, with alternative destinations to some of France's most popular places.
Day 6: Bayeux to Saint-Lô
Omaha Beach
Make the 20-minute drive to Omaha Beach, one of the historic D-Day landing sites during World War II.
The Omaha Beach Memorial Museum is located on the beach and offers a detailed overview of the D-Day landings and the events there. About 6 miles out of the city center, you can also visit Le Pointe du Hoc, a strategically important site during the D-Day landings known for the heroic actions of U.S. Rangers.
Another striking landmark is the Normandy American Cemetery which overlooks the beach. It is a moving yet magnificent hill site decorated with thousands of white crosses marking the graves of U.S. soldiers.
To make things easier, you can also take an American D Day sites guided tour to view all the World War II related sites.
Enjoy lunch at La Sapinière or PLAGE d'OR Bar Brasserie.
Saint-Lô
Saint-Lô is approximately 24 miles from Omaha Beach. En route, stop about half an hour outside of Omaha Beach at the gorgeous Jardin D'Elle Botanical Gardens to admire the two hectares of land home to over 2,500 plant varieties.
Saint-Lô offers many activities and sights to explore, like the Beaux-Arts Museum and the Saint-Lô Cathedral. The former is a museum that showcases French artworks, including sculptures and paintings from the 19th century and tapestries dating even further back. The beautiful Saint-Lô Cathedral is an excellent example of exquisite Gothic architecture with stunning stained-glass windows.
Stroll through the Jardin des Amériques, a park boasting beautiful rose gardens, colorful flower beds, and fountains. Or explore the town center and the scenic surroundings by renting a bike.
Enjoy a French dinner at La Maison or La Metidja if you like Moroccan cuisine. Afterward, attend a show at the Théâtre Roger-Ferdinand. This picturesque theater was built in the 1800s and hosts a variety of performances and events, so explore what's on before your trip to book ahead.
Upmarket: Château de Bernesq, Bernesq – Booking.com | Agoda
Mid-Range: Chambres Château D'Agneaux, Agneaux – Booking.com | Agoda
Budget: ibis budget Saint Lô – Booking.com | Agoda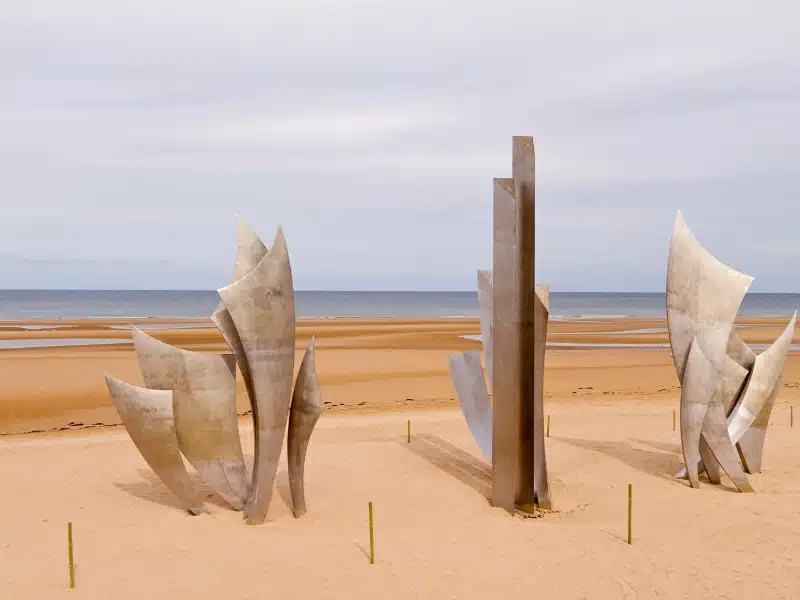 Day 7: Saint-Lô to Mont-Saint-Michel
Mont-Saint-Michel
A world-famous island topped by a gravity-defying abbey, Mont-Saint-Michel and its bay are high on the list of France's most stunning sights.
The holy island, a commune in its own right, lies approximately 0.6 miles / 1km off the coast of Normandy, at the mouth of the Couesnon River near Avranches, making it accessible at low tide to pilgrims, but defensible as an incoming tide would strand, drive off, or drown would-be assailants.
Today, Mont-Saint-Michel remains one of Europe's major pilgrimage destinations and a UNESCO World Heritage Site, along with the spectacular Mont-Saint Michel Bay.
Make sure to book your Mont-Saint-Michel Abbey tickets well in advance, or book the three museums of Mont-Saint-Michel and visit the Maritime Museum, the Historical Museum Sound and Light, and the historic house of Bertrand Du Guesclin, a Breton knight and French military commander during the 14th century, and his wife, Tiphaine de Raguenel, a famous astrologist who used to read the destiny of the world in the stars.
From Mont-Saint-Michel you can decide on your next destination. Spend a day in Paris, visit the gorgoeus chateaux of the Loire Valley, chill on the Vendee coast, or take a Brittany road trip along the stunning coastline – all are within easy reach.
Upmarket: Château de Boucéel, Vergoncey – Booking.com | Agoda
Mid-Range: Château de Chantore, Bacilly – Booking.com | Agoda
Budget: Hotel Gabriel – Booking.com | Agoda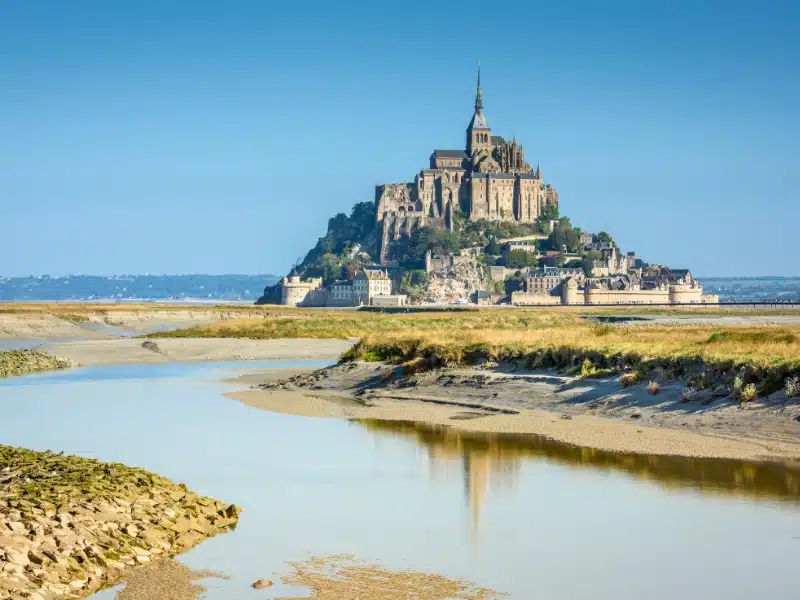 France Road Trip Essentials
Here are the websites and services we personally use and recommend for traveling in France.
Driving in France Tips
Road trips in France are usually pleasurable, thanks to their extensive and well-maintained autoroute network, and generally good local roads. French drivers can be impatient and are dreadful tailgaters and really, really dislike being overtaken, but, c'est la vie, this is France!
Whether you're traveling in your own car, touring France in a motorhome or flying in and renting a car, you need to follow these rules when you're drive in Normandy;
You must have at least three months remaining on your passport (issued in the past ten years) at your intended date of departure from France.
You must have at least 3rd party insurance for your vehicle.
Citizens of non-EU third countries may require an International Driving Permit for driving in Europe. You can check whether you need an IDP here.
You must carry at least one reflective jacket within the passenger compartment of your vehicle and must put it on before you get out in an emergency or breakdown situation. You must also carry a warning triangle and a first aid kit.
You may require a Crit'Air sticker which is placed in the windscreen of your vehicle to provide a visible way to identify the level of emissions produced. If you're renting a vehicle, the Crit'Air sticker should already be on display on the windscreen. Find out more and purchase Crit'Air stickers from the official certificat-air.gouv.fr website.
French motorways are privately managed and you're not allowed to request your own assistance company to attend to you if you break down. If you do break down use the orange emergency telephones that are situated every 2km along French motorways to call the police or the official breakdown service operating in that area or dial the emergency services on 112. You will be towed to a safe designated area where you can make onward arrangements for your own breakdown insurer to assist you if you have it. Otherwise, the towing company will be able to provide support or signpost you.
You do not need to carry a breathalyzer, the law requiring that you do has been repealed.
RELATED POST: Driving in Europe – Everything You Need to Know
Are you looking for more incredible road trips? Check out these top posts…
Amongst the beautiful landscapes of Spain, in the mountainous interior and along the gorgeous coasts, you'll find fascinating history, vibrant culture, and incredible cuisine. One of the best ways to experience Spain is by taking a road trip. We base ourselves in Spain when not traveling and have explored much of the country on four wheels and two! Whether you want historic cities, gorgeous landscapes, beaches and sun, or something a bit different, our detailed…
Love it? Pin it!